Read our research on: Israel | Internet & Technology | Science
Regions & Countries

Two Decades Later, the Enduring Legacy of 9/11
Table of contents.
Americans watched in horror as the terrorist attacks of Sept. 11, 2001, left nearly 3,000 people dead in New York City, Washington, D.C., and Shanksville, Pennsylvania. Nearly 20 years later, they watched in sorrow as the nation's military mission in Afghanistan – which began less than a month after 9/11 – came to a bloody and chaotic conclusion.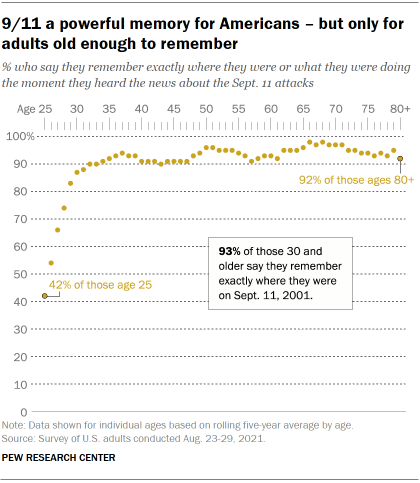 The enduring power of the Sept. 11 attacks is clear: An overwhelming share of Americans who are old enough to recall the day remember where they were and what they were doing when they heard the news. Yet an ever-growing number of Americans have no personal memory of that day, either because they were too young or not yet born.
A review of U.S. public opinion in the two decades since 9/11 reveals how a badly shaken nation came together, briefly, in a spirit of sadness and patriotism; how the public initially rallied behind the wars in Afghanistan and Iraq, though support waned over time; and how Americans viewed the threat of terrorism at home and the steps the government took to combat it.
As the country comes to grips with the tumultuous exit of U.S. military forces from Afghanistan, the departure has raised long-term questions about U.S. foreign policy and America's place in the world. Yet the public's initial judgments on that mission are clear: A majority endorses the decision to withdraw from Afghanistan, even as it criticizes the Biden administration's handling of the situation. And after a war that cost thousands of lives – including more than 2,000 American service members – and trillions of dollars in military spending, a new Pew Research Center survey finds that 69% of U.S. adults say the United States has mostly failed to achieve its goals in Afghanistan.
This examination of how the United States changed in the two decades following the Sept. 11 terrorist attacks is based on an analysis of past public opinion survey data from Pew Research Center, news reports and other sources.
Current data is from a Pew Research Center survey of 10,348 U.S. adults conducted Aug. 23-29, 2021. Most of the interviewing was conducted before the Aug. 26 suicide bombing at Kabul airport, and all of it was conducted before the completion of the evacuation. Everyone who took part is a member of the Center's American Trends Panel (ATP), an online survey panel that is recruited through national, random sampling of residential addresses. This way nearly all U.S. adults have a chance of selection. The survey is weighted to be representative of the U.S. adult population by gender, race, ethnicity, partisan affiliation, education and other categories. Read more about the ATP's methodology .
Here are the questions used for the report, along with responses, and its methodology .
A devastating emotional toll, a lasting historical legacy
Shock, sadness, fear, anger: The 9/11 attacks inflicted a devastating emotional toll on Americans. But as horrible as the events of that day were, a 63% majority of Americans said they couldn't stop watching news coverage of the attacks.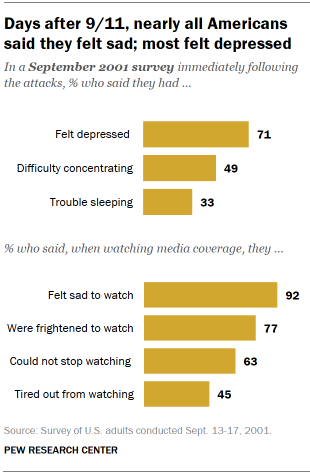 Our first survey following the attacks went into the field just days after 9/11, from Sept. 13-17, 2001. A sizable majority of adults (71%) said they felt depressed, nearly half (49%) had difficulty concentrating and a third said they had trouble sleeping.
It was an era in which television was still the public's dominant news source – 90% said they got most of their news about the attacks from television, compared with just 5% who got news online – and the televised images of death and destruction had a powerful impact. Around nine-in-ten Americans (92%) agreed with the statement, "I feel sad when watching TV coverage of the terrorist attacks." A sizable majority (77%) also found it frightening to watch – but most did so anyway.
Americans were enraged by the attacks, too. Three weeks after 9/11 , even as the psychological stress began to ease somewhat, 87% said they felt angry about the attacks on the World Trade Center and Pentagon.
Fear was widespread, not just in the days immediately after the attacks, but throughout the fall of 2001. Most Americans said they were very (28%) or somewhat (45%) worried about another attack . When asked a year later to describe how their lives changed in a major way, about half of adults said they felt more afraid, more careful, more distrustful or more vulnerable as a result of the attacks.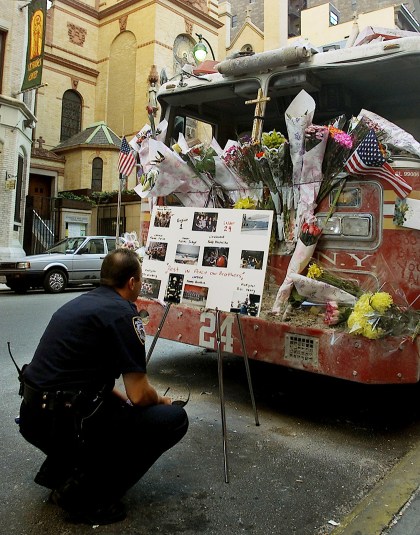 Even after the immediate shock of 9/11 had subsided, concerns over terrorism remained at higher levels in major cities – especially New York and Washington – than in small towns and rural areas. The personal impact of the attacks also was felt more keenly in the cities directly targeted: Nearly a year after 9/11, about six-in-ten adults in the New York (61%) and Washington (63%) areas said the attacks had changed their lives at least a little, compared with 49% nationwide. This sentiment was shared by residents of other large cities. A quarter of people who lived in large cities nationwide said their lives had changed in a major way – twice the rate found in small towns and rural areas.
The impacts of the Sept. 11 attacks were deeply felt and slow to dissipate. By the following August, half of U.S. adults said the country "had changed in a major way" – a number that actually increased , to 61%, 10 years after the event .
A year after the attacks, in an open-ended question, most Americans – 80% – cited 9/11 as the most important event that had occurred in the country during the previous year. Strikingly, a larger share also volunteered it as the most important thing that happened to them personally in the prior year (38%) than mentioned other typical life events, such as births or deaths. Again, the personal impact was much greater in New York and Washington, where 51% and 44%, respectively, pointed to the attacks as the most significant personal event over the prior year.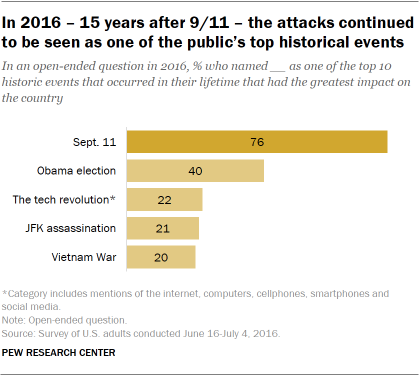 Just as memories of 9/11 are firmly embedded in the minds of most Americans old enough to recall the attacks, their historical importance far surpasses other events in people's lifetimes. In a survey conducted by Pew Research Center in association with A+E Networks' HISTORY in 2016 – 15 years after 9/11 – 76% of adults named the Sept. 11 attacks as one of the 10 historical events of their lifetime that had the greatest impact on the country. The election of Barack Obama as the first Black president was a distant second, at 40%.
The importance of 9/11 transcended age, gender, geographic and even political differences. The 2016 study noted that while partisans agreed on little else that election cycle, more than seven-in-ten Republicans and Democrats named the attacks as one of their top 10 historic events.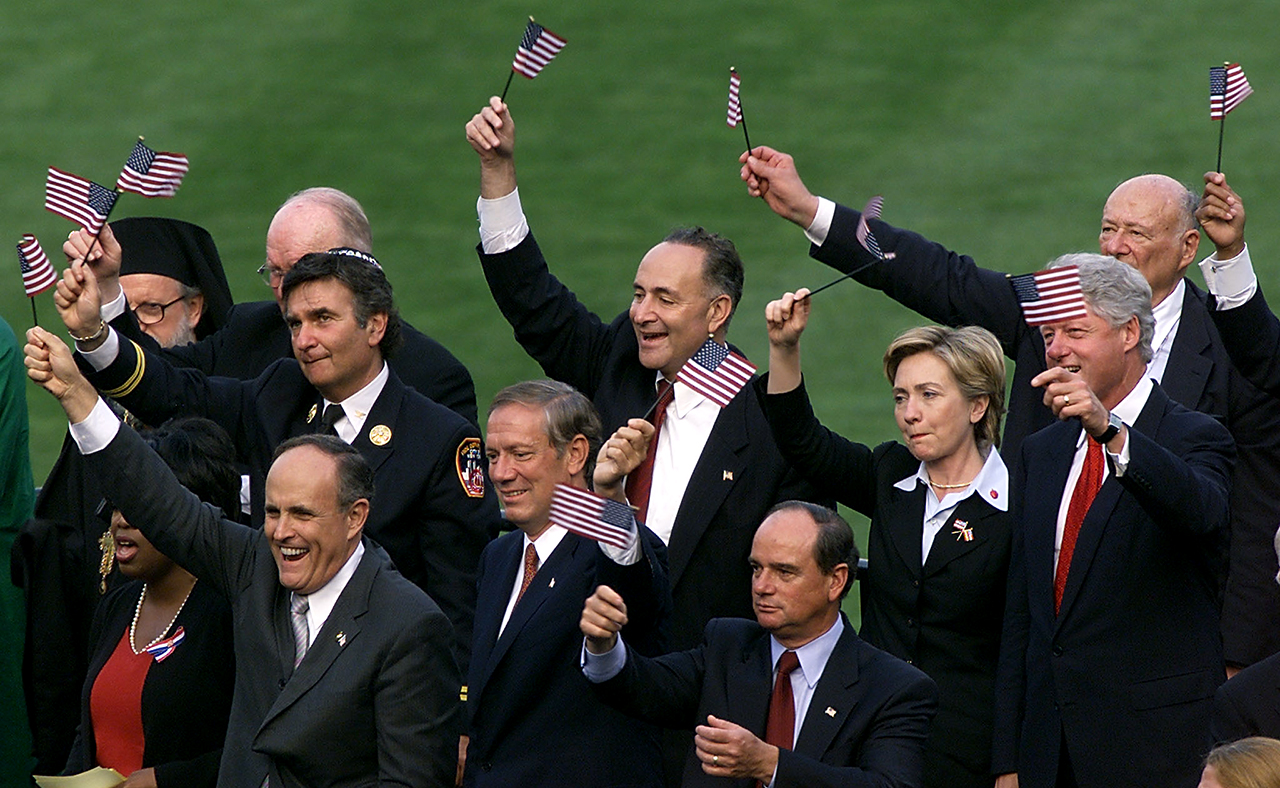 9/11 transformed U.S. public opinion, but many of its impacts were short-lived
It is difficult to think of an event that so profoundly transformed U.S. public opinion across so many dimensions as the 9/11 attacks. While Americans had a shared sense of anguish after Sept. 11, the months that followed also were marked by rare spirit of public unity.
Patriotic sentiment surged in the aftermath of 9/11. After the U.S. and its allies launched airstrikes against Taliban and al-Qaida forces in early October 2001, 79% of adults said they had displayed an American flag. A year later, a 62% majority said they had often felt patriotic as a result of the 9/11 attacks.
Moreover, the public largely set aside political differences and rallied in support of the nation's major institutions, as well as its political leadership. In October 2001, 60% of adults expressed trust in the federal government – a level not reached in the previous three decades, nor approached in the two decades since then.
George W. Bush, who had become president nine months earlier after a fiercely contested election, saw his job approval rise 35 percentage points in the space of three weeks. In late September 2001, 86% of adults – including nearly all Republicans (96%) and a sizable majority of Democrats (78%) – approved of the way Bush was handling his job as president.
Americans also turned to religion and faith in large numbers. In the days and weeks after 9/11, most Americans said they were praying more often. In November 2001, 78% said religion's influence in American life was increasing, more than double the share who said that eight months earlier and – like public trust in the federal government – the highest level in four decades .
Public esteem rose even for some institutions that usually are not that popular with Americans. For example, in November 2001, news organizations received record-high ratings for professionalism. Around seven-in-ten adults (69%) said they "stand up for America," while 60% said they protected democracy.
Yet in many ways, the "9/11 effect" on public opinion was short-lived. Public trust in government, as well as confidence in other institutions, declined throughout the 2000s. By 2005, following another major national tragedy – the government's mishandling of the relief effort for victims of Hurricane Katrina – just 31% said they trusted the federal government, half the share who said so in the months after 9/11. Trust has remained relatively low for the past two decades: In April of this year, only 24% said they trusted the government just about always or most of the time.
Bush's approval ratings, meanwhile, never again reached the lofty heights they did shortly after 9/11. By the end of his presidency, in December 2008, just 24% approved of his job performance.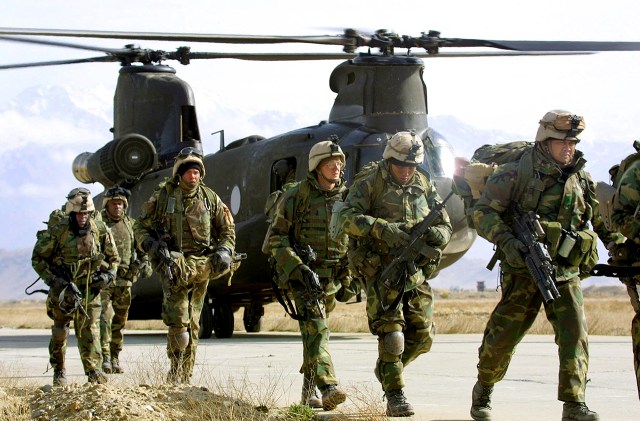 U.S. military response: Afghanistan and Iraq
With the U.S. now formally out of Afghanistan – and with the Taliban firmly in control of the country – most Americans (69%) say the U.S. failed in achieving its goals in Afghanistan.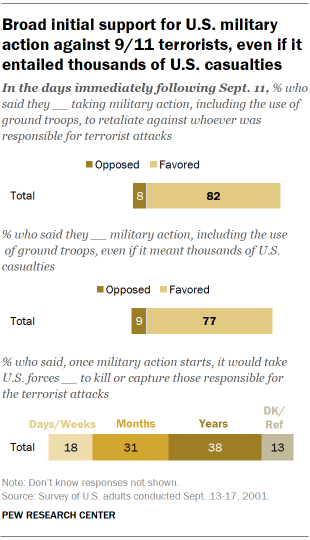 But 20 years ago, in the days and weeks following 9/11, Americans overwhelmingly supported military action against those responsible for the attacks. In mid-September 2001, 77% favored U.S. military action, including the deployment of ground forces, "to retaliate against whoever is responsible for the terrorist attacks, even if that means U.S. armed forces might suffer thousands of casualties."
Many Americans were impatient for the Bush administration to give the go-ahead for military action. In a late September 2001 survey, nearly half the public (49%) said their larger concern was that the Bush administration would not strike quickly enough against the terrorists; just 34% said they worried the administration would move too quickly.
Even in the early stages of the U.S. military response, few adults expected a military operation to produce quick results: 69% said it would take months or years to dismantle terrorist networks, including 38% who said it would take years and 31% who said it would take several months. Just 18% said it would take days or weeks.
The public's support for military intervention was evident in other ways as well. Throughout the fall of 2001, more Americans said the best way to prevent future terrorism was to take military action abroad rather than build up defenses at home. In early October 2001, 45% prioritized military action to destroy terrorist networks around the world, while 36% said the priority should be to build terrorism defenses at home.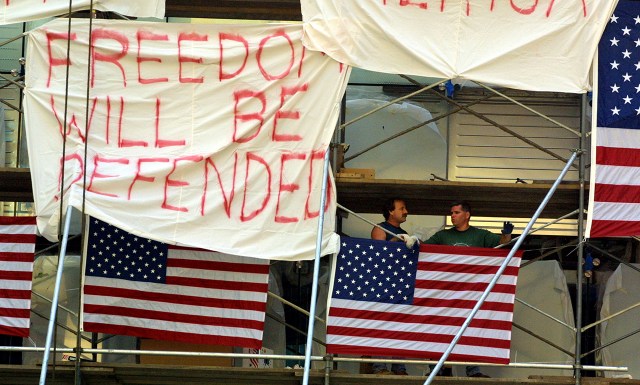 Initially, the public was confident that the U.S. military effort to destroy terrorist networks would succeed. A sizable majority (76%) was confident in the success of this mission, with 39% saying they were very confident.
Support for the war in Afghanistan continued at a high level for several years to come. In a survey conducted in early 2002, a few months after the start of the war, 83% of Americans said they approved of the U.S.-led military campaign against the Taliban and al-Qaida in Afghanistan. In 2006, several years after the United States began combat operations in Afghanistan, 69% of adults said the U.S. made the right decision in using military force in Afghanistan. Only two-in-ten said it was the wrong decision.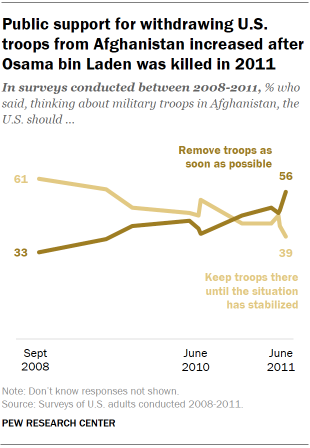 But as the conflict dragged on, first through Bush's presidency and then through Obama's administration, support wavered and a growing share of Americans favored the withdrawal of U.S. forces from Afghanistan. In June 2009, during Obama's first year in office, 38% of Americans said U.S. troops should be removed from Afghanistan as soon as possible. The share favoring a speedy troop withdrawal increased over the next few years. A turning point came in May 2011, when U.S. Navy SEALs launched a risky operation against Osama bin Laden's compound in Pakistan and killed the al-Qaida leader.
The public reacted to bin Laden's death with more of a sense of relief than jubilation . A month later, for the first time , a majority of Americans (56%) said that U.S. forces should be brought home as soon as possible, while 39% favored U.S. forces in the country until the situation had stabilized.
Over the next decade, U.S. forces in Afghanistan were gradually drawn down, in fits and starts, over the administrations of three presidents – Obama, Donald Trump and Joe Biden. Meanwhile, public support for the decision to use force in Afghanistan, which had been widespread at the start of the conflict, declined . Today, after the tumultuous exit of U.S. troops from Afghanistan, a slim majority of adults (54%) say the decision to withdraw troops from the country was the right decision; 42% say it was the wrong decision.
There was a similar trajectory in public attitudes toward a much more expansive conflict that was part of what Bush termed the "war on terror": the U.S. war in Iraq. Throughout the contentious, yearlong debate before the U.S. invasion of Iraq, Americans widely supported the use of military force to end Saddam Hussein's rule in Iraq.
Importantly, most Americans thought – erroneously, as it turned out – there was a direct connection between Saddam Hussein and the 9/11 attacks. In October 2002, 66% said that Saddam helped the terrorists involved in the 9/11 attacks on the World Trade Center and the Pentagon.
In April 2003, during the first month of the Iraq War, 71% said the U.S. made the right decision to go to war in Iraq. On the 15th anniversary of the war in 2018, just 43% said it was the right decision. As with the case with U.S. involvement in Afghanistan, more Americans said that the U.S. had failed (53%) than succeeded (39%) in achieving its goals in Iraq.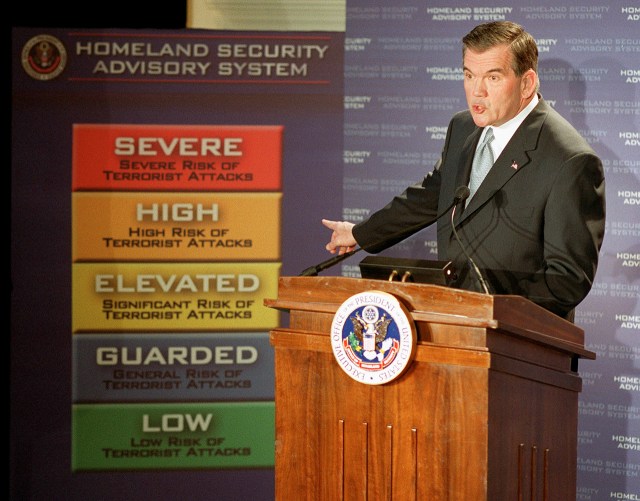 The 'new normal': The threat of terrorism after 9/11
There have been no terrorist attacks on the scale of 9/11 in two decades, but from the public's perspective, the threat has never fully gone away. Defending the country from future terrorist attacks has been at or near the top of Pew Research Center's annual survey on policy priorities since 2002.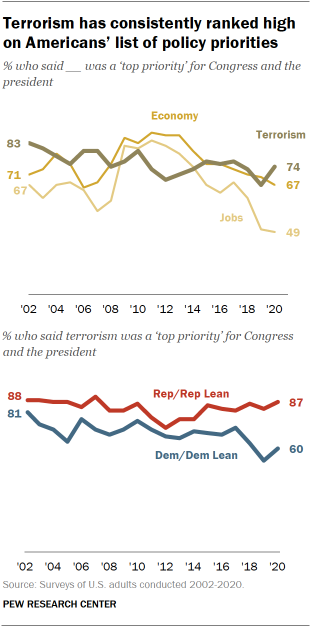 In January 2002, just months after the 2001 attacks, 83% of Americans said "defending the country from future terrorist attacks" was a top priority for the president and Congress, the highest for any issue. Since then, sizable majorities have continued to cite that as a top policy priority.
Majorities of both Republicans and Democrats have consistently ranked terrorism as a top priority over the past two decades, with some exceptions. Republicans and Republican-leaning independents have remained more likely than Democrats and Democratic leaners to say defending the country from future attacks should be a top priority. In recent years, the partisan gap has grown larger as Democrats began to rank the issue lower relative to other domestic concerns. The public's concerns about another attack also remained fairly steady in the years after 9/11, through near-misses and the federal government's numerous "Orange Alerts" – the second-most serious threat level on its color-coded terrorism warning system.
A 2010 analysis of the public's terrorism concerns found that the share of Americans who said they were very concerned about another attack had ranged from about 15% to roughly 25% since 2002. The only time when concerns were elevated was in February 2003, shortly before the start of the U.S. war in Iraq.
In recent years, the share of Americans who point to terrorism as a major national problem has declined sharply as issues such as the economy, the COVID-19 pandemic and racism have emerged as more pressing problems in the public's eyes.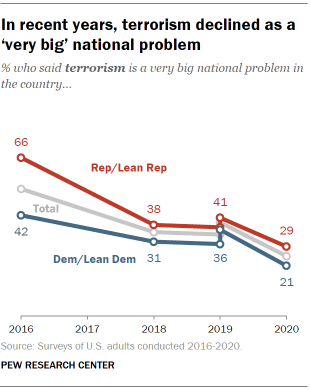 In 2016, about half of the public (53%) said terrorism was a very big national problem in the country. This declined to about four-in-ten from 2017 to 2019. Last year, only a quarter of Americans said that terrorism was a very big problem.
This year, prior to the U.S. withdrawal of forces from Afghanistan and the subsequent Taliban takeover of the country, a somewhat larger share of adults said domestic terrorism was a very big national problem (35%) than said the same about international terrorism . But much larger shares cited concerns such as the affordability of health care (56%) and the federal budget deficit (49%) as major problems than said that about either domestic or international terrorism.
Still, recent events in Afghanistan raise the possibility that opinion could be changing, at least in the short term. In a late August survey, 89% of Americans said the Taliban takeover of Afghanistan was a threat to the security of the U.S., including 46% who said it was a major threat.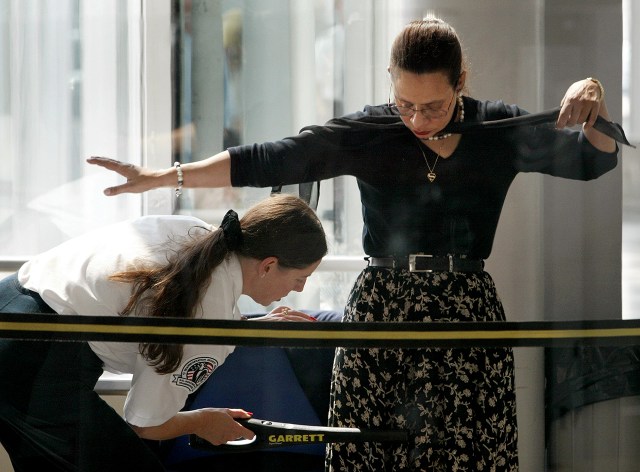 Addressing the threat of terrorism at home and abroad
Just as Americans largely endorsed the use of U.S. military force as a response to the 9/11 attacks, they were initially open to a variety of other far-reaching measures to combat terrorism at home and abroad. In the days following the attack, for example, majorities favored a requirement that all citizens carry national ID cards, allowing the CIA to contract with criminals in pursuing suspected terrorists and permitting the CIA to conduct assassinations overseas when pursuing suspected terrorists.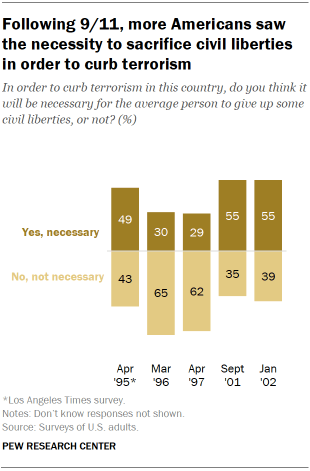 However, most people drew the line against allowing the government to monitor their own emails and phone calls (77% opposed this). And while 29% supported the establishment of internment camps for legal immigrants from unfriendly countries during times of tension or crisis – along the lines of those in which thousands of Japanese American citizens were confined during World War II – 57% opposed such a measure.
It was clear that from the public's perspective, the balance between protecting civil liberties and protecting the country from terrorism had shifted. In September 2001 and January 2002, 55% majorities said that, in order to curb terrorism in the U.S., it was necessary for the average citizen to give up some civil liberties. In 1997, just 29% said this would be necessary while 62% said it would not.
For most of the next two decades, more Americans said their bigger concern was that the government had not gone far enough in protecting the country from terrorism than said it went too far in restricting civil liberties.
The public also did not rule out the use of torture to extract information from terrorist suspects. In a 2015 survey of 40 nations, the U.S. was one of only 12 where a majority of the public said the use of torture against terrorists could be justified to gain information about a possible attack.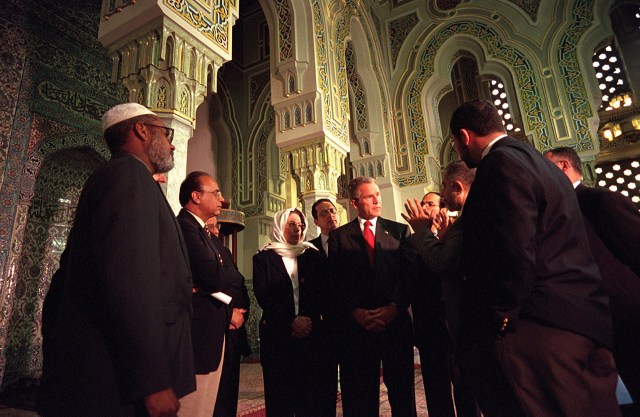 Views of Muslims, Islam grew more partisan in years after 9/11
Concerned about a possible backlash against Muslims in the U.S. in the days after 9/11, then-President George W. Bush gave a speech to the Islamic Center in Washington, D.C., in which he declared: "Islam is peace." For a brief period, a large segment of Americans agreed. In November 2001, 59% of U.S. adults had a favorable view of Muslim Americans, up from 45% in March 2001, with comparable majorities of Democrats and Republicans expressing a favorable opinion.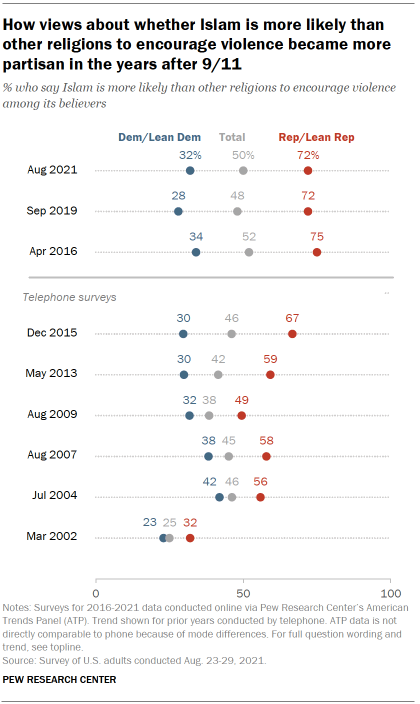 This spirit of unity and comity was not to last. In a September 2001 survey, 28% of adults said they had grown more suspicious of people of Middle Eastern descent; that grew to 36% less than a year later.
Republicans, in particular, increasingly came to associate Muslims and Islam with violence. In 2002, just a quarter of Americans – including 32% of Republicans and 23% of Democrats – said Islam was more likely than other religions to encourage violence among its believers. About twice as many (51%) said it was not.
But within the next few years, most Republicans and GOP leaners said Islam was more likely than other religions to encourage violence. Today, 72% of Republicans express this view, according to an August 2021 survey.
Democrats consistently have been far less likely than Republicans to associate Islam with violence. In the Center's latest survey, 32% of Democrats say this. Still, Democrats are somewhat more likely to say this today than they have been in recent years: In 2019, 28% of Democrats said Islam was more likely than other religions to encourage violence among its believers than other religions.
The partisan gap in views of Muslims and Islam in the U.S. is evident in other meaningful ways. For example, a 2017 survey found that half of U.S. adults said that "Islam is not part of mainstream American society" – a view held by nearly seven-in-ten Republicans (68%) but only 37% of Democrats. In a separate survey conducted in 2017, 56% of Republicans said there was a great deal or fair amount of extremism among U.S. Muslims, with fewer than half as many Democrats (22%) saying the same.
The rise of anti-Muslim sentiment in the aftermath of 9/11 has had a profound effect on the growing number of Muslims living in the United States. Surveys of U.S. Muslims from 2007-2017 found increasing shares saying they have personally experienced discrimination and received public expression of support.
It has now been two decades since the terrorist attacks on the World Trade Center and Pentagon and the crash of Flight 93 – where only the courage of passengers and crew possibly prevented an even deadlier terror attack.
For most who are old enough to remember, it is a day that is impossible to forget. In many ways, 9/11 reshaped how Americans think of war and peace, their own personal safety and their fellow citizens. And today, the violence and chaos in a country half a world away brings with it the opening of an uncertain new chapter in the post-9/11 era.
Add Pew Research Center to your Alexa
Say "Alexa, enable the Pew Research Center flash briefing"
About Pew Research Center Pew Research Center is a nonpartisan fact tank that informs the public about the issues, attitudes and trends shaping the world. It conducts public opinion polling, demographic research, media content analysis and other empirical social science research. Pew Research Center does not take policy positions. It is a subsidiary of The Pew Charitable Trusts .
Naval History and Heritage Command
Commemoration Resources
Navy History and Imagery
Archived Content
Pearl Harbor Remembrance
Battle of Midway
National Vietnam War Veterans Day
Visual Resources
Oral Histories
Additional Reading
American Revolution
Quasi-War with France
Barbary Wars
War of 1812
Mexican-American War
General Studies
Operations and Engagements
Medals and Awards
Publications
U.S. Capture of Guam
Philippine Insurrection, 1899-1902
The Boxer Rebellion: Bluejackets and Marines in China, 1900-1901
The Occupation of Veracruz, Mexico, 1914
The U.S. Navy in the Far East—The U.S. Asiatic Fleet: From Its Origins to World War II
Documentary History
Ships and Aircraft
Tactics and Technology
General Collections
World War II Profiles in Duty
Operation Crossroads
Strategic Deterrence
The Human Cost
A Changing Navy
Cuban Missile Crisis
Operation Allied Force
Iran Hostage Crisis
Lebanon—They Came in Peace
Operation Praying Mantis
Desert Shield/Desert Storm
Operation Enduring Freedom
Operation Iraqi Freedom
Pirate Interdiction and the U.S. Navy
Escape From the Pentagon: NSWC Crane Group on 9/11
Uniforms of the U.S. Navy 1776-1783
Uniforms of the U.S. Navy 1797
Uniforms of the U.S. Navy 1802
Uniforms of the U.S. Navy 1812-1815
Uniforms of the U.S. Navy 1815
Uniforms of the U.S. Navy 1830-1841
Uniforms of the U.S. Navy 1841
Uniforms of the U.S. Navy 1852
Uniforms of the U.S. Navy 1852-1855
Uniforms of the U.S. Navy 1862-1863
Uniforms of the U.S. Navy 1864
Uniforms of the U.S. Navy 1898
Uniforms of the U.S. Navy 1900
Uniforms of the U.S. Navy 1905-1913
Uniforms of the U.S. Navy 1917-1918
Uniforms of the U.S. Navy 1918-1919
Uniforms of the U.S. Navy 1922-1931
Uniforms of the U.S Navy 1941
Uniforms of the U.S. Navy 1942-1943
Uniforms of the U.S. Navy 1943-1944
Uniforms of the U.S. Navy 1951-1952
Uniforms of the U.S. Navy 1961
Uniforms of the U.S. Navy 1967
Sailors' Tattoos
Goats and the U.S. Navy
Navy Athletics
The Sailor's Creed
The Ship's Bell
Striking the Flag
Unofficial Navy Certificates
Precedence of Forces in Parades
Passing Honors, National Anniversaries, and Solemnities
Rocks and Shoals: Articles for the Government of the U.S. Navy
Plank Owners
Ship Naming
Twenty-One Gun Salute
Change of Command
Commissioning Pennant
Ship Launching and Commissioning
Burial at Sea
Crossing the Line
Origins of the U.S. Navy Flag
Submarine Battle Flags
The U.S. Navy's Jack
Battle Streamers
Personal Military Decorations
Service and Campaign Awards
Special Order No. 81
Meaning and Origin of Nautical Terms
Famous Navy Quotations
Birth of the U.S. Navy
Washington Signs the Naval Act of 1794
U.S. Navy History Lessons Learned
The Navy and Marine Corps Team
The U.S. Naval Academy: Images of History
The U.S. Naval Academy During the World War II Era
Chaplain Corps Manual
United States Navy Chief Petty Officer Creed
The Chief Petty Officer's Pledge
Chief Petty Officer Recipients of the Medal of Honor
One Hundred Years of Leadership
Navy Medicine Medal of Honor Recipients
Nurses in the U.S. Navy Bibliography and Sources
The Formative Years of the U.S. Navy Medical Corps, 1798−1871
Navy Medical Corps
Navy Nurse Corps
1898–1916
1917–1919
1920–1929
1930–1939
1940–1945
1946–1949
1950–1953
1954–1959
1960–1969
1970–1979
1980–1989
1990–1999
2000–2010
Notable Aircraft
Notable Aviators
Notable Squadrons
Airships and Dirigibles
Submarine Force
Age of Sail
Sail to Steam Propulsion
Modern Surface Warfare
Navy Divers
Naval Special Warfare
Supply Corps
Explosive Ordnance Disposal
The Navy's Humanitarian Mission
U-2s, UFOs, and Operation Blue Book
Port Chicago Naval Magazine Explosion
The Sullivan Brothers and the Assignment of Family Members
Weather Related Incidents
The Loss of Flight 19
Comparison of Military and Civilian Equivalent Grades
Why is the Colonel Called "Kernal"?
Enlisted Personnel
Regulations and Policy
Navy Service and Medical Records
Military Service Records and Unit Histories: A Guide to Locating Sources
Navy Personnel: A Research Guide
Washington Navy Yard, District of Columbia
Naval Station Norfolk, Virginia
Naval Submarine Base New London, Connecticut
Naval Station Mayport, Florida
Naval Air Station Pensacola, Florida
Naval Station Great Lakes, Illinois
Naval Base San Diego, California
Naval Base Kitsap, Washington
Naval Station Pearl Harbor, Hawaii
U.S. Fleet Activities Yokosuka, Japan
Naval Support Activity Bahrain
Naval Support Activity Naples, Italy
Mare Island Naval Shipyard
New York (Brooklyn) Navy Yard
The Philippines
The African American Experience in the U.S. Navy
Women in the U.S. Navy
Asian Americans and Pacific Islanders in the U.S. Navy
Hispanic Americans in the U.S. Navy
Contributions of Native Americans to the U.S. Navy
Naval Service of LGBTQ+ Personnel
Electricity and USS Trenton
The Voyage of a Lifetime
The Ships of the Great White Fleet
Great White Fleet Gallery
Beginning of the Cruise
Fleet Leadership
Crossing the Equator
World Cruise Experience
Puerto Rico-South America-Mexico
U.S. West Coast
Hawaii-Australia-New Zealand
Japan and China
Philippines and Ceylon (Sri Lanka)
Suez Canal-Egypt-Turkey
Mediterranean
End of the Cruise
Memorabilia
Apollo 10 and NASA
Gemini 9 and NASA
Gemini 10 and NASA
Apollo 7 and NASA
Apollo 8 and NASA
Apollo 12 and NASA
Polar Exploration
The First U.S. Naval Observatory
Bathyscaphe Trieste
Airships & Dirigibles
Higgins Boats
Navy's Use of Torpedoes
The Nuclear Navy
Radar and Sonar
Navy's Use of Unmanned Aerial Vehicles
Naval Mine Warfare
The Navy's Use of Carrier Pigeons
The U.S. Navy and the Sino-Japanese War of 1894–95
Lieutenant John F. Kennedy, USNR
Commander Lyndon B. Johnson, USNR
Commander Richard M. Nixon, USNR
Lieutenant Commander Gerald R. Ford, USNR
Lieutenant James Earl Carter Jr., USN
Lieutenant George H. W. Bush, USNR
Admiral William S. Benson
Admiral Robert E. Coontz
Admiral Edward W. Eberle
Admiral Charles F. Hughes
Admiral William V. Pratt
Admiral William H. Standley
Fleet Admiral William D. Leahy
Admiral Harold R. Stark
Fleet Admiral Ernest J. King
Fleet Admiral Chester W. Nimitz
Admiral Louis E. Denfeld
Admiral Forrest P. Sherman
Admiral William M. Fechteler
Admiral Robert B. Carney
Admiral Arleigh A. Burke
Admiral George W. Anderson Jr.
Admiral David L. McDonald
Admiral Thomas H. Moorer
Admiral Elmo R. Zumwalt Jr.
Admiral James L. Holloway III
Admiral Thomas B. Hayward
Admiral James D. Watkins
Admiral Carlisle A. H. Trost
Admiral Frank B. Kelso II
Admiral Jeremy M. Boorda
Admiral Jay L. Johnson
Admiral Vernon E. Clark
Admiral Michael G. Mullen
Admiral Gary Roughead
Admiral Jonathan W. Greenert
Admiral John M. Richardson
Admiral Michael Gilday
MCPON Delbert D. Black
MCPON John D. Whittet
MCPON Robert J. Walker
MCPON Thomas S. Crow
MCPON Billy C. Sanders
MCPON William H. Plackett
MCPON Duane R. Bushey
MCPON John Hagan
MCPON James L. Herdt
MCPON Terry D. Scott
MCPON Joe R. Campa Jr.
MCPON Rick D. West
MCPON Michael D. Stevens
MCPON Steven S. Giordano
MCPON Official Photographs
John Paul Jones
Oliver Hazard Perry
Joshua Barney
David Glasgow Farragut
Esek Hopkins
Stephen Decatur
John A. Dahlgren
Robert Field Stockton
Benjamin Stoddert (1798 - 1801)
Robert Smith (1801 - 1809)
Paul Hamilton (1809 - 1812)
William Jones (1813 - 1814)
Benjamin W. Crowninshield (1815 - 1818)
Smith Thompson (1819 - 1823)
Samuel Southard (1823 - 1829)
John Branch, Jr. (1829 - 1831)
Levi Woodbury (1831 - 1834)
Mahlon Dickerson (1834 - 1838)
James K. Paulding (1838 - 1841)
George Edmund Badger (1841)
Abel P. Upshur (1841 - 1843)
David Henshaw (1843 - 1844)
Thomas W. Gilmer (1844)
John Y. Mason (1844-1845) (1846-1849)
George Bancroft (1845 - 1846)
William B. Preston (1849 - 1850)
William A. Graham (1850 - 1852)
John P. Kennedy (1852 - 1853)
James C. Dobbin (1853 - 1857)
Isaac Toucey (1857 - 1861)
Gideon Welles (1861 - 1869)
Adolph Edward Borie (1869)
George M. Robeson (1869 - 1877)
Richard W. Thompson (1877 - 1880)
Nathan Goff, Jr. (1881)
William Henry Hunt (1881 - 1882)
William Eaton Chandler (1882 - 1885)
William C. Whitney (1885 - 1889)
Benjamin F. Tracy (1889 - 1893)
Hilary A. Herbert (1893 - 1897)
John D. Long (1897 - 1902)
William H. Moody (1902 - 1904)
Paul Morton (1904 - 1905)
Charles J. Bonaparte (1905 - 1906)
Victor H. Metcalf (1906 - 1908)
Truman H. Newberry (1908 - 1909)
George von L. Meyer (1909 - 1913)
Josephus Daniels (1913 - 1921)
Edwin Denby (1921 - 1924)
Charles F. Adams, III (1929 - 1933)
Claude A. Swanson (1933 - 1939)
Charles Edison (1940)
William Franklin Knox (1940 - 1944)
James Forrestal (1944 - 1947)
John Lawrence Sullivan (1947 - 1949)
Francis P. Matthews (1949 - 1951)
Dan A. Kimball (1951 - 1953)
Robert B. Anderson (1953 - 1954)
Charles S. Thomas (1954 - 1957)
Thomas S. Gates (1957 - 1959)
William Birrell Franke (1959 - 1961)
John Bowden Connally, Jr. (1961)
Fred Korth (1962 - 1963)
Paul B. Fay (acting) (1963)
Paul Henry Nitze (1963 - 1967)
Charles Fitz Baird (acting) (1967)
Paul R. Ignatius (1967 - 1969)
John Hubbard Chafee (1969 - 1972)
John William Warner (1972 - 1974)
J. William Middendorf (1974 - 1977)
William Graham Claytor, Jr. (1977 - 1979)
Edward Hidalgo (1979 - 1981)
John Lehman (1981 - 1987)
James H. Webb (1987 - 1988)
William L. Ball (1988 - 1989)
Henry L. Garrett III (1989 - 1992)
Daniel Howard (acting) (1992)
Sean Charles O'Keefe (1992 - 1993)
ADM Frank B. Kelso, II (acting) (1993)
John Howard Dalton (1993 - 1998)
Richard Jeffrey Danzig (1998 - 2001)
Robert B. Pirie, Jr. (acting) (2001)
Gordon R. England (2001-2003) (2003-2005)
Susan M. Livingstone (acting) (2003)
Hansford T. Johnson (acting) (2003)
Donald Charles Winter (2006 - 2009)
Raymond Edwin Mabus, Jr. (2009 - 2017)
Sean G. J. Stackley (acting) (2017)
Richard V. Spencer (2017 - 2019)
Thomas B. Modly (acting) (2019-2020)
James E. McPherson (acting) (2020)
Kenneth J. Braithwaite (2020-2021)
Thomas W. Harker (acting) (2021)
Carlos Del Toro (2021-present)
Medal of Honor Recipients
Sergeant Cornelius H. Charlton
Private First Class Oscar P. Austin
Civil Rights Activist Medgar Evers
Private George Watson
Cook First Class William Pinckney
Commander Mary Sears
Rear Admiral Grace Hopper
Franklin and Eleanor Roosevelt
Senator Daniel K. Inouye
Private First Class Herbert K. Pililaau
Sergeant First Class Rodney J.T. Yano
First Lieutenant Baldomero Lopez
Master Sergeant Roy Benavidez
Civil Rights Activist Cesar Chavez
Admiral David Glasgow Farragut
Private First Class Fernando Garcia
Sergeant Alfredo Gonzalez
Sergeant Rafael Peralta
Chief Petty Officer James E. Williams
Guide and Interpreter Sacagawea
Sergeant Darrell Samuel Cole
Lenah Sutcliffe Higbee
Captain Thomas J. Hudner, Jr.
Trailblazers
Frigate Chesapeake
Frigate Congress
Frigate Constellation
Frigate Constitution
Frigate President
Frigate United States
Bonhomme Richard
U.S. Navy Brig Somers
CSS Alabama
Conestoga (S.P. 1128)
USS Cumberland and CSS Florida
Maine (Second-class Battleship)
Memphis (Armored Cruiser No. 10)
San Diego (Armored Cruiser No. 6)
Tecumseh (monitor)
Alchiba (AK-23)
Arizona (BB-39)
Cole (DDG-67)
Fletcher (DD-445)
Harmon (DE-678)
Houston (CA-30)
Indianapolis (CA-35)
Jacob Jones (DD-61)
Johnston (DD-557)
Maddox (DD-731)
Missouri (BB-63)
O'Bannon (DD-450)
Pueblo (AGER-2)
Samuel B. Roberts (FFG-58)
San Diego (CL-53)
San Francisco (CA-38)
Tripoli (LPH-10)
Turner Joy (DD-951)
Washington (BB-56)
Belleau Wood (CVL-24)
Enterprise (CV-6)
Enterprise (CVN-65)
Essex (CV-9)
Forrestal (CVA-59)
Franklin (CV-13)
Hornet (CV-8)
Intrepid (CV-11)
John F. Kennedy (CVA-67)
Langley (CV-1)
Lexington (CV-2)
Midway (CVB-41)
Ranger (CV-4)
Saratoga (CV-3)
Wasp (CV-7)
Yorktown (CV-5)
Barb (SS-220)
Finback (SS-230)
George Washington (SSBN-598)
Growler (SS-215)
H. L. Hunley
Nautilus (SSN-571)
Rasher (SS-269)
Scorpion (SSN-589)
Sculpin (SS-191)
Silversides (SS-236)
Swordfish (SS-193)
Tang (SS-306)
Tautog (SS-199)
Thresher (SSN-593)
Triton (SSR(N)-586)
Wahoo (SS-238)
Places--Pentagon
Search and Rescue
September 11--Pentagon
nhhc-topics:mental-health--counseling
Terrorist Attack
Mental Health
Medicine--Triage
September 11--Terrorist Attacks
September 11--World Trade Center
Historical Summary
Global War on Terror
Image (gif, jpg, tiff)
The 9/11 Terrorist Attacks
11 September 2001
Introduction
Attack on the pentagon on 9/11, attack on the world trade center on 9/11, 9/11 terrorist attacks (general), selected imagery.
A bouquet lies on a bench at the National 9/11 Pentagon Memorial at the Pentagon in Arlington, Virginia, 11 September 2019. Department of Defense photo by Lisa Ferdinando.
On the morning of 11 September 2001, 19 terrorists from the Islamist extreme group al Qaeda hijacked four commercial aircraft and crashed two of them into the North and South Towers of the World Trade Center complex in New York City. A third plane crashed into the Pentagon in Arlington, Virginia. After learning about the other attacks, passengers on the fourth hijacked plane, Flight 93, fought back, and the plane was crashed into an empty field in western Pennsylvania about 20 minutes by air from Washington, D.C. The Twin Towers ultimately collapsed, due to the damage from the impacts and subsequent fires. Nearly 3,000 people were killed from 93 different countries. Most of the fatalities were from the attacks on the World Trade Center. The Pentagon lost 184 civilians and servicemembers and 40 people were killed on Flight 93. It was the worst attack on American soil since the Japanese attacked Pearl Harbor in 1941.
After the Taliban refused to turn over the mastermind of the attacks, Osama Bin Laden, Operation Enduring Freedom officially began 7 October 2001 with American and British bombing strikes against al Qaeda and Taliban forces in Afghanistan. Initially, the Taliban was removed from power and al Qaeda was seriously crippled, but allied forces continually dealt with a stubborn Taliban insurgency, infrastructure rebuilding, and corruption among the Afghan National Army, Afghan National Police, and Afghan Border Police. Bin Laden would go into hiding for nearly 10 years.
On 2 May 2011, U.S. Navy SEALs launched a nighttime raid on Bin Laden's compound in Abbottabad, Pakistan, killing the al Qaeda leader. Operation Enduring Freedom officially ended 28 December 2014, although coalition forces remained on the ground to assist with training Afghan security forces. American troops departed Afghanistan in August 2021.
Oral Histories - Navy Archives
Navy Combat Documentation Detachment 206 Pentagon 9/11 Oral Histories
In the immediate aftermath of the attacks on 11 September, the Department of Defense and all of the branches of the Armed Forces began efforts to document the attacks. The Naval Historical Center (the predecessor of NHHC) activated its reserve unit, Navy Combat Documentation Detachment 206 (DET 206) to assist in the documentation efforts. Over the next ten months, DET 206 reservists and NHC Historians interviewed hundreds of individuals who were in the Pentagon on the day of the attack or were directly involved in the Navy's response and the work that followed. The Navy Archives has received permission to release a portion of the oral histories to the public for the first time since they were recorded. The oral histories that have been authorized for release can be found at the link above.
Archives Collections - Navy Archives
AR/668 Pentagon Attack Narrative Accounts
AR/670 DET 206: Documenting the Attack on the Pentagon on 9/11
Blogs/Articles
Rescue Activity at the Pentagon after al Qaeda Terrorist Attack, 11 September 2001 , recollections of Lieutenant Commander David Tarantino.
Emergency Medical Activity after Pentagon Attack, 11 September 2001 , recollections of Captain John P. Ferrick
Escape From the Pentagon: NSWC Crane Group on 9/11 , article by NHHC Historian Guy Nasuti
Artifact Collection
Terror Attack, 11 September 2001 , artifacts that were at the Pentagon at the time of the attack to include a laptop, window glass, and a door sign from the Pentagon's E-Ring
Photo Gallery
The Attack on the Pentagon . The photos in this gallery are a small portion of those found in the Pentagon 9/11 collections held by Navy Archives.
Documenting the Attack on the Pentagon on 9/11 . These graphics were originally printed in Pentagon 9/11 (Defense Studies Series), the official Office of the Secretary of Defense (OSD) account of the attack on the Pentagon.
Suggested Reading
Defense Studies Series: Pentagon 9/11
Terrorist Attack on the Pentagon, 11 September 2001: A Selected Bibliography
The 9/11 Commission Report
The National 9/11 Pentagon Memorial
Navy Combat Documentation Detachment 206: Documenting the Experiences of the Navy in New York City After 9/11
The oral histories document the experiences of Navy personnel in New York, New Jersey, Connecticut, and Rhode Island on the day of the attacks and in the days and weeks following.
Navy Combat Documentation Detachment 206 Pentagon 9/11 Oral History: CDR Terrence Dwyer
Commander Dwyer was the head of medical services on the USNS Comfort in September 2001. His oral history documents the service of USNS Comfort in New York City following the attacks.
Archives Collection - Navy Archives
AR/643 DET 206: Documenting the Experiences of the Navy in New York City After 9/11
Fleet Combat Camera Atlantic in New York City After 9/11 . U.S. Navy Fleet Combat Camera Atlantic photographers deployed to New York City to document the aftermath of the attacks on 11 September 2001. These photographs are a few of those taken by these Navy combat photographers.
USNS Comfort in New York City After 9/11 . The photos in this gallery were taken onboard USNS Comfort beginning on 12 September 2001.
USNS Comfort (T-AH 20) Deployment to New York City following the al Qaeda Terrorist Attack on the World Trade Center , recollections of Captain Ralph Bally
National September 11 Memorial Museum
Navy Combat Documentation Detachment 206: Documenting Operation Enduring Freedom - Experiences at CINCUSNAVEUR London on 11 September 2001 and in the Aftermath
The oral histories focus on the experiences of Naval Staff on duty in London at Naval Forces Europe (CINCUSNAVEUR) on 9/11, as well their work in the aftermath and their observations on foreign reactions to the attacks.
Navy Combat Documentation Detachment 206: Documenting Operation Enduring Freedom - CINCLANTFLT & COMSECONDFLT Norfolk
DET 206 reservists deployed to Norfolk in December 2001 to document CINCLANTFLT and SECONDFLT operations leading up to September 11, the immediate response following the attacks; and operations in the days and weeks after the attacks. The oral histories in this collection offer overlapping and complementary perspectives.
AR/688 DET 206: Documenting Operation Enduring Freedom - CINCLANTFLT & COMSECONDFLT Norfolk
AR/705 DET 206: Documenting Operation Enduring Freedom & 9/11 - CINCUSNAVEUR London
Selected Photos from Navy Archives Collections
"We Stand By You" banner , displayed by German destroyer FGS Lutjens to USS Winston Churchill (DDG-81) following 9/11 attacks
Artifact Conservation
Highlighted Projects . Recently, NHHC's Conservation Branch was tasked with assessing, analyzing, and conserving two evocative objects associated with the September 11 Terrorist Attack: a banner of solidarity produced from a bedsheet by crew members from the German destroyer FGS Lutjens displayed while alongside USS Winston Churchill on 14 September 2001, and a severely damaged laptop recovered from the rubble of the Pentagon.
Flight 93: National Memorial Pennsylvania
A clock, frozen at the time of impact, sat on a desk inside the Pentagon following the terrorist attack on 11 September 2001. Photo by Air Force Staff Sgt. Larry A. Simmons.
Devastation at the World Trade Center site in New York City in the aftermath of the 11 September 2001 terrorist attack. National Archives identifier, 5609777.
President George W. Bush greeted rescue workers, firefighters, and military personnel, 12 September 2001, while he surveyed damage caused by the previous day's terrorist attacks on the Pentagon. Photo by Eric Draper. Courtesy of the George W. Bush Presidential Library.
Two Navy F/A-18 Hornets patrol the skies over Afghanistan in support of Operation Enduring Freedom. Both carry external fuel tanks and are armed with Paveway II laser guided GBU-16 1,000-pound bombs and AIM-9 Sidewinder missiles. In response to the terrorist attacks on 11 September 2001 at the New York World Trade Center and the Pentagon, President George W. Bush initiated Operation Enduring Freedom in support of the Global War on Terrorism. National Archives identifier, 6602325.
The tall gray walls are the walls of the Visitor Center at the Flight 93 Memorial near Shanksville, Pennsylvania. The black walkway is the Flight Path Walkway. The Flight Path Overlook is beyond the second set of walls. National Park Service photograph.
Conservator Francis Lukezic begins assessing the laptop recovered from the Pentagon shortly after 9/11.
Conservators stabilizing historic artifacts, including the "We Stand by You" bedsheet flown from FGS Lutjens as a banner of solidarity shortly after 9/11, at the Conservation Laboratory within the Collection Management Facility in Richmond, Virginia.
Senior Conservator and textile specialist Yoonjo Lee completes the treatment process for the FGS Lutjens bedsheet at NHHC's Conservation Laboratory in Richmond, Virginia.
Emergency response teams responded to the Pentagon following a terrorist attack on 11 September 2001. Photo courtesy of the Federal Bureau of Investigations.
Smoke and flames in the Washington, DC, skyline in the aftermath of the terrorist attack on the Pentagon, 11 September 2001. Photo by Petty Officer 2nd Class Robert Houlihan.
Flight 93 impact crater with debris taken early in the investigation near Shanksville, Pennsylvania. Department of Justice photograph.
An American flag was among the mementos left by German citizens who marched from Ramstein Village to Ramstein Air Base on 14 September 2001. The march was a show of support and empathy for the victims of the terrorist attacks on the World Trade Center's Twin Towers and at the Pentagon. Hijackers deliberately flew civilian airliners into the buildings, killing themselves, the passengers, and thousands on the ground, 11 September 2001. National Archives identifier, 6598788.
A U.S. Navy lieutenant dropped to one knee and placed flowers on a gravesite, while family, friends and coworkers of the 184 victims of the 11 September 2001 terrorist attack on the Pentagon, look on during a memorial service at the Arlington National Cemetery, 11 September 2003. National Archives identifier, 6647599.
Badly damaged laptop recovered from the Pentagon shortly after 9/11, prior to assessment by Conservation Branch staff.
Heat damage from the fire after the attack on the Pentagon caused thermoplastic components to melt, warp, and keys to separate from the base of the laptop. Additionally, heat formed an impression of a security strap on the exterior of the laptop and cracked the screen.
| Our Collections
| Visit Our Museums
Browse by Topic
| News & Events
| Get Involved
Accessibility/Section 508 |
Employee Login |
Webmaster |
Navy Recruiting |
No Fear Act |
This is an official U.S. Navy web site
Language selector
Don't have an account? Create an account today and support the 9/11 Memorial & Museum.
Log in with Google , Facebook or Twitter .
Create new account
Forgot your password?
Students Reflect on 9/11 in Essay Contest
First responders and supporters from the city of Palm Beach Gardens, Fla. have once again sponsored an essay contest in which local students can reflect on their understanding of the terrorist attacks of Sept. 11.
The second annual September 11th remembrance essay contest, which is open to Palm Beach Gardens residents and the dependents of city employees, requests that students in grades nine to 12 "reflect on how the terrorist attacks of September 11, 2001 affected our nation and the future of the world."
Building on their successful 2015 contest , the contest is being sponsored by the Palm Beach Gardens Police Foundation, Fire Chief's Association of Palm Beach County and Palm Beach Gardens Fire-Rescue, according to the Palm Beach Post .
Essay submissions should be between 500 to 700 words and applications are due Aug. 15, 2016. Three winners will be chosen. 
By 9/11 Memorial Staff
Previous Post
The lens: capturing life and events at the 9/11 memorial and museum.
The Lens: Capturing Life and Events at the 9/11 Memorial and Museum is a photography series devoted to documenting moments big and small that unfold at the 9/11 Memorial and Museum.
9/11 Museum Honors Legacy of New York Yankees
With the Bronx Bombers opening their season yesterday at Yankee Stadium, the 9/11 Memorial and Museum honors the connection between the Yankees and legacy of Sept. 11.
Group Visits
Museum Admission Discounts
Health and Safety
Visitor Guidelines
Getting Here
Accessibility
Museum Café
Museum Store
Exhibitions
The Collection
Programs and Events
Find a Name
Outdoor Memorial Audio Guide
9/11 Memorial Glade
The Survivor Tree
Past Public Programs
School Programs
Lesson Plans
Anniversary Digital Learning Experience
Digital Learning Experience Archives
Teacher Professional Development
Activities at Home
Youth and Family Tours
Talking to Children about Terrorism
Digital Exhibitions
Interactive Timelines
9/11 Primer
Oral Histories
WTC Health Program
Visiting Information
Rescue and Recovery Workers
Witnesses and Survivors
Service Members and Veterans
September 11, 2001
Remember the Sky
February 26, 1993
May 30, 2002
The MEMO Blog
Sponsor a Cobblestone
Other Ways to Give
Member Login
5K Run/Walk
Benefit Dinner
Summit on Security
Corporate Membership
The Never Forget Fund
Visionary Network
Give to the Collection
Essay Writing 911: Help With All Types of Essays
Class Experience
Us grade 9 - 12, intermediate - advanced level, homework offered, 1 - 2 hours per week outside of class, assessments offered, grades offered.
Available times
Group Class
Financial assistance  , outschool international  , get the app  .
More to Explore  
Classes by age  , classes by grade  .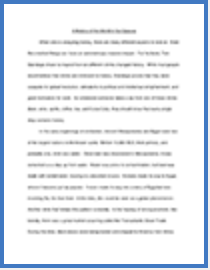 Airline Industry After September 11th Essay
were stopped immediately for several days, for fear of further attacks" (9/11 Effects in the USA, Soong). Understandably, people thought another attack could happen at
9/11...a Turning Point
9/11…A Turning Point There have been many turning points in American history; however none have had the same effects as September 11, 2001, and many people relate the day to the country's loss of innocence. As a result of 9/11 many civil liberties were taken away, security was heightened, and there have been numerous effects on Americans. Although the attack happened on American soil, it can really be characterized as an attack on civilization itself, because people from more than 80 nationalities
9/11 Failure
September 11, 2001 Colleen Ellis "What separates us from the animals, what separates us from the chaos, is our ability to mourn people we've never met." This quote from author David Levithan in his book "Love is the Higher Law" captures the essence of tragity that ocurred fourteen years ago. Whether you were in the Pentagon, like my father, or watching the events unfold on television, it effected all Americans. As we as a nation look back, controversies about the success and failure of intelligence
A Sociological Analysis of Ron Howards Apollo 13 Essay
     Ron Howard's re-creation of the happenings aboard NASA's Apollo 13 flight combined some of the biggest talent in Hollywood to produce a masterful film. Apollo 13 takes us back in time, to the late 1960's and early 70's, when America's NASA space program was thriving and the world stood aside to see who would reach the moon first. The impacts of space program are still evident to this day. It is even said that by beating the Russians to the moon, we established ourselves
Basho's Journey Essay example
Basho 1. Where and when does Basho start his travels? Basho's journey starts from a 17th Century Japanese city called Edo (present-day Tokyo). He had a cottage in a quiet, rural part of the city. He left Edo in the Spring season, " It was the Twenty-seventh Day, almost the end of the Third Month." (p. 2112) 2. Why does Basho start his travels? Like many of us do, Basho was beginning to question the purpose of his existence. In comparison to what Dante was going through during the time he wrote
The Moon Landing Was Not a Hoax Essay
The Moon Landing Was Not a Hoax Some Americans now ask, "Was the moon landing a hoax?" Is this actually possible; would the U.S. government lie to our nation, let alone the whole world? The answer, no, should jump out. Hoax believers (HBs) thought they researched this thoroughly and gained enough evidence to prove that the moon landing was a hoax, but they don't know jack! Their whole case can be compared to a brick house with one difference. It seems like the bricks have all the corners
Moon Landing Hoax Essay
Moon Landing Hoax John F. Kennedy once said, "No nation which expects to be the leader of other nations can expect to stay behind in this race for space...We choose to go to the Moon in this decade and do the other things, not because they are easy, but because they are hard". The main motive for this quote was to ensure that the United States wanted to beat out the Soviets in the space race. Ever since the Soviets tried to advance on the moon, the United States wanted to be the first successful
The Theory Of The Conspiracy Theory
giant leap for mankind," the man uttered, as he descended the short flight of stairs down to ground level, disengaging his fishbowl helmet to the pleased "Cut!" of the director and the thrilled clapping of everyone else in the studio. This was Apollo 11 for the moon landing conspiracy theorists, who will swear by their beliefs despite the standard opinion of the television and the textbook. Minute details differ, but the foremost claim of the conspiracy theory goes something like this: in 1969, the
The Soviet Union During World War II
After a long period of fighting on land, where else can nations fight? The early twentieth century saw many battles, the biggest being the two world wars. As World War II ended in 1945, the two superpowers, the Soviet Union and the United States were locked in a cold war. Technology had been an important element of success in World War II. The advancement of nuclear weapons, and development of atomic bombs gave the US and its allies a major advantage. By the 1950s, the Soviet Union had caught up
The Mission Of Apollo 11
already centuries old when the second World War ended in 1945. The primary objective of Apollo 11 was to complete a national goal set by President John F. Kennedy on May 25, 1961: perform a crewed lunar landing and return to Earth. Apollo 11 would be the mission to achieve the goal that President Kennedy had laid down, with more than five months to spare before the end-of-decade deadline. On July 19, after Apollo 11 had flown behind the moon out of contact with Earth, came the first lunar orbit insertion
Popular Topics
12 Angry Men Essay
16th Century Essay
18th Century Essay
1920's Essay
1950's Essay
1960's Essay
20th Century Essay
Essay About 21st Century
A Christmas Carol Essay
A Clean, Well-Lighted Place Essay