Consulting Industry
The consulting industry can trace its roots back to the late 19th century, when the world's first modern consulting firms were founded. From the turn of the century onwards, management consulting – which early on focused mainly on engineering and finance – increasingly gained terrain in the business world, although it wasn't until the 1930s that consulting firms started to grow their size beyond a few founding partners and small teams. In the slipstream of the growth of scientific management, operations and organisational theory, the number of consulting firms rapidly expanded in the next decades, with today's well-known US firms such as Arthur D. Little, A.T. Kearney, Booz Allen Hamilton and McKinsey & Company playing a frontrunner role.
The consulting industry started its internationalisation in the early 1960s, when the large American management consultancies expanded into Europe, bringing their management models and experience to transform European organisations. For example, by the 1970s, McKinsey & Company had decentralised one quarter of the hundred largest companies in the United Kingdom. In the next thirty years, the consulting industry found itself in a phase of unprecedented growth across Western markets, far outpacing the growth of the world economy during the same time period. Revenues of the top ten worldwide management consultancies for instance grew from around $200 million to around $50 billion at the beginning of the 21st century, while the headcount of the thirty largest consultancy firms in the industry grew from about 20,000 in the early 1980s to approximately 430,000 in 2000.
Nearly two decades down the line, the consulting industry has developed into one of the most mature sectors in the professional services industry, generating between $100 billion to $300 billion in revenues, with the precise estimate depending on the definitions used. At the heart of the industry stand six main domains – Strategy Consulting , Management Consulting , Operations Consulting , Financial Advisory , HR Consulting and Technology Consulting – that combined span services and offerings in over 200 industry and functional areas . The majority of consultants work at large and mid-sized consulting firms, yet, in terms of the number of consultancy enterprises, these firms typically represent no more than 15% of the total, with the majority of enterprises active as sole proprietorships (i.e. freelance consultants).
Besides consultants working in the consulting industry, advisors are increasingly working in a consultant role outside the consulting industry that for a large part leverages consultancy skills. Over the past decades, organisations have taken large steps in maturing their internal advisory and implementation units, building internal consulting and project management teams as well as developing typical 'consulting' capabilities across key departments, functions and processes areas. Little is known on the exact global size of the ' internal consulting ' industry, and estimates range widely from a fraction of the consulting industry's size to a market that is larger in terms of scale. Typical internal consulting roles are based in, among others, corporate development, project management units and dedicated advisory departments, as well as many consultants venturing into managerial roles.
The chapter 'Consulting Industry' presents an overview of all aspects of the advisory market, ranging from the definition of consulting and its key segments to insight in market sizes per region/country, including the UK. The chapter further presents an outline of fees & rates billed by consultants, details on the M&A landscape in consulting and an overview of the main rankings and recognitions in the industry.
Related news
News archive
Consulting.us
Consulting.ca
Consultancy.uk
Consultancy.in
Consultancy.nl
Consultancy.co.za
Consultancy.eu
Consultancy.asia
Consultancy-me.com
Consultancy.lat
Consultancy.africa
Consultancy.com.au
The Management Consultancy Industry – An Analysis
Part II – Future Prospects
The management consultancy industry shows a very fragmented picture with various segments and player groups. This first part of the industry analysis – Current State - has analysed the market segments, player groups and competitive situation. This second part of this analysis discusses driving forces and possible futures for the industry.
1 Driving forces
The major driving forces in the consulting industry are all changes in the clients' environment, the rising competition within the industry and the developments in the areas of IT and communication.
Today nearly all industries are undergoing massive change. IT has the potential to reshape most industries. These developments foster changing consulting needs at the clients' side:
· Advise about their strategic direction according to these changes,
· Help in planning and implementing the necessary changes.
 For consultants this implies that they have to be prepared to provide these newly needed services. They have to adopt latest trends in technology and economy even more quickly than their clients. Thus – due to the variety of clients industries and developments there - the needs for consulting services are very dynamic and complex. Consultancies are steadily forced to respond to these dynamics.
The trend for globalisation in many industries drives consultants to globalise as well. Most clients wish to get a consistent service from their consultant for all their subsidiaries, wherever they are.
The rising competition forces consultancies to continuously look out for new business opportunities and rethink their competitive position in relation to existing and newly entering competitors.
IT and communication not only change the clients consulting needs but also the processes within the industry. To give just some examples - the use of means for sharing knowledge and information enables better knowledge management and the work in "virtual teams" – people spread across the world working on the same project linked through the companies intranet. Smaller consultancies can overcome the constraints of location and cooperate in virtual networks.
2 Future developments
2.1 markets and market segments.
For the overall market of management consultancy a further growth can be expected. Technological and political forces expose companies in all industries to continuous change. After former waves of lean management many companies are left with insufficient management capacity and –expertise to handle the resulting corporate change processes internally. This creates on ongoing need for consulting services.
The total market growth might slow down a little bit, but will remain considerably above the German GDP-growth. There will be considerable shifts amongst the market segments. Traditional management (strategy) consulting will stagnate and nearly merge with IT consulting. Besides IT, major areas of growth will be knowledge management and organisational learning, HR-management, change management and the development of global strategies.
In general, there will be a shift from traditional advise to implementation. This implies that clients will express the wish that their consultants share more risks of the projects. Payment structures might shift from hourly fees to flexible, return related payments or even equity stakes. Consultancies might learn a lesson from venture capital firms in this area.
The management consultancy market is less dependent from changes in business cycle. Whether boom or recession – clients will always need expert advice to manage their growth or to restructure their business in a declining market. As James (1998) stated: "The only thing that could seriously threaten the profession of change is if the world as a whole entered a period of protracted stasis. What if things stopped changing?"
2.2 The players
With the expected good preconditions on the markets there are good prospects for all types of players. Many experts [1] suggest, that the large players will continue to become generalists and the small players will seek their fortune in becoming specialised niche players.
As for the large players we will see a continuing concentration to gain market share and market power. There are two options. The handful of beg market leaders could merge amongst each other to form a maximum of big three at the end of the decade. In addition, large but not that big firms might merge to form new entrants into the group of really dominant players. On the other hand each of today's market leaders could seek further growth, especially in attractive new market segments, by acquiring medium and small consultancies with high specialisation and good reputation. Both possible developments lead to an enormous concentration in this player group which is followed by even heavier competition.
In the segment of large consultancies, the accountancy-based ones have already started to separate from the accounting houses. This trend is enforced by the SEC which requires total independence of auditors of the companies quoted at the stock exchange. Therefore the Big Five's strategies to offer a broad range of consulting services to their auditing clients came into conflict with SEC regulations. In the result, the former consulting arms of the Big Five will gain the freedom to act independently from the auditing businesses constraints. This will make them even more aggressive and competitive.
Smaller consultancies will continue to specialise. This can provide a stable market position, but – as demand changes – might leave some of them unprepared for the new trends. The result is a polarisation of large globals and small niche players, leaving a lack of service to the SMEs that are not attractive clients to both of these groups. This under-serviced middle segment creates three options: large consultancies could develop effective ways to operate in this sector; small firms could network to fulfil the complex needs of SME-clients forming ad hoc virtual medium-sized consultancy on a project basis; there could be a renaissance of the of the real medium-sized consultancies.
Other changes in the field of players will occur through new entrants. Attracted by the impressive market growth and chances for cross-selling many non-consultancies will establish consultancy-divisions. IT-firms have shown the way. Banks are likely followers. Some of them already have such consulting subsidiaries [2] , but mainly for supporting the banks clients, which came into problems. The banking businesses will provide excellent market access to these entrants. Telecommunication companies can provide professional advice in the area of IT. Nearly every company who has expert knowledge in certain areas could extend this to consulting services for its customers. In addition, further entries of sole practitioners and small consultancies can be expected.
This wave of new entries will have a double effect. It will increase the competition, thus leading to more mergers and acquisitions, but also to some breakdowns. Further, because there are no legal regulations who is allowed to call himself a consultant, there will be quality problems in some cases which could damage the reputation of the whole industry.
2.3 Other aspects
Recruitment will remain a problem. Especially the large firms compete aggressively for the so-called "high-potentials". A price war and decreasing loyalty of key staff could be the result. Smaller firms will try to overcome their handicap in hiring good people in creating new working-styles and corporate cultures that are attractive for more entrepreneurial-minded people.
The rising complexity in the consultants and their clients' environment makes the use of knowledge management systems key.
The large consultants will face some structural problems. These are embedded in their structure as partnerships, which limits their ability to raise capital and slows down decisions and changes, in their globalisation, which causes problems to form a global internal but local external culture, and in the concentration process, which needs enormous management capacities to solve post-merger-integration-problems. In the result some of the big firms will consider going public. More important is, that they might loose a bit of their market-focus, being to busy with internal problems. This would be an opportunity for other players to enter some poorly serviced fields.
3 Critical success factors for consulting businesses
Basing on the current and possible future situation of the industry there are the following critical success factors:
· Knowledge and knowledge management The industry is highly based on experience and brainpower. In a world of growing complexity it is critical to ensure sufficient distribution of the existing knowledge throughout the company. This allows an optimal utilization of the internal resources and the staffing of each assignment with the best available people.
· Innovation Innovation includes the constant monitoring of the environment. It is important to develop solution for new issues as soon as possible to have them at hand when the clients realise the problems. Ongoing in house adoption of latest developments in economical science and technology also provides skills and experiences that can be sold to the clients.
· Reputation / quality As a service industry consultancies rely much more on the clients perception of their work and on their reputation. This is the basis for the acquisition of new clients as well as for the development of long-lasting relationships with existing clients.
· Networking / alliances Especially smaller consultancies need to develop a network of alliances to create awareness for themselves and to increase their range of services offered through cooperation with other consultants.
© Dagmar Recklies, April 2001
Literature Recommendations:
James, Rassam (1998) In Sadler, P. (ed.) Management Consultancy – a handbook for best practice. London: Kogan Page Limited
Printer-friendly pdf-file (35 KB)
[1] BDU (2000), James (1998)
[2] e.g. DMC Dresdner Management Consulting, a subsidary of the Dresdner Bank AG
S T R E E T OF W A L L S
Consulting industry overview, history of management consulting.
Management Consulting began to develop shortly after the rise of management as a unique field of enterprise in the late 19 th Century, along with the Industrial Revolution. The early firms were started by university professors. The first management consulting firm was named Arthur D. Little, after the founding MIT professor, in the late 1890s. This firm originally specialized in technical research, but later became a general Management Consultancy. Booz Allen Hamilton was founded as a Management Consultancy by Edwin G. Booz, a graduate of the Kellogg School of Management at Northwestern University, in 1914, and was the first to serve both industry and government clients. This firm later changed its name to Booz & Co.
The first pure Management Consulting company was McKinsey & Company. McKinsey was founded in Chicago during 1926 by James O. McKinsey (known as Mac to most people), an accounting professor from the University of Chicago. Marvin Bower, hired in the late 1930s as a partner, ran the company for 30 years and crafted the firm into what it is today. He believed that Management Consultancies should adhere to the same high professional standards as lawyers and doctors. Thus McKinsey, under Brower, is generally credited with developing into the first Management Consulting firm in the modern sense.
McKinsey is also credited with being the first firm to make it a practice to hire newly graduated MBAs from top schools to staff its projects (as opposed to hiring experienced personnel from industry). It should be noted that Andrew T. Kearney was McKinsey's first partner, and he left the firm to found A.T. Kearney in 1937.
In the 1960s, a number of new management consulting firms formed, most notably Roland Berger and the Boston Consulting Group (BCG). These firms helped bring a rigorous analytical approach to the study of management and strategy. During the 1960s and 70s, firms such as BCG, Roland Berger, Booz Allen Hamilton, McKinsey and the newly-formed Bain & Co (1973), as well as Harvard Business School, pioneered many of the analytical tools and approaches that would define the new field of strategic management. The publication of these concepts has set the groundwork for many Consulting firms to follow.
Bain & Company in particular set an early focus on the concept of shareholder wealth, which set it apart from other firms and has become the model used frequently across the industry today. Bain has also "put its money where its mouth is," developing and branching off its Private Equity business based on these principles. Its Private Equity arm has been wildly successful and is considered a leader in the space.
In the late 1990s, the Consulting industry blossomed, driven by a broad array of factors (a strong global economy, increases in computing power, penetration of emerging markets, privatization, globalization, and the new Information Technology Consulting practice). Many established firms  were growing revenue at rates of 20% annually or more, and new firms were popping up all over the place. There was thus a huge demand for Undergraduates and MBAs alike, and firms were recruiting extremely aggressively on campus.
After this boom period, the growth stalled for a couple of years in the early 2000s. the dot-com bubble burst; there was a painful recession, and many corporate clients began contracting their Consulting budgets for the first time in decades due to the  uncertainty generated by the recessionary economy of 2001 and 2002. As a result, many young/small firms had to downsize or withdraw from the market entirely, and larger firms sharply reduced their recruiting efforts.
Current Industry Outlook
Since 2004, the Consulting industry has recovered substantially—all firms are now aggressively recruiting again. Most firms were surprisingly resilient to the Great Recession of 2008 and 2009. Currently, most consulting offices are working at full capacity and the outlook for the sector as a whole is very positive. Top Consulting firms continue to compete with Investment Banks and each other for the top candidates from universities and business school programs across the country, offering highly attractive compensation packages and career opportunities. At many top business schools, as much as 1/3 of the graduating class will sign with Consulting firms upon graduation.
The current trend in the market is a clear segmentation of Management Consulting firms by function. Major/Strategy-Focused firms such as Bain, BCG and McKinsey retain their dominant global brand in strategy-oriented projects, with smaller, more specialized firms such as L.E.K. and Oliver Wyman competing effectively in the high-end market for specific projects in which they have a competitive advantage. Many other generalist Management Consultancies are broadening their offering include higher volume, lower margin projects such as IT deployment and retail sales analysis. There has always been a bit of an unclear dividing line between Management Consulting and other Consulting practices, such as Information Technology Consulting and Human Resources Consulting, and this line continues to be blurred.
Management Consulting also continues to branch out more and more into non-business related fields as well—specifically, working with governments, quasi-government agencies, and not-for-profit organizations. As the need for professional and specialized advice in these areas grows, these other institutions are relying more and more on the same strategic and analytical principles that have helped corporations for decades.
Type of Firms
There is plenty of overlap across disciplines, and specific Management Consulting firms may practice multiple disciplines. But broadly speaking, Management Consulting firms focus on engagements that can be grouped into four different, important areas:
Major (Strategy-Focused): Consulting geared towards high-level, corporate decisions. This category can include broad industry analysis, competitor assessment, merger integration, new product strategy, etc. In other words, this category fits most large-scale, high-level Consulting engagements. Most MBA Graduates are hired by these types of firms.
Information Technology (IT): Consulting that focuses on Information Technology development in several different areas (Assessment, Design, Implementation, Infrastructure, and other areas).
  Human Resources (HR): Consulting that focuses on maximizing value created from Human Resources, or employees, in an organization. Can include topics such as Compensation schemes, Health & Benefits planning, Recruitment processes, etc.
Niche: Consulting that tends to focus on a specific technology, research, or analysis method, or is particular to a specific industry or region. For example, a Management Consulting firm that only serves the Bioengineering industry would be a type of Niche consulting; another example would be a firm that has developed a proprietary profitability analysis technique and sells it to various firms in the Financial Services Industry. Often, Niche Consulting firms were founded by ex-partners at Major/Strategy-Focused firms that had developed a strong Consulting practice in a particular area during their tenure there. Specialized firms have increased pressure on larger, more generalist Consulting firms to increase their sophistication in industry and geography-specific knowledge in order to compete for business.
Types of Projects
Once again, Management Consultants can be called upon to tackle a broad spectrum of different project types. Each industry and each client have their nuances.  There are certain types of projects, however, that tend to occur fairly frequently. Here we describe some common types of projects you might work on as a Management Consultant, and what the work entails. Note that this list tends to focus on the "Major" and "Niche" Consulting areas:
Post-Merger Integration : When one company buys another, it is often complicated: there are now multiple supply chains, IT systems, customer loyalty programs, etc.  Not to mention that there are frequently two people filling certain positions (one from each side), while the newly merged company may only need one.  Enter the Management Consultants: this is a classic situation in which Major and Niche consultants tend to be brought in (as well as HR and IT consultants!).  These types of projects tend to be large in scope and longer-term—post-merger work can often take a year or two to complete. Additionally, for larger acquisitions, Post-Merger Integration projects tend to have multiple Consulting teams working on different pieces of the Post-Merger  Integration work. For example, a Major Management Consulting firm may be coordinating the entire project and overseeing major strategic decisions and analyses, while an IT Consulting firm may be working on an IT Integration and Implementation plan and an HR Consulting firm may be evaluating candidates for key positions, making hire/train/fire decisions, and developing revised compensation schemes for the combined entity.  These projects tend to have a high degree of client interaction. Post-Merger Integration projects also tend to have many process elements to them, as you can imagine—the client needs to merge the combined entities quickly and efficiently to maximize shareholder value and reduce risk (e.g., minimize the possibility of business disruption). Consultants with experience at managing such projects efficiently and effectively therefore can command a handsome premium.
Growth Strategy: This is the classic project type most frequently used to explain what a Management Consultant does for a living. The description often sounds something like, "How can Company A enter the Chinese or Brazilian market?  What types of products should they be marketing? What existing products should they exit?  How can market share be increased?" These are the types of problems you will work to resolve on a Growth Strategy case.  These projects are usually 3-6 months in duration and involve significant analysis–e.g., competitor profiles, industry SWOT analysis , expert interviews, customer surveys—depending on what specific growth issue you are trying to solve.  The cadence of client meetings tends to be less regular, with management meetings likely happening once per month.
Business Diagnostic : A business diagnostic project involves quickly developing a broad snapshot to assess a company or business unit. It is a great way for a new manager, such as a CEO or SVP, to get an understanding of the business and understand what needs attention.  These projects are typically ~3 months in length and are highly analysis driven.  The focus is typically on breadth rather than depth.  For example, you might look into everything from procurement to cost effectiveness to market position to sales effectiveness.  You are also likely to do a lot of competitor benchmarking to understand how your client compares to peers in the industry.  Once the diagnostic is complete and your team has identified areas that the client should focus on, your firm is likely to sell follow-up work to really understand the topic area in-depth and provide a more detailed recommendation.
Private Equity Due Diligence : Over the past couple of decades, Private Equity firms have increasingly hired consulting firms to assist with the due diligence of target companies.  The PE firms certainly have the capabilities in-house to run management interviews and create the deal model (to determine the appropriate price and financing for a proposed acquisition), but use Management Consulting firms to help provide better inputs to that model. For example, Management Consulting firms have more expertise at offering broad industry insights and assessing the attractiveness of the target company relative to its peers on a number of different dimensions. In performing due diligence on the target company, the PE firm will evaluate the market environment (how fast is the industry growing, who are the key players) and understand the customer dynamics (what do they think of the target company and why).  This is often accomplished by conducting several industry expert interviews and running a large customer survey.  Ultimately, this information will feed into the PE firm's model and determine the firm's interest in moving forward with the deal. The Management Consultants also operate as an "extra pair of eyes" prior to the PE firm spending a large amount of investor funds to purchase the company—they can offer opinions about the attractiveness of the proposed transaction, identify areas of concern, and help with financial due diligence.  Private Equity Due Diligence projects will be fast-paced, with a heavy workload and a lot of client interaction; typical engagements will last 3-9 months. For more on what Private Equity firms do and how to look for a job in the Private Equity space, please see our Private Equity Training Course .
M&A Due Diligence: Similar to Private Equity Due Diligence, M&A Due Diligence involves analyzing a target company that may be acquired by a strategic investor—i.e., a company in the industry—rather than a Private Equity firm. For the most part, acquiring companies mostly leave the details of deal valuation and financial underwriting to the corporate M&A groups and investment banks, respectively, that represent them in the transaction. However, a Management Consulting team can add tremendous value in the transaction process.  On an M&A project, Consultants will develop company profiles for potential acquisition candidates and strategically evaluate each one—i.e., how good of a fit is the company, what are its strengths/weaknesses, how do customers perceive it, etc.  This assessment will ultimately help determine whether your client is interested in acquiring any companies, and if so, which ones are most attractive. If one is selected for potential acquisition, deeper analysis into this target company will provide useful inputs to the M&A Model managed by the investment bankers and buy-side M&A advisors. This will help determine how much the client might be willing to pay for the target. There is an additional benefit to using Management Consultants for M&A Due Diligence: some experts argue that investment bankers have much more incentive to "get a deal done" than the company itself—i.e., the investment bank makes revenue from the closing of an acquisition, but does not get paid if no deal takes place. Management Consultants, meanwhile, do not have an incentive either way—their incentive revolves around clients making good decisions. Thus having a Management Consulting firm as part of the process may help the client make an important decision— whether to buy a company, not just which company and at what price . M&A Due Diligence projects will be fast-paced, with a heavy workload and a lot of client interaction; typical engagements will last 3-12 months.
Cost-Reduction : Companies often look to Management Consulting companies to help them streamline costs.  This can come from many different sources–reducing production overhead; switching to superior technologies or less expensive raw materials; reducing procurement spending; or a reduction in headcount.  In particular, reducing headcount can be a difficult, painful, political process. Management Consulting firms provide the benefit of being an external party, which helps the client make objective decisions in situations such as this, because reductions and other forms of cost savings can be highly sensitive.  On a cost-reduction project, Management Consultants might be acting upon the results of a Business Diagnostic (see #3 above) that identified a particular area a company is overspending.  Based on the findings, the Consultants might get involved in a Spans and Layers Analysis to determine which costs to cut and how. Also, the Cost-Reduction project might entail contract negotiations if the cost reduction is procurement/sourcing related, or due diligence in alternative markets if the need involves switching to different raw materials. These projects can vary greatly in length, and will involve a high degree of client interaction—in particular, headcount-reduction projects will typically involve many meetings and interviews with different employees to help determine the right way to reduce costs and reshape the organizational chart.
Organizational Design : There are several types of organizational projects you might work on in Management Consulting.  When conducting a true organizational re-design, a company might be moving from a region-based structure to a global, function-based structure. On this type of project, Consultants will likely work intensively and directly with the client to ultimately design the new Organization Charts with the right new roles (and often, determine the right individuals to fill those roles).  Another type of Organizational Design project is a Spans and Layers Analysis , which we have mentioned previously.  In this type of analysis, Consulting teams evaluate the "span"—i.e., the number of individuals in each part of the org chart—and "layers"—i.e., the number of different hierarchical levels at each point in the org chart. This will help determine where there are opportunities to reduce headcount or reorganize it more sensibly.  A third kind of org study is concerned with decision-making and culture.  Here, you will likely use the RASCI model (or a comparable model) to identify the key decisions that need to be made in the organization and identify who is currently making them, and who should be making them.
Customer Retention/Churn : Customer Retention and Customer Churn projects are very similar in nature—they help companies identify the current customers they are likely to keep, as well as likely to lose, and help make determinations about how to keep more of the customers they want to keep. Customer Retention is a critical part of a company's ongoing viability, and it can be especially useful when there is a competitive threat to a client's existing customer base.  Classic examples of this occur frequently in the cable and cell phone industries – there is a constant threat that a customer may "churn," or switch to a different provider, in any given year. If these customers are profitable, companies will do whatever is reasonable to attempt to retain those profitable customers. On projects of this type, Consultants will likely conduct analysis to understand the state of the client's customer base – length of the average customer lifespan, annual churn rate, profitability per client, root causes of churn.  Consultants will often conduct focus groups or customer surveys, as well as in-depth microeconomic analysis of the decisions faced by the customer. Then the Consultant might help prescribe ways to convince churning customers to stick with the client as a provider. Ultimately, this work will feed into several different parts of the client's business–for example, the customer loyalty program or the pricing scheme established for the client's products. As you can imagine, these types of projects involve a high degree of interaction with a client's customers, and at least a fair amount of interaction with the client itself. These projects also tend to be heavily data-driven. They typically last 3-6 months but can be longer depending on the scope and complexity of project.
Learning More about Management Consulting
We are often asked about best books, online resources or journals to read to learn about Management Consulting or to prepare to interview for or enter the Management Consulting field. Unlike in many other fields, there are no singular bibles to study, because so many different industry, technology, or analysis-based books might be useful. The field is broad and deep, and highly varied.
That said, reading good business strategy books will help prepare you for interviews and increase your knowledge of the jargon used in the industry . These books should also interest you on some level if you are serious about this job pursuit—particularly if you are interested in Major, i.e. Strategy-Focused, Management Consulting.
Consulting/Strategy-Related Books and Periodicals
Competitive Advantage , and just about any other book , written by or about Michael Porter, such as Understanding Michael Porter by Joan Magretta
Good to Great and How the Mighty Fall by Jim Collins (he has several other related books that are also excellent!)
How To Get Into The Top Consulting Firms by Tim Darling
Flawless Consulting by Peter Block
The McKinsey Way and The McKinsey Engagement by Ethan Rasiel
The Boston Consulting Group on Strategy by Carl W. Stern
The Lords of Strategy by Walter Kiechel
What the Best CEOs Know by Jeffrey Krames
Harvard Business Review : Considered by most to be the leading academic publication of strategic issues faced by companies and industries.
Consulting Magazine : Industry trade journal for Management Consulting, featuring annual Top Consultant rankings, Best Firms to Work For, Industry-specific articles and analyses, and many other features.
Management Consulted : Articles and accounts from former Management Consultants, detailing their experiences, as well as resources for individuals looking for employment in Management Consulting.
Finally, be sure to see this list of  mistakes to avoid BEFORE you begin contacting Management Consulting firms. I can tell you from experience that every year, otherwise well-qualified candidates eliminate themselves from the running for Consulting jobs by making these mistakes. (Note that some of this advice applies even better to experienced Consultants!)
Consulting Firm Publications
Publications available on the sites of each of the leading Management Consulting firms should not be overlooked–they are wonderful sources to learn more about Consulting. In these publications, many articles discuss major issues in various industries, prevalent consulting methodologies, and findings from client engagements. They provide an inside look at the type of work Management Consultants perform. (Not to mention that reading them allows you to bring up the publications in interviews!) Some regular publications from leading Consulting firms include:
McKinsey Quarterly
BCG Perspectives
Bain Private Equity Report
Booz Strategy Publication
Katzenbach Center : Booz portal for organizational culture and leadership
Oliver Wyman Insights
Monitor Institute
THINK: ACT : Roland Berger strategy publication
Global Management Consulting Industry: A Comprehensive Guide (2023)
Helene Laffitte
May 2, 2022.
Table of Contents
The management consulting industry is a global market. The consultants help companies in various sectors solve problems by applying management theory and business expertise acquired from research through developing concepts, practices, and procedures for implementation across different sectors worldwide.
Did you know that most companies work with consultants based within a 50 miles radius? Let's see the example of direct purchasing: Would you buy from your local neighbors or take advantage of the worldwide market? How frequently do you usually utilize the same vendors? You'd probably foster competition and ensure that you're always working with new people.
That prompts the following question: How well do you know the Consulting Industry today? And how can you leverage that knowledge to always source the right consultants for your needs?
The consulting industry is adaptable.
The industry is quite adaptable and has been through rough phases but always recovered. So it will probably be the case again after the pandemic crisis. But the change had already started before 2010, and the wave will continue to strengthen and profoundly modify the industry.
The Global Economy is seeing a shift in the balance of powers
If we merely follow the projections provided by economists, we should see a significant change in the balance of power by 2025 in the global market.
Following a period of adversity, emerging markets and developing economies are now growing at a rate of 2.5 times faster than advanced economies such as the United States, the European Union, and Japan.
The E7 (China, India, Indonesia, Brazil, Russia, Mexico, and Turkey) was only half the size of the G7 (the United States, United Kingdom, France, Germany, Japan) in terms of GDP in 1995.
By the end of the century, it could be twice as big. The two groups are currently about equal in size. However, E7 consulting is expanding swiftly but does not yet approach the level seen in G7 nations.
However, there are a few interesting questions:
Is there a cultural tendency to rely more on Consultants in Advanced Economies?
As most decisions are made in central offices, often in Advanced Economies, is it safe to say more money is spent on Consultants there?
Are organizations in Advanced Economies spending more on Consulting to keep an edge over the competition?
The balance of power is shifting. In the future, global economic growth is expected to drop closer to 3%.
India will soon pass Germany and Japan after overtaking the United Kingdom and France. It appears that India and China will take the top places in no time. Investors should expect a surge of interest from multinational corporations seeking to invest in developing regions with high GDP growth.
As they mature, they will become less attractive for offshore Manufacturing but will present B2B opportunities. After that, they will become investors as China did.
In other words, the global Economy will enter a period of uncertainty and volatility over the next several years as it adjusts to this shift. Meanwhile, mature economies will continue to see slower growth in response to this paradigm shift.
The management consulting industry follows the ups and downs of the Economy
We can see a moderate relationship between GDP and Consulting Growth when comparing these two variables. According to Marc Baaji, three variables can help explain the variations between regions:
The economic growth of the area will enable the ability to invest.
The structure of the Economy will show which industries are most likely to spend in consulting.
The local culture will influence the willingness to collaborate with external partners.
Major Consultancies define their set of megatrends shaping the future of society and the Economy – PWC, for instance, predicts that despite the Economy's volatility, most of the additional growth will occur in medium-sized cities of developing countries.
The Digital Revolution has a significant influence on nearly every sector and geography. As a result, regional authorities attempt to establish restrictions to regain some degree of control (for example, GDPR or internet access in China).
On a worldwide scale, today's consulting industry is dominated by North America and Europe, making up about 80% of the market. Asia Pacific, Middle East, Latam, and Africa follow in order.
While Asia's growth rate is twice as quick as North America's, the North American market is roughly three times the size of the Asian one. As a result, it will probably take another 30 years for the Asian market to catch up at this pace.
While most of the customers join multinational businesses, the consulting industry is still disorganized.
Clients like projects done by local boutiques since they are more attuned to the culture. In addition, teams of two to five consultants undertake many consulting projects that do not require a global presence or footprint.
The management consulting industry is enormous.
The management consulting market is vast and very fragmented. It includes independent consultancies, management consultants working for large corporations (in-house), management consultants working with smaller companies, etc. Thus it can be challenging to get a complete picture of the sector's size.
What is the size of the Consulting Market?
It's a difficult question to answer because there are so many different answers. However, you'll find various market sizing estimations on the market from Statista evaluates $160 billion in 2020 up to Plunkett Research with $500B in 2021.
Why such differences? Because there is no standardized definition of management consulting. We all agree that it includes HR, IT, Strategy, Operations, and Finance consulting.
When you include IT management into management consulting and Engineering consulting, the numbers are much higher. So the truth is probably in the middle.
At Consulting Quest, we define the management consulting industry as the practices of Finance, Technology (including IT strategy), Operations, HR & Strategy. We do not consider engineering consulting, IT management & development.
We estimate the global consulting market to be roughly $300 billion worldwide. So no matter how you look at the market, it is surprisingly huge and almost twice the size of a booming industry such as video games ($155B in 2020).
It is a growing market despite the Covid crisis.
Covid-19 pandemic aside, the Consulting Industry shows a CAGR between 5 and 8%, outpacing GDP in most countries. At this pace, the industry is expected to break the $400 billion by 2025.
During the 1970s and 1980s, the worldwide Consulting market expanded every year, going through two recessions (1971-1973 and 1973-1975). As a result, operational management and strategic services were in high demand throughout this period.
The internet bubble burst in 2002, which was the first contraction. A far worse crisis subsequently hit the industry with the 2008 global financial catastrophe. Since then, the sector has rebounded significantly and is now expanding at a healthy rate.
In 2020, after the outbreak of Coronavirus illness (COVID-19), governments around the world implemented lockdowns and restricted trade and travel, reducing the need for consulting services.
The worldwide economic activity has decreased, while nations have gone into lockdowns,' and the adverse impact on enterprises persisted throughout 2020 and into 2021.
The downturn, however, is not expected to last long. Even though the management consulting sector has endured a severe blow, it is anticipated to recover in time. The crisis is not structural; rather, it stems from external factors.
Its structure is unusual.
The size of consulting firms is another approach to the complexity of the market. We can then understand how counterintuitive the distribution is.
Small boutiques with fewer than ten employees account for the vast majority of consulting businesses. They make up 87 percent of all Consulting Firms in the United States, a bit more than the overall US Census Bureau average of 76%.
The most counterintuitive of all: the remaining 13% of Consulting Firms with ten or more employees capture over 90% of industry revenue.
When you look at where the employees work, you'll notice the same pattern. More than 60% of consultants work in businesses with fewer than ten workers, usually sole practitioners.
Large businesses hire 33% of all consultants worldwide and make half of all management consultancy income. As a result, revenues per consultant for large enterprises are twice that for small companies.
A very active M&A front has shaped the industry.
Since 2006, we have observed around 500 management consultancy firms being acquired or merged with more prominent players in the consulting industry each year.
Compared to the average, there are 60% fewer little businesses with less than ten employees and almost three times as many firms with more than 500 employees in the Consulting business.
Why does the consulting business have such a poor reputation? Is it because consultants are providing anything to the table? Perhaps value?
What value do Consulting Firms bring to their clients?
We are only at the beginning of a long and exciting road. However, we can already see how complex the market is. In terms of size, footprint, and services, the range of Consulting Organizations appears to be all over the place. This is why purchasing consulting services is so difficult.
Value can take two forms.
Let's look at the value generated by consulting instead of looking at these Consulting Firms. We can see patterns and, in particular, identify two dimensions: technical and political, using the value prism. Most consulting projects create value along these two axes.
The technical value is demonstrated through in-depth understanding. Whether the consultants have outside knowledge, help diagnose a problem and its solution, or assist in implementing the said solutions, most operational projects fit into this category.
The political value is more difficult to grasp. Anyone who has spent time in the business world understands the importance of corporate politics. In times of trouble, CEOs may seek support for their decisions, enforce unpopular changes, or become the fall guy. It can also be used to assist in the formation of consensus among stakeholders or function as a sounding board.
How measure that value?
" Half  the money I spend on  advertising  is  wasted ; the trouble is I don't know which  half ." John Wanamaker
It's also the case with consulting. We may not always be able to quantify the impact. However, all projects (should) provide value to your organization. How, then, do you quantify this value?
You can't use a tape measure to verify if the project outcomes are within tolerance ranges because services like consulting are intangible.
The technical value is typically easier to quantify since it usually delivers concrete benefits such as cost savings or revenue increases. The political value, on the other hand, is more difficult to assess.
How would you recognize the value generated by a cultural and diversity project or process and system optimization? Other functions have been successful in quantifying intangible things like client satisfaction or employee engagement.
There is no standard for the value generated through consulting. It sounds hilarious when you consider that the Consulting Industry was created to answer the companies' need to measure the performance…
Where did Consulting come from?
Consultation has long been a part of life. We can follow advisors back to ancient times, with Marco Polo, Colbert, and Hamilton as notable examples.
At the end of the nineteenth century, modern consulting began during the second industrial revolution in Europe. Operations efficiency was required as a result of the significant adjustments and fast development of factories.
After the 1929 Market Collapse, the focus of Consulting moved to Strategy, with the creation of today's strategy giants such as McKinsey, BCG, and subsequently Bain. Simultaneously, the Big 4 Accounting Firms ramped up their involvement in consulting by leveraging their connections with C-level executives.
In the 80s and 90s, there was a continued increase in demand for organization and Strategy. In addition, the invention of the computer and network technologies opened the door to a new consulting area: IT. Simultaneously, the ENRON scandal drove the Big 4 away, forcing them to split their accounting and consultancy operations.
At the same time, McKinsey introduced the idea of Business Excellence, followed by many other consultancies that adapted it to all aspects of a company's operations: R&D, Sales, Marketing, and so on. The addition of numerous new competitors sparked the division and specialization of the market in various capabilities first before moving on to industries served.
The consulting business has long followed technological and management trends. The advent of the digital wave is bucking this norm. Digital integration has been introduced by consulting firms. As a result, Strategy Titans have begun stealing digital transformation projects from the IT Giants, while IT Titans are attacking strategy projects through the digital lens.
The diversification and segmentation of the Consulting Business have fragmented the market. Depending on the maturity of both customer and provider of consulting services, each region develops at its own rate.
What are the distinctions between regions?
North America, not Europe, was the birthplace of management consulting. You won't be surprised to learn that North America is the world's largest market for consulting services and accounts for almost half of global sales. The United States has by far the most significant number of consultants and consultancy organizations. It also generates a more significant amount of income than all European nations..
Both North America and Europe have established markets where the usage of Consultant Services is no longer a novelty. As a result, they concentrate on digitization, innovation, marketing and sales, technology, and operational improvements.
Europe is a varied market, with one side representing mature markets in Western Europe with moderate growth. In contrast, Eastern Europe has less developed countries experiencing rapid expansion on a much smaller scale.
Asia, the Middle East, and Africa are all developing at a much quicker pace than mature regions. Asia-Pacific is the fastest-growing market with lots of promising prospects for Western consulting firms in Japan and Oceania and several fast-growing emerging markets.
With the severe challenges that have affected all nations and enterprises, Latam is still in rehabilitation mode. And Brazil is, without a doubt, the most important market with over a thousand different service providers.
Most of the major Consulting Firms have put down roots in developing countries, establishing generalist offices. On the other hand, local firms continue to make up a significant portion of the providers (according to Consource , 71% of providers are only based in one region). With the industry's segmentation and typification, there is an infinite variety among Consulting.
The different typologies of Consulting Firms
Have you ever found yourself browsing for a consultant website and wondering: "what do they concretely do? What problems do they solve? And what are they actually good at?" The good news, if we can refer to it this way, is that you are not alone.
For companies helping others define their value proposition, sharpen their Strategy, and optimize their marketing budgets, many consulting firms are pretty slow to embrace the internet and even more social media. So to facilitate your future browsing, we have tried in this chapter to give you an overview of the critical dimensions that characterize the DNA of a consulting firm.
Capabilities
The Capabilities are the Services offered by consultants to mirror the business functions that client organizations need to perform. This dimension is crucial to describe the work in consulting.
Having screened thousands of consulting websites when creating Conavigo.com we have seen websites ranging from professional to awkward. Nevertheless, we can confirm that most Consulting Firms will showcase this dimension on their website and company presentations.
A little bit like a process map, you can organize the Capabilities in 7 High-Level Categories. Then, the market size corresponding to those capabilities is linked to the difference in size and budgets of the associated client functions and potential value.
In the absence of a standardized breakdown, we are using our own classification.
Strategy & Management
Strategy is about building a competitive advantage among the competition and making profits. As a result, the capability is geared toward high-level corporate decisions. It helps leaders define "where to play" and "how to win." A significant share of high-level Consulting engagements falls in this category.
For a long time, Strategy was the dominant capability. However, its relative share in the overall consulting market has decreased while implementation and excellence projects were flourishing. Today this category represents about 10% of the global market.
This category includes Corporate Strategy, Business Unit Strategy, Organization Architecture, Management Model, Corporate Governance, Innovation Strategy, M&A, Strategic Communication, and Economic or Government Policy.
Sample projects include :
Crafting a 5-year strategic roadmap to go from a commodity to a specialty player in Chemicals
Designing and implementing a customer-centric organization in Consumer Goods
Using Game theory to anticipate moves from Competitors and take strategic decisions
Performing an M&A screening to build a pipeline supporting strategic priorities in financial services
 Sales & Marketing
Sales & Marketing is focused on top-line activities to help companies drive profitable growth. Sales & marketing consultants support clients to deliver above-market growth by developing their marketing capabilities or improving their sales effectiveness. This capability is striving in the consulting market as its impact on P&L is usually direct and measurable. The category represents close to 10% of the management consulting market.
This category includes Branding, Revenue Management, Market Entry Strategy, Omni Channel Marketing, Sales Effectiveness, or Customer Experience.
Optimizing Yield / Revenue Management for an Airline using data analytics and customer behaviors
Improving in-branch customer experience for clients in a traditional bank
Optimizing the organization, territories, and activities for the commercial teams after a merger of pharmaceutical companies
Implementing Machine Learning to optimize Marketing investments in consumer packaged goods
Operations are one of the largest lines of services. It regroups most of the activities where products and services are usually built or delivered. Even though Operations can be a source of innovation and a differentiator, most of the time the focus is on reducing costs and increasing throughput. Operations consultants use concepts such as Lean, Six Sigma, or Quality Management to help their clients streamline and improve operational efficiency. It represents about 25% of the market for management consulting.
The category includes capabilities such as Manufacturing, Procurement, Supply chain, Quality Management, and Compliance, G&A Optimization, Lean or Knowledge Management.
Defining a make-or-buy strategy for parts of the activities for an OEM
Designing and implementing a blueprint for manufacturing activities for a Flat Carbon Producer
Leveraging Blockchain to  optimize the supply chain of an automotive company
Using Lean to optimize back-office activities in the private loans department
Finance & Risk
Consulting firms specialized in financial advisory services work with finance and risk management executives (such as CFO's). They help them make decisions, develop customized strategies, and deliver superior results by analyzing their companies' financial and economic risks and uncertainties.
The category represents close to 20% of the management consulting industry. Its size is often difficult to assess given the overlap of the activities with legal firms, auditors, and M&A boutiques.
The category includes capabilities such as Corporate Finance, Actuarial, Restructuring and Crisis Management, Tax Advisory, or Risk Management.
Leveraging Supply Chain Financing to optimize cash management between Customers and Suppliers
Analyzing potential impacts and defining optimum strategies to face significant changes in Tax Policies (Brexit, Trade-War, …)
Implementing new Risk Management regulations and associated governance in Financial Services (BASEL III, …)
Turnaround management for companies close to Bankruptcy
Human Capital
Human Capital consulting focuses on maximizing the value created by Human Resources, or employees, in an organization. The offering is quite wide from Organization and Leadership Development to Improving the Effectiveness of the HR function.
Since the capability has low barriers to entry and many consultants set up their own business, as a result, the market is highly fragmented. Besides, there is a low level of market share concentration despite the significant number of operators. The top four companies in the industry generate just over 20.0% of the industry's revenue. The category represents about 10% of the overall consulting market.
The category includes Talent Management, Organization Development, HR Effectiveness, Social Relations, or Compensations & Benefits.
Building an efficient strategy, embraced by the management to boost Employee Engagement in a Transportation Company
Leveraging advanced workforce planning analytics to map career flows and anticipate future needs and shortages in Aerospace Engineering
Designing a robust succession planning for the key executives of the company in a High Tech Startup
Implementing Digital Tools and driving the associated change management to optimize HR processes
Research and Development
Research & Development Consulting is helping companies to optimize the way they are developing Products and Services. Companies aim to find the right balance between a strong focus on customer needs and delivering cost-effective returns. In a time of constant change and when innovation cycles are accelerating, the research and development activities have become a key differentiator.
The consulting offering ranges from identifying where technologies and skills will be required to how products and services are developed. With about 5%, it represents a small but very valuable portion of the consulting market.
The category includes R&D Strategy, R&D Effectiveness, Product Development,  Manufacturing Engineering, Open Innovation :
Globalizing R&D and Optimizing the footprint for a global food ingredients company
Defining and Implementing an effective Innovation Portfolio Management in Mining
 Leveraging concurrent engineering to accelerate product development in Aerospace
Implementing an Innovation System to spur Innovation for an Insurance Company
Technology & Digital
Technology Consulting might also be referred to as IT consulting. However, the rise of Digital, Fintech, and all the Tech Startups activities is changing the rules of the game. The capability has been rejuvenated as most companies have now elevated technology to the highest level of their agenda.
Technology consultants offer services helping companies embrace new technologies, digitize their processes, and modernize their legacy systems. In short, leverage technology as a source of competitive advantage. The scope for this activity overlaps with Strategy and functional areas for Strategy, media, and specific systems and with IT services for the low-end/recurring activities. Depending on definitions the category can represent up to one-third of the global consulting market.
The category includes Digital Strategy, Digital Architecture, Systems Integration (CRM, ERP, …), Data Management and Analytics, Cyber Security, or IT related services.
Helping Retailers to make buy vs. build decisions when deciding on their new IT Platforms
Leveraging Machine learning to understand customer behaviors better and reduce churn in telecommunications
Assessing the enterprise cybersecurity architecture and technical controls in Payments
Implementing digital studios worldwide to spur the use of digital and embed a digital culture in Energy
All the previous capabilities can usually be mapped to functions within a given corporation. However, several capabilities are more difficult to link to an existing function since they can have either cross-functional or company-wide impacts. Those services can be offered either by large consultancies or by very focused ones.
The other category includes Disruptive Innovation, Branding, Post Merger Integration, Sustainability, and Corporate Responsibility or Value Transformation.
Conceiving and Scaling Disruptive Businesses in Chemicals Distribution
Aligning the top management and mobilizing the organization to embed Sustainability in the organization in the Energy sector
Preparing and Facilitating Post Merger Integration using clean teams in Banking
Assisting a new CEO and his board in designing the vision and planning the Transformation of the Company in Pharmaceuticals
Industries Served:
The industries served are the sectors in which clients of consultants operate or the sectors they are looking at. Generally, demand increases with the amount of change in a given sector and the ability to invest in the industry.
The 5 Industries with the highest demand for consulting services are the Financial Services, Health & Life Science, Manufacturing, Public Sector, and Energy
Financial Services
The Financial Services Industry is historically one of the largest users of Management Consulting. From Banking to Insurance or Wealth Management, the industry is facing unprecedented challenges from both traditional and tech players. New technology is enabling new business models and rendering old platforms obsolete. Besides, most companies are shifting from a product to a customer-centric model. With so many options in front of them, companies need to select carefully where they invest their resources to achieve their growth ambitions.
Designing a new incentive scheme for the commercial branch to drive customer and value-oriented behaviors in Retail Banking
Building a roadmap to modernize the business model from implementing self-service to sharing capabilities across businesses and digitizing processes to spur efficiency in Capital Markets
Benchmarking the IT performance and investments priorities amongst Asian-based Insurers
Reviewing the Risk Function Operating Model to increase agility in Banking
Public Sector
The Public Sector, namely government and administrations, is a very large segment of the consulting industry. The types of consulting projects can vary greatly depending on the level of development of the countries. Governments in all economies are asking for help to drive national investment strategies or fiscal policies favoring economic development. They also need support to analyze and anticipate complex situations like Brexit.
Many developing economies need support to manage large infrastructure projects. Western economies leverage consultants to drive the simplification and productivity initiatives in public services. In recent years, the pressure is mounting on Governments the reduce the cost of consulting engagements. Even the IMF recently recommended for developing economies to reduce the utilization of Blue Chip consultancies.
Providing government with actionable advice to support the government in accelerating economic development
Redesigning the end to end logistics process for a ministry of defense
Developing policies and strategies to support Fintech and financial inclusiveness for Asian Governments
Support public bodies (government, commissions, associations, … ) with expert analysis in case of potential Antitrust situations
Health & Life Sciences
Health and Life Sciences in its largest definition represents 5% of the consulting industry demand. This significant share is indeed no surprise when looking a little bit closer. It includes Pharmaceuticals, Medical Technology, Healthcare payers, and delivery systems. Healthcare costs are exponentially growing in many countries. In the US they are close to 20% of GDP.
Healthcare Payers are under pressure to reduce costs while providers need to increase their efficiency. Pharmaceutical companies have to navigate vast R&D portfolios as shareholders expect significant returns. Besides they have to deal with a complex ecosystem with a challenging tryptic user (patient), prescriber (physician), and a third party (payer).
Developing strategies to accelerate the shift from Volume to Value in Healthcare
Creating an M&A Pipeline to refresh and dynamize innovation in Pharmaceuticals
Building actuarial models to optimize growth vs. profitability for Healthcare Payors
Transforming a national healthcare system to ensure better coverage of citizens
Manufacturing
The manufacturing segment also takes a significant share of consulting investments. Manufacturing, however, is made of several distinct industries, rarely mentioned as such. We grouped industries with similar contexts and priorities. Our definition of Manufacturing includes Automotive, Aerospace, Consumer packaged goods, Electronics, and Process industries.
All those industries are facing growing headwinds, competitiveness challenges, and an aging workforce. They are also challenged to embrace new technologies that can completely disrupt their value chains.
Besides at the same time as the planet goes global, we observe regional customization and even personalization of products and services. This phenomenon leads to an acceleration of innovation cycles and a growing complexity to manage. Last but not least the wages gap between Western and Eastern economies has reduced with more possibilities for automation at an affordable cost. Most companies are rethinking their global footprint and supply chain to adapt to tomorrow's challenges.
Scanning the Manufacturing Start-up ecosystem to identify the right partners to reduce maintenance costs
Implementing a new procurement framework and systems to operate seamlessly with strategic suppliers
Embarking all manufacturing plants in a transformation mixing lean and digital for a motorbike company
Leveraging Concurrent Engineering and Spiral Development to reduce costs and shorten development times with late customization in Aerospace
Energy & Environment
The energy and environment segment is closely linked to the public interest. It includes oil and gas, energy, utilities, renewable energy. Companies in Energy and Utilities are facing increasing customer demand, high capital investment, increased competition, and more stringent regulations. While companies in Oil and Gas continue to cope with the new normal with lower prices, higher volatility, and shorter cycles.
Most companies focus their efforts on maximizing the short-term returns of their investments, improving resource productivity, and lowering total operating costs. An interesting trend is the growing utilization of data analytics in support of operations to leverage the massive amount of data available.
Leveraging IoT to increase network reliability thanks to predictive maintenance
Mapping the value pools post-crisis in Unconventional Oil & Gas
Redesigning commodity trading systems to speed up decision making while managing risks
Using big data analytical techniques to maximize returns in Energy Retail
Various degrees of specialization
But there are other dimensions to consider when looking at consulting firms. The management consulting industry is made of various degrees of specialization.
The Industry Specialization dilemma
As you probably know by now, the consulting industry started with a specific focus on manufacturing optimization, then encountered a period of growth in strategy work. The capability dimension was the driver, and the industry served as a secondary dimension. Several consulting gurus such as Bill Bain or Dominique Mars even pushed the theory that serving only one client per industry was the best way to avoid conflicts of interest.
However, companies are getting more and more specialized. And the industry specialization is becoming a must for a lot of clients and a commercial and productivity lever for many companies. To date, we can observe three kinds of positioning for consulting firms.
Generalist Consulting Firms offer a vast scope of consulting services. They usually cover most of the matrix Industry vs. Capabilities. Oliver Wyman is a generalist consulting working with almost all industries on topics such as Strategy, Sales & Marketing, Operations, Organization, or Finance. Human Capital Consulting is provided by its sister company in the MMC Group: Mercer HR.
Specialist Consulting Firms are focused on a narrow scope of consulting services. They concentrate efforts and abilities in a specific capability or a particular industry. Camelot Management Consultants, for instance, is a specialized consulting firm focused on only four industries: Chemicals, Life Sciences, Consumer Packaged Goods, and Industrial Manufacturing.
Niche players are Consulting Firms that offer a specific service in a particular industry. They are the intersection point in a matrix of services and sectors. Contax Partners is a Niche Consultancy focused on Strategy in the Energy Vertical in the Middle East and Africa. ZS Associate was for a long time focused exclusively on Sales and Marketing in Pharma before branching out in other industries.
Generalists
They have the ability to provide their clients with a broad-based understanding that can readily change according to their demands. They will also notice economies of scale and scope. They frequently have knowledge in several businesses and skills, allowing them to be adaptable. However, it sometimes comes with a superficial knowledge of a given industry or function
Furthermore, it's not uncommon at the most junior levels within large Consulting Firms to work successively on a strategy project in Financial Services and on an operations project in Manufacturing.
Specialists
They achieve greater levels of expertise and knowledge than generalist consultants. They stay on top of new discoveries and industry news, as well as the competitive pressures in their field.
They may, however, be narrow-minded because they only focus on the problems in their own field of expertise. Besides, when dealing with experts from the business sector, Chinese walls to guarantee data privacy are more difficult to maintain.
Niche Player
The advantages of this type of consultancy are clear: Its members have a unique viewpoint and approach, which they can use to their advantage. They know their sector better than generalist consultants who work in several industries, and specialist consultants who offer one service in various sectors.
But they don't perform well with projects that span industry or capability lines. They view everything through the lens of their specialty, and they may not come up with out-of-the-box thinking because of this focus.
Hybrid vs. Pure consulting players
Pure Players are companies that only provide Consulting Services. Most major consulting firms such as McKinsey, BCG, Bain & Company, and Oliver Wyman, can be considered are pure players.
Hybrid companies offer consulting services on top of their primary business. They can be providing services in Audit, Legal, Accounting, or Systems. Famous Hybrid Companies are Deloitte (Audit and Tax), EY (Audit and Tax), PWC (Audit and Tax), Accenture (Systems), and Huron Consulting (Systems).
Pure Players
They are specialized Consultants that master project management, deliverables, and problem-solving skills. They might have some difficulties grasping the complexity of your company beyond their scope of expertise.
Business and IT services firms, typically known as BPOs (Business Process Outsourcing), implement solutions that are tailored to the customer's needs. They provide comprehensive services from consulting to implementation.
They may be less expensive than comparable-sized pure players. They use their strong ties to cross-sell other products and services. They are sometimes pushing services where they are not the greatest option. There may be some situations in which there is a conflict of interest.
Digital is now rising and becoming a must of any company strategy. Most consulting firms are either embedding digital capabilities or developing digital ecosystems. Accenture is particularly active on this front. In the same way, former pure IT players are now acquiring consulting firms as a way to spur their IT activities.
In the 90's EDS had pioneered this move in acquiring AT Kearney. But the partnership never really delivered, and ATK leaders struck a management buy-out 10 years later. In recent years, a good example would be the series of acquisitions performed by IBM. Or the acquisition of Innosight by Huron.
Other dimensions
Beyond the expertise area of a company, other factors will help you to understand what you can expect from a given company.
Size & Geographic Footprint
A lot of businesses have a similar size and shape. People still sell to people in the consulting industry, so if you want to expand, you'll need to scale up and establish offices in new areas.
Only the largest consulting firms and IT companies have offices across the world today. It's uncommon to find a presence in more than 3 countries whenever you're dealing with businesses with less than 100 employees.
Like in other industries, the footprint of a company is important. For Consulting Services, it can impact the ability to understand local ways of doing business. Besides the original location of your consulting team weights heavily on the travel expenses budget. Imagine a team commuting to Singapore from Germany for 6 months.
They know how to operate in an international setting and can serve their clients from several nations. Projects that need an on-the-ground presence all over the world are particularly fascinating.
They frequently collaborate with regional P&Ls, which means they may instead seek to improve their regional utilization rate rather than bringing the finest global team in front of the client. Global presence, brand, and scale usually come at a cost.
You'll have the partners you need in whatever location you need them. For local projects, it may be exactly what you require from a cultural standpoint.
When they are traveling, you will have to pay for any travel costs. They might find themselves without many clues about how to fit in with the local culture when working abroad.
Ownership Structure
A Majority of Consulting Firms are structured as partnerships, like law firms. The organization structure is based on a small group of equity partners, often "rain-makers," that bring in the clients and the projects.
The traditional career path is to climb the internal ladder before making it to partner after usually 10 to 15 years. You will find in this category blue-chip players like McKinsey or BCG as well as most boutique consultancies.
However, as they grow (and often get acquired), more and more consulting firms go public, are owned by larger traditional companies or by other service companies developing a consulting branch.
Being a Partner in this case mostly describes the role and seniority of individuals. They steer business activities but have little say on the direction of the company and own a limited amount of shares of the mother company. The management of the company is usually quite similar to partnerships.
However, the pressure on results and revenues expectations are different. You will find in this category companies like Accenture, Oliver Wyman (owned by Marsh McLennan ), FTI Consulting, Huron Consulting.
You can observe the same phenomenon with the big 4 audit companies as they are acquiring medium-sized consulting firms at full speed to regrow their consulting arms. Once acquired those companies sometimes keep their initial brand but the context they operate in is very different.
Partnership
The consultants are personally invested in the firm's brand and reputation since they own it. They have a vested interest. In medium-size consulting firms, partners tend to "own" their clients. It might be challenging to find the finest partner for your project as a result.
Traditional Organization
The presence of shareholders puts a strong emphasis on earnings, but it can also provide resources for faster development, acquisition of skills, and investment in innovation. Both risks and benefits are reduced; the most talented consultants prefer the partnership model.
Profile of Partners
With today's technology, you can now access rather easily the online information of almost any consulting partner. You will usually have access to their profile both on the company website and on LinkedIn. Also, if you ask for a proposal, you will probably have included another of their resume highlighting the relevant experience.
Browsing partners' profiles will help you to identify if the company is very diverse, entrepreneurial, very technical, or an army of clones. It will also help you to quickly spot if the consulting firm is claiming an experience without having too much to show for it. For instance, it would make sense for someone claiming expertise in a given capability to have written at least a few papers on the subject.
Last, with boutique firms, you will see that the background of the founders is an interesting source of information. Do they have an operational profile and converted late to consulting? Is the company a spin-off of a large consulting structure? You can often find in boutique firm consultants with the experience and quality standards of large companies. But you will get them for a much lower cost since they don't have the associated overheads and luxury offices.
Delivery Model
Now you know what the capabilities and industries where a consulting firm claims to have expertise are. You also understand what the background of the partners is and where they are located on the globe. You, therefore, start to have a pretty clear idea of "what" they could do for you or at least on "what topics" they could have an added value.
However, there are still numerous dimensions to be recognized and evaluated, which will separate consulting firms. Depending on your situation and culture, these characteristics could be a make-or-break factor in your selection. The "how" of consulting work is addressed by the following dimensions.
There must be a suitable match between what you want to accomplish and how consultants typically operate. Some consulting firms may be better suited for diagnosing a problem or developing a strategy, while others will be more effective in the implementation.
Some consulting gurus are great at describing to their clients why their company is broken. When you ask them for ideas on how to address it, things become a lot more difficult.
In the same manner, some highly operational consultants would be a great fit to lead teams through a shopfloor transformation. However, they may not have the right profile to communicate in board language.
The first category mentioned above is called "Study and Recommend," and the second one is "Teach and Facilitate." Usually, consulting firms that excel at one, tend to have more difficulties on the other.
"Study and Recommend" can be performed remotely with a limited number of interactions with the organization. "Teach and Facilitate" on the other hand requires a presence on the ground. Last, the fees tend to be quite different as well. Identifying what direction to take tends to be valued at a much higher price point than the implementation part.
Another way of looking at delivery models is linked to the key success factors for a given project. Those key success factors can be tied to either hard or soft elements. To roll out your newly developed Strategy and create buy-in you may want to use consultants with a high sensibility to soft elements. On the contrary, to develop this Strategy in a fact-based manner you may want to use consultants more focused on the hard elements. It is usually difficult to find consultants able to operate on both dimensions.
Finally, to have an impact and transfer knowledge to your teams you might need to pay specific attention to the seniority of the consulting teams. Large consultancies have implemented for years a pyramidal model. It gives them access to very qualified and highly motivated young talents, able to burn the midnight oil for several weeks in a row. If they do well, they can climb the consulting ladder very quickly. If they don't perform, they leave the company.
That model reaches its limits when these young talents directly interface with operational teams twice their age. We observe today the seniorizing of the profession. Companies are moving away from the pure pyramidal model and cultivating consultants focused on the production and not aspiring to become senior partners. Is it the model of the future? The solution is probably a combination of both models depending on the project's nature.
What is Internal Consulting?
At a time when most large companies have now a corporate venturing entity, another trend has started to emerge in most Companies: internal consulting. While most Western companies are regularly using Consulting, the hefty prices combined with the need for specialized resources have prompted some clients to explore new options to fulfill their needs.
Consulting Expenses have also skyrocketed in the last 20 years. On one hand, Companies are buying way more than before, on the other one the major players have steeply increased their fees per consultant. With the pressure on OPEX, executives have to find other ways to get the support of consultants at a lower cost.
Working with consultants used to be a guarantee that you would discover new approaches. However, today, because part of the management theories and tools have been commoditized, organizations may more easily access knowledge and reduce the demand for external consultants.
In addition, Internal Consultants may leverage knowledge and experience more quickly than large generalist consulting firms since they work with just one client in a single sector. They also make up for their lack of external comparison by having a deeper connection with the firm, its business, and its culture.
Finally, many businesses have come to recognize the importance of confidentiality. Many external consultants have established a business by collecting information on their customers and then providing it to their competitors. Working with internal teams may be the finest method to keep secrets at home in some projects.
Closing Thoughts
We just went through some of the most important aspects that define today's Consulting sector. Increasing your understanding of the market is always a good thing to do. And learning about it is as simple as Procurement 101. You may now construct a fairly accurate profile of any consulting firm after collecting this information.
Where is their area of expertise (Capabilities & Industries)?
What is the background and profile of the partners?
What are the size and geographic presence of the company over the globe?
What is the delivery model of the company?
What is the evidence supporting those claims?
We hope you have enjoyed this guide and feel more familiar with the management consulting industry now. Ready to source a project? Read our comprehensive guide and learn how to buy a project like a pro .
🌟 Got Questions or Facing Challenges? 🌟
Don't navigate this alone! Book your FREE consultation with us today, and let's find solutions together.
Questions? Challenges?
Book your FREE consultation now and find the solutions you've been searching for.
Consulting Quest Follow 5,318 599
Consulting Quest helps businesses to create more impact by better using, buying and managing Consulting Services.
In this edition of This Week in Consulting, we explore latest trends, innovative strides, and the challenges that shape the chemical industry. Read more: https://zurl.co/G6ho #ThisWeekInConsulting #TWIC #ChemicalsIndustry #Consulting
This week's consulting M&A weekly is spearheaded by @Accenture along with acquisitions made by @BargeDesign and @TrinityConsults. Click the link below to read our full article.👇 #ConsultingNews #MergersAndAcquisitions
Consulting M&A Weekly Round-up (26th to 2nd December, 2023)
Stay informed with our Consulting M&A Weekly Round-up, covering the latest industry mergers and acquisitions from 26th Nov to 2nd Dec 2023.
improveo.app
Caught in the 'Make or Buy' conundrum? 🤔At Consourse, we're diving into the labyrinth of decisions. In-house or external consultants? What delivers the most value for you? Read more: #MakeOrBuy #ConsultingDecisions #SmartConsultingSourcing
Smarter Decision On Your Make Or Buy Consulting Dilemma
Discover quick and effective strategies for your make or buy decision. Make smarter choices with our consulting dilemma guide.
consource.io
IBM and Oxford Economics jointly surveyed 7,164 executives across 44 countries, emphasizing enterprise cloud adoption's impact on business performance in energy and resources. #consulting #twic #cloudcomputing @IBM https://www.ibm.com/downloads/cas/N30ZMEN8
You May Also Like…
Balancing Acts: The Tightrope of Ethics and Conflicts of Interest in Consulting
Embark on a nuanced exploration of ethical challenges in consulting—discover the delicate balance professionals must strike between ethical principles and managing conflicts of interest. Uncover insights into maintaining integrity while navigating the complex landscape of consulting dynamics.
 31 READ MORE
Successfully Managing the Consulting Sourcing Process – A Comprehensive Guide (2023)
Unlock the secrets to success in consulting sourcing with our comprehensive guide. Learn to efficiently navigate the complex world of consulting procurement, make informed decisions, and achieve your business objectives. Whether you're a seasoned professional or a newcomer to the field, this guide is your essential resource for optimizing the sourcing process and ensuring a brighter future for your organization.
 26 READ MORE
Why Organizing a Competitive Bidding for Consulting Can Be a Powerful Lever?
Explore the transformative potential of competitive bidding for consulting and learn how this strategic approach can be a game-changer in your decision-making process. Discover why organizing a competitive bidding for consulting can empower your organization to make informed choices and unlock powerful opportunities.
 13 READ MORE
Book a FREE consultation with us today! We're here to tackle your unanswered questions and offer hands-on, practical advice to guide your journey.
👉 Seize the opportunity to get expert insights tailored just for you!

The PESTEL Analysis for Consulting
As aspiring consultants entering the dynamic world of consulting, it is crucial to arm yourselves with effective tools and frameworks to navigate the complexities of the business landscape. A powerful tool that aims at the macro-level is the PESTEL analysis, which enables consultants to assess and understand the external factors that impact organizations .  This article delves into the intricacies of the PESTEL analysis, its six key sections, and provides an example of how it can be applied in the consulting industry.
Understanding the PESTEL Analysis 
PESTEL is an acronym that stands for Political, Economic, Social, Technological, Environmental, and Legal factors. It is a framework used to analyze and monitor external macro-environmental factors that can have a significant influence on organizations and industries.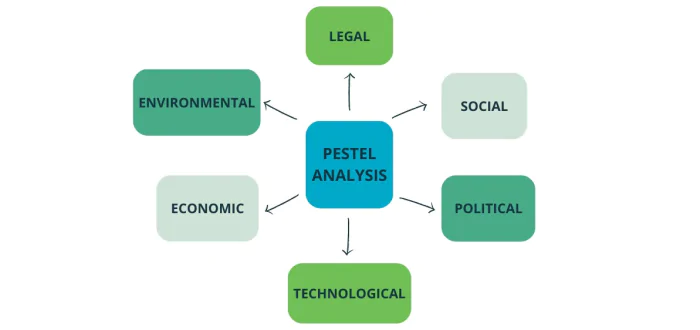 The following list explains each of the factors and gives you an overview of what you need to keep in mind:
P olitical Factors - Navigating the Political Landscape: Political factors encompass the political environment in which an organization operates . This includes government policies, regulations, political stability, trade policies, taxation, and legal frameworks. By assessing these factors, consultants can gain insights into potential opportunities and risks associated with political changes and government decisions.
E conomic Factors - Assessing Economic Conditions: Economic factors focus on the economic environment and its impact on organizations . This includes factors such as economic growth, inflation rates, interest rates, exchange rates, unemployment levels, and consumer spending patterns. By analyzing these factors, consultants can understand the economic landscape, identify market trends, and assist clients in making informed business decisions.
S ocial Factors Understanding Societal Influences: Social factors delve into the social and cultural aspects that shape consumer behavior, market trends, and business operations. Factors such as demographics, cultural norms, lifestyle changes, consumer attitudes, and social values come into play. Consultants can leverage this analysis to help clients understand customer preferences, target specific market segments, and align their strategies with societal shifts.
T echnological Factors - Embracing Technological Advancements: Technological factors revolve around the advancements and innovations that impact industries and organizations . This includes technological infrastructure, research and development, automation, digitalization, disruptive technologies, and intellectual property. By staying abreast of technological changes, consultants can assist clients in leveraging emerging technologies, optimizing operations, and driving innovation.
E nvironmental Factors: Embracing Sustainability and Climate Considerations: Environmental factors encompass the ecological and environmental aspects that organizations must address. This includes sustainability practices, climate change, environmental regulations, renewable energy, waste management, and resource scarcity. By incorporating environmental considerations into their strategies, organizations can meet societal expectations, mitigate risks, and create sustainable business models.
L egal Factors - Navigating the Legal Landscape: Legal factors encompass the legal framework and regulations that organizations must adhere to. This includes employment laws, consumer protection regulations, intellectual property rights, health and safety standards, and industry-specific regulations. By understanding the legal landscape, consultants can guide clients in compliance matters, identify legal risks, and support them in developing strategies that align with the legal framework.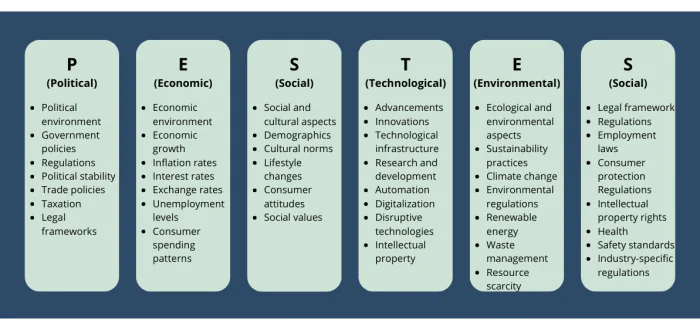 Applying PESTEL Analysis in the Consulting Industry 
Let's consider a case where a consulting firm is assisting a global technology company in entering a new international market. By conducting a PESTEL analysis, the consultants can gain insights into various aspects:
P olitical:  They assess the political stability, trade policies, and regulations of the target market , providing crucial information for market entry strategies.
E conomic:  They analyze the economic conditions , including GDP growth, exchange rates, and consumer spending patterns, to evaluate the market's potential and economic risks.
S ocial:  They identify cultural nuances, demographic trends, and consumer preferences , enabling the client to tailor their products and marketing strategies accordingly.
T echnological:  They assess the technological landscape, including infrastructure and digital readiness , to guide the client in adopting suitable technologies and addressing potential challenges.
E nvironmental:  They evaluate environmental regulations, sustainability expectations, and market demand for eco-friendly solutions , enabling the client to align their operations and offerings accordingly.
L egal:  They analyze the legal framework, including compliance requirements and intellectual property protection, assisting the client in navigating legal complexities and ensuring regulatory adherence.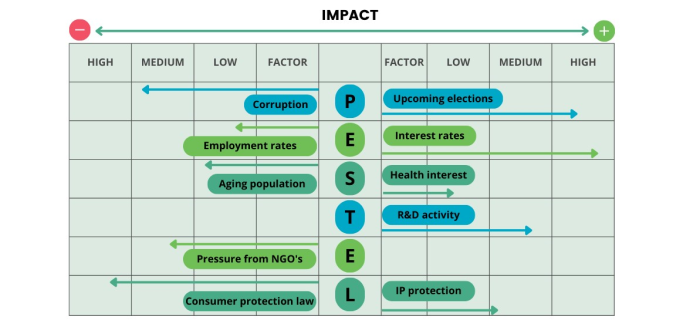 The PESTEL analysis serves as a vital tool for consultants in understanding the external factors that shape industries and organizations. By analyzing the political, economic, social, technological, environmental, and legal landscape, consultants can provide valuable insights to clients, facilitate informed decision-making, and drive strategic success . As graduates embarking on a consulting career, mastering the PESTEL analysis will prove invaluable in helping clients thrive in an ever-evolving business environment.
Related Cases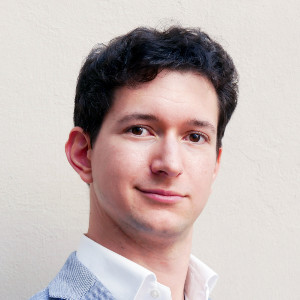 MBB Final Round Case - Smart Education
Bain 1st round case – blissottica.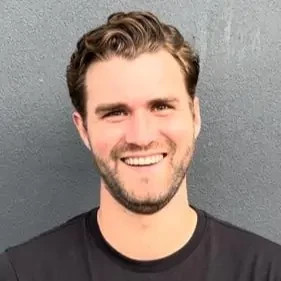 Bain + BCG - Hot Wheels WITH VIDEO SOLUTION
Bcg - yodaphone.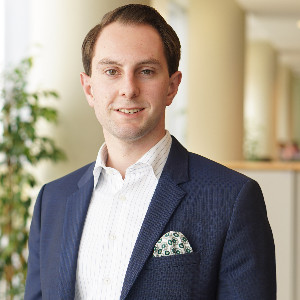 Music Streaming - Market Sizing
Media Center
E-Books & White Papers
Knowledge Center
Management Consulting Industry Overview: Key Forecasts and Growth Segments
by The Business Research Company , on June 13, 2023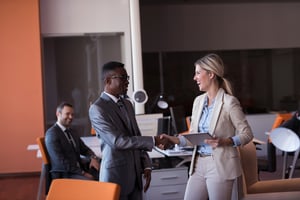 The management consulting services market is expected to grow from $1,184 billion in 2027 at a CAGR of more than 3%. Going forward, faster economic growth, increasing investments in smart cities, increasing focus on customer satisfaction, and global collaboration for environmental protection will drive management consulting services market growth.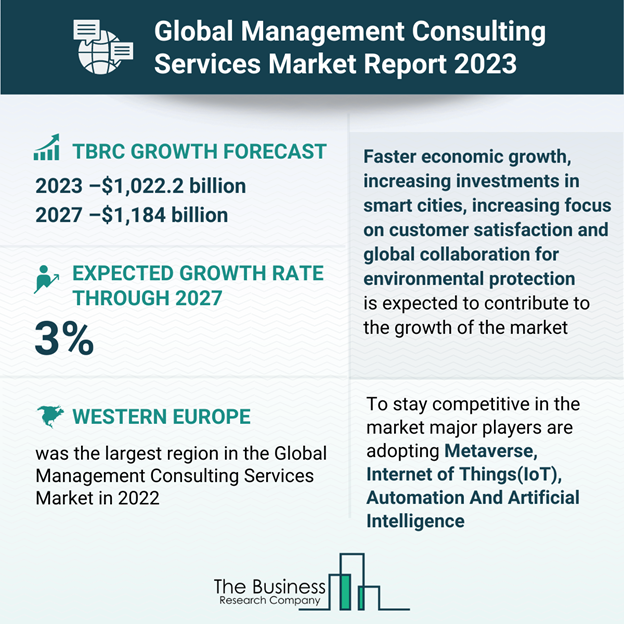 3 Technologies Revolutionizing the Management Consulting Market
The global management consulting services market is fragmented, with a large number of players. Deloitte Touche Tohmatsu Limited was the largest competitor with 3.6% share of the market, followed by Accenture, PwC, Ernst & Young, KPMG, Boston Consulting Group, Inc., McKinsey & Company, International Business Machines Corporation, Bain & Company, and Booz Allen Hamilton. To stay competitive in the market major players are adopting new toolsets and offering consulting services that focus on a variety of new technologies.
1. Management Consulting Enters the Metaverse
Consulting companies are offering metaverse services to help companies develop strategies to operate and interact with customers in transformative ways. For instance, in March 2022, Accenture, an Ireland-based management consulting company, launched a new metaverse advisory business line, which will support clients with everything from strategy through to metaverse world-building.
2. Internet of Things (IoT) Consulting
IoT consulting helps capture enormous business opportunities created by network-connected devices. For instance, Ernst & Young, a UK-based management consulting company, provides IoT consulting services to help clients effectively capitalize on IoT technology and solutions, linking technology, vendors and customers through a holistic business model.
3. Automation and Artificial Intelligence (AI) Consulting
AI and automation help management consultants analyze massive amounts of data more efficiently and faster than an average human. For example, JLL, an American professional services and investment management company specializing in real estate, leverages an AI analysis system to drastically streamline workloads.
Lucrative Segments and Regions for Management Consulting
The global management consulting services industry is segmented as follows:
By type: operations advisory, financial advisory, technology advisory, strategy advisory, other consulting services, HR advisory
By end use industry: IT services, manufacturing, financial services, mining and oil & gas, construction, other end use industries
By service provider: large enterprise, small and medium enterprise
As per The Business Research Company, top opportunities in the management consulting services market by type will arise in the operations advisory market , which will gain $63.5 billion of global annual sales by 2026. Western Europe held the largest management consulting market share in 2022.
To take advantage of the opportunities, The Business Research Company recommends that management consulting services companies focus on adopting advanced technologies, expanding in emerging economies, leveraging mergers and acquisitions, employing value-oriented pricing and competitive prices, using B2B promotions, and targeting fast-growing end-use industries.
Gain access to further valuable insights on the management consulting services market to make better informed decisions.
About The Business Research Company
The Business Research Company is a market intelligence firm that excels in company, market, and consumer research. Located globally, it has specialist consultants in a wide range of industries including manufacturing, healthcare, financial services, chemicals, and technology. Find the company on LinkedIn, Twitter, Facebook, or YouTube for more.
About This Blog
Our goal is to help you better understand your customer, market, and competition in order to help drive your business growth.
Popular Posts
10 Global Industries That Will Boom in the Next 5 Years
Primary Data vs. Secondary Data: Market Research Methods
10 Booming Industries in the U.S. to Watch in 2023 and Beyond
7 Ways to Identify New Market Opportunities in a Changing World
Top 10 Reasons Why You Need Market Research
Recent Posts
Posts by topic.
Industry Insights (790)
Market Research Strategy (267)
Food & Beverage (132)
Healthcare (121)
The Freedonia Group (120)
How To's (104)
Market Research Provider (86)
Manufacturing & Construction (78)
Packaged Facts (74)
Pharmaceuticals (72)
Telecommunications & Wireless (69)
Heavy Industry (67)
Marketing (58)
Retail (56)
Profound (55)
Transportation & Shipping (53)
Software & Enterprise Computing (51)
House & Home (49)
Materials & Chemicals (45)
Consumer Electronics (44)
Energy & Resources (40)
Public Sector (40)
Medical Devices (38)
Demographics (37)
Biotechnology (36)
Business Services & Administration (36)
Custom Market Research (35)
Education (34)
Diagnostics (33)
Academic (32)
Travel & Leisure (32)
E-commerce & IT Outsourcing (30)
Financial Services (28)
Computer Hardware & Networking (25)
Kalorama Information (21)
Simba Information (21)
Knowledge Centers (19)
Apparel (18)
Cosmetics & Personal Care (17)
Social Media (16)
Advertising (14)
Big Data (14)
Market Research Subscription (14)
Holiday (11)
Emerging Markets (8)
Associations (1)
Religion (1)
MarketResearch.com 6116 Executive Blvd Suite 550 Rockville, MD 20852 800.298.5699 (U.S.) +1.240.747.3093 (International) [email protected]
From Our Blog
Subscribe to blog, connect with us.
Management Consulting Services Market Size & Share Analysis - Growth Trends & Forecasts (2023 - 2028)
The report covers Global Management Consulting Industry Overview and the market is segmented by type (HR consulting, strategy consulting, operations consulting), end-user industry (IT & telecommunications, healthcare, hotel & hospitality, media & entertainment, real estate), and geography (North America, Europe, Asia-Pacific, Latin America, the Middle East, and Africa). The market sizes and forecasts are provided in terms of value in USD billion for all the segments.
INSTANT ACCESS
Management Consulting Services Market Size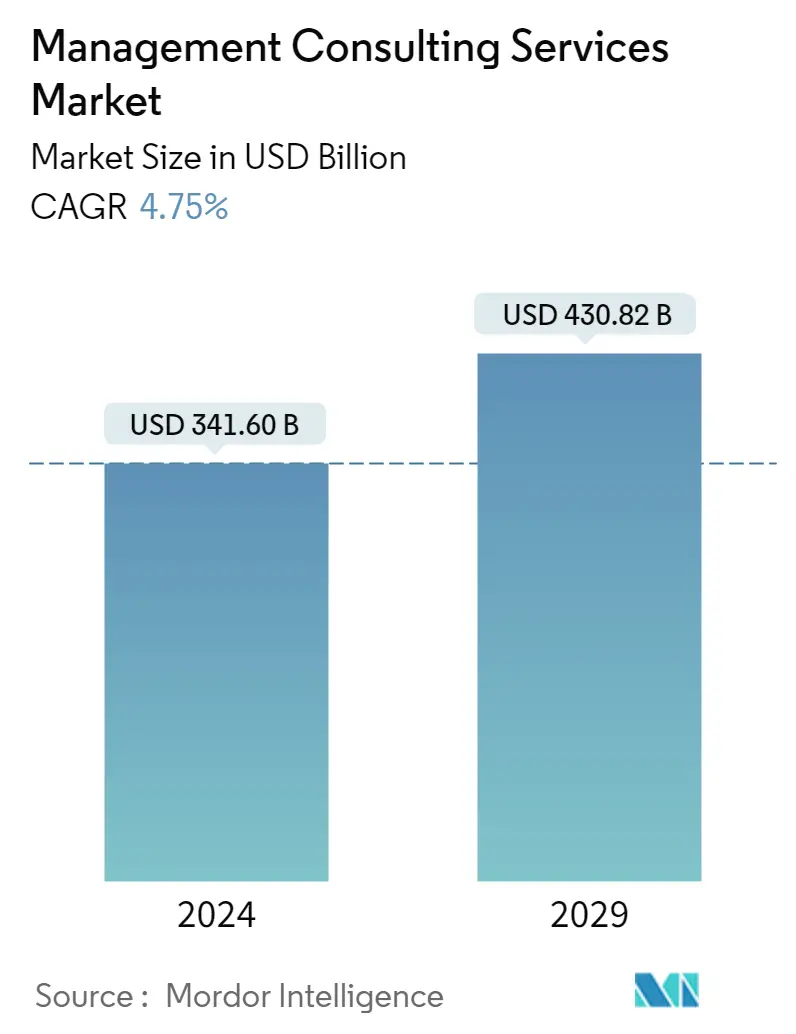 Need a report that reflects how COVID-19 has impacted this market and its growth?
Management Consulting Services Market Analysis
The Management Consulting Services Market size is expected to grow from USD 326.11 billion in 2023 to USD 411.28 billion by 2028, at a CAGR of 4.75% during the forecast period (2023-2028).
There is a growing demand for management consultancy services, targeting company executives and providing them with industry-specific specialists and subject-matter experts.
Implementing compliance using company policies helps to detect and prevent any violation of governance, such as fraud, abuse, or discrimination, thereby protecting the organization from fines and lawsuits.
Advancement in the quality of services from the consultancy is innovating the efforts to develop a new perception of quality that helps them achieve the desired results.
Predictive analytics is a method used to analyze present and historical data to forecast future events. This enables companies to predict how their customers might behave in the future. In addition, companies can use this information to better plan their business strategy and marketing efforts.
The COVID-19 pandemic negatively impacted multiple industries, including management consulting. To recover from the impact, consultancies have been devising various work opportunities and new business strategies and adapting to the post-pandemic scenario.
Management Consulting Services Market Trends
Healthcare sector expected to witness robust growth.
The healthcare industry faces significant challenges related to healthcare policy, regulatory compliance, and data management, which require specialized expertise and support from management consulting firms in countries with aging populations and rising healthcare costs, such as the United States, Japan, and Western Europe.
The outbreak of COVID-19 sparked the ramping up of intensive care capacity in hospitals and put infrastructure in place to handle the steep rise in Corona patients. At the same time, healthcare institutions needed to respond quickly to the changing landscape, including everything from providing more information and guidance to COVID-19-infected patients to developing new products and apps to help organizations and individuals combat the disease's spread. BearingPoint, an independent multinational management and technology consulting firm, assisted hospitals and other healthcare institutions in Ireland, France, and Sweden in developing new patient journeys, designing new COVID-19-related products, and deploying technologies such as eHealth solutions.
To achieve financial and operational returns on investments, it is crucial to be strategic when choosing, implementing, and utilizing digital and IT systems in the healthcare provider industry in the United States because reforms are constantly challenging it. As a result, various healthcare companies are partnering with firms that provide healthcare consulting services to improve performance and efficiency. However, the Asia-Pacific is expected to experience rapid growth due to technological development, investments by healthcare corporations, etc., during the forecast period.
Furthermore, as per a recent survey by the World Bank, the expenditure on healthcare is expected to grow by over 60% between 2023 and 2028. In the current year, the expenditure on healthcare is forecast to be over USD 11 trillion.
Overall, the healthcare industry's demand for management consulting services is expected to remain strong in the coming years, driven by global trends and industry-specific challenges. Companies that offer innovative solutions, specialized expertise, and a thorough understanding of the healthcare industry will be well-positioned to capitalize on this expanding market.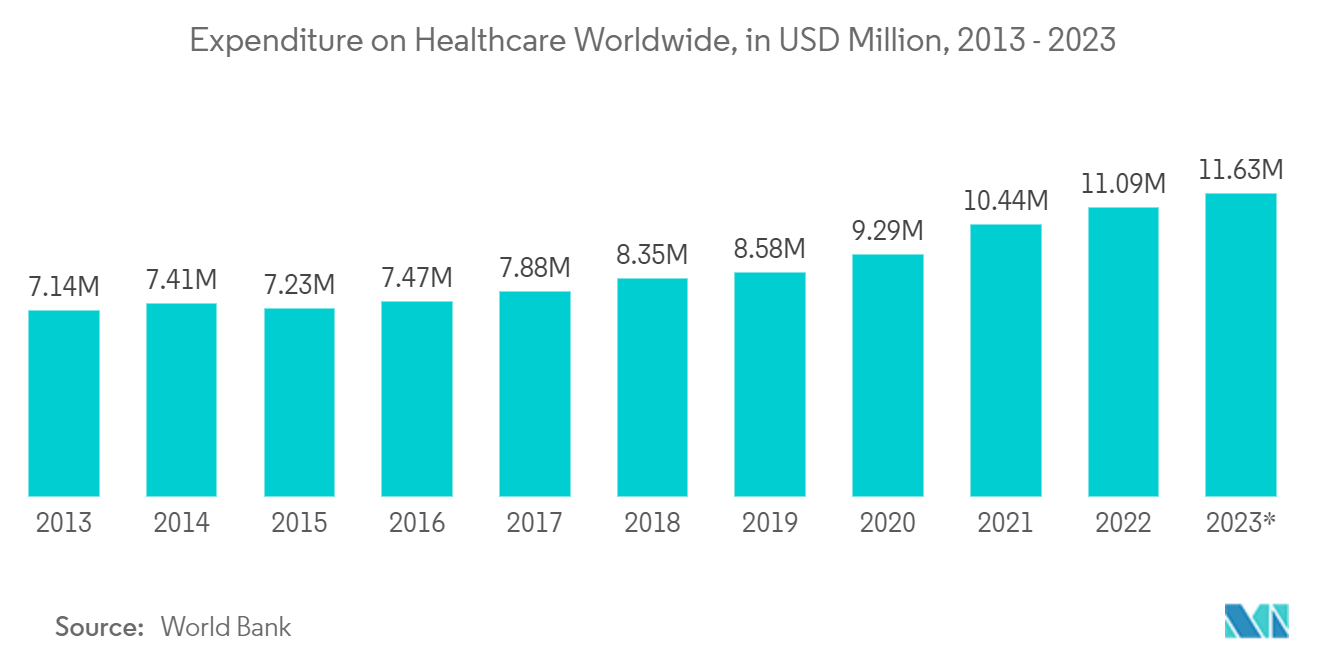 To understand key trends, Download Sample Report
Asia Pacific to Witness Fastest Growth
The Asia-Pacific region is one of the leading regions in the global management consulting services market for several reasons, including increased demand for advisory services from industries such as information technology, healthcare, and finance. The increase in digital transformation and the use of emerging technologies such as big data, artificial intelligence, and cloud computing are further propelling the consulting services industry's growth.
The region's economic development and rising foreign investment are fueling the demand for advisory services. The Asia-Pacific market for management consulting services has been growing steadily in recent years and is likely to do so in the next few years.
Boston Consulting Group, McKinsey & Company, Bain & Company, and Accenture are the major consulting companies with a presence in the Asia-Pacific region. These companies provide a wide range of consulting services, such as technology consulting, operational consulting, strategy consulting, and financial consulting. Market players engage in a variety of initiatives to improve their offerings. For example, in February 2022, global professional services giant Deloitte announced the acquisition of the majority of the Carbon Care Asia advisory business, a Hong Kong-based sustainability consultancy. Carbon Care Asia's team provides customers with net-zero carbon solutions, ESG reporting, climate scenario analysis, sustainability research, and sustainability training. More than 250 multinational corporations, private companies, and institutions in Hong Kong and the Asia-Pacific region are among the firm's clients.
Additionally, in March 2023, the Malaysia Digital Economy Corporation (MDEC) and KPMG in Malaysia collaborated to help high-potential Malaysian digital startups expand faster so they may become national unicorns by 2025. With the help of Malaysia Digital's new strategic objective, this latest partnership directs KPMG's assistance for MDEC's Founders Center of Excellence (FOX) program. Depending on the requirements, KPMG is expected to provide specialized consulting and advisory help in market insights, technology upgrades, governance, risk management, regulatory compliance, and more.
By end-user, the IT and telecommunications sectors are expanding in the Asia-Pacific region as the region's technology sector expands quickly due to advancements in digital technology and a rise in demand for creative solutions. Technology businesses are increasingly hiring management consulting services to assist them in navigating the complicated business landscape and implementing effective growth plans.
The management consulting market in Asia-Pacific is expected to develop rapidly due to the rising demand for technology and strategy consulting for digital transformations in the region's countries. Additionally, the expanding presence of various consulting firms and rising demand from various end-user sectors are expected to boost the market in the region.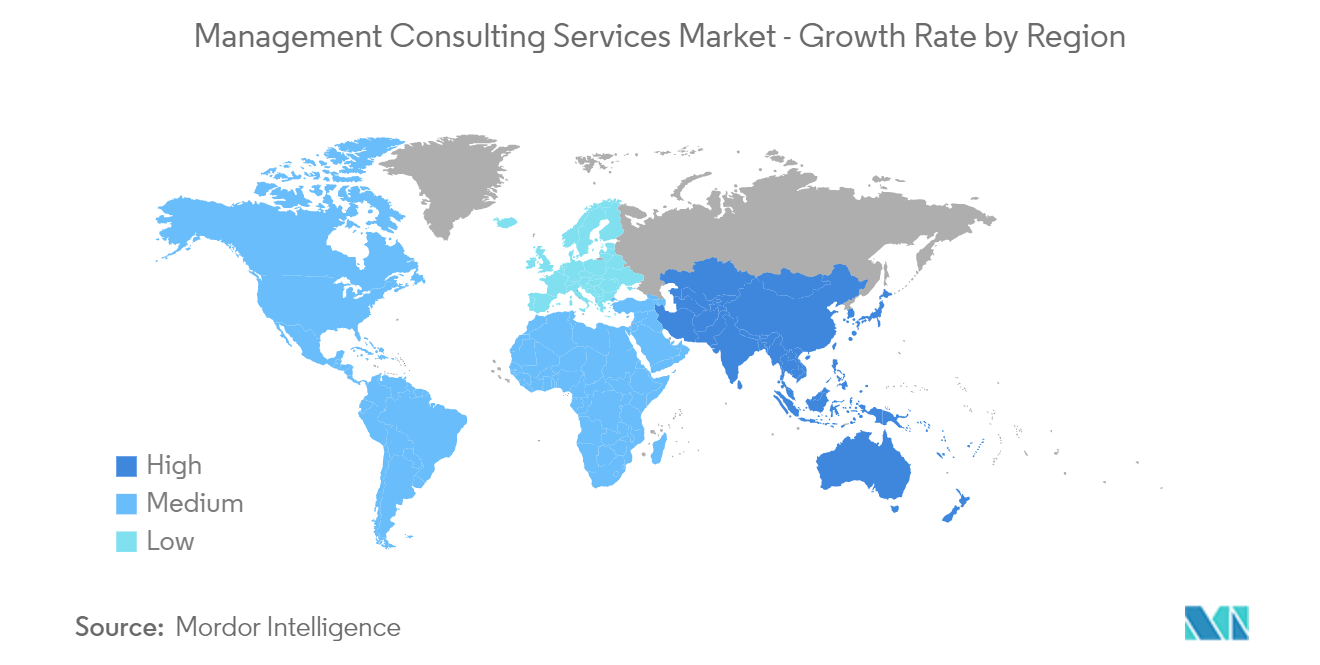 To understand geography trends, Download Sample Report
Management Consulting Services Industry Overview
The management consulting services market is partially fragmented, with local and multinational firms having decades of business expertise and competing for market share. The suppliers are implementing a strong competitive strategy by leveraging their expertise and investing a significant portion of the budget in advertising. The market has relatively low exit barriers, which encourages new enterprises to participate and established firms to withdraw when profits are low. Major industry players, like McKinsey & Company, Bain & Company, Boston Consulting Group (BCG), Deloitte, etc., are emphasizing providing integrated solutions to attract customers. Smaller and newer suppliers in the market are projected to prioritize cost-benefit over more prominent vendors, escalating competition.
In March 2023, Mercer LLC announced it was purchasing Leapgen, a prominent human resources (HR) technology consulting firm focused on workforce solutions, digital strategy and transformation, and improving employee experience, to expand its advisory services. The purchase strengthens Mercer's position as a trusted advisor in the rapidly increasing market for digital HR strategy.
In December 2022, EY announced the acquisition of ifb SE, an international finance and risk transformation and compliance consultancy, in Germany and said it would be branded EY ifb. This acquisition enhanced the breadth and depth of EY's finance, risk transformation, and compliance capabilities and created greater opportunities for EY to support its clients.
Management Consulting Services Market Leaders
McKinsey & Company
Bain & Company
Boston Consulting Group
Booz Allen Hamilton Inc.
Deloitte Touche Tohmatsu Limited
*Disclaimer: Major Players sorted in no particular order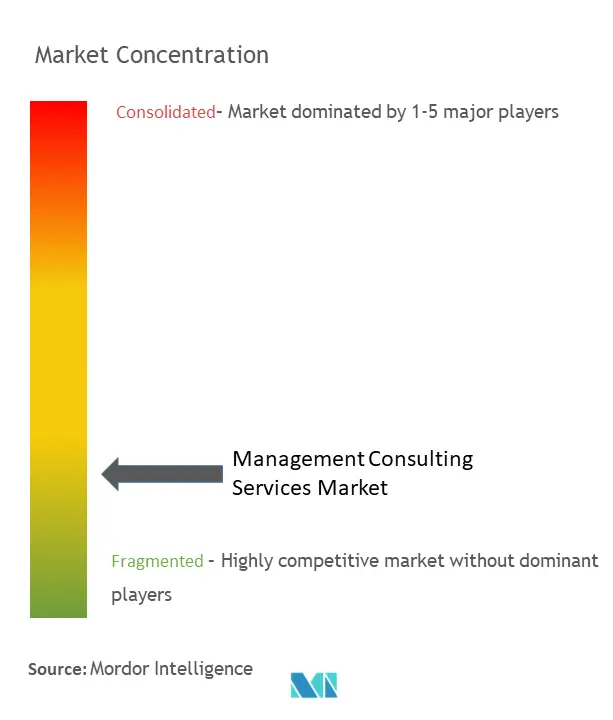 Management Consulting Services Market News
March 2023: Accenture announced its plan to acquire Optimind, a Paris-based independent consulting company that offers advisory services and solutions to support banks, insurance firms, and large corporate clients to meet significant challenges of competitiveness, transformation, and regulation.
February 2023: Booz Allen Hamilton announced an investment in Hidden Level, Inc., an innovator of passive sensing solutions for unmanned aerial systems (UAS), such as drones in high-interference situations, through its corporate venture capital arm, Booz Allen Ventures, LLC. Hidden Level employs cutting-edge radio frequency (RF) sensor technologies to provide multi-domain awareness of situations and assistance for counter-UAS missions. This was Booz Allen Ventures' first investment in the year 2023, and it is connected with the firm's Digital Battlespace Platform, which is focused on the faster adoption of new technologies and superior operations. In addition, players are investing in digital transformation and technology to acquire a competitive advantage.
Management Consulting Services Market Report - Table of Contents
1. INTRODUCTION
1.1 Study Assumptions and Market Definition
1.2 Scope of the Study
2. RESEARCH METHODOLOGY
3. EXECUTIVE SUMMARY
4. MARKET INSIGHTS
4.1 Market Overview
4.2 Industry Attractiveness - Porter's Five Forces Analysis
4.2.1 Bargaining Power of Buyers/Consumers
4.2.2 Bargaining Power of Suppliers
4.2.3 Threat of New Entrants
4.2.4 Threat of Substitute Products
4.2.5 Intensity of Competitive Rivalry
5. MARKET DYNAMICS
5.1 Market Drivers
5.1.1 Growing Investment in Innovative Analytical Solutions Surging Companies' Growth Strategy
5.1.2 Adoption of BI and Advanced Data Management Strategies across Multiple End-user Domains
5.2 Market Restraints
5.2.1 Shift in the Consulting Marketplace Hampering New Business Strategy
6. MARKET SEGMENTATION
6.1 By Type
6.1.1 HR Consulting
6.1.2 Strategy Consulting
6.1.3 Operations Consulting
6.1.4 Other Types
6.2 By End-user Industry
6.2.1 IT and Telecommunication
6.2.2 Healthcare
6.2.3 Hotel and Hospitality
6.2.4 Media and Entertainment
6.2.5 Real Estate
6.2.6 Other End-user Industries (BFSI, Government, Energy)
6.3 By Geography
6.3.1 North America
6.3.2 Europe
6.3.3 Asia-Pacific
6.3.4 Latin America
6.3.5 Middle East and Africa
7. COMPETITIVE LANDSCAPE
7.1 Company Profiles
7.1.1 McKinsey & Company
7.1.2 Bain & Company
7.1.3 Boston Consulting Group
7.1.4 Booz Allen Hamilton Inc.
7.1.5 Deloitte Touche Tohmatsu Limited
7.1.6 KPMG International
7.1.7 Gartner Inc.
7.1.8 Wikistrat Inc.
7.1.9 Ernst & Young Global Limited
7.1.10 PricewaterhouseCoopers LLP
7.1.11 AT Kearney Inc.
7.1.12 Tata Consultancy Services
7.1.13 Accenture PLC
7.1.14 Decision Management Consultants
7.1.15 Capgemini SE
7.1.16 LEK Consulting LLC
7.1.17 Mercer LLC (Marsh McLennan)
8. INVESTMENT ANALYSIS
9. MARKET OPPORTUNITIES AND FUTURE TRENDS
Management Consulting Services Industry Segmentation
Management consulting is the activity of offering consulting services to businesses to enhance their performance or aid in achieving organizational goals. Management consulting firms assist organizations in increasing their efficiency. The firm examines the operations and determines the existing organizational inefficiencies, which include everything from high raw material costs to HR policies. The firm employs its knowledge to devise a strategy for resolving all difficulties in the most effective manner possible.
The management consulting services market is segmented by type (HR consulting, strategy consulting, operations consulting), end-user industry (IT & telecommunication, healthcare, hotel & hospitality, media & entertainment, real estate), and geography (North America, Europe, Asia-Pacific, Latin America, the Middle East, and Africa). The market sizes and forecasts are provided in terms of value in USD billion for all the segments.
Report scope can be customized per your requirements. Click here.
Management Consulting Services Market Research FAQs
How big is the management consulting services market.
The Management Consulting Services Market size is expected to reach USD 326.11 billion in 2023 and grow at a CAGR of 4.75% to reach USD 411.28 billion by 2028.
What is the current Management Consulting Services Market size?
In 2023, the Management Consulting Services Market size is expected to reach USD 326.11 billion.
Who are the key players in Management Consulting Services Market?
McKinsey & Company, Bain & Company, Boston Consulting Group, Booz Allen Hamilton Inc. and Deloitte Touche Tohmatsu Limited are the major companies operating in the Management Consulting Services Market.
Which is the fastest growing region in Management Consulting Services Market?
Asia-Pacific is estimated to grow at the highest CAGR over the forecast period (2023-2028).
Which region has the biggest share in Management Consulting Services Market?
In 2023, the North America accounts for the largest market share in the Management Consulting Services Market.
Our Best Selling Reports
Water Treatment Chemicals Market
Global Complementary and Alternative Medicines Market
Global Ophthalmic Devices Market
Plasma Fractionation Market
Global Particle Counters Market
Precision Medicine Market
Latin America Oral Anti-Diabetic Drug Market
eHealth Market
Organoids Market
HBPA Epoxy Resin Market
Management Consulting Trends Industry Report
Statistics for the 2023 Management Consulting Trends market share, size and revenue growth rate, created by Mordor Intelligence™ Industry Reports. Management Consulting Trends analysis includes a market forecast outlook to 2028 and historical overview. Get a sample of this industry analysis as a free report PDF download.
Management Consulting Market Trends Report Snapshots
Management Consulting Market Trends Market Size
Management Consulting Market Trends Market Share
Management Consulting Market Trends Market Trends
Management Consulting Market Trends Companies
Please enter a valid email id!
Please enter a valid message!

Management Consulting Services Market Get a free sample of this report
Please enter your name
Business Email
Please enter a valid email
Please enter your phone number
Get this Data in a Free Sample of the Management Consulting Services Market Report
Please enter your requirement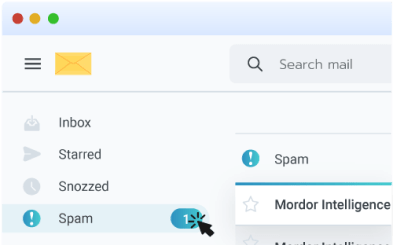 Thank you for your Purchase. Your payment is successful. The Report will be delivered in 2 - 4 hours. Our sales representative will reach you shortly with the details.
Please be sure to check your spam folder too.
Sorry! Payment Failed. Please check with your bank for further details.
Add Citation APA MLA Chicago
➜ Embed Code X
Get Embed Code
Want to use this image? X
Please copy & paste this embed code onto your site:
Images must be attributed to Mordor Intelligence. Learn more
About The Embed Code X
Mordor Intelligence's images may only be used with attribution back to Mordor Intelligence. Using the Mordor Intelligence's embed code renders the image with an attribution line that satisfies this requirement.
In addition, by using the embed code, you reduce the load on your web server, because the image will be hosted on the same worldwide content delivery network Mordor Intelligence uses instead of your web server.
Consulting Firm Business Plan Template
Business Plan Outline
Consulting Firm Business Plan Home
1. Executive Summary
2. Company Overview
3. Industry Analysis
4. Customer Analysis
5. Competitive Analysis
6. Marketing Plan
7. Operations Plan
8. Management Team
9. Financial Plan
Start Your Consulting Firm Plan Here
Consulting Firm Industry Analysis
Corporate profit is expected to help expand business budgets, enabling companies to heighten spending on consulting services, thus driving industry revenue to over $280 billion over the next five years.
Additionally, companies are expected to increase labor forces and expand investment in new facilities and operations. Investment in new capabilities will likely boost demand for process and operations management consulting, corporate strategy consulting and organizational design consulting.
Furthermore, rapid IT developments will likely continue to be instrumental in developing new strategies and designs as well as understanding an evolving domestic market. Private sector investment in IT is expected to boom and management consultants will likely pursue more solutions that incorporate computer systems. Moreover, major investment in life sciences and healthcare over the next five years will likely help drive growth for consultants that assist in merger and acquisition activity.
Management Consulting in the US - Market Size, Industry Analysis, Trends and Forecasts (2023-2028)
Instant access to hundreds of data points and trends.
Market estimates from
Competitive analysis, industry segmentation, financial benchmarks
Incorporates SWOT, Porter's Five Forces and risk management frameworks
PDF report or online database with Word, Excel and PowerPoint export options
100% money back guarantee
Industry statistics and trends.
Access all data and statistics with purchase. View purchase options.
Management Consulting in the US
Industry Revenue
Total value and annual change from . Includes 5-year outlook.
Access the 5-year outlook with purchase. View purchase options
Trends and Insights
Market size is projected to over the next five years.
Market share concentration for the Management Consulting industry in the US is , which means the top four companies generate of industry revenue.
The average concentration in the sector in the United States is .
Products & Services Segmentation
Industry revenue broken down by key product and services lines.
Ready to keep reading?
Unlock the full report for instant access to 30+ charts and tables paired with detailed analysis..
Or contact us for multi-user and corporate license options
Table of Contents
About this industry, industry definition, what's included in this industry, industry code, related industries, domestic industries, competitors, complementors, international industries, performance, key takeaways, revenue highlights, employment highlights, business highlights, profit highlights, current performance.
What's driving current industry performance in the Management Consulting in the US industry?
What's driving the Management Consulting in the US industry outlook?
What influences volatility in the Management Consulting in the US industry?
Industry Volatility vs. Revenue Growth Matrix
What determines the industry life cycle stage in the Management Consulting in the US industry?
Industry Life Cycle Matrix
Products and Markets
Products and services.
Products and Services Segmentation
How are the Management Consulting in the US industry's products and services performing?
What are innovations in the Management Consulting in the US industry's products and services?
Major Markets
Major Market Segmentation
What influences demand in the Management Consulting in the US industry?
International Trade
Industry Concentration of Imports by Country
Industry Concentration of Exports by Country
Industry Trade Balance by Country
What are the import trends in the Management Consulting in the US industry?
What are the export trends in the Management Consulting in the US industry?
Geographic Breakdown
Business locations.
Share of Total Industry Establishments by Region ( )
Data Tables
Number of Establishments by Region ( )
Share of Establishments vs. Population of Each Region
What regions are businesses in the Management Consulting in the US industry located?
Competitive Forces
Concentration.
Combined Market Share of the Four Largest Companies in This Industry ( )
Share of Total Enterprises by Employment Size
What impacts market share in the Management Consulting in the US industry?
Barriers to Entry
What challenges do potential entrants in the Management Consulting in the US industry?
Substitutes
What are substitutes in the Management Consulting in the US industry?
Buyer and Supplier Power
Upstream Buyers and Downstream Suppliers in the Management Consulting in the US industry
What power do buyers and suppliers have over the Management Consulting industry in the US?
Market Share
Top companies by market share:
Market share
Profit Margin
Company Snapshots
Company details, summary, charts and analysis available for
Company Details
Total revenue
Total operating income
Total employees
Industry market share
Company Summary
Description
Brands and trading names
Other industries
What's influencing the company's performance?
External Environment
External drivers.
What demographic and macroeconomic factors impact the Management Consulting in the US industry?
Regulation and Policy
What regulations impact the Management Consulting in the US industry?
What assistance is available to the Management Consulting in the US industry?
Financial Benchmarks
Cost structure.
Share of Economy vs. Investment Matrix
Depreciation
What trends impact cost in the Management Consulting in the US industry?
Financial Ratios
3-4 Industry Multiples (2017-2022)
15-20 Income Statement Line Items (2017-2022)
20-30 Balance Sheet Line Items (2017-2022)
7-10 Liquidity Ratios (2017-2022)
1-5 Coverage Ratios (2017-2022)
3-4 Leverage Ratios (2017-2022)
3-5 Operating Ratios (2017-2022)
5 Cash Flow and Debt Service Ratios (2017-2022)
1 Tax Structure Ratio (2017-2022)
Data tables
IVA/Revenue ( )
Imports/Demand ( )
Exports/Revenue ( )
Revenue per Employee ( )
Wages/Revenue ( )
Employees per Establishment ( )
Average Wage ( )
Key Statistics
Industry data.
Including values and annual change:
Revenue ( )
Establishments ( )
Enterprises ( )
Employment ( )
Exports ( )
Imports ( )
Frequently Asked Questions
What is the market size of the management consulting industry in the us.
The market size of the Management Consulting industry in the US is measured at in .
How fast is the Management Consulting in the US market projected to grow in the future?
Over the next five years, the Management Consulting in the US market is expected to . See purchase options to view the full report and get access to IBISWorld's forecast for the Management Consulting in the US from up to .
What factors are influencing the Management Consulting industry in the US market trends?
Key drivers of the Management Consulting in the US market include .
What are the main product lines for the Management Consulting in the US market?
The Management Consulting in the US market offers products and services including .
Which companies are the largest players in the Management Consulting industry in the US?
Top companies in the Management Consulting industry in the US, based on the revenue generated within the industry, includes .
How many people are employed in the Management Consulting industry in the US?
The Management Consulting industry in the US has employees in United States in .
How concentrated is the Management Consulting market in the United States?
Market share concentration is for the Management Consulting industry in the US, with the top four companies generating of market revenue in United States in . The level of competition is overall, but is highest among smaller industry players.
Methodology
Where does ibisworld source its data.
IBISWorld is a world-leading provider of business information, with reports on 5,000+ industries in Australia, New Zealand, North America, Europe and China. Our expert industry analysts start with official, verified and publicly available sources of data to build an accurate picture of each industry.
Each industry report incorporates data and research from government databases, industry-specific sources, industry contacts, and IBISWorld's proprietary database of statistics and analysis to provide balanced, independent and accurate insights. 
IBISWorld prides itself on being a trusted, independent source of data, with over 50 years of experience building and maintaining rich datasets and forecasting tools.
To learn more about specific data sources used by IBISWorld's analysts globally, including how industry data forecasts are produced, visit our Help Center.
Deeper industry insights drive better business outcomes. See for yourself with your report or membership purchase.
Discover how 30+ pages of industry data and analysis can give you the edge you need..