Have a language expert improve your writing
Run a free plagiarism check in 10 minutes, generate accurate citations for free.
Knowledge Base
How to structure an essay: Templates and tips
How to Structure an Essay | Tips & Templates
Published on September 18, 2020 by Jack Caulfield . Revised on July 23, 2023.
The basic structure of an essay always consists of an introduction , a body , and a conclusion . But for many students, the most difficult part of structuring an essay is deciding how to organize information within the body.
Table of contents
The basics of essay structure, chronological structure, compare-and-contrast structure, problems-methods-solutions structure, signposting to clarify your structure, other interesting articles, frequently asked questions about essay structure.
There are two main things to keep in mind when working on your essay structure: making sure to include the right information in each part, and deciding how you'll organize the information within the body.
Parts of an essay
The three parts that make up all essays are described in the table below.
Order of information
You'll also have to consider how to present information within the body. There are a few general principles that can guide you here.
The first is that your argument should move from the simplest claim to the most complex . The body of a good argumentative essay often begins with simple and widely accepted claims, and then moves towards more complex and contentious ones.
For example, you might begin by describing a generally accepted philosophical concept, and then apply it to a new topic. The grounding in the general concept will allow the reader to understand your unique application of it.
The second principle is that background information should appear towards the beginning of your essay . General background is presented in the introduction. If you have additional background to present, this information will usually come at the start of the body.
The third principle is that everything in your essay should be relevant to the thesis . Ask yourself whether each piece of information advances your argument or provides necessary background. And make sure that the text clearly expresses each piece of information's relevance.
The sections below present several organizational templates for essays: the chronological approach, the compare-and-contrast approach, and the problems-methods-solutions approach.
Receive feedback on language, structure, and formatting
Professional editors proofread and edit your paper by focusing on:
Academic style
Vague sentences
Style consistency
See an example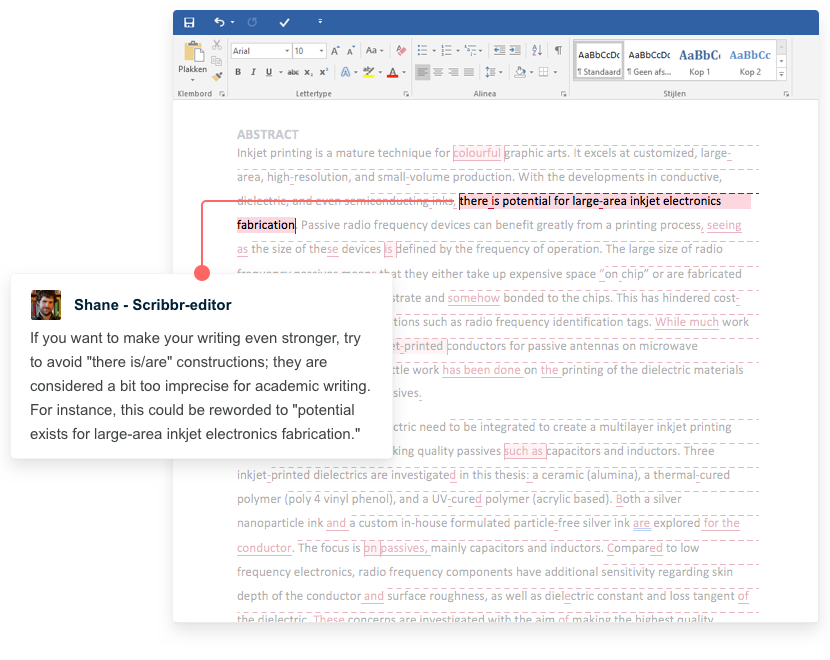 The chronological approach (sometimes called the cause-and-effect approach) is probably the simplest way to structure an essay. It just means discussing events in the order in which they occurred, discussing how they are related (i.e. the cause and effect involved) as you go.
A chronological approach can be useful when your essay is about a series of events. Don't rule out other approaches, though—even when the chronological approach is the obvious one, you might be able to bring out more with a different structure.
Explore the tabs below to see a general template and a specific example outline from an essay on the invention of the printing press.
Thesis statement
Discussion of event/period
Consequences
Importance of topic
Strong closing statement
Claim that the printing press marks the end of the Middle Ages
Background on the low levels of literacy before the printing press
Thesis statement: The invention of the printing press increased circulation of information in Europe, paving the way for the Reformation
High levels of illiteracy in medieval Europe
Literacy and thus knowledge and education were mainly the domain of religious and political elites
Consequence: this discouraged political and religious change
Invention of the printing press in 1440 by Johannes Gutenberg
Implications of the new technology for book production
Consequence: Rapid spread of the technology and the printing of the Gutenberg Bible
Trend for translating the Bible into vernacular languages during the years following the printing press's invention
Luther's own translation of the Bible during the Reformation
Consequence: The large-scale effects the Reformation would have on religion and politics
Summarize the history described
Stress the significance of the printing press to the events of this period
Essays with two or more main subjects are often structured around comparing and contrasting . For example, a literary analysis essay might compare two different texts, and an argumentative essay might compare the strengths of different arguments.
There are two main ways of structuring a compare-and-contrast essay: the alternating method, and the block method.
Alternating
In the alternating method, each paragraph compares your subjects in terms of a specific point of comparison. These points of comparison are therefore what defines each paragraph.
The tabs below show a general template for this structure, and a specific example for an essay comparing and contrasting distance learning with traditional classroom learning.
Synthesis of arguments
Topical relevance of distance learning in lockdown
Increasing prevalence of distance learning over the last decade
Thesis statement: While distance learning has certain advantages, it introduces multiple new accessibility issues that must be addressed for it to be as effective as classroom learning
Classroom learning: Ease of identifying difficulties and privately discussing them
Distance learning: Difficulty of noticing and unobtrusively helping
Classroom learning: Difficulties accessing the classroom (disability, distance travelled from home)
Distance learning: Difficulties with online work (lack of tech literacy, unreliable connection, distractions)
Classroom learning: Tends to encourage personal engagement among students and with teacher, more relaxed social environment
Distance learning: Greater ability to reach out to teacher privately
Sum up, emphasize that distance learning introduces more difficulties than it solves
Stress the importance of addressing issues with distance learning as it becomes increasingly common
Distance learning may prove to be the future, but it still has a long way to go
In the block method, each subject is covered all in one go, potentially across multiple paragraphs. For example, you might write two paragraphs about your first subject and then two about your second subject, making comparisons back to the first.
The tabs again show a general template, followed by another essay on distance learning, this time with the body structured in blocks.
Point 1 (compare)
Point 2 (compare)
Point 3 (compare)
Point 4 (compare)
Advantages: Flexibility, accessibility
Disadvantages: Discomfort, challenges for those with poor internet or tech literacy
Advantages: Potential for teacher to discuss issues with a student in a separate private call
Disadvantages: Difficulty of identifying struggling students and aiding them unobtrusively, lack of personal interaction among students
Advantages: More accessible to those with low tech literacy, equality of all sharing one learning environment
Disadvantages: Students must live close enough to attend, commutes may vary, classrooms not always accessible for disabled students
Advantages: Ease of picking up on signs a student is struggling, more personal interaction among students
Disadvantages: May be harder for students to approach teacher privately in person to raise issues
An essay that concerns a specific problem (practical or theoretical) may be structured according to the problems-methods-solutions approach.
This is just what it sounds like: You define the problem, characterize a method or theory that may solve it, and finally analyze the problem, using this method or theory to arrive at a solution. If the problem is theoretical, the solution might be the analysis you present in the essay itself; otherwise, you might just present a proposed solution.
The tabs below show a template for this structure and an example outline for an essay about the problem of fake news.
Introduce the problem
Provide background
Describe your approach to solving it
Define the problem precisely
Describe why it's important
Indicate previous approaches to the problem
Present your new approach, and why it's better
Apply the new method or theory to the problem
Indicate the solution you arrive at by doing so
Assess (potential or actual) effectiveness of solution
Describe the implications
Problem: The growth of "fake news" online
Prevalence of polarized/conspiracy-focused news sources online
Thesis statement: Rather than attempting to stamp out online fake news through social media moderation, an effective approach to combating it must work with educational institutions to improve media literacy
Definition: Deliberate disinformation designed to spread virally online
Popularization of the term, growth of the phenomenon
Previous approaches: Labeling and moderation on social media platforms
Critique: This approach feeds conspiracies; the real solution is to improve media literacy so users can better identify fake news
Greater emphasis should be placed on media literacy education in schools
This allows people to assess news sources independently, rather than just being told which ones to trust
This is a long-term solution but could be highly effective
It would require significant organization and investment, but would equip people to judge news sources more effectively
Rather than trying to contain the spread of fake news, we must teach the next generation not to fall for it
A faster, more affordable way to improve your paper
Scribbr's new AI Proofreader checks your document and corrects spelling, grammar, and punctuation mistakes with near-human accuracy and the efficiency of AI!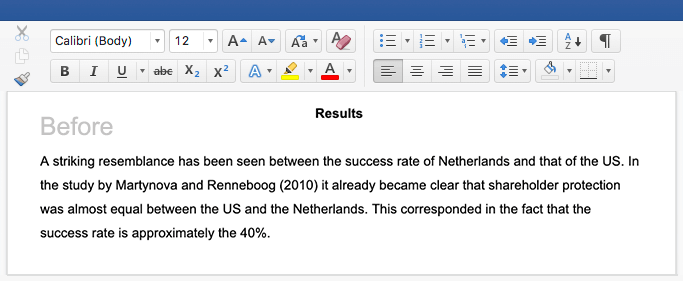 Proofread my paper
Signposting means guiding the reader through your essay with language that describes or hints at the structure of what follows.  It can help you clarify your structure for yourself as well as helping your reader follow your ideas.
The essay overview
In longer essays whose body is split into multiple named sections, the introduction often ends with an overview of the rest of the essay. This gives a brief description of the main idea or argument of each section.
The overview allows the reader to immediately understand what will be covered in the essay and in what order. Though it describes what  comes later in the text, it is generally written in the present tense . The following example is from a literary analysis essay on Mary Shelley's Frankenstein .
Transitions
Transition words and phrases are used throughout all good essays to link together different ideas. They help guide the reader through your text, and an essay that uses them effectively will be much easier to follow.
Various different relationships can be expressed by transition words, as shown in this example.
Because Hitler failed to respond to the British ultimatum, France and the UK declared war on Germany. Although it was an outcome the Allies had hoped to avoid, they were prepared to back up their ultimatum in order to combat the existential threat posed by the Third Reich.
Transition sentences may be included to transition between different paragraphs or sections of an essay. A good transition sentence moves the reader on to the next topic while indicating how it relates to the previous one.
… Distance learning, then, seems to improve accessibility in some ways while representing a step backwards in others.
However , considering the issue of personal interaction among students presents a different picture.
If you want to know more about AI tools , college essays , or fallacies make sure to check out some of our other articles with explanations and examples or go directly to our tools!
Ad hominem fallacy
Post hoc fallacy
Appeal to authority fallacy
False cause fallacy
Sunk cost fallacy
College essays
Choosing Essay Topic
Write a College Essay
Write a Diversity Essay
College Essay Format & Structure
Comparing and Contrasting in an Essay
 (AI) Tools
Grammar Checker
Paraphrasing Tool
Text Summarizer
AI Detector
Plagiarism Checker
Citation Generator
The structure of an essay is divided into an introduction that presents your topic and thesis statement , a body containing your in-depth analysis and arguments, and a conclusion wrapping up your ideas.
The structure of the body is flexible, but you should always spend some time thinking about how you can organize your essay to best serve your ideas.
An essay isn't just a loose collection of facts and ideas. Instead, it should be centered on an overarching argument (summarized in your thesis statement ) that every part of the essay relates to.
The way you structure your essay is crucial to presenting your argument coherently. A well-structured essay helps your reader follow the logic of your ideas and understand your overall point.
Comparisons in essays are generally structured in one of two ways:
The alternating method, where you compare your subjects side by side according to one specific aspect at a time.
The block method, where you cover each subject separately in its entirety.
It's also possible to combine both methods, for example by writing a full paragraph on each of your topics and then a final paragraph contrasting the two according to a specific metric.
You should try to follow your outline as you write your essay . However, if your ideas change or it becomes clear that your structure could be better, it's okay to depart from your essay outline . Just make sure you know why you're doing so.
Cite this Scribbr article
If you want to cite this source, you can copy and paste the citation or click the "Cite this Scribbr article" button to automatically add the citation to our free Citation Generator.
Caulfield, J. (2023, July 23). How to Structure an Essay | Tips & Templates. Scribbr. Retrieved December 2, 2023, from https://www.scribbr.com/academic-essay/essay-structure/
Is this article helpful?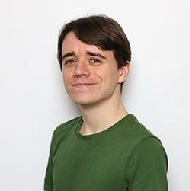 Jack Caulfield
Other students also liked, comparing and contrasting in an essay | tips & examples, how to write the body of an essay | drafting & redrafting, transition sentences | tips & examples for clear writing, what is your plagiarism score.
Basic essay structure
Improve your writing
Organise your essays to demonstrate your knowledge, show your research and support your arguments.
Essays are usually written in continuous, flowing, paragraphed text and don't use section headings. This may seem unstructured at first, but good essays are carefully structured.
How your assignment content is structured is your choice. Use the basic pattern below to get started.
Essay structure
An essay consists of three basic parts:, introduction.
The essay itself usually has no section headings. Only the title page, author declaration and reference list are written as headings, along with, for example, appendices. Check any task instructions, and your course or unit handbook, for further details.
Content in assignment introductions can vary widely. In some disciplines you may need to provide a full background and context, whereas other essays may need only a little context, and others may need none.
An introduction to an essay usually has three primary purposes:
To set the scene
To tell readers what is important, and why
To tell the reader what the essay is going to do (signposting)
A standard introduction includes the following five elements:
A statement that sets out the topic and engages the reader.
The background and context of the topic.
Any important definitions, integrated into your text as appropriate.
An outline of the key points, topic, issues, evidence, ideas, arguments, models, theories, or other information, as appropriate. This may include distinctions or contrasts between different ideas or evidence.
A final sentence or two which tells the reader your focal points and aims.
You should aim to restrict your introduction to information needed for the topic and only include background and contextual information which helps the reader understand it, or sets the scene for your chosen focal points.
In most essays you will have a considerable range of options for your focus. You will be expected to demonstrate your ability to select the most relevant content to address your focal points.
There are some exceptions. For example, if an assignment brief specifically directs the essay focus or requires you to write broadly about a topic. These are relatively rare or are discipline-specific so you should check your task instructions and discipline and subject area conventions.
Below are examples of an opening statement, a summary of the selected content, and a statement at the end of the introduction which tells the reader what the essay will focus on and how it will be addressed. We've use a fictional essay.
The title of our essay is: 'Cats are better than dogs. Discuss.'
To submit this essay you also would need to add citations as appropriate.
Example of opening statements:
People have shared their lives with cats and dogs for millenia. Which is better depends partly on each animal's characteristics and partly on the owner's preferences.
Here is a summary of five specific topics selected for the essay, which would be covered in a little more detail in the introduction:
In ancient Egypt, cats were treated as sacred and were pampered companions.
Dogs have for centuries been used for hunting and to guard property. There are many types of working dog, and both dogs and cats are now kept purely as pets.
They are very different animals, with different care needs, traits and abilities.
It is a common perception that people are either "cat-lovers" or "dog-lovers".
It is a common perception that people tend to have preferences for one, and negative beliefs about and attitudes towards, the other.
Example of closing statements at the end of the introduction:
This essay will examine both cats' and dogs' behaviour and abilities, the benefits of keeping them as pets, and whether people's perceptions of their nature matches current knowledge and understanding.
Main body: paragraphs
The body of the essay should be organised into paragraphs. Each paragraph should deal with a different aspect of the issue, but they should also link in some way to those that precede and follow it. This is not an easy thing to get right, even for experienced writers, partly because there are many ways to successfully structure and use paragraphs. There is no perfect paragraph template.
The theme or topic statement
The first sentence, or sometimes two, tells the reader what the paragraph is going to cover. It may either:
Begin a new point or topic, or
Follow on from the previous paragraph, but with a different focus or go into more-specific detail. If this is the case, it should clearly link to the previous paragraph.
The last sentence
It should be clear if the point has come to an end, or if it continues in the next paragraph.
Here is a brief example of flow between two summarised paragraphs which cover the historical perspective:
It is known from hieroglyphs that the Ancient Egyptians believed that cats were sacred. They were also held in high regard, as suggested by their being found mummified and entombed with their owners (Smith, 1969). In addition, cats are portrayed aiding hunters. Therefore, they were both treated as sacred, and were used as intelligent working companions. However, today they are almost entirely owned as pets.
In contrast, dogs have not been regarded as sacred, but they have for centuries been widely used for hunting in Europe. This developed over time and eventually they became domesticated and accepted as pets. Today, they are seen as loyal, loving and protective members of the family, and are widely used as working dogs.
There is never any new information in a conclusion.
The conclusion usually does three things:
Reminds your readers of what the essay was meant to do.
Provides an answer, where possible, to the title.
Reminds your reader how you reached that answer.
The conclusion should usually occupy just one paragraph. It draws together all the key elements of your essay, so you do not need to repeat the fine detail unless you are highlighting something.
A conclusion to our essay about cats and dogs is given below:
Both cats and dogs have been highly-valued for millenia, are affectionate and beneficial to their owners' wellbeing. However, they are very different animals and each is 'better' than the other regarding care needs and natural traits. Dogs need regular training and exercise but many owners do not train or exercise them enough, resulting in bad behaviour. They also need to be 'boarded' if the owner is away and to have frequent baths to prevent bad odours. In contrast, cats do not need this level of effort and care. Dogs are seen as more intelligent, loyal and attuned to human beings, whereas cats are perceived as aloof and solitary, and as only seeking affection when they want to be fed. However, recent studies have shown that cats are affectionate and loyal and more intelligent than dogs, but it is less obvious and useful. There are, for example, no 'police' or 'assistance' cats, in part because they do not have the kinds of natural instincts which make dogs easy to train. Therefore, which animal is better depends upon personal preference and whether they are required to work. Therefore, although dogs are better as working animals, cats are easier, better pets.
Download our basic essay structure revision sheet
Download this page as a PDF for your essay structure revision notes
Better Essays: Signposting
Paragraphs main body of an assessment
Find Study Materials for
Business studies, combined science, computer science, english literature, environmental science, human geography, macroeconomics, microeconomics.
Social Studies
Browse all subjects
Exam Revision
Career Advice for Students
Student Life
Study Guide
University Advice
Read our Magazine
Create Study Materials

Select your language

Writing a structured essay helps you to organise your thoughts in a concise way and present your ideas clearly. But how should an essay be structured, and what should you include?  Crafting a successful essay structure in English is like constructing a beautiful piece of architecture - it requires a solid foundation, a clear blueprint, and attention to detail. Just as a skilled architect carefully plans and executes each aspect of a building, a writer must carefully structure their essay to effectively communicate their ideas to the reader. So, let's explore the art of essay structure and discover how to create a work of written art that is both captivating and impactful.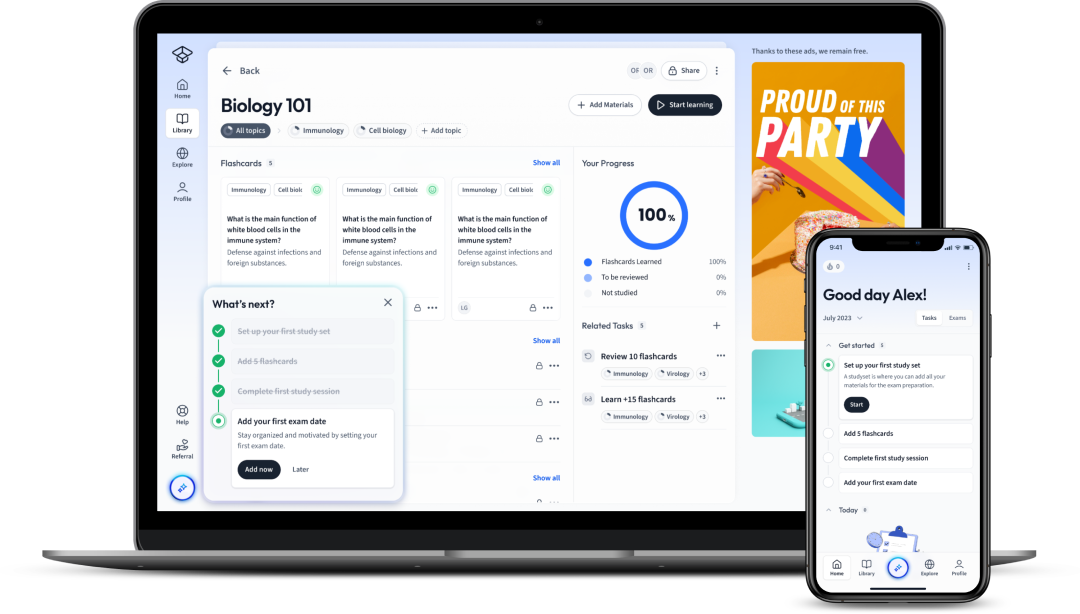 Explore our app and discover over 50 million learning materials for free.
Essay Structure
Explanations
StudySmarter AI
Textbook Solutions
A Hook for an Essay
Body Paragraph
Essay Outline
Language Used in Academic Writing
MHRA Referencing
Opinion vs Fact
Works Cited
Emotional Arguments in Essays
Ethical Arguments in Essays
Logical Arguments in Essays
The Argument
Writing an Argumentative Essay
Image Caption
Microblogging
Personal Blog
Professional Blog
Syntactical
Anaphoric Reference
Backchannels
Cataphoric Reference
Conversation Analysis
Discourse Analysis
Discourse Markers
Endophoric Reference
Exophoric Reference
Interruption
John Swales Discourse Communities
Metalinguistics
Paralinguistics
Turn-taking
Email Closings
Email Introduction
Email Salutation
Email Signature
Email Subject Lines
Formal Email
Informal Email
Active Voice
Adjective Phrase
Adverb Phrase
Adverbials For Time
Adverbials of Frequency
Auxilary Verbs
Complex Sentence
Compound Adjectives
Compound Sentence
Conditional Sentences
Conjugation
Conjunction
Coordinating Conjunctions
Copula Verbs
Correlative Conjunctions
Dangling Participle
Declaratives
Demonstrative Pronouns
Dependent Clause
Descriptive Adjectives
Distributives
Exclamatives
Finite Verbs
First Conditional
Functions of Language
Future Progressive Tense
Future Tense
Generative Grammar
Grammatical Mood
Grammatical Voices
Imperative Mood
Imperative Verbs
Imperatives
Indefinite Pronouns
Independent Clause
Indicative Mood
Infinitive Mood
Infinitive Phrases
Interjections
Interrogative Mood
Interrogatives
Irregular Verbs
Linking Verb
Misplaced Modifiers
Modal Verbs
Noun Phrase
Objective Case
Optative Mood
Passive Voice
Past Perfect Tense
Perfect Aspect
Personal Pronouns
Possessive Adjectives
Possessive Pronouns
Potential Mood
Preposition
Prepositional Phrase
Prepositions of Place
Prepositions of Time
Present Participle
Present Perfect Progressive
Present Perfect Tense
Present Tense
Progressive Aspect
Proper Adjectives
Quantifiers
Reflexive Pronouns
Relative Clause
Relative Pronouns
Second Conditional
Sentence Functions
Simple Future Tense
Simple Sentence
Subjunctive Mood
Subordinating Conjunctions
Superlative Adjectives
Third Conditional
Transitive and Intransitive Verbs
Types of Phrases
Types of Sentence
Verb Phrase
Vocative Case
Zero Conditional
Academic English
Anglo Saxon Roots and Prefixes
Bilingual Dictionaries
Contractions
English Dictionaries
English Vocabulary
Greek Roots, Suffixes and Prefixes
Latin Roots, Suffixes and Prefixes
Modern English
Object category
Parentheses
Possessives
Regional Dialects
Rhyming Dictionary
Sentence Fragments
Social Dialects
Subject Predicate Relationship
Subject Verb Agreement
Word Pronunciation
Essay Time Management
How To Take a Position in an Essay
Organize Your Prompt
Proofread Essay
Understanding the Prompt
Analytical Essay
Cause and Effect Essay
Chat GPT Prompts For Literature Essays
Claims and Evidence
Descriptive Essay
Expository Essay
Narrative Essay
Persuasive Essay
The Best Chat GPT Prompts For Essay Writing
Essay Sources and Presenting Research
Essay Topic
Introduction
Point Evidence Explain
Referencing
Research Question
Sources of Data Collection
Transcribing Spoken Data
African American English
African Countries Speaking English
American English Vs British English
Australian English
British Accents
British Sign Language
Communicative Language Teaching
English in Eu
Guided Discovery
Indian English
Lesson Plan
Received Pronunciation
Total Physical Response
Abbreviations
Advise vs Advice
Affect or Effect
Capitalisation
Inverted commas
Loosing or Losing
Multimodal Texts
Orthographic Features
Practice or Practise
Punctuation
Separate vs Seperate
Typographical Features
Comparative Method
Conventions of Standard English
Early Modern English
Great Vowel Shift
Historical Development
Inflectional Morphemes
Irish English
King James Bible
Language Family
Language Isolate
Middle English
Middle English Examples
Noah Webster Dictionary
Old English Language
Old English Texts
Old English Translation
Piers Plowman
Proto Language
Samuel Johnson Dictionary
Scottish English
Shakespearean English
Welsh English
Accent vs Dialect
Bilingualism
Code Switching
Descriptivism
Descriptivism vs Prescriptivism
Dialect Levelling
English as a lingua franca
Kachru's 3 Concentric Circles
Language Changes
Pidgin and Creole
Prescriptivism
Rhotic Accent
Social Interaction
Standard English
Standardisation of English
Strevens Model of English
Technological Determinism
Vernacular English
World Englishes
Language Stereotypes
Language and Politics
Language and Power
Language and Technology
Media Linguistics
Michel Foucault Discourse Theory
Multimodality
Norman Fairclough
Agrammatism
Behavioral Theory
Cognitive Theory
Constructivism
Critical Period
Developmental Language Disorder
Down Syndrome Language
Functional Basis of Language
Interactionist Theory
Language Acquisition Device (LAD)
Language Acquisition Support System
Language Acquisition in Children
Michael Halliday
Multiword Stage
One-Word stage
Specific Language Impairments
Theories of Language Acquisition
Two-Word Stage
Williams Syndrome
Foregrounding
Grammatical Voice
Literariness
Literary Context
Literary Purpose
Literary Representation
Mode English Language
Narrative Perspective
Poetic Voice
Accommodation Theory
Bernstein Elaborated and Restricted Code
Casual Register
Concept of Face
Consultative Register
Deficit Approach
Difference Approach
Diversity Approach
Dominance Approach
Drew and Heritage Institutional Talk
Eckert Jocks and Burnouts
Formal Register
Frozen Register
Gary Ives Bradford Study
Holmes Code Switching
Intimate Register
Labov- New York Department Store Study
Language and Age
Language and Class
Language and Ethnicity
Language and Gender
Language and Identity
Language and Occupation
Marked and Unmarked Terms
Neutral Register
Peter Trudgill- Norwich Study
Phatic Talk and Banter
Register and Style
Sinclair and Coulthard
Social Network Theory
Sociolect vs Idiolect
Variety vs Standard English
Amelioration
Collocations
Colloquialisms
Compounding
Connotative Meaning
Denotative Meaning
Figurative Language
Fixed Expressions
Formal Language
Informal Language
Initialisms
Irony English Language
Language Structure
Levels of Formality
Lexical Ambiguity
Literary Positioning
Occupational Register
Paradigmatic Relations
Personification
Prototype Theory
Rhetorical Figures
Semantic Analysis
Semantic Change
Semantic Reclamation
Syntagmatic Relations
Text Structure
Zero-Derivation
1984 Newspeak
Analytical Techniques
Applied Linguistics
Computational Linguistics
Corpus Linguistics
Critical Theory
Essentialism
Forensic Linguistics
Language Comprehension
Lexicography
Linguistic Determinism
Logical Positivism
Machine Translation
Natural Language Processing
Neural Networks
Neurolinguistics
Psycholinguistics
Rhetorical Analysis
Sapir Whorf Hypothesis
Speech Recognition
Active Listening Skills
Address Counterclaims
Group Discussion
Presentation Skills
Presentation Technology
Agglutinating Languages
Alternation
Compound Words
Derivational Morphemes
Grammatical Morphemes
Lexical Morphology
Morphosyntax
Polysynthetic Languages
Reduplication
Active Reading
Process of Elimination
Words in Context
Click Consonants
Fundamental Frequency
Interdental
International Phonetic Alphabet
Labiodental
Manner of Articulation
Monophthong
Nasal Sound
Oral Cavity
Phonetic Accommodation
Phonetic Assimilation
Place of Articulation
Sound Spectrum
Source Filter Theory
Spectrogram
Voice Articulation
Vowel Chart
Alliteration
Complementary Distribution
Phonotactics
Sound Symbolisms
Commissives
Communication Accommodation Theory
Conversational Implicature
Cooperative Principle
Declarative
Definiteness
Deictic centre
Deictic expressions
Expressives
Figure of Speech
Grice's Conversational Maxims
Indexicality
Paralanguage
Politeness Theory
Presupposition
Semantics vs. Pragmatics
Speech Acts
Aggressive vs Friendly Tone
Curious vs Encouraging Tone
Dissimilation
Feminine Rhyme
Hypocritical vs Cooperative Tone
Masculine Rhyme
Monosyllabic Rhyme
Multisyllabic
Optimistic vs Worried Tone
Serious vs Humorous Tone
Stress of a Word
Suprasegmental
Surprised Tone
Tone English Langugage
Analyzing Informational Texts
Comparing Texts
Context Cues
Creative Writing
Digital Resources
Ethical Issues In Data Collection
Formulate Questions
Internet Search Engines
Literary Analysis
Personal Writing
Print Resources
Research Process
Research and Analysis
Technical Writing
Action Verbs
Adjectival Clause
Adverbial Clause
Anthropomorphism
Appositive Phrase
Argument from Authority
Argumentation
Auditory Description
Basic Rhetorical Modes
Begging the Question
Building Credibility
Causal Flaw
Causal Relationships
Cause and Effect Rhetorical Mode
Central Idea
Chronological Description
Circular Reasoning
Circumlocution
Classical Appeals
Classification
Close Reading
Coherence Between Sentences
Coherence within Paragraphs
Coherences within Sentences
Complex Rhetorical Modes
Compound Complex Sentences
Concessions
Concrete Adjectives
Concrete Nouns
Consistent Voice
Counter Argument
Definition by Negation
Description
Description Rhetorical mode
Direct Discourse
Equivocation
Extended Metaphor
False Connections
False Dichotomy
False Equivalence
Faulty Analogy
Faulty Causality
Fear Arousing
Gustatory Description
Hasty Generalization
Illustration
Induction Rhetoric
Levels of Coherence
Line of Reasoning
Missing the Point
Modifiers that Qualify
Modifiers that Specify
Narration Rhetorical Mode
Non-Sequitur
Non-Testable Hypothesis
Objective Description
Olfactory Description
Paragraphing
Parenthetical Element
Participial Phrase
Personal Narrative
Placement of Modifiers
Post-Hoc Argument
Process Analysis Rhetorical Mode
Red Herring
Reverse Causation
Rhetorical Fallacy
Rhetorical Modes
Rhetorical Question
Rhetorical Situation
Scare Tactics
Sentimental Appeals
Situational Irony
Slippery Slope
Spatial Description
Straw Man Argument
Subject Consistency
Subjective Description
Tactile Description
Tense Consistency
Tone and Word Choice
Transitions
Twisting the Language Around
Unstated Assumption
Verbal Irony
Visual Description
Authorial Intent
Authors Technique
Language Choice
Prompt Audience
Prompt Purpose
Rhetorical Strategies
Understanding Your Audience
Auditory Imagery
Gustatory Imagery
Olfactory Imagery
Tactile Imagery
Main Idea and Supporting Detail
Statistical Evidence
Communities of Practice
Cultural Competence
Gender Politics
Heteroglossia
Intercultural Communication
Methodology
Research Methodology
Constituent
Object Subject Verb
Subject Verb Object
Syntactic Structures
Universal Grammar
Verb Subject Object
Author Authority
Direct Quote
First Paragraph
Historical Context
Intended Audience
Primary Source
Second Paragraph
Secondary Source
Source Material
Third Paragraph
Character Analysis
Citation Analysis
Text Structure Analysis
Vocabulary Assessment
Lerne mit deinen Freunden und bleibe auf dem richtigen Kurs mit deinen persönlichen Lernstatistiken
Nie wieder prokastinieren mit unseren Lernerinnerungen.
Writing a structured essay helps you to organise your thoughts in a concise way and present your ideas clearly. But how should an essay be structured, and what should you include? Crafting a successful essay structure in English is like constructing a beautiful piece of architecture - it requires a solid foundation, a clear blueprint, and attention to detail. Just as a skilled architect carefully plans and executes each aspect of a building, a writer must carefully structure their essay to effectively communicate their ideas to the reader. So, let's explore the art of essay structure and discover how to create a work of written art that is both captivating and impactful.
Essay structure: types
Depending on the type and purpose of your essay, the structure may differ slightly; particularly in the main body of the essay. We will now look at how to structure a number of different essays. This includes more traditional essays and reflective essays.
Academic essays
What is an academic essay?
An academic essay is a clear, concise piece of writing that focuses on developing your ideas and/or argument through analysis, interpretation and evidence.
There are a few traditional essay styles, such as:
We will focus on argumentative and expository essays as these are the most common (so you may already be familiar with writing them!). Let's look at them in more detail:
Argumentative essay
As the title suggests, an argumentative essay focuses on developing and strengthening an argument. This is done through the analysis and interpretation of evidence, and is used to persuade the reader of your side of the argument.
Argumentative essays are written in the third person (he/she/they).
Fairclough (2011) found evidence of language being used to create a new 'common sense'. He stated that this often happens in advertising.
The structure of an argumentative essay might go a little something like this...
In the main body of an argumentative essay, you could write a couple of paragraphs arguing for something, and another arguing against it - this shows you are able to consider other points of view and can form your own opinion from it. The main body should consist of at least three paragraphs, although this can vary depending on the word count.
This type of essay tests your ability to research effectively and also develop a strong argument. You will usually write an argumentative essay for a final project (i.e. as part of coursework) as it is a chance for you to show off your knowledge about a topic.
Expository essay
Like an argumentative essay, an expository essay focuses on the argumentative aspect of writing and is written in the third person - however, it does differ slightly. An expository essay is usually shorter and relies less on extensive research/preparation.
There is more of a focus on a specific topic or idea - each paragraph in the main body should focus on one aspect of the topic. It is unbiased (providing an objective view of the topic).
Another example of a type of expository writing is a newspaper article! In such writing, there is a focus on a particular topic, and each paragraph is about an aspect of the topic. There is also not a bias, but instead a reliance on facts.
You may be asked to write an expository essay in class, or for an exam (e.g. as a timed exercise). Because of this, the number of paragraphs depends on how much you are able to write in a particular time frame.
Essay structure: example
Argumentative and expository essays should contain the following three things:
1. Introduction
2. Main body
3. Conclusion
Let's look at these in more detail.
Essay introduction structure
An Introduction is an opening paragraph that states the purpose and outlines the main objectives of your essay.
An example of an introduction structure is as follows:
A hook - a memorable sentence to draw your reader in and give them something to think about.
Background information - context for your reader, giving them a better understanding of the topic you are exploring in your essay.
Essay brief and outline of main points - a brief is the main idea of your essay; it tells the reader what your essay is about. Outlining your main points means briefly stating what you are going to talk about in your essay and what you are going to expand on. It lets the reader know what to expect throughout the rest of your work.
Not all introductions include these exact elements - this is simply an example of how you could structure an essay introduction.
Essay introduction example
Blue : hook
Pink : background information
Green: essay brief and outline of main points
Worldwide, around 1.35 billion people speak English. The use of the English language is becoming increasingly prominent, particularly within political and economic communication around the world. Due to its global influence, English is now regarded as a lingua franca (global language). But how and why has English become so powerful? Through the analysis of language globalisation, this study will explore the positive effect English has on both global communication and language learning. It will also consider the ways in which English could be used in the future to further develop learning potential.
Main body structure
The main body of your essay is divided into different paragraphs and allows you to expand on your ideas and/or your argument. It is your chance to think critically and analyse and interpret information. It shows the reader that you have a deep understanding of the topic!
An example of a structure to follow for the body of your essay is the PEE paragraph structure, which is most often used for academic essays. PEE stands for: point, evidence, explain.
Point - a statement relating to your essay brief
Example - back up your point with evidence (this is where your research comes in handy!)
Explain - analyse your evidence; go into detail about what it shows and how it relates to your topic.
PEE Paragraph example
Blue : Point
Pink : Evidence
Green : Explain
Williams uses the motif of a paper lantern throughout the play to represent Blanche's concealing of the truth and her insecurities. An example of this is shown when Blanche declares "... put a—paper lantern over the light ... It isn't enough to be soft. You've got to be soft and attractive. And I—I'm fading now! I don't know how much longer I can turn the trick" ( A Streetcar Named Desire, 1947, p. 92 ) . The use of this motif shows Blanche's attempt to manipulate the truth, as she wants to be seen in a more flattering light and appear more attractive than she is. She wants to gain respect from others, so instead of revealing her true self in a realistic light, she creates an unrealistic illusion. Further, this portrays Blanche as an insecure character who deceives those around her in order to appear pure and young, as she cannot face the harsh reality of growing old.
Essay conclusion structure
A Conclusion is a final paragraph that summarises the main points of your essay and brings it to a close.
An example of a conclusion structure is as follows:
1. Review the main point of your essay brief (what your essay is about).
2. Summarise the main points made in your essay.
3. Offer a recommendation/improvement/question (to help with future studies and leave the reader with something to think about).
Not all conclusions include these exact elements - this is simply an example of how you could structure an essay conclusion.
Essay conclusion example
Blue = revisited essay brief
Pink = summary of the argument
Green = ending on a rhetorical question
Overall, the effect of social media on teenagers' communication is negative. Social media use among teens decreases communication skills and causes face-to-face interactions to feel disconnected. It also encourages laziness and conveys inauthentic emotions. Due to a lack of emotional connection, it also gives teens the ability to be spiteful online, which impacts the well-being of others. Will social media continue to negatively affect how young people communicate in the future?
Reflective essay structure
Another type of essay is the reflective essay. As the title suggests, a reflective essay is used to reflect on an experience. Unlike both argumentative and expository essays, a reflective essay is written in the first person , as it is used to recount a personal experience. For example, reflecting on a project or study you carried out.
The structure of a reflective essay is the same as an academic essay, consisting of an introduction, main body, and conclusion. However, there is more of a focus on individual thoughts and feelings as opposed to creating an objective view and argument.
Think of a reflective essay as a diary entry, in which you recount a personal experience!
The introduction of a reflective essay should briefly tell the reader about the project or study you carried out. For example, something like:
'I carried out a study on the use of fillers used by women and men in spoken language. I recorded a total of 15 casual conversations between pairs (5 with only men, 5 with only women, 5 with mixed-sex). I wanted to find out whether or not fillers are used more by women in both same-sex and mixed-sex conversations. This study was inspired by the gender theory of Deborah Tannen, who suggested that women talk in a more indirect way than men.'
The main body of the essay should expand on your experience carrying out the project/study and your feelings towards it. Be honest about what happened and what you found out from it. For example, you could take into account the following things:
What did I find out from this experience?
Did this experience have a positive or negative impact on me?
Which elements went well?
Which elements could have been improved?
The conclusion should summarise what you found out about the experience and your feelings towards it.
You could also consider how things could improve if you were to carry out the experience again. For example, you could write something like:
'If I were to carry out the project again, I would ensure to gather more recordings as it would allow me to gain a more varied perspective and would be more reliable. It would allow me to gain a deeper understanding of the similarities and differences in language use between men and women.'
It is important to note that, while a reflective essay is about describing something that happened, it should also be critical . This means you should consider not only how your experience relates to your own life, but also the wider world and the experiences of others. Ask yourself the following questions:
How does my own experience link to society as a whole?
Have I recognised and appreciated the views of others?
Does my own experience differ from others?
There will always be limitations to what people can know (and not everything has a definite answer) but it is good to be aware of other opinions and interpretations, as everyone views the world in different ways.
Essay Structure - Key Takeaways
An argumentative essay is a type of academic essay that focuses on developing and strengthening an argument through the analysis and interpretation of evidence.
An expository essay is a type of academic essay that focuses more on a specific idea/topic. It is shorter and relies less on extensive research/preparation.
Argumentative and expository essays consist of an introduction, main body and conclusion.
A reflective essay is used to reflect on a personal experience. It follows the same structure but is not as detailed and is written in the first person.
Frequently Asked Questions about Essay Structure
--> how to start an essay.
You should begin your essay with an introduction. This lets the reader know of the topic you are writing about and the main points you will make throughout your essay.
--> How to structure an essay?
Most essays include the three following aspects:
--> How many paragraphs are in an essay?
The number of paragraphs in an essay depends on the type of essay and what you are writing about! For example, if you are writing an argumentative essay, you should show an in-depth analysis and interpretation of evidence. You should have at least: an introduction, conclusion and three paragraphs in the body of your essay.
--> What is an introduction structure example?
An example of an introduction structure is:
1. A hook (draw in reader)
2. Background information (context for reader)
3. Essay brief (what is the essay about)
--> What is a conclusion structure example?
1. Review the main point of your essay brief (what your essay is about).
3. Offer a suggestion or improvement (to help with future studies).
Final Essay Structure Quiz
Essay structure quiz - teste dein wissen.
What does PEE stand for?
Show answer
Point, evidence, explain.
Show question
What is a point?
A statement relating to the question you are answering.
What is evidence?
Examples used to back up your point.
What does 'explain' refer to?
Going into detail about how your quote backs up your point and considering what it suggests/implies. 
Fill in the blank:
You should  ____  your explanation back to the question.
A quote should be long.
True or false?
Try to keep quotes short and succinct!
What is a conclusion?
An ending paragraph that brings an essay to a close.
What comes before a conclusion?
The main body of the essay.
What is an essay brief?
The main idea of the essay.
You should directly repeat ideas from the rest of your essay in your conclusion.
You shouldn't introduce new ideas in a conclusion.
Directly repeating ideas can be _____ for the reader.
Directly repeating ideas takes away from the main _____ of your essay.
A conclusion should be around __% of your total word count.
A conclusion ______ your argument.
A. develops
B. disproves  C. summarises
C. summarises
A conclusion _____ your essay brief.
C. disproves
What is an introduction?
An opening paragraph that states the purpose and outlines the main objectives of your work.
What is an introduction followed by?
Main body and conclusion
What is a hook?
 A memorable opening line that draws the reader in and intrigues them.
A hook can be written in a variety of ways. What are they?
Statement, question, quotation, fact/statistic
What does background information do?
Provide the reader with context.
Fill in the blanks:
Background information allows the reader to gain more of an ________ of the _____ you are exploring.
understanding
What does an essay brief refer to?
The main idea of your essay.
Outlining the main goal of your argument lets the reader know what?
What to expect in the body of the essay.
Your introduction should be long.
Your introduction should be brief and concise, not too long.
An introduction should be around __% of your overall word count.
PEE paragraphs can sometimes be referred to as PEEL paragraphs. What does the 'L' stand for?
You can use more than one example in a PEE paragraph.
It is good to show that you have read from multiple sources and can use a range of evidence!
Critical _______ is the process of _______ and evaluating information in a skilful way.
Evidence can only be a quote.
You can also paraphrase!
A clear, concise piece of writing that focuses on developing your ideas and/or argument through analysis, interpretation and evidence.
A reflective essay is written in the _____ person.
An argumentative essay is written in the _____ person.
An expository essay is written in the _____ person.
Which essay tends to be shorter:
Argumentative or expository?
An argumentative essay is a type of ________ essay.
A reflective essay recounts the experience of another person.
A reflective essay recounts your own personal experience.
An academic essay structure consists of three elements. What are they?
Introduction, main body, conclusion
A paragraph structure you could use for the main body of academic essays is known as a ___ paragraph.
What structure does a reflective essay follow?
Introduction, main body, conclusion.
What person are argumentive essays written in?
What person are reflective essays written in?
What is a hook? 
An interesting sentence to begin your introduction with. Try something that will instantly grab your readers' attention.
True or false, it's a good idea to outline the brief in your introduction?
True. Don't copy the brief word for word but acknowledge it and how you will answer it. 
True or false, reflective essays can be written just like a diary?
False. Reflective essays are still academic essays and should follow a similar introduction, main body, and conclusion structure.
True or false, there is a set formula you should follow when writing an introduction?
False. It is up to you how you write your introduction.
Why is it important to provide background information in the introduction?
Because it sets the context for your reader
Roughly how long should your introduction be?
10% of the final word count
What could happen if your introduction is too vague?
Your readers will be confused
It could look like you haven't done enough research
List three things a hook sentence could be;
Test your knowledge with multiple choice flashcards
In which section would you show off your critical thinking skills?
Your score: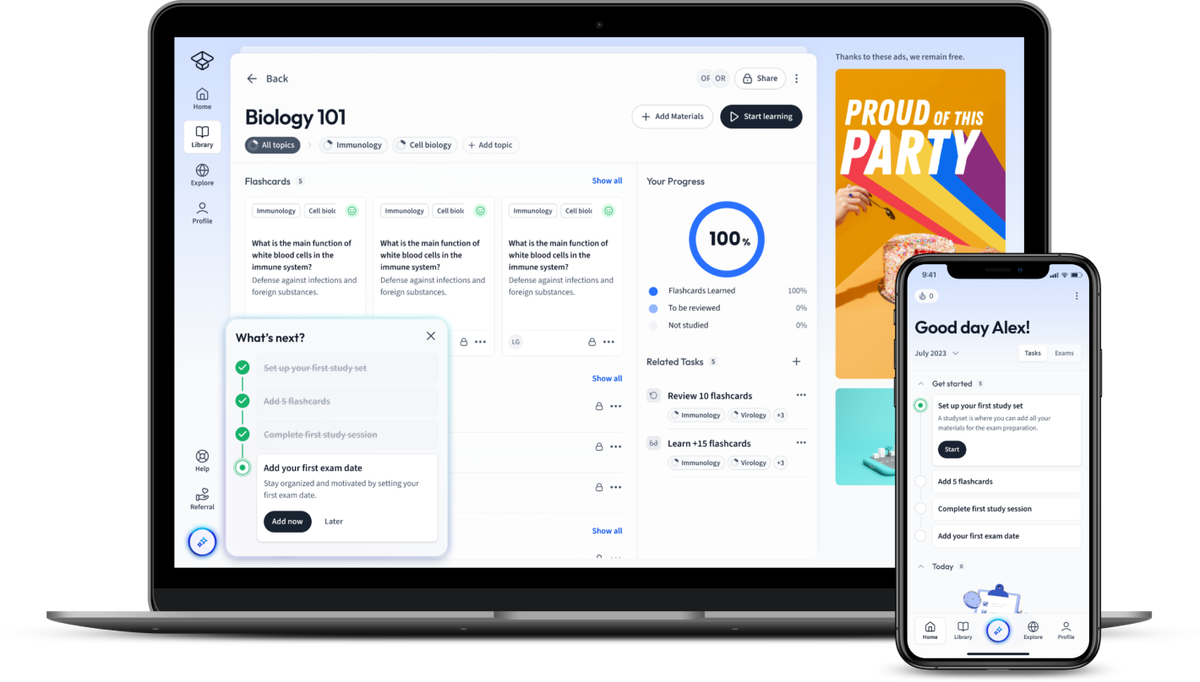 Join the StudySmarter App and learn efficiently with millions of flashcards and more!
Learn with 61 essay structure flashcards in the free studysmarter app.
Already have an account? Log in
Flashcards in Essay Structure 61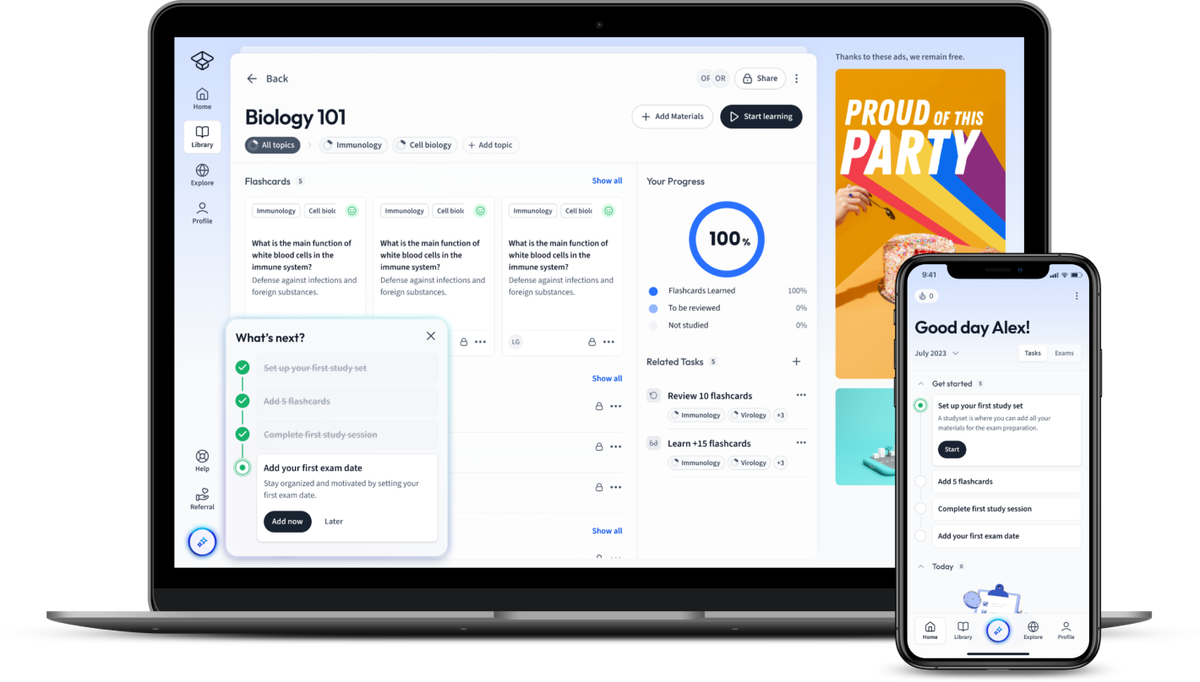 Creative Story
Textual Analysis
Cues and Conventions
Language Acquisition
of the users don't pass the Essay Structure quiz! Will you pass the quiz?
How would you like to learn this content?
Free english cheat sheet!
Everything you need to know on . A perfect summary so you can easily remember everything.
Join over 22 million students in learning with our StudySmarter App
The first learning app that truly has everything you need to ace your exams in one place
Flashcards & Quizzes
AI Study Assistant
Study Planner
Smart Note-Taking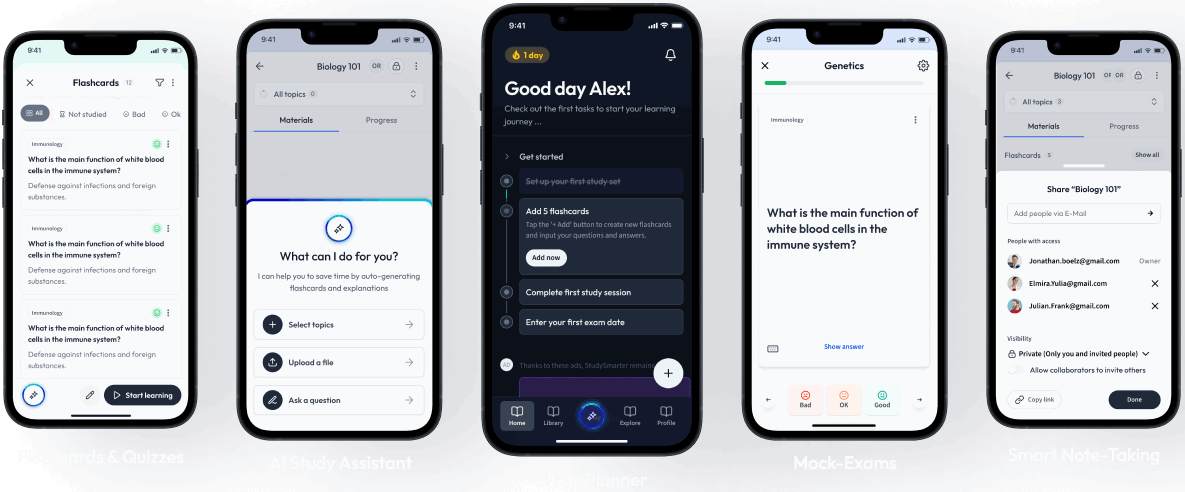 More explanations about Essay Writing Skills
Discover the right content for your subjects, engineering.
Sign up to highlight and take notes. It's 100% free.
This is still free to read, it's not a paywall.
You need to register to keep reading, start learning with studysmarter, the only learning app you need..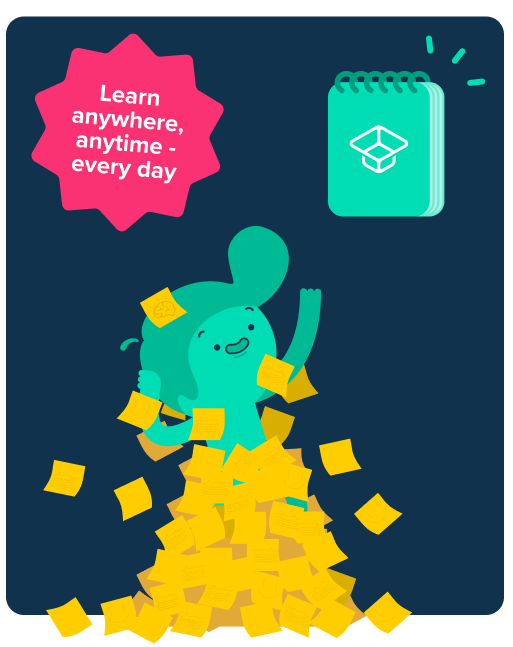 Create a free account to save this explanation.
Save explanations to your personalised space and access them anytime, anywhere!
By signing up, you agree to the Terms and Conditions and the Privacy Policy of StudySmarter.
StudySmarter bietet alles, was du für deinen Lernerfolg brauchst - in einer App!
Privacy overview.
Make Your Essay Structure Rock-Solid with These Tips

So you've been assigned an essay. Or, probably more realistically, two, three, or four essays  . . . and they're all due the same week. 
We've all been there: overwhelmed, staring down that blank screen, and not sure which essay to start with or how to get it started. 
In high school and college, it's not enough to just write strong essays. One of the most important skills to develop is writing strong essays efficiently . And the foundation of that skill is knowing how to structure an essay. With a template for the basic essay structure in hand, you can focus on what really matters when you're writing essays: your arguments and the evidence you're using to support them. Take a look at the basic essay structure below and see how the parts of an essay work together to present a coherent, well-reasoned position, no matter what topic you're writing about. 
Make your essays shine. Polish your writing with Grammarly Write with Grammarly
Basic essay structure: the 3 main parts of an essay
Almost every single essay that's ever been written follows the same basic structure: 
Introduction
Body paragraphs.
This structure has stood the test of time for one simple reason: It works. It clearly presents the writer's position, supports that position with relevant examples, and neatly ties their supporting arguments together in a way that makes their position evident. 
It all starts here. This is where you introduce the topic you're discussing in your essay and briefly summarize the points you'll make in the paragraphs that follow. 
This is also where you state your thesis. Your thesis is the most important part of your essay because it's the point you're making . It needs to take a clear stance and shouldn't include hedging language that undermines that stance like "seems to" or "possibly could."
Here are a few examples of thesis statements:
In the final scene of The Awakening , Edna Pontellier's decision demonstrates that it was impossible for her to have the lifestyle she truly wanted in the society in which she lived.
Due to its volatility and lack of government regulation, Bitcoin cannot become a viable currency for everyday purchases.
While the habitability of Mars has not yet been proven, evidence suggests that it was once possible due to bacteria samples found on the Red Planet.
An easy way to write your thesis statement is to think of it as a summary of your essay. Your thesis makes and supports your essay's point in one concise sentence. 
When you proofread your finished essay, make sure your thesis is clearly stated in your introduction paragraph. If it's not clear, go back and write a definitive thesis statement. 
>>Read More: How to Write a Persuasive Essay
Your essay's body paragraphs are where you support your thesis statement with facts and evidence. Each body paragraph should focus on one supporting argument for your thesis by discussing related data, content, or events. 
If you're not sure whether you should include a specific point or detail in your body paragraphs, refer back to your thesis statement. If the detail supports your thesis, it should be in your essay. If it doesn't, leave it out. Your thesis statement is the core of your basic essay structure, so everything else in the essay needs to relate to it in some way. 
In your essay's conclusion paragraph , you summarize the points you made and bring your argument to its logical conclusion. Because your reader is now familiar with your thesis, the summary in your conclusion paragraph can be more direct and conclusive than the one in your intro paragraph.
>>Read More: 7 Writing Tips from Professors to Help you Crush your First Essays
How many paragraphs are in an essay?
There's no hard-and-fast requirement for college essays. In high school, you were probably taught to write five-paragraph essays. This is a solid essay structure to work with, but in college, you generally have more flexibility with assignment lengths and formats. 
Now, consider five the minimum—not the standard—number of paragraphs you should include in your essays. 
Essay structure examples
There are a few different ways to present information in an essay. Often, your assignment will tell you what kind of essay to write, such as a chronological, compare and contrast, or problems-methods-solution essay. If you're not sure which is best for your assignment, ask your instructor. 
Chronological
A chronological essay guides the reader through a series of events. This essay structure is ideal if you're writing about:
A current or historical event
A book or article you read for class
A process or procedure
With this kind of essay, you first introduce your topic and summarize the series of events in your introduction paragraph. Then, each body paragraph takes the reader through a key stage in that series, which might be a decisive battle in history, a pivotal scene in a novel, or a critical stage in a judicial process. In your conclusion, you present the end result of the series you discussed, underscoring your thesis with this result. 
Compare and contrast
A compare-and-contrast essay has a structure that discusses multiple subjects, like several novels, concepts, or essays you've been assigned to read.
There are a few different ways to structure a compare-and-contrast essay. The most obvious is to spend one paragraph discussing the similarities between the topics you're covering (comparing), then one paragraph detailing their differences (contrasting), followed by a paragraph that explores whether they're more alike or more different from each other. 
Another method is to only compare, where each of your body paragraphs discusses a similarity between the topics at hand. Or you can go the only-contrast route, where your body paragraphs explore the differences. Whichever you decide on, make sure each paragraph is focused on one topic sentence . Every new comparison or contrast should occupy its own paragraph.
Problems-methods-solution
As its name implies, this kind of essay structure presents the writer's position in three segments:
Ways to resolve the problem 
The solution achieved by using these strategies to resolve the problem 
This kind of essay works great if you're discussing methods for resolving a problem, like knowing how to distinguish between credible and non-credible sources when you're doing research for assignments. It can also work when you're tasked with explaining why certain solutions haven't worked to fix the problems they were created for. 
With this kind of essay, begin by introducing the problem at hand. In the subsequent body paragraphs, cover possible methods for resolving the problem, discussing how each is suited to fixing the problem, and potential challenges that can arise with each. You can certainly state which you think is the best choice—that could even be your thesis statement. In your conclusion paragraph, summarize the problem again and the desired resolution, endorsing your method of choice (if you have one). 
In this kind of essay, you can also include a call to action in your final paragraph. A call to action is a direct order for the reader to take a specific action, like "call your congressperson today and tell them to vote no" or "visit grammarly.com today to add Grammarly browser extension for free."
>>Read More: How to Write Better Essays: 5 Concepts you Must Master
With the basic essay structure down, you can get to writing
For a lot of students, getting started is the hardest part of writing an essay. Knowing how to structure an essay can get you past this seemingly insurmountable first step because it gives you a clear skeleton upon which to flesh out your thoughts. With that step conquered, you're on your way to crushing your assignment.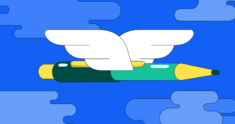 Academic Writing
Introduction
Planning an Essay
Basic Essay Structure
Writing an Essay
Writing Paragraghs
Plagiarism This link opens in a new window
Basic academic essays have three main parts:
Writing an Introduction
Section One is a neutral sentence that will engage the reader's interest in your essay.
Section Two picks up the topic you are writing about by identifying the issues that you are going to explore.
Section Three is an indication of how the question will be answered. Give a brief outline of how you will deal with each issue, and in which order.
An introduction generally does three things. The first section is usually a general comment that shows the reader why the topic is important, gets their interest, and leads them into the topic. It isn't actually part of your argument. The next section of the introduction is the thesis statement . This is your response to the question; your final answer. It is probably the most important part of the introduction. Finally, the last section of an introduction tells the reader what they can expect in the essay body. This is where you briefly outline your arguments .
Here is an example of the introduction to the question - Discuss how media can influence children. Use specific examples to support your view.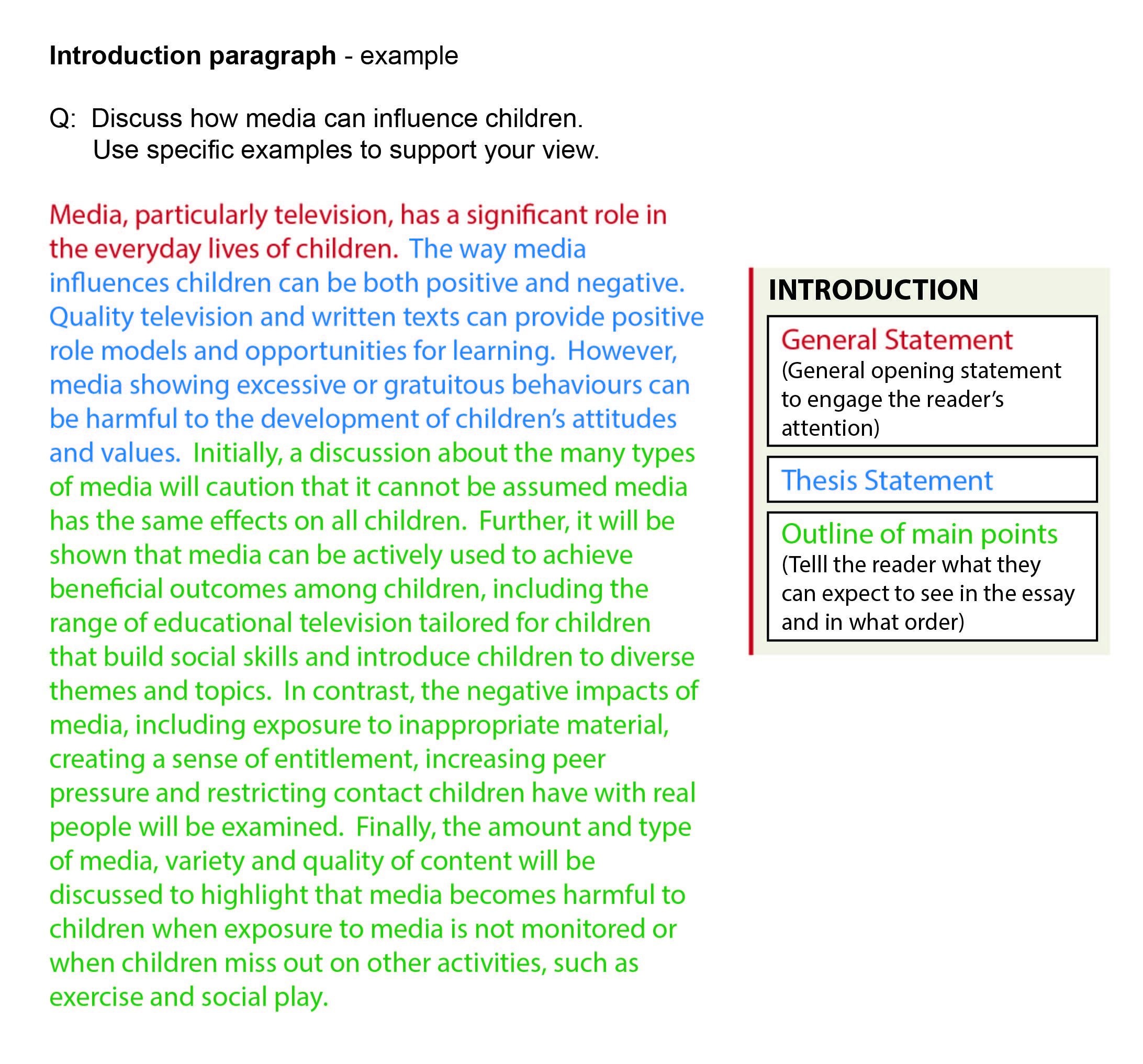 Writing Body Paragraphs
The topic sentence introduces the topic of your paragraph.
The sentences that follow the topic sentence will develop and support the central idea of your topic.
The concluding sentence of your paragraph restates the idea expressed in the topic sentence.
The essay body itself is organized into paragraphs, according to your plan. Remember that each paragraph focuses on one idea, or aspect of your topic, and should contain at least 4-5 sentences so you can deal with that idea properly.
Each body paragraph has three sections. First is the topic sentence . This lets the reader know what the paragraph is going to be about and the main point it will make. It gives the paragraph's point straight away. Next, come the supporting sentences , which expand on the central idea, explaining it in more detail, exploring what it means, and of course giving the evidence and argument that back it up. This is where you use your research to support your argument. Then there is a concluding sentence . This restates the idea in the topic sentence, to remind the reader of your main point. It also shows how that point helps answer the question.
Writing a Conclusion
Re-read your introduction – this information will need to be restated in your conclusion emphasizing what you have proven and how you have proven it.
Begin by summarizing your main arguments and restating your thesis ; e.g. "This essay has considered….."
State your general conclusions, explaining why these are important.
The final sentences should draw together the evidence you have presented in the body of the essay to restate your conclusion in an interesting way (use a transitional word to get you started e.g. Overall, Therefore).
The last section of an academic essay is the conclusion. The conclusion should reaffirm your answer to the question, and briefly summarize key arguments. It does not include any new points or new information.
A conclusion has three sections. First, repeat the thesis statement . It won't use the exact same words as in your introduction, but it will repeat the point: your overall answer to the question based on your arguments. Then set out your general conclusions , and a short explanation of why they are important. Finally, draw together the question, the evidence in the essay body, and the conclusion. This way the reader knows that you have understood and answered the question. This part needs to be clear and concise.
<< Previous: Planning an Essay
Next: Writing Paragraghs >>
Last Updated: Oct 3, 2023 11:15 AM
URL: https://bcsmn.libguides.com/Academic_Writing
Academic Essay: A How-To Guide
Did you know that in a single academic semester, an average college student can write enough words to fill a 500-page novel? To put it in perspective, that's roughly 125,000 to 150,000 words of essays, research papers, and other written assignments. It's an astounding amount of content, and it underscores the significance of mastering the art of scholarly essay writing. Whether you're a seasoned scholar or just starting your academic journey, understanding the intricacies of composing a well-structured, well-researched essay is essential.
Short Description
Delve into the intricate world of writing an academic essay with our all-encompassing guide. We'll take you on a journey through the various types of scholarly composition, demystify the essay writing process, and provide valuable insights into proper formatting. You'll also find practical examples to inspire your own work and step-by-step how-to guides to ensure your essays stand out. Whether you're a seasoned student or just starting your academic adventure, this resource will be your compass for success in the realm of scholarly endeavors.
What Is an Academic Essay
In a nutshell, an academic essay is a structured form of writing students face in school, college, and university as a part of their curricula. The most common purposes of such writing are to either present some new pieces of information or to use existing facts and knowledge to deliver specific ideas. This type of assignment allows students to demonstrate their knowledge and creativity and encourages them to develop their ideas to communicate a message.
Compared to other types of academic writing, essays are usually shorter in length and present the authors' opinions to support their arguments. Here are some key features of an academic essay for you to keep in mind:
Conciseness — as a rule, essays are short; the length of such papers range from 200 to 500 words.
Topic — due to their short lengths, a perfect topic for an essay should be narrowed-down and not too broad.
Well-structured text — although essays can be considered as one of the least formal types of writing, they still need to have a solid structure and follow the proper academic paper format.
Clear central idea — every academic essay should deliver a specific point that should be clear and powerful (i.e. thesis statement).
Personal motivation — unlike other types of writing, essays often imply that their authors are personally interested in the subjects they are discussing.
Supporting facts, evidence, and examples — although essays may present an author's personal beliefs and ideas, they should also provide arguments that support those ideas.
It helps to develop your academic writing skills early—as they are skills you will carry forward throughout your studies and lifetime. People who are good at writing academic essays also tend to be able to articulate themselves more clearly, and tend to have more confidence when speaking.
To fully understand how and when to use an academic essay, our  will describe the main types of them for you.
Elevate your academic performance with EssayPro. Our experts are here to help you craft compelling academic essays that stand out. With our support, you can confidently tackle any topic and impress your professors with your insight and clarity.
Academic Essay Example
Here are the perfect academic essay examples from our research paper writer .
Academic Essay Topics
In our quest to engage and challenge the academic community, we've curated a list of unique essay topics. These topics are meticulously chosen to incite critical thinking, and reflect on the intertwining of traditional theories with modern realities. From exploring the ethical dimensions of AI in healthcare to delving into the socioeconomic aspects of upcycling trends, these topics are a gateway to insightful discussions and a profound understanding of the evolving world around us.
The Dynamics of Human-AI Relationships: A Look into the Future.
The Revival of Ancient Herbal Remedies in Modern Medicine.
Bridging Historical Rifts: An Analysis of Modern Diplomacy Efforts.
The Role of Urban Green Spaces in Promoting Mental Health.
The Impact of Classical Literature on Modern Pop Culture.
The Future of Cybersecurity: Preparing for Quantum Computing Threats.
The Cultural Significance of Culinary Traditions in Nation Building.
The Influence of Music on Cognitive Performance.
The Changing Landscape of Privacy in the Digital Age.
The Socioeconomic Factors Contributing to Vaccine Hesitancy.
The Intersection of Modern Technology and Ancient Philosophies.
Evolving Linguistic Norms: The Impact of Social Media on Language.
The Psychological Effects of Color in Consumer Behavior.
Ethical Implications of AI in Modern Healthcare.
Urban Planning in Post-Pandemic World: Lessons and Preparations.
The Role of Art Therapy in Managing Chronic Stress.
The Influence of Space Exploration on Earth's Technological Advancements.
The Future of Biodegradable Plastics: A Sustainable Alternative?
A Socioeconomic Analysis of Upcycling Trends.
The Ethical Dilemmas of Genetic Engineering in Agriculture.
Ready to Transform Essay Woes into Academic Triumphs?
Let us take you on an essay-writing adventure where brilliance knows no bounds!
Types of Academic Writing
The process of writing an essay comes in various forms, each with its unique style and purpose. Understanding these types can be essential for tailoring your writing to suit the specific requirements of your assignments. Here, our essay writer service will explore some of the most common types of academic writing:
Expository Writing : This type of writing is all about explaining and providing information. In expository essays, your goal is to inform your reader about a specific topic or concept. For example, if you were writing an expository essay about climate change, you would present facts and data to inform your reader about the issue's causes and effects.
Persuasive Writing : Persuasive writing aims to convince the reader of a particular point of view or argument. In a persuasive essay, you would use logical reasoning, evidence, and well-structured arguments to persuade your audience. For instance, an essay advocating for stricter environmental regulations would be a persuasive piece.
Descriptive Writing : In descriptive writing, your task is to create a vivid picture with words. You want the reader to feel like they are experiencing the subject firsthand. Imagine writing a descriptive essay about a picturesque countryside scene; you would use colorful language and sensory details to transport your reader there.
Narrative Writing : Narrative essays are like storytelling. They often recount personal experiences, anecdotes, or narratives. For example, you might write a narrative essay about a life-changing event or your journey to a foreign country.
Analytical Writing : Analytical writing involves breaking down complex ideas or issues into smaller components and then examining them critically. When analyzing a piece of literature in an essay, you would deconstruct the text, explore its themes, characters, and literary devices, and provide insights into the author's intentions.
Research Papers : Research papers are a hallmark of academic writing. They require you to investigate a topic thoroughly, gather data, and present your findings. Whether it's a scientific research paper, a history paper, or a social science study, research papers demand rigorous research and precise citation of sources.
Literature Reviews : These are common in humanities and social sciences. A literature review involves summarizing and critically evaluating existing research on a specific topic. It's an essential component of academic research, allowing you to place your work within the broader context of scholarly conversation.
Understanding the Essay Writing Process
The journey of understanding how to write an academic essay is characterized by distinct stages: preparation, writing, and revisions. The nature of this journey, however, is like a versatile chameleon, ever-adapting to the unique demands of each essay type.
Let's consider the scenario of a high school student tasked with writing a five-paragraph expository essay. In this case, the emphasis predominantly falls on the writing stage. Given the straightforward prompt, the student's primary focus lies in structuring and articulating their thoughts effectively within the constraints of these paragraphs. The goal is to convey information clearly, maintaining a well-organized and engaging narrative.
Now, imagine a college-level argumentative essay. Here, the bulk of your efforts shift to the preparation stage. Before a single word is written, a rigorous exploration of the essay topics is imperative. This involves extensive research, diving deep into scholarly articles, dissecting data, and developing a compelling argument. A strong thesis, underpinned by a wealth of evidence and nuanced insights, becomes the keystone of your essay.
The revising stage, a constant companion in this journey, maintains its significance across all essay types. It's during revision that you refine and perfect your work, harmonizing your arguments and ensuring the essay's overall cohesion. At this stage, you become the editor, refining grammar, enhancing clarity, and optimizing the essay's structure.
Setting the Stage for Essay Writing Success
The process of writing an academic essay typically unfolds in the following manner:
Receiving the Assignment : Your essay journey commences when your instructor or professor hands out the assignment prompt. This prompt serves as your roadmap, detailing the essay's topic, length, and any specific requirements. It's crucial to read this prompt attentively, ensuring you comprehend the expectations.
Understanding the Task : Once you have the assignment prompt in hand, take the time to understand it fully. Analyze the purpose of the essay. Is it meant to inform, persuade, analyze, or narrate? Determine the target audience, whether it's your instructor, peers, or a broader readership. This understanding will guide your approach to the essay.
Research and Gathering Information : After grasping the assignment's main idea, it's time to research and collect information. Depending on the topic and type of essay, this might involve library research, online searches, or fieldwork. The quality and quantity of your research will influence the depth and credibility of your essay.
Developing a Thesis : With the knowledge you've acquired, create a clear and concise thesis statement. This statement encapsulates the main argument or perspective you will present in your essay. It serves as the foundation upon which your essay will be built.
Planning and Outlining : Before diving into the actual writing, it's essential to create your essay outline. This step helps you organize your thoughts and ideas, ensuring a logical and coherent structure. Consider the essay's introduction, body paragraphs, and conclusion, and decide on the points you will address in each section.
Academic Essay Format
The essay format is your framework for presenting ideas, but it doesn't have to stifle your creativity or individuality. Here's a practical look at the academic essay format example from a unique perspective:
Introduction - Piquing Interest : Use your introduction as a tool to pique your reader's interest. Rather than simply stating your thesis, start with a surprising fact, a relevant question, or a brief story. Engaging your reader from the outset can make your essay more captivating.
Body Paragraphs - Building a Logical Flow : Consider your body paragraphs as stepping stones in a logical progression. Each paragraph should naturally lead to the next, creating a seamless flow of ideas. Ensure that your points connect coherently, making your essay easy to follow.
Evidence and Analysis - Supporting Your Claims : When including evidence, don't just drop quotes or data into your essay. Instead, think of them as puzzle pieces that need critical thinking skills for explanation and integration. Analyze how the evidence supports your argument, providing context and clarity for your reader.
Transitions - Smooth Connections : Utilize transitional words and phrases to guide your reader through your essay. These simple elements, like 'Furthermore,' 'In contrast,' or 'Conversely,' can significantly enhance the readability and comprehension of your essay.
Conclusion - Recap and Implication : Your conclusion should summarize your main points, restating your thesis. However, take it a step further by highlighting the broader implications of your argument. What do your findings suggest or inspire the reader to consider? This adds depth to your conclusion.
Formatting - Clear and Consistent : Follow formatting guidelines diligently. Consistency in font, margins, and citation style reflects your attention to detail and respect for academic standards.
How to Write an Academic Essay: Steps and Techniques
Crafting a Captivating Essay Introduction
The introduction of your academic essay serves as the portal through which your reader enters the realm of your ideas. Let's understand how to write an essay introduction by considering these four dynamic elements:
Engage Your Reader
Start with a thought-provoking question that sparks curiosity. For instance, in an essay about climate change, you might begin with, 'What if I told you that a single-degree change in global temperature could alter the course of humanity's future?' When learning how to write a hook for an essay , questions can be powerful entry points because they create an immediate sense of intrigue. Readers are drawn into your essay in search of answers, setting the stage for exploration.
Offer Context for Your Topic
Rather than a mere factual backdrop, transport your reader to a historical moment or an evocative setting related to your topic. For example, when discussing the history of the Eiffel Tower in an architecture essay, you could begin with, 'Imagine strolling the cobblestone streets of 19th-century Paris, where a colossal iron structure was emerging from the ground, destined to become a global icon.' Whether you write an essay yourself or use the option to buy a dissertation , remember that introducing background information immerses your reader in the context, making them feel like they've stepped back in time or been transported to a specific place.
Introduce Your Thesis Statement
Present your thesis statement with an air of revelation, as if unveiling a well-kept secret. In an essay about the impact of technology on privacy, you might say, 'Hidden in the digital shadows, a critical truth emerges: our privacy is slipping away, pixel by pixel, keystroke by keystroke.' Make it sound like a literary discovery, something that's been hidden and is now about to be revealed. This imbues it with a sense of anticipation.
Outline Your Essay's Structure
Instead of merely outlining your essay's structure, craft it like a guidebook for an adventure. Imagine your essay as a journey through uncharted territory. Present your essay's sections or main points as thrilling destinations your reader is about to explore. For instance, if your essay is about the cultural impact of a famous novel, you could say, 'Our literary expedition will begin in the author's biographical world, then traverse the novel's plot twists, and finally, unravel the web of its influence on modern culture.'
Developing the Main Body
The main body is where your ideas take shape while understanding how to write an academic essay, and it's crucial to approach this section thoughtfully. Here's how to tackle two key elements:
Exploring the Body Text's Length
The length of your body text should align with the complexity of your topic and the depth of exploration required. For instance, consider a historical analysis essay on the causes of World War I. This topic is multifaceted, requiring in-depth coverage. In such a case, it's appropriate to dedicate several pages to thoroughly examine the various factors contributing to the war. On the other hand, in a concise argumentative essay about a specific policy issue, like healthcare reform, brevity can be the key to keeping your reader engaged. In this instance, you might aim for a clear, persuasive argument within a few pages. The key is to tailor the length to your topic, ensuring you provide sufficient evidence and analysis without unnecessary elaboration.
Crafting Effective Paragraphs
Each paragraph in the main body should be a self-contained unit that contributes to your overall argument. Consider, for example, an essay on climate change.
In a paragraph discussing the consequences of rising global temperatures, you could begin with a topic sentence like, 'Rising temperatures have far-reaching effects on ecosystems.' Next, present evidence in the form of data and examples, such as statistics on melting polar ice caps and the impact on polar bear populations. Follow this with analysis, explaining the significance of these consequences for the environment.
Ensure that your ideas flow logically from one paragraph to the next, creating a seamless and coherent narrative. Vary the length and structure of your paragraphs to add dynamic variation to your essay. For instance, in a literary analysis, a short, impactful paragraph may be used to emphasize a critical point, while longer paragraphs could delve into complex themes or explore multiple aspects of your argument. By thoughtfully exploring the body text's length and crafting effective paragraphs, you create a main body that is both engaging and informative, tailored to the unique requirements of your academic essay writing.
Concluding Your Essay
The conclusion of your essay serves as the grand finale, leaving a lasting impression on your reader. However, it's not just a place to restate your thesis; it's an opportunity to add depth and resonance to your essay. Here's how to approach it effectively:
Summarize Your Main Points with a Twist : Summarize the key points you've made throughout your essay, but do it with a twist. Instead of merely restating what you've already said, provide a fresh perspective or a thought-provoking insight.
Revisit Your Thesis Statement : Bring your essay full circle by revisiting your thesis statement. Remind your reader of the central argument, but do it in a way that emphasizes its significance.
Provide a Sense of Closure : The conclusion should provide a sense of closure to your essay. Like the final chapter of a captivating story, it should leave your reader with a sense of completion. Avoid introducing new ideas or even new persuasive essay topics in this section; instead, focus on the culmination of your existing points.
Inspire Thought or Action : Go beyond summarization and inspire thought or action. Invite your reader to reflect on the implications of your essay or consider its relevance in a broader context. This can make your essay more impactful and thought-provoking.
Refining Your Academic Essay Through Editing
Once you've penned your final words, the journey is far from over. Editing is a crucial step in the essay writing process, much like it is while learning how to write a descriptive essay . It's where you refine your work to its polished best. Here's how to approach it:
Start by proofreading your essay for clarity and errors. Check for grammar, punctuation, and spelling mistakes.
Examine the overall structure of your essay. Is it organized logically? Are the paragraphs well-structured? Does the essay have a clear flow from the introduction to the conclusion?
Ensure that you've cited your sources correctly and compiled your references or bibliography according to the required citation style, such as APA, MLA, or Chicago.
Trim unnecessary words and phrases to make your writing more concise. Check for wordiness and make sure your vocabulary is precise and appropriate for an academic audience.
In this comprehensive guide, we've covered the essential elements of crafting an academic essay, from honing your writing skills to capturing the reader's attention, from the essay's inception to achieving an A+ finish. Remember that mastering the art of essay writing is a valuable skill. It's a process that involves structure, style, and substance, and it serves as your gateway to sharing your ideas effectively. Regardless of your level of experience, this guide is designed to equip you with the tools you need to excel in your essay-writing endeavors!
Ready to Turn Your Academic Aspirations into A+ Realities?
Our expert pens are poised, and your academic adventure awaits!
Related Articles