You are using an outdated browser. Please upgrade your browser to improve your experience.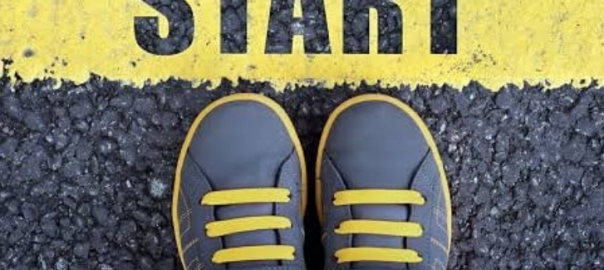 How to Start a Persuasive Essay
Here's your strategy, step by step:
Brainstorm your topic.
Choose a hook.
Provide the context.
Narrow it to the main point.
Write a thesis statement.
Avoid clichés.
Stay persuasive.
Feel free to write an introduction after the essay body is ready.
Just imagine:
You write a persuasive essay , submit it for a review, but a teacher says he didn't even read it because its first paragraph was lame.
What a shame, huh?
Indeed, an introduction matters. And when you don't know how to start a persuasive essay, you'll never write an A-worthy one, even if the rest of your paper is top-notch.
Fortunately, there's a simple solution:
Read this detailed guide on essay introductions, learn how to begin a persuasive essay right, and… voila – you'll never experience the throes of creation or have a red face for poor writing skills.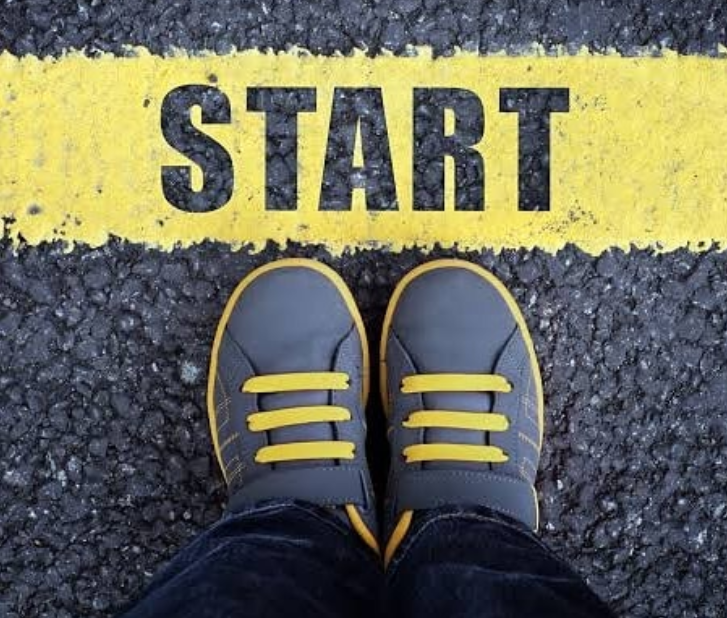 image source: Picdeer
So, How to Start a Persuasive Essay?
An introduction is a part of every writing piece, and an argumentative essay is no different here.
This paragraph has a clear purpose and structure. When done right, essay introductions can influence your final grade for a writing assignment. So, it looks like a must for every student to know how to start an essay, right?
Let's dive into details.
The Purpose of Persuasive Essay Introduction
Why know how to begin an essay?
First , it's your only chance to hook the audience and motivate them to keep on reading. As they say, you'll never get a second chance to make a first impression.
Second , it introduces your argument ( thesis statement ) and gives readers an idea of what they'll see in your essay.
Third , it reflects your writing style. The audience will understand the overall quality of your essay and decide if they want to read it and learn more.
An introduction of your persuasive essay should provide background information on the problem you cover and outline your position on it. And though you need a hook to get readers interested, don't keep them in suspense: a persuasive essay is not a narrative or a novel; make it short , clear , and concise .
Key Elements of Essay Introductions
The format of your essay introduction reminds an inverted pyramid:
Here you go from general to specific information: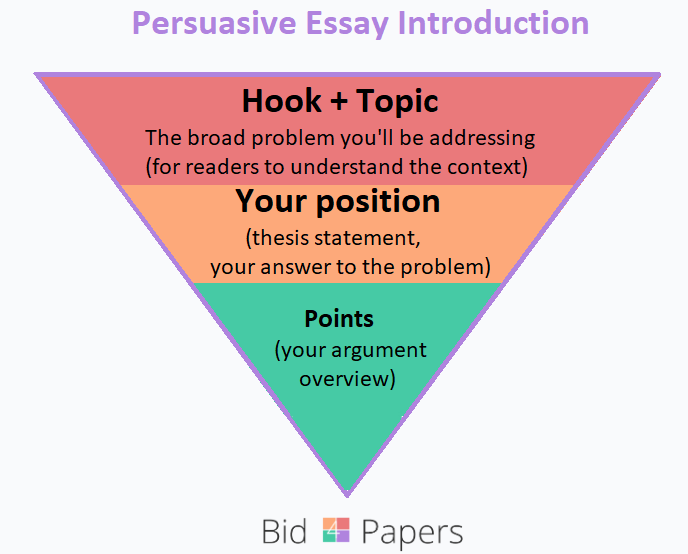 First, you write about the broad problem you'll be addressing for readers to understand the context; so, begin with a general point about the central issue.
Then, you narrow down to introduce your position on this problem (your thesis statement); so, give an overview of the key issues you'll cover.
And finally, you give an overview of your argument to indicate the direction it will take and make a transition to the body paragraphs of your persuasive essay .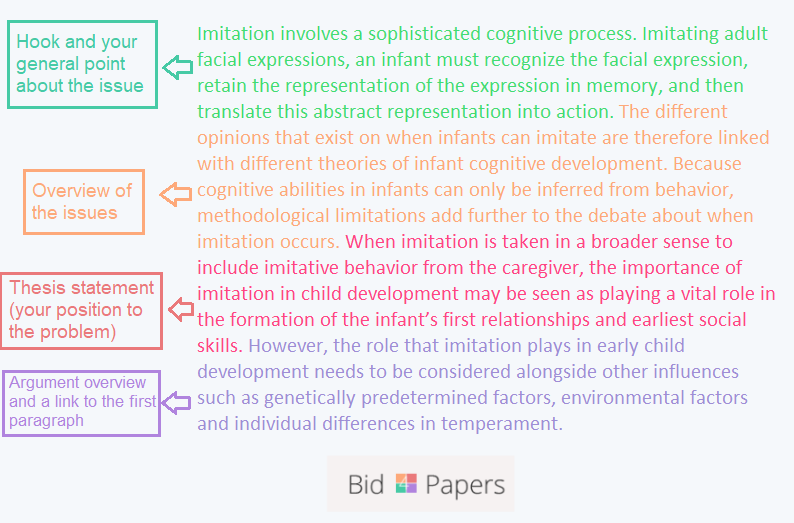 Long story short, an essay introduction consists of three parts: a hook (a strong opening sentence to capture readers' attention), a topic (the focus of your essay), and a thesis (your opinion on the topic).
Writing a Persuasive Essay Introduction: Step by Step
For most students, introductions are the trickiest part of an essay to write.
An essay introduction is the first thing readers see, and you understand it should be persuasive enough so they would like to continue reading it. You need to hook a reader, introduce your topic, and state a strong thesis for the audience to follow you and want to learn more. All the while, you should keep in mind that the goal of writing a term pape r is to answer a specific question or address a particular issue. The below tips will help you master the art of introduction writing once and for all, allowing you to easily write a successful term paper.
1) Think about your topic.
Don't hurry up to start writing. First, think carefully about your topic to understand what you know about it and decide what position you'll state, what arguments you'll use, and what question you'll answer in your essay.
Write down the facts that you already know about the topic. Thus you'll understand if you need more research to find extra information and arguments for your essay introduction to get the reader's attention.
2) Choose a relevant hook.
An essay hook is the first one or two sentences of essay introductions that serve to grab the reader's attention. Hook types are many , and it can be difficult to choose the most relevant one, especially if you haven't clarified a thesis yet.
For persuasive essays, the best hooks are a thought-provoking question, a surprising fact/definition, a relevant quote, or statistics.
Once your hook is ready, make sure you have a transition to the topic itself. For that, use transitional words and phrases so your writing could sound natural and logical for readers to follow.
3) Provide a background.
Try making your essay hook a part of a broad background to give readers the context of your writing.
Don't share your main arguments with evidence and proof here. Leave it for body paragraphs. In essay introductions, you just introduce a problem and explain why it can be controversial and debatable.
4) Narrow the background to introduce a topic.
After you've come up with a hook and a background statement, it's time to introduce your topic to readers: state an issue and narrow that background so they would understand your point (what you are going to explain and prove them in your essay).
5) Write a thesis statement.
And finally, state a thesis. It's a central claim (your opinion on the topic) you'll discuss and prove in each of the following paragraphs, and it's a sentence or two that close your essay introduction.
A good thesis is brief and informative, it provides readers with a clear argument about your opinion on the issue, and it has a logical basis. In other words, there should be facts and evidence supporting your claim. ( Feel free to use a thesis statement generator to ease the process. )
Here's the example of how to start a persuasive essay: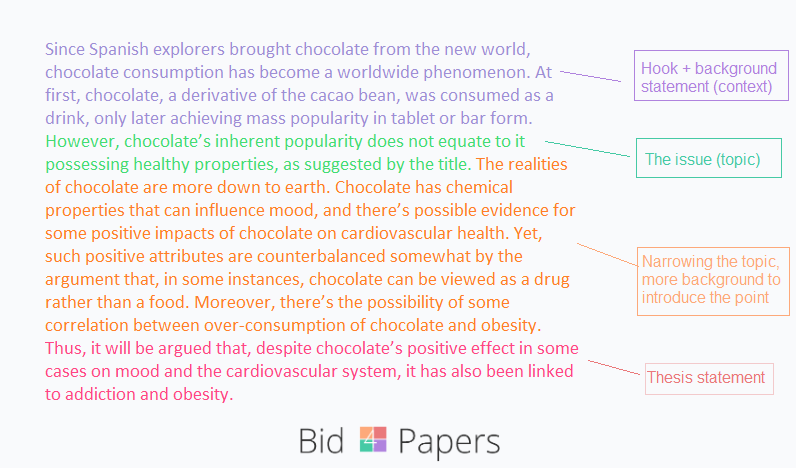 Extra tips to follow:
6) Avoid clichés.
Some types of essay introductions become so successful that most students start using them over and over again, turning their works into boring and clichéd templates.
Don't do like that.
Yes, it's easier to start an essay with a simple definition or something like "In this essay, I'll tell why students don't need uniforms at schools."
But don't you hear a teacher's whisper behind your back, saying, "It's bo-o-o-oring…"
Though your persuasive essay needs to inform readers about the topic, it doesn't mean you should say it literally. So, be informative but avoid vague and poor announcements.
image source: University of Maryland
7) Make your introduction as brief as possible.
Avoid vague and empty phrases in your essay introduction. Use only facts, bold opinions, and quotes that relate to your thesis statement. Stay as clear and concise as possible.
In introductions, you inform readers about what they'll find in the following paragraphs. So, list the points but don't elaborate on every argument.
Also, make sure your essay introduction is brief. You can't make it longer than 100 words if the overall length of your essay is about 500. Otherwise, it will look like a bunch of unrelated empty words. What's the use of it?
8) Stay persuasive.
Make your introduction engaging. While reading it, the audience should believe the essay's going to be worth checking. That's why the #1 rule for choosing a persuasive essay topic is that it should be polemical rather than expository.
Stay persuasive. Don't write about common knowledge but state your position concerning the issue, so readers could get interested in why you hold this position and what arguments you have to convince them.
9) Remember that you don't have to write an introduction first.
An essay introduction is the first paragraph of your paper, but who said you should write it first? It often happens that you know what to write in the essay body, but you haven't yet found the words to start it.
And that's how a writer's block appears. You stumble. It frustrates, disappoints, and makes you think you can't write. You procrastinate, miss deadlines, and you believe you hate everyone assigning those tasks.
But why not write second or third paragraphs first and come back to the introduction afterward? After all, it's not a mandatory rule to start a writing process with introductions only.
All you need to start an essay is a clear thesis statement. Hooks, backgrounds, transitions – you can write them later.
It's a Wrap!
When wondering how to start a persuasive essay, remember that it's about a brief overview of your topic and thesis. Make it short, engaging, and up to a point.
Examples Of Persuasive Writing
Especially for students reading this article, our experts have compiled some examples. They will make it much easier to understand how to write a persuasive letter.
"I am sure that we both believe that it is necessary to compile lists of candidates for the presidency already now. This is the only way to achieve a fair election and inform people of the candidates in advance. We must do this because we have no other choice."
Many people believe that the student must properly submit the persuasive writing definition. This is the only way we can avoid the classic problems during writing. Students should have an equal opportunity to write; advocacy organizations guarantee that.
Key conclusions
The initial persuasive essay format assumes your complete confidence in your position. Therefore, think in advance about the structure of your essay and try to find the most convincing arguments. Don't forget also to research the topic in-depth, as well as opposing positions. Create counterarguments even before they are voiced, and you will be able to convince your audience that you are right.
Frequently asked questions
For a better understanding of the topics of persuasive essays, we collected a small base of questions. The experts tried to answer briefly and help students do their work more effectively.
How to make an introduction for an essay?
A good persuasive essay structure implies a proper introduction as well. Stick a hook in here right away that will interest your readers. You should also outline the topic and the argument that the thesis statement will reinforce.
What is a persuasive essay?
The key difference between such an academic paper and others is that you must persuade the audience to agree with your chosen position. You can do this by using a variety of arguments, talking points, persuasions, and facts.
How to start a persuasive essay?
Looking at the elements of a persuasive essay, you can understand that you should start such a paper with an in-depth knowledge of the topic. After that, you can write a persuasive introduction and tell your readers about the topic, your arguments, and your thesis statement.
How to end a persuasive essay?
It is best to use a rhetorical question or rephrase your thesis to close the work from beginning to end. This will give readers the impression of a completed scholarly work.
Which three strategies are elements of a persuasive essay?
Formally speaking, there are three essential parts. It is necessary to identify the problem, to select and persuade the reader to choose the right side, and to make an argument that will lead the audience in the right direction. The three components will not be difficult to work with.
Not that difficult, right?
If still in doubt, check our ultimate guide on writing persuasive essays or ask our professional writers to help you win the battle for A+.
Our Writing Guides
3 thoughts on " how to start a persuasive essay ".
Will be waiting for updates
Me too! Can't wait for your next exciting update!
What Is an Essay That Persuades?
Everyone is familiar with the obnoxious radio or television ad that touts the superiority of their product above that of the competition. But aside from being unpleasant, what use do those adverts serve? Their objective is straightforward. They're attempting to influence people to buy their wares. Using reasons and reasoning, you can persuade someone to do something or think something. The same works in writing: Arguments and power words can help explain your position and make people believe you.
Leave a Reply Cancel reply
Your email address will not be published. Required fields are marked *
PRO Courses Guides New Tech Help Pro Expert Videos About wikiHow Pro Upgrade Sign In
EDIT Edit this Article
EXPLORE Tech Help Pro About Us Random Article Quizzes Request a New Article Community Dashboard This Or That Game Popular Categories Arts and Entertainment Artwork Books Movies Computers and Electronics Computers Phone Skills Technology Hacks Health Men's Health Mental Health Women's Health Relationships Dating Love Relationship Issues Hobbies and Crafts Crafts Drawing Games Education & Communication Communication Skills Personal Development Studying Personal Care and Style Fashion Hair Care Personal Hygiene Youth Personal Care School Stuff Dating All Categories Arts and Entertainment Finance and Business Home and Garden Relationship Quizzes Cars & Other Vehicles Food and Entertaining Personal Care and Style Sports and Fitness Computers and Electronics Health Pets and Animals Travel Education & Communication Hobbies and Crafts Philosophy and Religion Work World Family Life Holidays and Traditions Relationships Youth
Browse Articles
Learn Something New
Quizzes Hot
This Or That Game New
Train Your Brain
Explore More
Support wikiHow
About wikiHow
Log in / Sign up
Education and Communications
College University and Postgraduate
Academic Writing
How to Begin a Persuasive Essay
Last Updated: January 31, 2023 References
This article was co-authored by Christopher Taylor, PhD . Christopher Taylor is an Adjunct Assistant Professor of English at Austin Community College in Texas. He received his PhD in English Literature and Medieval Studies from the University of Texas at Austin in 2014. There are 9 references cited in this article, which can be found at the bottom of the page. This article has been viewed 335,534 times.
The goal of a persuasive essay is to convince your readers of a certain perspective on a topic. To do this, you'll have to get them hooked with a well-crafted, engaging introductory section that leads into a developed thesis statement. The best opening, however, will depend on the issue at hand, the argument you are trying to make about it, and the audience you are trying to persuade. Before you can write an amazing introduction, you need to do some initial research so that you can tailor your introduction to the needs of the essay, your argument, and your audience.
Brainstorming and Outlining Introduction Ideas
For example, if you want to write about juvenile crime, choose a narrow section of it, such as the practice of trying juveniles as adults in certain cases.
Try to choose a topic that's really interesting to you. It will make the essay much more fun to write!
The subject of your essay might be predetermined if, for example, you're writing an essay for class or are sending it to a senator or a newspaper about a certain topic.
Ask yourself what is at stake regarding the issue you are researching. Why does the issue matter and why should others care? Once you can identify that, it will be easier to frame your argument.
For example, if your topic is factory farming, your angle could be that factory farming releases large amounts of methane gas, which contribute to climate change and the global epidemic of unpredictable and increasingly violent weather. You could frame it as both an environmental and a public safety issue.
Use scholarly search engines such as Google Scholar, EBSCO, or JSTOR, rather than regular searches, and try to use trustworthy sites like news agencies and .edu URLs.
You'll be hinting at your evidence in your introductory paragraph, so it's important that you know what it is before you start writing.
A piece of evidence that appeals to the reader's ethics is one that comes from a trustworthy source . For example, if you're writing an essay on the use of euthanasia, you could cite works or quotations from doctors or end-of-life caregivers who have direct experience working with it.
In a paper persuading people to decrease their water use, a piece of evidence that appeals to your sense of logic could be something like, "Using more water not only wastes more of this resource, but also increases your utilities bill."
In a paper persuading people to adopt animals from the shelter, you could use an emotional appeal like, "Milo, a golden retriever puppy, was found on the side of the road when he was just 4 weeks old. If he's not adopted soon from his overcrowded shelter, he'll have to be put down."
For example, if you started with the angle that capital punishment should be illegal worldwide, you could expand that into a thesis like, "Capital punishment should be banned all over the world for humanitarian reasons alone, but also because of its lack of efficacy as a crime deterrent."
Your paper can go longer than this, but try not to go any shorter, since you won't be able to include all of the evidence you'll need.
You can organize your outline with Roman numerals, regular numbers, or bullet points—whatever feels most comfortable to you.
Crafting Your Hook
For example, in a paper persuading people to support prison reform, you could start off with something like, "The United States has the largest prison population in the entire world. The country that comes closest, China, has a prison population that is a full 25% lower." [3] X Research source
To introduce a paper about capital punishment, you could use a quote like, "When discussing capital punishment, two quotes are often brought up: 'an eye for an eye,' and 'an eye for an eye makes the whole world blind."
If you use one of these approaches, remember to include a brief, 1-sentence explanation of why you're including it. Don't just start off with a quote or statistic, then jump straight into your background information.
For example, in a paper on reforming the juvenile justice system, you could say something like, "Joseph Creedwell was only 14 years old when he was first sent to a juvenile detention facility. His crime? Stealing a pack of gum from the convenience store across from his school."
If you're using a personal anecdote, first make sure that this format is appropriate for first-person narration. If it's an essay for a class, ask your teacher.
For example, in an essay about conserving water use, you could say something like, "Even before science showed just how necessary water was for human survival, people understood the crucial importance, and even sanctity, of this resource."
Try to avoid cliches like "Since the beginning of time," or "The dictionary defines _____ as..."
For example, in an essay on animal protection, you could write, "Many people know that animal species are going extinct, but have you ever wondered exactly how many species have died out since you've been born?"
In an essay against the use of euthanasia, for example, you could write, for example, "According to its supporters, euthanasia is a merciful and painless way to end a life that is no longer wanted, and they have a point."
Introducing Your Topic and Thesis
For example, in an essay against capital punishment, you could say something like, "Capital punishment directly affects a very small percentage of the population, but its ripple effects—the effects on the person's family and friends, on the people who read about it and hear of it—are much larger. In an even greater sense, capital punishment is a statement about the society we live in."
For example, in a persuasive essay on gun control, you could write, "Gun control laws have a long and fraught history in the United States, and understanding the nature of their back-and-forth growth and decline is crucial for understanding the current state of weapons law."
Depending on your paper, your background information could take up anywhere from 2-3 sentences to a whole paragraph.
For example, in an essay persuading people to oppose a new park project, you could write, "As much as a new park benefits a city's residents, natural green space is vital to the environmental life of a community. Besides serving as an interesting insight into what the area was like before development, it provides crucial habitat for native plants and animals that may otherwise turn to residential space and face endangerment in urban an environment."
For example, in an essay supporting the use of euthanasia, you could write, "Nowhere is the efficacy of euthanasia more visible than in the cases of patients with painful, terminal diseases." This kind of sentence could either go at the end of your introduction paragraph or at the beginning of the first body paragraph.
Avoiding Common Mistakes
For example, in an essay against drunk driving, it's fine to use an eye-catching statistic, like, "Every 2 minutes, one person is injured in a drunk driving crash." But avoid analyzing that statistic with something like, "It's likely that everyone knows at least one person affected by a drunk driving incident, meaning that the issue has wide-ranging consequences. In many places, one effect is a growing numbness towards the issue at all. Police officers report that..." [10] X Research source
For example, avoid writing something like, "I am going to prove to you that…" or "This essay will show that…" These kinds of phrases are typically jarring and unnecessary.
For example, a fact you picked up about bee flight patterns might be interesting, but isn't relevant to a paper on why the world needs to protect its bee population.
You may also want to leave out "book report" information, such as the full title, author, or year of publication of a book you're writing your persuasive essay about, unless that information is for a specific purpose. You'll be able to cite your sources in full in your bibliography or works cited page.
For example, in an essay about vegetarianism, avoid saying something like, "People have killed and eaten animals since the beginning of time." While this may be true, it's not catching the reader's attention or adding anything to the essay that they didn't already know.
Writing Help
Community Q&A
It's OK if your introduction isn't perfect just yet. Write out the rest of your essay, then go back to revise and polish when you're in a fresh state of mind. Thanks Helpful 0 Not Helpful 0
You Might Also Like
↑ https://writingcenter.unc.edu/tips-and-tools/introductions/
↑ https://www.youtube.com/watch?v=baxDMu_1M0c&feature=youtu.be&t=1m19s
↑ https://www.georgebrown.ca/uploadedFiles/TLC/_documents/Hooks%20and%20Attention%20Grabbers.pdf
↑ https://education.seattlepi.com/write-good-argumentative-essay-introduction-1484.html
↑ https://www.youtube.com/watch?v=baxDMu_1M0c&feature=youtu.be&t=1m44s
↑ https://www.youtube.com/watch?v=baxDMu_1M0c&feature=youtu.be&t=1m59s
↑ https://www.youtube.com/watch?v=baxDMu_1M0c&feature=youtu.be&t=41s
↑ https://www.youtube.com/watch?v=baxDMu_1M0c&feature=youtu.be&t=47s
↑ https://www.madd.org/statistics/
About This Article
To begin a persuasive essay, start with a hook to catch the reader's attention, such as a startling statistic, a question, or an intriguing anecdote. Next, briefly explain why they should care about the topic and provide some background information to help them feel comfortable with it. Then, present your thesis statement, which is a short, concise explanation of your perspective and why it's the right one. Lastly, hint at your opening pieces of evidence before going on to your first paragraph! For tips on how to organize your essay and avoid common errors, read on! Did this summary help you? Yes No
Reader Success Stories
Olivia Ramirez
Feb 9, 2018
Did this article help you?
James Harris
Mar 5, 2018
Featured Articles
Trending Articles
Watch Articles
Terms of Use
Privacy Policy
Do Not Sell or Share My Info
Not Selling Info
Don't miss out! Sign up for
wikiHow's newsletter

How to Write Perfect Persuasive Essays in 5 Simple Steps
WHAT IS A PERSUASIVE ESSAY?
A persuasive text presents a point of view around a topic or theme that is backed by evidence to support it.
The purpose of a persuasive text can be varied. Maybe you intend to influence someone's opinion on a specific topic, or you might aim to sell a product or service through an advertisement.
The challenge in writing a good persuasive text is to use a mix of emotive language and, in some cases, images that are supported by hard evidence or other people's opinions.
In a persuasive essay or argument essay, the student strives to convince the reader of the merits of their opinion or stance on a particular issue. The student must utilise several persuasive techniques to form a coherent and logical argument to convince the reader of a point of view or to take a specific action.
PERSUADING PEOPLE REQUIRES A CONSISTENT APPROACH…
Persuasive texts are simple in structure. You must clearly state your opinion around a specific topic and then repeatedly reinforce your opinions with external facts or evidence. A robust concluding summary should leave little doubt in the reader's mind. ( Please view our planning tool below for a detailed explanation. )
TYPES OF PERSUASIVE TEXT
We cover the broad topic of writing a general persuasive essay in this guide, there are several sub-genres of persuasive texts students will encounter as they progress through school. We have complete guides on these text types, so be sure to click the links and read these in detail if required.
Argumentative Essays – These are your structured "Dogs are better pets than Cats" opinion-type essays where your role is to upsell the positive elements of your opinions to your audience whilst also highlighting the negative aspects of any opposing views using a range of persuasive language and techniques.
Advertising – Uses persuasive techniques to sell a good or service to potential customers with a call to action.
Debating Speeches – A debate is a structured discussion between two teams on a specific topic that a moderator judges and scores. Your role is to state your case, sell your opinions to the audience, and counteract your opposition's opinions.
Opinion Articles, Newspaper Editorials. – Editorials often use more subtle persuasive techniques that blur the lines of factual news reporting and opinions that tell a story with bias. Sometimes they may even have a call to action at the end.
Reviews – Reviews exist to inform others about almost any service or product, such as a film, restaurant, or product. Depending on your experiences, you may have firm opinions or not even care that much about recommending it to others. Either way, you will employ various persuasive techniques to communicate your recommendations to your audience.
Please note a DISCUSSION essay is not a traditional persuasive text, as even though you are comparing and contrasting elements, the role of the author is to present an unbiased account of both sides so that the reader can make a decision that works best for them. Discussions are often confused as a form of persuasive writing.
A COMPLETE TEACHING UNIT ON PERSUASIVE WRITING SKILLS
Teach your students to produce writing that PERSUADES and INFLUENCES thinking with this HUGE writing guide bundle covering: ⭐ Persuasive Texts / Essays ⭐ Expository Essays⭐ Argumentative Essays⭐ Discussions.
A complete 140 PAGE unit of work on persuasive texts for teachers and students. No preparation is required.
THE STRUCTURE OF A PERSUASIVE ESSAY
1. Introduction
In the introduction, the student will naturally introduce the topic. Controversial issues make for great topics in this writing genre. It's a cliche in polite society to discourage discussions involving politics, sex, or religion because they can often be very divisive. While these subjects may not be the best topics of conversation for the dinner table at Thanksgiving, they can be perfect when deciding on a topic for persuasive writing. Obviously, the student's age and abilities should be considered, as well as cultural taboos, when selecting a topic for the essay. But the point holds, the more controversial, the better.
Let's take a look at some of the critical elements of the introduction when writing a persuasive essay:
Title: Tell your audience what they are reading.
This will often be posed as a question; for example, if the essay is on the merits of a vegetarian lifestyle, it may be called something like: To Eat Meat or Not?
Hook : Provide your audience with a reason to continue reading.
As with any genre of writing, capturing the reader's interest from the outset is crucial. There are several methods of doing this, known as hooks. Students may open their essays with anecdotes, jokes, quotations, or relevant statistics related to the topic under discussion.
Background: Provide some context to your audience.
In this introductory section, students will provide the reader with some background on the topic. This will place the issue in context and briefly weigh some opinions on the subject.
Thesis statement: Let the audience know your stance.
After surveying the topic in the first part of the introduction, it is now time for the student writer to express their opinion and briefly preview the points they will make later in the essay.
2. Body Paragraphs
The number of paragraphs forming this essay section will depend on the number of points the writer chooses to make to support their opinion. Usually three main points will be sufficient for beginning writers to coordinate. More advanced students can increase the number of paragraphs based on the complexity of their arguments, but the overall structure will largely remain intact.
Be sure to check out our complete guide to writing perfect paragraphs here .
The TEEL acronym is valuable for students to remember how to structure their paragraphs. Read below for a deeper understanding.
Topic Sentence:
The topic sentence states the central point of the paragraph. This will be one of the reasons supporting the thesis statement made in the introduction.
These sentences will build on the topic sentence by illustrating the point further, often by making it more specific.
These sentences' purpose is to support the paragraph's central point by providing supporting evidence and examples. This evidence may be statistics, quotations, or anecdotal evidence.
The final part of the paragraph links back to the initial statement of the topic sentence while also forming a bridge to the next point to be made. This part of the paragraph provides some personal analysis and interpretation of how the student arrived at their conclusions and connects the essay as a cohesive whole.
3. Conclusion
The conclusion weaves together the main points of the persuasive essay. It does not usually introduce new arguments or evidence but instead reviews the arguments made already and restates them by summing them up uniquely. It is important at this stage to tie everything back to the initial thesis statement. This is the writer's last opportunity to drive home their point, to achieve the essay's goal, to begin with – persuade the reader of their point of view.
Ending an essay well can be challenging, but it is essential to end strongly, especially for persuasive essays. As with the hooks of the essay's opening, there are many tried and tested methods of leaving the reader with a strong impression. Encourage students to experiment with different endings, for example, concluding the essay with a quotation that amplifies the thesis statement.
Another method is to have the student rework their ending in simple monosyllabic words, as simple language often has the effect of being more decisive in impact. The effect they are striving for in the final sentence is the closing of the circle.
Several persuasive writing techniques can be used in the conclusion and throughout the essay to amp up the persuasive power of the writing. Let's take a look at a few.
ETHOS, PATHOS & LOGOS TUTORIAL VIDEO (2:20)
TIPS FOR WRITING A GREAT PERSUASIVE ESSAY
PERSUASIVE TECHNIQUES
In this article, we have outlined a basic structure that will be helpful to students in approaching the organization of their persuasive writing. It will also be helpful for the students to be introduced to a few literary techniques that will help your students to present their ideas convincingly. Here are a few of the more common ones:
Repetition: There is a reason why advertisements and commercials are so repetitive – repetition works! Students can use this knowledge to their advantage in their persuasive writing. It is challenging to get the reader to fully agree with the writer's opinion if they don't fully understand it. Saying the same thing in various ways ensures the reader gets many bites at the 'understanding' cherry.
Repetition Example: "The use of plastic bags is not only bad for the environment, but it is also bad for our economy. Plastic bags are not biodegradable, meaning they will not decompose and will continue to take up space in landfills. Plastic bags are also not recyclable, meaning they will not be reused and will instead end up in landfills. Plastic bags are not only bad for the environment, but they are also bad for our economy as they are costly to dispose of and take up valuable space in landfills."
In this example, the phrase "not only bad for the environment but also bad for our economy" is repeated multiple times to reinforce the idea that plastic bags are not just a problem for the environment but also the economy. The repetition of the phrase emphasizes the point and makes it more persuasive.
It is also important to note that repetition could be used differently, such as repeating a word or phrase to create rhythm or emphasis.
Storytelling: Humans tend to understand things better through stories. Think of how we teach kids important values through time-tested fables like Peter and the Wolf . Whether through personal anecdotes or references to third-person experiences, stories help climb down the ladder of abstraction and reach the reader on a human level.
Storytelling Example: "Imagine you are walking down the street, and you come across a stray dog clearly in need of food and water. The dog looks up at you with big, sad eyes, and you cannot help but feel a twinge of compassion. Now, imagine that same scenario, but instead of a stray dog, it's a homeless person sitting on the sidewalk. The person is clearly in need of food and shelter, and their eyes also look up at her with a sense of hopelessness.
The point of this story is to show that just as we feel compelled to help a stray animal in need, we should also feel compelled to help a homeless person. We should not turn a blind eye to the suffering of our fellow human beings, and we should take action to address homelessness in our community. It is important to remember that everyone deserves a roof over their head and a warm meal to eat. The story is designed to elicit an emotional response in the reader and make the argument more relatable and impactful.
By using storytelling, this passage creates an image in the reader's mind and creates an emotional connection that can be more persuasive than just stating facts and figures.
Dissent: We live in a cynical age, so leaving out the opposing opinion will smack of avoidance to the reader. Encourage your students to turn to that opposing viewpoint and deal with those arguments in their essays .
Dissent Example: "Many people argue that students should not have to wear uniforms in school. They argue that uniforms stifle creativity and individuality and that students should be able to express themselves through their clothing choices. While these are valid concerns, I strongly disagree.
In fact, uniforms can actually promote individuality by levelling the playing field and removing the pressure to dress in a certain way. Furthermore, uniforms can promote a sense of community and belonging within a school. They can also provide a sense of discipline and structure, which can help to create a more focused and productive learning environment. Additionally, uniforms can save families money and eliminate the stress of deciding what to wear daily .
While some may argue that uniforms stifle creativity and individuality, the benefits of uniforms far outweigh the potential drawbacks. It is important to consider the impact of uniforms on the school as a whole, rather than focusing solely on individual expression."
In this example, the writer presents the opposing viewpoint (uniforms stifle creativity and individuality) and then provides counterarguments to refute it. By doing so, the writer can strengthen their own argument and present a more convincing case for why uniforms should be worn in school.
A Call to Action: A staple of advertising, a call to action can also be used in persuasive writing. When employed, it usually forms part of the conclusion section of the essay and asks the reader to do something, such as recycle, donate to charity, sign a petition etc.
A quick look around reveals to us the power of persuasion, whether in product advertisements, newspaper editorials, or political electioneering; persuasion is an ever-present element in our daily lives. Logic and reason are essential in persuasion, but they are not the only techniques. The dark arts of persuasion can prey on emotion, greed, and bias. Learning to write persuasively can help our students recognize well-made arguments and help to inoculate them against the more sinister manifestations of persuasion.
Call to Action Example: "Climate change is a pressing issue that affects us all, and it's important that we take action now to reduce our carbon footprint and protect the planet for future generations. As a society, we have the power to make a difference and it starts with small changes that we can make in our own lives.
I urge you to take the following steps to reduce your carbon footprint:
Reduce your use of single-use plastics
Use public transportation, carpool, bike or walk instead of driving alone.
Support clean energy sources such as solar and wind power
Plant trees and support conservation efforts
It's easy to feel like one person can't make a difference, but the truth is that every little bit helps. Together, we can create a more sustainable future for ourselves and for the planet.
So, let's take action today and make a difference for a better future, it starts with minor changes, but it all adds up and can make a significant impact. We need to take responsibility for our actions and do our part to protect the planet."
In this example, the writer gives a clear and specific call to action and encourages the reader to take action to reduce their carbon footprint and protect the planet. By doing this, the writer empowers the reader to take action and enables them to change.
Now, go persuade your students of the importance of perfecting the art of persuasive writing!
A COMPLETE UNIT ON TEACHING FACT AND OPINION
This HUGE 120 PAGE resource combines four different fact and opinion activities you can undertake as a WHOLE GROUP or as INDEPENDENT READING GROUP TASKS in either DIGITAL or PRINTABLE TASKS.
20 POPULAR PERSUASIVE ESSAY TOPICS FOR STUDENTS
Writing an effective persuasive essay demonstrates a range of skills that will be of great use in nearly all aspects of life after school.
In essence, if you can influence a person to change their ideas or thoughts on a given topic through how you structure your words and thoughts, you possess a very powerful skill.
Be careful not to rant wildly. Use facts and other people's ideas who think similarly to you in your essay to strengthen your concepts.
Your biggest challenge in getting started may be choosing a suitable persuasive essay topic. These 20 topics for a persuasive essay should make this process a little easier.
WHY ARE WE FASCINATED WITH CELEBRITIES AND WEALTHY PEOPLE ON TELEVISION AND SOCIAL MEDIA?
IS IT RIGHT FOR SCHOOLS TO RAISE MONEY BY SELLING CANDY AND UNHEALTHY FOODS TO STUDENTS?
SHOULD GIRLS BE ALLOWED TO PLAY ON BOYS SPORTING TEAMS?
IS TEACHING HANDWRITING A WASTE OF TIME IN THIS DAY AND AGE?
SHOULD THERE BE FAR GREATER RESTRICTIONS AROUND WHAT CAN BE POSTED ON THE INTERNET?
SHOULD PROFESSIONAL ATHLETES HAVE TO TAKE DRUG TESTS?
ARE TEENAGE PREGNANCY SHOWS A NEGATIVE OR POSITIVE INFLUENCE ON VIEWERS?
SHOULD GAMBLING BE PROMOTED IN ANY WAY IN SPORTS EVEN THOUGH IT BRINGS IN LARGE AMOUNTS OF REVENUE?
SHOULD SPORTING TEAMS THAT LOSE BE REWARDED BY RECEIVING INCENTIVES SUCH AS HIGH DRAFT PICKS AND / OR FINANCIAL BENEFITS?
SHOULD SHARKS THAT ATTACK PEOPLE BE DESTROYED? SHOULD WE GET INVOLVED IN FOREIGN CONFLICTS AND ISSUES THAT DON'T DIRECTLY AFFECT OUR COUNTRY?
SHOULD WE GET INVOLVED IN FOREIGN CONFLICTS AND ISSUES THAT DON'T DIRECTLY AFFECT OUR COUNTRY?
COULD VIDEO GAMES BE CONSIDERED AS A PROFESSIONAL SPORT?
IF YOU WERE THE LEADER OF YOUR COUNTRY AND HAD A LARGE SURPLUS TO SPEND, WHAT WOULD YOU DO WITH IT?
WHEN SHOULD A PERSON BE CONSIDERED AND TREATED AS AN ADULT?
SHOULD SMOKING BECOME AN ILLEGAL ACTIVITY?
SHOULD THE VOTING AGE BE LOWERED?
DOES PROTECTIVE PADDING IN SPORTS MAKE IT MORE DANGEROUS?
SHOULD CELL PHONES BE ALLOWED IN THE CLASSROOM?
IS TEACHING A FOREIGN LANGUAGE A WASTE OF TIME?
SHOULD WE TEACH ETIQUETTE IN SCHOOLS?
PERSUASIVE PROMPTS FOR RELUCTANT WRITERS
If your students need a little more direction and guidance, here are some journal prompts that include aspects to consider.
Convince us that students would be better off having a three-day weekend . There are many angles you could take with this, such as letting children maximize their childhood or trying to convince your audience that a four-day school week might actually be more productive.
Which is the best season? And why? You will really need to draw on the benefits of your preferred season and sell them to your audience. Where possible, highlight the negatives of the competing seasons. Use lots of figurative language and sensory and emotional connections for this topic.
Aliens do / or don't exist? We can see millions of stars surrounding us just by gazing into the night sky, suggesting alien life should exist, right? Many would argue that if there were aliens we would have seen tangible evidence of them by now. The only fact is that we just don't know the answer to this question. It is your task to try and convince your audience through some research and logic what your point of view is and why.
Should school uniforms be mandatory? Do your research on this popular and divisive topic and make your position clear on where you stand and why. Use plenty of real-world examples to support your thoughts and points of view.
Should Smartphones be banned in schools? Whilst this would be a complete nightmare for most students' social lives, maybe it might make schools more productive places for students to focus and learn. Pick a position, have at least three solid arguments to support your point of view, and sell them to your audience.
VISUAL JOURNAL PROMPTS FOR PERSUASIVE WRITING
Try these engaging, persuasive prompts with your students to ignite the writing process . Scroll through them.
Persuasive Essay Examples (Student Writing Samples)
Below are a collection of persuasive essay samples. Click on the image to enlarge and explore them in greater detail. Please take a moment to read the persuasive texts in detail and the teacher and student guides highlight some of the critical elements of writing a persuasion.
Please understand these student writing samples are not intended to be perfect examples for each age or grade level but a piece of writing for students and teachers to explore together to critically analyze to improve student writing skills and deepen their understanding of persuasive text writing.
We recommend reading the example either a year above or below, as well as the grade you are currently working with, to gain a broader appreciation of this text type.
VIDEO TUTORIALS FOR PERSUASIVE WRITING
OTHER GREAT ARTICLES RELATED TO PERSUASIVE ESSAY WRITING
Teaching Resources
Use our resources and tools to improve your student's writing skills through proven teaching strategies.
WHERE CAN I FIND A COMPLETE UNIT OF WORK ON HOW TO WRITE PERSUASIVE ESSAYS?
We pride ourselves on being the web's best resource for teaching students and teachers how to write a persuasive text. We value the fact you have taken the time to read our comprehensive guides to understand the fundamentals of writing skills.
We also understand some of you just don't have the luxury of time or the resources to create engaging resources exactly when you need them.
If you are time-poor and looking for an in-depth solution that encompasses all of the concepts outlined in this article, I strongly recommend looking at the " Writing to Persuade and Influence Unit. "
Working in partnership with Innovative Teaching Ideas , we confidently recommend this resource as an all-in-one solution to teach how to write persuasively.
This unit will find over 140 pages of engaging and innovative teaching ideas.
PERSUASIVE ESSAY WRITING CHECKLIST AND RUBRIC BUNDLE
The Ultimate Guide to Opinion Writing for Students and Teachers
Top 5 Persuasive Writing Techniques for Students
5 Top Persuasive Writing Lesson Plans for Students and Teachers
23 Persuasive writing Topics for High School students
How to Write an Advertisement: A Complete Guide for Students and Teachers
How to Start an Essay with Strong Hooks and Leads
The content for this page has been written by Shane Mac Donnchaidh.  A former principal of an international school and English university lecturer with 15 years of teaching and administration experience. Shane's latest Book, The Complete Guide to Nonfiction Writing , can be found here.  Editing and support for this article have been provided by the literacyideas team.
Explore our Premium Teaching Unit on PERSUASIVE TEXTS
Writing a Persuasive Essay
View in pdf format, the introduction.
Simply enough, the introductory paragraph introduces the argument of your paper. A well-constructed introductory paragraph immediately captures a reader's interest and gives appropriate background information about the paper's topic. Such a paragraph might include a brief summary of the ideas to be discussed in body of the paper as well as other information relevant to your paper's argument. The most important function of the introductory paragraph, however, is to present a clear statement of the paper's argument. This sentence is your paper's thesis. Without a thesis, it is impossible for you to present an effective argument. The thesis sentence should reflect both the position that you will argue and the organizational pattern with which you will present and support your argument. A useful way to think about the construction of a thesis sentence is to view it in terms of stating both the "what" and the "how" of the paper's argument. The "what" is simply the basic argument in your paper: what exactly are you arguing? The "how" is the strategy you will use to present this argument. The following are helpful questions for you to consider when formulating a thesis sentence:
What is the argument that I am trying to convince the reader to accept?
How exactly do I expect to convince the reader that this argument is sound?
Once you have answered these questions, the next step is to synthesize these answers into a single thesis sentence, or, if necessary, two thesis sentences.
For example: You want to convince your reader that the forces of industry did not shape American foreign policy from the late 19th century through 1914, and you plan to do this by showing that there were other factors which were much more influential in shaping American foreign policy. Both of these elements can be synthesized into a thesis sentence:
Fear of foreign influence in the Western hemisphere, national pride, and contemporary popular ideas concerning both expansion and foreign peoples had significantly more influence on American foreign policy than did the voices of industrialists.
This sentence shows the position you will argue and also sets up the organizational pattern of your paper's body.
The body of your paper contains the actual development of your paper's argument. Each body paragraph presents a single idea or set of related ideas that provides support for your paper's argument. Each body paragraph addresses one key aspect of your paper's thesis and brings the reader closer to accepting the validity of your paper's argument. Because each body paragraph should be a step in your argument, you should be mindful of the overall organization of your body paragraphs. The first step in writing an effective body paragraph is the construction of the first sentence of this paragraph, the topic sentence. Just as the thesis sentence holds together your essay, the topic sentence is the glue binding each individual body paragraph. A body paragraph's topic sentence serves two main purposes: introducing the content of the paragraph and introducing the next step of your argument. It is important to keep in mind that the goal of the topic sentence is to advance your paper's argument, not just to describe the content of the paragraph. For example: The first part in your thesis on page two states that fear of foreign influence in the Western Hemisphere had more influence on American foreign policy than did industry. Thus, you need to elaborate on this point in your body paragraphs. An effective topic sentence for one of these paragraphs could be:
American fear of foreign influence was a key factor in the United States' actions in the Spanish-American War. Subsequent body paragraphs might offer further evidence for the idea presented in this body paragraph.
A good way to test the strength of both your topic sentences and your argument as a whole is to construct an outline of your paper using only your paper's thesis statement and topic sentences. This outline should be a logical overview of your paper's argument; all of your paper's topic sentences should work together to support your thesis statement.
The Conclusion
A basic purpose of your paper's concluding paragraph is both to restate the paper's argument and to restate how you have supported this argument in the body of the paper. However, your conclusion should not simply be a copy of your introduction. The conclusion draws together the threads of the paper's argument and shows where the argument of your paper has gone. An effective conclusion gives the reader reasons for bothering to read your paper. One of the most important functions of this paragraph is to bring in fresh insight. Some possible questions to consider when writing your conclusion are:
What are some real world applications of this paper's argument?
Why is what I am writing about important?
What are some of the questions that this paper's argument raises?
What are the implications of this paper's argument?
While the organization and structure described in this handout are necessary components of an effective persuasive essay, keep in mind that writing itself is a fluid process. There are no steadfast rules that you need to adhere to as you write. Simply because the introduction is the first paragraph in your essay does not mean that you must write this paragraph before any other. Think of the act of writing as an exploration of ideas, and let this sense of exploration guide you as you write your essay.
by Adam Polak '98 and Jen Collins '96
Popular resources.
Writing a Good APA Research Paper
Writing a Good History Paper
Understanding Passive Voice
Office / Department Name
Nesbitt-Johnston Writing Center
Contact Name
Jennifer Ambrose
Writing Center Director

The $400 million campaign marked the most ambitious fundraising initiative in the College's history.
Site Search
How to Start an Essay: 7 Tips for a Knockout Essay Introduction

Sometimes, the most difficult part of writing an essay is getting started. You might have an outline already and know what you want to write, but struggle to find the right words to get it going. Don't worry; you aren't the first person to grapple with starting an essay, and you certainly won't be the last. 
Writing an essay isn't the same as writing a book. Or writing a poem. Or writing a scientific research paper. Essay writing is a unique process that involves clear sequencing, backing up your positions with quality sources, and engaging language. But it's also got one important thing in common with every other type of writing: You need to hook your reader's attention within the first few sentences. 
Give your essays extra polish Grammarly helps you write with confidence Write with Grammarly
Intriguing ways to start an essay
There are many different ways to write an essay introduction. Each has its benefits and potential drawbacks, and each is best suited for certain kinds of essays . Although these essay introductions use different rhetorical devices and prime the reader in different ways, they all achieve the same goal: hooking the reader and enticing them to keep reading.
To "hook" a reader simply means to capture their attention and make them want to continue reading your work. An essay introduction that successfully hooks readers in one essay won't necessarily hook readers in another essay, which is why it's so important for you to understand why different types of essay openings are effective. 
Take a look at these common ways to start an essay:
Share a shocking or amusing fact
One way to start your essay is with a shocking, unexpected, or amusing fact about the topic you're covering. This grabs the reader's attention and makes them want to read further, expecting explanation, context, and/or elaboration on the fact you presented. 
Check out these essay introduction examples that use relevant, engaging facts to capture the reader's attention:
"More than half of Iceland's population believe that elves exist or that they possibly can exist. Although this might sound strange to foreigners, many of us have similar beliefs that would sound just as strange to those outside our cultures."
"Undergraduate students involved in federal work-study programs earn an average of just $1,794 per year. That's just slightly more than the average rent for a one-bedroom apartment in our city."
Relevance is key here. Make sure the fact you choose directly relates to the topic you're covering in your essay. Otherwise, it will feel random, confusing, or at best, shoehorned into the essay. In any case, it will undermine your essay as a whole by making it seem like you don't have a full grasp on your topic. 
If you're writing an expository or persuasive essay , including a shocking or amusing fact in your introduction can be a great way to pique your reader's curiosity. The fact you present can be one that supports the position you argue in the essay or it can be part of the body of data your expository essay explains. 
Ask a question
By asking a question in your essay opening, you're directly inviting the reader to interact with your work. They don't get to be a passive consumer; they're now part of the conversation. This can be a very engaging way to start an essay. 
Take a look at these examples of essay openings that use questions to hook readers:
"How many times have you been late to class because you couldn't find parking? You're not alone—our campus is in desperate need of a new parking deck."
"How frequently do you shop at fast fashion retailers? These retailers include H&M, Zara, Uniqlo and other brands that specialize in inexpensive clothing meant for short-term use." 
Asking a question is an effective choice for a persuasive essay because it asks the reader to insert themselves into the topic or even pick a side. While it can also work in other kinds of essays, it really shines in any essay that directly addresses the reader and puts them in a position to reflect on what you're asking. 
Dramatize a scene
Another effective way to write an essay introduction is to dramatize a scene related to your essay. Generally, this approach is best used with creative essays, like personal statements and literary essays. Here are a few examples of essay introductions that immerse readers in the action through dramatized scenes:
"The rain pounded against the roof, loudly drowning out any conversations we attempted to have. I'd promised them I'd play the latest song I wrote for guitar, but Mother Earth prevented any concert from happening that night."
"Imagine you've just gotten off an airplane. You're hot, you're tired, you're uncomfortable, and suddenly, you're under arrest."
Beyond creative essays, this kind of opening can work when you're using emotional appeal to underscore your position in a persuasive essay. It's also a great tool for a dramatic essay, and could be just the first of multiple dramatized scenes throughout the piece. 
Kick it off with a quote
When you're wondering how to write an essay introduction, remember that you can always borrow wisdom from other writers. This is a powerful way to kick off any kind of essay. Take a look at these examples:
"'The past is never dead. It's not even past.' —William Faulkner. In his novel Requiem for a Nun , our changing perspective of the past is a primary theme."
"'It always seems impossible until it's done.' —Nelson Mandela. Before I joined the military, boot camp seemed impossible. But now, it's done."
Just as in choosing a fact or statistic to open your essay, any quote you choose needs to be relevant to your essay's topic . If your reader has to perform a web search for your quote to figure out how it relates to the rest of your essay, it's not relevant enough to use. Go with another quote that your text can easily explain. 
State your thesis directly
The most straightforward kind of essay introduction is one where you simply state your thesis. Take a look at these examples:
"Fraternity culture is dangerous and contrary to campus values. Banning it is in the campus community's best interest."
"We can't afford to ignore the evidence any longer; we need climate action now."
How to write an essay introduction
Pick the right tone for your essay.
You probably shouldn't use a funny quote to start a persuasive essay on a serious subject. Similarly, a statistic that can evoke strong emotions in the reader might not be the right choice for an expository essay because it could potentially be construed as your attempt to argue for a certain viewpoint, rather than state facts. 
Read your essay's first paragraph aloud and listen to your writing's tone. Does the opening line's tone match the rest of the paragraph, or is there a noticeable tone shift from the first line or two to the rest? In many cases, you can hear whether your tone is appropriate for your essay. Beyond listening for the right tone, use Grammarly's tone detector to ensure that your essay introduction—as well as the rest of your essay—maintains the right tone for the subject you're covering.   
When you're stuck, work backwards
Starting an essay can be difficult. If you find yourself so caught up on how to write an essay introduction that you're staring at a blank screen as the clock ticks closer to your deadline, skip the introduction and move onto your essay's body paragraphs . Once you have some text on the page, it can be easier to go back and write an introduction that leads into that content. 
You may even want to start from the very end of your essay. If you know where your essay is going, but not necessarily how it will get there, write your conclusion first. Then, write the paragraph that comes right before your conclusion. Next, write the paragraph before that, working your way backwards until you're in your introduction paragraph. By then, writing an effective essay introduction should be easy because you already have the content you need to introduce. 
Polish your essays until they shine
Got a draft of a great essay? Awesome! But don't hit "submit" just yet—you're only halfway to the finish line. Make sure you're always submitting your best work by using Grammarly to catch misspelled words, grammar mistakes, and places where you can swap in different words to improve your writing's clarity.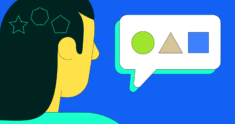 AI Content Shield
AI KW Research
AI Assistant
SEO Optimizer
AI KW Clustering
Customer reviews
The NLO Revolution
Press Center
Help Center
Content Resources
Facebook Group
Key Tips to Start Persuasive Essay Intros
Table of Contents
A persuasive essay must be compelling enough to sway a reader's opinion. And this all starts with the first paragraph. As with any essay, you must start things off on the right foot with a strong introduction.
A compelling introduction can help hook your reader in the first few sentences and make the most compelling argument. To help you get started, we've gathered some key tips on how to start a persuasive essay introduction .
Let's get right into it!
What is a Persuasive Essay?
A persuasive essay, as its name suggests, basically aims to persuade readers. It presents logical arguments with an emotional appeal to sway readers to a particular point of view. This essay can be a form of academic writing or personal writing.
The essay usually begins with a question raised by the writer who is either in favor or against it. It will then present statements supported by data, research, and anecdotal evidence. Persuasive essays can also explore opposing positions and counterarguments as a means to discredit them.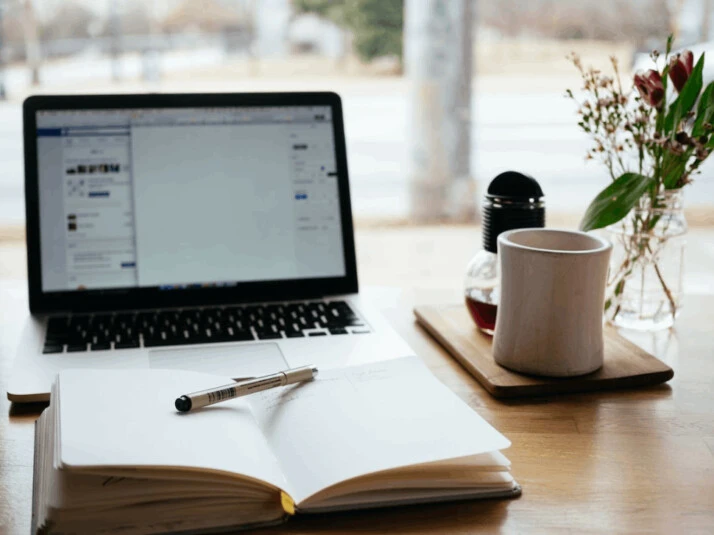 4 Key Tips on How to Start a Persuasive Essay Introduction
Writing an introduction is the most important part of a persuasive essay. It is where you establish your credentials and introduce your arguments for the rest of the paper. Writing a good persuasive essay introduction is not rocket science. Follow these tips, and you'll be on the right track!
Open With a Hook
The first sentence of your introduction needs to hook readers in. It should share powerful information about the issue you're discussing or a general thought to entice them to read more. For example, if you plan on discussing airplane safety, you can cite data about the casualties of plane crashes. By doing, this you can stress the importance of your topic.
Give Background Information
It's important to give readers some background information about your topic by presenting the arguments. Discuss why the topic you've chosen is controversial. What do both sides believe? And why does the issue need to be resolved?
In an essay about airline safety, you could discuss safety and budget issues that have been debated in the past. If there has been a significant increase in the number of plane accidents, use this as a compelling argument to support your point.
Establish Credibility
You need to present both sides of the argument to establish credibility. Acknowledge opposing viewpoints in your intro as you work to get the reader leaning towards your side. Also, cite a few points of the opposition you can agree with. Despite your preference for one position, demonstrate that you will be fair to the other.
State Your Thesis Strongly
No introduction is complete without a thesis statement. Your thesis statement is where you can present your claim. It needs to be concise, strong, and specific. And most importantly, it should be in line with the main point of your paper. A persuasive essay thesis usually includes the words "should" or "should not."
You're not doing your essay justice if you don't know what to do with your intro paragraph. Persuasive essays need to start strong if you hope to convince any of your readers. Read through these helpful tips on how to start a persuasive essay introduction , and you're sure to get a better result.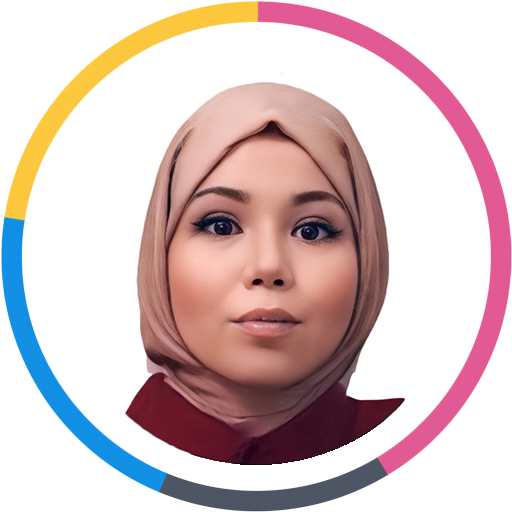 Abir Ghenaiet
Abir is a data analyst and researcher. Among her interests are artificial intelligence, machine learning, and natural language processing. As a humanitarian and educator, she actively supports women in tech and promotes diversity.
Explore All Essay Intro Generator Articles
The different ways to start a comparative essay.
Some writers intend to compare two specific things or ideas through their articles. They write these essays to compare and…
Know The Best Way to Start an Expository Essay
Are you into writing essays that tackle a still-unknown fact? Do you know how to write an expository essay? Before…
Writing an Opinion Essay? Read This First!
Students are required to express their opinions on a topic in an opinion essay. Pertinent illustrations and explanations support their…
Identifying the Best Transitions to Start an Essay
A typical academic assignment is the essay, which must meet certain requirements in order to be written properly. Even students…
How to Write Introductions for Synthesis Essays
One of the most exciting assignments you could have is writing a synthesis essay. For a college or university student,…
How to Write Introductions for Music Essays
Music is food for the soul, or so they say. A music essay analyzes or describes a piece of music,…
Features for Creative Writers
Features for Work
Features for Higher Education
Features for Teachers
Features for Non-Native Speakers
Learn Blog Grammar Guide Community Academy FAQ
Grammar Guide
How to Write a Persuasive Essay: Tips and Tricks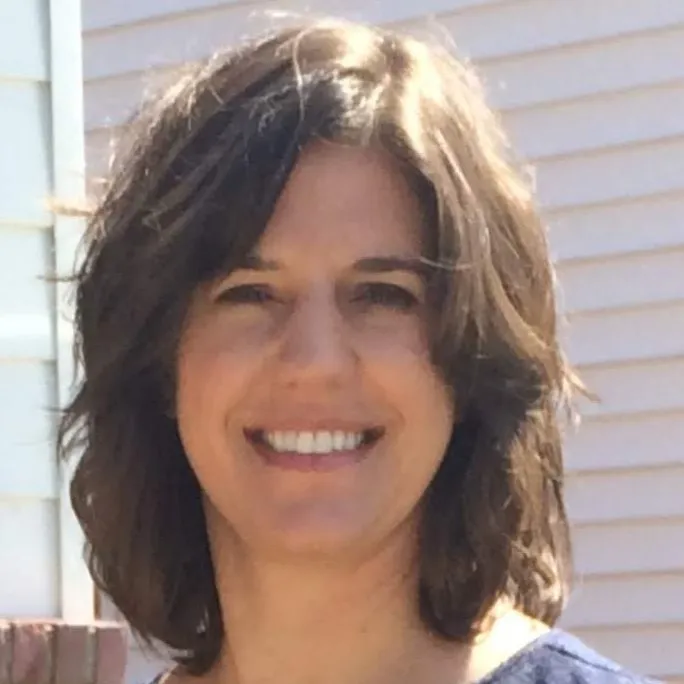 Allison Bressmer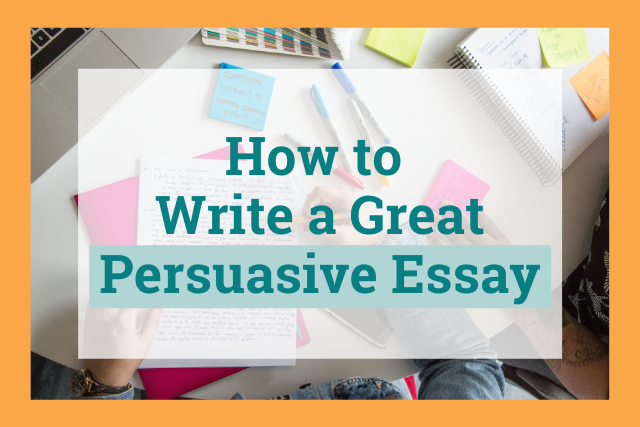 Most composition classes you'll take will teach the art of persuasive writing. That's a good thing.
Knowing where you stand on issues and knowing how to argue for or against something is a skill that will serve you well both inside and outside of the classroom.
Persuasion is the art of using logic to prompt audiences to change their mind or take action , and is generally seen as accomplishing that goal by appealing to emotions and feelings.
A persuasive essay is one that attempts to get a reader to agree with your perspective.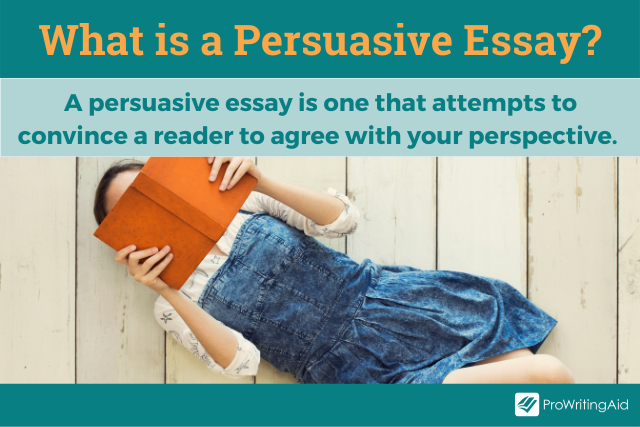 Ready for some tips on how to produce a well-written, well-rounded, well-structured persuasive essay? Just say yes. I don't want to have to write another essay to convince you!
How Do I Write a Persuasive Essay?
What are some good topics for a persuasive essay, how do i identify an audience for my persuasive essay, how do you create an effective persuasive essay, how should i edit my persuasive essay.
Your persuasive essay needs to have the three components required of any essay: the introduction , body , and conclusion .
That is essay structure. However, there is flexibility in that structure.
There is no rule (unless the assignment has specific rules) for how many paragraphs any of those sections need.
Although the components should be proportional; the body paragraphs will comprise most of your persuasive essay.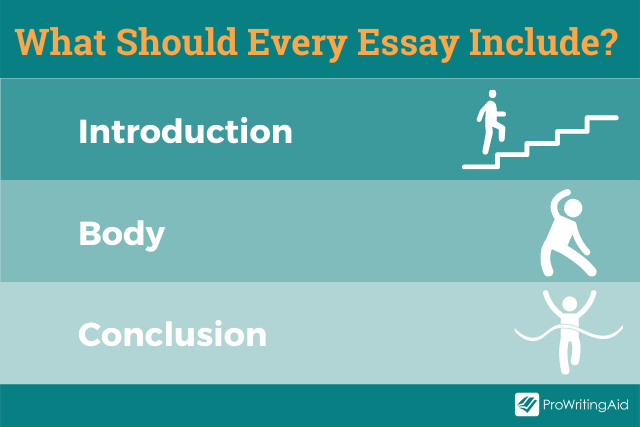 How Do I Start a Persuasive Essay?
As with any essay introduction, this paragraph is where you grab your audience's attention, provide context for the topic of discussion, and present your thesis statement.
TIP 1: Some writers find it easier to write their introductions last. As long as you have your working thesis, this is a perfectly acceptable approach. From that thesis, you can plan your body paragraphs and then go back and write your introduction.
TIP 2: Avoid "announcing" your thesis. Don't include statements like this:
"In my essay I will show why extinct animals should (not) be regenerated."
"The purpose of my essay is to argue that extinct animals should (not) be regenerated."
Announcements take away from the originality, authority, and sophistication of your writing.
Instead, write a convincing thesis statement that answers the question "so what?" Why is the topic important, what do you think about it, and why do you think that? Be specific.
How Many Paragraphs Should a Persuasive Essay Have?
This body of your persuasive essay is the section in which you develop the arguments that support your thesis. Consider these questions as you plan this section of your essay:
What arguments support your thesis?
What is the best order for your arguments?
What evidence do you have?
Will you address the opposing argument to your own?
How can you conclude convincingly?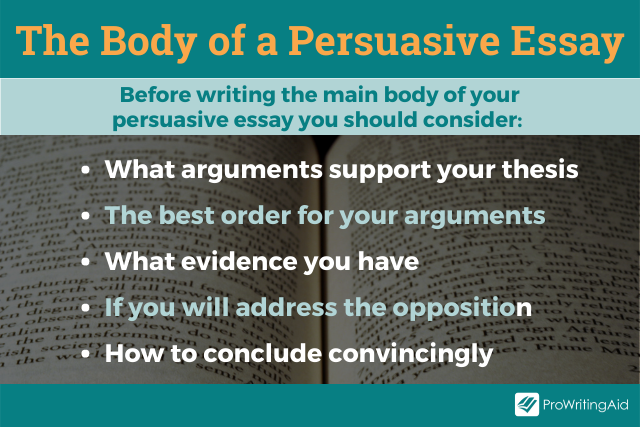 TIP: Brainstorm and do your research before you decide which arguments you'll focus on in your discussion. Make a list of possibilities and go with the ones that are strongest, that you can discuss with the most confidence, and that help you balance your rhetorical triangle .
What Should I Put in the Conclusion of a Persuasive Essay?
The conclusion is your "mic-drop" moment. Think about how you can leave your audience with a strong final comment.
And while a conclusion often re-emphasizes the main points of a discussion, it shouldn't simply repeat them.
TIP 1: Be careful not to introduce a new argument in the conclusion—there's no time to develop it now that you've reached the end of your discussion!
TIP 2 : As with your thesis, avoid announcing your conclusion. Don't start your conclusion with "in conclusion" or "to conclude" or "to end my essay" type statements. Your audience should be able to see that you are bringing the discussion to a close without those overused, less sophisticated signals.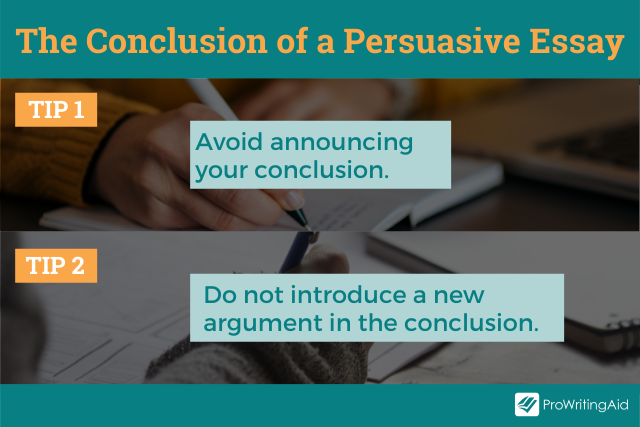 If your instructor has assigned you a topic, then you've already got your issue; you'll just have to determine where you stand on the issue. Where you stand on your topic is your position on that topic.
Your position will ultimately become the thesis of your persuasive essay: the statement the rest of the essay argues for and supports, intending to convince your audience to consider your point of view.
If you have to choose your own topic, use these guidelines to help you make your selection:
Choose an issue you truly care about
Choose an issue that is actually debatable
Simple "tastes" (likes and dislikes) can't really be argued. No matter how many ways someone tries to convince me that milk chocolate rules, I just won't agree.
It's dark chocolate or nothing as far as my tastes are concerned.
Similarly, you can't convince a person to "like" one film more than another in an essay.
You could argue that one movie has superior qualities than another: cinematography, acting, directing, etc. but you can't convince a person that the film really appeals to them.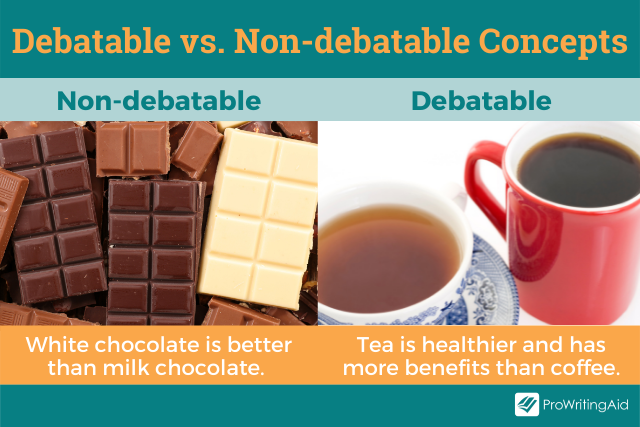 Once you've selected your issue, determine your position just as you would for an assigned topic. That position will ultimately become your thesis.
Until you've finalized your work, consider your thesis a "working thesis."
This means that your statement represents your position, but you might change its phrasing or structure for that final version.
When you're writing an essay for a class, it can seem strange to identify an audience—isn't the audience the instructor?
Your instructor will read and evaluate your essay, and may be part of your greater audience, but you shouldn't just write for your teacher.
Think about who your intended audience is.
For an argument essay, think of your audience as the people who disagree with you—the people who need convincing.
That population could be quite broad, for example, if you're arguing a political issue, or narrow, if you're trying to convince your parents to extend your curfew.
Once you've got a sense of your audience, it's time to consult with Aristotle. Aristotle's teaching on persuasion has shaped communication since about 330 BC. Apparently, it works.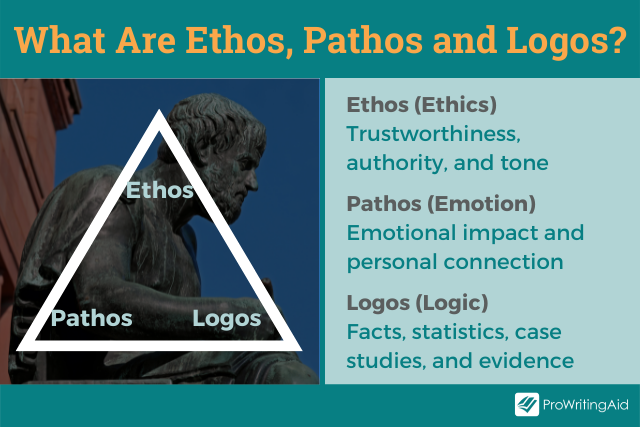 Aristotle taught that in order to convince an audience of something, the communicator needs to balance the three elements of the rhetorical triangle to achieve the best results.
Those three elements are ethos , logos , and pathos .
Ethos relates to credibility and trustworthiness. How can you, as the writer, demonstrate your credibility as a source of information to your audience?
How will you show them you are worthy of their trust?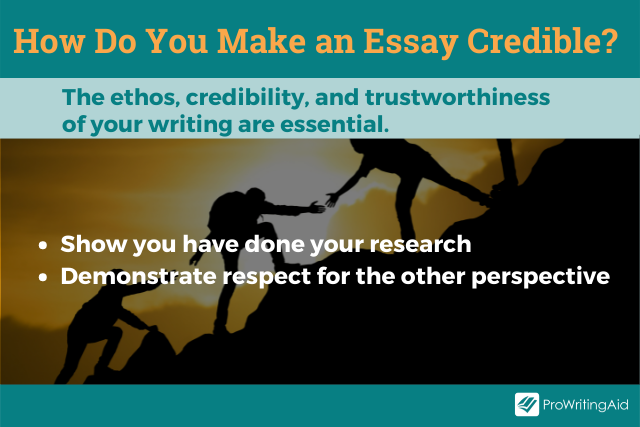 You show you've done your research: you understand the issue, both sides
You show respect for the opposing side: if you disrespect your audience, they won't respect you or your ideas
Logos relates to logic. How will you convince your audience that your arguments and ideas are reasonable?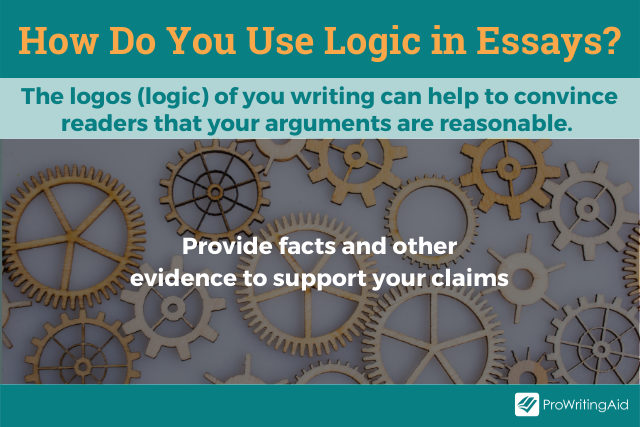 You provide facts or other supporting evidence to support your claims.
That evidence may take the form of studies or expert input or reasonable examples or a combination of all of those things, depending on the specific requirements of your assignment.
Remember: if you use someone else's ideas or words in your essay, you need to give them credit.
ProWritingAid's Plagiarism Checker checks your work against over a billion web-pages, published works, and academic papers so you can be sure of its originality.
Find out more about ProWritingAid's Plagiarism checks.
Pathos relates to emotion. Audiences are people and people are emotional beings. We respond to emotional prompts. How will you engage your audience with your arguments on an emotional level?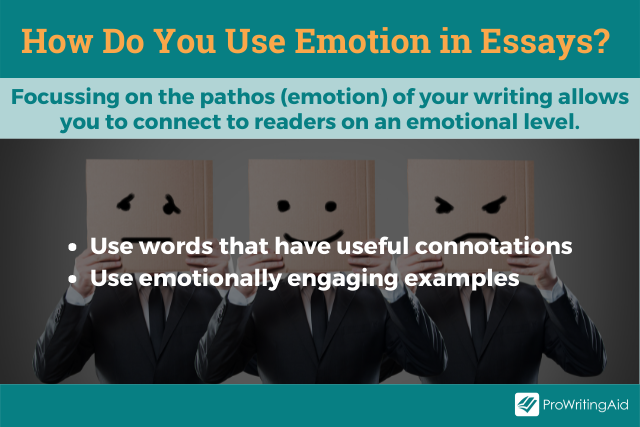 You make strategic word choices : words have denotations (dictionary meanings) and also connotations, or emotional values. Use words whose connotations will help prompt the feelings you want your audience to experience.
You use emotionally engaging examples to support your claims or make a point, prompting your audience to be moved by your discussion.
Be mindful as you lean into elements of the triangle. Too much pathos and your audience might end up feeling manipulated, roll their eyes and move on.
An "all logos" approach will leave your essay dry and without a sense of voice; it will probably bore your audience rather than make them care.
Once you've got your essay planned, start writing! Don't worry about perfection, just get your ideas out of your head and off your list and into a rough essay format.
After you've written your draft, evaluate your work. What works and what doesn't? For help with evaluating and revising your work, check out this ProWritingAid post on manuscript revision .
After you've evaluated your draft, revise it. Repeat that process as many times as you need to make your work the best it can be.
When you're satisfied with the content and structure of the essay, take it through the editing process .
Grammatical or sentence-level errors can distract your audience or even detract from the ethos—the authority—of your work.
You don't have to edit alone! ProWritingAid's Realtime Report will find errors and make suggestions for improvements.
You can even use it on emails to your professors: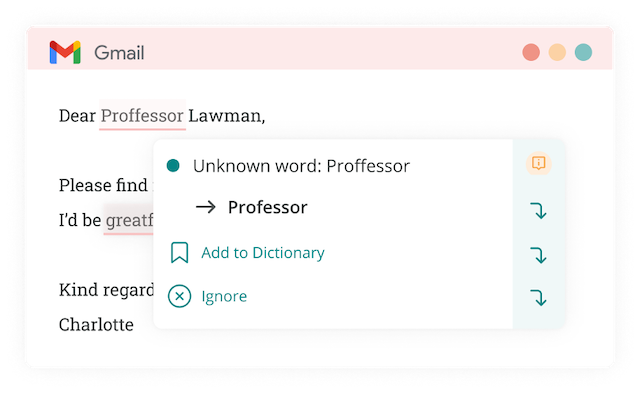 Try ProWritingAid with a free account.
How Can I Improve My Persuasion Skills?
You can develop your powers of persuasion every day just by observing what's around you.
How is that advertisement working to convince you to buy a product?
How is a political candidate arguing for you to vote for them?
How do you "argue" with friends about what to do over the weekend, or convince your boss to give you a raise?
How are your parents working to convince you to follow a certain academic or career path?
As you observe these arguments in action, evaluate them. Why are they effective or why do they fail?
How could an argument be strengthened with more (or less) emphasis on ethos, logos, and pathos?
Every argument is an opportunity to learn! Observe them, evaluate them, and use them to perfect your own powers of persuasion.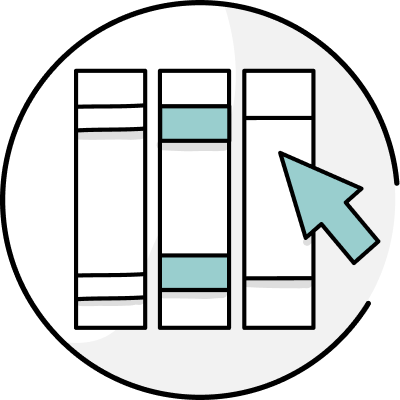 Be confident about grammar
Check every email, essay, or story for grammar mistakes. Fix them before you press send.
Allison Bressmer is a professor of freshman composition and critical reading at a community college and a freelance writer. If she isn't writing or teaching, you'll likely find her reading a book or listening to a podcast while happily sipping a semi-sweet iced tea or happy-houring with friends. She lives in New York with her family. Connect at linkedin.com/in/allisonbressmer.
Get started with ProWritingAid
Drop us a line or let's stay in touch via :