Free Text Summarizer
Try our other writing services

Want to be 100% sure your summary is plagiarism-free?
Make your life easier with the free summarizer tool.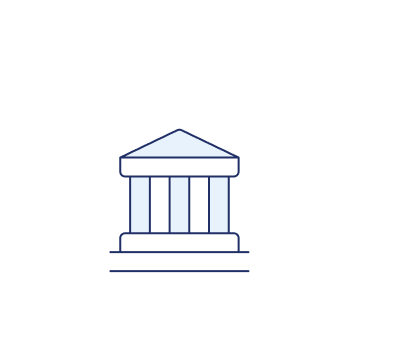 Academic research
Speed up your academic research by extracting key points.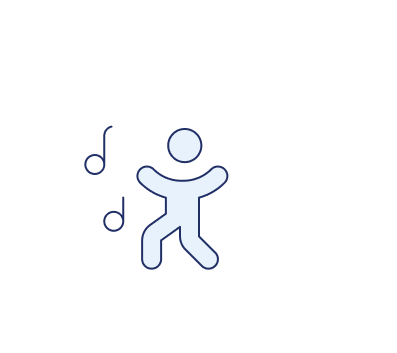 Every day use
Reduce your reading time by summarizing long blocks of text within seconds.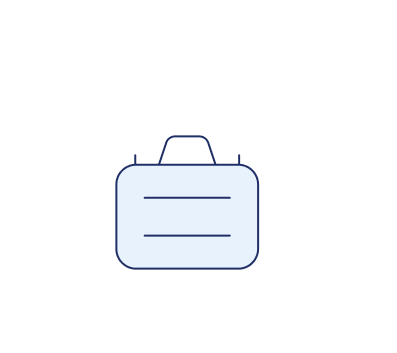 Easily condense transcripts of long meetings into concise bullet points.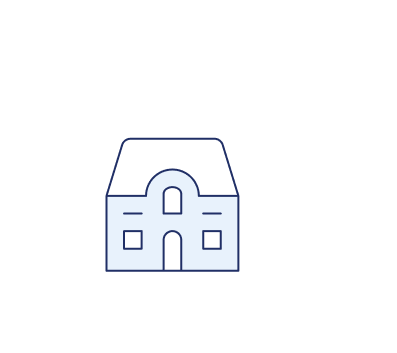 Difficult text
Simplify hard-to-read paragraphs, sentences or complete articles with 1 click.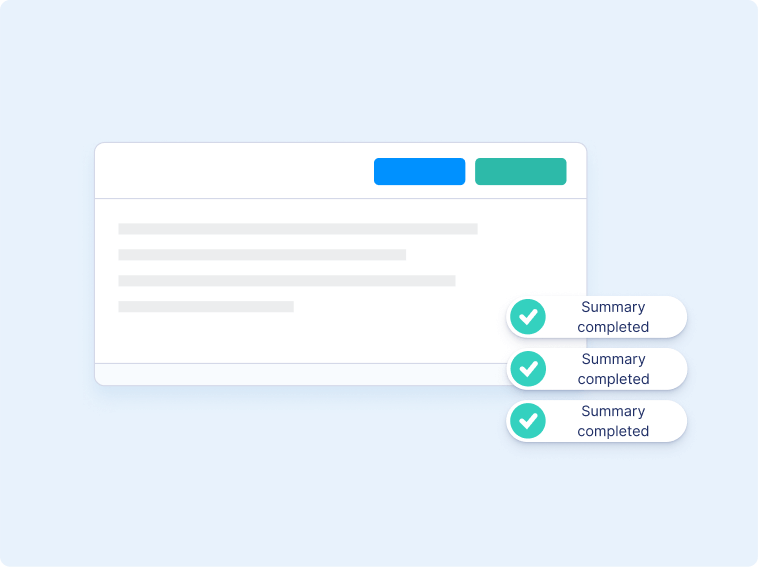 Why use this summarizer?
100% free: Generate unlimited summaries without paying a penny
Accurate: Get a reliable and trustworthy summary of your original text without any errors
No signup: Use it without giving up any personal data
Secure: No summary data is stored, guaranteeing your privacy
Speed: Get an accurate summary within seconds, thanks to AI
Flexible: Adjust summary length to get more (or less) detailed summaries
How to use this summarizer
1. insert, paste or download your text, 2. pick the way you want to summarize, 3. adjust your summary length, 4. get your summary in seconds.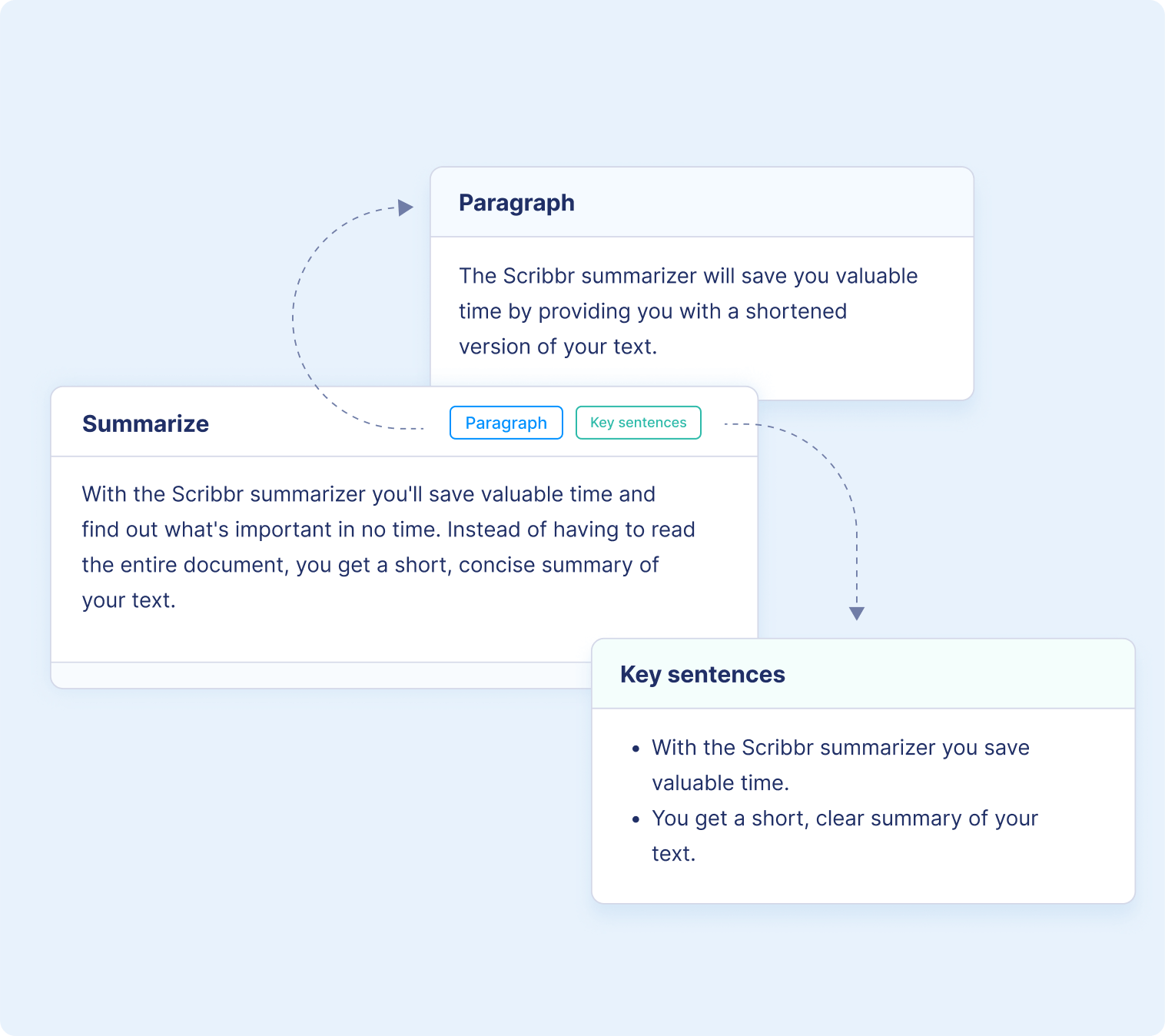 2 ways of summarizing your text
1. key sentences.
Extracts the key points of your text and turns them into digestible bullet points 
2. Concise paragraphs
Summarizes your text in a concise paragraph
Summarize your text today
Want to make sure your summary doesn't contain any plagiarism, ask our team.
Want to contact us directly? No problem.  We  are always here for you.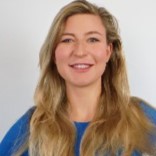 Frequently asked questions
Yes, it can. The AI has been trained on a big dataset, so technical or complex data won't be a problem for the text summarizer .
The text summarizer is accessible on both desktop and mobile.
This text summarizer can condense long text within seconds.
At the moment, a maximum of 6,000 words can be summarized at once, within a few seconds. Want to summarize more? Just paste another block of text. There's no limit on how much text you can summarize with our text summarizer .
The text summarizer can give you a longer or shorter summary, depending on your wishes. Want a more detailed summary? Just adjust the summary length at the top.
Upload your PDF, EPUB, DOCX, ODT, or TXT file here.
PDF, EPUB, DOCX, ODT, TXT
Or import your images / photos by clicking below
(JPEG / PNG)
Please wait... or cancel
Reading speed : 0.8
Go to the main ideas in your texts, summarize them « relevantly » in 1 Click
We advice + we design + we develope.
Text example
Initialisation...
Identify the important ideas and facts
To help you summarize and analyze your argumentative texts , your articles, your scientific texts, your history texts as well as your well-structured analyses work of art, Resoomer provides you with a "Summary text tool" : an educational tool that identifies and summarizes the important ideas and facts of your documents. Summarize in 1-Click, go to the main idea or skim through so that you can then interpret your texts quickly and develop your syntheses .
Who is Resoomer for ?
College students.
With Resoomer, summarize your Wikipedia pages in a matter of seconds for your productivity.
Identify the most important ideas and arguments of your texts so that you can prepare your lessons.
JOURNALISTS
If you prefer simplified information that summarizes the major events, then Resoomer is for you !
Identify and understand very fast the facts and the ideas of your texts that are part of the current news and events.
PRESS RELEASES
With the help of Resoomer, go to the main idea of your articles to write your arguments and critiques .
Save time, summarize your digital documents for a relevant and fast uptake of information.
Need to summarize your books' presentations ? Identify the arguments in a matter of seconds.
Too many documents ? Simplify your readings with Resoomer like a desktop tool.
Need to summarize your chapters ? With Resoomer, go to the heart of your ideas.
Identify your books' or your authors' ideas quickly. Summarize the most important main points.
From now on, create quick summaries of your artists' presentation and their artworks .
INSTITUTIONS
Identify the most important passages in texts that contains a lot of words for detailed analyses .
They Tweeted
Follow @resoomer_ Tweeter
SUMMARIZE YOUR ONLINE ARTICLES IN 1-CLICK
Download the extension for your browser
Surf online and save time when reading on internet ! Resoomer summarizes your articles in 500 words so that you can go to the main idea of your text.
HOW DOES RESOOMER WORK ?
Popular articles.
Summary and synthesis: the difference?
The text summarizer
Summarize a text
Summarize a document online
Summarize an online article
Read more and faster documents
Argue and find arguments in a text
Learn more": How to increase your knowledge?
Our partners that like Resoom(er)ing their texts :

Summarize any | in a click.
TLDR This helps you summarize any piece of text into concise, easy to digest content so you can free yourself from information overload.

Enter an Article URL or paste your Text
Browser extensions.
Use TLDR This browser extensions to summarize any webpage in a click.

Single platform, endless summaries
Transforming information overload into manageable insights — consistently striving for clarity.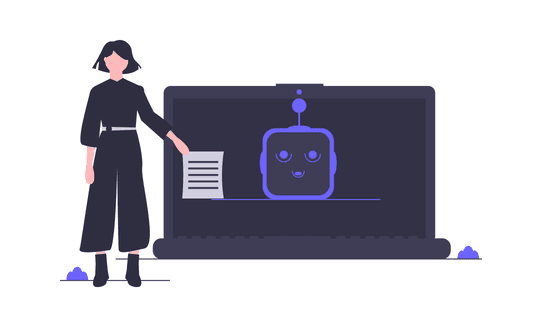 100% Automatic Article Summarization with just a click
In the sheer amount of information that bombards Internet users from all sides, hardly anyone wants to devote their valuable time to reading long texts. TLDR This's clever AI analyzes any piece of text and summarizes it automatically, in a way that makes it easy for you to read, understand and act on.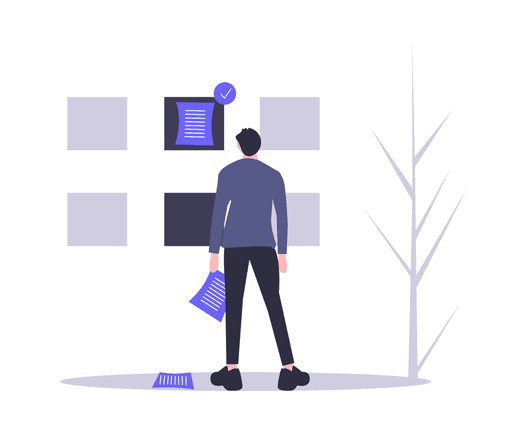 Article Metadata Extraction
TLDR This, the online article summarizer tool, not only condenses lengthy articles into shorter, digestible content, but it also automatically extracts essential metadata such as author and date information, related images, and the title. Additionally, it estimates the reading time for news articles and blog posts, ensuring you have all the necessary information consolidated in one place for efficient reading.
Automated author-date extraction
Related images consolidation
Instant reading time estimation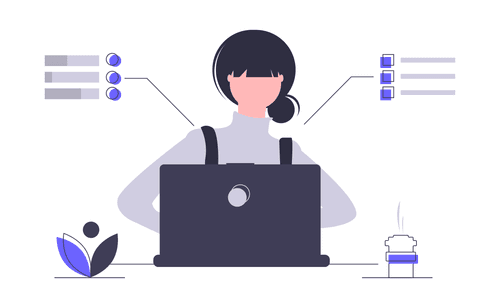 Distraction and ad-free reading
As an efficient article summarizer tool, TLDR This meticulously eliminates ads, popups, graphics, and other online distractions, providing you with a clean, uncluttered reading experience. Moreover, it enhances your focus and comprehension by presenting the essential content in a concise and straightforward manner, thus transforming the way you consume information online.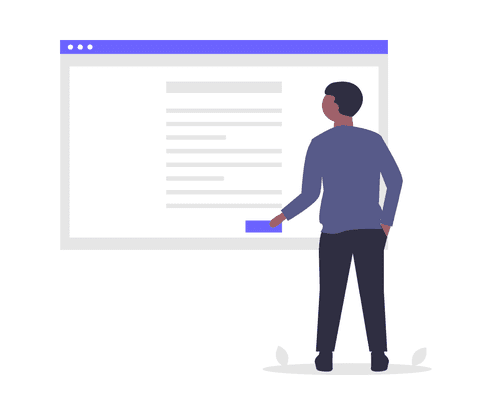 Avoid the Clickbait Trap
TLDR This smartly selects the most relevant points from a text, filtering out weak arguments and baseless speculation. It allows for quick comprehension of the essence, without needing to sift through all paragraphs. By focusing on core substance and disregarding fluff, it enhances efficiency in consuming information, freeing more time for valuable content.
Filters weak arguments and speculation
Highlights most relevant points
Saves time by eliminating fluff
Who is TLDR This for?
TLDR This is a summarizing tool designed for students, writers, teachers, institutions, journalists, and any internet user who needs to quickly understand the essence of lengthy content.
Anyone with access to the Internet
TLDR This is for anyone who just needs to get the gist of a long article. You can read this summary, then go read the original article if you want to.
TLDR This is for students studying for exams, who are overwhelmed by information overload. This tool will help them summarize information into a concise, easy to digest piece of text.
TLDR This is for anyone who writes frequently, and wants to quickly summarize their articles for easier writing and easier reading.
TLDR This is for teachers who want to summarize a long document or chapter for their students.
Institutions
TLDR This is for corporations and institutions who want to condense a piece of content into a summary that is easy to digest for their employees/students.
Journalists
TLDR This is for journalists who need to summarize a long article for their newspaper or magazine.
Featured by the world's best websites
Our platform has been recognized and utilized by top-tier websites across the globe, solidifying our reputation for excellence and reliability in the digital world.
Focus on the Value, Not the Noise.
Free Summarizer
Summarize any text online in just a few seconds.
Ruppert, Chief Summarizer Officer
Stop wasting your time and money.
Summarize any text.
Copy and paste your loooong text below.
Here is a sample text, taken from the news: A television station employee was shot dead on Friday in the northwestern city of Peshawar as violent crowds filled the streets of several cities on a day of government-sanctioned protests against an anti-Islam film made in the United States. The unrest came as governments and Western institutions in many parts of the Muslim world braced for protests after Friday Prayer — an occasion often associated with demonstrations as worshipers leave mosques. In Tunisia, the authorities invoked emergency powers to outlaw all demonstrations, fearing an outpouring of anti-Western protest inspired both by the American-made film and by cartoons depicting the Prophet Muhammad in a French satirical weekly. American diplomatic posts in India, Indonesia and elsewhere closed for the day. In Bangladesh, several thousand activists from Islamic organizations took over roads in the center of the capital, Dhaka after prayers. They chanted "death to the United States and death to the French" and set on fire a symbolic coffin for President Obama that was draped with the American flag, as well as an effigy of Mr. Obama. They also burned the American and French flags. The protesters threatened to seize the American Embassy on Saturday, but a police order banned any further demonstrations. Separate protests took place outside of Dhaka as well. European countries took steps to forestall protests among their own Muslim minorities and against their missions abroad. France had already announced the closure on Friday of embassies and other institutions in 20 countries while, in Paris, some Muslim leaders urged their followers to heed a government ban on weekend demonstrations protesting against denigration of the prophet. Interior Minister Manuel Valls said officials throughout the country had orders to prevent all protests and crack down if the ban was challenged. "There will be strictly no exceptions. Demonstrations will be banned and broken up," Mr. Valls said. The German Interior Ministry said it was postponing a poster campaign aimed at countering radical Islam to avoid fueling protests among the country's four million Muslims, The Associated Press reported. In Pakistan, the scene of the most turbulent unrest, ARY News said that a driver, Muhammad Amir, was shot three times by the police as he drove through an area where stick-wielding protesters were burning a movie theater owned by a prominent politician. The station repeatedly broadcast graphic footage of hospital staff giving emergency treatment to Mr. Amir, apparently shortly before he died. Other Pakistani journalists condemned the footage as insensitive and irresponsible. Businesses closed and streets emptied across the country as the government declared a national holiday, the "Day of Love for the Prophet Muhammad," to encourage peaceful protests against the controversial film that has ignited protest across the Muslim world for more than a week. "An attack on the holy prophet is an attack on the core belief of 1.5 billion Muslims. Therefore, this is something that is unacceptable," said Prime Minister Raja Pervez Ashraf in an address to a religious conference Friday morning in Islamabad. Mr. Ashraf called on the United Nations and international community to formulate a law outlawing hate speech across the world. "Blasphemy of the kind witnessed in this case is nothing short of hate speech, equal to the worst kind of anti-Semitism or other kind of bigotry," he said. But the scenes of chaos in some parts of the country as the day progressed suggested that the government had failed to control public anger on the issue. In Peshawar, where the television employee was killed, protesters attacked and burned two movie theaters, breaking through the windows with sticks and setting fire to posters that featured images of female movie stars. Television footage showed the police firing in the air to disperse the crowd, and a hospital official said that at least 15 people, including three police officers, were injured. In Islamabad, where thousands of protesters flooded toward the heavily guarded diplomatic enclave, Express News reported that the police ran out of rubber bullets because of heavy firing. A television reporter said that when protesters in nearby Rawalpindi ran out of material to burn, they broke into several tire shops along a major road to steal fresh supplies. The government cut off cellphone coverage in major cities, while the authorities in Islamabad sealed all exits to the city after Friday Prayer, state radio reported. Some Pakistanis were relying on e-mail and social media sites, like Twitter, to communicate. Expressions of weary anger over the violence were common. "We are not a nation. We are a mob," said Nadeem F. Paracha, a cultural commentator with Dawn newspaper, on Twitter. Large shipping containers blocked roads through the center of several cities. Western diplomatic missions were closed for the day. The State Department spent $70,000 on Urdu-language advertisements that were broadcast on several television channels, dissociating the American government from the inflammatory film. The Ministry of Foreign Affairs announced it had summoned the American chargé d'affaires, Richard Hoagland, asking him to have the anti-Islam film removed from YouTube, which has been entirely blocked in Pakistan for the past several days. Alan Cowell contributed reporting from Paris and Julfikar Ali Manik from Dhaka, Bangladesh. Summarize in about sentences (optional) -->
Free Summarizer is a free service.
Attention! Christmas Sale is Live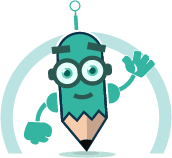 By creating account, you agree with our terms and privacy policy .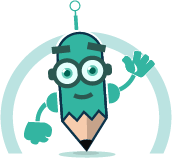 Text Summarizer
A text summarizer is an online tool that wraps up a text to a specified short length. It condenses a long article to main points. The need for text summarizers is increasing day by day, because of time constraints.
People are looking for shortcut methods to learn ideas in lesser time. Even text summarizers are helping them to decide whether a book, a research paper, or an article is worth reading or not.
Oxford defines summary as:
" a short statement that gives only the main points of something, not the details. "
Approaches in auto summarization:
Mainly two approaches have been developed over time for summarizing a long text into a shorter one.
Extraction Summarization:
This approach entails the method to extract keywords and phrases from sentences and then joining them to produce a compact meaningful summary.
Abstractive Summarization:
In this summary generator, algorithms are developed in such a way to reproduce a long text into a shorter one by NLP. It retains its meaning but changes the structure of sentences.
How does this text summarizer work?
Trained by machine learning, Paraphraser.io text summarizer uses the concept of abstractive summarization to summarize a book, an article, or a research paper.
This summarize tool uses NLP to create novel sentences and generates a summary in which the main idea remains intact. It is an advanced-level tool that uses AI for its work. Therefore, the summary produced by this article summarizer tool appears to be flawless and inflow.
How to use our text summarizer?
Our summarizing tool is the best because it is simple to use and efficient also.
Insert the text (article, research paper, book extract) into the text area.
Or upload your content.
Click the " Summarize " Button.
You can also toggle other features by selecting show bullets, best line, ranked base, and summary length.
Important features of this text summarizer:
The features that give this text summarizer an advantage over others are given below.
Control summarization:
This is the best feature of this summary tool because it gives you the freedom to choose the length of your summarized text.
It depends upon the circumstances, sometimes you want to create a long summary and sometimes a shorter one is enough. This summary generator tool gives you the choice to summarize your text according to your needs.
Bullet points formation:
When you want to analyze your text, you can use our text summarizer to create bullet points. This summarizer tool can help you in creating PowerPoint slides and presentations.
Rating of the text:
It's a full-pack feature that gives you the whole ranking of your text. This summary maker provides the best line, best sentence, and general ranking of your text according to its optimization.
Free usage:
Our text summarizer has free usage and can be used whenever it is needed. You can instantly use it without giving any login.
Users of text summarizer:
A text summarizer helps students to condense difficult concepts by summarizing them. They get the know-how of complex articles and books. Moreover, manual summarizing can be very time-consuming. They use a text summarizer to solve their assignments in lesser time.
Journalists:
Journalists can get help from our text summarizer as they have to communicate an incident or an event. Giving thorough news is not valuable as compared to quick headliners. So, they can use this summarizing tool to inform people about daily happenings.
Writers often have to face the difficulty of creating unique content either blogs or guest posts. They can only produce exceptional content if they know the gist of the whole story.
While getting ideas from different sources, they can use our text summarizer to skim out the necessary information. This information is incorporated into what they are writing.
Supported Languages

Adblocker Detected!
Disable your ad blocker and refresh your page to carry on.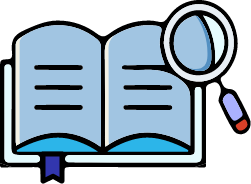 Sample Text
AI Summarizer
AI Text Summarizer shortens the text while preserving all the main points that the text contains.
Our AI paragraph summarizer ensures accuracy and maintains the original context while summarizing the text.
You can generate a summary of every type of content, whether an essay or a blog post.
This free text summarizing tool shows the word count of the content entered in the input box. You can check the word count before and after the summarization.
Summarize text with state-of-the-art AI
06 Different Languages
Summary in Bullets & One Line
How to summarize a text?
To summarize your text with our AI summarizer, follow the below steps:
When you are done summarizing the text, you can: Download the file: Click on the "Download" button and get the summary in .docx format.
Copy the summarized text: You can also copy the summarized text to the clipboard and paste it anywhere you want.
Clear text: After downloading or copying the summary, click on the "Clear" button to start a new session and generate another summary.
Feature Of Our AI Summarizer
Set summary length.
You can manually set summary length with the help of the scroll bar located at the top right of the input box.
After specifying the length, this summary tool generates the summary of your academic writing according to the specified length.
Shows Bullets And Best Lines
We are providing an option to add bullets in summary. Click on the " Show bullets " button and this article summarizer generate a summary of the research article in the form of sentences separated by bullet points.
Else you can get your summary in the form of a paragraph.
By selecting the " Best line " option, our summary generator crawls the entire content and gets back with the best line of content.
Offer Multiple Languages
You can get a summary in various languages offered by this online text summarizer. Before summarization, there is no need to translate the original text into a specific language.
Why Our Summarizer Is Best?
Features that make this text summarizer one of the best online tools are:
It is a free summarize tool, with no word limit and no daily limit.
It extracts key sentences and phrases using advanced AI techniques.
100% Data Safety: we do not store any of users' data to protect the privacy of our users.
Bullets and the best sentence feature increase the readability.
Controlling summary length provides more choices for users to modify the final output as per requirements.
How Does This Summarizing Tool Work?
Our summarizing tool uses an AI-based algorithm that firstly detects the best sentences from the paragraph and understands the text then proceeds to summarize the content.
After selecting the best lines from the text, Algorithm gives a score to each selected line based on its accuracy, structure, optimization, quality, length, and other technical factors. Based on the score, the Text Summarizer understands the importance of each line and compares it with the rest of the text.
By using the important and other algorithms, this text summarizer summarizes the text according to its main concept. The user gets the final result completely error-free, which makes the exact sense as the original text.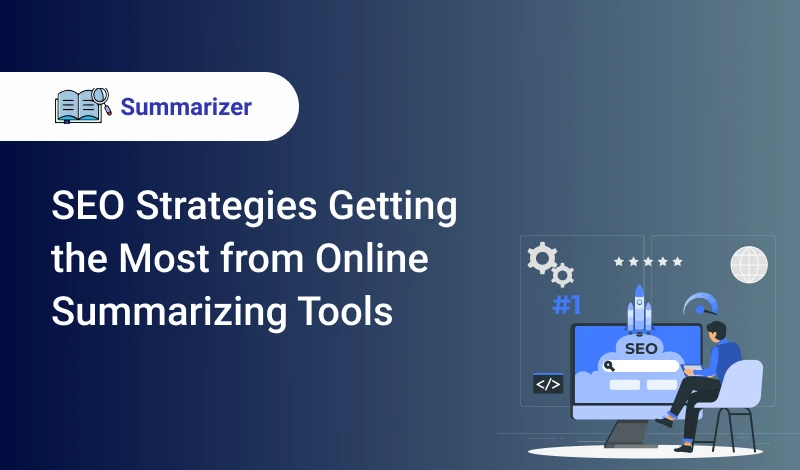 Important SEO Strategies: Getting The Most From Online Summarizing Tools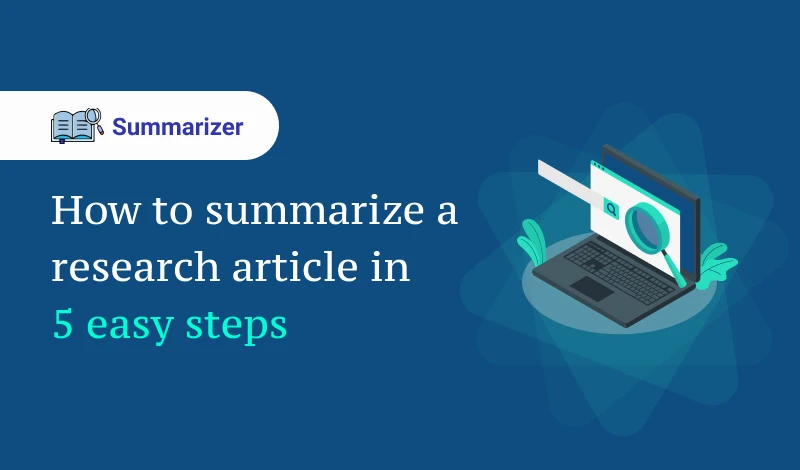 How to summarize a research article in 5 easy steps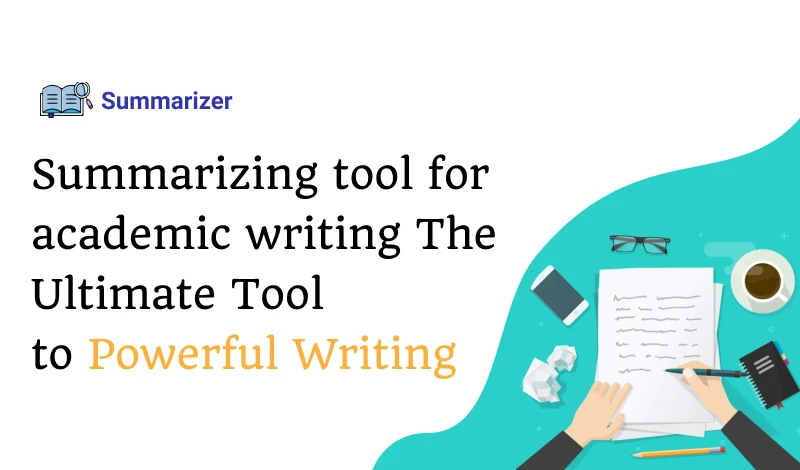 Best Summarizing Tool For Academic Writing: The Ultimate Tool to Powerful Writing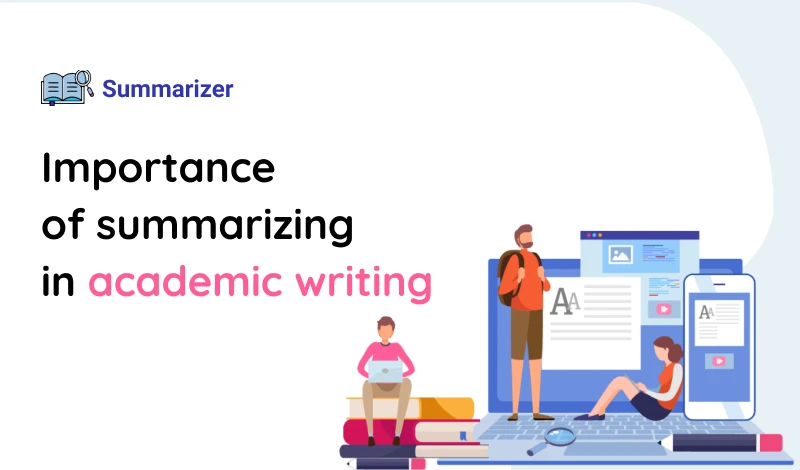 Importance of summarizing in academic writing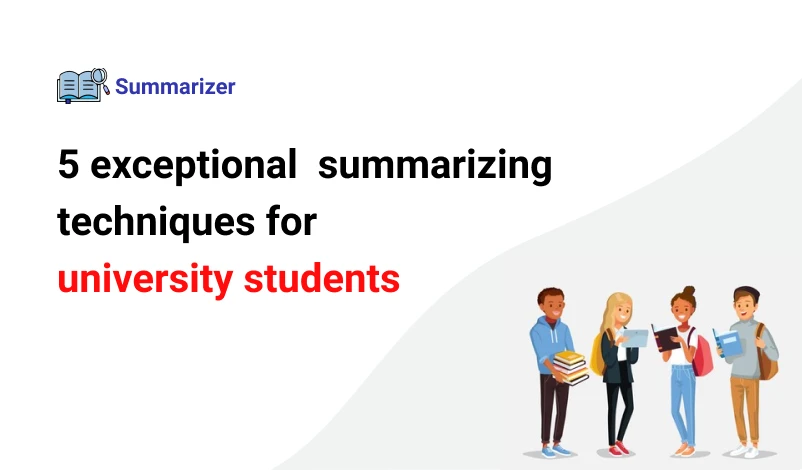 5 exceptional summarizing strategies for university students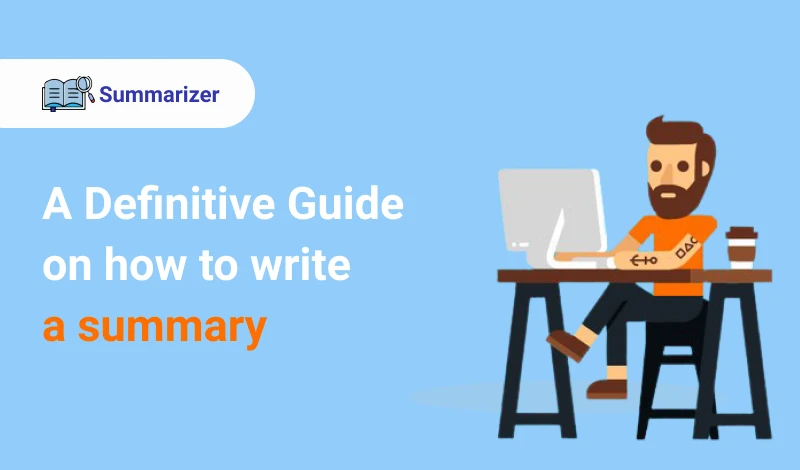 4 Benefits of Summarizer for Your Web Content
Text Compactor
Free online automatic text summarization tool.
Follow these simple steps to create a summary of your text.
Click the Summarize! button.
Read your summarized text. If you would like a different summary, repeat Step 2. When you are happy with the summary, copy and paste the text into a word processor, or text to speech program , or language translation tool
© 2010-2016 Knowledge by Design, Inc.
Best Summarizing Tool for Academic Texts
Custom writing
Summarizing
Editing / Proofreading
Copy and paste your text
Number of sentences in results:
⚙️ 12 Best Summarizing Tools
🤔 How to Summarize an Article without Plagiarizing?
📝 How to Proofread Your Summary?
⭐ Best Summarizing Tool: the Benefits
🔗 references, ✅ 12 best summary generators to consider.
We're here to offer the whole list of text summarizers in this article. Every tool has a strong algorithm so you won't have to proofread a lot in order to make the summary look hand-written. The usage of such websites can be productive for your studying as long as you can focus on more important tasks and leave this routine work to online tools.
In this blog post, you'll also find tips on successful summarizing and proofreading. These are basic skills that you will need for many assignments. To summarize text better, you'll need to read it critically, spot the main idea, underline the essential points, and so on. As for proofreading, this skill is useful not only to students but also to professional writers.
To summarize a text, a paragraph or even an essay, you can find a lot of tools online. Here we'll list some of these, including those that allow choose the percent of similarity and define the length of the text you'll get.
If you're asked to summarize some article or paragraph in your own words, one of these summary makers can become significant for getting fast results. Their user-friendly design and accurate algorithms play an important role in the summary development.
1. Summarize Bot
Summarize Bot is an easy-to-use and ad-free software for fast and accurate summary creation in our list. With its help, you can save your time for research by compressing texts. The summary maker shows the reading time, which it saves for you, and other useful statistics. To summarize any text, you should only send the message in Facebook or add the bot to Slack. The app works with various file types: including PDF, mp3, DOC, TXT, jpg, etc., and supports almost every language.
The only drawback is the absence of web version. If you don't have a Facebook account and don't want to install Slack, you won't be able to enjoy this app's features.
SMMRY has everything you need for a perfect summary—easy to use design, lots of features, and advanced settings (URL usage). If you look for a web service that changes the wording, this one would never disappoint you.
SMMRY allows you to summarize the text not only by copy-pasting but also with the file uploading or URL inserting. The last one is especially interesting. With this option, you don't have to edit an article in any way. Just put the URL into the field and get the result. The tool is ad-free and doesn't require registration.
3. Tools4Noobs summarize tool
Tools4Noobs summarize tool is a comfortable article summarizer with a wide range of settings. You can use Threshold function to limit the number of sentences based on relevance or reduce the summary to a specific length. Here it is also possible to see the main keywords or highlight them in the text. The software works with texts you insert or you can give it URL you want to summarize.
The website is ad-free and if you like it, you can support its developers by donating some money. Also, there are plenty of other useful tools and calculators for students.
4. Split Brain Summary Tool
Split Brain Summary Tool is a helpful app to summarize texts and articles in a great variety of languages. You can choose one of thirty-nine languages to make a couple of sentences on your article!
The difference in summaries also can be produced by the summarization ratio. You can change it from 5% to 80% controlling the density of paraphrasing.
There's also a possibility to insert an URL instead of the text. However, there is no option to import a file or export the result to PDF, DOC, or any other popular format. The website is ad-free and contains lots of other useful tools for students.
5. TextSummarization
TextSummarization tool allows you to put the text into the field or give a link to a source where your article is posted. Then, set the number of sentences you want to have in your text. This summary maker analyzes your nonfiction text and extracts the exact number of sentences you're aiming at.
The website is free, however, it contains ads, so make sure you turned on the ad-blocker. Also, the tool doesn't let its users import files or export the result to TXT, PDF, or Doc for other popular formats.
6. Text Compactor
Text Compactor is a free summarizing tool where you have to set the percentage of text to keep in summary. The website is ad-free and doesn't require registration. Its users can choose the output result within the range of 1-100%. If you are not satisfied with the result, change the percentage and try again. Although the tool is easy-to-use, it doesn't allow users to import files or URLs and save the result into the popular file types.
7. Resoomer
Resoomer is another paraphrasing and summarizing tool that works with several languages. You're free to use the app in English, French, German, Italian, and Spanish.
This online tool may be considered as one of the best text summarizers in IvyPanda ranking, because it allows performing many custom settings. For example, you can click to Manual and set the size of the summary (in percent or words). You can also set the number of keywords for the tool to focus on.
Among its drawbacks, we would mention that the software works only with argumentative texts and won't reword other types correctly. Also, free version contains lots of ads and does not allow its users to import files. The premium subscription costs 4.90€ per month or 39.90€/year.
8. Summarizer
Summarizer is another good way to summarize any article you read online. This simple Chrome extension will provide you with a summary within a couple of clicks. Install the add-on, open the article or select the piece of text you want to summarize and click the button "Summarize".
The software processes various texts in your browser, including long PDF articles. The result of summarizing has only 7% of the original article. This app is great for all who don't want to read long publications. However, it doesn't allow you to import file or download the result.
9. Simplifly
Simplifly is one more way to summarize a scientific article for your research. The rules are the same – install the free Chrome extension, open the website, and get a summary.
The software is ad-free, doesn't require registration, and has no character limits. It works great with online articles and news websites; however, it doesn't support PDF articles and scientific journals. You can't summarize doc or any other file, vary or download the result.
10. Autosummarizer
Autosummarizer is a great tool for those in hurry. It has a minimum of functions and produces short summaries. Users can set up from 5 to 10 sentences of the output result. The tool is free and requires no registration.
However, it doesn't allow you to summarize files or web pages. Also, you should have ad-blocker to keep yourself away from ads on this website.
11. AppZaza Article Summarizer
AappZaza Article Summarizer is one more simple summary creator for your academic and professional needs. The software is free and doesn't require registration. However, you might be distracted with lots of ads around the tool.
The app is simple and to reword a text, you need only type it or paste the article and click "Summarize Article" button. To get better results, try to summarize only well-structured documents. The software does not support import files or export the summary to any popular format.
Also, the appZaza website contains a lot of useful tools and apps that may come in handy for every student.
12. Summary Generator
The last article and essay Summary Generator in our list which can be helpful for your experience in college or university. This is free open software everyone can use.
The tool has only two buttons—one to summarize the document and the other to clear the field. With this software, you'll get a brief summary based on your text. You don't have to register there to get your document shortened.
Speaking about drawbacks of the website, we would mention too many ads and no options to summarize a URL or document, set up the length of the result and export it to the popular file types.
These were the best online summarizing tools to deal with the task effectively. We hope some of them became your favorite summarizers, and you'll use them often in the future.
Not sure if a summarizer will work for your paper? Check out this short tutorial on how the text summarizing tool can come in handy for essay writing.
🤔 Techniques & Tools to Summarize without Plagiarizing
Of course, there are times when you can't depend on online tools. For example, you may be restricted to use them in a class or maybe you have to highlight some specific paragraphs and customizing the tool's settings would take more time and efforts than summary writing itself.
In this chapter, you'll learn to summarize a long article, essay, research paper, report, or a book chapter with the help of helpful tips, a logical approach, and a little bit of creativity.
Here are some methods to let you create a fantastic summary.
Know your goal. To choose the right route to your goal, you need to understand it perfectly. Why should you summarize the text? What is its style: scientific or publicistic? Who is the author? Where was the article published? There are many significant questions that can help to adapt your text better. Develop a short interview to use during the summary writing. Include all the important information on where you need to post the text and for what purpose.
Thorough reading. To systemize your thoughts about the text, it's significant to investigate it in detail. Read the text two or more times to grasp the basic ideas of the article and understand its goals and motives. Give yourself all the time you need to process the text. Often we need a couple of hours to extract the right results from the study or learn to paraphrase the text properly.
Highlight the main idea. When writing a summary, you bear a responsibility for the author. Not only you have to extract the significant idea of the text but to paraphrase it correctly. It's important not to misrepresent any of the author's conclusions in your summary. That's why you should find the main idea and make sure, you can paraphrase it without a loss of meaning. If possible, read a couple of professional reviews of a targeted book chapter or article. It can help you to analyze the text better.
Mark the arguments. The process of summarizing is always easier if you have a marker to highlight important details in the text. If you don't have a printed text, there's always Microsoft Word to use a highlight tool on the paper. Try to mark all arguments, statistics, and facts in the text to represent them in your summary. This information will turn into key elements of the summary you'll create, so keep attention on what you highlight exactly.
Take care of plagiarism. Before you start writing, learn what percent of originality should you aim at. Various projects have different requirements. And they determine how many efforts you should put into writing to get a perfect summary your teacher will like. Depending on the percent of originality, build a plan for your short text. Allow yourself copy as much information as allowed to save your time.
Build a structure. With the help of key elements, which you've highlighted in the text, it's possible to create a powerful structure including all the interesting facts and arguments. Develop an outline according to a basic structure – introduction, body, and conclusion. Even if your summary is extremely short, the main idea should sound in both the first and last sentences.
Write a draft. If you're not a professional writer, it can be extremely difficult to develop a text with the correct word count on the first try. We advise you to develop a general text firstly – include all the information without controlling the number of sentences.
Cut out the unnecessary parts. On this step, you should edit the draft and eliminate the unnecessary parts. Keep in mind, the number of sentences your summary must contain. Make sure the main point is fully represented in the text. You can cut out any sentence except those concluding the significant arguments.
Wordiness – you should delete unnecessary words, which make it difficult to understand the text
Common mistakes – mistakes made in academic papers are basically the same, so it's helpful to have an article like this one when you're proofreading
Appropriate terminology – for each topic, there's a list of the terminology you can use
Facts and statistics – you can accidently write a wrong year or percent, make sure to avoid these mistakes
Quotes – every quote should be written correctly and have a link to its source.
📝 How to Proofread the Summarized Text?
Now, when you know how to summarize an article, it's time to edit your text whether it's your own writing or a summary generator's results.
In this chapter, you'll see the basic ways to proofread any type of text: academic paper (essay, research paper, etc.), article, letter, book's chapter, and so on.
Proofread your summary. Are there times when you can't remember an appropriate synonym? Then you should use Thesaurus and analogous services from time to time. They can expand your vocabulary a lot and help to find the right words even in the most challenging situations.
Pay attention to easily confused words. It's especially significant if you edit a nonfiction text – there's a number of words people often confuse without even realizing. English Oxford Living Dictionaries have a list of these word pairs so you won't miss any.
Proofread one type of mistakes at a time. To edit a paper properly don't split your attention to grammar and punctuation—this way you can miss dozens of mistakes. To get more accurate results, read the first time to edit the style, the second to eliminate grammar mistakes, and the third to proofread punctuation. Take as many times as you need to concentrate on each type.
Take a rest from your paper. If you use an online summarizing tool, you can skip this step. But if you've been writing a paper for several hours and now trying to edit it without taking a break, it may be a bad idea. Why? Because without a fresh pair of eyes there's a great possibility not to spot even obvious mistakes. Give yourself some time to slightly forget the text—go for a walk or call a friend, and then return to work as a new person.
Hire a proofreader. If you need to get perfect results, think about hiring a professional. Skills and qualification, which they have, guarantee a perfect text without any mistakes or style issues. Once you find a proofreader, you can optimize your work perfectly. Search for specialists on freelance websites like UpWork — it's comfortable and safe to use. Of course, there's one flaw you should think about—hiring a pro is expensive. So, everyone should decide on their own whether they need to spend this money or not.
Switch your paper with a friend. If you can't afford a professional editor, there's a less expensive option—ask a friend to look through your paper and proofread theirs in return. Make sure, you both make manual editing, not just check it with Microsoft Office or analogous software. Although there are great grammar tools, they still can't spot many mistakes obvious to a human.
Use grammar checking tools. We recommend you not to depend on multiple grammar tools. But the assistance it can offer is irreplaceable. Start your proofreading by scanning your text with Grammarly or an analogous tool. The service detects many types of errors including confusing words' pairs, punctuation, misspellings, wordiness, incorrect word order, unfinished sentences, and so on. Of course, you should never correct the mistakes without thinking on every specific issue. Tools not only miss a lot of mistakes but they also can be wrong about your errors.
Read aloud. It's amazing how different the written text can sound when read aloud. If you practice this proofreading method, you know that many mistakes can be spotted if you actually pronounce the text. Why does it happen? People understand information better if they perceive it with the help of different senses. You can use this trick even in learning— memorize the materials with the help of reading, listening, and speaking.
These tips are developed to help students proofread their papers easily. We hope this chapter and the post itself create a helpful guide on how to summarize an article.
Here you found the best summarizing tools, which are accessible online and completely free, and learned to summarize various texts and articles on your own.
❓ Summary App FAQs
Use your own words . Try to avoid paraphrasing the text sentence by sentence.
Use special software to check your summary for plagiarism. There are many free plagiarism checkers to be found online.
Do not forget that presenting other authors' ideas without any reference to them, even when done in your own words, is also plagiarism. Be sure to refer to the source when working on your text.
Read the text thoroughly to make sure that you understand its main idea quite well.
Write an introduction . Formulate there the main idea of the text. Articulate it very clearly, make a short statement.
Put your source away and write the body of your summary without looking into it . If you feel that you've forgotten something important, go back to the source and reread the whole story. Then go on working on your summary.
A Language Independent Algorithm for Single and Multiple Document Summarization: aclweb.org
4 of the Best Online Summarizer Tools to Shorten Text: maketecheasier
Summarizing: University of Toronto
5 Easy Summarizing Strategies for Students: ThoughtCo.
3 Advantages of Automatic Text Summarization: Ezine Articles
Comparative Study of Text Summarization Methods: Semantic Scholar
How to Write a Summary: UTEP
How to Write a Summary: UW
Free Essays
Writing Tools
Lit. Guides
Donate a Paper
Referencing Guides
Free Textbooks
Tongue Twisters
Job Openings
Expert Application
Video Contest
Writing Scholarship
Discount Codes
IvyPanda Shop
Terms and Conditions
Privacy Policy
Cookies Policy
Copyright Principles
DMCA Request
Service Notice
This page is for anyone interested in creating a summary for an essay or any other written work. It lists the best online summarizing tools and gives advice on how to summarize an article well. Finally, you'll find tips on how to properly proofread your summary.