Awards Season
Big Stories
Pop Culture
Video Games
Celebrities
"Bullet Train" Review: Brad Pitt Leads a Star-Packed Ensemble in Action-Comedy by "Deadpool 2" Director
Rating: 5/10
Watching Bullet Train confirmed what I suspected: I'm not its intended target audience. The movie, which opens in theaters on Friday, August 5, is helmed by Deadpool 2 director David Leitch, based on Kōtarō Isaka's Japanese novel of the same name and stars Brad Pitt as Ladybug, a hitman down on his luck.
Bullet Train 's brand of over-the-top violence and stylized fight scenes choreographed to pop songs isn't exactly my cup of tea — in the sense that I'd much rather watch people actually drinking tea than having their heads blown up, bright-red blood splattering everywhere.
I don't see violence as something remotely funny, no matter how absurd or excessive-bordering-on-the-surreal its nature. I never watched Kill Bill Vol. 2 because I barely had the stomach for Vol 1 . And I felt Bullet Train was borrowing a bit from Quentin Tarantino's neo-western: from the samurai swords to the heightened colors and a curated soundtrack of popular themes.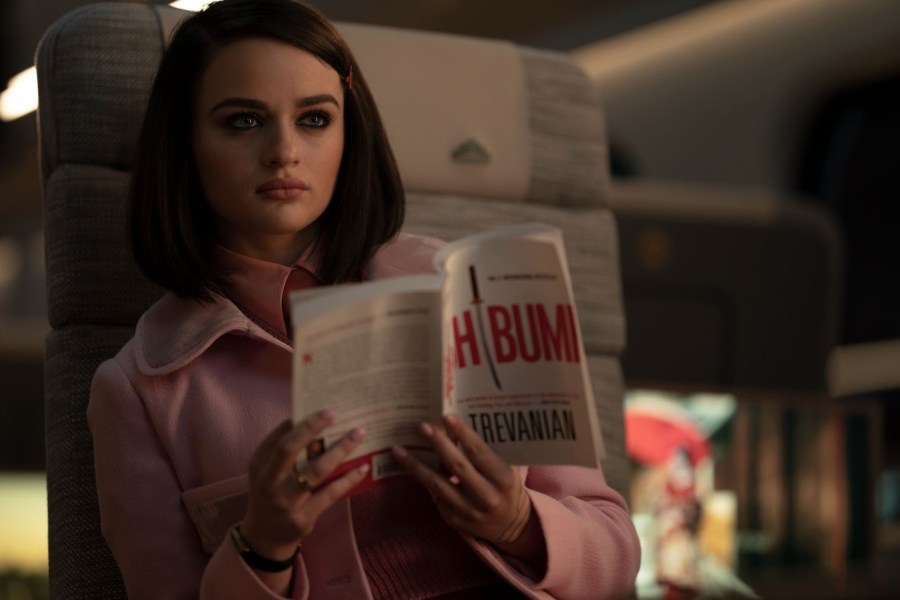 In Bullet Train , Ladybug finds himself aboard a high-speed train traveling at night from Tokyo to Kyoto. He's in constant phone communication with his handler, Maria (Sandra Bullock), who not only gives him details about this last-minute mission where he needs to retrieve a briefcase from the train but also operates as a sort of therapist, reassuring Ladybug at every turn. And he needs a lot of reassurance.
It turns out that the train is swarming with thugs and dubious characters — most of them intent on getting ahold of the briefcase and its contents. Joey King ( The Kissing Booth ) plays Prince, a deceiving young woman whom almost everyone reads incorrectly. Aaron Taylor-Johnson ( Kick-Ass ) and Brian Tyree Henry ( Eternals ) are Tangerine and Lemon, two perfectly attired assassins who share a brotherly bond. Martial artist Andrew Koji is the revengeful Kimura. Benito A Martínez Ocasio, a.k.a. Bad Bunny in his first role after Narcos: México , is the Wolf. And Zazie Beetz ( Atlanta ) plays the chameleonic Hornet. Hiroyuki Sanada, Logan Lerman, Masi Oka and Michael Shannon round out the ensemble cast. Their characters all find themselves crossing paths with Ladybug at one point or another.
Tarantino isn't the only filmmaker Leitch is heavily influenced by here. There's also a Guy Ritchiness in the way this movie was conceived. The rapid repartee among the Brits Tangerine and Lemon brought me memories of Snatch (2000) and RocknRolla (2008). (Henry worked with a dialect coach and had me googling him at the end of the movie. He duped this Spaniard into believing he was actually British and not American. He's not.) And there's an overall self-deprecating and sarcastic tone coming also from other characters, especially Ladybug.
Pitt is having a lot of fun as the superstitious Ladybug, and the movie relies heavily on his ability to carry it with ease. His charisma on screen makes up for almost anything, but I couldn't help but feel he's played some sort of version of this character — with a different accent — before in one of his collaborations with Tarantino ( Inglourious Basterds ), Ritchie ( Snatch ) or the Coen Brothers ( Burn After Reading ). He even does his eating-almost-compulsively thing . In this case, it's wasabi green peas.
Leitch came to directing from the planned art of stunt performance — he was actually Pitt's stunt double in Fight Club , Mr. & Mrs. Smith and Troy , among others — and with John Wick co-director Chad Stahelski they've come to define a new brand of heavily designed action movies packed with somewhat naturalistic hand-to-hand fight scenes.
You can see all of that here. There are several instances of Ladybug encountering his foes on the train and having to defend himself. Let me mention one specific fight in which Ladybug and Lemon try to almost kill each other while remaining perfectly silent because they're in the quiet car of the train.
There's a beauty in how the movie looks, from the framing of the neon-lit Tokyo at night to the different cars in the bullet train where most of the film takes place: the bar, the concession stand, the plush-toy-filled thematic car .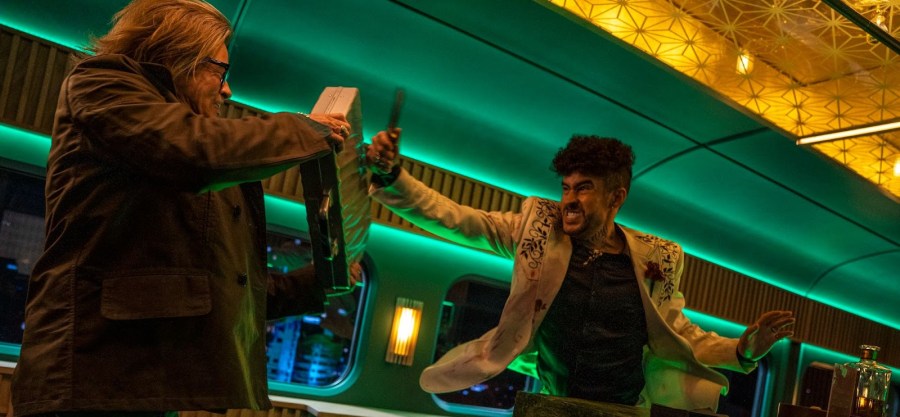 That beauty in the film's production design extends to the wardrobe. The action takes place all in one night. The characters are dressed in coats, blazers and other layers of clothing that they peel off as the night progresses. They appear different — grubbier, more bloodied — as they keep taking garments off.
I enjoyed that aesthetically curated side of Bullet Train . Taylor-Johnson looks undeniably good in a mustache and a three-piece bespoke suit. Bad Bunny's character's backstory is fittingly told to an Alejandro Sanz song. Pitt shows how to strut to "Stayin' Alive" even if he's wearing white Converse sneakers. And King's Prince takes advantage at every turn of the fact that everyone underestimates her ability to be lethal because of how she looks.
Then there are the cameos. Two big-name actors pop up for maximal comic achievement. One of them got the biggest laugh from me — granted, up until that moment I was mostly grimacing. When approached by Pitt's character first and Taylor-Johnson's later on, the character played by one of the big-name actors wants to know whether there'll be sex stuff involved. And a part of me wished she was watching that movie instead of the one where they had shown me how 16 — actually 17 — people had been killed in a sequence meant to be hilarious.
But even if I found Bullet Train uninventive, long and most definitely not for me, I can see how a part of the audience would thoroughly enjoy it in all of its excess, style and humor.
MORE FROM ASK.COM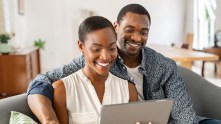 Log in or sign up for Rotten Tomatoes
Trouble logging in?
By continuing, you agree to the Privacy Policy and the Terms and Policies , and to receive email from Rotten Tomatoes.
By creating an account, you agree to the Privacy Policy and the Terms and Policies , and to receive email from Rotten Tomatoes.
Email not verified
Let's keep in touch.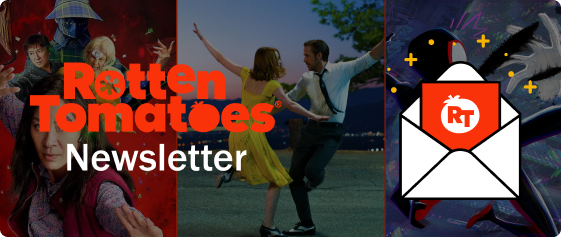 Sign up for the Rotten Tomatoes newsletter to get weekly updates on:
Upcoming Movies and TV shows
Trivia & Rotter Tomatoes Podcast
Media News + More
OK, got it!
Movies / TV
No results found.
What's the Tomatometer®?
Login/signup
Movies in theaters
Opening this week
Coming soon to theaters
Certified fresh movies
Movies at home
Netflix streaming
Amazon prime
Most popular streaming movies
What to Watch New
Certified fresh picks
Flora and Son Link to Flora and Son
Fair Play Link to Fair Play
The Wonderful Story of Henry Sugar Link to The Wonderful Story of Henry Sugar
New TV Tonight
Gen V: Season 1
Castlevania: Nocturne: Season 1
The Irrational: Season 1
The Amazing Race: Season 35
Survivor: Season 45
Hell's Kitchen: Season 22
The Voice: Season 24
Love in Fairhope: Season 1
The Kardashians: Season 4
Frieren: Beyond Journey's End: Season 1
Most Popular TV on RT
Sex Education: Season 4
Star Wars: Ahsoka: Season 1
Dear Child: Season 1
The Continental: From the World of John Wick: Season 1
One Piece: Season 1
The Fall of the House of Usher: Season 1
American Horror Story: Season 12
The Gold: Season 1
Top TV Shows
Certified Fresh TV
Most popular TV
Certified fresh pick
Gen V: Season 1 Link to Gen V: Season 1
All-Time Lists
Binge Guide
Comics on TV
Five Favorite Films
Video Interviews
Weekend Box Office
Weekly Ketchup
What to Watch
Vampire TV Shows Ranked By Tomatometer
All Saw Movies Ranked
What to Watch: In Theaters and On Streaming
Celebrating Hispanic Heritage
12 Horror Picks from '23 Fall Festival Calendar
New Movies & TV Shows Streaming in October 2023: What To Watch on Netflix, Prime Video, Disney+, and More
Trending on RT
The Creator
The Wonderful Story of Henry Sugar
The Fall of the House of Usher
Bullet Train
2022, Action/Comedy, 2h 6m
What to know
Critics Consensus
Bullet Train 's colorful cast and high-speed action are almost enough to keep things going after the story runs out of track. Read critic reviews
Audience Says
It could have been a more entertaining ride, but if you're in the mood for a decent thriller to pass the time, Bullet Train will get you where you want to go. Read audience reviews
Where to watch Bullet Train
Watch Bullet Train with a subscription on Netflix, rent on Vudu, Amazon Prime Video, or buy on Vudu, Amazon Prime Video.
Rate And Review
Super Reviewer
Rate this movie
Oof, that was Rotten.
Meh, it passed the time.
It's good – I'd recommend it.
So Fresh: Absolute Must See!
What did you think of the movie? (optional)
You're almost there! Just confirm how you got your ticket.
Step 2 of 2
How did you buy your ticket?
Let's get your review verified..
AMCTheatres.com or AMC App New
Cinemark Coming Soon
We won't be able to verify your ticket today, but it's great to know for the future.
Regal Coming Soon
Theater box office or somewhere else
By opting to have your ticket verified for this movie, you are allowing us to check the email address associated with your Rotten Tomatoes account against an email address associated with a Fandango ticket purchase for the same movie.
You're almost there! Just confirm how you got your ticket.
Bullet train videos, bullet train photos.
In Bullet Train, Brad Pitt stars as Ladybug, an unlucky assassin determined to do his job peacefully after one too many gigs gone off the rails. Fate, however, may have other plans, as Ladybug's latest mission puts him on a collision course with lethal adversaries from around the globe -- all with connected, yet conflicting, objectives -- on the world's fastest train. From the director of Deadpool 2, David Leitch, the end of the line is only the beginning in a wild, non-stop thrill ride through modern-day Japan.
Rating: R (Pervasive Language|Brief Sexuality|Strong and Bloody Violence)
Genre: Action, Comedy
Original Language: English
Director: David Leitch
Producer: Kelly McCormick , David Leitch , Antoine Fuqua
Writer: Zak Olkewicz
Release Date (Theaters): Aug 5, 2022 wide
Release Date (Streaming): Dec 3, 2022
Box Office (Gross USA): $103.1M
Runtime: 2h 6m
Distributor: Columbia Pictures
Production Co: Sony Pictures Entertainment (SPE), 87North, Hill District Media, CTB Inc.
Sound Mix: Dolby Atmos
Aspect Ratio: Scope (2.35:1)
Cast & Crew
Aaron Taylor-Johnson
Brian Tyree Henry
Andrew Koji
Hiroyuki Sanada
Michael Shannon
Sandra Bullock
Maria Beetle
Zazie Beetz
Logan Lerman
Karen Fukuhara
Andrea Munoz
David Leitch
Zak Olkewicz
Screenwriter
Kelly McCormick
Antoine Fuqua
Brent O'Connor
Executive Producer
Ryosuke Saegusa
Yuma Terada
Jonathan Sela
Cinematographer
Dominic Lewis
Original Music
David Scheunemann
Production Design
Richard Bloom
Art Director
Nicolas Plotquin
Elizabeth Keenan
Set Decoration
Sarah Evelyn
Costume Designer
Lindsay Graham
Mary Vernieu
Brittany Morrissey
News & Interviews for Bullet Train
The 57 Most Anticipated Movies of 2022
Weekend Box Office Results: Bullet Train Chugs into Top Spot with $30 Million
The Bullet Train Stars on Their Unique Characters and the Influence of Jackie Chan
Critic Reviews for Bullet Train
Audience reviews for bullet train.
There are no featured audience reviews for Bullet Train at this time.
Movie & TV guides
Shop Rotten Tomatoes: Game, Gifts Cards & More
RT Podcasts: Rotten Tomatoes is Wrong
What to Watch - In theaters & streaming
Movie Reviews
Tv/streaming, collections, great movies, chaz's journal, contributors, bullet train.
Now streaming on:
"Bullet Train" is an action film that could easily have been an animated movie, and often looks and feels like one. The story takes place on a bullet train careening across Japan, but most of the movie was shot on green-screened sets, and the cityscapes and countrysides that the train rides through are mainly miniatures and CGI. Its characters are a touch abstract as well, and knowingly comic-bookish. All are either paid killers or otherwise violent individuals connected with the world of crime, and the majority either have grudges against one of the other characters or are the object of a grudge and trying to escape the consequences of past actions. They tend to have tragic-sentimental backstories or be purely malevolent—and inevitably, 30 years after the great Tarantino realignment of the early nineties, most of them are chatterboxes who will monologue at anyone who doesn't point a gun at their head and order them to shut up, and the tone mixes winking black comedy and poker-faced pulp. 
Brad Pitt stars as Ladybug, a former assassin ordered to board the train, steal a briefcase, and get off. He's replacing another assassin who became unavailable at the last minute, and he refuses his handler's advice to carry a gun because he just got out of anger management and has renounced killing. Ladybug's fellow killers are a bomber crew of homicidal oddballs. Joey King is "The Prince," who poses as an innocent schoolgirl appalled by the cruelty of men, but immediately reveals herself as a clever and ruthless engine of destruction. Brian Tyree Henry and Aaron Taylor-Johnson (who's groomed to look like the evil drunk Begbie from the original " Trainspotting ") are brothers who have gone from mission to mission racking up a body count seemingly in the triple digits, and now find themselves on the train protecting the briefcase and escorting the depressed twentysomething wastrel son ( Logan Lerman ) of a terrifying crime boss known as the White Death. 
The White Death is a Russian who took over a Yakuza family. His face isn't shown until the end of the story (it's more fun for the audience to resist Googling who plays him, because his casting is one of the best surprises in the whole thing). Hiroyuki Sanada is "The Elder," a greying but still lethal assassin connected to the White Death, and Andrew Koji is " The Father "—The Elder's son, obviously; they're out for vengeance because somebody pushed The Elder's grandson off a department store roof, putting him in a coma. They believe the person responsible is on the train, mingling with all the other agents of death. 
The plot initially seems goal-driven, revolving around the comatose grandson and the metal briefcase. But as the script adds new fighters to the mix, and establishes that they're all tangentially connected, "Bullet Train" morphs into a half-assed but sincere statement on fate, luck, and karma—and Ladybug's constant (and often humorously annoying) comments on those subjects, voiced in discussions through a handler (Sandra Bullock's Maria Beetle, heard via earpiece), start to feel like an instruction manual for grokking what the movie is "actually" up to. (Ladybug is kind of a post-credits Jules from " Pulp Fiction " after having repudiated violence; but he's still stuck in the life, and it has become more challenging because he has resolved never to pick up a gun again.)
Characters are given the sorts of typeface-onscreen-followed-by-flashback-montage introductions that genre fans will recognize from directors like Quentin Tarantino ("Kill Bill" seems to be a primary influence) and Guy Ritchie (who pioneered a particular brand of "lad action" in which verbal insults become little fists and knives deployed against enemies). The fighters go after each other with guns, blades, fists and feet, and any objects they can get their hands on (the briefcase gets a workout as both a defensive weapon and a bludgeon). They banter as they struggle. Sometimes when one of them dies, the film's tone will shift into a maudlin lament that is often affecting because of the cast's skill, but that doesn't inspire deep emotion since the rest of the movie is so glib and superficial.
The film is directed by David Leitch , a former stunt coordinator and screen double for Jean-Claude Van Damme and this film's star, Brad Pitt, and the onetime directing partner of Chad Stahleski (of the " John Wick " series). He's become a specialist in high-grade acrobatic mayhem, having directed " Deadpool 2 ," " Atomic Blonde ," and " Fast & Furious Presents: Hobbs & Shaw ." It's hard to deny that he's one the best when it comes to overseeing this type of production—and it's a kick seeing "Bullet Train" lean into its most ridiculous visuals, which verge on " Speed Racer " psychedelia.
But whether this type of project is entirely worth doing is a different matter. It seems to want to have it both ways, telling us "this is all light and silly and none of it is of any consequence" and at the same time trying to whack us across the throat with a moment of dramatic power so that we cry for the characters. Henry and Taylor-Johnson's story gets there, thanks to the love expressed between the brothers even when they're breaking each other's chops, and the performances of the two actors have a direct connection with the audience despite boasting Cockney accents that might not pass muster in a college production of " My Fair Lady ." (The greatest achievement in the film is that Henry manages to take his character's relentless comparison of everyone else to Thomas the Tank Engine characters, and make you not loathe the gimmick on general principle.)
But the rest feels forced and insincere. "Bullet Train" is at its best when it's a comedy about self-styled badasses who think they're free agents but are all just passengers on a train rocketing from one station to another, oblivious to the desires of any individual riding on it. But the abstractness and "it's all a lark" humor neuter aspects that might sink roots into the viewer's mind. 
The project is abstract in another way as well: the script's source is a Japanese novel by Kōtarō Isaka, and the characters were Japanese. Leitch and company—who inherited the project from Antoine Fuqua , who had wanted to make a less jokey "Die Hard on a Train"-type film—have recast the tale "internationally," starting with Leitch's longtime screen partner Pitt. They had reportedly considered relocating the story to Europe, but decided to keep the Japanese setting anyway, and have defended this on grounds that "Bullet Train" is a fantastical film that could be set anywhere, and is basically taking place nowhere.
The explanation doesn't wash, considering how dependent "Bullet Train" is on Japanese signifiers and cultural attitudes (King's character is an anime "schoolgirl" avatar come to life)—not to mention essentially deracinating all of the core characters save for a handful of stereotypical Yakuza, who have been given a Russian chieftain modeled on Keyser Söze from " The Usual Suspects ." Even in a fantasy, the latter seems a stretch, although the actors all sell it like the professionals they are. If nothing in the movie is real—either as a justification for the casting, or as a guiding aesthetic—why not just go full "Speed Racer" or " The Matrix " with it, and own the green-screeness of the entire project, and set it in the future on another planet, or in an alternate dimension? It's practically a Marvel superhero movie anyway, except that the characters can't come back to life after being killed off. The result might've been a delirious work of art, instead of a technically and logistically ambitious movie that doesn't leave much of an emotional or intellectual footprint.
Now playing in theaters. 
Matt Zoller Seitz
Matt Zoller Seitz is the Editor at Large of RogerEbert.com, TV critic for New York Magazine and Vulture.com, and a finalist for the Pulitzer Prize in criticism.
Now playing
The Continental: From the World of John Wick
birth/rebirth
Sheila o'malley.
Relax, I'm From The Future
Creation of the Gods I: Kingdom of Storms
Simon abrams.
It Lives Inside
Robert daniels.
Peyton Robinson
Film credits.
Bullet Train (2022)
Rated R for strong and bloody violence, pervasive language, and brief sexuality.
127 minutes
Brad Pitt as Ladybug
Aaron Taylor-Johnson as Tangerine
Brian Tyree Henry as Lemon
Joey King as The Prince
Zazie Beetz as The Hornet
Bad Bunny as The Wolf
Andrew Koji as Kimura
Michael Shannon as The White Death
Hiroyuki Sanada as The Elder
Sandra Bullock as Maria Beetle
Writer (based on the book by)
Cinematographer
Jonathan Sela
Elísabet Ronaldsdóttir
Dominic Lewis
Latest blog posts
Second Sight Releases Stellar 4K Versions of Crimes of the Future, It Follows
Home Entertainment Guide: September 2023
Prime Video's Gen V is An Antidote for Superhero Fatigue
Remembering Pearl Bowser (1931-2023), Godmother of Black Independent Cinema
Cast & crew
User reviews
Bullet Train
Five assassins aboard a swiftly-moving bullet train find out that their missions have something in common. Five assassins aboard a swiftly-moving bullet train find out that their missions have something in common. Five assassins aboard a swiftly-moving bullet train find out that their missions have something in common.
David Leitch
Zak Olkewicz
Kôtarô Isaka
Aaron Taylor-Johnson
1.6K User reviews
315 Critic reviews
49 Metascore
See more at IMDbPro
1 win & 13 nominations
(as Benito A Martínez Ocasio)
Kayda Izumi Concession Girl
All cast & crew
Production, box office & more at IMDbPro
More like this
Did you know
Trivia Brad Pitt 's character says that he never forgets a face but struggles to remember who The Wolf is. In real life, Pitt has prosopagnosia, a condition that impairs the ability to recognize familiar faces, including one's own face. He has said in interviews that, just as his character does, he needs to remember the context and the situation in which he has met someone in order to remember who that person is.
Goofs The Yakuza are routinely depicted as being armed with, and using, guns. In reality, the Yakuza, and other Japanese criminals, almost never use guns (Japan averages fewer than ten gun homicides nationwide in most years). The incredibly strict gun laws in Japan mean that it's just not worth it for even professional criminals like the Yakuza to use firearms. Even possessing an illegal gun, without a link to any other crime, can lead to a hefty prison sentence.
Lemon : Who the fuck are you?
Ladybug : Really? You don't remember me?
Lemon : You look like every white homeless man I've ever seen.
Crazy credits SPOILER: There is a scene in the closing credits: Lemon survives his fall into the lake, and it is revealed that he hijacked and drove the truck that ran over Prince.
Connections Featured in NBC Sunday Night Football: 2022 NFL Hall of Fame Game: Jacksonville Jaguars vs. Las Vegas Raiders (2022)
Soundtracks Stayin' Alive Written by Barry Gibb , Robin Gibb and Maurice Gibb Produced by Dominic Lewis and Daniel Pinder (as Dan Pinder) Performed by Avu-chan (Queen Bee) Avu-chan (Queen Bee) appears courtesy of Sony Music Labels Inc.
User reviews 1.6K
Aug 3, 2022
The original novel has been published for years. Why can't the movie reveal the actors' roles? Is it necessary to keep it a secret who will play which role?
August 5, 2022 (United States)
United States
Official Site (Japan)
Sát Thủ Đối Đầu
Tokyo, Japan (There is no reference in end crawl credits for filming in Japan. All shots attributing scenes are sets, stock file or created images.)
Hill District Media
See more company credits at IMDbPro
$85,900,000 (estimated)
$103,368,602
$30,030,156
Aug 7, 2022
$239,268,602
Technical specs
Runtime 2 hours 7 minutes
Dolby Atmos
IMAX 6-Track
Related news
Contribute to this page.
IMDb Answers: Help fill gaps in our data
Learn more about contributing
More to explore
Recently viewed
International edition
Australia edition
Europe edition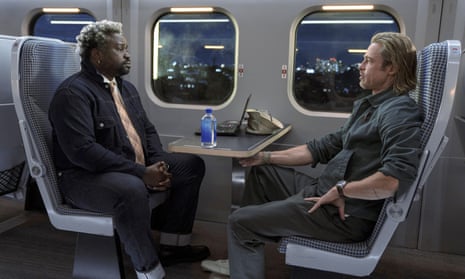 Bullet Train review – Brad Pitt goes second class in brainless action movie
A high-speed Japanese train full of assassins hits the buffers big time in this doomed star vehicle
T here are plenty of big, dumb action movies that can deliver thrills without exactly taxing the brain. And then there are films that are so thunderously stupid they bypass guilty-pleasure status and end up as a danger to themselves and all around them. Bullet Train falls into the latter camp. It's so imbecilic, you wouldn't trust it to cross the road unsupervised, let alone negotiate Japan's Shinkansen high-speed rail network.
The premise, adapted from Kōtarō Isaka's 2010 novel, is simple: Brad Pitt plays a privately contracted operative, codenamed Ladybug, who is hired by unknown clients to execute various shady missions. These could involve assassinations, but since he's re-entering the murky mercenary waters after a period of soul-searching and therapy, his first gig back is theoretically an easy one. He just has to steal a silver briefcase on a bullet train heading to Kyoto. But Ladybug is cursed with appalling luck. And it turns out that the whole train is packed with hired killers, extravagantly armed with guns, swords, grudges and a selection of toxins, all of whom seem intent on knifing each other in the face.
Key among the cast are a British duo with a near-fraternal bond: Tangerine (Aaron Taylor-Johnson) and Lemon (Brian Tyree Henry). Taylor-Johnson is a sharp-suited geezer who looks, like so much in this brash, hollow film, as though he could have been transplanted from Matthew Vaughn's obnoxious Kingsman series. Henry, meanwhile, is lumbered with a thankless idiot-savant role. Lemon is obsessed with – I kid you not – the children's book series Thomas the Tank Engine , and claims that it provides a blueprint by which to read a person's core traits. Thus a Henry is essentially decent, but a Diesel is nefarious and slippery. Predictably, the cast of Bullet Train skews towards the Diesel end of the spectrum.
Also on board is a schoolgirl who goes by the name of Prince (Joey King), who may be the innocent bystander she claims to be. But as previous Japan-set action movies, notably Quentin Tarantino's Kill Bill: Volume 1 , have taught us, schoolgirls are rarely to be trusted. She's the only female character of note – it comes to something when a disposable plastic water bottle gets more of a backstory than the other women in the film.
Monumentally dull-witted as it is, it's not only the cloddish plotting that sends this picture to the dunce's corner. Other equally lunkish movies are redeemed by their action sequences. And director David Leitch, the man behind high-octane stabathons such as Atomic Blonde , certainly knows his way around a fight sequence. But the film's gimmick – the train setting – is also a problem. An inventive close-quarters battle on public transport can be a thing of real beauty – just look at the bus sequences in Nobody and Shang-Chi and the Legend of the Ten Rings for two recent examples. But if all the combat choreography is contained within the metal tube of a train carriage, it soon starts to get a little repetitive, no matter how many samurai swords and venomous snakes you throw into the mix.
But there's a further issue: the tone. Bullet Train is infuriatingly pleased with itself. And ground zero for this implosion of self-satisfaction is Pitt. There's a school of thought that argues that Pitt is the film's saving grace. Certainly, he's one of the more likable elements. He plays his character like an affable golden retriever that has swallowed a self-help manual, sporadically coughing up a semi-masticated personal growth tip. But he's also, in many ways, culpable for this mess. The Pitt celebrity is the freight that gave the project its momentum in the first place; his involvement is presumably the reason that nobody demanded a rewrite, or at the very least a tighter edit, to slam on the emergency brakes and avert the inevitable disaster.
Action and adventure films
The Observer
Most viewed
Advertisement
Supported by
'Bullet Train' Review: Ride and Die
Brad Pitt plays an amiable assassin who gets stuck on a Japanese high-speed train with a motley crew of other killers and no easy way out.
By Manohla Dargis
The giddily violent bummer "Bullet Train" takes place in Japan on a high-speed train that turns into a theater of death. It's watchable — it stars Brad Pitt — jokey, sometimes funny and predictably stupid. Hollywood has long churned out dumb, brutal stories, one difference being that today filmmakers no longer need to rationalize carnage with moralizing or blather about heroic codes. The special effects are better now, too, of course — the splatter looks real good.
The story is incidental; the vibe, Looney Tunes Tarantino-esque. Mostly it turns on villains fighting and killing and fighting some more as a loosey-goosey Pitt moves from car to car punching, joking, mugging, scheming and sprinting. His character, an assassin having a crisis of faith, has the cutesy handle Ladybug and is an underworld hireling who takes orders from a smooth talker (Sandra Bullock) who largely remains offscreen. For his new mission he has to steal a briefcase, a job he takes on with anxiety issues, serious skills and a white hat that he soon ditches, letting loose a perfect golden-boy bedhead and much violence.
Freely adapted from "Maria Beetle," a page turner by the Japanese author Kotaro Isaka , the movie was directed by David Leitch and written by Zak Olkewicz. As might be expected from a big-ticket studio item, there have been changes in the transition to the screen, including the commercially strategic makeup of the main characters. Most are now Westerners, including Benito Antonio Martínez Ocasio, a.k.a. Bad Bunny, who pops up as a cartel caricature, and Brian Tyree Henry and Aaron Taylor-Johnson, who stick around longer as tag-teaming British assassins. Also onboard are Joey King, Hiroyuki Sanada, Andrew Koji, Zazie Beetz, Michael Shannon and an underused Karen Fukuhara.
The likable cast is among the movie's attractions, as is its stunt choreography. Leitch is a former stunt man (he's worked as a stunt double for Pitt) and his background shows throughout "Bullet Train," which takes place largely inside the narrow confines of the train as it races from Tokyo to Kyoto. Leitch does some nice work within these severely circumscribed spaces and one of the wittiest fights finds Ladybug and Henry's character grappling in face-to-face seats across a table, their bodies eventually intertwined as they wrestle and writhe. (They're shushed by a sexist old-biddy cliché who looks like Garth from "Wayne's World.")
If Leitch doesn't always work within the train's tight quarters — each car a separate film set — as imaginatively as he should it's partly because he's too busy juggling the story's many busy churning parts, including a glut of flashbacks. Again and again, the movie cuts away from the main action to fill in one of the characters' backgrounds, which are never as engaging as Pitt et al. running daffily amok. These flashbacks add negligible texture and even less interest. Worse, because he repeatedly blasts back to the past, Leitch never manages to build sustained narrative momentum inside the train, which badly flattens the movie overall.
"Bullet Train" doesn't have any ideas, beyond the geometric problems presented by all its bodies jostling within small spaces, which means that there's not much to think about other than how good Pitt looks and how the violence lands. Certainly, much of the creative energy here has gone into finding different ways for dudes to die — and this is an almost all-male death-a-thon — or to kill one another. Some die by the sword, some are poisoned (cue the bleeding eyes), while others rocket off this mortal coil via explosions or blows that send them spiraling. One man's throat is slit with a knife while another is shot in the neck. That poor soul vainly tries to stanch the bloody geyser that spurts like water from a fountain.
You're not meant to care. Most of the characters are disposable, interchangeable minions who scurry around before they're inevitably exterminated by someone else with bigger guns and brains. As you'd expect from the title, many of these underlings are shot to death with handguns and long guns of assorted sizes. Characters are riddled, shredded, annihilated; one guy loses half his face — bang-bang, ha-ha.
"Bullet Train" has its moments, a few laughs, some smooth moves, but Leitch has done better elsewhere, including in the original " John Wick ," which he directed (uncredited) with Chad Stahelski. A tale of vengeance, "John Wick" has an equally high body count, but it's better structured, more modulated, and has a brittle veneer of high-mindedness. The hero of "John Wick" is on a mission; Ladybug is on a job. In other words, "John Wick," in classic American (cinematic) fashion, presents a moral justification for its slaughter. "Bullet Train" doesn't even bother serving up such self-elevating, audience-flattering fantasies — its blood lust is honest.
Bullet Train Rated R for extreme violence. Running time: 2 hours 6 minutes. In theaters.
Manohla Dargis has been the co-chief film critic of The Times since 2004. She started writing about movies professionally in 1987 while earning her M.A. in cinema studies at New York University, and her work has been anthologized in several books. More about Manohla Dargis
Explore More in TV and Movies
Not sure what to watch next we can help..
The FX comedy-drama "Reservation Dogs" aired its final episode. ​In the ending, preserving the bonds among generations is a radical, magical act .
The raunchy British teen dramedy "Sex Education" has been away for two years. Here's what to know before diving into the fourth and final season .
Based on an Oscar-winning short, "Young Love," a new series by the former N.F.L. player Matthew A. Cherry, tells the story of a young Black family trying to make it .
As co-hosts of "Live With Kelly and Mark," Kelly Ripa and Mark Consuelos are tasked with enacting a version of their marriage on-camera. Where does that performance begin and end ?
If you are overwhelmed by the endless options, don't despair — we put together the best offerings   on Netflix , HBO Max , Disney+ , Amazon Prime  and Hulu  to make choosing your next binge a little easier.
Sign up for our Watching newsletter  to get recommendations on the best films and TV shows to stream and watch, delivered to your inbox.
Bullet Train Isn't a Good Movie. But It's a Great Study of Brad Pitt.
The mediocre movie happens to be a fascinating vehicle for the star's latest rebrand.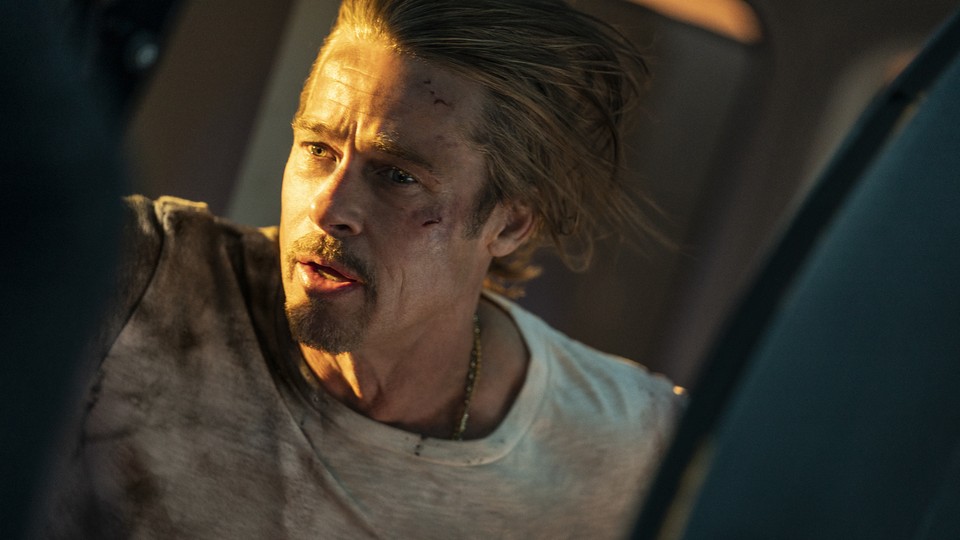 Read enough recent glossy-magazine features on Brad Pitt, and you'll start picking up on some patterns. He tends to speak reverently about growing up in the Ozarks and less so about his life as a celebrity. He's as adept at making off-the-cuff jokes as he is at speaking solemnly about the "craft." He's cool but artsy, even quoting Rumi and Rilke on occasion. He'll readily pose in thousand-dollar outfits , but he says that he always tries to avoid putting his face on a film poster. The word rueful comes up a lot about his smile or his demeanor. He's famous, but he's sensitive—a guy with a lot of capital- F Feelings about his job.
The same could be said about his latest character in the action-comedy Bullet Train. An assassin code-named Ladybug, he's reluctant about what he does for a living and would rather be anywhere else than aboard the high-speed Shinkansen racing across Japan. For one thing, he's not the only passenger carrying out a potentially deadly mission; for another, he has no place to meditate or indulge in his newly zen outlook on life. Directed by David Leitch ( Hobbs & Shaw ) and adapted from Maria Beetle , Kōtarō Isaka's best-selling novel, Bullet Train is stupid fun—all neon-drenched style over substance. It's the kind of late-summer flick that coasts on nonsense, violence, and actors trying out questionable accents. The film is a solid showcase for hand-to-hand combat up until it devolves into CGI drudgery. It assembles an overqualified cast that includes Brian Tyree Henry, Aaron Taylor-Johnson, and Michael Shannon, then saddles them with forgettable characters. But as a Brad Pitt vehicle (in more ways than one), Bullet Train is a fascinating branding exercise.
Pitt's career can be split into phases, and Bullet Train seems to herald the arrival of a new one. In the '80s and '90s, Pitt was the chiseled heartthrob . In the mid-2000s, he started taking offbeat, often supporting roles in films by established directors, tapping into his kooky side, courting awards, and appearing, as my colleague David Sims puts it , "ill at ease" with his leading-man looks. But since winning an Oscar for Once Upon a Time in Hollywood in 2020, he has been pivoting again—away from auteurs and toward material that emphasizes his appearance and magnetism. Pitt popped up on Saturday Night Live for the first time since 1998, playing Dr. Anthony Fauci before abandoning the bit and leaning into his familiar cool-guy mystique to deliver a reassuring message to audiences at home. In March's The Lost City , he hair-flipped his way through explosions and made quips about his handsomeness.
Read: 'The Gray Man' takes the stoic-spy cliché way too far
In Bullet Train , he plays someone trying not to attract attention who becomes the primary source of intrigue anyway. The plot is predictable; Pitt is not. He injects a whimsical energy into every scene, adding flavor to the bland jokes littering the script. Late in the film, while watching a stranger die in front of him, Ladybug seems amused, even delighted, by the spectacle. The morbidly funny moment suggests that the assassin doesn't believe a single koan he's been dropping and actually takes immense pleasure in his work. Perhaps Pitt, in throwing himself so fully into the character, was signaling his own desire: He'll talk about his distaste for being a public figure, but he'll never stop deriving satisfaction from the attention he gets—as long as he's the one with the upper hand.
Consider his actions off the big screen. During the pandemic's early months, he participated in a virtual table read of Fast Times at Ridgemont High with his ex-wife Jennifer Aniston; he then initiated banter with her that a longtime tabloid target like him had to have known would feed the gossip mill. Indeed, the reunion led to renewed attention on his personal life—a subject that, for years, he'd insisted on avoiding. "I consider myself on my last leg," he told the author Ottessa Moshfegh about his career for a GQ cover story —yet the accompanying photoshoot cast him as an artsy chameleon, in painterly poses and flamboyant costumes, as if prepared for a new act. More recently, at the Berlin premiere of Bullet Train , he wore a skirt, later explaining to Variety that he did so because "I don't know! We're all going to die, so let's mess it up." The sound bite is signature Pitt: somehow facetious and wise at the same time, relishing the noise, as if daring curious onlookers to figure out the answer themselves.
Such headlines and images help drown out the more unsavory news surrounding him, including the ongoing legal troubles related to his divorce from Angelina Jolie and the way he continued working with Harvey Weinstein years after learning of the producer's predatory behavior. Every celebrity self-mythologizes and puts forth a public-facing persona. But somehow, Pitt's cheeky nods to his own stardom don't come off as desperate to many viewers; instead, his antics seem to endear him to them even more.
Pitt's upcoming acting work includes Damien Chazelle's next film, so perhaps he's refocused on A-list directors and supporting roles that don't directly reference his celebrity. But I'd like to see him further interrogate the effects of his charisma and take roles that draw even more power from his offscreen appeal. He's proved himself capable of toying with viewers' expectations, but can he embrace something that would fully unspool his identity? Can he ever risk being genuinely disliked? Pitt has never reprised a role outside of the original Ocean's trilogy or chanced lampooning himself by hosting SNL . He's yet to lead a franchise of his own—the kind of gig that might force him to become fully synonymous with a long-term character rather than letting him rely on his well-worn charm. Bullet Train certainly serves the Brad Pitt brand, but it's too weak to deliver him to a new destination.
Bullet Train Review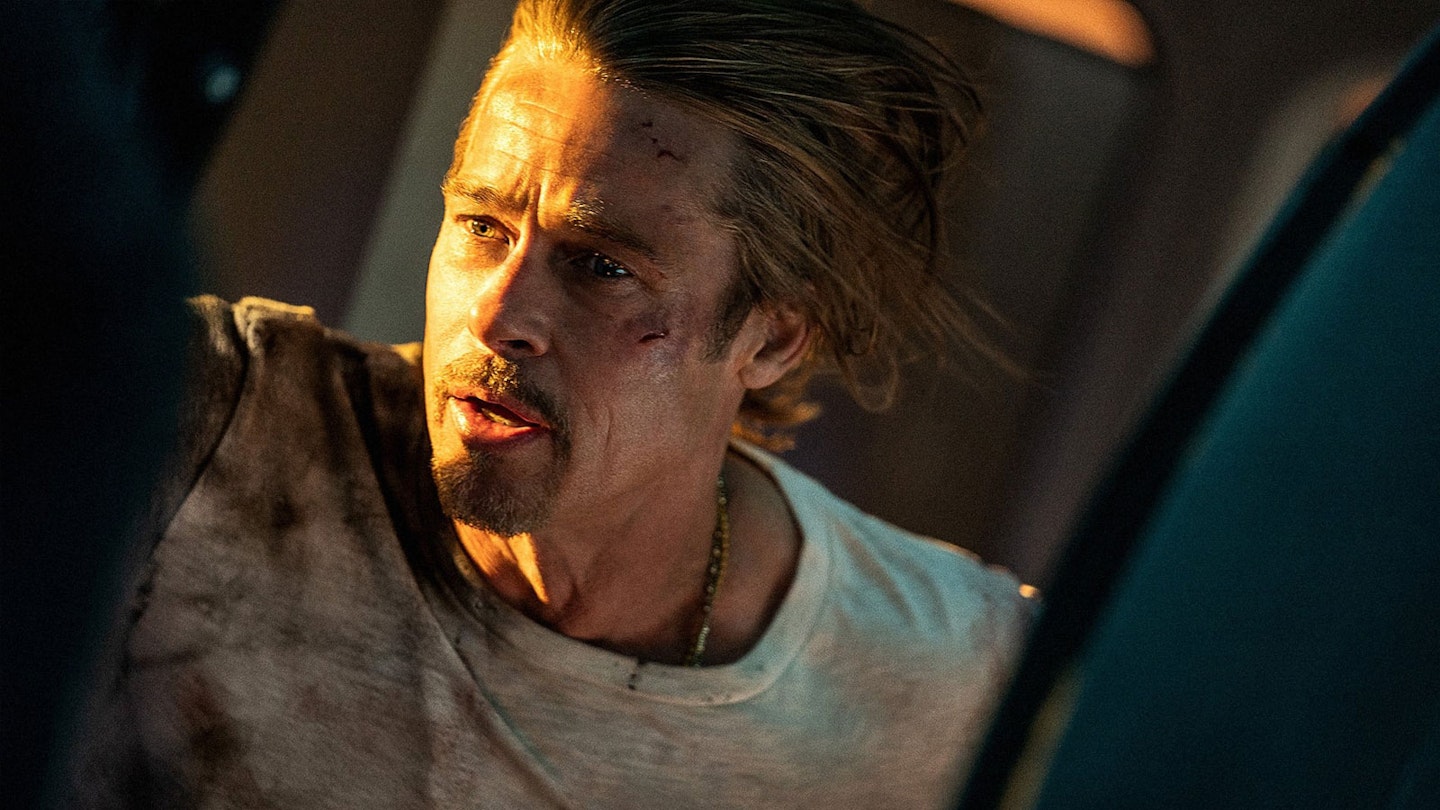 03 Aug 2022
Bullet Train
When John Wick 's co-director boards a film about a high-speed train packed with assassins, certain things are expected. Bullet-spraying brawls? Check. Creatively choreographed set-pieces, shot with precision and clarity? Check. A charismatic A-lister's action comeback? Check. But if Bullet Train 's set-up sounds like ' John Wick on rails', David Leitch 's latest surprisingly isn't that movie — instead, it continues his post- Wick trajectory into bigger, splashier, more cartoonish territory.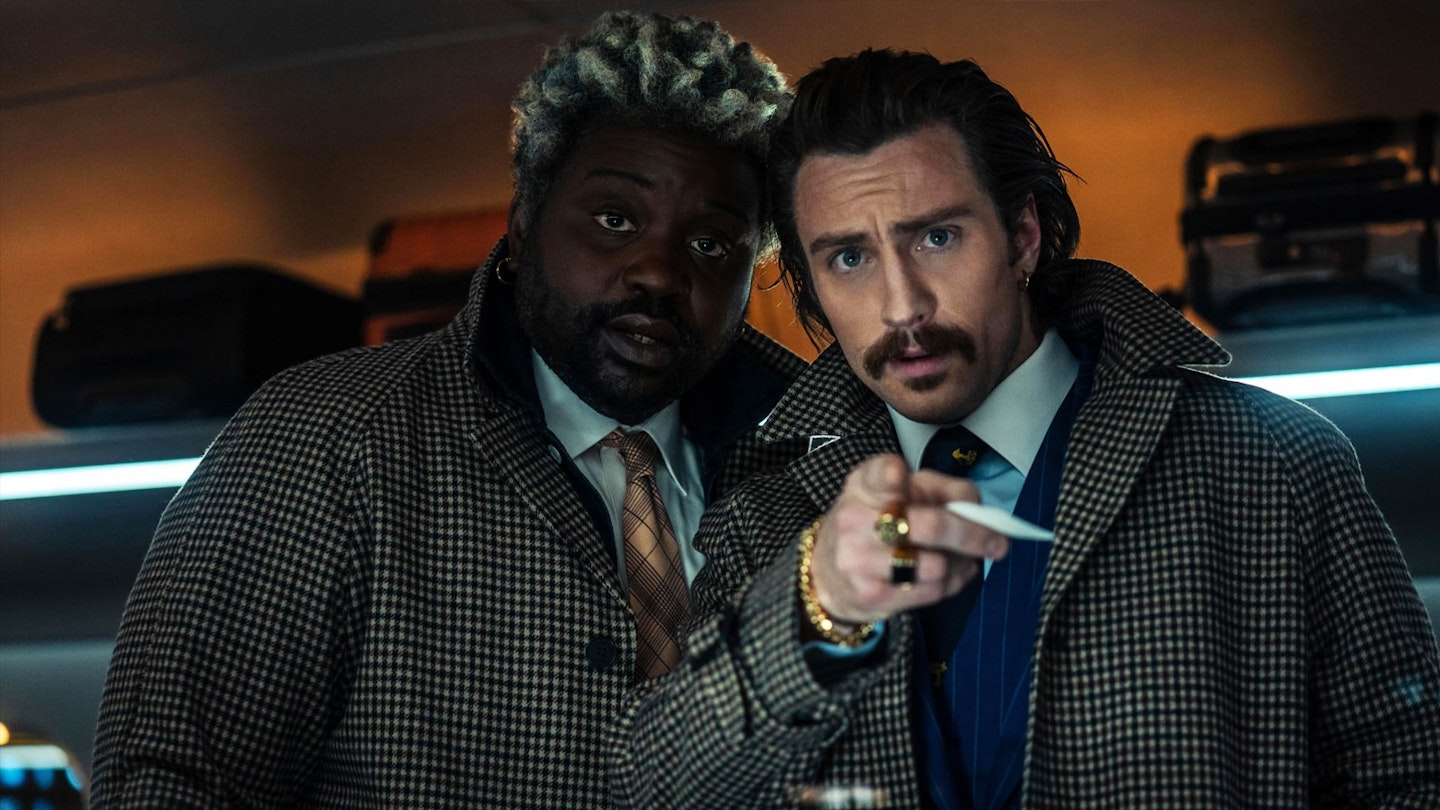 Following Deadpool 2 and Fast & Furious: Hobbs & Shaw , Leitch's tongue remains lodged firmly in his cheek for a screwball summer movie with samurai swords and psycho killers — an ultraviolent farce. Like its transportation namesake, Bullet Train is fast, slick, and shiny — but this is less intent on going directly from A to B than it is looping back around on itself in knots of coincidences and contrivances, as a cavalcade of contract killers clash in the carriages. Think Kill Bill Vol. 1 filtered through early Guy Ritchie , both for better and worse.
Style over substance feels like the whole point here, but Bullet Train only ever operates on a surface level.
Locked neatly into that loose, aloof rhythm is Brad Pitt as 'Ladybug', a hired gun attempting to practice mindfulness while (ah-ah-ah-ah) stayin' alive (the film opens with a Japanese-language cover of that very Bee Gees song). But his seemingly simple job — hop on board, grab a silver briefcase, hop off — is not so straightforward, and he's soon beset by other hit-people with their own overlapping agendas. Among them, Cockney duo Tangerine ( Brian Tyree Henry , his accent veering between stellar and shaky) and Lemon ( Aaron Taylor-Johnson , supremely enjoyable), whose bickering conveys a genuine brotherhood; Joey King 's The Prince, who uses her youthful appearance as a weapon (among other actual weapons); Bad Bunny's The Wolf, desperate for vengeance; and Andrew Koji's Yuichi, forced into action when his son's life is threatened. Bullet Train 's primary focus is setting them on criss-crossing tracks, flashing backwards and forwards to tell the story of their interlinked grievances as the bodies pile high.
The results are frequently fun, especially whenever Pitt is on screen – blow-drying his hair with a tricked-out Japanese toilet, repeating his therapy mantras ("Hurt people hurt people"), and silently scuffling with Lemon in the quiet carriage. His chemistry, too, with Sandra Bullock 's largely-offscreen handler is charming.
What it isn't, in any way, is deep. Style over substance feels like the whole point here (and the style itself is substantial), but Bullet Train only ever operates on a surface level — the screenplay's explorations of surrendering to fate versus attempting to seize control feel shallow at best. Plus, its appropriation of Japanese culture feels uncomfortably tokenistic, revelling in East Asian iconography while presenting a sprawling cast of largely non-Asian actors, wasting Karen Fukuhara and Masi Oka in bit-parts, and sidelining legends like Hiroyuki Sanada (stuck speaking in 'Wise Old Man' tropes when he does enter the film).
Expect a ride and nothing more, though, and Bullet Train largely delivers — its excesses sometimes smug (an Engelbert Humperdinck murder-montage is overplayed), sometimes sublime (a bottle of water and a venomous snake get their own intro-montages). Worth a one-way ticket, if not a return journey.
Related Articles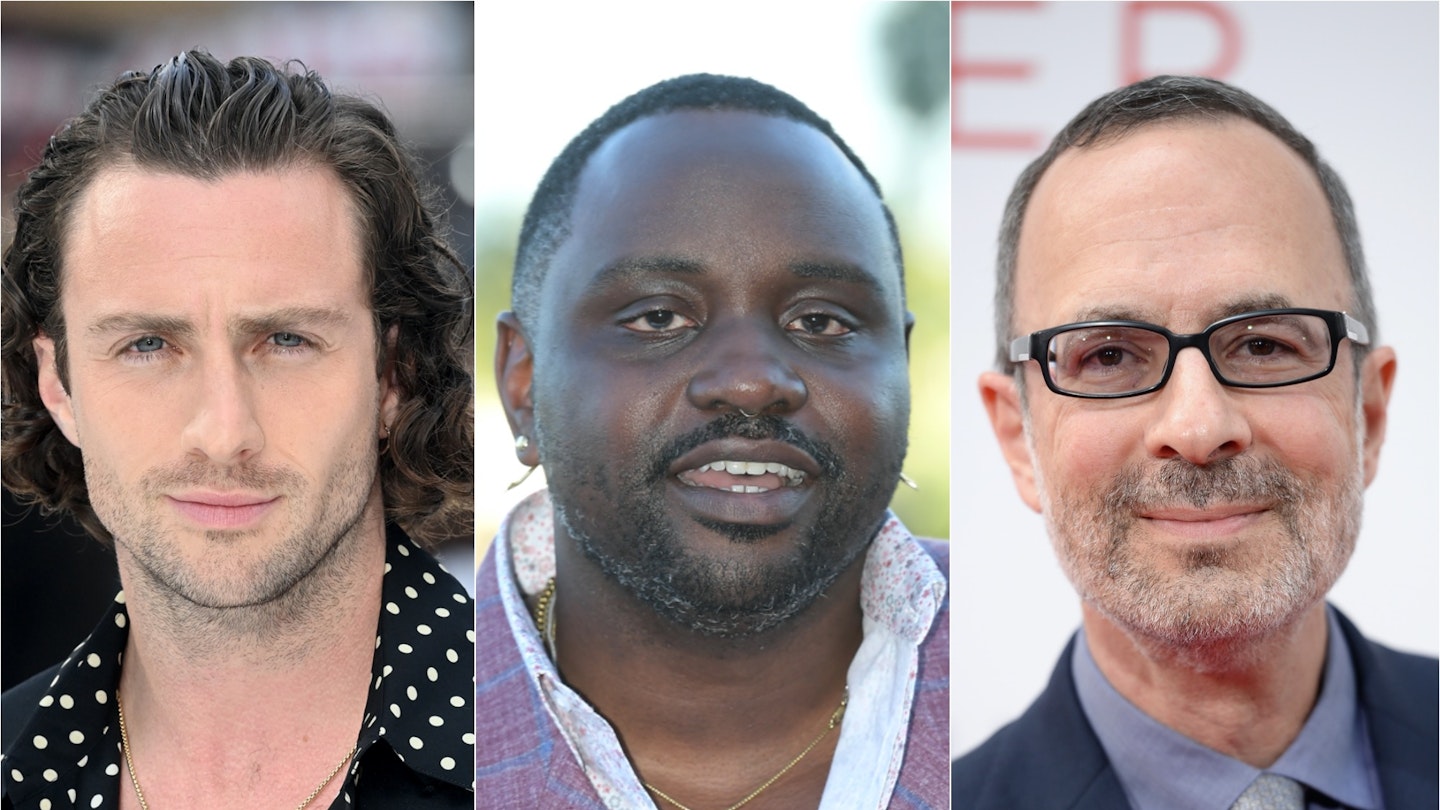 Movies | 29 07 2022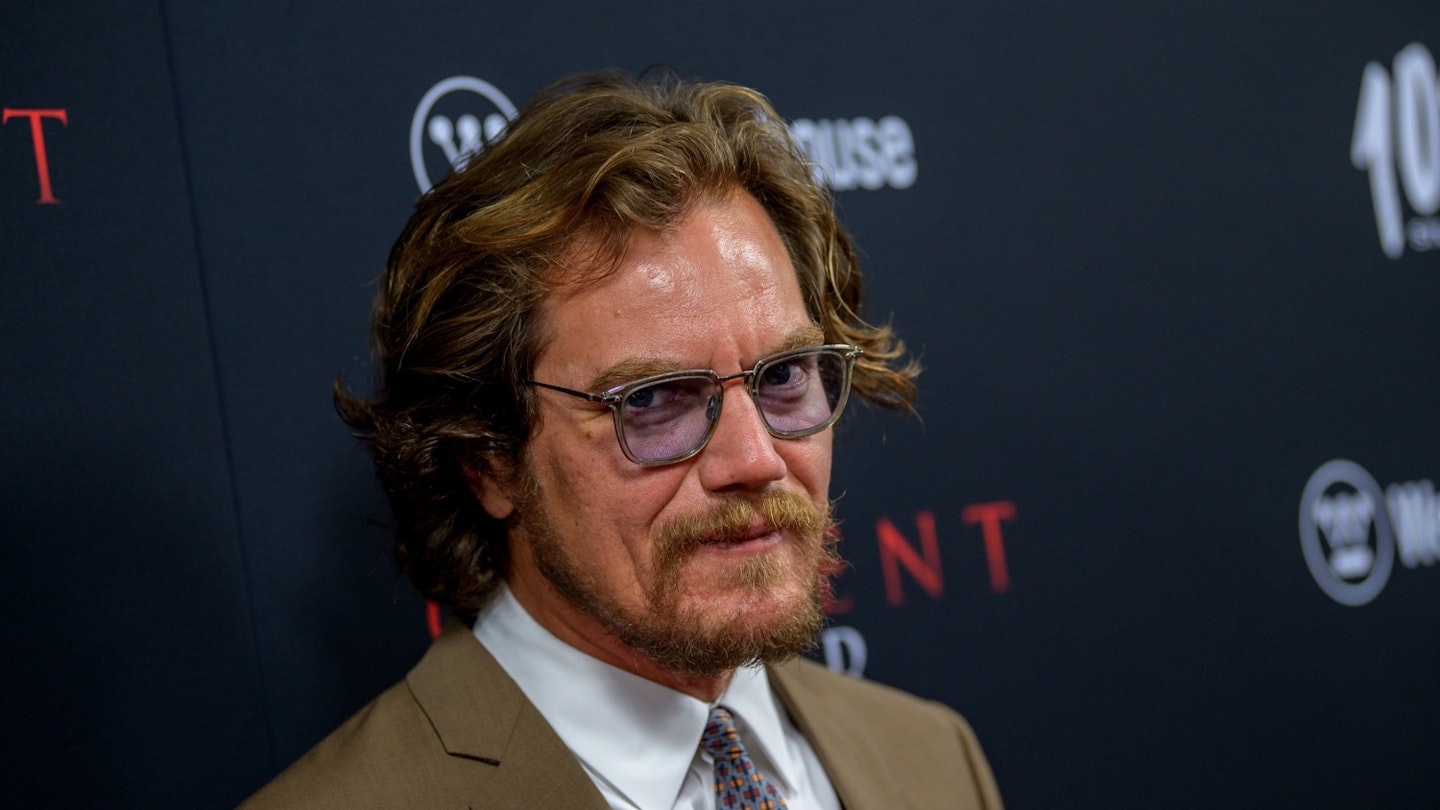 Movies | 06 07 2022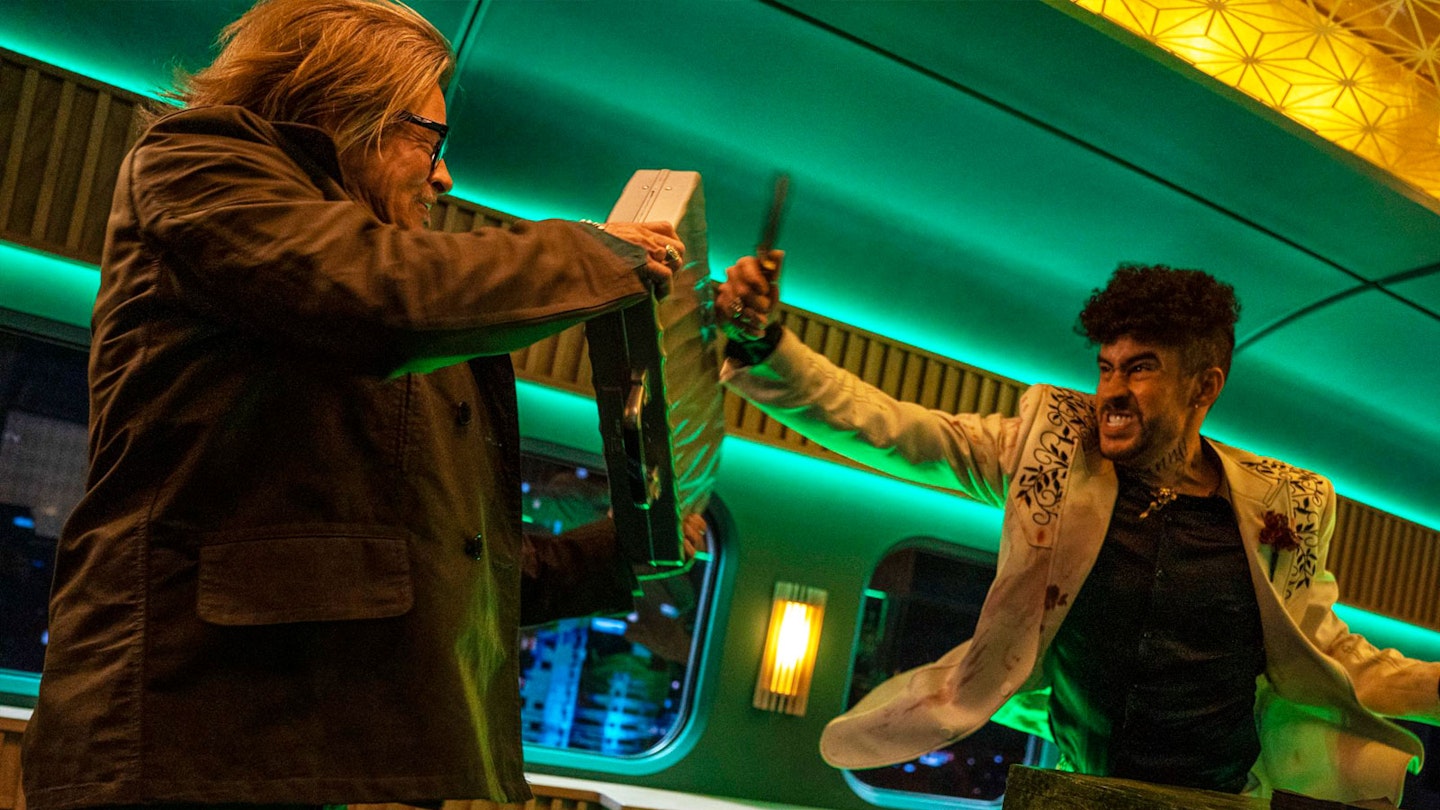 Movies | 10 06 2022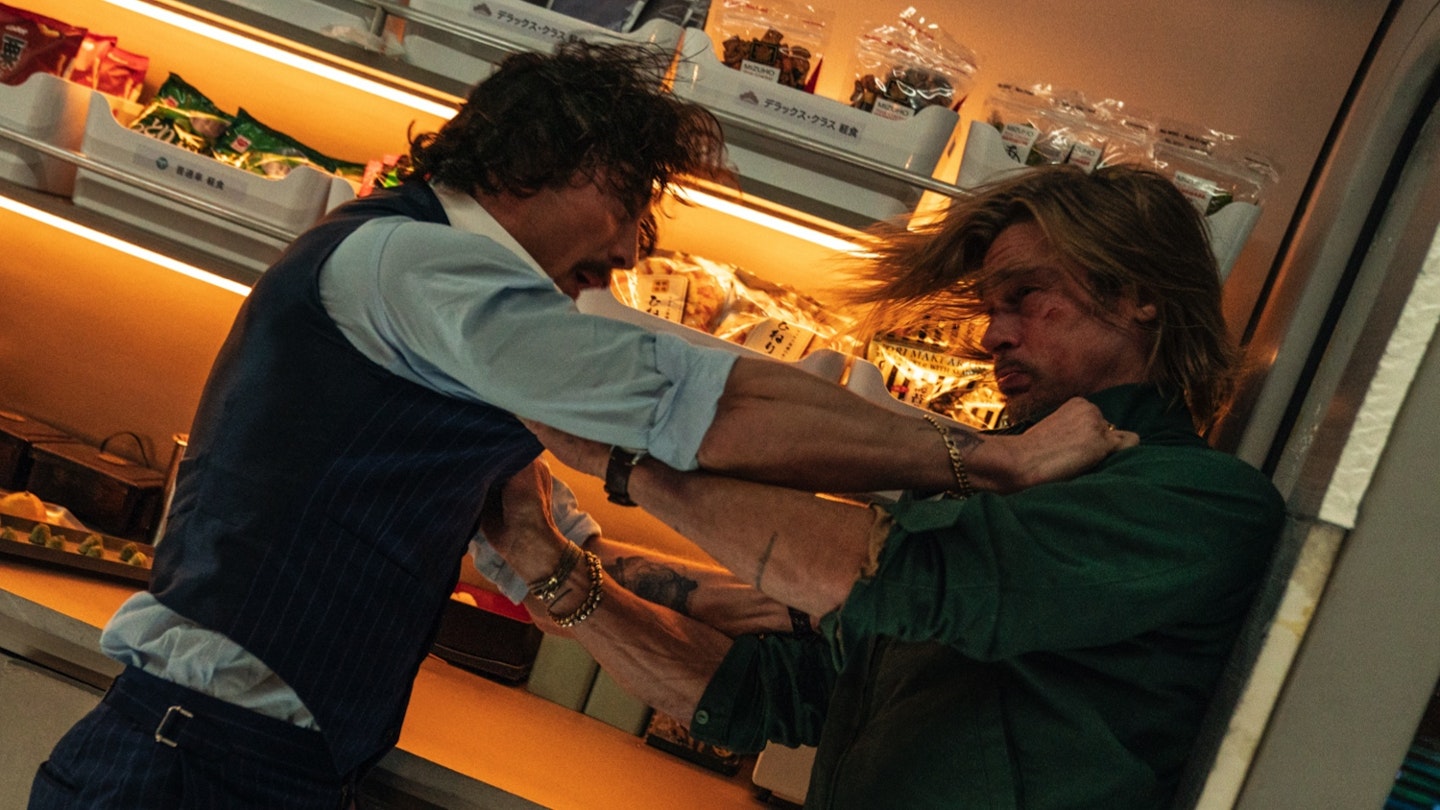 Movies | 07 06 2022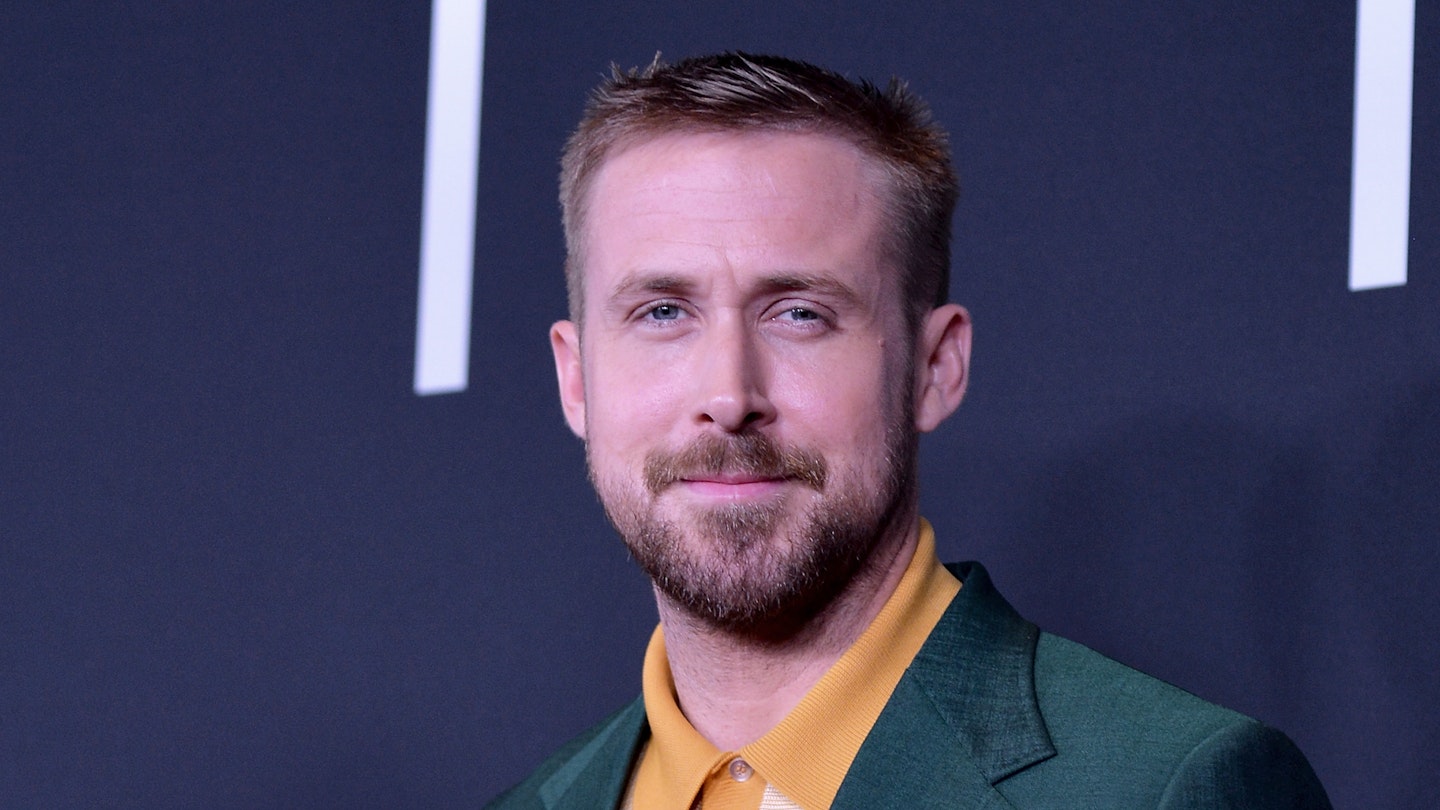 Movies | 17 05 2022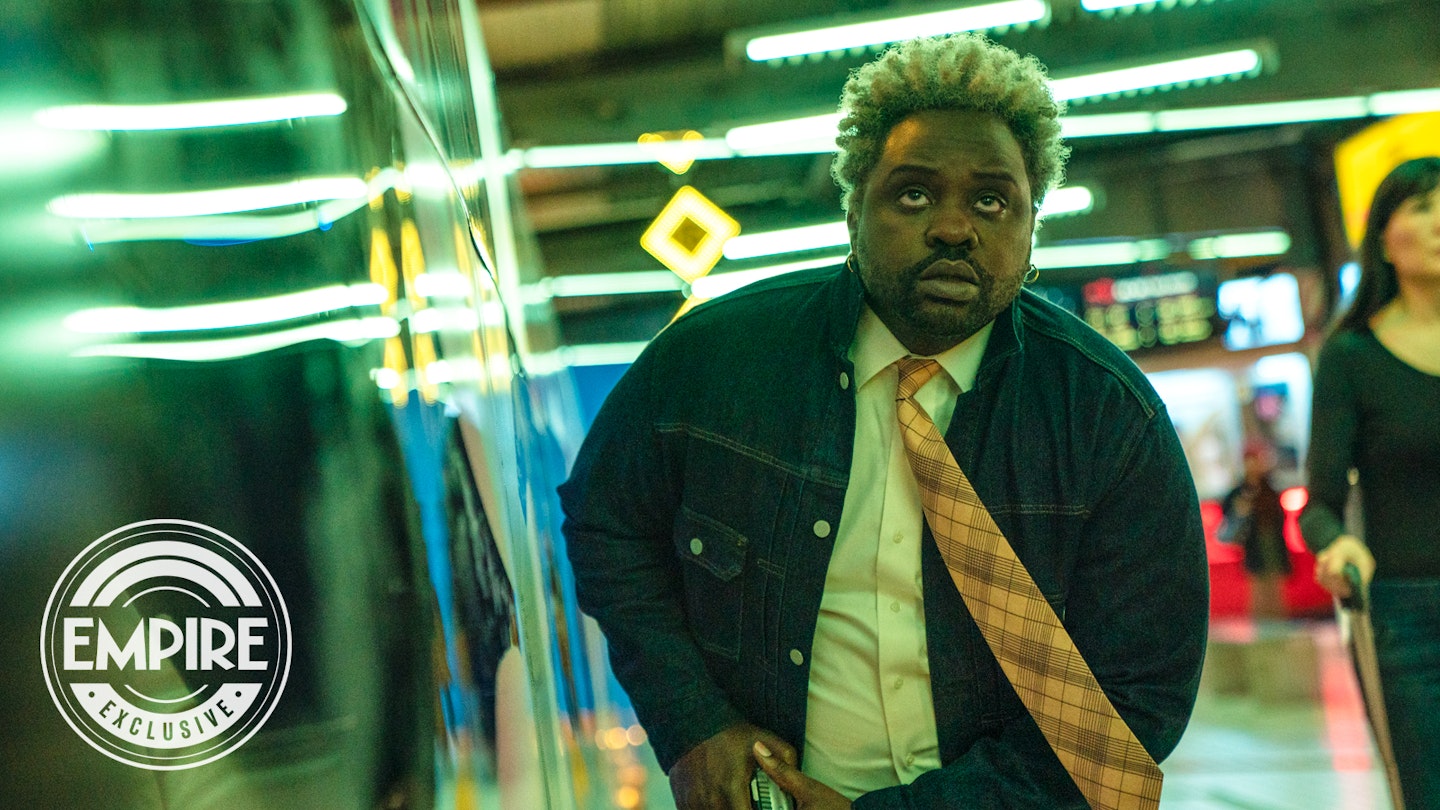 Movies | 10 05 2022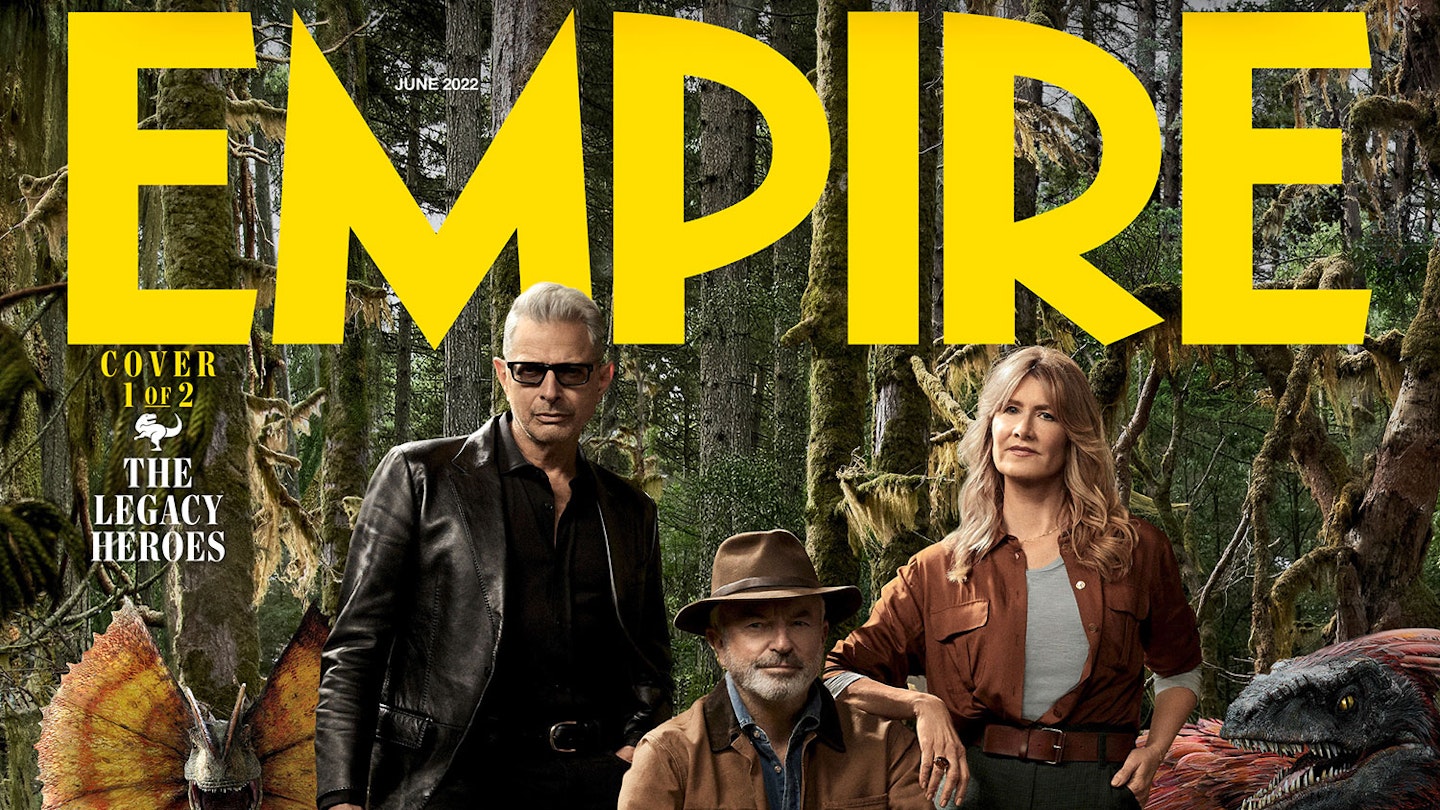 Movies | 13 04 2022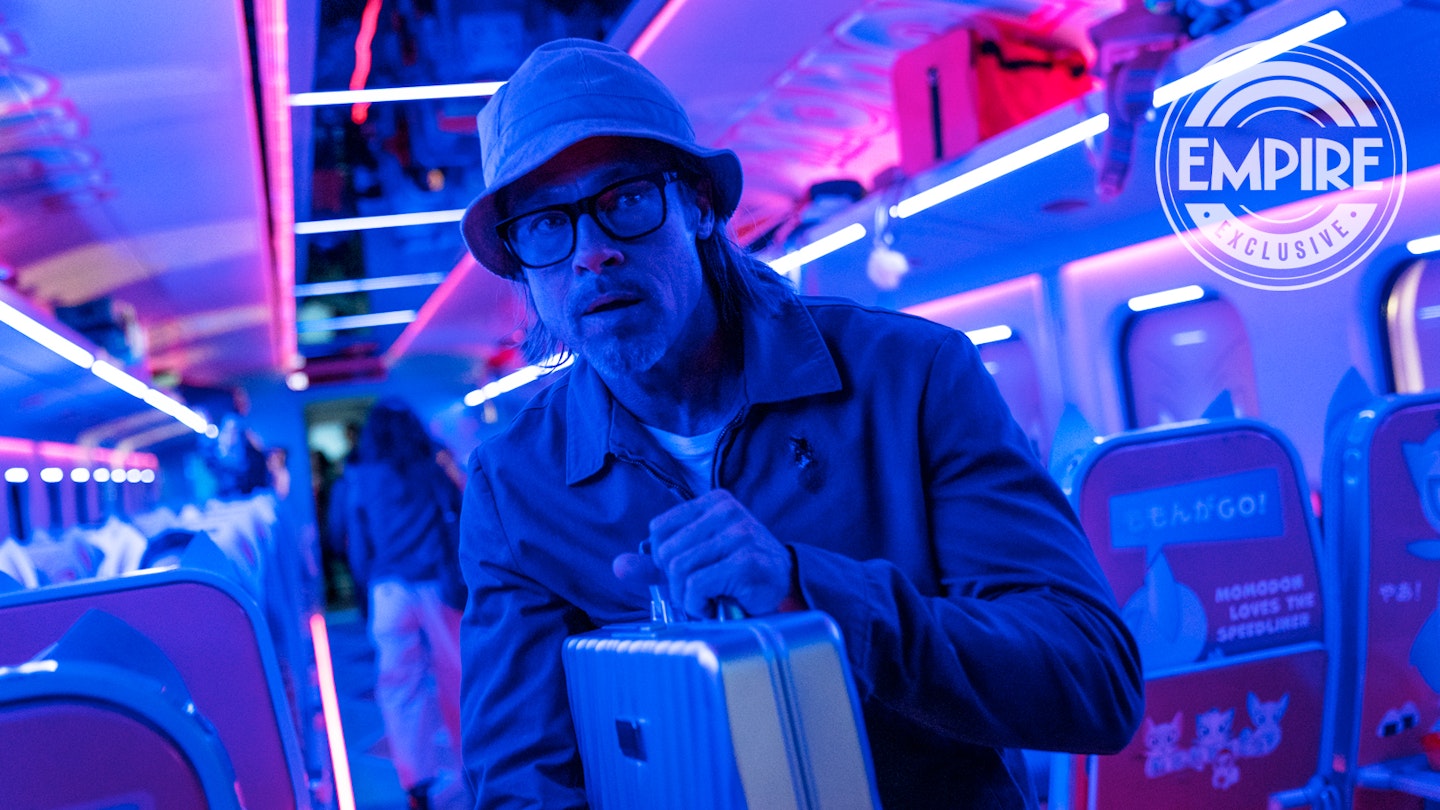 Movies | 12 04 2022
For Parents
For Educators
Our Work and Impact
Or browse by category:
Movie Reviews
Best Movie Lists
Best Movies on Netflix, Disney+, and More
Common Sense Selections for Movies
50 Modern Movies All Kids Should Watch Before They're 12
Best TV Lists
Best TV Shows on Netflix, Disney+, and More
Common Sense Selections for TV
Video Reviews of TV Shows
Best Kids' Shows on Disney+
Best Kids' TV Shows on Netflix
Book Reviews
Best Book Lists
Common Sense Selections for Books
8 Tips for Getting Kids Hooked on Books
50 Books All Kids Should Read Before They're 12
Game Reviews
Best Game Lists
Common Sense Selections for Games
Nintendo Switch Games for Family Fun
Podcast Reviews
Best Podcast Lists
Common Sense Selections for Podcasts
Parents' Guide to Podcasts
App Reviews
Best App Lists
Social Networking for Teens
Gun-Free Action Game Apps
YouTube Channel Reviews
YouTube Kids Channels by Topic
Parents' Ultimate Guide to YouTube Kids
YouTube Kids Channels for Gamers
Preschoolers (2-4)
Little Kids (5-7)
Big Kids (8-9)
Pre-Teens (10-12)
Teens (13+)
Screen Time
Social Media
Online Safety
Identity and Community
Head Back-to-School With Healthy Young Minds
All Articles
Family Tech Planners
Latino Culture
Black Voices
Asian Stories
Native Narratives
LGBTQ+ Pride
Happy Hispanic Heritage Month!
Celebrate Hip-Hop's 50th Anniversary
Movies and TV Shows with Arab Leads
Want more recommendations for your family?
Sign up for our weekly newsletter for entertainment inspiration
Bullet Train
Common sense media reviewers.
Pitt action thriller is a fun but exceedingly violent ride.
A Lot or a Little?
What you will—and won't—find in this movie.
Discussions about possibility of finding peace as
While characters are sometimes heroic and are cert
Of the four most central characters, two are White
Extreme, over-the-top, comic book-style violence.
Brief but graphic sex scene, viewed through window
Strong, frequent language includes "f--k," "mother
Corona beer and Fiji Water prominently displayed.
Wine at wedding. Sleeping powder in bottle of wate
Parents need to know that Bullet Train is an extremely bloody, violent action thriller starring Brad Pitt about criminals and murderers who are trying to kill each other and stay alive on a high-speed Japanese train. It's weightless but well made and a fun ride, if you're mature enough for the content…
Positive Messages
Discussions about possibility of finding peace as the result of a violent situation, although characters are rarely, if ever, successful at this. A discussion about luck (one character is said to have bad luck, another to have good luck) -- and about whether such a thing is real. It could be outlook and attitude instead. But these things aside, the movie is really mostly about adrenaline and carnage.
Positive Role Models
While characters are sometimes heroic and are certainly skilled warriors, they are all on the wrong side of the law, killing and causing damage without repercussions.
Diverse Representations
Of the four most central characters, two are White men; otherwise, cast is quite diverse, including a clever, fierce woman, a Black man, several Japanese characters, and a Latino character. They're all criminals of a sort, but they're interesting and likable too.
Did we miss something on diversity? Suggest an update.
Violence & Scariness
Extreme, over-the-top, comic book-style violence. Guns and shooting. Huge blood spurts, lots and lots of blood. Poisoned characters bleed from eye sockets and vomit. Deaths. Exploding gun blows character's face off. Sword fighting; characters are stabbed and sliced open. Meat hook through man's head. Characters slammed into walls, solid objects. Heavy punching and fighting. Hitting with blunt objects. Knives, stabbing, knife throwing. Car crash. Strangling person with plastic bag. Child with bruised, bloody face is in the hospital (he was thrown from a rooftop); child in peril. Taser gun. Character falls onto roof of car. House on fire. Poisonous snake.
Did you know you can flag iffy content? Adjust limits for Violence & Scariness in your kid's entertainment guide.
Sex, Romance & Nudity
Brief but graphic sex scene, viewed through window, shows a woman on all fours and a man thrusting from behind. Another couple kiss while lying in bed.
Did you know you can flag iffy content? Adjust limits for Sex, Romance & Nudity in your kid's entertainment guide.
Strong, frequent language includes "f--k," "motherf----r," "s--t," "bulls--t," "c--ksucker," "t-ts," "a--hole," "son of a bitch," "ass," "goddamn," "bastard," "d--k," "pr--k," "damn," "douche bag."
Did you know you can flag iffy content? Adjust limits for Language in your kid's entertainment guide.
Products & Purchases
Drinking, drugs & smoking.
Wine at wedding. Sleeping powder in bottle of water. Brief drug-related dialogue.
Did you know you can flag iffy content? Adjust limits for Drinking, Drugs & Smoking in your kid's entertainment guide.
Parents Need to Know
Parents need to know that Bullet Train is an extremely bloody, violent action thriller starring Brad Pitt about criminals and murderers who are trying to kill each other and stay alive on a high-speed Japanese train. It's weightless but well made and a fun ride, if you're mature enough for the content. Violence is almost comically intense, with guns and shooting, heavy blood sprays, knives, swords, and punching. Characters die, and a child is in peril. A person's face is blown off, and another's face is impaled with a meat hook. Poisoned characters bleed from their eye sockets and vomit before dying. Language is also strong, with frequent use of "f--k," "motherf----r," "s--t," "a--hole," and more. There's a brief but graphic sex scene that shows a woman on all fours and a man thrusting from behind her. Another couple kiss in bed. There's brief drug-related dialogue, wine at a wedding, and sleeping powder in a bottle of water. To stay in the loop on more movies like this, you can sign up for weekly Family Movie Night emails .
Where to Watch
Videos and photos.
Community Reviews
Parents say (27)
Kids say (53)
Based on 27 parent reviews
Silly good fun! But the violence is a bit much...
This title has:
Report this review
What's the story.
In BULLET TRAIN, a career criminal codenamed "Ladybug" ( Brad Pitt ) has spent some time working on self-reflection and trying to live a more peaceful existence. But now he's preparing for his latest job: snatching a briefcase from a bullet train that runs between Tokyo and Kyoto. Unfortunately, the gig isn't so simple. "Tangerine" ( Aaron Taylor-Johnson ) and "Lemon" ( Brian Tyree Henry ) are supposed to deliver the case, along with a warlord's son ( Logan Lerman ), but they lose both. And "The Prince" ( Joey King ) is blackmailing a man ( Andrew Koji ) into helping assassinate the warlord, who's also known as The White Death. Meanwhile, someone is poisoning people with snake venom, and a killer is seeking revenge. Is all of it somehow connected? And can Ladybug get out of this mess alive?
Is It Any Good?
With gleefully excessive violence and little depth, this oversized action thriller executes its many moving parts with skill, but it's Pitt's dopey, languid performance that keeps the balance. Directed by David Leitch and based on a novel by Kotaro Isaka, Bullet Train is a little like a multiple-character heist movie such as Ocean's Eleven or Logan Lucky , except that the why and how is less important than the what, which in this case is the fight scenes. The movie delights in pitting its many trained fighters and killers against as many obstacles as possible. Suspense is generated when characters sometimes come back from certain defeat (such as one who's thrown off the train, jumps back onto its tail end, and then tries to work his way back inside) or when a previously planted item -- like a poisonous snake -- pops up again.
Thunderous, nonstop movies filled with constant fighting can get exhausting -- see Free Fire , for example -- but director Leitch, a former stunt performer and coordinator who turned to filmmaking with John Wick , has a good sense of rhythm. His stops and starts, flashbacks and reveals all effectively build a rhythm that flows and doesn't feel oppressive. But Pitt is the secret weapon. Ladybug can certainly fight, but the character is more of a talker than a fighter, and he's forever looking for ways to make things easier on himself. His laid-back quality adds a soft, sweet center to a hard, crunchy movie. (Henry's character's passion for Thomas the Tank Engine is also a nice, sweet touch.) All in all, Bullet Train may disappear into the horizon fairly soon after viewing, but it's a fun ride while it lasts.
Talk to Your Kids About ...
Families can talk about Bullet Train 's violence . How did it make you feel? Was it exciting? Shocking? What did the movie show or not show to achieve this effect? Why is that important?
Ladybug is convinced that he has "biblically" bad luck, while The Prince is convinced that she has equally good luck. Is good or bad luck real, or does one's fortune have more to do with outlook and attitude?
Ladybug talks a great deal about finding opportunities for peace within violence. Is he ever able to do that? If so, how?
What is the nature of revenge? What is, or isn't, achieved by an act of revenge?
Lemon talks about how everyone is a character from Thomas the Tank Engine . Do you agree with this view? Why, or why not?
Movie Details
In theaters : August 5, 2022
On DVD or streaming : December 3, 2022
Cast : Brad Pitt , Sandra Bullock , Zazie Beetz
Director : David Leitch
Inclusion Information : Female actors, Black actors
Studios : Columbia Pictures , Sony Pictures Entertainment
Genre : Action/Adventure
Topics : Book Characters , Trains
Run time : 152 minutes
MPAA rating : R
MPAA explanation : strong and bloody violence, pervasive language, and brief sexuality
Last updated : February 17, 2023
Did we miss something on diversity?
Research shows a connection between kids' healthy self-esteem and positive portrayals in media. That's why we've added a new "Diverse Representations" section to our reviews that will be rolling out on an ongoing basis. You can help us help kids by suggesting a diversity update.
Suggest an Update
Our editors recommend.
Snowpiercer
Source Code
Murder on the Orient Express
Kingsman: The Secret Service
The Big Lebowski
Best action movies for kids, thriller movies, related topics.
Want suggestions based on your streaming services? Get personalized recommendations
Common Sense Media's unbiased ratings are created by expert reviewers and aren't influenced by the product's creators or by any of our funders, affiliates, or partners.
UK Edition Change
UK Politics
News Videos
Rugby Union
Sport Videos
John Rentoul
Mary Dejevsky
Andrew Grice
Marie Le Conte
Sean O'Grady
TV & Radio
Photography
Theatre & Dance
Culture Videos
Food & Drink
Love & Sex
Health & Families
Royal Family
Electric Vehicles
Lifestyle Videos
UK Hotel Reviews
News & Advice
Simon Calder
Inspiration
City Guides
Sustainable Travel
Politics Explained
News Analysis
Today's Edition
Home & Garden
Fashion & Beauty
Travel & Outdoors
Sports & Fitness
Sustainable Living
Climate Videos
Behind The Headlines
On The Ground
Decomplicated
You Ask The Questions
Binge Or Bin
Millennial Love
Watch on your TV
Crosswords & Puzzles
Most Commented
Newsletters
Ask Me Anything
Virtual Events
Online Casinos
Thank you for registering
Please refresh the page or navigate to another page on the site to be automatically logged in Please refresh your browser to be logged in
Bullet Train review: Brad Pitt's goofball energy is wasted in an exceedingly smug action comedy
Brian tyree henry, aaron taylor-johnson and sandra bullock also star in a film far too wrapped up in its supposed cleverness, article bookmarked.
Find your bookmarks in your Independent Premium section, under my profile
Get our free weekly email for all the latest cinematic news from our film critic Clarisse Loughrey
Get our the life cinematic email for free, thanks for signing up to the the life cinematic email.
Dir: David Leitch. Starring: Brad Pitt, Joey King, Aaron Taylor-Johnson, Brian Tyree Henry, Andrew Koji, Hiroyuki Sanada, Michael Shannon, Benito A Martínez Ocasio, Sandra Bullock. 15, 126 minutes.
Brad Pitt has spent decades trying to tell us that, underneath all that leading man sheen, he's really just a goofball. Think his wonderfully bumbleheaded turns in Burn After Reading , Once Upon a Time in... Hollywood and, hell, even this year's The Lost City . I'm not sure how much audiences have been convinced of this, though. The grandeur of movie stardom can be a hard thing to shake off. And it might be why Bullet Train , a gonzo action flick from the guy who made Deadpool 2 , feels so slick with desperation.
Pitt's funny here – there's a precise comic timing to the way he shoves a venomous snake down a toilet bowl – but Bullet Train feels so try-hard in its quirky theatrics that it's a little like watching a kid repeatedly calling for their mother's attention before they cartwheel into a brick wall. It's Tarantino-esque at a time when that descriptor is so overused it can only be derogatory. Have we not found something else that white guy directors desperate for a visual style can shamelessly rip off? In fact, that kind of derivativeness feels especially odd from a director like David Leitch – John Wick , which he co-directed with Chad Stahelski, seems to be perpetually spawning copycats these days. Leitch has already made his mark on the pop culture landscape. Could he not have simply borrowed from himself?
The fact Bullet Train is an adaptation – of Kōtarō Isaka's 2010 novel Maria Beetle – seems to have had little effect. The film's cast is rammed with Western actors, while Japanese and Japanese-American stars like Karen Fukuhara and Masi Oka are handed mere scraps of dialogue. Instead, the film indulges in a kind of cutesy Orientalism. Hitman Ladybug (Pitt), whose code name was decided by his handler ( Sandra Bullock , in a largely offscreen role) since he's convinced he's unlucky, is coaxed back into work with what should be a simple job: pick up a briefcase stored on the Shinkansen train from Tokyo to Kyoto and walk away.
He spends much of his screentime befuddled by Japanese culture – unable to use a smart toilet, rolling his eyes at the train's costumed mascot, arguing that the public aren't as "polite" in Japan as he expected. At certain points, Japanese-language covers of the Bee Gee's "Stayin' Alive" and Bonnie Tyler's "Holding Out for a Hero" play. It's action cinema as a tourism brochure. Ladybug soon discovers that the train is packed with other deadly assassins, all with their eyes on that mysterious briefcase, and all of them rendered as one-note caricatures. Two Cockney geezers – Tangerine (Aaron Taylor-Johnson, who's genuinely manic here in a way that outclasses his co-stars) and Lemon (Brian Tyree Henry) – bicker about their codenames. "When's the last time you ate a lemon meringue pie?" one of them argues, which is odd considering lemon meringue pie is an entirely normal dessert option. Lemon is obsessed with Thomas the Tank Engine , and has built his entire moral code around it – something that actually originates from Isaka's novel, but is here rendered largely irritating.
Recommended
Joey King interview: 'In Bullet Train, Brad Pitt's the chump, and I'm the villain'
The Lost City review: Sandra Bullock and Channing Tatum prove once again that they're romcom pros
DC League of Super-Pets review: Corporate team-up movie is made of nothing but Lego Batman scraps
They're travelling with the son (Logan Lerman) of an infamous Russian mobster, known as White Death (Michael Shannon). Two other assassins, Wolf (Benito A Martínez Ocasio, aka rapper Bad Bunny) and Hornet (Zazie Beetz) are hot on their heels. A teenage girl ( Joey King ), with another shaky British accent, has a hidden motive. Meanwhile, a Japanese assassin, Yuichi Kimura (Andrew Koji), has come onboard to find the person who pushed his infant son off a roof at the beckoning of his own father, known only as the Elder (veteran action star Hiroyuki Sanada). The latter pair, being the only human characters, are by far the coolest additions to a film where everyone is making such an effort to be cool.
Zak Olkewicz's screenplay aims for intricate chaos. But this is exactly the kind of hyper-pop film that, when it doesn't work, comes off as exceedingly smug. It's too wrapped up in the supposed cleverness of Lemon and Tangerine counting the number of people they've killed using an Engelbert Humperdinck-soundtracked montage. Or the way Ladybug frets that he's mansplaining to a woman as she's bleeding to death. Or the padding out of excessive backstories for characters who are immediately whacked.
There are certainly glimmers of the Leitch who made John Wick here. There's a fight in the train's quiet car that's quite clever, in which a whispered argument turns into the padded thuds of heads being wacked into tables. But it never feels like the film takes advantage of its confined settings, since everything eventually melts into a CGI blur. And Pitt? He's doing exactly what Pitt's always done in these situations – doling out stoner philosophies like "let this be a lesson on the toxicity of anger" or "hurt people hurt people". But you've seen this before. And you've already seen it better.
'Bullet Train' is in cinemas now
Join our commenting forum
Join thought-provoking conversations, follow other Independent readers and see their replies
Subscribe to Independent Premium to bookmark this article
Want to bookmark your favourite articles and stories to read or reference later? Start your Independent Premium subscription today.
New to The Independent?
Or if you would prefer:
Want an ad-free experience?
Hi {{indy.fullName}}
My Independent Premium
Account details
Help centre