55 Opinion Writing Prompts For 5th Graders
I believe that libraries should be open twenty-four hours a day. Keeping libraries open would give people who work odd hours the opportunity to use the services offered. It also gives unhoused individuals somewhere to go when the weather is bad at night. In addition…
Learning to form an opinion and supporting it is an important part of your education.
It makes you a stronger writer  and  it teaches you how to properly research things that are important to you.
Check out our list of prompts below, and get ready to write!
Using This Guide
There is no right or wrong way to use this guide. As long as you're practicing the skills you've learned in school, you're already on the right track. But if you need some ideas to help you get started, try one of these ideas:
Scroll through the list and pick the first prompt that jumps out at you.
Add today's month and date, and use that number.
Ask your teacher which topic they think you would be most interested in.
Pick a Prompt and Go!
Which subject is the most important for students to learn? Why?
Is it better to take risks or to be careful?
Do you think sports should be segregated by gender? Why or why not?
Is it important for kids to know about current events?
Do you think school lunches should be healthier?
Should students be allowed at parent-teacher conferences?
Do you think students should be required to learn cursive? Why or why not?
Should students be allowed to choose their teacher?
Why do you think your favorite professional sports is team the best?
Should Black history be taught more than just one month out of the year?
Do you think 5th graders need cell phones?
Would you rather wear a uniform to school, or casual clothes? Why?
Should students have several short breaks throughout the day, or one long break?
Are cell phones the biggest distraction in class? If not, what is?
Do you think homework should be mandatory?
Write a persuasive essay to your principal asking for a later start time.
Would it be better to start and end school one hour earlier, or one hour later?
Should students be required to read classic literature?
Which type of pet is the best?
Should students be allowed to pick where they sit in class?
Should schools grade on a pass/fail basis or keep the A-F scale?
Would you rather be the very best at one thing, or "just okay" at a bunch of things?
You just caught your best friend cheating on a test. Do you tell the teacher? Why or why not?
Should competitive gaming be considered a sport?
Should students be paid for going to school? If so, what should they be paid for, and how much?
Should schools teach more LGBT+ history?
Do schools do enough to prevent bullying?
What is the best video game ever made? Why?
Should kids get to choose their own bedtime?
In your opinion, is virtual school more or less beneficial than in-person learning?
Is it important to try new things?
Should students be required to take PE?
Are mental health days important for students?
Does your city do enough to help the environment?
Do you prefer sweet or salty treats?
Would you rather be too hot or too cold?
Do you think aliens are real?
Should students be required to take an art or music class? Why?
What is the best board game ever made? Why?
Is it important for everyone to learn at least one foreign language?
Is cold pizza a tasty breakfast?
Who is the better hero: Harry Potter or Percy Jackson?
Are 5th graders responsible enough to babysit?
What is the best book ever, and why?
Should etiquette be taught in schools?
Is your city a good place to live?
Should students be allowed to be more involved in school politics?
Do grades really matter? Why or why not?
What do you think is the hardest job in the world?
Should kids be allowed more screen time?
Are schools inclusive and accessible enough? What more could they do?
Who is the best Marvel hero? Why?
Should the voting age be lowered? If so, to what age?
Is social media harmful to preteens and teens?
Which season is the best? Why?
Looking For More?
If you're looking for more prompts, activities, and homework resources, we've got you covered.
And if you're looking for something specific but can't find it, let us know! We'd love to hear from you.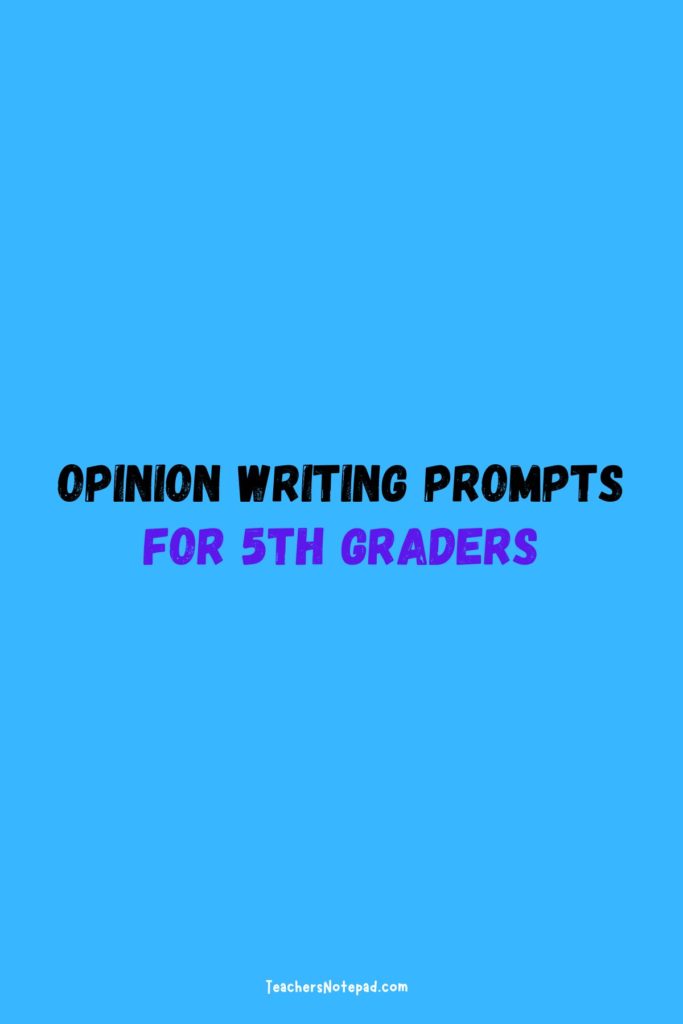 Are you having trouble thinking of some great opinion writing topics for your students to use during writing block or writer's workshop? Many prompts have already been used year after year. I created a list of 50 opinion writing prompts that will get your kids thinking and may even spark some new ideas for you. Take a look at these fun topics and see what your creative kids can come up with!
In this blog post, I share 5 different category topics of opinion writing ideas to choose from. You will find 10 ideas in each category and once finished, you will walk away with FIFTY opinion writing prompt ideas! Fill out the form below to have all 50 sent to you in an easy, printable list that will help simplify your lesson planning!
50 Opinion Writing Prompt Ideas!
This FREE printable list of 50 opinion writing prompts ideas can be sent straight to your inbox! Simply drop your personal email address below & I'll send it right over! 
*Using a school email address makes it very likely that you won't receive your freebi e! 
Prompts About Entertainment and Hobbies
A few opinion topics your kids will love writing about include the best place to vacation, the greatest movie ever made, the best sport to play, their favorite board game, or the best T.V. show at the time. Use these fun opinion writing prompts to spark creativity in your students' writing.
If you could choose anywhere in the world to go on vacation, where would you choose and why?
In your opinion, what was the best movie ever made and why?
Based on the sports you enjoy, which is the best sport to play?
If you had to play a board game with a family member or friends, which would you choose?
What is your current favorite T.V. show and why?
If you have a favorite place to go, where is it and why?
In your opinion, what is something everyone should learn do to?
Which is better, cooking or baking? Tell us why you think that.
What is the best sport to watch someone else play? Why?
Tell us about your favorite thing to do in the winter and why.
Prompts about Family and Friends
All kids love writing about their loved ones. These opinion writing prompts are a great way to let students express their opinions and share their home life with the class.
What is one way a family member or friend makes you feel loved and why?
Share your Mother or Father's superpower. What makes you think they have this superpower?
What is the nicest thing a friend could do for you?
In your opinion, who is the strongest person in your family and why?
Which of your friends would be the best person to take to the zoo and why?
Of all of your friends, which would you take to see a superhero movie and why?
In your family tree, are you a middle child, an only child, or something else? Do you like your position in your family tree?
Which friend or family member gives you the best hugs? Tell us about them!
What is a great trait for a friend to have? Traits might include being a good listener, a great hugger, or someone who is creative.
Would you like to have a pen pal? Why or why not?
Prompts about School and Extracurricular Activities
Kids have wonderful opinions about school and their extracurricular activities, so they will thoroughly enjoy these opinion writing prompts. You will love hearing their thoughts about topics like: should kids have more or less homework, should kids have more or less recess, and uniforms in school.
What is something you like to do when you are not at school and why might others like it as well?
What is the best thing about the school playground and why?
In your opinion, should kids have more or less homework?
Do you think kids should be allowed more recess time? Why or why not?
Should kids have to wear uniforms in school? Why or why not?
What is a school special (music, dance, art) that you wish were offered at your school and why?
If there was one lunch item you could add to the menu every day, what would it be?
Which subject is your favorite and why?
Should school go year-round? Why or why not?
What is the best way to start the day in the classroom? Tell us about it and why it's the best way.
Prompts about Favorite and Least Favorite Items
These opinion writing prompts are focused on favorite and least favorite items. Students get to write about their favorite foods, drinks, songs, and their least favorite vegetables. They will love sharing some of their favorites and some things they don't love as much.
Tell us what your least favorite vegetable is and why.
Share your favorite candy and why it is your favorite.
If you could bring one toy for show and tell what would it be and why?
What is your favorite ice cream flavor and why?
Which book could you read over and over again?
If you had to eat one vegetable for the rest of your life, which would it be?
Which season is your favorite and why?
What is your favorite song at the moment and why?
Do you have a favorite drink? What is it and why?
What is your favorite day of the week and why?
Want access to all of these prompts to use in your classroom? Just fill out the form below for access.
Prompts about Pets and Animals
Allow your students to put their thoughts to paper as they consider their pets and favorite animals with these opinion writing prompts. Let them explore favorite pets, the coolest animals, and even made-up animals.
Convince your parents to let you have a special pet. Choose an animal you would love to have as a pet and tell us why they would make an amazing pet.
Do you think cats should be able to live indoors and outdoors or one or the other?
What is the coolest animal you have ever seen?
Which animal is your favorite and why?
Are there any animals that would make horrible pets? If so, choose one and tell us why.
Pick one ocean animal. Why is it the coolest ocean animal of them all?
If you could create your own pet, what would it be and why? (Think about a half-dog so it can bark and a half-lizard so it can catch bugs with its tongue.)
Are there any animals you are afraid of? If so, which one and why?
Think of an animal you would love to encounter in real life. Which animal is it and why?
What is an animal trait you would love to have for yourself? Maybe you would like to fly like a bird or slither like a snake. Tell us why.

Opinion writing can be such a fun task for elementary students. They get to express their thoughts on paper and share them with the class. It's always fun to hear their ideas. Using these 50 opinion writing prompt ideas is a fantastic way to get their creative juices flowing as they practice paragraph writing fluency.
Try my Weekly Writing Prompts as well! They are perfect for the classroom and come in print and digital downloads.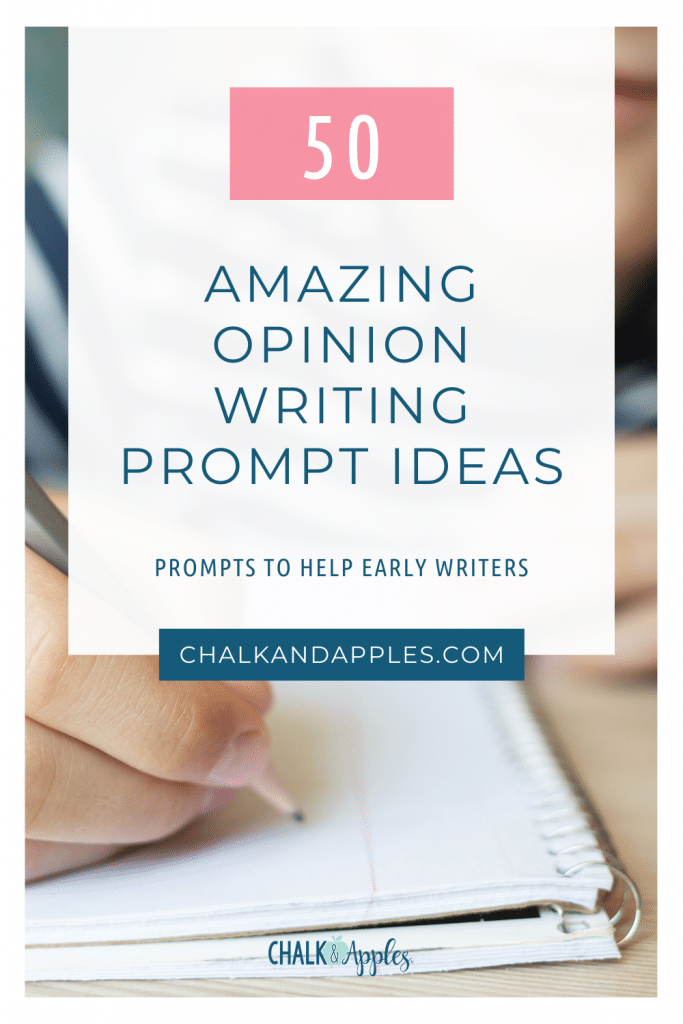 You might also like these posts: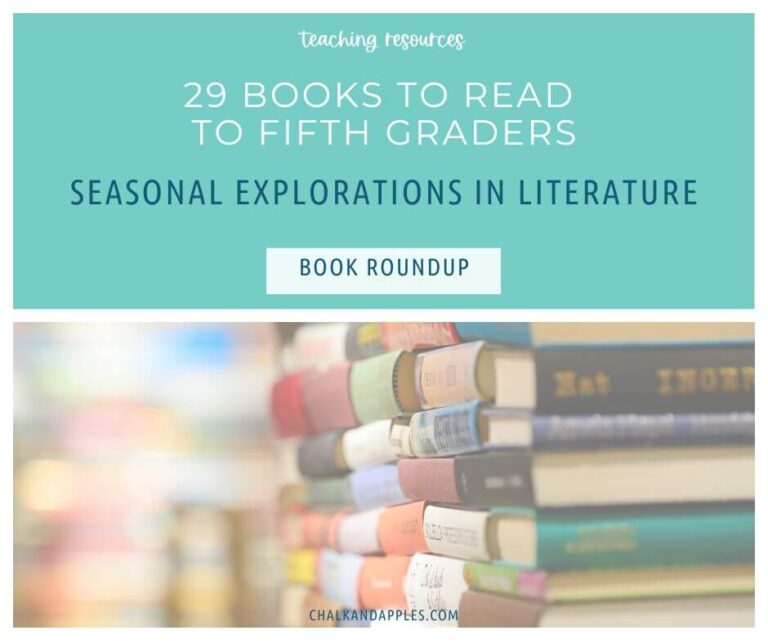 29 Books to Read for Fifth Graders: Seasonal Explorations in Literature
5 Powerful Paragraph Writing Strategies: Turning Words into Adventures!
6 Strong Techniques Classroom Management Thrives On
18 Tried & True Teaching Vocabulary Strategy Ideas for Upper Elementary Teachers
Shop teacher favorites.
Find ready-to-go lessons, activities, and organizational tools to simplify your life and help you fall back in love with your job.
Reading Digital Rotation Board with Timers (Editable)
Digital Rotation Boards for Reading & Math (Bundle)
Math Digital Rotation Board with Timers (Editable)
Word Work for Big Kids: PRINTABLES for Vocabulary
Editable Rainbow Teacher Planner
Free teaching resources, join the newsletter.
Get teaching tips, resources, and freebies delivered right to your inbox once a week!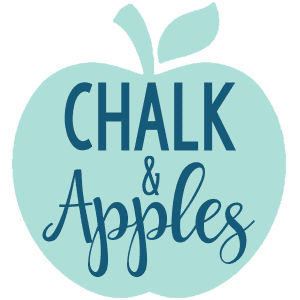 Terms of Use
Disclaimers
Privacy Policy
Resource Shop
Access Purchases
The Community
We weren't meant to do this teaching life alone... we need each other. Join our Upper Elementary teacher community on Facebook for tips, ideas, and support from people who get it...  teachers just like you!
opinion writing prompts fifth grade
All Formats
Resource types, all resource types, opinion writing prompts fifth grade.
Rating Count
Price (Ascending)
Price (Descending)
Most Recent
Opinion Writing Passages and Prompts with Lexile Levels Rubric - 4th & 5th Grade
Google Apps™
Easel Activity
3rd, 4th, 5th Grade Writing Curriculum - Prompts with Passages - Opinion Writing
Opinion Writing Bundle - 4th & 5th Grade Opinion Writing , Passages & Prompts
Nocturnal Animals Bats October Writing Prompts Opinion Writing 3rd Grade 4th 5th
4th/ 5th Grade FSA Writing Prompt: Mandatory Uniforms? ( Opinion Paper)
Opinion Writing Graphic Organizer Opinion Prompts Anchor Chart Rubric 5th Grade
October Fall Writing Prompts : Opinion , Narrative, Informative | 3rd - 5th Grade
Revising and Editing Practice 5th Grade Passages with Opinion Writing Prompts
Fifth Grade Writing Prompts Bundle - Opinion , Narrative, Informational
Christmas Writing Prompts : Opinion , Narrative, and Informative | 3rd - 5th Grade
Opinion Essay Writing Prompts for 5th , 6th and 7th Grade
Fifth Grade Opinion Writing Prompts and Worksheets
Halloween Writing Prompts : Opinion , Narrative, and Informative | 3rd - 5th Grade
November Fall Writing Prompts : Opinion , Narrative, Informative | 3rd - 5th Grade
Opinion Writing Journal | Opinion Writing Prompts | 1st- 5th Grade Writing Topics
January Winter Writing Prompts : Opinion , Narrative, Informative | 3rd- 5th Grade
Spring Writing Prompts : Opinion , Narrative, and Informative | 3rd - 5th Grade
Would You Rather - Opinion Writing Prompts - Fifth Grade
Easter Writing Prompts : Opinion , Narrative, and Informative | 3rd- 5th Grade
Winter BUNDLE Writing Prompts : Opinion , Narrative, Informative | 3rd - 5th Grade
Digital opinion writing prompts Would you rather? for 3rd, 4th, 5th grade
February Winter Writing Prompts : Opinion , Narrative, Informative | 3rd- 5th Grade
Opinion Writing Prompts (3rd, 4th, 5th Grade )
4th/ 5th grade FSA Prep Opinion Writing Prompt HIGH INTEREST!
We're hiring
Help & FAQ
Privacy policy
Student privacy
Terms of service
Search the blog
Input your search keywords and press Enter.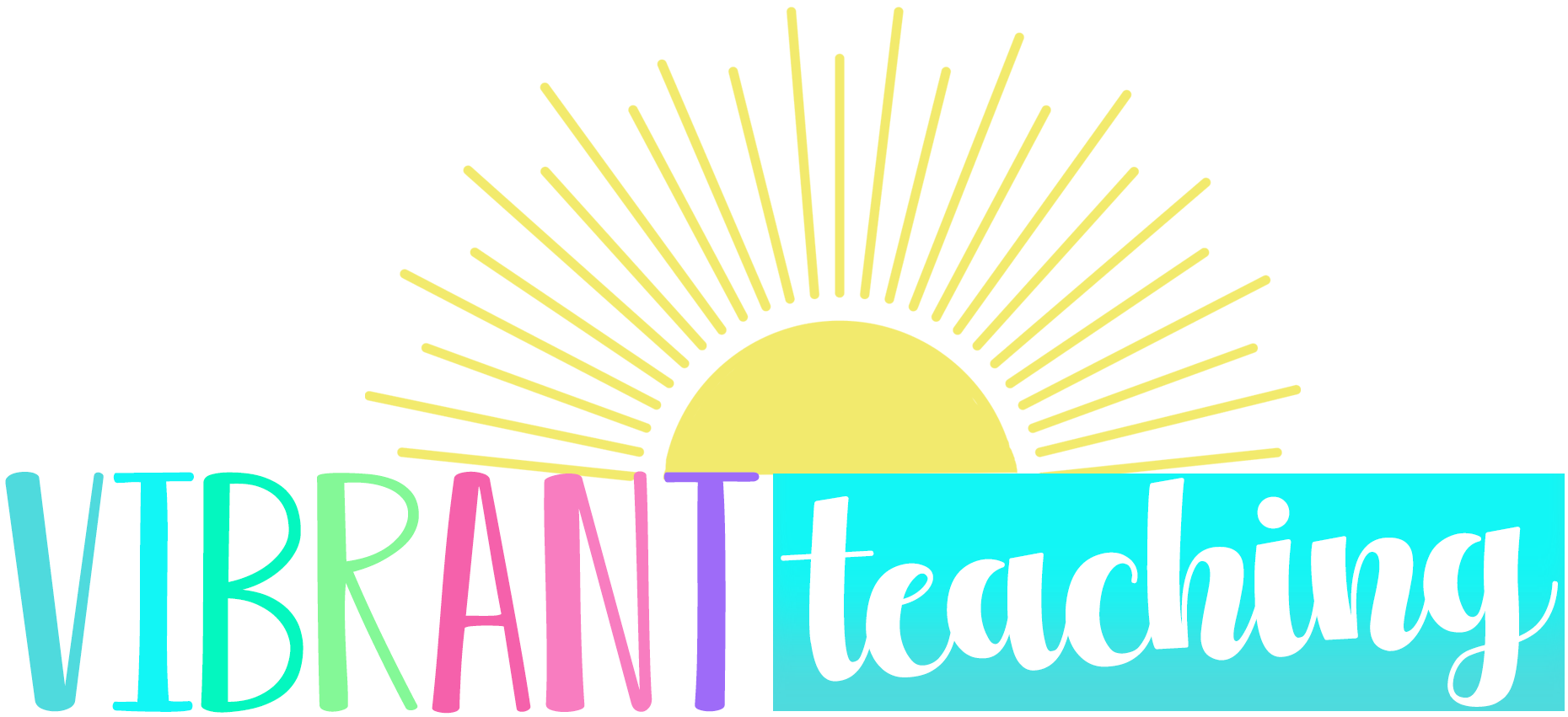 Vibrant Teaching
Teaching Resources Creator and Blogger
20 Prompts for Opinion Writing That Motivate Kids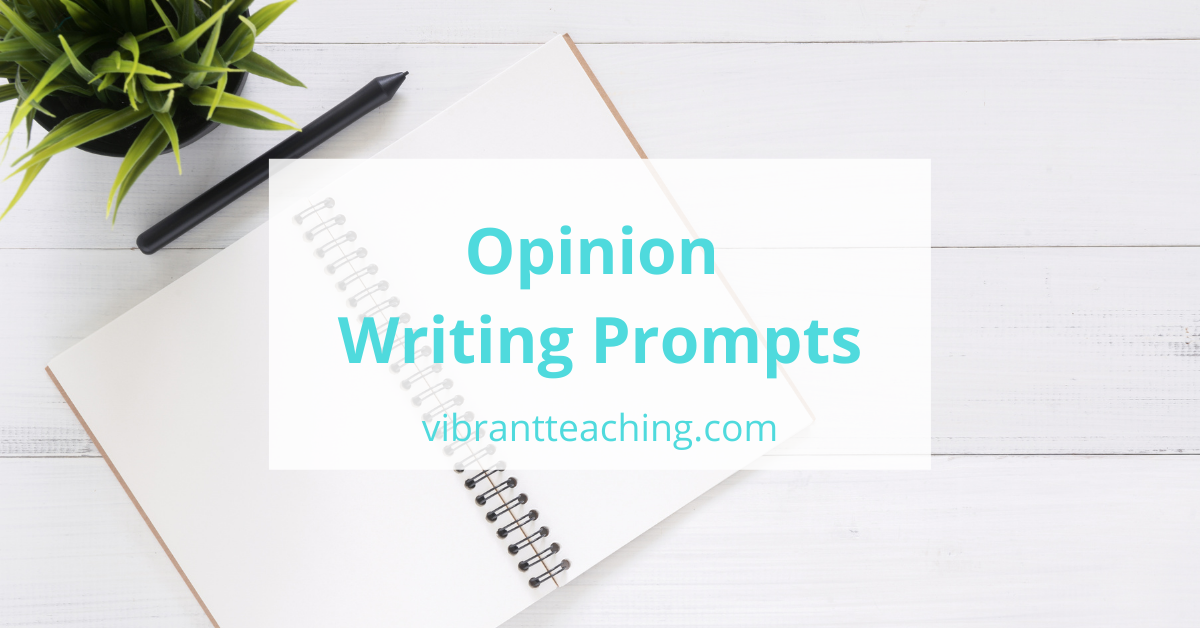 When using prompts for opinion writing, students can express themselves and share their beliefs. This automatically makes them more invested in their writing. Read on to learn more about opinion writing including mentor texts, ideas, and assessments. Plus you will find 20 prompts that will be sure to motivate and engage kids!
What is an Opinion Writing?
Opinion writing is used to convince or persuade the reader. The writer states their opinion and gives reasons to support it.  Facts or statistics can be used to provide supporting evidence. 
Examples for Opinion Writing
There are lots of helpful examples for opinion writing. Below you will find a list of mentor texts for kids. It's beneficial to immerse students in the genre before and during a writing unit. These books model effective writing strategies that can be incorporated into lessons.
Opinion Writing Mentor Text:
I Love Insects by Lizzy Rockwell
The Perfect Pet by Margie Palatini
The Day the Crayons Quit by Drew Daywalt
Hey, Little Ant by Phillip and Hannah Hoose
Red is Best by Kathy Stinson
I Wanna Iguana by Karen Kaufman Orloff
Earrings by Judith Viorst
The Great Kapok Tree by Lynne Cherry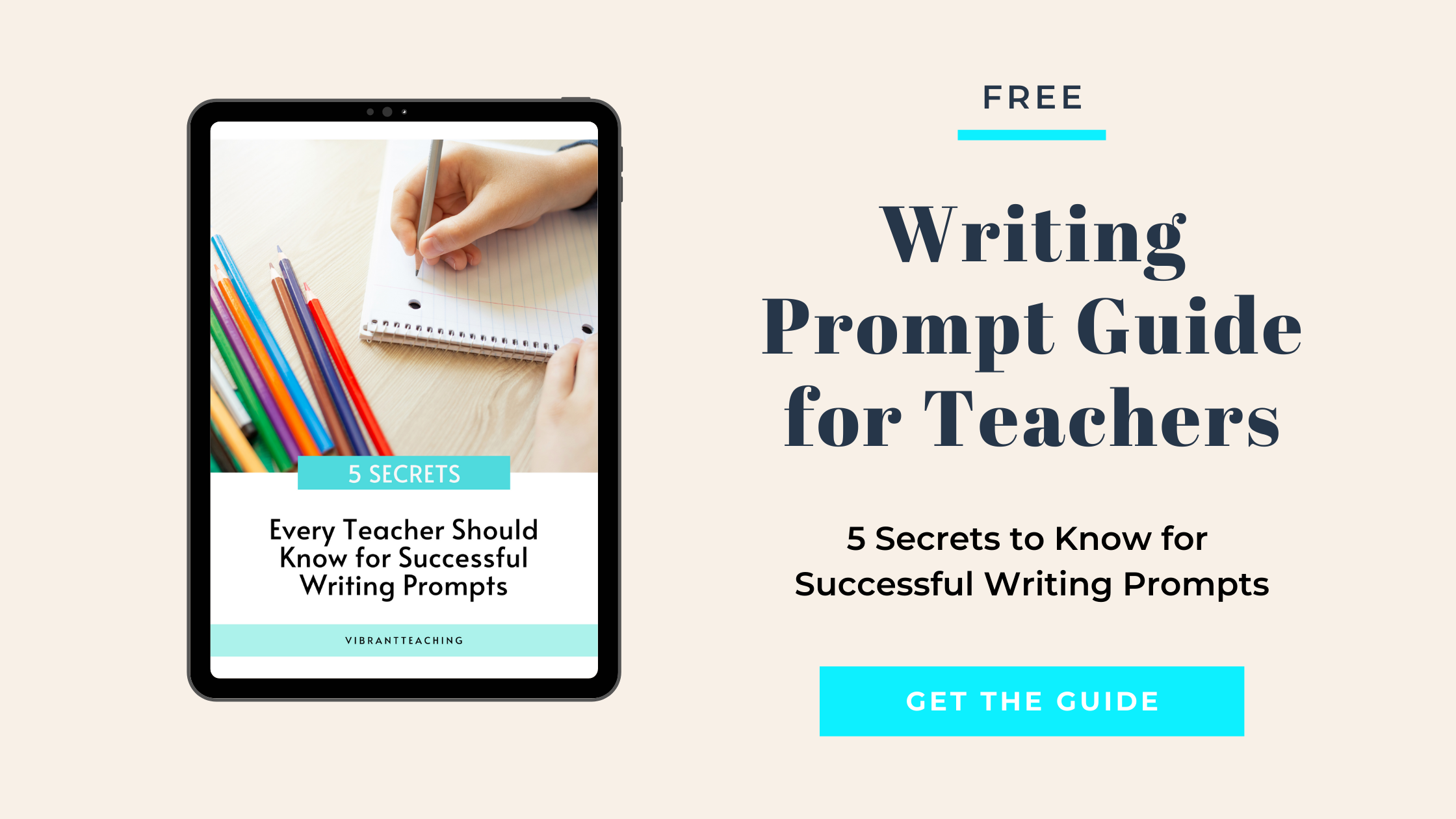 How to Teach Opinion Writing
It's important for students to form their own opinions and understand their feelings. So often kids just follow the opinion of someone else whether it be a parent, sibling, or friend. Now is the time for kids to firmly state their opinion and not waver from it.
Writers will need to give reasons for their opinion and provide supporting examples. The number of reasons will depend on the grade level and the student's abilities. For first graders, you might require only one reason while third graders may need three reasons. Decide what works best for your learners and create modifications as needed.
Opinion Writing Outline
Below you will find an acronym to help students plan their opinion writing. They just need to remember the word OREO. It stands for opinion, reasons, examples, and opinion (restated again). For each reason given, a sentence follows with evidence or an example. This is a more detailed approach to writing a response. It works well for the upper grades or advanced students. Depending on the level, some writers may just be working on providing reasons and will later develop the skill of using supporting examples.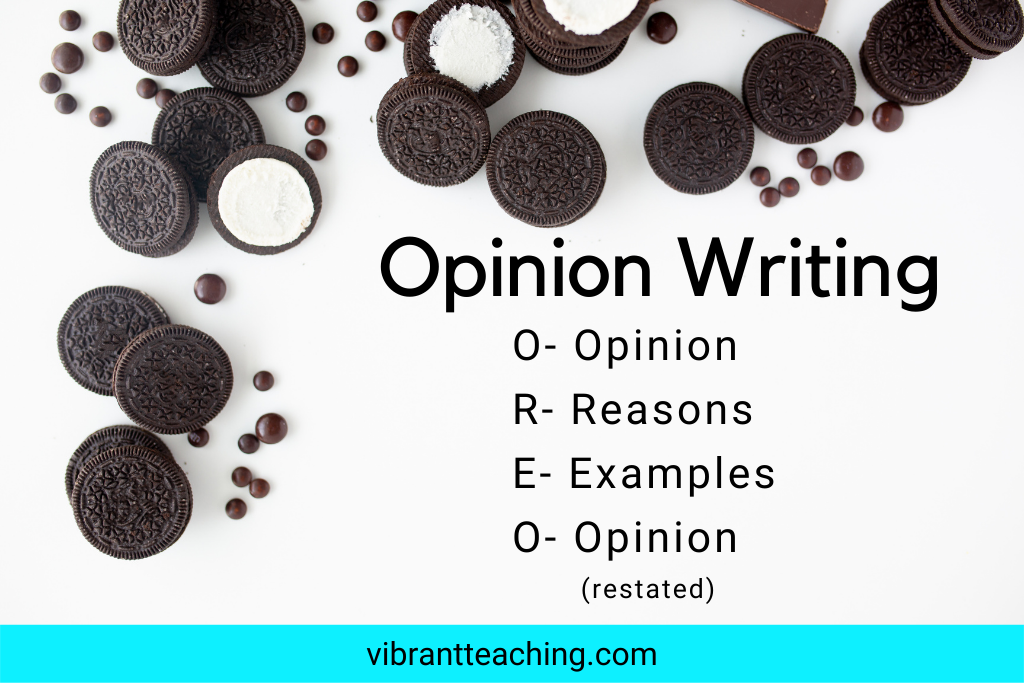 The example below uses one reason with supporting evidence. For each reason, the student should write an example. The acronym might look like OREREO for two reasons or OREREREO for three reasons. A little confusing, but you get the idea.
Example: Do you think teachers should give students homework?
O – In my opinion, students should not have homework.
R – They work so hard all day at school and need a break.
E – Instead of focusing on more work kids should be able to go outside and play, do a sport, or do other fun activities.
O – In conclusion, students work all day at school and should not have to do homework.
Sentence Starters
As students write, it may also be helpful to use sentence starters. Teachers can project these on the board, put them on an anchor chart, or print a version for writing notebooks. I also like to do a mini-lesson where I ask the kids what types of sentence starters work well for opinion writing and we create the list together. This process helps them retain the information better and they are more likely to apply it to their own writing.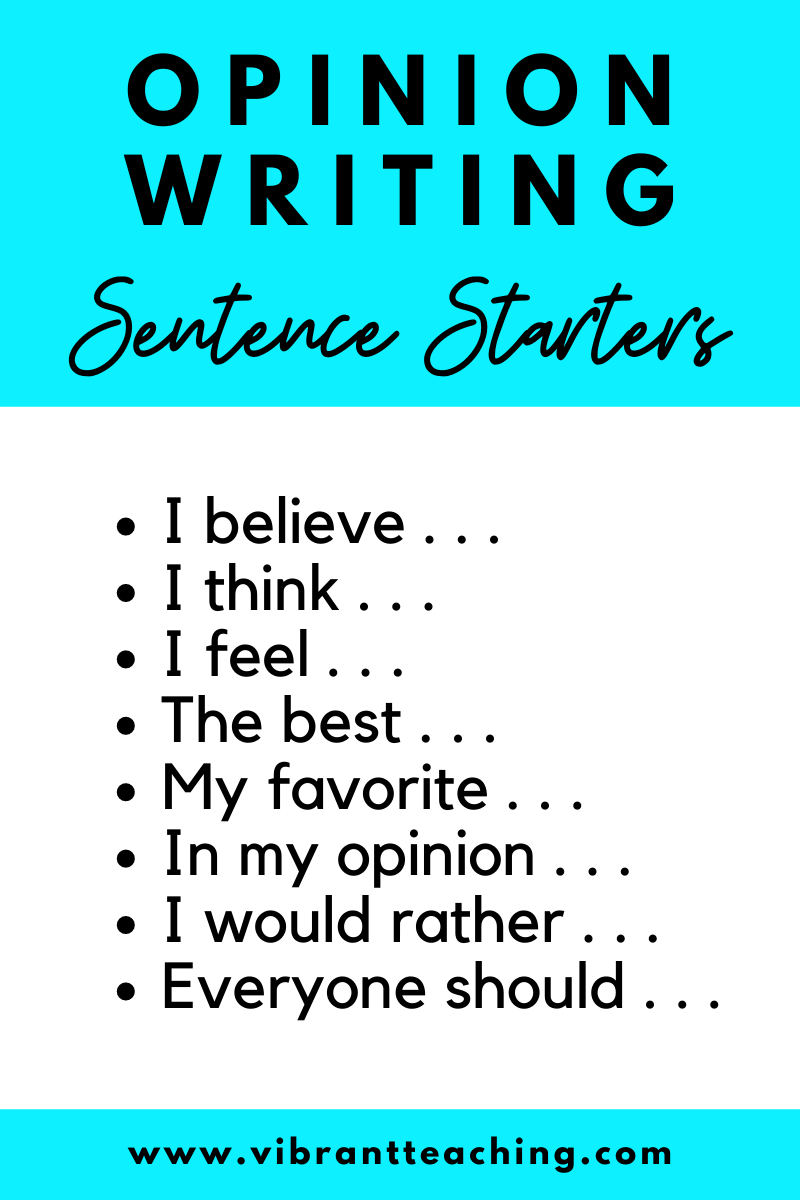 Ideas for Opinion Writing
There are so many fun and creative ideas for opinion writing. Kids really get into this writing unit because they feel that their opinion is valued and they are eager to share their knowledge. It's really empowering for them!
As an activity, the teacher can present a topic to the class and have students choose a side. Then kids can debate and state their opinion with reasons. This is always an exciting way to get the creative juices flowing and it will translate into their writing when they have to support their opinion.
Another idea is to use prompts for opinion writing. This engages the students and helps them get started. Prompts can be assigned by the teacher or students can choose from a list or choice board. Feel free to use the sentence starters below to generate ideas for writing prompts.
Would you rather . . .
Which is more important . .
Do you prefer . . .
What is the best . . .
What is your favorite . . .
Should . . .
Imagine if . . .
Prompts for Opinion Writing
Opinion writing prompts can be created by the teacher or the students. Sometimes students come up with better prompts than I ever could. Plus kids love knowing that a peer created the prompt they are going to write about. If you're looking for some ideas, the list below has 20 motivating and engaging prompts for kids! Also, check out this blog post to learn more about narrative writing prompts: 20 Prompts for Narrative Writing That Spark Creativity
20 Motivating and Engaging Prompts:
If you could only eat one food for the rest of your life, what would it be? Give 3 or more reasons why.
Should students be able to pick their own seats in class?
Think of a present you really want. Now convince someone to buy it for you.
What is the best pet someone can get?
Would you rather live somewhere that's extremely hot or cold?
Which sport is the best? Give reasons to support your opinion.
If you could visit any place, what would it be and why?
Would you rather live on a rural farm or in a busy city?
Imagine you could be the President for a day. What would be the most important thing to do first?
Which is more important? Being a good speaker or a good listener?
If the weather is nice, should kids be able to have their classes outside?
Do you think kids should have more technology time or less?
If you could see the world through colored glasses, which color would you choose and why?
Should kids get money for doing chores or should they just do it to help out at home?
Convince your teacher to get a class pet. Tell which animal would be the best choice and why.
Would you rather visit the moon or a planet? Explain why.
If there could only be one season, which would you choose?
Should kids get to choose their own bedtime?
Would you rather give a present or receive it?
Imagine you could create the best dessert ever! What would it be and why?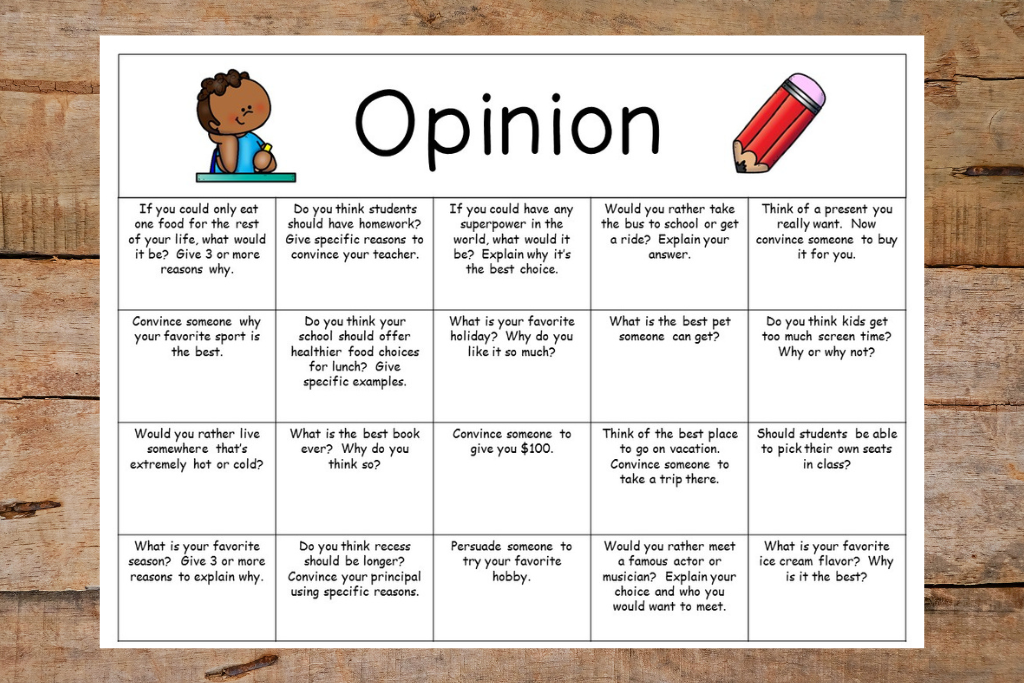 Opinion Writing Rubrics
After students have completed their writing, teachers are left with the difficult task of assessing it. Assessments should be accurate and aligned with the Common Core Standards. They also need to be helpful for the teacher and the students.
This is when writing rubrics become extremely helpful as formal assessments. They can be used for benchmarks, progress reports, report cards, and conferences. Rubrics may also be shown to students in advance so they know what the expectations are and how they will be assessed.
Below you will find three types of opinion writing rubrics. Check out this blog post to learn more about student-friendly, teacher-friendly, and time-saving rubrics: 3 Types of Writing Rubrics for Effective Assessments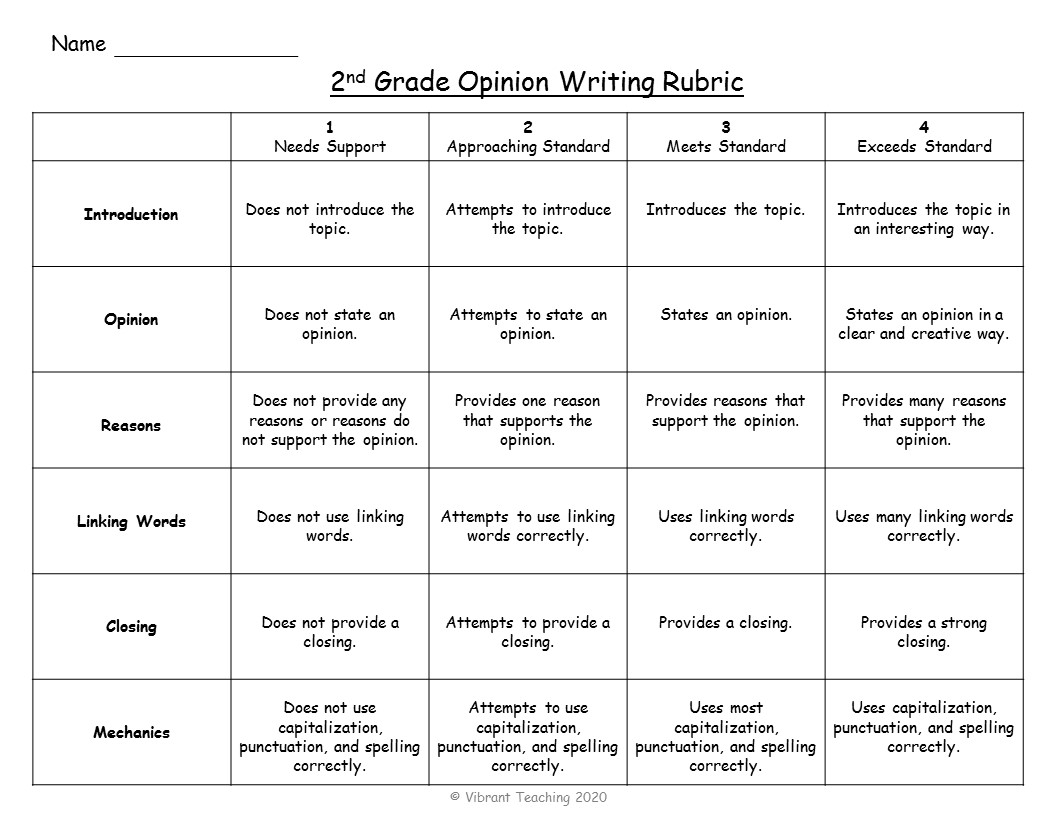 Opinion writing has the ability to engage and empower kids. Students will be able to explain their thinking by giving reasons and examples. Mentor texts, sentence starters, writing prompts, and rubrics are all helpful to use in the classroom. I know your kids will love writing and sharing their opinion pieces.
Did you grab your Free Writing Prompt Guide yet? Writing prompts are perfect for morning work, writing time, centers, or as a homework assignment. It will save you tons of time and energy. So click the link and grab the guide to get started!
Genre Based Prompts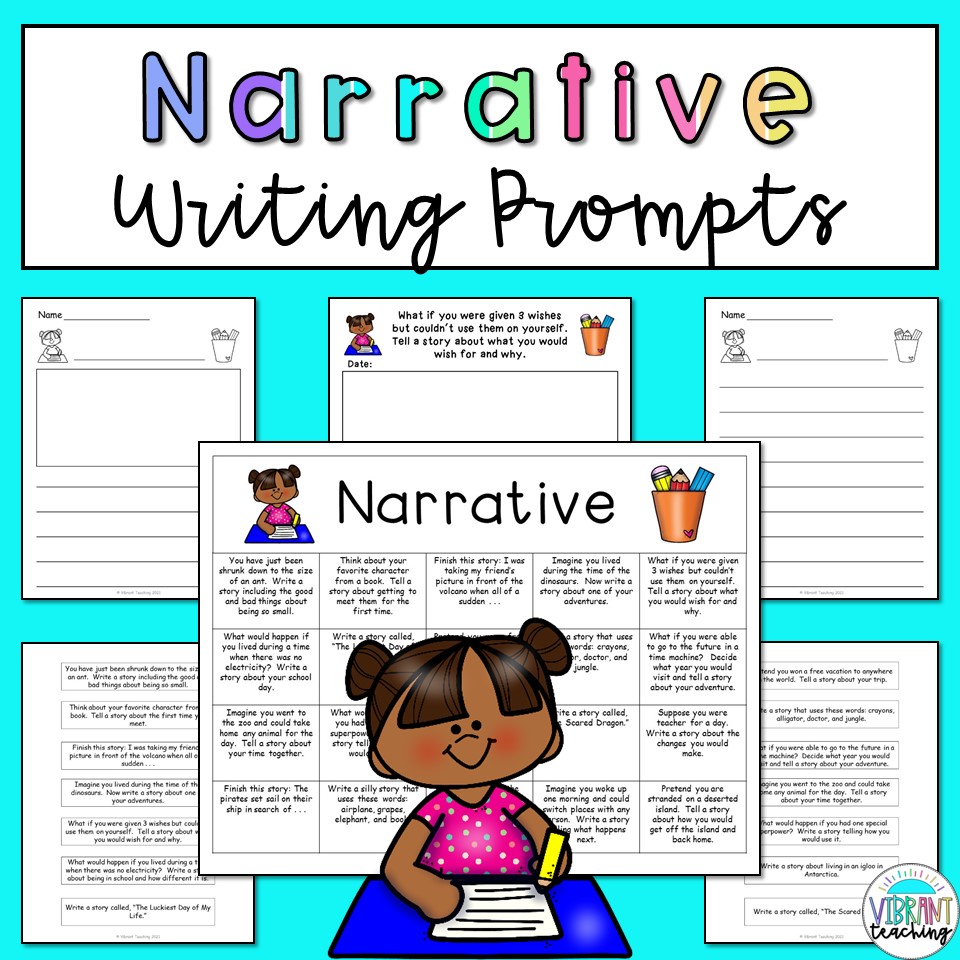 Related Articles:
20 Prompts for Narrative Writing That Spark Creativity
7 Ways to Introduce Opinion Writing
Opinion Writing Ideas and Resources
3 Easy to Implement Tips to Teach Opinion Writing
Angela Sutton
Related posts.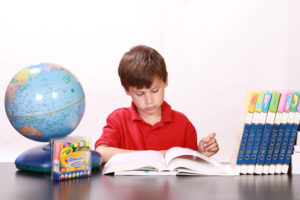 3 Distance Learning Tips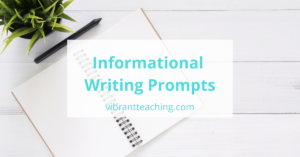 20 Prompts for Information Writing That Empower Students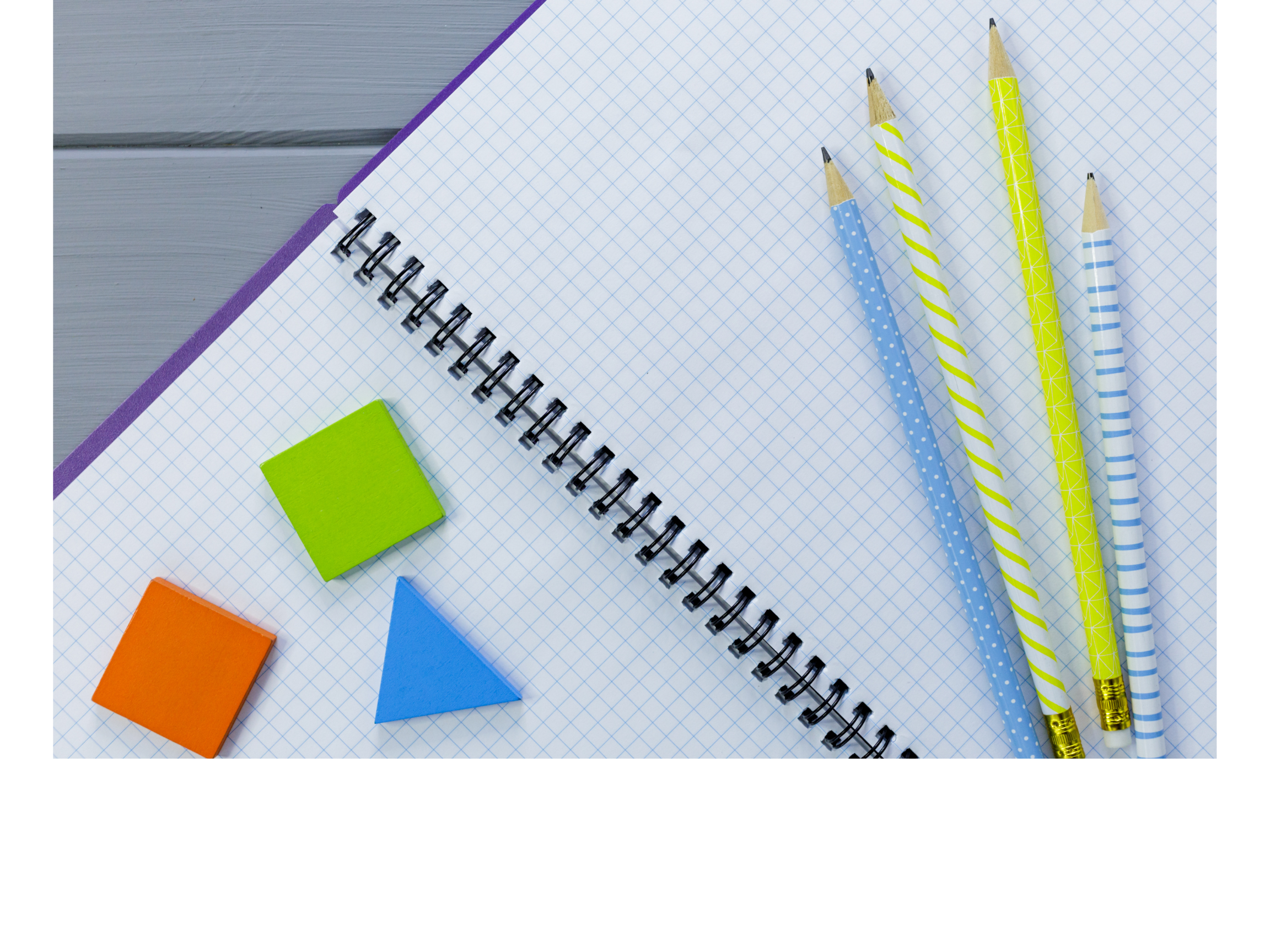 How to Find Perimeter in 3 Easy Ways
Thanks for sharing. These are my favorite type of writing prompts to give to my students to see how creative they can get.
Yes! These kinds of prompts definitely get the creative juices flowing. The students always love to share their opinions with the class. Happy writing!
Leave a Reply Cancel Reply
I accept the Privacy Policy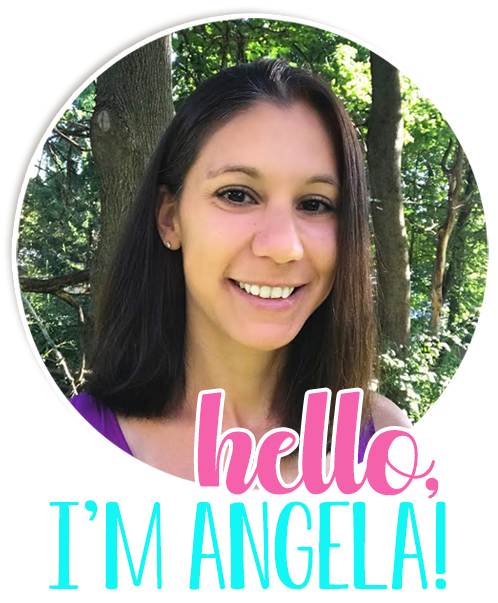 I specialize in helping elementary teachers with writing resources, tips, and ideas. My goal is to save teachers time and energy so they can be vibrant inside and outside of the classroom! Read More
SEARCH THE BLOG
Subscribe to our mailing list.
Get the news right in your inbox!
Health and Wellness
Writing Prompts for 5th Grade
PhotoAlto / Sigrid Olsson / Getty Images
By fifth grade, students are developing basic fluency as writers. In order to hone their skills, fifth graders should practice supporting claims with factual information, conveying information clearly, and writing narratives in a logical order. The following fifth-grade writing prompts encourage students to develop their skills through topics that are meaningful to them.
Narrative Essay Writing Prompts
Narrative essays tell a story based on a student's personal experience. They encourage students to use descriptive writing to reflect on their experiences, explain them in a logical manner, and draw conclusions from them.
New Beginnings . This is your last year of elementary school. What are you most excited or most nervous about when you think of starting middle school ?
Betwixt . Students in 5th grade are often referred to as "tweens," meaning that they are between the young child and the teen years. What is the hardest thing about being a tween in today's society?
Besties . What is the best book you've ever read? What made it so special?
Reflections . Do you remember your first-ever day of school ? Describe one vivid memory from that day.
Bullies . Have you ever witnessed someone bullying another student? What happened and how did it make you feel?
Man's Best Friend . Do you share a bond with your dog or other pet? Describe your pet, and explain what makes your relationship unique.
Families . A family isn't always a mom, a dad, and their children. Write about the ways your family is the same as and different from other types of families and what makes your bonds so strong.
Holiday Memories . Think about one of your favorite holiday-related memories. Write an essay describing it and tell why it is so unforgettable.
Guilty . Think about a time you did something that made you feel guilty. Describe what happened.
The Ultimate Field Trip . If you could choose anywhere in the world to go on a field trip , where would you choose and why?
Family Game Night . Do you enjoy playing games with your family? Describe your favorite family game or activity.
Tasty Treats . What is your favorite food? Describe it as if you were introducing it to someone who has never seen or tasted it.
Someday . Have you thought about what you want to be when you grow up? Write an essay explaining why you think you'd like that career.
Persuasive Essay Writing Prompts
Persuasive essays are those written to convince another person to agree with the writer or take action. These persuasive essay prompts inspire 5th graders to share their passions with an audience.
Pets Day . You've just gone to work with your parent for "bring your child to work day." Write an essay convincing your school to have a "bring your pet to school" day.
Yuck . What is your least-favorite cafeteria food? Give three compelling reasons why your school should quit serving it.
Let's Trade . Your friend's lunches from home always look better than yours. Write an essay convincing your buddy that you should start swapping meals every day. Be sure to highlight the benefits of the food you bring!
Home Alone . Write an essay convincing your parents that you are old enough and responsible enough to stay at home alone.
Sunny Day . The weather outside is beautiful for the first time in weeks. Persuade your teacher not to assign any homework so that you'll have time to go out to play.
The Sequel . The long-awaited sequel to your favorite book or video game is now available. Convince your brother or sister to do your chores this week so that you have plenty of time for reading or gaming.
Seating Chart . Because of your teacher's seating chart, you're not going to be able to sit next to your friend all year! Persuade your teacher to let students choose their seats.
Birth Order . Are you an only child, the oldest sibling, the youngest, or the middle? What makes your birth order the best?
The Ultimate Game . What is the best video game on the planet? Explain why it's better than similar games.
Life Lessons . What are the three most important lessons parents should teach their children and why?
Test Time . Do you think standardized tests are helpful or harmful? Explain your answer.
Tunes . Some studies have shown that listening to music can help students concentrate. Should students be allowed to listen to music using headphones during independent work times at school? Persuade the reader of your answer.
Catch-22 . You're not a big fan of writing. Write an essay convincing your teacher that you shouldn't have to write any more essays this year.
Expository Essay Writing Prompts
Expository essays are often called how-to essays. They usually teach the reader something or provide facts about a particular topic.
Let's Play . Your family frequently attends community theater productions, but your friend has never seen one. Write an essay describing what he or she can expect during the evening.
Band . You're graduating elementary school, and a younger student is taking your spot in the school band. Explain to him or her how to clean and care for your musical instrument .
Lessons Learned . Write an essay to a younger sibling explaining two or three key strategies for having a positive 5th-grade experience.
Class Pet . You've cared for your class pet this week, but now it's another classmate's turn. Explain how to feed and care for the pet properly.
Upgrade Ahead . You have an idea to improve your school. Explain it.
Safety Zone . Explain three of the best steps kids can take to be safe online.
Family Traditions . Does your family have any customs or traditions that might be unfamiliar to a classmate? Describe them.
Pen Pal . Describe for your pen pal who lives in another state an animal native to your area, including its physical characteristics, behaviors, and any sounds that it makes.
Creepy Crawlies . Compare and contrast two insects or animals that are similar, but have different characteristics such as a bumblebee and a yellow jacket or a horse and a mule. How are they alike and how are they different?
Clean Up . Your class is going to spend a day cleaning up at a local park. You've done this with another group before, but some of your classmates haven't. Explain the process.
Action . Your favorite book was made into a movie. Compare and contrast the film and book versions.
Team Players . Explain how contributing responsibly helps or how it hurts a group when someone doesn't do his part.
Tell and Show . Your class is having a "tell and show" day. You have to describe your item in as much detail as possible without naming it. Only when the class guesses or gives up can you show your item. Write out the description of your item.
Creative Writing Essay Prompts
Creative writing allows students to engage their imaginations and story-telling skills while also practicing vital writing skills such as sequence and description.
Magic Lamp . You've just found a magic lamp. What happens when you rub it?
Say Cheese . You are given an exceptional camera. Everything you take a picture of becomes yours, but you can only take three pictures. Tell a story about the photos you take.
Invisible Man . One morning, you glance in the mirror and realize that you don't have a reflection. You've become invisible! Write a story about your day.
Gone to the Dogs . Write a story from your pet's point of view.
All Hail the King . Imagine that you discover an uncharted land that you claim as a new country. And, you're the ruler! Describe your country, its people, and your newfound position of power.
Part of the Story . One night, you doze off after reading the latest book in your favorite series. When you wake, you discover that you're in the story! Write about your adventures.
Before or After . Imagine that you live either 100 years in the past or 100 years in the future. What is your life like?
Dr. Doolittle . You're walking through a pet store when you discover that you can talk to the animals. What happens next?
Meet and Greet . Imagine that you can meet anyone you're studying in school right now from famous scientists to historical figures to the characters in the class read-aloud . Write a story about your meeting with that person.
Switcheroo . If you could switch lives with anyone in your school, who would it be? Write about your day in the life of that person.
Holiday Loop . Imagine you get to relive your favorite holiday every day. What's that like?
Tall Tales . Tall tales are possibly true stories that contain highly exaggerated actions or events. Create a tall tale about something that happened in your family.
Teacher's Pet . Imagine that your teacher is actually your parent. Describe a day in class.
Fun March Writing Prompts for Journaling
Writing Prompts for 7th Grade
Writing Prompts for Elementary School Students
Second Grade Writing Prompts
Engaging Writing Prompts for 3rd Graders
Writing Prompt (Composition)
September Writing Prompts
24 Journal Prompts for Creative Writing in the Elementary Classroom
First Grade Writing Prompts
February Writing Prompts
Christmas Journal Writing Prompts
November Writing and Journal Prompts
Private School Application Essay Tips
January Writing Prompts
50 Quick Writing Prompts for Journals, Blogs, Fiction, and Essays
49 Opinion Writing Prompts for Students
By clicking "Accept All Cookies", you agree to the storing of cookies on your device to enhance site navigation, analyze site usage, and assist in our marketing efforts.