Do uniforms make schools better?
by: Marian Wilde | Updated: January 17, 2023
Print article
For the past decade, schools, parents and students have clashed over the issue of regulating student attire. In 2007, cases involving an anti-Bush T-shirt in Vermont, an anti-gay T-shirt in San Diego, and Tigger socks in Napa, California, made their way through the courts, causing many to wonder whether this debate will ever be resolved.
Meanwhile, researchers are divided over how much of an impact — if any — dress policies have upon student learning. A 2004 book makes the case that uniforms do not improve school safety or academic discipline. A 2005 study, on the other hand, indicates that in some Ohio high schools uniforms may have improved graduation and attendance rates, although no improvements were observed in academic performance.
Why do some public schools have uniforms?
In the 1980s, public schools were often compared unfavorably to Catholic schools. Noting the perceived benefit that uniforms conferred upon Catholic schools, some public schools decided to adopt a school uniform policy .
President Clinton provided momentum to the school uniform movement when he said in his 1996 State of the Union speech, "If it means teenagers will stop killing each other over designer jackets, then our public schools should be able to require their students to wear school uniforms."
The pros and cons of school uniforms
According to proponents, school uniforms:.
• Help prevent gangs from forming on campus • Encourage discipline • Help students resist peer pressure to buy trendy clothes • Help identify intruders in the school • Diminish economic and social barriers between students • Increase a sense of belonging and school pride • Improve attendance
Opponents contend that school uniforms:
• Violate a student's right to freedom of expression • Are simply a Band-Aid on the issue of school violence • Make students a target for bullies from other schools • Are a financial burden for poor families • Are an unfair additional expense for parents who pay taxes for a free public education • Are difficult to enforce in public schools
Uniforms vs. dress codes
Schools and districts vary widely in how closely they adhere to the concept of uniformity.
What's a dress code?
Generally, dress codes are much less restrictive than uniform policies. Sometimes, however, dress codes are nearly as strict, as in the case of a middle school in Napa, California. This particular school's dress code required students to wear solid colors and banned images or logos on clothes. When a student was sent to detention for wearing socks adorned with the image of Winnie-the-Pooh's friend Tigger, the girl's family sued the school district for violating her freedom of speech. In August of 2007, the district announced it would relax its dress code – for the time being – to allow images and fabrics other than solid colors. The district superintendent, while admitting that banning images on clothes raises concerns about the restriction of political and religious speech, announced his intention to move soon toward implementing uniforms in the district.
Uniforms are certainly easier for administrators to enforce than dress codes. Consider two recent examples of students challenging dress codes through the courts.
In June of 2007, the United States Supreme Court upheld a lower court's decision affirming a Vermont student's right to wear a T-shirt depicting President Bush surrounded by drug and alcohol images. The school had suspended the student, not for the anti-Bush political statement, but for violating a dress code that prohibits drug and alcohol images. The courts, however, disagreed with the school and found that, because the images referred to Bush's alleged past use of cocaine and alcohol, they were protected as free political expression.
In March of 2007, the Supreme Court "vacated" or set aside the decision of a lower court upholding a San Diego high school's suspension of a student for wearing an anti-gay T-shirt. The school argued that the T-shirt was hateful and inflammatory. The Supreme Court's action essentially struck down the school's argument and upheld the student's right to free speech.
In both of these cases, the schools' attempts to protect students from drug and alcohol images or hateful speech were reversed in favor of free speech. To clarify the matter somewhat, the Supreme Court ruled in June of 2007 in favor of a school in Alaska that had suspended a student for displaying a banner reading "Bong Hits 4 Jesus." The court ruled that the reference to drugs in this case had no political message and could indeed be seen as advocating drug use.
Check with your school to see what the dress code is, as they can be fairly specific. In Tulsa, Oklahoma, for example, the dress code prohibits:
• Decorations (including tattoos) that are symbols, mottoes, words or acronyms that convey crude, vulgar, profane, violent, gang-related, sexually explicit or suggestive messages • Large or baggy clothes (this prohibition can be used to keep students from excessive "sagging") • Holes in clothes • Scarves, curlers, bandanas or sweatbands inside of school buildings (exceptions are made for religious attire) • Visible undergarments • Strapless garments • Bare midriffs, immodestly low-cut necklines or bare backs • Tights, leggings, bike shorts, swim suits or pajamas as outerwear • Visible piercings, except in the ear • Dog collars, tongue rings and studs, wallet chains, large hair picks, or chains that connect one part of the body to another
What's a uniform?
One school might require white button-down shirts and ties for boys, pleated skirts for girls and blazers adorned with the school logo for all. Another school may simply require that all shirts have collars.
In Toledo, Ohio, elementary school students have a limited palette of colors that they can wear: white, light blue, dark blue or yellow on the top half and dark blue, navy, khaki or tan on the bottom half.
Toledo girls are allowed a fairly wide range of dress items, however: blouses, polo shirts with collars, turtlenecks, skirts, jumpers, slacks, and knee-length shorts and skirts. Boys have almost as many choices: dress shirts, turtlenecks, polo or button-down shirts, pants or knee-length shorts.
When Toledo students reach junior high, they are treated to one more color choice: maroon.
What research says about school uniforms
Virginia Draa, assistant professor at Youngstown State University, reviewed attendance, graduation and proficiency pass rates at 64 public high schools in Ohio. Her final analysis surprised her: "I really went into this thinking uniforms don't make a difference, but I came away seeing that they do. At least at these schools, they do. I was absolutely floored."
Draa's study concluded that those schools with uniform policies improved in attendance, graduation and suspension rates. She was unable to connect uniforms with academic improvement because of such complicating factors as changing instructional methods and curriculum.
University of Missouri assistant professor, David Brunsma reached a different conclusion. In his 2004 book, The School Uniform Movement and What It Tells Us About American Education: A Symbolic Crusade , Brunsma reviewed past studies on the effect of uniforms on academic performance. He also conducted his own analysis of two enormous databases, the 1988 National Educational Longitudinal Study and the 1998 Early Childhood Longitudinal Study. Brunsma concluded that there is no positive correlation between uniforms and school safety or academic achievement.
Meanwhile, the movement toward uniforms in public schools has spread to about a quarter of all elementary schools. Experts say that the number of middle and high schools with uniforms is about half the number of elementary schools. If uniforms are intended to curb school violence and improve academics, why are they not more prevalent in middle and high schools, where these goals are just as important as in elementary schools? Because, says Brunsma, "It's desperately much more difficult to implement uniforms in high schools, and even middle schools, for student resistance is much, much higher. In fact, most of the litigation resulting from uniforms has been located at levels of K-12 that are higher than elementary schools. Of course, this uniform debate is also one regarding whether children have rights, too!"
What do students think about uniforms?
A student discussion: pros and cons of uniforms.
Editor's note: This video is part of our high school milestones series about communication skills. The students in this video discuss the pros and cons of school uniforms.
After a school uniform policy was implemented in three Nevada middle schools in 2008 and 2009, researchers at the University of Nevada, Reno, set out to find out what 1,350 seventh and eighth graders thought about the change. The vast majority — 90 percent of students — reported that they disliked wearing uniforms. However, other data showed more nuanced results. For instance, 54 percent of students agreed that they still had their identity while wearing a uniform, and 50 percent agreed that uniforms saved their families money. But only 41 percent of students agreed that there was less gang activity at their school after uniforms were required. However, when the researchers looked into school discipline and local police records and compared them to the prior year's data, discipline referrals were down 10 percent, there were 63 percent fewer police log reports, and graffiti, fights, and gang-related activity were all down.
It's a big issue
A new trend is the mounting pressure to establish dress codes for teachers. Apparently the same casual mind-set toward revealing outfits is cropping up in the ranks of our teachers.
The debate over uniforms in public schools encompasses many larger issues than simply what children should wear to school. It touches on issues of school improvement, freedom of expression and the "culture wars." It's no wonder the debate rages on.
Additional resources
The School Uniform Movement and What It Tells Us About American Education: A Symbolic Crusade, David Brunsma. Rowman & Littlefield Education, 2004.
School Dress Codes: A Pro/Con Issue, Barbara C. Cruz. Enslow Publishers, 2001.
Why your neighborhood school closes for good – and what to do when it does
5 things for Black families to consider when choosing a school
6 surprising things insiders look for when assessing a high school
Surprising things about high school
Yes! Sign me up for updates relevant to my child's grade.
Please enter a valid email address
Thank you for signing up!
Server Issue: Please try again later. Sorry for the inconvenience
Question and Answer forum for K12 Students
School Uniforms Essay | Short and Long Essays, Importance and Benefits of School Uniforms
School Uniforms Essay: School uniforms should be utilized in educational systems. Uniforms are both as useful for schools just as for the pupils. Wearing outfits will help construct a feeling of solidarity inside the school. Rather than everybody as a different group, everybody will be in a similar group. Wearing regalia will help free pupils of the pressure of what to wear in the first part of the day. Wearing school outfits will help improve understudy distinction and improve their confidence. To start with, wearing coordinating outfits can cause pupils to feel equivalent. Helpless pupils would at this point don't feel rejected on the grounds that they are not wearing name-brand garments like the more extravagant children.
You can read more  Essay Writing  about articles, events, people, sports, technology many more.
What is a School Uniform?
In straightforward words, we comprehend that the Uniform or material which is recommended by the school for pupils to wear in school is called school uniform. Generally in all schools uniform is mandatory.The Uniform gives balance and comparability between the pupils, everything being equal. These days, all schools keep the principles of wearing a normalized uniform for all pupils.
How to Write a School Uniform Essay?
To write an essay students should know the proper format. Also, they should be well aware of the topic on which they have to write the essay. Writing an essay on school uniforms requires the knowledge of the merits and demerits of wearing a school uniform. Students should list down the advantages of uniforms in schools.
Remember these points while writing the essay on school uniform:
Give introduction on school uniform in the first paragraph
Explain the advantages and disadvantages of wearing a school uniform
Explain how wearing a uniform brings changes in students
Conclude the essay in the last paragraph
Short Essay on School Uniform 150 Words in English
School uniforms are the solitary most apparent fundamental components of any school. We can distinguish the understudy by assessing their regalia.
It is said that, in the sixteenth century, Christ's Hospital School originally utilized the school uniform. There has been a discussion everywhere in the world on whether the subject of school uniforms is positive or negative. Common liberties activists say that school uniforms are removing their opportunity of wearing anything. In guard, the School Committee says they give a school uniform to instruct them in order and solidarity.
School uniforms can build the pay of a custom-fitted local area. And furthermore, a business organization can bring in cash by creating school regalia. School uniforms are a conventional clothing standard including a shirt and full gasp for young men and pullovers and creased skirts for young ladies. School dress can lessen fabric harassment.
Yet in addition, these days youngsters are more cognizant about their design sense and sexual direction, so they don't prefer to wear a similar unisex clothing standard. However, after every one of those contentions and dubious speculations, we can say, school regalia are as a matter of fact pride for an understudy.
Long Essay on School Uniform 650 Words
Schools are instructive establishments where kids go not exclusively to learn course readings however to develop as a general person. Schools likewise have the assignment of showing youngsters the desire for garments and mention to them what is proper for what event. School outfits are a basic type of garments for pupils during their visit at school during school hours, and outside during true school exercises. A school uniform is normal in a large portion of the schools. They have direct requests to wear the school uniform as a matter of course.
The necessity of School Uniform
Initially, school is where we all progress at an extremely youthful age. In a single word, life starts at school. It's schooling, as well as school, gives us the stage to sustain our confidence, feelings in the beginning phase of life. The significance of making companions, functioning as a group we get familiar with every one of these in school. What's more, wearing a similar dress unquestionably brings a feeling of solidarity among pupils. In each school, there are pupils from various foundations yet with the school uniform everybody becomes one-the lone character rules at that point is every one of them is the delegate of a similar school. This is an incredible inclination of harmony. This likewise assists kids with defeating the inadequacy (or predominance) complex which here and their kids have due to the climate they have been raised in. School outfits streak out a large portion of the drops of social contentions.
As school makes our crucial nuts and bolts of the future it is critical to cause one to feel as a piece of the school. A youngster with a specific school uniform constantly feels that he has a place with the school. It makes the youngster more cognizant about his distinction which thus helps to build fearlessness. A kid would be more thoughtful to his kindred cohort who has a similar uniform as his. As referenced before there would be consistently a blended group in each school. Some of them are rich, some have a place with the upper working class and some lower than that-this distinction remains all over, aside from those 8 hours in school due to the school uniform. The supposed status cognizance doesn't exist with this.
Benefits of School Uniform
Another admirable sentiment comes up while examining the benefits of school uniform is younger students go through two most significant progress times of life in school-they burn through 12 long a long time in school-from adolescence to teen, from adolescent to youth-the school observer the progressions ( both physical and mental) happen inside one. During these changes, somebody barely thinks often about the world. That time there is a propensity among us all to disrupt the norm which should be managed cautiously and strategically.
Now wearing school regalia assumes a quiet yet urgent part in our lives. It ingrains a profound established feeling of control in the psyche mind. Subsequently, typically even the riskiest formally dressed understudy wonders whether or not to do any underhandedness outside the school as the moment suspected plays to him that he will let down his school with his activity. School uniform assists an understudy with focusing on his necessities-where school and scholastics start things out.
Even after some elegantly composed diagrams of papers on school uniforms, the contention on whether a school uniform abuses the pupils' privilege of articulation will stay a ceaseless conversation. Be that as it may, truly, wearing of regalia should all rely upon the conditions and the picture a given school is attempting to depict. In any case, the significance of school uniforms appears to win the day today even as I compose this end and surprisingly after so many school uniform articles have been composed. On the last note, we should attempt to discover perpetual methods of tackling the developing issues looked at by pupils. We ought not to depend on school regalia to swipe the issues away from view, this does the pupils nothing but bad.
Importance of School Uniform
The uniform is a necessary piece of our life. The dress is a character of somebody. Through the dress, we become acquainted with which school the understudy is. The educator has a crucial part in picking a dress. He chooses the school uniform by taking a gander at all the classes. Uniform symbols, alongside schooling, order, and decorum help in altering the state and course of society.
Wearing legitimate clothing expands our trust in the public arena since it positively affects our work and thinking. These days, our local area has gotten a matter of rivalry for our kids. It appears to be that their dress is influencing them every day.
The wearing of our kids has additionally become an essential factor somewhat for the criminal occurrences occurring in the public eye. In an understudy's life, the educator and parent are the types of God. School dress is viewed as a recipe for equity.
Advantages of School Uniform
School uniforms are a need in many schools to achieve consistency in pupils.
School uniform binds together all pupils, paying little heed to their social, strict, and monetary foundation.
It imparts a feeling of having a place in the pupils.
It assists with restraining pupils and keeps everything under control since they are not occupied by their special garments.
pupils don't have to object about what to wear each day in the event that they have school regalia.
It is hard for low-pay families to purchase school regalia each spending year, and it might make a strain in their financial plan.
School outfits force consistency and consequently make pupils a mass of anonymous kids and with no singularity.
It is hard for pupils to check their friend's monetary condition in the event that they are wearing school dresses.
pupils can be not kidding about their examinations and figure out how to endeavor to be deserving of the custom.
School dress can make pupils unoriginal.
FAQ's on Schools Uniforms Essay
Question 1. What students should wear uniforms in school?
Answer: Uniforms are both as useful for schools just as for the pupils. Wearing uniforms will help fabricate a feeling of loneliness inside the school. To start with, wearing coordinating uniforms can cause pupils to feel equivalent. Helpless pupils would presently don't feel barred in light of the fact that they are not wearing name-brand garments like the more extravagant children.
Question 2. How to write an essay on a school uniform?
Answer: Start with an introduction, discuss the debate going on school uniforms by students, write the cons and pros of school uniforms. Explains the advantages and changes that wearing a school uniform can bring in students. End the essay with a conclusion.
Question 3. What is good about school uniforms?
Answer: School uniforms have been demonstrated to raise test scores, support confidence, diminish savagery and wrongdoing, and make a feeling of freshly discovered pride in pupils. They assist youngsters with zeroing in on learning and homework, not on the thing every other person is wearing or whether they fit in. Outfits are not the answer for the entirety of the issues that adolescents, instructors, and schools face today, however, examination and insights propose that they might be a positive development.
Question 4. Should students wear school uniforms?
Answer: Yes, all students should wear school uniforms since it represents discipline and equality among students in school.

Back to Listing
Current: Common Core Standards
Current: English Language Arts (ELA)
Current: Grade 5
Current: Writing
Current: Text Types and Purposes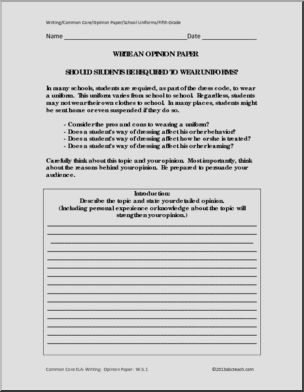 Common Core: Writing – Opinion Paper about School Uniforms (grade 5)
This is a 3 page template writing an opinion paper about students wearing school uniforms. it addresses the common core writing standards for fifth grade and includes a student checklist. cc: ela: w.5.1, resource tags, similar resources.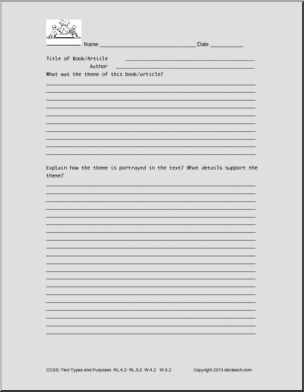 Common Core: ELA: Identifying the Theme (4th & 5th grade)
Media Type PDF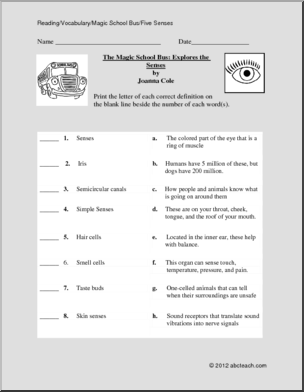 The Magic School Bus Explores the Senses Book Unit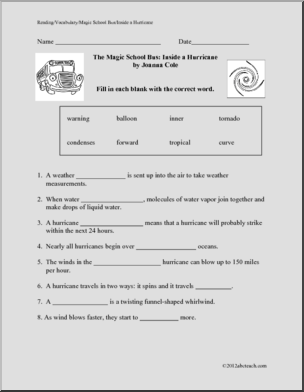 Inside a Hurricane – Vocabulary Unit – (upper el) Book Unit:The Magic School Bus
New to abcteach?
Sign up to Download From 49,000+ Resources
TERMS OF SERVICE
1.1. The abcteach.com public and membership websites have been in operation since about 2000, providing access to downloadable materials for educators and parents.
1.2. The abcteach.com website is owned and operated by ABCTEACH LLC, a Michigan limited liability company. The names "abcteach" and "abctools" are registered trademarks. As used in this Terms of Service and Privacy Policy, "We" and "abcteach" and "Site" refer to all websites and services, whether public or membership, operated or offered by abcteach. Currently we operate under the following base urls: abcteach.com, and members.abcteach.com.
1.3. abcteach is for use by parents, educators, and others over the age of 18. The materials made available by abcteach are intended to be used with and for children and students, among others, at the discretion and under the control, supervision, and direction of the parents, educators, and other adults who are visitors, members, or subscribers to the Site. As used in this Terms of Service and Privacy Policy, "you" refers to such visitors, members, or subscribers.
1.4. By using the Site, you accept and agree to be bound by the following terms. We may, solely at our discretion, modify or revise these terms and conditions at any time by updating this web page, and you agree to be bound by these modifications or revisions. You should visit this page periodically to review the terms. From time to time, we will require that you confirm your agreement to the terms.
2.1. Sharing of password or login information is strictly prohibited. Suspension of account access may result from sharing of this information.
2.2. Worksheets and other materials available on abcteach, including clip art, may be printed or otherwise duplicated for use in your home or your classroom(s). Clip art on abcteach is intended as a resource for you in creating lessons and teaching materials and the like within your permitted usage of the Site. If you are a paid member, our clip art may be: placed on another publication as clip art, or distributed individually on a third-party authorship site, if you as a member give abcteach credit for any clip art intended to be redistributed. Giving credit to abcteach requires you to mention our name and website on any publications in which you use our clip art for redistribution. You may not use our clip art in the design or content of another website; or distribute our clip art electronically or by email or text or by any other media or social media. Furthermore, Members are prohibited from packaging our clip art into their own collections for sale, each clip art illustration used for resale, must be used individually, again giving credit to abcteach.com.
2.3. The abcteach copyright appears on every page; we require that this copyright remain in place on all reproductions.
2.4. Except as provided in section 2.7 below, all of the worksheets and other materials available on abcteach are intended for non-commercial educational purposes.
2.5. You may place links to abcteach from your own education website; however, copying or uploading abcteach resources and documents to your own site is a copyright violation and will be treated as such. Deep linking is not permitted. (A "deep link" is a hyperlink that bypasses a website's home page and takes the user directly to an internal page. For example, instead of linking to the home page of a newspaper, a deep link might take the user directly to a newspaper article within the site.) At abcteach, linking directly to a content page rather than the home page or a directory page is considered deep linking and is not permitted.
2.6. Under no circumstances may any of the documents, resources, clip art, worksheets, or other materials (including text, images, or website design) on abcteach be re-sold or re-distributed without the express permission of abcteach.
2.7. We may permit you to use abcteach materials in your creation and sale of educational materials produced by you individually, on sites such as Teachers Pay Teachers, upon your payment of a separate additional fee and your submission of an executed agreement as stated elsewhere on the Site. This would offer you a limited non-exclusive license to use abcteach materials within the scope of the separate agreement; such permission being terminable at any time by abcteach in our sole discretion; you agree that you will immediately cease the use, or offering for sale, or sale, of any such educational materials in the event we take such action. By using any materials, you acknowledge that other members may be acting under similar permissions and creating similar materials.
2.8. If you desire to use abcteach materials in any other manner, or if you have any questions about permissible uses that are not specifically addressed here, you should address your inquiry to support@abcteach.
3. Responsibility for User-Created Content
3.1. The Site has tools and other features, including but not limited to abctools, the abcWorkshop, and other applications, that facilitate the creation of user-generated word lists, puzzles, worksheets, and other resources. The user-selected content of such user-generated materials is your sole responsibility and not that of abcteach. If any other person, including children or students, uses your member account to access or use abctools or abcWorkshop or any other abcteach application, you agree to and assume responsibility for any such materials.
3.2. You are responsible for assuring that any materials, lists, documents or other documents created with this abcteach tools, resources, and applications, are appropriate, and you will not cause or permit the tool to be used to create harmful, vulgar, threatening, or otherwise inappropriate content.
3.3. If you share an abcteach document or user-generated document, by any means including any of the sharing features or applications or tools found on the Site, you are solely responsible for the content of the transmitted materials or documents.
3.4. If any sensitive materials or information or documents from the Site, or user-generated materials, are shared or provided to a child under the age of 13, you agree that you will first obtain express consent from the child's parent or guardian(s) to share such documents with the child, and obtain permission and/or releases for the use of any user-generated information concerning the child or the child's family that may be contained in such documents.
4. License Grant to abcteach
By posting information on or through our Sites, you automatically grant abcteach a royalty-free, perpetual, irrevocable, non-exclusive license to use, reproduce, modify, publish, edit, translate, distribute, perform, and display the information, alone or as part of other works, in any form, media, or technology, whether now known or hereafter developed, and to sublicense such rights through multiple tiers of sub-licensees.
5. Charges, Payments, and Subscription Charges and Cancellation
5.1. We currently offer one-year and two-year individual memberships for single payment, and a monthly plan with payment of an initial setup charge followed by monthly payments. We also offer group memberships to schools, districts, and groups, the details of which are described separately. The terms and prices of individual memberships as they may exist from time to time are stated on the Site. We may choose to offer different membership plans. By becoming an abcteach member, you agree that we may renew your subscription automatically for the same subscription terms on the day your previous subscription ends, and you authorize us to charge you for the subscription term, unless you cancel your account prior to its renewal date through the cancellation process, as provided in sections 5.4 – 5.6 below.
5.2. We use third-party payment providers (such as CyberSource and other providers) for all credit and debit card and PayPal and similar transactions. We do not collect or retain information about user's credit or debit cards or PayPal accounts or other payment mechanism, all of which information is retained and used according to secure procedures of the third-party payment providers.
5.3. Depending on the plan you choose, you will be charged a fee automatically through our renewal system. By becoming an abcteach member, you are agreeing that we are authorized to charge you the membership fee associated with the type of membership (monthly, yearly, or bi-yearly) that you chose during registration. You agree that we are authorized to charge you the membership fee at the then-current rate to the payment method you provided during registration. Please note that prices and charges are subject to change without notice. Fees each month may be modified using credit card, debit card, PayPal, or other payment methods available through your account. This includes: promotional discounts advertised in our weekly member newsletters, or on-brand promotional ads. Each renewal payment will take place on or about the anniversary of the original date of account registration. If all eligible payments methods we have on file for you are declined, you must provide us a new payment method promptly or your membership will be canceled. If the renewal of your membership fails for any reason, we will attempt to process your renewal for a period up to thirty (10) days.
5.4. Membership Cancellation. You may cancel your membership any time by visiting Your Account and adjusting your settings. If you choose to cancel your subscription or fail to pay any fees, we may stop your membership. If you cancel your membership or are no longer a paid user, you have the option to continue use as a free user.
5.5. UNLESS YOU NOTIFY US BEFORE A SUBSCRIPTION PAYMENT THAT YOU WANT TO CANCEL OR DO NOT WANT TO AUTO RENEW, YOU UNDERSTAND THAT YOUR ABCTEACH MEMBERSHIP WILL AUTOMATICALLY CONTINUE AND YOU AUTHORIZE US TO COLLECT THE THEN-APPLICABLE MEMBERSHIP FEE AND ANY APPLICABLE TAXES, USING ANY/ ALL ELIGIBLE PAYMENT METHODS WE HAVE ON RECORD FOR YOUR ACCOUNT.
5.6. ALL FEES ARE NON-REFUNDABLE. Termination of your account may include removal of your access to all offerings of the website; including password, information, files, and user content associated with your account, and barring any further use of abcteach membership services and tools.
5.7. We may terminate your membership at our discretion without notice. If we do so, we will provide a prorated refund based on the number of days/months remaining in your membership. However, we will not give any refund for termination related to conduct that we determine, in our discretion, violates these terms or any applicable law, involves fraud or misuse of the membership agreement, or is harmful to our interests or another use.
5.8. By applying for membership, you represent that: you are over the age of 18; that you are competent to enter into a contract; that you are the owner of, or authorized by the owner, to utilize the credit or debit card or other payment mechanism used for the payments; that the information you submit about your location and contact information is correct; that you will promptly notify us of any change in your email address or payment mechanism; and that you have read and agree with the provision of these Terms of Service and Privacy Policy. We reserve the right to decline any application for membership, or to change the terms and/or conditions of any account at any time, for any reason or no reason.
5.9. We may offer, on the Site or through other means, and broadly or to limited groups of potential members, promotional prices, seasonal pricing, free trial memberships, or other special prices and terms. Such promotional activities do not affect existing memberships, and abcteach will not provide or offer such promotional prices to existing members or users, and will not provide refunds or rebates or other price protections.
PRIVACY POLICY
This Privacy Policy applies to all websites, public and membership, operated by abcteach. By providing information to us or using the Site, you agree to the terms and conditions of this Privacy Policy.
abcteach will not knowingly send marketing or other messages to children. Nor does abcteach knowingly permit children to communicate through the Site or to provide personal information to us.
Member Registration Information. abcteach collects and stores certain information that members, subscribers, and users of the Site are required to provide in registering for or subscribing to the Site. Such information can vary depending on the nature of the account, and may include personal identifying information such as name, email address, school or district information, physical address, etc.
Electronic Payment and Credit Card Information. abcteach currently utilizes third party providers to handle electronic and credit card payment transactions, and abcteach does not itself collect or store information concerning such payments. If you want to review the privacy policies of such third party service providers, please request contact information for those providers by contacting abcteach at the one of the addresses given below.
Payments by Check or Bank Transfers. When abcteach receives payments by check or bank transfers, most often from schools and districts, we collect and maintain information about such payments.
Information about Usage of the Site. We collect information on usage of the Site, which may include pages visited, and downloaded, time on site, identifying information about the uses, etc.
"Cookies" and other Tracking and Technology Information. abcteach and our third party service providers may use cookies and other technologies to retrieve and store information about Site usage, browser type, IP addresses, pages visited, date and time of usage, etc.
Information derived from use of ABCTOOLS and abcWorkshop and other abcteach services and products. If a member or others introduce information into the system by utilizing any of abcteach's services or products including ABCTOOLS or abcWorkshop, it is possible such information will be gathered or stored. You represent, by using or permitting such use of the Site by yourself or by others or by children, that any personal information that may be included in such usage is used with permission and authority, including parental consent, and that you represent to us and our service providers that we are permitted to use the information.
Registration and use of the Site.
Payment for membership or subscriptions or products or services.
Internal business purposes.
Newsletters distribution.
Special offers and marketing relating to abcteach.
Customer service and problem resolution.
Enforcement of abcteach intellectual property rights and membership terms and conditions.
Responding to legal process or governmental requests for information.
As required under applicable law or regulations.
In connection with possible future transactions affecting abcteach, such as the sale of the Site, or mergers, sales of assets, reorganizations, etc. , in which event all or a part of stored information including member and user information may be transferred to a successor business or website operator.
As we may require in connection with specific services and products, current or future.
Children's Privacy Notice Usage of the Site is limited to adults and children are not permitted to use the Site. Nor do we request that any personal information be provided by or about children including those in your family or classroom. Children under the age of 13 are not requested to provide any personal information while using the Site. However, to comply with the Children's Online Privacy Protection Act, if it is brought to our attention that children under 13 years of age intend to use the Site, we reserve the right to require you to seek the consent of Parents in order for children under 13 years of age to use the Site in any manner that could result in the submission of personal information, and to terminate your access to the Site if such consent(s) is not obtained or submitted timely. If a member, teacher, or parent uses the Site or any of its tools or products in a manner by which a child could disclose personal information to others, it shall be a representation by that member, teacher or parent that the child's parent has expressly authorized such use and has expressly authorized abcteach to collect, store, and distribute the child's personal information to other users of the Site. Additionally, such personal information may be collected or stored by the cookies and other technologies described above. Parents may contact abcteach at the addresses provided below.
Security abcteach attempts to secure its information and that of others by using reasonable safeguards and procedures. However, no internet or electronic data communication, transmission or storage system can be guaranteed to be completely secure. For that reason, abcteach cannot and does not guaranty the security of information transmitted to or shared with us. You use the Site and provide and share information at your own risk. If you have questions or concerns, you should not submit or share personal information or other sensitive information.
Links to Other Sites abcteach does not ordinarily link to other websites. If such links are used, those websites or applications will be not be covered by this Privacy Policy. Users should review privacy policies of such sites and applications.
Consent to Transfer of Information to the United States and to the Application of U.S. Law and Jurisdiction. abcteach is operated and managed by ABCTEACH LLC from within the United States. Neither the Site nor its staff nor its owner intend to be governed or subjected to the laws or jurisdiction of any other country other than the United States. Information provided to abcteach or to its third party service providers will be processed, stored, and used in the United States and other countries where the service providers or abcteach or affiliates may have operations. By using the Site, you irrevocably consent to the transfer of information to the United States, or to other countries other than your country of residence, and to the storage and use of the information in the United States. You acknowledge and agree that, to the extent that the laws of the United States differ from those of your country of residence, you consent to the application of the laws of the United States to your information and to the relationship between yourself and us, and you covenant and agree that you will not assert that other law is applicable. Any litigation or court proceedings of any nature concerning the relationship between you and abcteach, or to these terms and conditions, or to the Privacy Policy, or to any other matter relating to abcteach, shall be only and exclusively in the Circuit Court for Oakland County, Michigan, or the United States District Court for the Eastern District of Michigan, and you irrevocably consent to personal jurisdiction in such forums for any such litigation or proceedings.
Indemnification and Hold Harmless You agree to indemnify, defend, and hold harmless abcteach, and all related parties and services, from any and all liability, penalties, losses, damages, costs, expenses, attorneys' fees, causes of action, or claims caused by or resulting indirectly from your use of our Sites.
No Warranties Use of this service is on an "as-is" basis. ALL WARRANTIES, INCLUDING BUT NOT LIMITED TO IMPLIED WARRANTIES OF FITNESS FOR A PARTICULAR PURPOSE AND MERCHANTABILITY, ARE SPECIFICALLY DISCLAIMED. Any contact with any agents of this service, either in person or through electronic means does not create a warranty.
Changes to Our Terms of Service and Privacy Policy We may change these Terms of Service and Privacy Policy at any time and such changes will become effective when posted to the Site. Your use of the Site following such the posting of any revised Terms of Service and Privacy Policy means that you accept the revised terms and policy.
Contact Information Regarding Terms of Service and Privacy Policy Legal questions and concerns should be directed to our General Counsel, whose email address is [email protected] . Alternatively, first class mail addressed to General Counsel, ABCTEACH LLC, c/o Bodman PLC, 1901 St. Antoine Street, Detroit, Michigan 48226. Other questions should be directed to Customer Support, whose email address is [email protected] .
REVISION DATE: August 1, 2017
Should Students Wear School Uniforms Essay (Tips and Sample)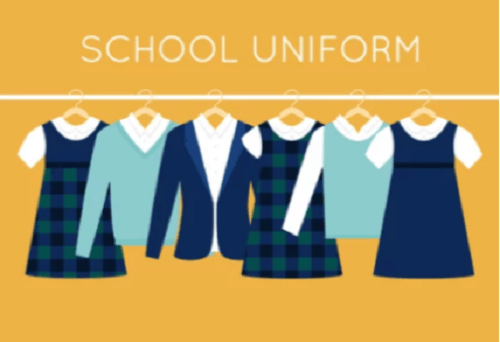 School uniforms are a hotly contested debate, which makes it a controversial topic preferred for school essays. Even though writing a school uniform essay should be easy, students' confessions after being assigned both long and short essays on school uniform show mixed results. Most students who have been given an essay on school uniforms have highlighted it as exciting and tricky.
Well, to write an essay that will score you an excellent grade, you need to understand your perspective, viewpoint, or stand before writing. As yourself, whether you will support school uniforms or you will be against them in your essay.
In most cases, the essay can be argumentative where you argue either for or against, then proceed to state your stand on whether or not you support school uniforms in learning institutions. You can also write an informative essay or a persuasive school uniform essay.
This article covers some aspects to consider when writing such an essay, some suitable topics, and general advice on how to write an outstanding school uniforms essay.
How to begin a School Uniforms Essay
You aim to demystify the school uniforms debate. Therefore, you need to strategize on how to begin the essay. Like other essays, starting with an essay hook would make it interesting to the readers. After the hook, head straight to writing some background information on school uniforms. You can then incorporate a thesis statement that presents your central stance on the paper.
Here is a sample school uniform hook:
A recent study by North Dakota State University revealed that an average American household spends close to 3.8% of their income on clothing, translating to approximately $2000 annually per household.
The hook above is essential when you argue from a cost perspective where you say that school uniforms save families from expenditures on buying different clothes for kids, which equalizes the rich and poor households.
In your background, you can try reference instances when school uniforms have stirred public debates. Inform your reader about these debates and highlight the key issues you will handle in your essay.
At the end of the introduction paragraph, state your thesis statement.
What goes to the body of a school uniform essay?
With the introduction done, you now need to develop the body paragraphs. As a general rule, always maintain a single idea per paragraph. If you are doing your essay in a five-paragraph essay format, ensure that the body of your essay takes 80% of the total word count while the introduction and the conclusion each take 10%.
Here are some key ideas you can incorporate in the body of your essay:
Explain the essence of having school uniforms on students, teachers, and learning institutions. Issues such as security and safety, uniformity, and promoting togetherness or unity as benefits. It is easy to spot a student in uniform. School uniforms also enforce some self-respect and self-worth among students. As well, uniforms foster a sense of belonging among students.
Explore the issue from a cost-saving perspective for the parents. Unlike having different clothes daily, having a few pieces of school uniforms reduces the expenditure per household.
Connect school uniforms to issues such as creativity, comfort, and affordability. Lack of funds, for instance, can hinder some families from sending their children to school as they have no school uniforms.
You can also present the pros and cons of school uniforms
Connect the school uniforms to identity formation
School uniforms equalize students, which boosts their self-confidence
School uniform makes students not be imaginative
In the end, present recommendations that can solve the school uniform quagmire in schools
Like any other essay, ensure that your essay about school uniforms is engaging. Take a multi-stakeholder approach if you are recommending a policy.
If you have real-life examples of how school uniforms are beneficial, present them to support your body paragraphs. As you strive to present your viewpoints, ensure that each paragraph transitions to the next paragraph.
If possible, benchmark your arguments on schools that have successfully implemented school uniforms.
How to end an essay on school uniform
Like the introduction, the conclusion of your essay matters a lot. It can be the only place a marker checks to know what your stance was when writing your school uniforms essay.
Let your readers know whether school uniforms are good or not. Do not just stop there explore the why and why not for each of your points.
If there are recommendations, especially if you were writing an essay based on a school uniforms case study, present them in the conclusion.
DO not introduce new ideas that are not in your essay. However, crystalize and relate to your thesis and make sure your readers enjoy your essay to the last dot.
Sample School Uniforms Essay Topics
School uniform essays differ in perspective or stance, which hugely depends on the choice of topic. We can advise you to choose a school essay topic that has practical points and one that you can support with evidence from scholarly literature.
Is school uniform a good thing?
The importance of school uniforms
Should students wear uniforms?
Pros and Cons of school uniforms
The negative impacts of school uniforms
Rhetorical analysis of school uniforms
Positive effects of school uniforms
Are school uniforms a dress for success?
Why schools should have uniforms
History of school dress code
School uniforms in private and public schools
Should all schools have the same uniform?
Are school uniforms necessary?
School uniforms and diversity
School uniforms and student discipline
Comparison of school uniforms in U.S. and Japan
School Uniforms Essay Check List
With your essay written, ensure that it ticks most if not all these lists of facts that make a school uniform score great grades.
Does the essay have a great hook?
Is the background of your introduction relatable to the selected topic?
Does the introduction have supporting facts from scholarly sources?
Does your introduction have a clear thesis statement?
Is the main idea clearly illustrated in the body?
Does each body paragraph have an idea of its own?
Does the essay have transition words for effective flow?
Does the body discuss important concepts?
Is the body paragraph having an opening sentence, facts, and closing sentence?
Has all borrowed information been cited?
Does the essay have strong evidence?
Is the essay grammatically correct?
Is the conclusion a summary of the argument?
Has the thesis been restated?
Is the conclusion flowing with the body of the essay?
Has the essay used formal language?
Are the sentences free from unnecessary words?
Is the grammar and spelling in the essay correct?
Are the references correct?
Are the references recent?
Are the sources used credible?
Does the essay have a title and reference page?
Sample Argumentative Essay on Should Students Wear School Uniforms
Disclaimer – DO NOT COPY this sample essay. It is meant to help you see how you can present your essay ideas given your perspective/viewpoint. Submitting any part of this essay as your own might land you in trouble. We will not be in any way be a party to such consequences. If you need a model essay based on your selected topic for research purposes, please place an order or contact our support team for assistance with outlines, potential references, and some ideas on writing an excellent essay on school uniforms.
Numerous debates have been carried out on whether students should wear uniforms or not. Parents, teachers, students, and school administrations have all given their views on school uniforms with different arguments and opinions on all sides. Supporters of school uniforms argue that school uniforms are essential as they give students an identity and foster discipline, while others argue that uniforms are annoying, uncomfortable, and lack creativity. Regardless of the position one takes on students wearing uniforms, it is clear that uniforms are an essential part of students, and students wearing uniforms is more advantageous to both the students and schools. Thus, all students should wear uniforms as the uniforms instill a sense of discipline and identity, erase differences between the students, and are less costly (thesis statement)
School uniforms eliminate the differences between students in regard to their social and economic backgrounds ( School uniforms promote equality ) . Schools have students from different social and economic backgrounds. The school environment has students from both poor and rich families. Hence, uniforms are important as they are modest and identical clothing that propagate a sense of equality among the students (Freeburg and Workman, 6). Accordingly, all students should wear school uniforms to avoid a situation where some students feel inadequate for being able to afford expensive clothing like their more affluent counterparts. A learning environment and education, in general, are supposed to bridge the social-economic differences that exist in society.
Parents can save much money that would otherwise go to buying a wide variety of school clothes for their children ( school uniforms save parents money spent on clothing ). School uniforms provide a cheaper and more consistent alternative to regular clothing. If students are allowed to wear regular clothing to school, parents and guardians have to buy clothes that are in line with the latest fashion trends and the individual tastes of their children, both of which can be expensive. In this case, students should wear school uniforms that are affordable and identical to save parents money that can be used for more important things (Baumann and Krskova 1003). Affordability is essential for parents considering the enormous expenses associated with bringing up children in the modern era. Therefore, all students should wear uniforms as uniforms protect the financial interest of the parents and guardians.
Wearing school uniforms saves teachers, students, and administrators valuable time ( Bringing in the time-saving perspective of school uniforms ). Without uniforms, teachers and schools, administrators spend significant amounts of time regulating the dress code. For instance, time wasted deciding which clothes are appropriate, what skirt-size is too short, among other issues that arise in regulating regular clothes to make appropriate for the school environment (Ruggerone 573). Such challenges would not exist if all students wore uniforms. Consequently, students also waste valuable time because of the distractions that might be caused by clothes that their peers are wearing. Therefore, to eliminate time wastage and distractions in school, students should wear uniforms.
According to individuals and parties who oppose school uniforms, the uniforms limit the personal expression of students and can forcibly define gender roles for the children as girls have to wear skirts and boys' trousers ( school uniforms stifle independence and creativity) - COUNTERARGUMENT . People express themselves through their clothes, which means that forcing students to wear uniforms affects their personal expressions (Masuch and Hefferon 227). Additionally, uniforms are gender-specific, which means that they can negatively impact the personalities of students as they are forced to wear uniforms that they do not feel reflect what they want to be or do with their lives. Thus, as the proponents against school uniforms argue, uniforms should be eliminated as they infringe on the independence of young students.
To sum up, there are numerous arguments that either support or oppose the wearing of uniforms by students. Supporters of school uniforms claim that uniforms give students a sense of identity and discipline, enhance social and economic equality, and save costs. On the other side, proponents against school uniforms claim that school uniforms limit the personal expression of students and force them into specified gender roles. Judging from the advantages and disadvantages of uniforms, it is clear that all students should wear uniforms as they distinguish students from civilians and enhance equality in the school environment.
Baumann, Chris, and Hana Krskova. "School discipline, school uniforms, and academic performance." International Journal of Educational Management 30.6 (2016): 1003-1029.
Freeburg, Beth W., and Jane E. Workman. "Dress Codes and Uniforms." Encyclopedia of Adolescence (2016): 1-13.
Masuch, Christoph-Simon, and Kate Hefferon. "Understanding the links between positive psychology and fashion: A grounded theory analysis." International Journal of Fashion Studies 1.2 (2014): 227-246.
Ruggerone, Lucia. "The feeling of being dressed: Affect studies and the clothed body." Fashion Theory 21.5 (2017): 573-593.

Gradecrest is a professional writing service that provides original model papers. We offer personalized services along with research materials for assistance purposes only. All the materials from our website should be used with proper references. See our Terms of Use Page for proper details.

Essays About School Uniforms: Top 5 Examples And Prompts
Uniforms are a hotly-debated topic in schools worldwide; if you are writing essays about school uniforms, get inspired by reading our essay examples and writing prompts.
School uniforms have been an education emblem for centuries; they are commonplace in primary and secondary school. They are a set of clothing that students attending a particular institution must wear during school hours and are said to encourage discipline, unity, and belonging, among other things.
However, they are a significant point of contention. As time has passed, more and more schools have discontinued their requirements for uniforms, which has sparked a heated debate over their necessity.
If you want to write essays about school uniforms, look at the examples and writing prompts below to start.
1. I believe students should not have to wear uniforms. by Evan
2. taking a new look at uniforms and their impact on schools by james sterngold, 3. uniforms: the pros and cons by grace chen, 4. what's the point of school uniform by rudolph carroll, 5. not wearing the trousers: why do some schools still have sexist uniform rules by hadley freeman, 1. should school uniforms be a requirement , 2. how do school uniforms effect behaviour, 3. what's the history and purpose of school uniforms, 4. are school uniform requirements a form of indoctrination , 5. what are the advantages of school uniforms.
"When wearing uniforms, it is a struggle to be an individual. Teachers are always saying how important it is to just be ourselves and not worry about what others might think. Having a uniform takes that away from us, and this may lead students to try to find other ways to be different. They might begin to act out so they stick out from the crowd."
In his essay, Evan explains his opposition to school uniform requirements, including the loss of individuality and confidence. He believes that they add too much stress to an already stressful environment and that this unnecessary burden can be alleviated with a dress code. It regulates students' clothing while still allowing them to choose and will teach them responsibility in choosing what to wear.
"There is no direct link between uniforms and performance,' Mr. Flanary said, ''but we know there is a link between the school environment and performance. Uniforms might be one way of affecting the environment, but just one."
Sterngold writes about the introduction of uniforms at a Long Beach school. It leads to higher grades and fewer absences, and disciplinary issues. He also discusses other schools in which uniform policies appear to work in making students "better." Finally, he notes that the school environment affects a student's performance.
"Deciding whether uniforms are right for your child depends upon individual circumstances. If your child has a high need for self-expression and personal comfort in her clothing, then uniforms may create unhealthy resentment and result in negative behaviors from your child."
In her essay, Chen lists the advantages and disadvantages of uniforms in public schools. They establish a safer learning environment and may reduce gang-related violence, but they restrict comfort and self-expression. Ultimately, she leaves it up to parents to decide whether uniforms are essential, depending on their children's personalities.
"Imagine having to wear school uniforms everyday. The same dress code every week., the same color pants and shirts every week. Uniforms especially those that have color and style requirements for every part of the outfit are not easy for many parents to afford. Students should be able to have a choice to wear whatever they want."
Carroll advocates for the banning of school uniforms. He writes that they suppress freedom of expression and force students to wear something they may not find comfortable; they should be able to express themselves and wear whatever they want.
"Doubtless, some people out there will say – some waggishly, others less so – that if girls should be allowed to wear trousers at school then boys should be able to wear dresses. My personal feeling on that is, sure, boys can wear dresses if they want but women's clothing, from skirts to stilettos, was designed to restrict women's movement, whereas men's clothing is all about freedom. "
Freeman writes about school uniform policies she feels are discriminatory. For example, some schools do not allow girls to wear trousers and impose a standard on their female students. She believes that young children should be able to behave freely, including in their dressing habits. Freeman believes that the world's standard of femininity has become more open, and the idea that girls must wear skirts is outdated.
Top 5 Prompts on Essays About School Uniforms
Plain and simple, you can write about your position on uniforms; decide whether or not you believe students should be required to wear school uniforms. Your essay should include a clear statement of your position, a rebuttal of the opposing viewpoint, and plenty of details to support your argument- use statistics, anecdotes, and other online sources, as well as your opinions.
Write about the effects of uniforms on students' positive or negative behavior within school learning environments. For example, does it make them more disciplined, reserved, confident, outgoing, or cheerful? You must include research in your essay to show a clear connection. Looking for more? Check out these essays about classroom .
For your essay, read about the history of school uniforms and write about their usage. Also include their original purpose/s and how it has changed over time. Then, if you wish, you can add whether these purposes or standards have held up in the present day or not.
For an engaging essay, write about school uniforms and indoctrination. Though it may seem like an exaggeration, some say that school uniform requirements are being used to indoctrinate students from a young age. Where do you stand?
From a more objective standpoint, try writing about the benefits of mandatory uniforms in school. Do they instill specific values in students? Or perhaps they contribute to a better school environment, as referenced in the sample essays above. What do you think? Write about the benefits/advantages of uniforms for an exciting essay.
For help with this topic, read our guide explaining what is persuasive writing ?
If you are interested in learning more, check out our essay writing tips !
Martin is an avid writer specializing in editing and proofreading. He also enjoys literary analysis and writing about food and travel.
View all posts
Writing services
Proofreading
Math/Science
Copywriting
Dissertation services
Admission services
Our Writers
Persuasive Essay About School Uniforms
Table of contents:
Introduction
Body paragraphs
Should students wear school uniforms? This is a topic with a lot of controversy around it. Some people think it should be compulsory to wear a uniform, and others think they should not be required. Your persuasive essay should take a strong stand on the issue, but don't fail to consider the arguments against your point of view as well as the benefits of your own beliefs.
Your introduction should consist, most importantly, of your thesis or focus statement, in which you answer the question, "Why should we wear (or not wear) school uniforms?" When considering the pros and cons, make up your mind first which stance you'd like to argue for, and then reflect on how best to make your point.
Introduction examples
Pro: School uniforms ensure that all students have the same access to well-fitting, modest clothing during classes, and also erase the differences between richer and poorer students, putting them all on a more equal footing.
Con: School uniforms are restrictive of personal expression, uncomfortable, and needlessly force children into gender roles due to making girls wear skirts and boys wear trousers, and so they should not be required.
The body of your essay should then expand upon the thesis, outlining and backing up each of your points. If you have statistics to back up your arguments, here's where to use them. You can also use anecdotes, common sense appeals, or appeals to emotion.
Body paragraphs examples
Pro: School uniforms should be compulsory. They reduce time spent shopping, as well as money spent buying clothes, and eliminate bullying based on dress and appearance. In addition, they keep students safer by making sure they are obviously dressed as students.
Con: There are many reasons against wearing school uniforms. No one, first of all, likes to be forced into a particular mould. The subject of whether school uniforms actually prevent bullying is still up for debate. As well, one of the disadvantages is that school uniforms usually have to all be bought from the same place, which can lead to collusion between school governors and clothing shops.
As you draw to a conclusion, look back at your thesis. Give your essay a title that relates to the thesis. Make sure you've covered all the points you want to cover. Then go over those points again in your conclusion, and finally end with a request to your audience to take some kind of action, or at least consider the debate from a different point of view.
Conclusion examples
Pro: To have more peaceful, safer schools, as well as cheaper shopping bills, uniforms are the way to go. It's the better option for students, and it's better for parents as well, so recommend to your school board that uniforms should be instituted right away.
Con: The jury's still out on whether school uniforms do make a difference. In the meantime, why curb kids' personal expression? Let them dress the way they want, within reason. It doesn't cause them any harm.
Essay samples
Infographics
Essay writing
Crafting a Powerful Essay on Political Polarization
Oral Health Overview Essay: Preventing Tooth Decay in Australia
How to Write a Good Expository Essay About Macbeth
How to Write An Expository Essay About Love
How to Write a Great Expository Essay About Life
Price per page
Total price:
Limitless Amendments
Bibliography
Plagiarism Report
Get all these features for $93.12 FREE
If you don't know exactly what type of paper you need or can't find the necessary one on the website - don't worry! Contact us and we'll help you out!
Terms of Use
Money Back Guarantee
Cookie Policy
Privacy Policy
Write My Essay
Custom Essay
Essay Writer
Do My Essay
Type My Essay
Pay For Essay
Cheap Essay
Write My Paper
Write My Assignment
Assignment Writer
Buy Assignment
Assignment Help
Do My Assignment
Nursing Essay Writing Service
Management Essay
Business Essay
Law Essay Writing Service
Education Essay Service
Marketing Essay
Accounting Essay
Sociology Essay
Before continuing to use our service please make sure you got acquainted with our Cookie Policy and accepted it by clicking OK
School Uniforms - List of Essay Samples And Topic Ideas
School uniforms, often seen as a tool for promoting equality and focus in the educational environment, have been a topic of debate in many school systems around the world. Essays on school uniforms could explore their impact on student identity, academic performance, and school climate. Discussions might also delve into the arguments for and against school uniform policies, including issues of freedom of expression, socio-economic disparities, and the enforcement of such policies. Furthermore, analyzing case studies of schools with and without uniform requirements, and examining the cultural and historical factors influencing the adoption of school uniform policies can provide a nuanced understanding of this contentious educational issue. We have collected a large number of free essay examples about School Uniforms you can find at PapersOwl Website. You can use our samples for inspiration to write your own essay, research paper, or just to explore a new topic for yourself.
Are School Uniforms Good or Bad
School uniforms are a common trend in the modern school system. Students, teachers, and parents all have their own thoughts and opinions on school uniforms. While each side of the debate has their strong reason I am against school uniforms. Many people believe students should not have to wear school uniforms (like me). I support this argument with the reasons that school uniforms do not improve attendance, academic preparedness, or grades. David L. Brunsma, PhD, Professor of Sociology at Virginia […]
Persuasive Speech Final Outline
Attention-getter: Have you ever questioned how much the clothing you wear affects your life at school? I'm sure we have all heard of the argument between wearing a school uniform versus not having one. Today, I will be explaining to you why wearing school uniforms are more beneficial for students than having none. Relevance to audience: This matters to us all because it is important for a society to know the kinds of effects that certain aspects have on our educational […]
The Positive Effects of School Uniforms
Students should wear school uniforms. The argument against school uniforms is that they restrict the freedom of expression and only minimally improve a school. But an argument can be made that uniforms make getting dressed in the morning easier for all parties involved. Schools no longer have to worry over what students are wearing, parents needn't shell out large amounts of cash, and the students just have to get up and put no effort into what they will wear saving […]
Should Kids Wear School Uniforms
No, people should not wear school uniforms because if people wear school uniforms you can never express yourself and how you live. But if someone wears something inappropriate then the principle will take care of it. Wearing a uniform would also cause massive student obedience and take away valuable instruction time. Public schools already have dress codes which ban provocative, revealing, gang-affiliated, and hateful clothing. According to the Researchers at the University of Houston school uniforms seem to be decently […]
School Uniform – Dress for Success
The Macquarie wordbook defines the thought of uniform as; dress of the same style, materials and colour worn by a group.. For many decades, students have become more concerning about fashion instead of education. Now, public schools have debated whether students should wear school uniforms.A dress code enforces discipline toward learning by changing a person's attitude toward success. Students generally act the way they are dressed. With fewer fashion distractions, school will be seen as a priority for teaching and […]
We will write an essay sample crafted to your needs.
Pros and Cons of Wearing School Uniforms
Pros of uniforms. There are many students that see uniforms as their least favorite thing to wear,but uniforms do more than you think. Uniform keep students focused on their work so they may succeed in life. Uniform bring your school pride and could give the school more students and give you more friends.uniform may improve attendance and discipline. Uniforms decrease bullying and teasing .Uniforms can make get ready in the morning easier and improve punctuality in which could really improve […]
Should Students have to Wear School Uniforms?
Should schools have school uniforms? What are the effects they have on students? School Uniforms tend to have positive effects on students. According to ProCon.org, School uniforms keep students focused on their education, Not Fashion. Students usually worry so much about what they look like and don't worry so much about their education. One of the main reasons for having school is to get an education, not to be focused on fashion. Another positive effect of school uniforms is that […]
Controversy Derives from Differences in Beliefs, Values, and Morals
"Controversy derives from differences in beliefs, values, and morals. School uniforms have become a very controversial topic this day in age due to the new social climate centered around questioning powers that be. There are many pros and cons included in the discussion as a result of varying ethnic values. Although, according to "History of Uniforms" by Michelle Meleen, uniforms are said to have been around since the 16th century. Over the past few years concerns that individuality and equity […]
Why we should have School Uniforms
Educators and experts who are in support of school uniforms believe that buying kids uniforms gives them a positive behavior. For instance, it is believed that when students wear uniforms, they feel more professional and behave better. Many educators also theorize that students can become distracted by fashion trends and clothing with symbols on it. Therefore, when all students are dressed in regulated uniforms, there is less focus on fashion in the classroom and more focus on learning.When there's no […]
School Uniforms: a Controversial Issue
School uniforms have been a controversial issue in the United States. Students, teachers, and parents have varied feelings about the need for students to wear uniforms. While some point to the need for all learners to look alike and for discipline purposed, others contend that the requirement for all learners to wear uniforms takes away students' freedom of self-expression. Despite the reasons identified by opponents, school uniforms are necessary for schools and all stakeholders need to embrace it. Most students […]
Importance of Uniform in School
Now, more than ever, public schools are looking to school uniforms as one of many ways to address complex social and academic issues both in and outside of the classroom. As a "safe haven" of sorts, schools are expected to protect children from conditions of poverty, crime, and family strife. It is through the implementation of select programs and strategies that schools have attempted to change behavior and target young children to shape prosocial attitudes and behaviors. Specifically, through stricter, […]
Related topic
Additional example essays.
The Importance to Educate and Train Leaders in The Army
Mental Health in Schools
College May Not Be Worth It Anymore By Ellen Ruppel Shell
Benefits of College Degree
Why Abortion Should be Illegal
Why Abortion is Wrong
Abortion - Pro Choice Perspective
A Raisin in the Sun Mid-Term Essay
Freedom of Speech on Social Media
Homelessness Ireland: Rights, Vulnerability, and Childcare Sector Intervention
The Use of Conflict Foreshadowing and Flashbacks in the Story "A Rose for Emily"
Diversity in Society: Embracing Differences and Fostering Inclusion
Essay About School Uniforms School uniforms have been a common trend in school systems across the country. Some people find that uniforms are necessary to prevent peer pressure, bullying, and discipline, however, those things will always be an issue. Therefore, school uniforms should not be required in our school systems because school uniforms can be expensive to parents, they are uncomfortable and distracting, and they take away the right for students to freely express themselves. Having to buy uniforms every year can be super expensive for parents. Every year, students change and grow. Buying uniforms on top of buying regular clothes cost more money. If students were not required to wear uniforms, it would be cheaper for parents. Parents have to provide their children with clothes of course, but spending unnecessary money on uniforms every year is a waste. Everyone grows out of clothes eventually, but having to spend extra for uniforms takes more money out of the parents' pocket. Students only wear uniforms at school, not anywhere else. It is a waste of money to buy clothes that are only worn at school. Parents could save more money every year by not having to pay for uniforms. Being comfortable at school is very important for students. Wearing uniforms can be very uncomfortable to wear all day for every single school day. If students weren't required to wear uniforms, it would be much easier to stay focused. Being comfortable helps a lot of students when it comes to school. Feeling comfortable can cause less distraction to students while working at school. Students would much rather wear their own clothing during school so that they feel comfortable with themselves. Distractions from uncomfortable uniforms can cause a drop in grades. Uniforms being uncomfortable distracts students from their work. Wearing well-fitting clothing or clothing that makes students comfortable, can make students feel better about themselves while they are at school. Students wearing uniforms at school do not have the right to express themselves freely. Wearing what you want, with exceptions, of course, makes students more comfortable with themselves. Having your own style while at school makes a huge difference in confidence. Having higher confidence can improve the way students perform during school. That means students should be able to wear what they feel comfortable in to express themselves in their own way. Some people say that uniforms prevent peer pressure, bullying, and discipline. However, that is somewhat true, but bullying will always be an issue in any school system. Discipline is not based on uniforms, it is based on specific students' actions. Bullying still happens with or without uniforms. Nothing about peer pressure, bullying, or discipline has changed since uniforms came to be. There is no proven change in the school systems around the country that have uniforms. Bullying, peer pressure, and discipline are still a problem, and always will be. Schools in our country should not require uniforms as they are unnecessary. Uniforms are uncomfortable for the students, they do not allow students to freely express themselves, and they are expensive to parents. Students should be allowed to have freedom of what they wear. 
1. Tell Us Your Requirements
2. Pick your perfect writer
3. Get Your Paper and Pay
short deadlines
100% Plagiarism-Free
Certified writers
School Uniforms: Conflicting Opinions Essay (Critical Writing)
Introduction, the author's opinion, the opponent's opinion.
To begin with, it is necessary to state that the present-day world has been overloaded with different types of information. What is more, every one of every sort tends to have their own opinion on everything they come across. The proverb says: "Many men, many minds." Therefore, it is important to develop critical thinking and be able to treat the contrary position in an unbiased way (Elbow, 2006). This paper aims to consider one of the most topical issues, express an opinion on it and discuss the opposite opinion while avoiding being biased.
The question under consideration is whether students should wear school uniforms. From my viewpoint, it is not necessary for a student to wear school uniforms. My reasons for such an opinion are as follows. First, each person is unique, and clothing can be considered as one of the means to express individuality. It might be wise to teach a child from the early age what clothes it is suitable to put on when they go to school. It is crucial to avoid miniskirts, shorts and bright colors in the classroom. However, it is no use to force children to wear all the same clothes. Second, wearing uniforms does not happen to affect the child's academic result. It does not help to prepare for an exam nor succeed in it. Therefore, the uniform is something supra-academic which is not actually required when it comes to knowledge and skills acquisition and the ability to apply them. Finally, uniforms prove to be expensive. It might be better to spend the money on a nice piece of clothing which can be worn not only to school (McDaniel, 2013).
Now it is necessary to consider the opposite opinion and discuss it. First, "school uniforms may deter crime and increase student safety" (Should children have to wear school uniforms?). This position helps me to realize that, apart from individuality, there is a critical matter of personal security. If I believed this view, I might have justified the viewpoint that children should wear school uniforms regardless of their uniqueness. This is due to the fact that I assume that the safety is the uppermost. This idea might be true if certain research has been conducted and a corresponding conclusion has been drawn. Second, "school uniforms keep students focused on their education, not their clothes" (Should children have to wear school uniforms?).
This opinion assists in comprehending that clothes might distract attention. If everyone wears the same clothes, all the attention is more likely to be paid to the study. If I believed this view, I would not have stated above that clothes do not affect the academic result. This idea might be true if the child is more interested in clothes than in the study. Finally, "school uniforms create a level of playing field among students, reducing peer pressure and bullying" (Should children have to wear school uniforms?) This viewpoint enables me to understand that family budgets are different. Some parent can allow buying their kids fashionable clothes, while other cannot afford it. It might entrain envy in children from the early age. If I believed this view, I would prefer children to wear the uniform to school. This idea might be true since schools tend to have not only mixed-abilities classes but also classes where children come from various backgrounds. It often happens that some parents are prosperous, whereas others live in poverty. The latter cannot afford much, so their children will not wear fashionable clothes to school and might be bullied by children whose parents are wealthy.
To sum it up, it is to note that the paper has considered one of the most topical issues. It has presented the author's opinion, and afterward, discussed the contrary opinion. To draw a conclusion, it is necessary to underline the importance of critical thinking.
Elbow, P. (2006). The believing game and how to make conflicting opinions more fruitful. ProCon.org . Web.
McDaniel, T. R. (2013). "Making the school uniform decision: Is it right for your school?" Kappa Delta Pi Record , 49(4), 162-167.
"Should children have to wear school uniforms?" ProCon.org . Web.
Chicago (A-D)
Chicago (N-B)
IvyPanda. (2021, May 22). School Uniforms: Conflicting Opinions. https://ivypanda.com/essays/school-uniforms-conflicting-opinions/
"School Uniforms: Conflicting Opinions." IvyPanda , 22 May 2021, ivypanda.com/essays/school-uniforms-conflicting-opinions/.
IvyPanda . (2021) 'School Uniforms: Conflicting Opinions'. 22 May.
IvyPanda . 2021. "School Uniforms: Conflicting Opinions." May 22, 2021. https://ivypanda.com/essays/school-uniforms-conflicting-opinions/.
1. IvyPanda . "School Uniforms: Conflicting Opinions." May 22, 2021. https://ivypanda.com/essays/school-uniforms-conflicting-opinions/.
Bibliography
IvyPanda . "School Uniforms: Conflicting Opinions." May 22, 2021. https://ivypanda.com/essays/school-uniforms-conflicting-opinions/.
School Uniform: Correlation between Wearing Uniforms and Academic Performance
School Uniform and Maintenance of Discipline
LA School Uniforms as Mandatory Attire for All Students
Uniform Policy Should Be Abolished in Asian High Schools
Analysis of Uniform in Japanese Schools
Advantages of Wearing a Fashionable Dress
Mandatory School Uniforms: Pros and Cons
Fashion in Society: School Uniforms and Self-Expression
School Uniform Policies Benefits
Uniforms in Public Schools: Benefits and Drawbacks
Metropolitan Community College's Nightlife Event Proposal
Margaret Cahalan's Strategy for Educational Equity
Student Demographics Shift and Addressing Strategy
Student Demographics Shifts and Reaction in the US
Life in School: Interview Report and Analysis
Advertisement
Supported by
Students in a Moscow School Debate the Once-Undebatable
By Philip Taubman, Special To the New York Times
For years the study of Soviet history at Secondary School 831 in Moscow was less an exercise in understanding the country's heritage than in denying it.
Yevdokiya Syto, a teacher, had relatives who were expelled from the Communist Party and imprisoned, but the history curriculum did not allow her to tell students about the great terror that swept the country in the 1930's.
Maksim Pechnikov, now in his last year of high school, was told by his parents about family members who were thrown out of the party and executed by firing squad under Stalin, but he dared not mention the cases to his classmates.
The history textbooks long used at the school treated the 1930's as a time of economic achievement, making no mention of the famine and purges that killed millions.
All that is changing now. With the encouragement of Mikhail S. Gorbachev, the Soviet leader, School 831 and thousands of others across the country have set aside old textbooks and fears and are openly confronting a turbulent past that teachers and students knew existed but could barely acknowledge in the classroom.
The students still dress in navy blue school uniforms, and classrooms are still adorned with posters extolling the virtues of Communism, but the intellectual atmosphere - in topics ranging from history to economics to capitalism - is bubbling with curiosity and candor.
''The things my grandmother once told me in whispers - about her brother who was sent to prison, another who was executed - we can now talk about at school,'' Mr. Pechnikov said.
''The atmosphere is entirely different,'' he added.
The absence of a single, officially approved version of history forced the cancellation last spring of written history exams for 10th-form students like Mr. Pechnikov, the equivalent of American high school seniors. No decision has been made yet on whether to resume written exams at the end of the current school year.
As with many of the other changes initiated by Mr. Gorbachev, the remaking of high school history courses has not been easy and is far from complete. It was clear during a recent visit to School 831, a spartan, three-story concrete building in northern Moscow, that the evolution of the curriculum has produced unusual spontaneity and uncertainty in the classroom.
Teachers at the school, which in American terms covers grades 3 through 12, have substituted current journals, magazines and newspapers for the outdated, circumscribed textbooks that were for decades the bibles of high school history classes.
Andrei Y. Kulakov, a history teacher, shook his head when a visitor asked about the books. ''They are almost useless,'' he said.
The choice of reading material, Mr. Kulakov said, is his alone, a startling departure from the traditional system in which every source of information was screened and sanitized by the authorities. Shortcomings Discussed
During a discussion with 10th form students about economic differences between Communism and capitalism, Mr. Kulakov encouraged a spirited debate about the benefits of each system, and several students talked openly about shortcomings in the Soviet system. There was little sign of the rote learning that has long dominated Soviet education.
When Mr. Kulakov raised the issue of how manufactured goods are valued, the dozen or so students in his corner classroom, paired off two to a desk, consulted among themselves for a few moments, and then hands shot up.
''Many Soviet enterprises work on obsolete equipment,'' one student said. ''That means many of the goods are costly to produce, but because their quality is low, their utility value is essentially zero because no one wants to buy them.''
Unfazed, Mr. Kulakov replied, ''You're right, and such a situation can be viewed as a burden on society.'' A Sense of Liberation
Mr. Kulakov, whose enthusiasm and willingness to tackle controversial material apparently made him something of a maverick at the school, reported a sense of liberation among some of his colleagues as curriculum controls have eased.
''It's possible to be honest now in a way it was not even two or three years ago,'' he said.
For Mrs. Syto, an energetic woman who has been teaching history for more than two decades, the expanding boundaries of discussion have lifted a veil that separated her personal and professional lives.
''I lived in that time,'' she said of the 1930's. ''So much is in my memory, so many people in my family suffered, but there was little I could say in class. I mentioned some things, but we could not go into much detail.'' Stalin 'Not a Simple Figure'
Students, freed from the rigid constraints of earlier years, have discovered differences of opinion.
''Stalin is not a simple figure to analyze,'' said Irina Prytkova, a 10th form student. Like most of her classmates, she is 16 years old.
''His brutality and assertion of the cult of personality were reprehensible, but he has also a genius. Look at the way he handled the postwar conference at Potsdam.''
Maksim Pechnikov, her classmate, reddened as Miss Prytkova talked. ''I can't agree,'' he interrupted. ''How can you call a man great who was a sadist?'' he asked. 'Up to His Elbows in Blood'
Yevgeny Leizarovich, another classmate, interjected: ''Don't forget his treatment of Bukharin and the destruction of other Communists. He was up to his elbows in blood.''
Miss Prytkova, who said she wants to be a lawyer, defended her position. ''You may not like everything he did,'' she said, ''but Stalin made certain there was discipline. Some of the measures he used - insisting on tough control against fraud and embezzlement - some of these policies would be useful today.''
Mr. Pechnikov, who hopes to make a career in the military, said: ''But Ira, all those controls were based on sheer terror. It was not rational.''
When Miss Prytkova suggested that at least Stalin was a great war leader, her classmates looked livid.
''He practically destroyed the officer corps during the purges,'' Mr. Pechnikov said. Startled by Reactions
Somewhat startled by the vehement reactions, Miss Prytkova made a tactical retreat.
''I know,'' she said, ''that no matter how great a genius Stalin was, he can never atone for his crimes before the Soviet people.''
When asked by an American visitor whether they were changing their view of other historical figures, including Trotsky, long depicted as the archvillain of the revolution, Mr. Pechnikov said: ''Trotsky was portrayed strictly as a negative figure. Anything about his contributions was omitted. I think we need a more balanced view.''
How much of the current openness will be reflected in the new textbooks is unclear. Mr. Kulakov questioned whether credible new textbooks could be written by the historians who prepared the last ones.
A few days after Mr. Kulakov expressed his doubts, Mr. Gorbachev, addressing a commission that is preparing a new history of the Communist Party, offered some advice that echoed the changed atmosphere at School 831.
The new history, he said, must ''give an honest and frank analysis of the causes of deformations, and thoroughly investigate why the emergence and growth of authoritarian bureaucratic distortions and their consequences were not prevented.''
02 05 thesis statements sports equipment
Awards Season
Big Stories
Pop Culture
Video Games
Celebrities
How to Create an Effective Thesis Statement in 5 Easy Steps
Creating a thesis statement can be a daunting task. It's one of the most important sentences in your paper, and it needs to be done right. But don't worry — with these five easy steps, you'll be able to create an effective thesis statement in no time.
Step 1: Brainstorm Ideas
The first step is to brainstorm ideas for your paper. Think about what you want to say and write down any ideas that come to mind. This will help you narrow down your focus and make it easier to create your thesis statement.
Step 2: Research Your Topic
Once you have some ideas, it's time to do some research on your topic. Look for sources that support your ideas and provide evidence for the points you want to make. This will help you refine your argument and make it more convincing.
Step 3: Formulate Your Argument
Now that you have done some research, it's time to formulate your argument. Take the points you want to make and put them into one or two sentences that clearly state what your paper is about. This will be the basis of your thesis statement.
Step 4: Refine Your Thesis Statement
Once you have formulated your argument, it's time to refine your thesis statement. Make sure that it is clear, concise, and specific. It should also be arguable so that readers can disagree with it if they choose.
Step 5: Test Your Thesis Statement
The last step is to test your thesis statement. Does it accurately reflect the points you want to make? Is it clear and concise? Does it make an arguable point? If not, go back and refine it until it meets all of these criteria.
Creating an effective thesis statement doesn't have to be a daunting task. With these five easy steps, you can create a strong thesis statement in no time at all.
This text was generated using a large language model, and select text has been reviewed and moderated for purposes such as readability.
MORE FROM ASK.COM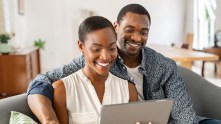 Creating a thesis statement can be a daunting task. It's one of the most important sentences in your paper, and it needs to be done right. But don't worry — with these five easy steps, you'll be able to create an effective thesis statement ...
Writing a thesis statement can be one of the most challenging parts of writing an essay. A thesis statement is a sentence that summarizes the main point or argument of an essay. It should be clear, concise, and to the point.
A good thesis statement is a single sentence contained in the introduction of a paper that provides the reader with some idea of what the writer is trying to convey in the body of the paper. The thesis statement is a condensed summary of th...
... 22/2021 for sporting goods equipment and apparel. Title: Advancements in Sports Equipment: All Stars or AllAdvertising?URL:-equipment-all-stars-or-all
5. Thumbnail of frame 5. Save to library. View. Reader view. Thesis Statements. English III. By: McKenna Flatten. Sports Equipment. Topic. The adds used for
5 · 13th Reflection Questions.docx. POLITICAL Govermnet. 3. Other related materials
... sports while they're young like football or baseball, etc. Topic: Sports Equipment. Thesis statement. Central Idea. Gatorade. There is a lot of pain and
No rules except recycle your clothes. Thesis Statement: While many people may believe advertisements lean more towards everyone. in general, I believe
Research graphic organizer, outline, thesis, body paragraphs, conclusion FLVS Florida Virtual School research graphic organizer write your thesis statement.
Topic: technologyQuestions to research: Are advertisements aimed at teenagers effective? And, are they ethical? 2. See answers.
Argumentative Essay: Why Football Is Too Dangerous For Children. 491 Words | 2 Pages. There are many sports that are too dangerous for children because they
Topic 2: Bowling is a sport for everyone. Supports: 1. It is not limited to
Click here to get an answer to your question ✍️ write a thesis statement ... It could be spent on a computer lab, new sports equipment, a
2. It can be played at any time. 3. It does not require any expensive equipment. Thesis Statement:Bowling is a sport for everyone
dissertation tips
phd analysis
phd writing
thesis format
thesis template