Plagiarism checker Do The Check
Academic editing Ask For Help
Samples database View Samples Base
How to Write A Reaction Paper: Guide For College Students
10 Sep 2021
Quick Navigation
❔What Is A Reaction Paper?
✍️Reaction The Papers Format
📑Reaction The Paper Outlines
✔️Tips for Writing A Paper
💡Things to Avoid While Writing
In most educational settings, teachers and instructors need to assess the abilities of their students. A common method applied to do that is the use of essays or academic assignments. Papers and essays allow students to showcase their skills and understanding of a particular idea and subject.
One type of essay that is often used in the form of a home task is a reaction paper. This usually requires the students to read and analyze a piece of literature or article. Then write a response that is a reflection of their thoughts and emotions on that material.
Students are usually asked to write a reaction paper to learn how to engage in a meaningful way while articulating their thoughts properly. If you are required to write a reaction paper, it's important to understand the purpose and thoughtfully approach the assignment.
Is writing essays your hobby?
Participate in our "Independence Day of the United States" essay writing competition and get a 12-month Quizlet subscription.
Deadline: July 24, 2023
Topic: Declaration of Independence
Language: English
Length: 1000-5000 words
Font size: 11 or 12
First Things First: What Is A Reaction Paper?
A reaction paper, also known as a response paper or response essay, is a unique essay requiring a critical perspective in response to another text. It is commonly assigned by teachers and college professors to evaluate students' reading comprehension abilities.
The purpose of a reaction paper is to provide an analysis and interpretation of the text and to express the writer's personal opinions and reactions to it. Each reaction paper uniquely expresses the composer's thoughts, making it a valuable tool for developing critical thinking skills.
The process of writing a reaction paper includes two parts. Here is how to write a reaction paper.
The analysis of the text,
And the correct expression of your personal opinion or response.
Reaction papers and research papers serve different purposes and require distinct approaches. Reaction papers involve providing a critical response and personal opinion, while research papers involve conducting thorough research and presenting objective findings. Confusing the two can lead to errors in writing. Reviewing a guide on how to write a research paper can help differentiate between the two and understand their unique requirements.
It´s also important to learn to differentiate the reaction essay from the summary essay. A reaction paper concentrates on the writer's opinion of it, while a summary essay is more about rewriting the original text or article. Still, it is recommendable for the first paragraph of the piece to be an informative summary of the primary article or composition.
With this, you can give your reader a clear idea of the original text before reading your opinion in the reaction paper.
Need help with a reaction paper?
Get your paper written by a professional writer
What About The Reaction Papers Format?
Following formatting protocols is crucial when presenting a reaction essay or a research paper in academic writing. And by format, we mean characteristics like page size, font sizes, and margins.
So if you are wondering how to do a reaction paper and which style to use, look at the different styles used for reaction and research papers.
MLA style . This format was created by the Modern Languages Association and is usually applied in humanistic or artistic pieces. Among other things, it sets regulations for font size (12pts) and margins (1 inch).
APA style . This is a frequently used format created by the American Psychiatrists Association. Stipulate a letter page size, 1-inch margins, and Times New Roman font size 12 pts, among other specifics.
Vancouver style. The National Library of Medicine created this style for the health field. It's used in medical articles, essays, books, and related texts.
The format style of a reaction paper or article depends on your academy or your teacher's protocols.
Stuck with finding the right title?
Get plenty of fresh and catchy topic ideas and pick the perfect one with PapersOwl Title Generator.
What Are The Reaction Paper Outlines?
Every essay should follow a precise structure that serves as its skeleton. These outlines provide specific guidelines for writers to follow and are easy to comprehend. By adhering to this structure, they can effectively organize their thoughts and ideas, leading to a more coherent and impactful essay.
Here is a generic outline that will help you in case you are wondering how to write a reaction paper for any article.
Introduction
The introduction is the first part of every essay and even a reaction paper. It should be about 15%-20% percent of the content. You do not have to go detailed in this section. The purpose is just to mention the main ideas. And also, present the "problem" or "object" on which your essay centers.
Here are a few steps you can follow if you aim for an introductory paragraph to write an outstanding reaction paper.
Start by summarizing the article or text that you are reacting to. This will help your reader understand the basic context.
It's a good idea to provide some background information in the introduction based on the context of your reaction paper.
Thesis Statement
The thesis statement aims to put forward the central argument or crucial points you want to put across the reaction paper. This is the most important part of the entire text and must be articulated clearly and concisely.
Here are some important points you should keep in mind while writing the thesis statement for reaction essays or articles.
Before writing the thesis statement, make sure you have a proper and thorough understanding of the content of the article and that it is not only based on the initial reactions.
Identify the main idea presented in the article or content you are reacting to.
The next step is to determine what your reaction is going to be in response to the article, whether you agree or not with the author.
Finally, develop your thesis statement encompassing the main idea and your opinions.
Body Paragraphs
This is the main part of the essay where the writer has to explain the principal ideas and the arguments to defend them. This is also the section that should be referenced properly with citations.
Here are some tips to help you with the writing process of the body paragraphs and every reaction paragraph.
Verify that each body paragraph starts with a topic sentence, it will make your thesis clear.
After the initial topic sentences, use your analytical skills and provide an analysis. The second part should include supporting evidence to reiterate specific points by using direct quotes backed by reliable sources.
Use transition words, this allows a better flow of ideas when you write.
One common mistake students make is that they don't consider the counterarguments. Ensure that you address them in your response papers.
You can also use ideas and points made during class discussions that might be related to the context of the text you are reacting to.
Each and every body paragraph should have a strong ending, summarize the main points, and connect back to the central thesis.
Conclusion Paragraphs
In a reaction paper, the writer's conclusions should reflect the results of their analysis and consideration of all the arguments presented. If they are not coherent with the findings, it indicates a failure in the analysis process. Therefore, writers need to ensure that their conclusions accurately reflect the insights they have gained from their analysis. Synthesis of all the major points in one paragraph is to ensure that it serves as a closure for the reaction paper.
Here are some steps you can follow for your academic assignment if you find writing reaction papers a challenging task.
Start by briefly summarizing every single aspect to provide the reader with a quick overview of all supporting facts and other elements of the paper.
The next step is to restate your thesis statement or personal thoughts on the topic in a varying tone. This part can also serve as an opportunity to address any lingering questions that the target audience may have.
The final step is to provide a call to action in a single sentence. This will keep your audience informed.
There are several ways to make citations, and each style defines its own. Before starting your paper, it's important to research the required format and ensure that you follow its specifications. Proper grammar is also essential in any document as it demonstrates language proficiency and respect for the reader.
If you struggle with grammar, there are resources available, such as this website which provides grammar tips for students . Having some help is always an excellent way to improve your performance.
Take your paper to the next level
Professional editors will check your paper for grammar, punctuation, sentence structure, consistency, and academic style.
Tips for Writing A Reaction Paper Effectively
Writing a paper or article can be difficult, but it doesn't have to be discouraging. There are many strategies and resources available that can help you produce an effective paper. With the right approach and tools, anyone can become a successful writer.
On the one hand, you should look for services on academic writing. If this is your preference, check this site, where you can pay for assignment and get professional help. If you would rather do the reaction paper by yourself, here is some inside information that can help you understand how to create a reaction paper.
Organize the process Writing is a process that is more effective if you follow it step by step.
Understand the task and create the outline Before delving into the crafting process, make sure that you have a thorough understanding of the writing assignment. Structure it for the reaction paper, and get an overview of the task at hand.
Take notes while reading & reread This way, you can keep track of your first reaction. Employ critical thinking while reading and note down any quotes, examples, or thoughts that would back your response. The first two times, you are processing the content. After a third time, start to create your own thoughts and generate ideas. This is the most critical part of a successful reaction paper.
Be clear about the ideas & respect the paper outline If you don't express your thoughts precisely, the reader might not understand the key points, which is vital to such assignments.
Respect the reaction paper outline Follow the ideal reaction paper format when writing to ensure the presentation is on point.
Remember that it's a reader-response essay. So, you must express your ideas about the particular issue in the response paper. In order to refer to your personal evaluation and opinion on the article or text, it's crucial to use the first person.
More than just a spell check
Editors on PapersOwl can edit your paper and give recommendations on how to improve your writing:
Punctuation
Sentence structure
Academic style
Things to Avoid While Writing a Reaction Paper
You have read through all the main tips and tricks to polish your writing skills and write an effective reaction paper. Here are some things you should avoid while reacting to an article or text.
Fluff or rambling - Write concisely to ensure that you do not go off-topic just to increase the word count.
Plagiarism - If you are quoting from the original article, make sure you are using the proper methods of citations to avoid copying anything without giving proper credit to the author.
Be Objective - even though your task is to write a reaction to an article, don't be too subjective and maintain a certain level of objectivity throughout the final draft.
Language - make sure that you use proper jargon and mannerisms even when disagreeing with the author of the article.
Grammatical errors - ensure you proofread and reread the complete paper to remove any grammatical errors, typos, or mistakes.
In conclusion, a reaction paper is an important assignment that helps teachers and instructors assess the reading comprehension abilities of their students. As an academic piece, it requires a specific format that varies depending on the protocols of the academy or teacher. A good reaction article should have a precise structure that includes an introduction, thesis statement, and body paragraphs.
It is essential to differentiate a reaction article from a research article and a summary essay. By following the guidelines outlined in this guide, college students can understand how to make reaction papers successfully. And showcase their critical thinking skills and ability to articulate their thoughts properly.
Was this article helpful?
Thanks for your feedback.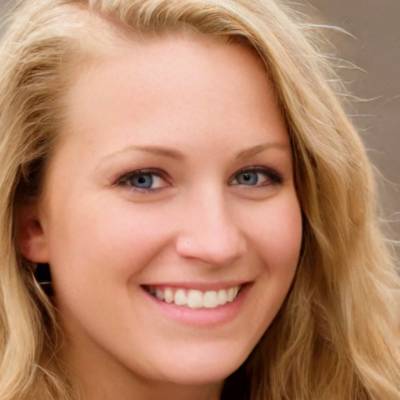 Prof. Linda Mia
I've worked for the past eight years as a content editor, creative writer, and professional essay writer. Every day, I work hard to make sure my clients are satisfied with the projects and papers I write for them. My areas of expertise are wide, ranging from Psychology and Sociology to Political Science and World History.
Readers also enjoyed
Feminist research topics for students.
Research Paper Writing Guides 11 likes
Food Research Topics
Research Paper Writing Guides 13 likes
Sports Research Paper Topics and Ideas
Research Paper Writing Guides 14 likes
WHY WAIT? PLACE AN ORDER RIGHT NOW!
Simply fill out the form, click the button, and have no worries!
How to Write a Reaction Paper: Ultimate Guide with Sample
What is Reaction Paper: Defining the Term
What would be the most desired complement for the pieces you create if you were a writer or an artist? Would it be 'Amazing,' 'Wonderful,' or 'Captivating'? The art we come across daily that could be defined as 'Amazing' and 'Wonderful' are many in quantity. Therefore, they do not occupy our minds for a very long time and get lost in the pile of commonness.
'Thought-provoking,' on the other hand, is what every creator strives for. Thought-provoking pieces make us react to what we absorb and live rent-free in our minds. In an academic setting, a piece would not become a subject for discussion unless it makes people react to them. In this article, we will discuss what is reaction paper and how to write it.
A reaction paper is a written response to a book, article, movie, or other media form. It involves the writer's thoughts and feelings about the work and an analysis of its themes, characters, and other elements. The purpose of a reaction paper is to help the writer reflect on and critically evaluate the work and to communicate their insights and opinions to others.
A reaction paper typically comes with instructions that can be found in the course syllabus. You need to pay attention to the structure, grammar, and citations. Make sure you understand the requirements to avoid writing a Chicago-style reaction paper instead of an APA reaction paper.
In the article, you will find all the helpful tips for writing a perfect piece. Don't forget to explore our sample of reaction paper too.
How to Write a Reaction Paper: Helpful Tips
To write a reaction paper, it's crucial to approach the task with an open mind, actively engage with the material, and clearly articulate your thoughts and feelings. Unlike other academic assignments, a response paper requires you to stay focused on personal opinions, which makes it a relatively easy task. You just need to master its essence and general structure.
Next, we are going to offer you some helpful tips on how to write a reaction paper. If your due date is close, you can get help from our essay writing service online .
Understand the Point of a Reaction Paper
Even outside of the academic world, sharing unstructured opinions about something you do not know does not set a pleasant tone. When you share your personal opinion, people expect you to understand the subject well.
Make sure you understand what the goal of the reaction paper is. So next time you decide to write a psychology reaction paper, you deliver what readers expect – valuable, balanced analysis.
The goal of reaction papers is for students to develop critical thinking skills. A writer does not just react to a text but carefully analyzes the strength and weaknesses of the text, the author's intentions and thoughts, and whether the text accomplishes its objectives.   
Understanding the point of the reaction paper helps to ensure that you stay within the scope of the assignment and do not stray into irrelevant or unrelated material. It also allows you to focus your response on the most pertinent aspects of the text and to present your personal opinion sharply and logically. 
Read the Text Right After It Has Been Assigned
Yes, the assignment asks for your reaction but not for an immediate one. Our first thoughts tend to be ambiguous, biased, and sometimes wrong. We need a certain amount of time to form our final opinions about the things we interact with.
Start absorbing the material right after you have been assigned to write a response essay. Give yourself time for thoughtful consideration. Read and reread, and research until you understand every part of it, from the author's objectives to how they executed it. Take notes and balance your perspective.
Make sure you develop a strong reaction statement that is thoughtful and not hot-headed. Gather the information that will support your arguments and structure them well. It should look more like a review and less like a comment on a movie website.
Speaking of films, below you will find a movie reaction paper example. You can also check out our article about discursive essay format .
Make a Note of Your Early Reactions
It is important to make notes of your first reaction. It helps you capture your initial thoughts and emotions on the subject. These early reactions are often the rawest and most honest representation of your feelings and can provide valuable insight into your perspective.
Writing down early reactions can also help you organize your ideas and identify key points you want to explore in your academic paper. Keep writing down your thoughts as you investigate the subject more to see how your ideas progress. It will help you ground your text in your personal experience and make the thesis clear. A meaningful and authentic reflection of your thoughts is what your instructor desires.
Knowing how a certain piece of art makes you feel and why is essential to the writing process. Keeping track of personal reactions can help you identify biases and preconceived notions. By acknowledging and examining your own biases, you can better understand your perspective and write a more balanced and nuanced paper. It can also help you identify areas where you need further research.
Check out our example of a reaction paper about a movie below and see all the tips above at work.
Select a Perspective
A perspective is a point of view that guides your analysis and provides a structure for your response paper. Selecting a perspective ensures that your paper is focused, organized, and offers insightful thoughts. 
Before you start writing, consider different ways of looking at the topic and identify which perspective you feel most closely reflects your feelings. Consider the strengths and weaknesses of the selected perspective.
Getting into the author's shoes is never a bad idea. Think about the motif behind the piece, why the author structured it the way they did, and their objectives. This will allow you to see things clearly and put your analytical skills to craft a good reaction paper.
Before we start discussing the reaction paper template, there are a few more tips to share, so keep on reading. Or you can simply say ' do my homework for me ' and our professional writers will take the matter into their hands.
Define Your Thesis
A thesis statement acts as a roadmap for the rest of the paper and helps to guide the reader through the analysis. Defining your thesis is crucial because it provides a clear and concise statement of the main idea of a response paper. It can also help you stay on track and address the intended purpose.
Defining a thesis statement can be the most challenging task of writing a reaction paper. Start by gathering all the ideas and main points. Identify the notion you find most appealing. Consider its strengths and shortcomings and whether it effectively communicates the main idea.
Try to capture your thoughts in a single sentence that blossoms into a meaningful response essay.
Organize Your Sections
Gather scattered thoughts and give them structure. Response papers that are not properly organized fail to capture readers' attention and often cause frustration.
Avoid common mistakes and write a reaction paper that is easy to follow. Readers will better understand your argument and follow the flow of your analysis.
Create an outline that provides a clear framework for your response paper, including all the main sections and sub-sections. Give them a logical sequence. Start each section with a topic sentence followed by supporting facts, including quotes or examples. Then provide personal opinion and support it with a thorough analysis. Repeat these steps for each section.
Our short reaction paper example will show you how to structure your reaction essays.
Write the Final Version
The first draft is not going to do it. It will take you several tries to get your reaction essay right. The last version should have a strong thesis and be well-structured and polished.
The final version of the paper should be double-checked to ensure that it meets the requirements of the academic assignment and the expectations of your audience. Reread your response paper to make sure that you have a clear perspective, your arguments are logical and supported with facts, and they follow a strong structure.
Look for mistakes. If you find a section where you simply retell the text instead of offering your opinion and critically analyzing it, rewrite the piece until it makes perfect sense. The text should be unique but unbiased.
Writing such assignments may seem boring, but to make things easier for you, we decided to offer you how to write a reaction paper example that you can find below.
Check Your Paper for Spelling and Grammar
Whether you are writing an argumentative essay or reaction essays, you should always have grammar in mind. A strong reaction statement and unique personal opinions won't matter if the sentences are not readable.
Check your grammar and spelling before submitting a reaction paper because these errors can detract from the overall quality of your piece. Grammatical errors can also indicate a lack of attention to detail, making it less likely that your paper will be taken seriously and achieve its intended purpose.
Poor grammar and spelling can negatively impact the reader's perception of your writing skills and ability to analyze and communicate complex ideas. Correct grammar can help you increase credibility and ensure that your thoughts and feelings on the subjects are effectively communicated and understood.
Don't Enjoy Writing College Essays?
Don't break a sweat. Let our expert writers do the heavy lifting.
Reaction Paper Outline
Now that you know all the little tips and tricks that go into writing a reaction paper, it's time to learn about its general outline. This will help you structure your response essay to create an easy flow, and your readers will be able to follow your complex thoughts.
A reaction paper outline includes an introduction, body paragraphs, and a conclusion. Each section serves its purpose and is equally important. Each unit must meet the basic standards of written assignment, make specific points, and credit direct quotations using reaction paper APA format or other citing styles.
Reaction Paper Introduction
Putting pen to paper is always the hardest part of the writing process. But crafting a compelling text should not be a big challenge if you know how to start a reaction paper.
The introduction of a reaction paper is a vital aspect that sets the tone for the rest of the piece. A well-written introduction should provide background information, state the paper's purpose, and introduce the thesis statement. Remember, the introduction should not be too long. Don't risk boring the readers.
To write an effective introduction:
Start by providing relevant context for the topic.
Include an informative summary of the background information relevant to your analysis.
Continue with clearly expressing the purpose of the paper.
Explain what you hope to achieve and why.
Finish your introduction by presenting a thesis statement that encapsulates your personal opinion and the paper's main points.
Reaction Paper Body
Next on the reaction papers format is the body paragraphs. After the compelling introduction, you are also expected to continue effective writing in the main body. This is where you share your honest thoughts on the major points and explain your stance.
As mentioned in our main tips, you must divide all your ideas into separate sections. Start each paragraph with a topic sentence reflecting the section's main theme. Briefly summarize the single aspect of the book or article you are about to discuss. Next, share your feelings about it and explain them. Support your ideas using quotes from reliable sources, and don't forget to cite them properly. Try to connect your reactions to the broader context.
Conclude each paragraph with a summary of your thoughts and feelings and connect them to the paper's main theme.
Do you wonder how to write a reaction paper to a video? The reaction paper format that this article provides works for any response essay and gets you high grades.
Reaction Paper Conclusion
The final aspect of the reaction paper format is an impressive conclusion. This is your final opportunity to gather up your thoughts and feelings and put them into a short summary. If you capture your raw emotions and why the piece made you feel that way, you will leave a lasting impression on the reader.
Start your conclusion by restating the reaction statement. Reaffirm the key points you made in the body sections and offer the new insights you have gained. But avoid any new information. The conclusion should not include information not already discussed in the text. And your reaction paper with a memorable statement that ties together the main ideas and provides closure for the readers.
Reaction Paper Example
Before you move on to explore our pestle analysis example , let us help you with your response essay even more.
What's better than telling you what to do? Yes, showing you how it's done. In our reaction paper example, you will see what an excellent reaction paper consists of and how small details can advance your essay.
Check out our sample reaction paper pdf below.
Final Words
Our tips and tricks on how to write a compelling reaction paper will get you an A+. Reflect on your thoughts and feelings, be clear, support your ideas with evidence, and remain objective. Review our reaction paper sample and learn how to write a high-quality academic paper.
Get professional research paper writing services from our experienced writers to ensure high grades. We offer a wide range of aid, including nursing essay writing services . Contact us today for reliable and high-quality essay writing services.
Do You Find Writing College Essays Difficult?
Join the ranks of A+ students with our essay writing services!
Related Articles
PRO Courses Guides New Tech Help Pro Expert Videos About wikiHow Pro Upgrade Sign In
EDIT Edit this Article
EXPLORE Tech Help Pro About Us Random Article Quizzes Request a New Article Community Dashboard This Or That Game Popular Categories Arts and Entertainment Artwork Books Movies Computers and Electronics Computers Phone Skills Technology Hacks Health Men's Health Mental Health Women's Health Relationships Dating Love Relationship Issues Hobbies and Crafts Crafts Drawing Games Education & Communication Communication Skills Personal Development Studying Personal Care and Style Fashion Hair Care Personal Hygiene Youth Personal Care School Stuff Dating All Categories Arts and Entertainment Finance and Business Home and Garden Relationship Quizzes Cars & Other Vehicles Food and Entertaining Personal Care and Style Sports and Fitness Computers and Electronics Health Pets and Animals Travel Education & Communication Hobbies and Crafts Philosophy and Religion Work World Family Life Holidays and Traditions Relationships Youth
Browse Articles
Learn Something New
Quizzes Hot
This Or That Game New
Train Your Brain
Explore More
Support wikiHow
About wikiHow
Log in / Sign up
Education and Communications
College University and Postgraduate
Academic Writing
How to Write a Reaction Paper
Last Updated: September 15, 2022 Fact Checked
This article was co-authored by Rachel Scoggins, PhD . Rachel Scoggins is a Visiting Assistant Professor of English at Lander University. Rachel's work has been presented at the South Atlantic Modern Language Association and the Georgia International Conference on Information Literacy. She received her PhD in Literary Studies from Georgia State University in 2016. There are 9 references cited in this article, which can be found at the bottom of the page. This article has been fact-checked, ensuring the accuracy of any cited facts and confirming the authority of its sources. This article has been viewed 1,120,840 times.
A reaction or response paper requires the writer to analyze a text, then develop commentary related to it. It is a popular academic assignment because it requires thoughtful reading, research, and writing. You can learn how to write a reaction paper by following these writing tips.
Prewriting and Actively Reading
When you respond to the text, back up your ideas with evidence from the text along with your own connection of ideas, texts, and overarching concepts. If you are asked to agree or disagree, you have to provide convincing evidence about why you feel this way. [2] X Research source
If responding to multiple texts, you must analyze how the texts relate. If responding to one text, you probably should connect the text to overarching concepts and themes you have discussed in the class.
The same assignment may also be given to films, lectures, field trips, labs, or even class discussions.
A reaction paper is not a summary of the text. It also does not state, "I liked this book because it was interesting" or "I hated this because it was boring." [3] X Research source
If you are unsure, ask the teacher to clarify what they expect from the assignment.
You may be asked to react to the text in light of another text. If this is the case, you will want to use quotations from both texts in your writing.
You may be asked to react to the text in the light of the class themes. For example, if you read a book in a Sociology of Gender Roles class, you will want to read, annotate, and react based on how gender roles are described in the book.
You may be asked to react personally to the text. This is less common, but occasionally the teacher simply wants to know if you have read the text and thought about it. In this case, you should focus on your opinions of the book.
One of the biggest mistakes that students make is waiting until the last minute to read and react. A reaction is a thoughtful consideration after reading and rereading several times.
You may need to reread the text multiple times. First, to read and familiarize yourself with the text, then again to start thinking about the assignment and your reactions.
Try completing some of the following sentences after you read: I think that..., I see that..., I feel that..., It seems that..., or In my opinion...
What issues or problems does the author address?
What is the author's main point?
What points or assumptions does the author make, and how does she back that up?
What are strengths and weaknesses? Where are problems with the argument?
How do the texts relate? (if multiple texts)
How do these ideas connect to the overall ideas of the class/unit/etc?
Drafting Your Essay
When you finish, read back over what you've just written. Determine what your strongest and most convincing reactions are. Prioritize your points.
Think about why the author has written the article or story as they have. Why did he structure things in this particular way? How does this relate to the outside world? [7] X Research source
Your thesis will be one statement that explains what you will analyze, criticize, or try to prove about the text. It will force your reaction paper to remain focused.
For example, if you are reacting to a theme in a book, you can split the paragraphs into how the setting, antagonist, and figurative imagery communicate the themes successfully or unsuccessfully.
Draft paragraphs that introduce quotations, analyze them, and comment on them.
A good way to think about structuring your paragraph is: detail, example/quotation, commentary/evaluation, repeat.
Writing Your Final Draft
The last sentence of your introduction should be your thesis.
Look for places where you simply report what the texts says instead of providing a critique or evaluation of what the text says.
If you have been asked to give a statement about your personal opinion, the conclusion may be the best place to insert it. Some teachers may allow you to state the personal opinions in the body paragraphs. Make sure to double check with the teacher first.
Read through for clarity. Are your sentences clear? Have you supported and fully argued your points? Is there any place where you're confusing?
Writing Help
Community Q&A
Look for things the author leaves out or raise counterarguments when an argument is weak. Thanks Helpful 0 Not Helpful 0
Don't wait too long between reading the text and writing the paper. You don't want to forget important details. Thanks Helpful 0 Not Helpful 0
This paper is not autobiographical. It's not about how you feel, how you were in the same situation, or how this relates to your life. Thanks Helpful 0 Not Helpful 0
You Might Also Like
↑ https://www.umgc.edu/current-students/learning-resources/writing-center/online-guide-to-writing/tutorial/chapter8/ch8-14
↑ http://www.esc.edu/online-writing-center/resources/academic-writing/types/summary-reaction-papers/
↑ http://utminers.utep.edu/omwilliamson/engl0310link/readerresponse.htm
↑ https://www.hunter.cuny.edu/rwc/handouts/the-writing-process-1/invention/Writing-a-Response-or-Reaction-Paper
↑ http://study.com/articles/Step-by-Step_Guide_to_Writing_a_Great_Reading_Response_Paper.html
↑ https://writingcenter.unc.edu/tips-and-tools/quotations/
↑ https://success.uark.edu/get-help/student-resources/reaction-paper.php
↑ https://writingcenter.unc.edu/tips-and-tools/introductions/
↑ https://owl.purdue.edu/owl/general_writing/the_writing_process/proofreading/proofreading_for_errors.html
About This Article
To write a reaction paper, start by carefully analyzing the thing you're supposed to be reacting to. Then, write down your initial reactions and thoughts. Try to come up with an angle for your paper, like that you disagree with the subject or that you think it has a deeper meaning. Once you've got an angle, summarize it in the introduction of your paper and use the body paragraphs to support it. Remember to use direct quotes and specific examples to back up what you're saying. When you're finished, reread your paper to make sure your angle is clear. If you want to learn how to set up topic sentences in your paragraphs from our Literary Studies Ph.D. co-author, keep reading! Did this summary help you? Yes No
Reader Success Stories
Mar 8, 2017
Did this article help you?
Shirley Mitchell
Aug 13, 2016
Mar 18, 2017
Glenn Beleber
Aug 3, 2016
Gessa Melnon Sanoria
Jun 18, 2018
Featured Articles
Trending Articles
Watch Articles
Terms of Use
Privacy Policy
Do Not Sell or Share My Info
Not Selling Info
Don't miss out! Sign up for
wikiHow's newsletter
How do I write a reaction essay?
A reaction essay provides a summary of the material along with your reaction/thoughts/opinions about the material.
Prompting questions
After reading the material, what are your feelings about it?
Do you agree or disagree with the article?
Are there any similarities to things you've experienced or anything you've learned?
Pre-writing process
Step 1. List the author, the title of the article, the publisher, and the date of the publication.
Step 2. Write a brief summary of the article. See writing a summary (link inserted) if needed.
Step 3. Craft a thesis statement that includes your reaction to the article (see prompting questions). For help with a thesis statement, visit https://rasmussen.libanswers.com/faq/32467
Writing the paper
Step 1. Start with your thesis.
Step 2. If the assignment is a Summary and Reaction paper, this step would already be included in the Summary portion.
If not, then create the paragraphs; each with a main idea that supports the thesis.Create flow by having the last sentence of each paragraph leading into the next paragraph and topic. How to write a summary.
Step 3. Write a conclusion that wraps up the paper. This includes your general view of your reaction to the article.
After writing the reaction paper, read through it and check for the following:
Flow—when you read it aloud, the information makes sense and the sentences are connected.
Grammar and spelling—submit it to Grammarly https://rasmussen.libanswers.com/faq/33180 and/or the Writing Lab https://rasmussen.libanswers.com/faq/32588 for feedback. Adjust accordingly.
Include the appropriate APA citation information for your summary. APA Guide https://guides.rasmussen.edu/apa
Kathleen Cahill, K. & Kilborn, J. (1999). LEO: Literacy Education Online: Writing a reaction or response essay. https://leo.stcloudstate.edu/acadwrite/reaction.html
Last Updated Oct 14, 2020
Answered By Tammy Hopps
FAQ Actions
Comments (0)
How to Write a Reaction Paper
Guide for Writing a Reaction Paper
A reaction paper is a common assignment in most high schools and universities. It gives students the chance to show their understanding of source material by asking them to summarize, analyze, and give their personal opinion. A reaction paper requires critical thinking as well as creative writing skills, so it can be a challenge to write. Whether you were looking for the answer on how to write a reaction paper about a movie, how to write a reaction paper example, or how to write a reaction paper to an article, you will learn everything you need including a step-by-step guide and an outline here!  
What is Reaction Paper?
A reaction paper is a written assignment that asks a student to briefly summarize and then give personal opinions about a book, article, video, etc. Unlike a critique or review, the main focus is on the personal opinions, thoughts, feelings, and reactions of the student.
Struggling with the Reaction Paper?
Get your assignments done by real pros. Save your precious time and boost your marks with ease.
How to Write a Good Reaction Paper?
Writing a reaction paper takes time and effort and there are several steps to take before getting to the actual writing. These steps will help you understand the source material as well as help structure the eventual paper. 
What is the purpose? 
Not all reaction papers have the same purpose. While all of them ask you to analyze and give opinions about the source material, the focus of the analysis can be different. Make sure you carefully read the guidelines of the assignment and if you have any questions ask your professor for clarifications.
Figure out whether the emphasis should be on the analysis or on your personal opinion and reaction.
The professor may ask you to react to the source material in a way that relates to the course that you are taking. For example, a reaction paper for a sociology class will be different from a reaction paper for an economics class even if the source material is the same.
Sometimes you may be asked to compare one source material to another piece of writing similar to a compare and contrast essay. 
A reaction paper can focus more on objective analysis or subjective opinion
Remember that the goal of a reaction paper is not just to state your opinion. Any claim you make must be backed up by evidence from the source material.
The purpose of a reaction paper is not to say whether you liked the source material or not, it is to analyze it and connect its deeper meanings to larger themes. 
Go over the source material several times
Just because it's called a reaction paper doesn't mean you can get away with going over the source material once and then quickly writing down what you felt about it. Even if you are trying to learn how to write a reaction paper to a movie, you can't just watch the movie once. Make sure that you give yourself enough time to go over the source material at least a few times. Not only do you have to understand every element of the source material, but you also need time to process, think about, analyze, and make connections. 
While it's good to think about deeper concepts when going through the source material for the first time, just focus on getting a general feeling about the article or movie. Focus on your specific insights and reactions when going over the source material for the second and third times. 
What to do after your first go through
After the first time you read the article or watch the video, spend some time writing down your initial reactions. Think of this as a brainstorming session where there are no bad ideas, write down whatever you want. This can include opinions of what you thought the strengths and weaknesses were, what you liked and didn't like, deeper meanings and connections that jumped out at you, connections to your course,  etc. 
The importance of notes
After you have your initial reactions down, it's time to go over the source material again and take in-depth notes. If it's an article or a book, print it out so that you can take notes in the margins.  Highlight important quotes or pieces of information, draw arrows connecting different sections, write yourself notes and reminders in the margins, draw diagrams that help you understand the structure of the article, do whatever helps you understand the material better. No one else is going to see the notes you make so be as creative as you want to be. The more time you spend taking notes the better you will understand the source material and the easier writing the reaction paper will be.
Craft a thesis statement
Think of a thesis statement for a reaction paper as the main takeaway from your analysis. A good thesis statement is concise and focused. It should help guide the rest of your paper with every paragraph lending support to your thesis statement. You can come up with a thesis statement by asking yourself what the goal of the author was, how the source material impacts the world, what are the motivations of the main characters, what was the purpose of the source material, what were the major strengths or weaknesses of the source material, etc.
Paragraph Structure
Making a reaction paper outline is a useful endeavor because it helps organize your notes and understand the flow of the paper overall.  A reaction paper follows a typical five-paragraph essay format with an introduction, body paragraphs, and a conclusion. The next section will go in-depth into how to write a reaction paper section by section. 
In general, the first introductory paragraph should contain a brief summary of the source material. The body paragraphs should start with a clear topic sentence followed by evidence for the claim that you are making, and the conclusion should reiterate the thesis and main evidence.
When making an outline, write down the topic sentence and then a quick list of evidence that backs it up. Make sure that each paragraph connects to your thesis statement so that you don't lose focus during the paper. A useful way to structure each paragraph is to first elaborate on something from the source material and then give your opinion backed by evidence.
Using quotations
Once you have an outline and understand how the paragraphs will be structured, go through your notes and find specific quotations from the text that back up your claims. Don't just list quotations, make sure you analyze them and explain why they are important as evidence.  Depending on the word count of the assignment you should limit the length of quotations and paraphrase when necessary. 
Revise and Edit
Once you're done writing your paper make sure that you go over it a few times. This is to get rid of typos and other silly mistakes, but more importantly to check for flow and clarity. You may find that certain paragraphs work better in a different order, or even that certain topic sentences don't back up the thesis statement. This is your chance to make your paper the best it can possibly be, so make sure you spend some time reviewing and editing. 
Double-check your assignment guidelines
It's always a good idea to check your assignment guidelines once you are done with any type of assignment. You've put in all the hard work and you don't want to get a lower grade than you deserve because of something silly. Question what the assignment guidelines are asking you to do and make sure that you have followed all the rules.
Did you like our Reaction Paper Guide?
For more help, tap into our pool of professional writers and get expert essay editing services!
A reaction paper follows a typical five-paragraph format structure of essay writing. Let's take a look at each section. 
Introduction
Like any type of writing, the first sentence of a reaction paper should engage the reader and make them want to find out more. Write a catchy hook by making a provocative statement about the source material, hinting at an interesting conclusion or reaction, stating an interesting fact or anecdote, etc.
Next, give some background information about the source material including the name of the article, the author, where and when it was published, any awards won, etc.  
Follow this up with a concise summary of the source material. Remember, the goal of a reaction paper is to objectively analyze and then give personal opinions backed by evidence, so don't take a lot of time on the summary in the introduction. The goal of the summary is to give readers an idea of what the source material is about, so highlight the most important elements and skip details. Specific information about the source material will come up as quotations and evidence in the body paragraphs. 
End with your thesis statement.
Depending on the purpose of the assignment, your first body paragraph may be an expanded version of a summary or evaluation of the source material. 
More typically the body paragraphs are where you talk about your reactions to the source material and back it up with evidence. Make sure that each body paragraph talks only about 1 claim you are making and that each body paragraph relates to your thesis statement. You can ask yourself the following questions to come up with ideas for specific body paragraphs.
What were the main themes of the source material and how do they connect with your thesis statement?
Is there a connection between the source material and real-world events?
How does the source material relate to your course?
What are the major claims that the source material is making?
What are the strengths and weaknesses of the source material and why?
Did the source material impact your emotions in any way and how did it achieve it?
Did the source material change your perspective on an important issue?
Conclusion 
The conclusion paragraph should restate your thesis as well as the topic sentences of each paragraph. Concisely explain the main pieces of evidence you have used to support your thesis,  and briefly speak about any larger implications of the work. 
You may be required to have a brief work cited page. This will usually be quite short because the main source is the specific source material. Just make sure to know what citation convention you need to use. 
A reaction paper is one of the most enjoyable assignments for a student because it allows you to experience and give your opinion about something you like, if you were given the freedom to choose the source material, or something interesting if it was assigned by the professor. The most important thing to remember is to stay as objective as possible while expressing your opinion by backing up any claim you make with evidence.
If you have any more questions or need any help with writing a reaction paper, the experts at Studyfy are always here for you. They offer various academic writing services, including sociology essay writing services , help with argumentative essay , write my thesis for me , and college essay writing service . Their team of experts has vast experience in writing high-quality academic papers, and they can provide you with the necessary guidance and support to excel in your coursework.
Don't hesitate to reach out to Studyfy for any writing or academic support you may need!
Featured Posts
How to write a movie review.
How‌ ‌to‌ ‌Write‌ ‌an‌ ‌Argumentative‌ ‌Essay
How to Write a Cause and Effect Essay
How to Write a Scholarship Essay
How to Write an Expository Essay
How to Write an Analytical Essay
U.S. Locations
UMGC Europe
Learn Online
Find Answers
855-655-8682
Current Students
Online Guide to Writing and Research
Other frequently assigned papers, explore more of umgc.
Reviews and Reaction Papers
Reaction papers.
Some assignments may require you to formulate a reaction to your readings, to your instructor's lectures and comments, or even to your classmates. You may even be asked to write a reaction assignment in a journal. This type of writing is called reaction writing. Reaction writing may be informal or formal and is primarily analytical; reactions may be included in critiques, reviews, illustrations of ideas, or judgments of a concept or theory.
How do you get started with reaction writing? Here are some important things to consider:
Reactions require close reading of the text you are reacting to. Having a strong understanding of what you have read is the first step in reaction writing. 
Like reviews, reactions go beyond the literal content of the text, requiring that you bring to the text meaning not explicitly stated, to elaborate on or explore the implications of the author's ideas. 
Your reactions may include your subjective interpretations; you may even use the first-person narrator "I." Your reaction paper need not follow the organization and ordering of the text you are writing about; in fact, reactions can begin with the last point the author made and then move to other points made earlier. 
Reactions can be about one or many of the author's ideas. Although the reactions are focused on your own thinking, you can also include summaries, paraphrases, or quotations from the examined text.
The organization of a reaction varies according to the audience, purpose, and limitations of your assignment. 
You may use a general-to-specific or specific-to-general organization. 
You may use a structured format, such as those for argument, or you may use an informal one of your choosing. 
However you organize your reaction paper, be sure that your approach emphasizes and reflects your analysis and serious consideration of the author's text.
Writing reactive assignments enables you to examine relationships of ideas among the various parts of the passages, and between the author's ideas about a given topic and your preexisting knowledge of and experiences with the topic. When you relate your own ideas to the author's, you can bring your personal knowledge and experience to bear on the topic in such a way as to analyze the author's message in a familiar context. When you carry on a dialogue with the author, you are expanding and speculating on the author's ideas—entering an academic conversation with the author.
Writing reactions usually calls for an expressive writing style in which you can let your thoughts flow, be imaginative, and experiment with language. Although reactions often seem like freewriting or reacting in continuous writing, you want to organize your thoughts with a thesis, introduction and conclusion, and supporting statements. In fact, your reaction may take the form of a formal or informal argument. (Refer to the discussion in this chapter on writing arguments for details.)
Consider these general steps as you plan your writing:
First, freewrite in order to expand and speculate on the author's ideas.
Decide on your working thesis statement.
Select and prioritize the particular reactions you want to include.
Decide on your organization and format (e.g., online or formal writing assignment).
Draft your reaction paper.
Write your introduction and concluding paragraphs.
Revise your final thesis statement and draft.
Mailing Address: 3501 University Blvd. East, Adelphi, MD 20783 This work is licensed under a  Creative Commons Attribution-NonCommercial-ShareAlike 4.0 International License . © 2022 UMGC. All links to external sites were verified at the time of publication. UMGC is not responsible for the validity or integrity of information located at external sites.
Table of Contents: Online Guide to Writing
Chapter 1: College Writing
How Does College Writing Differ from Workplace Writing?
What Is College Writing?
Why So Much Emphasis on Writing?
Chapter 2: The Writing Process
Doing Exploratory Research
Getting from Notes to Your Draft
Introduction
Prewriting - Techniques to Get Started - Mining Your Intuition
Prewriting: Targeting Your Audience
Prewriting: Techniques to Get Started
Prewriting: Understanding Your Assignment
Rewriting: Being Your Own Critic
Rewriting: Creating a Revision Strategy
Rewriting: Getting Feedback
Rewriting: The Final Draft
Techniques to Get Started - Outlining
Techniques to Get Started - Using Systematic Techniques
Thesis Statement and Controlling Idea
Writing: Getting from Notes to Your Draft - Freewriting
Writing: Getting from Notes to Your Draft - Summarizing Your Ideas
Writing: Outlining What You Will Write
Chapter 3: Thinking Strategies
A Word About Style, Voice, and Tone
A Word About Style, Voice, and Tone: Style Through Vocabulary and Diction
Critical Strategies and Writing
Critical Strategies and Writing: Analysis
Critical Strategies and Writing: Evaluation
Critical Strategies and Writing: Persuasion
Critical Strategies and Writing: Synthesis
Developing a Paper Using Strategies
Kinds of Assignments You Will Write
Patterns for Presenting Information
Patterns for Presenting Information: Critiques
Patterns for Presenting Information: Discussing Raw Data
Patterns for Presenting Information: General-to-Specific Pattern
Patterns for Presenting Information: Problem-Cause-Solution Pattern
Patterns for Presenting Information: Specific-to-General Pattern
Patterns for Presenting Information: Summaries and Abstracts
Supporting with Research and Examples
Writing Essay Examinations
Writing Essay Examinations: Make Your Answer Relevant and Complete
Writing Essay Examinations: Organize Thinking Before Writing
Writing Essay Examinations: Read and Understand the Question
Chapter 4: The Research Process
Planning and Writing a Research Paper
Planning and Writing a Research Paper: Ask a Research Question
Planning and Writing a Research Paper: Cite Sources
Planning and Writing a Research Paper: Collect Evidence
Planning and Writing a Research Paper: Decide Your Point of View, or Role, for Your Research
Planning and Writing a Research Paper: Draw Conclusions
Planning and Writing a Research Paper: Find a Topic and Get an Overview
Planning and Writing a Research Paper: Manage Your Resources
Planning and Writing a Research Paper: Outline
Planning and Writing a Research Paper: Survey the Literature
Planning and Writing a Research Paper: Work Your Sources into Your Research Writing
Research Resources: Where Are Research Resources Found? - Human Resources
Research Resources: What Are Research Resources?
Research Resources: Where Are Research Resources Found?
Research Resources: Where Are Research Resources Found? - Electronic Resources
Research Resources: Where Are Research Resources Found? - Print Resources
Structuring the Research Paper: Formal Research Structure
Structuring the Research Paper: Informal Research Structure
The Nature of Research
The Research Assignment: How Should Research Sources Be Evaluated?
The Research Assignment: When Is Research Needed?
The Research Assignment: Why Perform Research?
Chapter 5: Academic Integrity
Academic Integrity
Giving Credit to Sources
Giving Credit to Sources: Copyright Laws
Giving Credit to Sources: Documentation
Giving Credit to Sources: Style Guides
Integrating Sources
Practicing Academic Integrity
Practicing Academic Integrity: Keeping Accurate Records
Practicing Academic Integrity: Managing Source Material
Practicing Academic Integrity: Managing Source Material - Paraphrasing Your Source
Practicing Academic Integrity: Managing Source Material - Quoting Your Source
Practicing Academic Integrity: Managing Source Material - Summarizing Your Sources
Types of Documentation
Types of Documentation: Bibliographies and Source Lists
Types of Documentation: Citing World Wide Web Sources
Types of Documentation: In-Text or Parenthetical Citations
Types of Documentation: In-Text or Parenthetical Citations - APA Style
Types of Documentation: In-Text or Parenthetical Citations - CSE/CBE Style
Types of Documentation: In-Text or Parenthetical Citations - Chicago Style
Types of Documentation: In-Text or Parenthetical Citations - MLA Style
Types of Documentation: Note Citations
Chapter 6: Using Library Resources
Finding Library Resources
Chapter 7: Assessing Your Writing
How Is Writing Graded?
How Is Writing Graded?: A General Assessment Tool
The Draft Stage
The Draft Stage: The First Draft
The Draft Stage: The Revision Process and the Final Draft
The Draft Stage: Using Feedback
The Research Stage
Using Assessment to Improve Your Writing
Chapter 8: Other Frequently Assigned Papers
Reviews and Reaction Papers: Article and Book Reviews
Reviews and Reaction Papers: Reaction Papers
Writing Arguments
Writing Arguments: Adapting the Argument Structure
Writing Arguments: Purposes of Argument
Writing Arguments: References to Consult for Writing Arguments
Writing Arguments: Steps to Writing an Argument - Anticipate Active Opposition
Writing Arguments: Steps to Writing an Argument - Determine Your Organization
Writing Arguments: Steps to Writing an Argument - Develop Your Argument
Writing Arguments: Steps to Writing an Argument - Introduce Your Argument
Writing Arguments: Steps to Writing an Argument - State Your Thesis or Proposition
Writing Arguments: Steps to Writing an Argument - Write Your Conclusion
Writing Arguments: Types of Argument
Appendix A: Books to Help Improve Your Writing
Dictionaries
General Style Manuals
Researching on the Internet
Special Style Manuals
Writing Handbooks
Appendix B: Collaborative Writing and Peer Reviewing
Collaborative Writing: Assignments to Accompany the Group Project
Collaborative Writing: Informal Progress Report
Collaborative Writing: Issues to Resolve
Collaborative Writing: Methodology
Collaborative Writing: Peer Evaluation
Collaborative Writing: Tasks of Collaborative Writing Group Members
Collaborative Writing: Writing Plan
General Introduction
Peer Reviewing
Appendix C: Developing an Improvement Plan
Working with Your Instructor's Comments and Grades
Appendix D: Writing Plan and Project Schedule
Devising a Writing Project Plan and Schedule
Reviewing Your Plan with Others
By using our website you agree to our use of cookies. Learn more about how we use cookies by reading our  Privacy Policy .
How to Write a Response (Reaction) Paper?
14 August, 2020
11 minutes read
Author: Tomas White
A response (reflective) essay is used in different university and college programs. It is assigned by professors, so you need to study thoroughly what you feel about a specific topic. This type of writing takes time because you need it for interpretation and analysis. Generally, creating a response paper does not differ from creating any other academic assignment. The only difference is that you should look back at what you learned and reflect this on paper. If you want to find out more about a response essay and learn how to write it correctly, just keep reading the information below.
What is a Reaction Paper?
A reaction paper is a form of essay in which you reveal your thoughts about a play, book, article, or any other literary work. This kind of academic writing has many parallels with a reaction paper because it contains your reaction to the reviewed work. While giving a written response to something, feel free to include your personal perspective and overall understanding of the subject matter. To make your statements and arguments sound reasonable, support them with sufficient evidence and examples. A reaction paper should be written in a concise and clear language, so it can be easily understood by the reader. This kind of assignment is evaluated based on the writer's competence in writing and only then on the original content. Similar to most academic essays, a reaction paper consists of introduction, body, and conclusion, which should not exceed 2-3 pages.
It is understandable that most writers are scared of writing this kind of essay. Thus, it is highly recommended to use some guidelines throughout the writing process. And here is the right place to get some of them.
How to Start a Response Paper?
When you start the creative process, you may wonder how to write a reaction paper accurately. The main thing you should think about is your feeling about the intentions of the analyzed work. You should also understand and distinguish the major intentions of the author and their feelings about it. To start your paper properly, you need to represent a topic first by providing the primary information. By explaining every detail of the analyzed book, movie, article, or speech, you introduce the topic for further discussions. To attract your audience's attention, you need to highlight the significance of your opinion and its practical importance. That's where you should mention the main objectives of an analyzed work. Don't forget to include a thesis statement into the introduction to specify the main focus of your reaction paper.
Reaction Paper Outline & Format
When you work with a reaction paper on a book, movie, article or speech, you need to highlight every point of it. You need to identify the main topic and distinguish its major subjects and objects. Once you have watched or read the particular work, you need to provide your reaction to the main story and express your own opinions on it. At the same time, you have to stick to your professor's instructions and requirements. Depending on the initial assignment, you might be asked to write a reaction paper about the whole work or its particular section.
A response paper format should be based on personal opinions about a particular topic in the book or movie. You should use your personal experience and knowledge to express those opinions on paper. In some cases, you can be also asked to create a paper about the author's opinions, so you will have to react to the author's thoughts expressed in the work. When you need to analyze your reaction to the author's thoughts, you are not expected to address the topic.
When it comes to the actual writing process, you should be as specific as possible. Thus, it is important to develop an outline and use it as your working plan. It will help you structure your future paper by including all the significant sections in your paper. So, what should a response paper include? In general, a reaction paper consists of the introduction, body, conclusion, and citation list. Here are some more details to know:
Introduction: This is a crucial part of a reaction paper that turns out to be the face of the writing piece of work. To make it effective, you should fill it out with numerous hook sentences. Generally, it should include a clear thesis statement and a small description of the main ideas.
Body: This part contains the main ideas, arguments, and evidence. You should start every paragraph with a clear topic sentence reflecting the main idea. Don't forget to use only relevant and up-to-date sources to make your paper look credible.
Conclusions: This part aims to connect a thesis statement and summary of main ideas. You need to wrap up your major points and clarify your opinions in the summary.
Citation list: This part should contain relevant and up-to-date sources to be used throughout the paper. Thus, you should use only credible sources to persuade your target reader.
Response Papers Examples
If you want to improve your writing competence, you can look through various examples on the Internet. You can check multiple reaction papers on movies and books to come up with the individual writing technique. By encountering high-quality samples, you will take your knowledge and writing skills to the totally new level.
20 Reaction Paper Topics
If you want to submit a response paper, reaction paper, or a mix of two, you should definitely think of creative topics. Here are some examples that you can use for yourself:
Square Enix' Kingdom Hearts as a child-centered online content.
Assumptions of children's literature as seen in Tumble Tower.
Your analysis of a Harvard study that reported that watching 4th of July parades makes people support Republican.
Resisting interpellation of Beauty and the Beast.
Your response to Chris Adrian's article Under My Skin from the New York Times.
The backside of the fashion industry in the movie The Devil Wears Prada.
Reader response to Let's Stop Scaring Ourselves by Michael Crichton.
Response to Sticks by George Saunders.
Reaction paper on Maslow's Theory.
Reading response to why we crave horror movies by Stephan King.
Reaction paper for City Ordinance City Dog Pound and Appropriating Funds.
Reaction paper on Food, Inc . – a Robert Kenner movie.
Reaction to Hitchcock's Birds movie.
Fighting for love in Shakespeare's Romeo and Juliet
The cultural and historical context of Boccaccio's Decameron .
Pick a book which you did not like and describe why you did not.
Is Julius Caesar' death in Shakespeare's play worth it?
Ernest Hemingway. How did the author's life influence his works?
Your reaction to the tragedy of Shakespeare's Macbeth .
Choose your favorite novel and describe it and your impressions in detail.
Useful Tips for Response Paper
Writing a reaction paper can be a complex task that requires much time and effort. Therefore, you may use some high-quality samples to learn more about this type of academic writing. Here are some tips that can help you in creating a decent response paper:
Keep the knowledge of the addressed work on which you are writing your response or reaction paper. While reading a book or watching a movie, make a note of the areas that encourage you towards writing. Specify the main ideas that you want to discuss.
Show your point of view and support it with additional information where you feel it's necessary. Support the analyzed piece of work with sufficient examples.
Conduct thorough research and find resources that can prove your arguments and statements.
Submit a draft in order to minimize the most common errors. Of course, it will take extra time to write a draft and then transform it into a well-structured essay. In your draft, you should not express the same thoughts again. The reader won't be interested in reading the whole story again and again. Instead, they expect you to thoroughly analyze the information you receive and read. If you don't know how to do it, you can always use some online samples or templates.
These are some simple and useful tricks that can help you master the response paper writing process. You should also know the most common mistakes that reduce the quality of your response paper. First, you should not place the summary of the analyzed work in the very beginning. The reader will lose interest in your paper immediately. And you will lose a chance of expanding the depth of the book or movie. First, you should develop and express your own opinions, not the overview or basic layout. Second, you should not make a statement without providing any supporting information. Producing examples that are hardly related to the topic also won't do any good for your paper. With all the above-mentioned information in mind, you will be able to create an excellent piece of work!
Write an Excellent Reaction Paper with HandmadeWriting
If you want to get high-quality response papers online, you can rely on the professional team of writers who will help you deal with the task. When you are looking for a professional writing service, it means that you want to get rid of your academic burden and have some time for yourself. With the help of HandmadeWriting , you can get an excellent-quality response paper example at an affordable price.
The essay writers of this service have already created multiple academic papers on various topics and of different kinds. They have also developed a huge clientele since they have proved to be reliable and hard-working in their attitude to work.
When you start cooperation with HandmadeWriting, be sure that you will get papers of impeccable quality. Moreover, they provide response papers samples so that you could know how well this company's writers can handle the academic writing task. It's no wonder that HandmadeWriting is rated as one of the leading writing services on the Internet.
Best Essay Writing Services 2023
Student life can often be quite challenging because students have to deal with challenging college essay writing assignments. To facilitate the learning process, many services help you complete written work and get high scores. Now we will tell you about the best services that you can turn to and get high-quality papers. Essay Writing Service […]
A life lesson in Romeo and Juliet taught by death
Due to human nature, we draw conclusions only when life gives us a lesson since the experience of others is not so effective and powerful. Therefore, when analyzing and sorting out common problems we face, we may trace a parallel with well-known book characters or real historical figures. Moreover, we often compare our situations with […]
Ethical Research Paper Topics
Writing a research paper on ethics is not an easy task, especially if you do not possess excellent writing skills and do not like to contemplate controversial questions. But an ethics course is obligatory in all higher education institutions, and students have to look for a way out and be creative. When you find an […]
Skip to content. | Skip to navigation
Masterlinks
About Hunter
One Stop for Students
Make a Gift
Access the Student Guide
Apply to Become a Peer Tutor
Access the Faculty Guide
Request a Classroom Visit
Refer a Student to the Center
Request a Classroom Workshop
The Writing Process
The Documented Essay/Research Paper
Writing for English Courses
Writing Across the Curriculum
Grammar and Mechanics
Business and Professional Writing
CUNY TESTING
| Workshops
Research Information and Resources
Evaluating Information Sources
Writing Tools and References
Reading Room
Literary Resources
ESL Resources for Students
ESL Resources for Faculty
Teaching and Learning
| Contact Us
Each semester, you will probably be asked by at least one instructor to read a book or an article (or watch a TV show or a film) and to write a paper recording your response or reaction to the material. In these reports—often referred to as response or reaction papers—your instructor will most likely expect you to do two things: summarize the material and detail your reaction to it. The following pages explain both parts of a report.
PART 1: A SUMMARY OF THE WORK
To develop the first part of a report, do the following:
Identify the author and title of the work and include in parentheses the publisher and publication date. For magazines, give the date of publication.
Write an informative summary of the material.
Condense the content of the work by highlighting its main points and key supporting points.
Use direct quotations from the work to illustrate important ideas.
Summarize the material so that the reader gets a general sense of all key aspects of the original work.
Do not discuss in great detail any single aspect of the work, and do not neglect to mention other equally important points.
Also, keep the summary objective and factual. Do not include in the first part of the paper your personal reaction to the work; your subjective impression will form the basis of the second part of your paper.
PART 2: YOUR REACTION TO THE WORK
To develop the second part of a report, do the following:
Focus on any or all of the following questions. Check with your instructor to see if s/he wants you to emphasize specific points.
How is the assigned work related to ideas and concerns discussed in the course for which you are preparing the paper? For example, what points made in the course textbook, class discussions, or lectures are treated more fully in the work?
How is the work related to problems in our present-day world?
How is the material related to your life, experiences, feelings and ideas? For instance, what emotions did the work arouse in you?
Did the work increase your understanding of a particular issue? Did it change your perspective in any way?
Evaluate the merit of the work: the importance of its points, its accuracy, completeness, organization, and so on.
You should also indicate here whether or not you would recommend the work to others, and why.
POINTS OF CONSIDERATION WHEN WRITING THE REPORT
Here are some important elements to consider as you prepare a report:
Apply the four basic standards of effective writing (unity, support, coherence, and clear, error-free sentences) when writing the report.
Make sure each major paragraph presents and then develops a single main point. For example, in the sample report that follows, the first paragraph summarizes the book, and the three paragraphs that follow detail three separate reactions of the student writer to the book. The student then closes the report with a short concluding paragraph.
Support any general points you make or attitudes you express with specific reasons and details. Statements such as "I agree with many ideas in this article" or "I found the book very interesting" are meaningless without specific evidence that shows why you feel as you do. Look at the sample report closely to see how the main point or topic sentence of each paragraph is developed by specific supporting evidence.
Organize your material. Follow the basic plan of organization explained above: a summary of one or more paragraphs, a reaction of two or more paragraphs, and a conclusion. Also, use transitions to make the relationships among ideas in the paper clear.
Edit the paper carefully for errors in grammar, mechanics, punctuation, word use, and spelling.
Cite paraphrased or quoted material from the book or article you are writing about, or from any other works, by using the appropriate documentation style. If you are unsure what documentation style is required or recommended, ask you instructor.
You may use quotations in the summary and reaction parts of the paper, but do not rely on them too much. Use them only to emphasize key ideas.
Publishing information can be incorporated parenthetically or at the bottom of the page in a footnote. Consult with your instructor to determine what publishing information is necessary and where it should be placed.
A SAMPLE RESPONSE OR REACTION PAPER
Here is a report written by a student in an introductory psychology course. Look at the paper closely to see how it follows the guidelines for report writing described above.
Part 1: Summary
Document Actions
Public Safety
Website Feedback
Privacy Policy
CUNY Tobacco Policy
Thesis Statement Generator
Online Summarizer
Rewording Tool
Topic Generator
Essay Title Page Maker
Conclusion Writer
Academic Paraphraser
Essay Writing Help
Topic Ideas
Writing Guides
Useful Information
How to Write a Reaction Paper: Format, Template, & Reaction Paper Examples
A reaction paper is one of the assignments you can get in college. It may seem easy at first glance, similar to a diary entry requiring your reaction to an article, a literature piece, or a movie. However, writing a high-quality paper often turns into a challenge. Here is a handy guide on how to write a reaction paper, with examples and topic suggestions.
❓ What Is a Reaction Paper?
✍️ Reaction Paper Format
🤔 How to Write a Reaction Paper
💭 Reaction Paper Questions
🔍 Reaction Paper Examples
🔗 References
❓ what is a reaction paper assignment.
A reaction paper (or response paper) is an academic assignment urging students to explain what they feel about something . When crafting a good reaction piece, the student should aim to clarify what they think, agree or disagree with, and how they would identify with the object regarding their life experiences. The object of your response may be a painting, a book, an academic publication, or a documentary.
This task is not a simple summary of the text or film you're assigned to. Neither is it a research paper; you don't need to use external sources in a reaction paper. Thus, the writing process may seem confusing to newbies. Let's clarify its main elements and features to help you out.
Every academic assignment has a specific structure and requirements to follow. Here we discuss the major elements of the response paper format to guide you through its components and the composition algorithm. As soon as you capture the structure, you can write stellar texts without a problem.
Reaction Paper Template
Every critical reaction paper follows the standard essay outline, with the introduction, the main body, and the conclusion as to its main parts. Here is a more detailed breakdown of each component:
Introduction . You present the subject and set the context for the readers.
Body . This part is a detailed analysis of your response to the subject. You should list the main points and analyze them, relating to your feelings and experiences.
Wrap-up . Here you recap all major points and restate your opinion about the subject, giving it a conclusive evaluation.
Reaction Paper: APA Format
Depending on your teacher's preferences and the academic subject, you may be given a reaction paper assignment in various referencing styles. The APA format is one of the possible variants. So, please don't get confused about the writing approach; it only means that you should format your reaction paper according to APA conventions . These are:
A standard APA title page
One-inch margins on all sides
Double spacing between the lines
An author-date format of referencing external sources (if you use any supporting evidence)
The rest of the requirements are identical for reaction papers in all referencing formats, allowing you to choose.
🤔 How to Write a Good Reaction Paper Step-by-Step
Now, it's time to clarify how to begin a reaction paper, what steps to take before writing, and how you will compose the entire assignment. Use our universal step-by-step guide fitting any reaction paper topic.
Study the prompt inside out . You should understand the prompt to craft a relevant paper that your professor will grade highly.
Clarify all instructions . A grave mistake that students often make is assuming they have understood everything in one go. Still, asking questions never killed anybody. So, we recommend inquiring your tutor about everything to be 100% sure you're on the right path.
Study the subject of your paper . Watch a movie, look at the painting, or read the text – do everything you can to get to the depths of the author's message and intention.
Make notes . Your reactions matter, as they will become the main content of your written text. So, annotate all feelings and ideas you have when studying the subject. You'll be able to use them as writing prompts later.
Make a reaction essay outline . The outline is the backbone of your content, which will serve as your compass during the actual writing process.
Compose the draft . Use the outline as a structure and add details, evidence, and facts to support your claims. Then add an introduction and a conclusion to the final draft.
Edit and revise . To err is human; to edit is divine. Follow this golden rule to submit a polished, revised paper without errors and typos.
How to Write a Reaction Paper About a Movie?
When the subject of your reaction paper assignment is a movie, you should consider the context in which it was given. It's probably a supporting material for your study course dedicated to a specific learning concept or theory. Thus, it would be best to look for those links when watching the assigned movie – " Women's Rights and Changes over the 20 th Century " is an excellent example of this technique. It will help you draw the connections in your reaction paper, showing your professor that you understand the material and can relate theory and practice.
The steps you need to take are as follows:
Watch the film . It's better to do it 2-3 times to capture all the tiny details.
Take notes . Record the film's central themes, messages, character traits, and relationships.
Focus on a relevant element of the film in your response . If it's a Film Studies class, you may write about the stylistic means and shooting techniques that the director used. If it's a psychology class, you may write about characters and their relationships. If you need to compose a Sociology or Politics reaction paper, you may focus on the context of the film's events.
Revise the draft . Careful editing can save your grade, helping you locate minor errors, typos, and inconsistencies. Always reserve some time for a final look at your text.
How to Write a Reaction Paper to a Documentary?
Documentaries are also frequently chosen as subjects for reaction papers. They present valid, objective data about a specific event, person, or phenomenon and serve as informative, educational material for students. Here's what you need to do if you get such a task:
Watch the documentary several times . Watch it several times to understand everything nicely. It's usually a much more data-rich video piece than a fiction film is, so you'll need to take many notes.
Present your documentary in the background of your reaction paper . Set the context for further discussion by naming the author, explaining its topic and content, and presenting its central claim.
Talk about the documentary's purpose at length . Please focus on the details and major claims made by the director; present relevant facts you've learned from it.
React to the documentary's content and explain how you felt about it . State what points you agree with and what ideas seem controversial; explain why you agree or disagree with the director's position.
A vital aspect of a response to a documentary is comparing what you knew and thought about the subject before and after watching it. It's a significant learning experience you should share, showing whether you have managed to progress through the studies and acquire new information. Look through the " Alive Inside: A Story of Music and Memory " reaction paper to get a clear idea of how it works.
How to Write a Reaction Paper to an Article?
Once you get a home task to write a reaction paper to an article, you should follow this algorithm:
Read the article several times to understand it well . Make notes every time you read; new shades of meaning and details will emerge.
Explain the key claims and terms of the article in your own words, as simply as possible . Then respond to them by evaluating the strength of those claims and their relevance.
Assess the author's stand and state whether you agree with it . Always give details about why you do or don't support the author's position.
Question the evidence provided by the author and analyze it with additional sources, if necessary.
Please don't forget about the following writing conventions:
An excellent example of a response paper to an article is " Gay Marriage: Disputes and the Ethical Dilemma ."
Tips for Writing a Psychology Reaction Paper
If you were tasked with writing a reaction paper for a Psychology class, use the following tips to excel in this assignment.
Identify the subject you need to react to . It may be a psychological theory, a book or article on psychology, or a video of a psychologist's performance.
Study the subject in detail . You need to understand it to form specific reactions, give informed commentary, and evaluate the presented claims effectively.
Think about the topic's relevance to modern times . Is the theory/book/article consistent with the ideas people hold today? Has there been any criticism of these ideas published recently? Did later research overturn the theory?
Form a subjective response to the assigned subject . Do you agree with that position? Do you consider it relevant to your life experience? What feelings does it arouse in you?
By approaching a psychology piece with all these questions, you can create a high-quality response based on valid data, reflecting your reactions and opinions. Look through " Peer Interaction in Mergers: Evidence of Collective Rumination " to see how it can be done.
Reaction essay writing is a process that you can start only after answering essential questions about the content and your feelings. Here are some examples to ask yourself when preparing for the writing stage.
What is the author's key message or problem addressed in the piece?
What purpose did the author pursue when creating this text/movie/sculpture/painting? Did the author fulfill it successfully?
What point does the author intend to make with their work of art/literature?
What assumptions can I trace throughout the subject, and how do they shape its content/look?
What supporting facts, arguments, and opinion does the author use to substantiate their claims? Are they of high quality? What is their persuasive power?
What counterarguments can I formulate to the claims made by the author?
Is the raised issue relevant/interesting/significant?
What are the author's primary symbols or figurative means to pass their message across?
Do I like or dislike the piece overall? What elements contribute to a positive/negative impression?
How does this piece/subject correlate with my life experience and context?
How can the reflections derived from this subject inform my life and studies?
What lesson can I learn from this subject?
📋 Transitional Words for Reaction Paper
When you write a reaction paper, you express a personal opinion about a subject you have studied (a visual artwork or a text). However, the subjective nature of this assignment doesn't mean that you should speak blatantly without caring about other people's emotions and reactions. It's critical to sound polite and use inclusive language.
Besides, you need to substantiate your points instead of simply stating that something is good or bad. Here are some linguistic means to help you develop a coherent reaction text:
I think/feel/believe that
It seems that
In my opinion
For example / as an illustration / as a case in point
In contrast
I think / I strongly believe / from my point of view
I am confident that
For all these reasons
Finally / in conclusion
It's not mandatory to squeeze all these phrases into your text. Choose some of them sparingly depending on the context; they will make your essay flow better.
Here is a short reaction paper example you can use as practical guidance. It is dedicated to the famous movie "Memento" by Christopher Nolan.
Memento is a movie about a man with a rare neurological condition – anterograde amnesia – seeking revenge for the rape and murder of his wife. He struggles to remember the recent events and creates various hints in notes and tattoos to keep the focus on his mission. Throughout the film, he meets different people who play weird roles in his life, contributing to the puzzle set by the director in the reverse scene presentation.
My first impression of the movie was confusing, as it took me half of the film to realize that the scenes were organized in the reverse order. Once the plot structure became more apparent, I opened many themes in the movie and enjoyed it until the end. Because of the severe brain damage, Leonard could not determine whether the story of his wife's rape and murder was real, whether he had already been revenged for her death, and whether he was a hero or a villain. Thus, for me, the film was about a painful effort to restore one's identity and seek life meaning amid the ruining memory and lost self.
The overall approach of Christopher Nolan deserves a separate mention. A unique design of shots' sequence and the mix of chronological black-and-white and reverse chronological colored scenes is a puzzle that a viewer needs to solve. Thus, it becomes a separate thrilling adventure from the film's storyline. My overall impression was positive, as I love Christopher Nolan's auteur approach to filmmaking and the unique set of themes and characters he chooses for artistic portrayal.
Another example of a reaction paper we've prepared for you presents a reaction to "Night" by Elie Wiesel.
The horrors of World War II and concentration camps arranged by Nazis come to life when one reads Elie Wiesel's Night. It is a literary piece composed by a person who lived in a concentration camp and went through the inhumane struggles and tortures of the Nazi regime . Though Wiesel survived, he portrayed that life-changing experience in much detail, reflecting upon the changes the threat of death makes to people's character, relationships, and morality.
One of the passages that stroke me most was people's cruelty toward their dearest relatives in the face of death. The son of Rabbi Eliahou decided to abandon his father because of his age and weakness, considering him a burden. This episode showed that some people adopt animal-like behavior to save their lives, forgetting about the cherished bonds with their parents. Such changes could not help but leave a scar on Elie's soul, contributing to his loss of faith because of the cruelty around him.
However, amid the horror and cruelty that Elie Wiesel depicted in his book, the central message for me was the strength of the human spirit and the ability to withstand the darkness of evil. Wiesel was a living witness to human resilience. He witnessed numerous deaths and lost faith in God, but his survival symbolizes hope for a positive resolution of the darkest, unfairest times. Though reading "Night" left me with a heavy, pessimistic impression, I still believe that only such works can teach people peace and friendship, hoping that night will never come again.
The third sample reaction paper prepared by our pros deals with the article of David Dobbs titled "The Science of Success."
The article " The Science of Success ," written by David Dobbs in 2009, presents an innovative theory of behavioral genetics. The author lays out the findings of a longitudinal study held by Marian Bakermans-Kranenbug and her team related to the evolution of children with externalizing behaviors. Their study presents a new perspective on the unique combination of genetics, environment, parenting approaches, and its impact on children's mental health in adulthood.
The claim of Dobbs I found extremely convincing was the impact of mothers' constructive parenting techniques on the intensity of externalizing behaviors. Though most children learn self-control with age and become calmer and more cooperative as they grow up, waiting for that moment is unhealthy for the child's psyche. I agree that parents can help their children overcome externalizing behaviors with calm activities they all enjoy, such as reading books. Thus, the reading intervention can make a difference in children's psychological health, teaching them self-control and giving their parents a break.
However, the second part of the article about "dandelion" and "orchid" children and their vulnerability caused more questions in me. I did not find the evidence convincing, as the claims about behavioral genetics seemed generic and self-obvious. Children raised in high-risk environments often develop depression, substance abuse, and proneness to criminality. However, Dobbs presented that trend as a groundbreaking discovery, which is debatable. Thus, I found this piece of evidence not convincing.
As you can see, reaction paper writing is an art in itself. You can compose such assignments better by mastering the techniques and valuable phrases we've discussed. Still, even if you lack time or motivation for independent writing, our team is on standby 24/7. Turn to us for help, and you'll get a stellar reaction paper in no time.
⁉️ Reaction Paper Questions and Answers
What words do you use to start a reaction paper.
First, you need to introduce the subject of your paper. Name the author and the type of work you're responding to; clarify whether it's a film, a text, or a work of art. Next, you need to voice your opinion and evaluate the assigned subject. You can use phrases like, "I think… In my opinion… My first reaction was… I was touched by…".
What Is the Difference Between Reflection and Reaction Paper?
The main distinction between reflection and reaction essays is their focus on the subject. A reaction paper approaches it from the viewpoint of your evaluation of the content and message of the assigned topic. It deals with how you felt about it, whether you liked it, and what thoughts it evoked in you. A reflection, in its turn, deals with your perceptions and beliefs. It focuses on the transformational experiences of either changing or reinforcing one's views upon seeing or reading something.
What Is the Purpose of Reaction Paper?
The primary purpose of writing a reaction paper is to communicate your experience of reading, watching, or to see a subject (e.g., a movie, a book, or a sculpture). You should explain how you captured the author's message, what you felt when exposed to that subject, and what message you derived. You can cite details and discuss your reactions to them before forming the general evaluation.
Can You Use "I" in a Reaction Paper?
Students can use the first-person "I" when writing reaction pieces. The use of the first person is generally banned in academic research and writing, but reflections and response papers are exceptions to this rule. It's hard to compose a personal, subjective evaluation of an assigned subject without referring to your thoughts, ideas, and opinions. In this academic assignment, you can use phrases like "I believe… I think… I feel…".
Reaction vs. Reflection Paper: What's the Difference? Indeed Editorial Team .
Response Paper, Thompson Writing Program, Duke University . Guidelines for Reaction Papers, ETH Zürich .
Film Reaction Papers, Laulima .
How to Make a Reaction Paper Paragraph, Classroom, Nadine Smith .
How to Write a Response Paper, ThoughtCo, Grace Fleming .
Reviews and Reaction papers, UMGC .
Reaction Paper, University of Arkansas .
How to Write a Reaction Paper, WikiHow, Rachel Scoggins .
How to Write a Reaction (Steps Plus Helpful Tips), Indeed Editorial Team .
Response Paper, Lund University .
How to Write a Reaction Paper in 4 Easy Steps, Cornell CS .
Response Papers, Fred Meijer Center for Writing & Michigan Authors, Grand Valley State University .
Introduction
Goals and Goal Setting
Goals Common to All RST Writers
Other Goals to Consider
Defining My Own Goals
Advice about Assignments
Getting Started: Listing Topics to Write about in the Tutorial
Narrative One: Personal Piece on a Significant Experience
Narrative Two: Academic Piece on a Significant Experience
Summary/Response One
Summary/Response Two
Tutorial Evaluation Postscript
On Using the Resources for Writers
Generating and Developing Ideas
Finding/Expressing Main Ideas
Showing v. Telling Sentences
Focusing Topic Sentences
Thesis Statements
Reading Strategies
Assessing Your Reading Strategies
Summarizing
Writing Effective Summary and Response Essays
Discourse Analysis Worksheet
Trade Magazines
Selecting Readings
A summary is a concise paraphrase of all the main ideas in an essay. It cites the author and the title (usually in the first sentence); it contains the essay's thesis and supporting ideas; it may use direct quotation of forceful or concise statements of the author's ideas; it will NOT usually cite the author's examples or supporting details unless they are central to the main idea. Most summaries present the major points in the order that the author made them and continually refer back to the article being summarized (i.e. "Damon argues that ..." or "Goodman also points out that ... "). The summary should take up no more than one-third the length of the work being summarized.
The Response:
A response is a critique or evaluation of the author's essay. Unlike the summary, it is composed of YOUR opinions in relation to the article being summarized. It examines ideas that you agree or disagree with and identifies the essay's strengths and weaknesses in reasoning and logic, in quality of supporting examples, and in organization and style. A good response is persuasive; therefore, it should cite facts, examples, and personal experience that either refutes or supports the article you're responding to, depending on your stance.
Two Typical Organizational Formats for Summary/Response Essays:
1. Present the summary in a block of paragraphs, followed by the response in a block:
Intro/thesis Summary (two to three paragraphs) Agreement (or disagreement) Disagreement (or agreement) Conclusion
Note: Some essays will incorporate both agreement and disagreement in a response, but this is not mandatory.
2. Introduce the essay with a short paragraph that includes your thesis. Then, each body paragraph summarizes one point and responds to it, and a conclusion wraps the essay up.
Intro/thesis Summary point one; agree/disagree Summary point two; agree/disagree Summary point three; agree/disagree Conclusion
Reaction – response essay writing guide
When writing a reaction paper, you are required to analyse and interpret material for yourself. This is achieved by summarising the main points from an original text before analysing these ideas in relation to your own knowledge and experience on the topic. Use evidence from the original source throughout your essay – do not just regurgitate their words or ideas but instead show how you have interpreted them based on evidence from the text!
Before we proceed to learn how to write reaction paper step by step, let us first define what we mean by a reaction paper – also known as response paper, response essay or reaction essay.
What is reaction paper?
A reaction paper is an analysis of a text in which your opinion is being shared with the reader. It's most commonly used in an academic setting to demonstrate how well you understand the material. A reaction essay can also be used as a tool to analyze and better understand the material yourself.
How to write a good college essay
500 word essay
Essay Draft: How To Write a Draft Essay
200 Word Essay
Advertisement analysis essay
Words to use in an essay
Parts / elements of reaction paper
A good reaction paper can be divided in 3 parts namely:
These are the main elements of a reaction paper that constitutes a good reaction paper format or structure . In addition to these 3 parts of reaction paper, a reaction response essay must have a list of references at the end of the paper.
Reaction Paper Format and Structure
Let us now discuss each section of the essay:
Introduction
An introduction of a response paper should include the following:
Brief background of the topic/text
A thesis statement (what you think about the text – one sentence): Known as "hook" to catch reader's attention. It should be a clear and concise sentence that draws readers into your essay.
A list of facts or arguments from the original material that you will be covering in your body paragraphs. Try to avoid summarizing every single fact/argument, nobody wants to read an essay filled with nothing but summary! You can also choose to omit this section if you are worried that it might give away your opinion too early on in your response essay.
Body section:
It is in the body section of your essay where you get into more detail about what you believe after reading the source material. It is the bulk of your response essay and should provide evidence from the text to support your opinion (one paragraph per piece of evidence). How to write the body paragraphs in a reaction paper:
First, offer a broad explanation about the main points you noted down in your introduction.
Next, add further explanation or analysis based on the evidence you've presented: Why do you think this information is important? How can it relate to other things we know? What does it mean overall? What are its implications for … etc. Make sure that all of these analyses compliment each other and strengthen your overall argument while also proving why you believe what you do based on the text being analyzed.
Finally, try to connect everything back to your thesis in some way so that everything you've said is leading towards your opinion. You don't want to incorporate a little bit of evidence from the original text and then take off on a tangent!
The reaction paper's conclusion should restate your main argument / thesis from the introduction, linking back to earlier points made in your essay. It should be a sentence or two that can sum up everything you have written before in a clear and concise manner. The conclusion also acts as a bridge between this response piece and other texts/ideas that you have written about previously. It allows readers to see how all of the material ties together, which can add strength to arguments being put forth by both yourself and others academics whose work you may use in comparison with your own.
List of sources
Don't forget to also keep track of all of your sources so that you can create a list of references at the end of the paper.
What to avoid when writing a reaction paper for college or high school
Below are 6 common mistakes many students commit when writing a response essay or reaction paper for college. Whilst writing your reaction paper, you should avoid:
Writing a dry summary : The writer's job is to adhere to the principle 'say what you mean and mean what you say' – but do not be repetitive – avoid word for word reproductions of sentences from the original text – summarise rather than quote!
Getting bogged down with all the detail : The writer must select, omit and group ideas logically. By no means should you omit important details of an anecdote or incident but only cite the interesting parts.
Writing in first person : A reaction paper is written as an academic essay – it does not include personal opinion or experience. Blogs are meant to be personal while academic papers are objective.
Not stating whether you agree or disagree with the text's main points : what does your reader gain from reading a summary of someone else's opinion? Make clear your initial impression on hearing/reading the material before proceeding to present evidence that either confirms or challenges this impression. Your task is then to piece together all the ideas you have managed to formulate in presenting your analysis in a coherent sequence.
Not acknowledging that you know the text in question : Never, ever write about someone else's work without having read it yourself! You must demonstrate that you are familiar with the original source by citing specific details from the text throughout your essay. Use direct quotes when necessary to emphasise important ideas or make an argument sound more convincing.
Mentioning your personal opinions on the topic of discussion at length : Though you may have strong views on some topics, they will not be appropriate for an academic paper due to their subjective nature. If drawn out over several paragraphs, this kind of material can transform your essay into a lengthy polemic rather than a formal response to another person's work.
To write a perfect reaction essay, you need to avoid making the 6 mistakes mentioned above.
How to avoid plagiarism in reaction papers
It is often difficult to determine what constitutes plagiarism in reaction paper, as it does not involve the exact copying of another person's work. Plagiarism encompases a number of issues described here .
Like in any other academic writing task, when writing a response paper, you should always remember that it is an academic offence to copy or use another person's work without giving them the credit.
Do not fall into the trap of believing that paraphrasing material is enough to avoid accusations of plagiarism – even if you use different words to express similar ideas, you must cite where these ideas originally came from.
Reaction papers do not allow for substantial amounts of direct quotes without attribution to the source text through citations. As long as you write your response essay based on evidence from the original source, you should avoid accusations of plagiarism.
How to write a reaction paper
How do I write a reaction paper?
How should you start a reaction paper? These questions have been discussed in depth in this section.
Now that we know what a reaction paper is, the characteristics of reaction paper, and what makes a good response essay, let us now review the process of writing a good reaction paper using the step-by-step guide outlined below:
Read the text thoroughly.
Write down your initial thoughts.
Collect sufficient evidence and write your response essay.
Conclude your essay.
Proofread and edit your work.
Let us now discuss each step above in details:
Step 1: Read the text thoroughly.
The first thing you need to do when you have been asked to write a reaction essay paper is to read the text you are responding to in order to get a better understanding of the author's argument. Never start writing a response essay without going through and understanding the text or literary work in question. By reading thoroughly, you will be able to write a good paper that is in line with the criteria of the assignment.
Step 2: Write down your initial thoughts.
After going through and understanding the text in question, you should attempt to summarise what you have read and written down your initial thoughts on the text before moving on to gather evidence for your response essay. This initial summary is essential as it encourages you to formulate a thesis or approach that guides your arguments throughout the writing process.
Step 3: Collect sufficient evidence and write your response essay.
Assemble all possible evidence that confirms or challenges these initial thoughts about the author's argument and then present them coherently in order of importance.
Once you have summarised what has been written so far and decided how you want to respond, it's time to use quotes from the text or literature work such as poems or books used in academic papers to support your argument. A good rule of thumb is to limit the use of direct quotes from texts to 30% of your total response paper word count. After using sufficient evidence and quoting passages from the text, you should then construct a coherent and well-supported essay that covers all aspects outlined in the assignment criteria or instructions provided by your tutor or lecturer. You may need assistance with creating a thesis statement for an assigned reaction essay that enables you to express your thoughts on what you have read clearly.
Step 4: Conclude your essay.
Once you have completed writing all necessary content for the paper, it's time to summarise everything that has been written so far into a single document that will be used as reference for future readings. This summary ensures that you have covered all aspects that are necessary to complete the assignment. It's important for this document or summary not to exceed more than 1,000 words without including any references since it serves as a way of checking whether you have used all information already mentioned in your essay before moving on to proofreading and editing your work.
Step 5: Proofread and edit your work.
Once you are satisfied with what has been written, it is time for you to read through the essay again but this time looking out for errors such as grammar mistakes, spelling errors, sentence structure issues, etc. If there are still some areas of confusion left after going through the paper once more using a fresh set of eyes then feel free to ask someone else to look at it too. There may be times when your initial reaction paper assignment can be completed in a single draft, but most of the time it is desirable to go through and edit your paper multiple times before submitting it for grading or assessment.
As you can see the process of writing a reaction essay is simple and straightforward. We will now review some reaction paper examples below to reinforce the above steps. Should you have any question, click here to ask a question.
Reaction paper examples
Here are some samples of great reaction papers written for you. Follow the samples to see how various students have been able to write great papers.
Other examples of reaction papers can be found on the botton of this page.
Further reaction paper writing tips
Here are a few tips to guide you when you are writing your reaction paper:
Don't waste too much time on one topic — write about what you're passionate and knowledgeable about and move on! People notice if you keep writing about the same thing.
Use clear language — find synonyms and rephrase sentences so they don't sound awkward.
Always proofread your work. It will take less than five minutes to check for spelling problems, grammatical errors, sentence fragments, punctuation mistakes, run-on sentences, etc.
Give yourself enough time to fully complete task—don't rush yourself!
References:
Writing a Response or Reaction Paper — Hunter College
LEO Writing a Reaction or Response Essay
http://web.mnstate.edu/robertsb/313/Reaction paper 1.pdf | mnstate.edu
WRTG – Reaction Papers
Author: tutlance
Writing effective essays: tips for students, short story essay.
Writing an Argument Analysis Essay (outline, examples,
Autobiographical narrative essay (outline & examples)
How to Write a Domestic Violence Research Paper & Essays
how to write a plot essay
Personal Observation essay
How to write a thematic essay + examples, related guides, how to write an effective essay in 5..., how to write a summative essay | definition,..., how to write an ethics essay, topics, outline,..., how to write a film analysis essay with..., background information essay, dialogue essay, formal essay vs informal essay, discussion essay, how to shorten an essay, how to write a photo essay – examples..., proper heading for essay, enduring issues essay, writing a commentary essay, analysis paper, attention grabbers for essays, how to polish an essay for a better..., peel paragraph.
Homework Help
Online Tutors
Essay Writing Services
Do My Math Homework
Assignment Help
Take My Online Math Class
Take My Exam
Take My Test
Take My Course
Dissertation Services
Essay Introduction
Essay Thesis Statement
Essay Hooks
Essay Conclusion
Essay Revision
Essay Title
Essay Format
Essay Outline
Essay Cover Page
Essay Topics
Classification Essay
Analytical Essay
Cause and Effect Essay
Expository Essay
Descriptive Essay
Argumentative Essay
Compare and Contrast Essay
Definition essay
Narrative essay
Persuasive essay
Reflective essay
Literary analysis essay
Proposal essay
Process essay
Reflection Paper
Evaluation Essay
Exemplification essay
Illustration Essay
Informative essay
Rhetorical analysis essay
Review essay
Scholarship essay
Dissertation
Annotated Bibliography
Research Paper
Research Paper Topics
Position Paper
Speech Writing
Summary Writing
Story writing
Swot Analysis
Resume Writing
Business Plan
Grant Writing
Book Writing
Personal Statement
Writing Process
Research Process
Online Tutoring Subjects
Become a Tutor
Forgot Password?
Essay Topic Generator
Summary Generator
Thesis Maker Academic
Sentence Rephraser
Read My Paper
Hypothesis Generator
Cover Page Generator
Text Compactor
Essay Scrambler
Essay Plagiarism Checker
Hook Generator
AI Writing Checker
Notes Maker
Overnight Essay Writing
Topic Ideas
Writing Tips
Essay Writing (by Genre)
Essay Writing (by Topic)
How to Write a Reaction Paper: Reaction Paper Example, Outline, & Tips

A response or reaction paper is a form of a written assignment that includes a summary, analysis, and personal response to a piece of literary work (it can also be about an article, a movie, a story, a song, or a video).
This essay aims not only to express your thoughts and ideas but to prove them with facts and evidence. In this article, you will learn what kinds of response papers exist and what the difference between them is. You will also find 7 simple steps to writing a reaction paper and a simple reaction paper example .
❓ What Is a Response Paper?
📎 Response Essay: Summary, Critical, & Personal
👣 7 Steps to Writing a Reaction Paper
👀 Response Paper Example
The below guide breaks down the process of writing a response essay from scratch.
So, what is a response paper?
A response paper (or a reaction paper) offers a personal opinion on the given text. Since you need to show your opinion, it is important to state it based on your reaction and experience. It would help if you made it logical as well.
This kind of paper is usually assigned to students who work with scientific or literary texts in college. Since most majors involve these, almost every student has to write a response paper at some point. For example, a novel reaction paper or a political science reaction paper.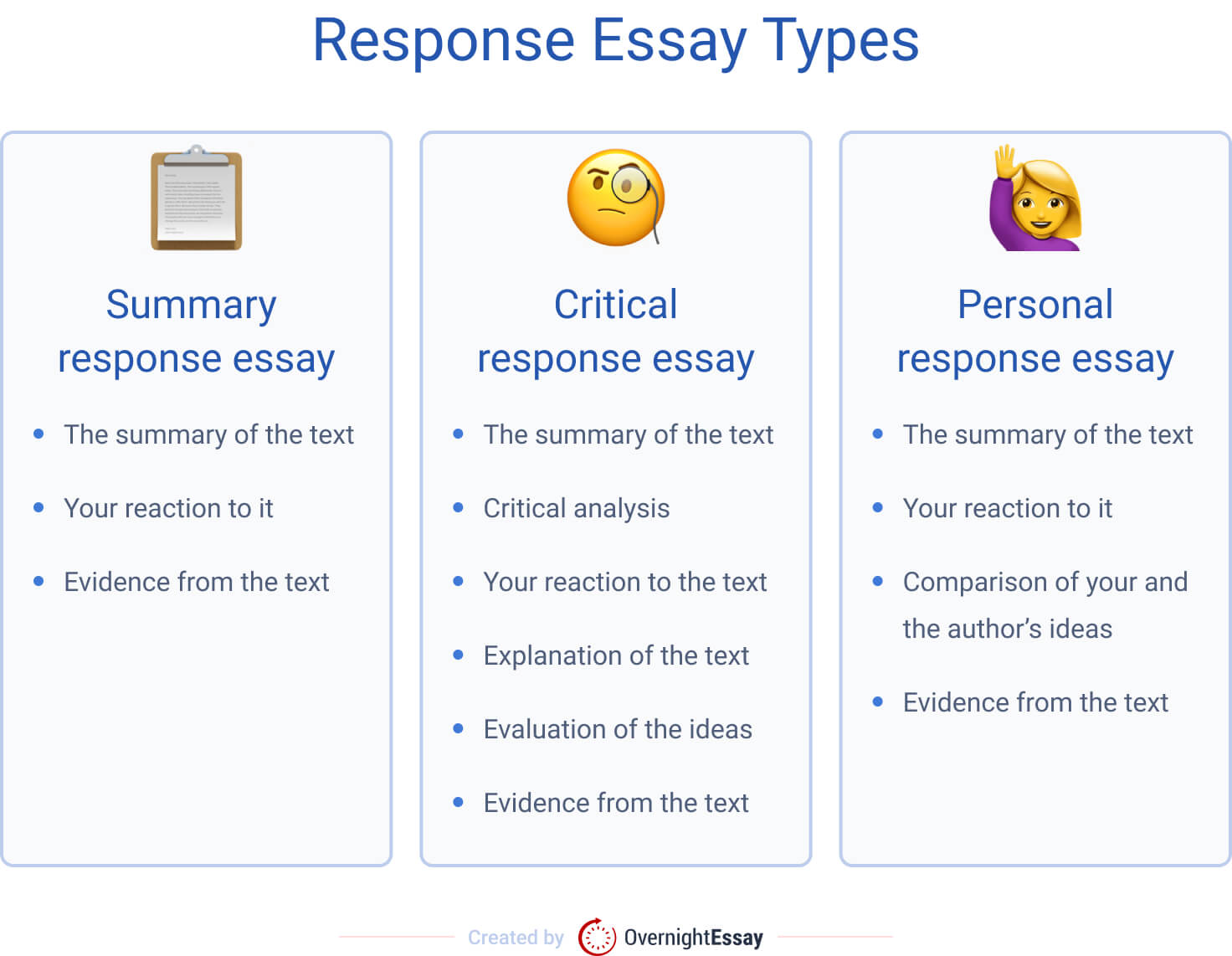 The three main types of response essays are:
Summary response essay
Critical response essay
Personal response essay
Let's dive deeper into each of them.
Summary Response Essay
A summary response essay is a sort of reaction paper. It consists of two parts:
the summary of the piece of work,
your response to it.
It is usually around five paragraphs long.
The first part of the essay consists of a summary. Here, you need to mention the author, publisher, and publishing date. Then, summarize the piece of work and be sure to cover all the key points. You also should include some citations from the story.
By the way, we offer a free summarizing tool if you need to make a summary quickly.
Do not put your personal opinion in the first part. The second part of your essay is where you need to express your impression and give your reaction.
Critical Response Essay
A critical response essay is a form of reaction paper. It is more detailed and includes critical analysis . This essay aims to show your critical thinking and the ability to express your opinion.
To write a good critical response, you need to:
analyze the text,
interpret it,
summarize it.
You may think that critical response requires only analyzing the drawbacks of the text. However, the crucial part here is that you need to:
analyze the author's idea,
think of its strengths and weaknesses,
find evidence supporting your point,
explain the evidence.
Personal Response Essay
A personal response essay is also a kind of a response paper. Here, you need to analyze the piece of writing and give a personal opinion based on your own experience . The important part is that you need to compare the author's ideas with yours.
This kind of assignment aims to express your personal beliefs from a philosophical and logical point of view. You should prove it using the evidence from the given text.
The personal response essay requires your critical thinking and analytical skills. Try to write down all your thoughts and reactions as you read the text.
📎 Response Essay: Summary vs. Critical vs. Personal
Even though all three types of the essay are different, they have a lot in common. Before you begin writing your essay, make sure to read the guideline carefully.
Let's break down what we've learned so far:
👣 How to Write a Reaction Paper? 7 Simple Steps
A good reaction paper offers a thorough analysis, reasonable claims, and a good structure.
Here's the detailed step-by-step guide on how to write a reaction paper. You'll find out what to include in the introduction, body, and conclusion with these simple steps.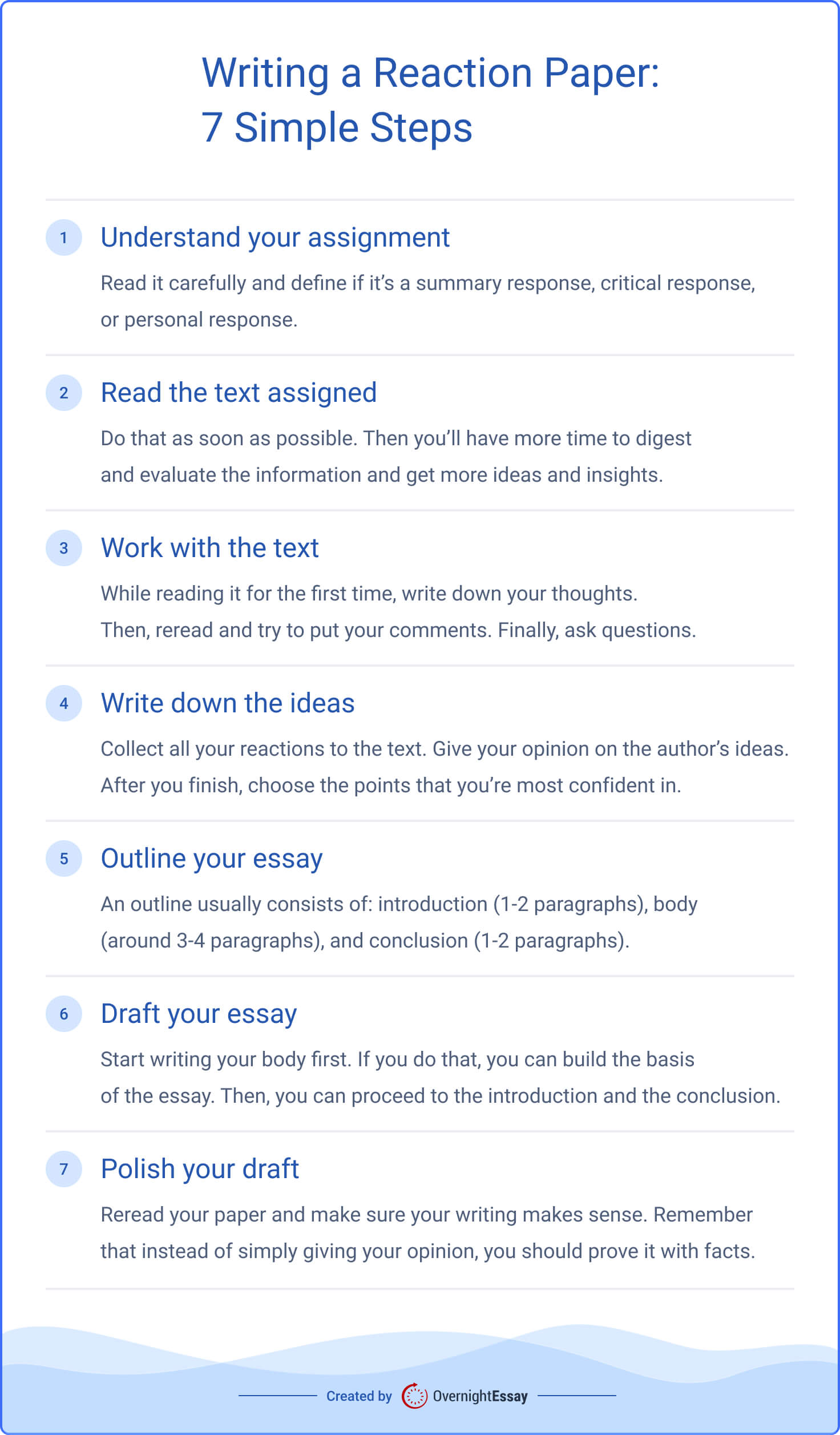 Step 1: Understand Your Assignment
You must be wondering how to start your reaction paper.
Before starting your writing, you need to understand what kind of paper you need to write. Read your assignment carefully and define if it's a summary response, critical response, or personal response.
The format of your essay depends on what kind of assignment you have. After defining the type of paper you need to write, you can manage your time effectively and start preparing an outline.
Note that you can use first-person point of view in your response essay.
Step 2: Read the Text Assigned
A lot of people don't start reading the assigned text until the very last moment. Here's why it is entirely wrong.
If you read the assigned text as soon as possible, you'll have more time to digest and evaluate the information and get more ideas and insights.
Sometimes, your opinion might change over time. That's why you should try giving yourself more time to reflect on what you've read.
Moreover, it is necessary to read the text more than once to get a better understanding. Remember that you need to summarize it, so try reading it as many times as you can.
Simply giving your opinion on the piece of writing is not enough. You should analyze it, evaluate, and combine all the ideas you get from it. That's why you need to read it very carefully.
Step 3: Work with the Text
There are also techniques for working with the text more effectively.
While reading the text for the first time, try to write down the rough draft of your thoughts.
Then, reread and try to put your comments. It will be much easier to find the correct quote or your initial reaction if you do this. Moreover, it can save a lot of time later.
Finally, ask questions. Think of the questions that can uncover more details about the text.
Some of the questions you can ask:
What are the strong and weak parts?
What are the author's main ideas?
How does the author support their claims?
How are the topics from the text related to what we have discussed in class?
By answering these questions, you can understand the author and the text better.
Step 4: Write Down the Ideas
Now, you need to collect all your ideas and reactions by writing them down. Give your opinion on the author's ideas and explain their point of view. Here, you need to either agree or disagree with the author.
After you finish, choose the points that you're most confident in. These will be the basis of your essay.
After that, try to decide on your point of view. Since analyzing is the key, try asking questions about the text. Why did the author write this story from this angle? What connection does it have to real life? You can evaluate the text by answering these questions.
Now, you should collect all the points that you've made and write down your thesis statement . The thesis statement should contain the claim that you'll prove in your essay. Try to summarize all your observations and ideas into one statement.
Need help with formulating a thesis statement? You are welcome to use our free thesis maker !
Step 5: Outline Your Response Paper
How to outline a response paper? Well, it depends on its type, but usually, an outline consists of:
Introduction (1-2 paragraphs)
Body (around 3-4 paragraphs)
Conclusion (1-2 paragraphs)
Here's the sample of what you can write in each part:
Step 6: Write Your Draft
Now, let's start writing your draft.
Writing a draft is the essential part of your essay writing. It is better to start writing your body first. If you do that, you can build the basis of the essay. Then, you can proceed to the introduction and the conclusion.
Structure Your Arguments
Start your paragraphs with the topic sentences . After that, state the author's idea and your reaction to it. Keep in mind that you can either agree or disagree with the author. So, it would be best to show how your ideas correspond with theirs or how they contrast.
Don't simply write, "I disagree with the author because I don't like his idea." You should sound logical and always be ready to prove your claim.
Some of the templates you can use in your paragraph:
In my opinion
The author seems to
I did not like / I liked
My favorite / least favorite part was… because
The reader can conclude that
I agree/ disagree with the author because
I can't understand the connection to
I felt that
Write Your Introduction & Conclusion
Let's now dive deeper into the introduction and conclusion parts.
First of all, in your introduction, you should mention the author's name, the title of the text, and the publisher if it's required. The last sentence should be your thesis statement.
The introduction should grab your reader's attention, so don't make it too long and complicated.
Some of the introduction and conclusion ideas:
Step 7: Polish Your Draft
Now, it's time to polish your essay. Follow these steps to do it.
Reread your paper and make sure your writing makes sense. Remember that instead of simply giving your opinion, you should prove it with facts.
Some teachers require your personal opinion in conclusion, but some may also allow it to be in the body parts. So, if there are any confusing parts of the assignment, make sure to ask your teacher.
If you've discussed some topics in class, it may be a good idea to connect them to the ideas in your paragraph.
Remember to keep it short. Your reaction paper should be from 500 words up to 5 pages long.
Proofread it carefully and check your grammar, spelling, and punctuation.
Double-check the guideline and make sure you understand the meaning of the assignment correctly.
Now, you are ready to submit your response paper.
If you're still wondering how to write a reaction paper, here's a sample. It is A Rose for Emily response paper with a marked outline.
A Rose for Emily Response Paper
Now you're all set to write your response paper. Share your lifehacks in the comments below.
🔗 References
Response Paper
How to Write a Response Paper – ThoughtCo
Writing a Response Paper
Writing a Response or Reaction Paper — Hunter College
Tips on Writing a Good Response Paper – MIT
Response Papers – Brown University
Essay Guides
Main Academic Essays
How to Write a Response Paper: Outline, Steps & Examples
How to Write a Response Paper: Outline, Steps & Examples
Table of contents
Response essays are a frequent assignment in many academic courses. Professors often ask students to share their thoughts and feelings about a variety of materials, such as books, articles, films, songs, or poems. To write an effective response paper, you should follow a specific structure to ensure that your ideas are well-organized and presented in a logical manner.
In this blog post, we will explore how to write a good outline and how it is used to develop a quality reaction essay. You will also come across a response paper example to help you better understand steps involved in writing a response essay.  Continue reading to explore writing tips from professional paper writers that you can use to improve your skills.
What Is a Response Paper?
It is vital to understand the meaning of a response essay before you start writing. Often, learners confuse this type of academic work with reviews of books, articles, events, or movies, which is not correct, although they seem similar.  A response paper gives you a platform to express your point of view, feelings, and understanding of a given subject or idea through writing. Unlike other review works, you are also required to give your idea, vision, and values contained in literal materials. In other words, while a response paper is written in a subjective way, a review paper is written in a more objective manner.  A good reaction paper links the idea in discussion with your personal opinion or experience. Response essays are written to express your deep reflections on materials, what you have understood, and how the author's work has impacted you.
Purpose of a Response Essay
Understanding reasons for writing a reaction paper will help you prepare better work. The purpose of a response essay will be:
To summarize author's primary ideas and opinions: you need to give a summary of materials and messages the author wants you to understand.
Providing a reflection on the subject: as a writer, you also need to express how you relate to authors' ideas and positions.
To express how the subject affects your personal life: when writing a response paper, you are also required to provide your personal outcome and lesson learned from interacting with the material.
Response Essay Outline
You should adhere to a specific response paper outline when working on an essay. Following a recommended format ensures that you have a smooth flow of ideas. A good response paper template will make it easier for a reader to separate your point of view from author's opinion. The essay is often divided into these sections: introduction, body, and conclusion paragraphs.  Below is an example of a response essay outline template:
Briefly introduce the topic of the response paper
State your thesis statement or main argument
Provide a brief summary of the source material you are responding to
Include key details or arguments from the source
Analyze the source material and identify strengths and weaknesses
Evaluate the author's arguments and evidence
Provide your own perspective on the source material
Respond to the source material and critique its arguments
Offer your own ideas and counterarguments
Support your response with evidence and examples
Summarize your main points and restate your thesis
Provide final thoughts on the source material and its implications
Offer suggestions for further research or inquiry
Save time and effort with our high-quality academic paper assistance. Buy college papers from experts and get an A+ with ease!
Response Paper Introduction
The success of response papers is partly dependent on how well you write the introductory paragraph. As with any academic paper, the introduction paragraph welcomes targeted readers and states the primary idea.  Below is a guideline on how to start a response essay:
Provide a compelling hook to capture the attention of your target audience.
Provide background information about the material, including the name and author of the work.
Provide a brief summary of main points to bring readers who are unfamiliar with the work up to task and enable them to follow up on your subsequent analysis.
Write a thesis statement at the end of your introductory paragraph to inform readers about the purpose and argument you are trying to relay.
Response Essay Thesis Statement
A thesis statement summarizes a paper's content within a sentence or two. A response essay thesis statement is not any different! The final sentence of the introductory paragraph of a reaction paper should give readers an idea of the message that will be discussed in your paper.  Do you know how to write a thesis statement for a response essay? If you follow the steps below, you should be able to write one:
Review the material you are responding to, and pinpoint main points expressed by authors.
Determine points of view or opinions you are going to discuss in the essay.
Develop your thesis statement. It should express a summary of what will be covered in your reaction. The sentence should also consider logical flow of ideas in your writing.
Thesis statement should be easy to spot. You should preferably place it at the end of your introductory paragraph.
Response Paper Body Paragraph
In most instances, the body section has between 1 and 3 paragraphs or more. You should first provide a summary of the article, book, or any other literature work you are responding to.  To write a response essay body paragraph that will capture the attention of readers, you must begin by providing key ideas presented in the story from the authors' point of view. In the subsequent paragraph, you should tell your audience whether you agree or disagree with these ideas as presented in the text. In the final section, you should provide an in-depth explanation of your stand and discuss various impacts of the material.
Response Paper Conclusion
In this section of a response paper, you should provide a summary of your ideas. You may provide key takeaways from your thoughts and pinpoint meaningful parts of the response. Like any other academic work, you wind up your response essay writing by giving a summary of what was discussed throughout the paper.  You should avoid introducing new evidence, ideas, or repeat contents that are included in body paragraphs in the conclusion section. After stating your final points, lessons learned, and how the work inspires you, you can wrap it up with your thesis statement.
How to Write a Response Paper?
In this section, we will provide you with tips on how to write a good response paper. To prepare a powerful reaction essay, you need to consider a two-step approach. First, you must read and analyze original sources properly. Subsequently, you also need to organize and plan the essay writing part effectively to be able to produce good reaction work. Various steps are outlined and discussed below to help you better understand how to write a response essay.
1. Pick a Topic for Your Response Essay
Picking a topic for response essay topics can be affected either by the scope of your assignment as provided by your college professor or by your preference. Irrespective of your reason, the guideline below should help you brainstorm topic ideas for your reaction:
Start from your paper's end goal: consider what outcomes you wish to attain from writing your reaction.
Prepare a list of all potential ideas that can help you attain your preferred result.
Sort out topics that interest you from your list.
Critique your final list and settle on a topic that will be comfortable to work on.
Below are some examples of good topics for response essay to get you started:
Analyzing ideas in an article about effects of body shaming on mental health .
Reaction paper on new theories in today's business environment.
Movies I can watch again and again.
A response essay on a documentary.
Did the 9/11 terror attacks contribute to issues of religious intolerance?
2. Plan Your Thoughts and Reactions
To better plan your thoughts and reactions, you need to read the original material thoroughly to understand messages contained therein. You must understand author's line of thinking, beliefs, and values to be able to react to their content. Next, note down ideas and aspects that are important and draw any strong reactions.  Think through these ideas and record potential sequences they will take in your response paper. You should also support your opinions and reactions with quotes and texts from credible sources. This will help you write a response essay for the college level that will stand out.
3. Write a Detailed Response Paper Outline
Preparing a detailed response paper outline will exponentially improve the outcome of your writing. An essay outline will act as a benchmark that will guide you when working on each section of the paper. Sorting your ideas into sections will not only help you attain a better flow of communication in your responsive essay but also simplify your writing process.  You are encouraged to adopt the standard response essay outline provided in the sample above. By splitting your paper into introduction, body, and conclusion paragraphs, you will be able to effectively introduce your readers to ideas that will be discussed and separate your thoughts from authors' messages.
4. Write a Material Summary
For your audience to understand your reaction to certain materials, you should at first provide a brief summary of authors' points of view. This short overview should include author's name and work title.  When writing a response essay, you should dedicate a section to give an informative summary that clearly details primary points and vital supporting arguments. You must thoroughly understand the literature to be able to complete this section.  For important ideas, you can add direct quotes from the original sources in question. Writers may sometimes make a mistake of summarizing general ideas by providing detailed information about every single aspect of the material. Instead of addressing all ideas in detail, focus on key aspects.  Although you rely on your personal opinion and experience to write a response paper, you must remain objective and factual in this section. Your subjective opinion will take center stage in the personal reaction part of the essay.
Example of a Response Summary
Below is a sample summary response essays example to help you better understand how to write one. A Summary of The Adventures of Robin Hood (1938)
The classic film The Adventure of Robin Hood (1938), as directed by Michael Curtis and William Keighley, stars an infamous outlaw, Robin Hood, who "robbed from the rich and gave to the poor''. The charismatic and charming Saxon lord, Robin Hood (Flynn), becomes an outlaw and seeks justice for poor people by fighting Sir Guy of Gisborne (Rathbone), Sheriff of Nottingham (Copper), and Prince John (Rains), who were oppressing people. After assembling an outlaw group, Robin defies the excessive taxes imposed on poor people by stealing from wealthy individuals and redistributing wealth to the destitute in society. Robin Hood is eventually lured into an archery tournament and gets arrested, but survives an execution. He later helps King Richard to regain his lost throne and banish Prince John.
5. Share Your Reaction
After summarizing the original material, the second part of a response paper involves writing your opinion about author's point of view. After a thorough review of the material, you should be able to express your perspective on the subject.  In this section, you are expected to detail how the material made you feel and how it relates to your personal life, experience, and values. Within the short response essay, you may also be required to state whether you agree or disagree with author's line of thinking. How does the material relate to current issues, or in what way does it impact your understanding of a given subject? Does it change your opinion on the subject in any way? Your reaction should answer these questions.  In addition, you may also be required to outline potential advantages and shortcomings of the material in your reaction. Finally, you should also indicate whether or not you would endorse the literal work to others.
Reaction in Response Body Paragraph Example
Below is a reaction in a response essay body paragraph sample to help you improve your skills in writing the response body paragraph: Reaction Paragraph Example
My main takeaway from watching The Adventure of Robin Hood (1938) is that society should prioritize good and justice over laws if the set rules oppress people. Prince John, Sir Guy, and Sheriff Cooper were cruel and petty and used existing laws to oppress and exploit poor people. In response, Robin Hood employed unorthodox means and tried to help oppressed people in society. I agree with his way of thinking. Laws are made to protect people in society and ensure justice is served. Therefore, when legislation fails to serve its purpose, it becomes redundant. Even in current society, we have seen democratic governments funding coups when presidents start oppressing their people. Such coups are supported despite the fact that presidency is protected by law. Although Robin Hood's actions might encourage unlawfulness if taken out of context, I would still recommend this film because its main message is advocating for justice in the community.
6. Conclude Your Response Essay
Do you know how to write a response paper conclusion? It should be the icing on the cake. Irrespective of how good previous sections were, your reaction essay will not be considered to be exceptional if you fail to provide a sum up of your reaction, ideas, and arguments in the right manner.  When writing a response essay conclusion , you should strive to summarize the outcome of your thoughts. After stating your final point, tell readers what you have learned and how that material inspired or impacted you. You can also explain how your perspective and the author's point of view intertwine with each other.  Never introduce new ideas in the conclusion paragraph. Presenting new points will not only disrupt the flow of ideas in the paper but also confuse your readers because you may be unable to explain them comprehensively.  You are also expected to link up your discussions with the thesis statement. In other words, concluding comments and observations need to incorporate the reaffirmation of the thesis statement.
Example of Response Paper Conclusion
You can use the responsive essay conclusion sample below as a benchmark to guide you in writing your concluding remarks: Conclusion Example
There are a lot of similarities between the film's message and my opinion, values, and beliefs. Based on my personal principles, I believe the actions of the main character, Robin Hood, are justifiable and acceptable. Several people in modern society would also agree with my perspective. The movie has provided me with multiple lessons and inspirations. The main lesson acquired is that laws are not ultimate and that we should analyze how they affect people rather than adhere to them blindly. Unless legislation protects people and serves justices, it should be considered irrelevant. Also, morality outweighs legislation. From the movie, I gathered that morality should be the foundation for all laws, and at any time, morality and greater good should be prioritized above laws. The main inspiration relates to being brave in going against some legislation since the end justifies the means sometimes. My point of view and that of the movie creators intertwine. We both advocate for human decency and justice. The argument discussed supports the idea that good and justice is greater than law.
Proofread Your Response Paper
It is important to proofread your response paper before submitting it for examination. Has your essay met all instructional requirements? Have you corrected every grammatical error in your paper? These are common questions you should be asking yourself.  Proofreading your work will ensure that you have eliminated mistakes made when working on your academic work. Besides, you also get the opportunity to improve your logical flow of ideas in your paper by proofreading.  If you review your work thoroughly before submitting it for marking, you are more likely to score more marks! Use our Paper Rater , it is a tool that can help you pinpoint errors, which makes going through your work even simpler.
Response Essay Examples
If you have never written this type of academic paper before, responsive essay examples should help you grasp the primary concepts better. These response paper samples not only help you to familiarize yourself with paper's features but also help you to get an idea of how you should tackle such an assignment. Review at least one written response essay example from the compilation below to give you the confidence to tackle a reaction paper. Response essay example: Book
Response paper example: Poem
Response paper sample: Movie
Example of a response paper: Article
Sample response essay: Issue
Response Paper Format
It is important to follow a recommended response essay format in order to adhere to academic writing standards needed for your assignment. Formats depend on your institution or the discipline.  A reaction paper can be written in many different academic writing styles, including APA, MLA, and Chicago, with each demanding a slightly different format.  The outlook of the paper and referencing varies from one writing style to another. Despite the format for a response paper, you must include introduction, body, and conclusion paragraphs.
Response Essay Writing Tips
Below are some of the best tips you can use to improve your response papers writing skills:
Review your assignment instructions and clarify any inquiries before you start a response paper.
Once you have selected topics for response essay, reviewed your original materials, and came up with your thesis statement, use topic sentences to facilitate logical flow in your paper.
Always ensure that you format your work as per the standard structure to ensure that you adhere to set academic requirements. Depending on the academic writing style you will be using, ensure that you have done your in-text citation as per the paper format.
If you have never worked on this kind of academic paper, you should review examples and samples to help you familiarize yourself with this type of work. You should, however, never plagiarize your work.
You can use a first-person perspective to better stress your opinion or feelings about a subject. This tip is particularly crucial for reaction part of your work.
Finally, before submitting your work, proofread your work.
Bottom Line on Response Paper Writing
As discussed in this blog post, preparing a response paper follows a two-step approach. To successfully work on these sections, you need to plan properly to ensure a smooth transition from the reading and analyzing the original material to writing your reaction. In addition, you can review previous works to improve your writing skills.  So, what is a response essay that will immediately capture the attention of your instructor? Well, it should have a captivating introduction, evidence backed reaction, and a powerful conclusion. If you follow various tips outlined above and sum up your work with thorough proofreading, there is no chance that you can fail this type of assignment.
Order a response essay from our academic writing platform! Send us a ' write my college paper ' message and our experienced writers will provide you with a top-notch essay according to your instructions. 
FAQ About Response Paper
1. how long is a short response essay.
The length of a short response essay varies depending on topic and your familiarity with the subject. Depending on how long original sources are and how many responsive points you have, your reaction paper can range from a single paragraph of 150-400 words to multiple paragraphs of 250-500 words.
2. How to start a response body paragraph?
Use an argumentative topic sentence to start your responsive paper paragraph. Failing to begin a paragraph with an elaborate topic sentence will confuse your readers. Topic sentences give readers an idea of what is being discussed in the section. Write a responsive body paragraph for every new idea you add.
3. Is reaction paper similar to a response paper?
Yes. Reaction papers and response essays are used interchangeably. Responsive essays analyze author's point of view and compare them with your personal perspective. This type of academic writing gives you freedom to share your feelings and opinion about an idea. People also discuss how ideas, concepts, and literature material influence them in a response paper.
You may also like
Help | Advanced Search
Computer Science > Computation and Language
Title: do llms exhibit human-like response biases a case study in survey design.
Abstract: As large language models (LLMs) become more capable, there is growing excitement about the possibility of using LLMs as proxies for humans in real-world tasks where subjective labels are desired, such as in surveys and opinion polling. One widely-cited barrier to the adoption of LLMs is their sensitivity to prompt wording -- but interestingly, humans also display sensitivities to instruction changes in the form of response biases. As such, we argue that if LLMs are going to be used to approximate human opinions, it is necessary to investigate the extent to which LLMs also reflect human response biases, if at all. In this work, we use survey design as a case study, where human response biases caused by permutations in wordings of ``prompts'' have been extensively studied. Drawing from prior work in social psychology, we design a dataset and propose a framework to evaluate whether LLMs exhibit human-like response biases in survey questionnaires. Our comprehensive evaluation of nine models shows that popular open and commercial LLMs generally fail to reflect human-like behavior. These inconsistencies tend to be more prominent in models that have been instruction fine-tuned. Furthermore, even if a model shows a significant change in the same direction as humans, we find that perturbations that are not meant to elicit significant changes in humans may also result in a similar change, suggesting that such a result could be partially due to other spurious correlations. These results highlight the potential pitfalls of using LLMs to substitute humans in parts of the annotation pipeline, and further underscore the importance of finer-grained characterizations of model behavior. Our code, dataset, and collected samples are available at this https URL
Submission history
Access paper:.
Download PDF
Other Formats

References & Citations
Google Scholar
Semantic Scholar
BibTeX formatted citation

Bibliographic and Citation Tools
Code, data and media associated with this article, recommenders and search tools.
arXivLabs: experimental projects with community collaborators
arXivLabs is a framework that allows collaborators to develop and share new arXiv features directly on our website.
Both individuals and organizations that work with arXivLabs have embraced and accepted our values of openness, community, excellence, and user data privacy. arXiv is committed to these values and only works with partners that adhere to them.
Have an idea for a project that will add value for arXiv's community? Learn more about arXivLabs .
Advertisement
Supported by
Guest Essay
Why Jews Cannot Stop Shaking Right Now
By Dara Horn
Ms. Horn is the author of five novels and the essay collection "People Love Dead Jews."
There is a reason so many Jews cannot stop shaking right now. The concept of intergenerational trauma doesn't begin to describe the dark place into which this month's attack plunged Jewish communities around the world.
On Oct. 7, a Jewish holiday, Hamas terrorists went house to house in southern Israel murdering and abducting children and grandparents, pulling them from their beds, displaying victims' dead bodies online, in a massacre of at least 1,400 people. In at least one instance, terrorists were reported to have uploaded a video of the murder of one victim to her own social media account for her family to discover.
The feeling of deep dread that these atrocities stirred in Jews was horribly familiar. This is what Jewish history has all too often looked like: not civilians tragically killed in war but civilians publicly targeted, tortured and murdered, with the crimes put on public display. Accounts of past crowd-pleasing killings are folded into Jewish tradition; every Yom Kippur, we recount the public torture and execution of rabbis by their Roman oppressors in a packed second-century stadium. Those ancient stories are consistent with the experiences of the more immediate ancestors of nearly every Jew alive today.
I'm not even talking about the Holocaust, which several of last week's oldest escapees and victims also endured. (Far more Jews were killed on Oct. 7 than on Kristallnacht.) No, I'm thinking of the Farhud pogrom in 1941 Baghdad, a two-day rampage in which hundreds of Jews were raped, tortured and murdered. I'm thinking of the pogroms of 1918 to 1921 in Ukraine, in which an estimated 100,000 Jews were slaughtered in organized massacres reminiscent of this month's attack.
I'm thinking of the lynching of Leo Frank in Georgia in 1915, after which the delighted crowd's snapshots of Frank's body were made into postcards mailed around the country and pieces of his clothing were sold as souvenirs. I'm thinking of how many of the earliest books off Europe's first printing presses were about the executions of Jews accused of blood libel and of a 11th-century massacre of thousands of Jews in Islamic Spain encouraged by a poem calling for Jewish blood and of the paintings and illuminated manuscripts showing Jews who were burned alive by the Spanish Inquisition and during the Black Death — all crowd-pleasing events celebrated in popular media and art.
Even ancient Romans celebrated their destruction of Judea by issuing commemorative coins featuring a bound Jewish woman and inscribed with the words " Judaea capta ." The humiliation and murder of Jews have always made a great meme.
Many American Jews, like Jews around the world, are descendants of those who survived. Our ancestors, in one way or another, were the ones who either made lucky decisions or barely made it out alive from Lodz and Kyiv and Aleppo and Tehran.
For diaspora Jews, the recent attacks were not distant overseas events. As was true in ancient times, the ties between global Jewish communities and Israel are concrete, specific, intimate and personal. My New Jersey Jewish Federation has institutional ties with the southern Israeli town of Ofakim and its surrounding communities, sharing annual home stays with a place whose death toll from the attacks already exceeds that of the notorious Kishinev pogrom of 1903 , in which 49 Jews were murdered. Millions of American Jews, not to mention Jews in Britain, France, Australia and elsewhere, have friends and relatives in Israel. Even if Hamas hadn't made it clear that it sees all Jews as targets, our connection is personal and all too real.
We spent days desperately scrolling to learn who among our acquaintances was dead, maimed or captive, connecting American hostages' families with State Department contacts, attending panic-stricken online briefings and pooling resources and supplies for victims — all while fighting obtuse official statements from our own towns, schools, companies and universities that refused to mention the words "Israel" or "Jews" in referring to the largest single-day massacre of Jews since the Holocaust, lest some antisemite take offense at the existence of either.
We have tried to get our children off social media, shielding them from images of the violence. We've held mass fasts, recited psalms and sung ancient prayers for the rescue of captives. And as we gather by the thousands despite our many contradictory opinions and despite the extra security required for our gatherings even here, we have returned to the words of our ancestors that have carried us through thousands of years: Be strong and courageous. Choose life.
Many of us were physically carrying those words during the weekend of the attack, celebrating Simhat Torah, a joyous holiday when congregations dance with Torah scrolls, read the Torah's final words and then scroll back to the beginning to start the book again.
As a child, I found this baffling. Why read the same story over and over, when we already know what happens? As an adult, I know that while the story doesn't change, we do. What defines Jewish life is not history's litany of horror but the Jewish people's creative resilience in the face of it. In the wake of many catastrophes over millenniums, we have wrestled with God and one another, reinvented our traditions, revived our language, rebuilt our communities and found new meanings in our old stories of freedom and responsibility, each story animated by the improbable and unwavering belief that people can change.
Right now many of us feel trapped in this old, old story, doom-scrolling through images with terrible outcomes. But in our grief, I remind myself that each year as we finish the reading of the Torah, we immediately, at that very moment — and at the moment of this newest, oldest horror — scroll back to the story of creation and the invention of universal human dignity. We recall, once again, that every human is made in the divine image.
The story continues; we begin again.
Dara Horn is the author of five novels and the essay collection "People Love Dead Jews ."
The Times is committed to publishing a diversity of letters to the editor. We'd like to hear what you think about this or any of our articles. Here are some tips . And here's our email: [email protected] .
Follow The New York Times Opinion section on Facebook , Twitter (@NYTopinion) and Instagram .
An earlier version of this article misstated when a massacre of Jews provoked by a poem took place in Spain. It was in the 11th century, not the 10th century. The article also mischaracterized Islamic rule at the time. It consisted of multiple kingdoms, not a single caliphate.
How we handle corrections