10 Lines My Family Essay in Gujarati for Class 1,2,3,4,5,6 and 7
મારા કુટુંબ નિબંધ (My Family Essay)
મારા કુટુંબ વિશે થોડું ટૂંકી લાઇન્સ નિબંધ (Few Short Lines Essay About My Family)
મારે એક અદ્દભુત કુટુંબ છે અને મારા પરિવારના બધા સભ્યોને પ્રેમ છે.
મારા પરિવારમાં દસ સભ્યો છે – દાદા દાદી, માતાપિતા, કાકા, કાકી, બે ભાઈઓ, એક બહેન અને હું.
મારા પિતા એન્જિનિયર છે અને મારા માતા વ્યવસાયે એક શાળા શિક્ષક છે.
મારા દાદા નિવૃત્ત સરકારી કર્મચારી છે અને મારા દાદી ગૃહિણી છે.
મારા કાકા અને કાકી વકીલ છે અને મારા બધા ભાઈ-બહેનો એક જ સ્કૂલમાં જાય છે.
મારા પરિવારના બધા સભ્યો એકબીજાને પ્રેમ, આદર અને કાળજી રાખે છે.
મારો પરિવાર દર બે અઠવાડિયામાં એકવાર પિકનિક માટે જાય છે.
આપણે બધાં દરરોજ રાત્રિભોજન પછી એક બીજા સાથે સમય પસાર કરવાનું પસંદ કરીએ છીએ.
મારા પરિવારે મને પ્રેમ, એકતા અને આપણી વચ્ચેના સહકાર વિશે સારા પાઠ શીખવ્યાં છે.
હું ભગવાનને પ્રાર્થના કરું છું કે મારા કુટુંબને બધી અનિષ્ટ અને દુષણોથી બચાવવા અને જીવનના તમામ જોખમોથી સુરક્ષિત રાખીએ.
Related posts:
10 lines Essay on Lion in Gujarati for High School Students
10 lines Swami Vivekananda Essay in Gujarati For Class 1-10
10 lines Summer Season Essay in Gujarati For Class 1-10
10 lines Jhansi Rani Lakshmi Bai Essay in Gujarati Class 1-10
Leave a Comment Cancel Reply
Your email address will not be published.
Save my name, email, and website in this browser for the next time I comment.
Gujarati/Family relations
In Gujarati culture:
These are the "titles" for family members. With the exception of Father, Mother, Grandparents, and others who are marked with a star (who are called by the title only), all of these titles are added after the name of the person.
Father: Pappa, Papa, Bawa or Bapuji*
Mother: Ba, Mummy, Mumma or Maamajee*
Brother (also male cousins): Bhai (e.g. Haresh Bhai)
Brother's Wife: Bhabhi (e.g. Komal Bhabhi)
Sister (also female cousins): Bahen/Ben (e.g. Mayuri Ben)
Older Sister: Didi/Ben (e.g. Mayuri Didi)
Younger Brother: Bhaio*
Sister's Husband: Banevi or Jijaji or Kumaar (from in-laws) (e.g. Kunal Jijaji)
Father's Younger Brother or Father's Younger Cousins (1st, 2nd, 3rd, etc): Kaka or Chacha (e.g. Rajesh Kaka)
Father's Younger Brother's Wife: Kaki or Chachi (e.g. Komal Kaki)
Father's Older Brother:Bapa or Mhota Pappa or Mhota Bawa or Ji Dada
Father's Oldest Brother: Mota kaka or Mhota Papa or Mhota Bawa
Father's Oldest Brother's Wife: Mhoti or Mhoti Mummy or Mhoti Ma or Mhoti Ba or Bhabu
Father's Sister: Fai, Foi, Fui, Fia, Faiba, Foiba (e.g. Komal Fai)
Father's Sister's Husband: Fua, Fuji (e.g. Akshay Fua)
Mother's Brother and Mother's Male Cousins (1st, 2nd, etc): Mama (e.g. Ketul Mama)
Mother's Brother's Wife: Mami (e.g. Kanta Mami)
Mother's Sister: Masi (e.g. Sneha Masi) or Mahee
Mother's Sister's Husband: Masa (e.g. Gopal Masa) or Mahaji
Paternal Grandfather: Dada or Dada Bawa or Bapuji*
Paternal Grandmother: Dadi or Dadi Ma or or Ba*
Maternal Grandfather: Nanabapa or Nana Bawa or Nana or Dada*
Maternal Grandmother: Nanima or Ba or Nani*
Maternal Grandfather's Brother: Nana or Nana Bawa
Maternal Grandmother's Sister: Nani
Wife's father:Sasra or hahara
Wife's mother:Sasu or hahu
Wife's Younger Sister: Saali
Wife's Younger Brother: Saalo
Wife's Elder Sister: Patla Sasu or Patla Hahu
Wife's Sister's husband: Bhai
Wife's Brothers wife: Saadhotri or Sadaveli (e.g. Bhumika Saadhotri)
Husband's Elder Brother: Jeth
Husband's Elder Brother's Wife: Jethani
Husband's Younger Brother: De-ar
Husband's Younger Brother's wife: Derani
Husband's Sister: Nanand
Husband's Sister's Husband: Nandoi
Brother's Son: Bhatrijo, Bhatrijao (plural)
Brother's Daughter: Bhatriji, Bhatrijio (plural)
Sister's Son: Bhanej, Bhanjo, Bhaniyo, Bhaniyao (plural)
Sister's Daughter: Bhanej, Bhanji, Bhani, Bhanio (plural)
Cousins are considered to be "brother" or "sister". Elder cousins' name followed by Bhai or Ben
Son: Babo, Chokro, Dikro, Lalo
Daughter: Baby, Chokri, Dikri, Lali
If an uncle or aunt is a generation above usual (a "great uncle" or "great aunt"), a "mhota/mota" (big) is usually added to the title, and the name is dropped. So Maternal Grandmother's Brother is "Mhota Mama" (Elder Uncle).
Names are usually followed by titles, as they have listed above. This is different from the English, where we would say "Uncle John".
It is not unusual for this to vary from family to family, but these are the generally accepted titles.
Already have a WordPress.com account? Log in now.
Follow Following
Copy shortlink
Report this content
View post in Reader
Manage subscriptions
Collapse this bar
Finished Papers
The shortest time frame in which our writers can complete your order is 6 hours. Length and the complexity of your "write my essay" order are determining factors. If you have a lengthy task, place your order in advance + you get a discount!
"Research papers - Obsity in Children..."
Can I pay after you write my essay for me?
Online essay writing service to reach academic success..
Are you looking for the best essay writing service to help you with meeting your academic goals? You are lucky because your search has ended. is a place where all students get exactly what they need: customized academic papers written by experts with vast knowledge in all fields of study. All of our writers are dedicated to their job and do their best to produce all types of academic papers of superior quality. We have experts even in very specific fields of study, so you will definitely find a writer who can manage your order.
Progressive delivery is highly recommended for your order. This additional service allows tracking the writing process of big orders as the paper will be sent to you for approval in parts/drafts* before the final deadline.
What is more, it guarantees:
30 days of free revision;
A top writer and the best editor;
A personal order manager.
* You can read more about this service here or please contact our Support team for more details.
It is a special offer that now costs only +15% to your order sum!
Would you like to order Progressive delivery for your paper?
Finished Papers
Charita Davis
Online Essay Writing Service to Reach Academic Success.
Are you looking for the best essay writing service to help you with meeting your academic goals? You are lucky because your search has ended. is a place where all students get exactly what they need: customized academic papers written by experts with vast knowledge in all fields of study. All of our writers are dedicated to their job and do their best to produce all types of academic papers of superior quality. We have experts even in very specific fields of study, so you will definitely find a writer who can manage your order.
Please enter your email to receive the instructions on how to reset your password.
Progressive delivery is highly recommended for your order. This additional service allows tracking the writing process of big orders as the paper will be sent to you for approval in parts/drafts* before the final deadline.
What is more, it guarantees:
30 days of free revision;
A top writer and the best editor;
A personal order manager.
* You can read more about this service here or please contact our Support team for more details.
It is a special offer that now costs only +15% to your order sum!
Would you like to order Progressive delivery for your paper?
10 question spreadsheets are priced at just .39! Along with your finished paper, our essay writers provide detailed calculations or reasoning behind the answers so that you can attempt the task yourself in the future.
Terms of Use
Privacy Policy
Some FAQs related to our essay writer service
Gustavo Almeida Correia
Finished Papers
Perfect Essay
Customer Reviews
How to Write an Essay For Me
Compare Properties
Courtney Lees
Our Professional Writers Are Our Pride
EssayService boasts its wide writer catalog. Our writers have various fields of study, starting with physics and ending with history. Therefore we are able to tackle a wide range of assignments coming our way, starting with the short ones such as reviews and ending with challenging tasks such as thesis papers. If you want real professionals some of which are current university professors to write your essays at an adequate price, you've come to the right place! Hiring essay writers online as a newcomer might not be the easiest thing to do. Being cautious here is important, as you don't want to end up paying money to someone who is hiring people with poor knowledge from third-world countries. You get low-quality work, company owners become financial moguls, and those working for such an essay writing service are practically enduring intellectual slavery. Our writing service, on the other hand, gives you a chance to work with a professional paper writer. We employ only native English speakers. But having good English isn't the only skill needed to ace papers, right? Therefore we require each and every paper writer to have a bachelor's, master's, or Ph.D., along with 3+ years of experience in academic writing. If the paper writer ticks these boxes, they get mock tasks, and only with their perfect completion do they proceed to the interview process.
We value every paper writer working for us, therefore we ask our clients to put funds on their balance as proof of having payment capability. Would be a pity for our writers not to get fair pay. We also want to reassure our clients of receiving a quality paper, thus the funds are released from your balance only when you're 100% satisfied.
Customer Reviews
Finished Papers
How It Works
Can you write my essay fast.
Our company has been among the leaders for a long time, therefore, it modernizes its services every day. This applies to all points of cooperation, but we pay special attention to the speed of writing an essay.
Of course, our specialists who have extensive experience can write the text quickly without losing quality. The minimum lead time is three hours. During this time, the author will find the necessary information, competently divide the text into several parts so that it is easy to read and removes unnecessary things. We do not accept those customers who ask to do the work in half an hour or an hour just because we care about our reputation and clients, so we want your essay to be the best. Without the necessary preparation time, specialists will not be able to achieve an excellent result, and the user will remain dissatisfied. For the longest time, we write scientific papers that require exploratory research. This type of work takes up to fourteen days.
We will consider any offers from customers and advise the ideal option, with the help of which we will competently organize the work and get the final result even better than we expected.
Finished Papers
DRE #01103083
- Will you write my paper for me? - Yes, we will.
Our paper writing benefits, let's write a paper for you in no time, start with, "write my essay for me" and end with a perfect piece in your inbox, ready for download and submission for grading. it only takes four steps to go from one to the other..
Begin with "Write my essay" and add all the details you deem important, from the deadline and formatting style to your professor's rubric and writing style preferences.
Watch your expert write an essay online through the dashboard or reach out to our support team for progress updates whenever you get antsy about the deadlines or instructions.
Check out the first draft preview you get in your inbox and approve the order to download an editable file or get your writer to revise the paper to make it even better.
What do the customers of Write Paper For Me say?
Still hesitant just look: your fellow students in search of someone to "do my essay" have already used our services and were pleased with the results.
Was looking to pay someone to write my paper. Found these guys and been using them for two years now.
I was afraid of plag, but it hasn't been detected here. Get an essay once a month, and it keeps me from going insane, so I couldn't recommend it more.
I'm never doing another paper when ther's a pro to write an essay for me. I'd rather pay for it than waste my time.
I had to write my paper in two days but had no time. So I turned to my trusty writer. Sure, it was a bit pricey, but I got a pass, and the prof never suspected a thing.
I risked using this site knowing nothing of the real privacy here but it was the best decision of my life. I finally caught up on sleep, and my grades are better than ever.
When I need someone to write my paper for me cheap, I come here. Never failed a paper, and the prices are great. Wish the writers were more open, tho.
Wasn't sure they had true pro writers ready to do my paper for me. I know now they're the best! Big fan here, so keep up the good work, guys!
Finally, I found someone to do my essay for me, no questions asked. Upload the prompt and rubric—get the paper in a week or so. Simple, painless, cheap. Love it.
Never thought I'd pay someone to write my essay, but now I can't believe I waited this long to get help. It was much cheaper than I expected, super friendly and open!
These guys sure know how to write paper for me. It's just perfect for my class, and there's no way my professors know I'm cutting corners.
The best bargain is just a few clicks away!
Get an original paper that doesn't cost a fortune!
450 orders completed daily
86 disciplines of expertise
820+ professionals on our team
4.88/5 is the average order rating
​​Still have questions?
Contact our support agents and let them help you!
Is it time to write a paper for you? Contact us and relish the highest academic performance! 
Our professionals will do their best!
Why Should I Pay Anyone to Write My Essay?
If you're suddenly wondering, "Can someone do my paper for me?", there's likely a very good reason for that. After all, college is an eye-opening experience for most students. Not only is it your first attempt at independent life free from parents' oversight, but it's also a completely new level of academic requirements and independent study many aren't ready for. 
And if you're an overachiever or a perfectionist, keeping up with all the classes, assignments, extracurriculars, and side gigs will keep you up most nights. You will soon forget about your plans to discover the party scene, visit your parents every other weekend, or find your soulmate on campus. If you try to stay on top of all your responsibilities, you'll likely burn out or suffer an anxiety attack sooner rather than later. 
So don't feel bad if your thoughts go from "Can someone write my paper?" to "Write me a paper asap!" within the first few weeks of the college term. You're not alone, and it's perfectly normal to struggle in a new environment and buckle under the weight of elevated expectations. 
Luckily, you don't have to suffer in silence or give up on your dream of a college degree. Instead, you can seek help. And nowadays, it's as easy as typing "Make an essay for me" in live chat.
Why Should I Choose Write Paper For Me As My School Assistant?
A quick Google search will unearth dozens of do-my-paper services, adding to your stress, instead of alleviating it. But unfortunately, you cannot trust the first company you find, tell the writers "Write a paper for me", and hope for the best. Although you may be lucky enough to stumble upon a reliable company by accident, choosing a trustworthy service requires some research.
We suggest you look for these staples of a solid writing service WritePaperForMe has in spades:
Academic writers with proven experience in your major. For instance, our write my paper service employs hundreds of experts across the most popular majors, so we can handle anything from Anatomy to Zoology.
Thorough anti-plagiarism protocols. In our experience, a combination of writer training, strict citation procedures, and a mandatory plagiarism check ensure the best results for our clients.
Round-the-clock access to human support agents. With our 24/7 support, you don't have to wait for office hours to ask "Can you do my paper for me?". You can get answers to all your questions, paper progress updates, and other help whenever you need it.
Free and frictionless revision process. Although our writers do their best to meet your expectations on the first try, we guarantee free revisions and make the revision process easy and painless for everyone involved.
Detailed confidentiality terms that protect your personal and financial data. We adhere to local and international data protection regulations and keep the specifics of your order private, so your school can never learn about your paper from us.
Affordable rates that ensure the best value for money. We realize how tight money can be for students, so we keep our prices as low as possible while still keeping the writers happy and motivated.
If you want to make the most of these and other benefits, start by typing "Help me write my essay" in live chat, and we'll see what we can do for you.
We Handle Any Paper Writing Task for High School, College, and Grad School
One of the most common complaints when it comes to paper writing is a poor writing style, unsuitable for a specific academic level. Fortunately, that never happens to our customers, as we carefully match your requirements with our writers' expertise levels while keeping the rates affordable.
For example, when you come to us asking for a college essay, we'll round up our experts with Bachelor's degrees and above. Similarly, if you want us to handle MBA coursework, we'll match you with a writer who already has their Master's degree. And even doctorate papers, like thesis proposals or research papers, are not beyond our expertise, as our talent pool includes a fair share of PhDs.
So if you think our order form is too complex and your order doesn't need to go beyond "Write essay for me," we ask for your patience. After all, the more details you provide, starting with your academic level, the better we'll be able to help you.
"Type an Essay for Me" Is Not the Only Service We Offer
You've probably found our site when you were looking to pay someone to write your essay. And we will happily take over argumentative, persuasive, narrative, and creative pieces for you. However, the do-my-paper service is not your only option. We have plenty of offers for students who are unwilling to let others take over their work completely. Here are a few viable suggestions that can make your college writing much easier:
Editing works wonders for students unwilling to admit, "I need someone to write papers for me," and looking to improve their writing style. Choose this service if you want actionable suggestions that will instantly improve your chances of getting a higher grade.
Proofreading goes beyond the standard spellcheck and weeds out the smallest grammar, spelling, and style errors. Your professors will appreciate a flawless piece of writing without a single typo. 
Formatting doesn't have to be dull and time-consuming, especially when your reference list exceeds a few dozen sources. If you let our experts take over, you'll save yourself hours and submit a picture-perfect paper.
Paraphrasing is the best choice for fast results when you already have a flawless piece but need it to pass a plagiarism check the second time. Just say, "Help me write my paper based on this sample," and our writers will deliver a perfect replica, capable of fooling Turnitin.
We Employ Expert Academics to Make Your "Write My Paper" Order Perfect
Whether you're an English or a STEM major, you're probably wondering, "Who can write essay for me?" or "Why should I pay someone to write my paper for me when I know nothing about them?" And you're absolutely right about asking these questions. After all, thousands of freelancers offer to write essay online, but you can't know who to trust with your grades and record. To make your life easier, we take over the screening tasks to ensure only the best are hired and have the privilege to write an essay for you.
To get on our team, each writer must:
Provide us with a copy of a college or postgraduate diploma.
Share multiple samples of academic writing across different subjects, topics, and paper types.
Write a paper on a topic of our choosing within 24 hours to demonstrate research and writing skills.
Pass a timed English proficiency test with and score 80+ points.
And once hired, writers must keep their customer feedback rating high. Those who get negative comments don't stay on our team for long.
Although our hiring approach may seem harsh, it's proven its efficiency for writers and students. And we urge you to give our experts a chance to prove they're as good at writing papers as we claim they are.
We Deliver Every "Write My Paper" Order on Time
Timing is critical in the college papers market. An hour's delay can make your submission late and cause you to fail the class. And a drawn-out revision may fry your last nerve and end in a breakdown.
To guarantee your every "write papers for me" order arrives in your inbox on time, we use an efficient communication and time-management approach and train our writers, editors, and proofreaders in beating procrastination and writer's block. 
Still, we urge you to be realistic in your expectations. Research alone would usually take several hours, and writing and finishing touches need time, too. So please give our experts enough time to work on your paper and give yourself enough leeway for a quick review and revision.
Our "Write Essay for Me" Service Is Online and Ready to Help 24/7 
With so many responsibilities, it's not uncommon for students to forget about essays. So if you wake up in cold sweat scrambling for answers to "Can someone do my essay for me asap?" you won't be left to deal with the problem alone.
Our write my paper service never sleeps. The support agents operate round-the-clock through weekends and holiday seasons to ensure you can reach a human manager in your darkest hour and get the answers and support you need.
You can contact our team via:
Simply reach out, and explain your "write my paper" problem, and our managers will help you find a suitable solution. They can also get you in touch with your expert, provide progress updates, and explain our policy clauses and conditions.
We Guarantee Our "Write My Essay" Help Is Private and Confidential
"Can someone do my essay for me without risking my reputation?"
"I'm afraid my school will kick me out if they learn about my order."
If you're familiar with either of these lines of thinking, you're just like any other college student. However, you have nothing to worry about when you pay someone to write your essay for you with our service. We carefully guard the details of your order and do not disclose your personal information to anyone without a court order.
So the only way your professors and school administration can learn about our help is if you tell them, "I pay to write my essay". Without your confession, they'll have no hard evidence. Their accusations and threats will be empty, and you'll get away with buying papers easily, like thousands of our clients before you.
We Keep Working on Your "Write a Paper for Me" Requests Until You're Happy
Reputation is everything for paper writing services. Although no company is safe from accusations, negative reviews, and underhanded rivalry with fellow "write my paper for me" platforms, we strive to keep every customer happy and willing to return.
That's what our satisfaction guarantee is about. Whenever you come asking, "Write my essay online, we take your requirements seriously and ensure the experts fulfill your every instruction. And if you still think our writing could be better, you can order a free revision with your initial "write essay for me" parameters. Your writer will rework your piece according to your comments and return the second draft for your approval within 24 hours. With luck, you'll like it better, and if not, you can repeat the whole process again and again until you're 100% satisfied with your paper.
Ready to Reap the Benefits of Our "Write Papers for Me" Services?
If you're ready to place your first "write my paper" order, welcome to the order form. It's streamlined to guide you through sharing all the information your expert will need beyond your request of "write my paper for me". And if at any point you feel lost, confused, or too tired to deal with our simple "do my essay" order form, reach out to our support team. Call or type something like "I want you to write a paper for me," and they'll respond within seconds to help you complete the order, finalize the payment, and get the first progress update when we assign the best expert to your case.
How can I pay someone to write a paper for me? What are your payment methods??
We accept credit and debit card payments by Visa, MasterCard, Discover, JCB, and American Express. You can use a reliable and secure payment system that keeps your personal and financial information safe to get us to write an essay for you. So you don't have to worry and ruminate, "Is it safe to pay someone for writing my papers online?" After all, it's as safe as getting your next coffee batch on Amazon or paying for your Netflix subscription.
How fast can you write my essay for me?
"Write my essay ASAP!" and "Write my essay, and I need it yesterday!" are two of the most common requests we get from college students. And although we can't trick time and only have 24 hours in our days, we can deliver short pieces in 6 hours and longer assignments—within a day. As long as you don't come asking "Write my research paper in six hours," and are realistic about your expectations, our experts should be able to handle the tightest deadlines. But please account for a preview and revisions not to miss your submission deadline.
Can I talk to the person who'll do my essay for me?
Of course, you can. We realize you're probably thinking, "When I pay someone to write my paper, I want to have a direct line to this person." So all you need to do is log into your account and find the chat tab to ask your questions or provide comments. But please remember that writers may not be available 24/7, as they have research and writing to take care of. If you're thinking "I want round-the-clock access with the person I hired to write an essay for me," you're unlikely to find a writing service that will satisfy your needs.
Can you write my essay for me cheap?
Sure, our rates start as low as $6.99. Despite inflation and global crises, we keep our prices student-friendly. So anyone who comes asking, "write my paper for cheap" or "write my term paper without breaking the bank" will feel welcome and safe in the knowledge they'll get the best value for money. At the same time, we urge you to beware of online frauds promising free results, as every "Write my research paper for me for free" may end in a scam.
Is it legal to use your service and pay someone to write my paper?
Yes, it is legal. Whether you're carefully considering "Can someone do my paper for me?" in the privacy of your own mind or clamoring for assistance with the bold demands of "Write my paper for me now!", you're in the clear until you submit the paper you purchase for grading under your name. Even that isn't illegal in most countries, though it is frowned upon in most schools. It's up to you to decide what to do with the paper you get after we fulfill your order.
Can I pay someone to do my essay after it's done?
Sadly, no. In an ideal world of perfectly honest people, you'd say, "I need help write my research paper", and we'd have it ready for you for free and rely on your generosity. In the real world, our writers, editors, and support managers are real people who like to have a roof over their heads and meals on their tables. Our refund policy keeps you safe, but only your upfront payment protects our writers from scams. So whenever you ask, "Can you write my essay cheap?", we say, "Sure", but we ask you to cover the cost first.
Who will write my paper for me? How do I know they're qualified to handle it?
Every writer on our team holds a degree in one or more majors, possesses years of academic writing experience, and has a solid reputation among our clients. You can be sure that whenever you run asking, "Write essay for me", we'll match you with an expert best suited to handling your academic level, class, and topic. Be safe in the knowledge that we only hire seasoned academics to write papers for you.
How do I choose the best writer to write my paper for me?
You can select a specific expert to deal with your "write my essay" issue or pick a top or pro-level writer. Although either of these options will add to the bottom line, you won't have to wonder, "Who will write my essay?". We recommend selecting one of our premium experts for critical assignments that need a special touch to score top grades and improve your class ranking or GPA. Contact our support team to ask, "Can someone write my paper for me with top results?" to learn more about writer options.
How do I know if you'll make my essay original?
Your every "write my essay" order goes through a plagiarism checker to guarantee originality. After all, our writers know "write my paper" means crafting an original piece from scratch, not rewriting a stale sample found online. But if you want further proof, you're welcome to order an official plagiarism report with a similarity percentage. All it takes is checking the box in the order form or asking a support agent to add it to the bottom line when you come asking, "I need you to write an essay for me."
How can I lower the price when ordering an assignment?
Although we keep our online paper help rates as low as possible, you can play around with the order parameters to lower the price. For example, instead of crying, "I need you to write my essay in 12 hours", set the deadline for two weeks, and your bottom line will be much more affordable. You can also wait for a seasonal promotion with discounts of up to 15% if you're thinking, "I'm in no hurry to pay someone to write my essay."
What do I do if you write my paper for me, and I don't like it?
You can get a revision or a refund, depending on how much your "write my essay for me" order went off track. We know when you pay someone to write your paper you expect the best results, and we strive to follow every instruction to a T when we write a paper for you, but miscommunication can occur. In this case, don't be shy about requesting a free revision or a new writer to rework your assignment. And if you feel the paper is unsalvageable, you may be liable for a partial or full refund.
How do I know you've finished writing my paper?
We'll notify you via email the moment the writer uploads the first draft for your revision. You can then preview it and approve the piece to download an editable file or get it sent for a revision round with your comments about necessary corrections. Besides, you can always request a progress update from your writer or a support manager. Just ask them, "Any progress since I hired you to write my essay for me?". As you see, you don't need to fret, thinking, "How will I know when you write my essay, and it's ready?"
What are you waiting for?
You are a couple of clicks away from tranquility at an affordable price!
We never disclose your personal information to any third parties
Customer Reviews
We do not tolerate any form of plagiarism and use modern software to detect any form of it
Talk to our experts
1800-120-456-456
My Family Essay in English for Class 1
Read essay on my family on vedantu.
The essay on My Family has been drafted by our expert teachers to help you and guide with your short essay on my family. Basically, a family is a group of people who live together under a single roof in a society. The essay has been drafted in a simple and easily understandable language which will help you participate in any essay competition.
My Family Paragraph
I have a very big family with around 8 members in it. My grandparents, parents, my sister, uncle, aunt and me. They are wonderful people and I like all of my family members. My mother and father both are working employees, so I get to spend more time with my grandparents who tell me many stories about various things. We all eat our dinner together every day
My father and mother both work in the government sector and they tell us many things about their work. My uncle works in the private sector. My uncle is a gaming designer who teaches us many interesting things and shows us many new games. My sister goes to the same school and we have many friends in common.
My grandfather is a retired police officer, who is very strict and punctual about our daily work. He teaches us about disciples and makes sure we follow them. My grandmother is a housewife and prepares all of my favourite dishes. We always discuss our day while having dinner together.
We go on various trips to many places. Once a month we go on a picnic and every six months once we go to different places. We celebrate every festival together with lots of sweets and our extended family also takes part along with us. Every week Saturday and Sunday we go with my father and uncle to play sports on the ground. They train us on many activities like running, volleyball and swimming.
We all love each other, respect and care for each other's feelings. They teach me good lessons about unity, love and cooperation among ourselves. We pray to god every single day and wish everyone to have a good day. I feel that families are a blessing not everyone is fortunate enough to have. However, you have respect and care about every member of the family. It is not good to disobey them. Many people these days spend time away from the family in order to become independent.
However, they do realize the importance of a family then. Families are really essential as they help in our growth and development. They establish us into a complete person with which we create our own individual identity. Moreover, they always provide us with a sense of security and this gives us a safe environment.
We learn how to socialize from our families only and this will develop our intellect. Many studies show that people who live and stay with their families tend to be happier than ones living alone.
Families are the only ones who always believe in us when the whole world doubts us. Similarly, when we are down and out of control, they are the first ones to cheer you up. Certainly, it is a true blessing to have a positive family by our side.
In a society, a family is a social group of people who live together under the same roof. It consists of two or more individuals, such as parents and grandparents, as well as small children, who are linked by birth or blood. They're all referred to as "family members." In a mutual relationship, each family member is committed to the other. A family occupies a unique position in both an individual's life and the society in which he or she lives. In this post, we'll lead you through "My Family Essay for Class 1" for kids, which will educate them how to write essays on a similar topic.
Class 1 Essay: 15 Lines on My Family
I have a lovely family and adore each and every one of them.
Grandparents, parents, uncle, aunt, two brothers, one sister, and I make up my family of ten.
My father works as an engineer, while my mother is a schoolteacher.
My grandma is a stay-at-home mom, and my grandfather is a government retiree.
My uncle and aunt are also lawyers, and all of my siblings attend the same school.
My entire family adores, respects, and looks out for one another.
Every two weeks, my family goes on a picnic.
Every night after supper, we all enjoy spending time with one other.
My family has instilled in me values such as love, solidarity, and cooperation.
I pray to God to keep my family safe from all evils and vices, as well as from all life's perils.
My mum is an excellent English and literature student who also assists us with our schoolwork.
We celebrate all festivals with tremendous affection and collaboration, such as Holi, Diwali, Rakhi, and so on.
We also go to our cousins' houses during these festivities to have even more fun.
We also treat one other with great love and respect on their birthdays.
My family is the picture of perfection. I wish that God blesses everyone with a family like ours.
God's gift of family is extremely significant, and we should never take it for granted. My family is one of my greatest treasures since they have always been there for me in both good and terrible times. My family has been a blessing in my life. Without my family, I can't picture living a joyful life. I pray to God to keep my family safe and joyful from all evil eyes.
FAQs on My Family Essay in English for Class 1
1. What does a family mean?
Family basically comprises two or more adults like grandparents and parents and children who are bound in a relationship by birth or blood. They are collectively known as family members. Each family member is committed to each other in a mutual relationship. It is a very important part of a child's growth. Family attributes to be the nurturing spot to develop a personality in children. Students should know about the importance of family via the teachers.
2. What is the importance of family?
A family holds a special place in everybody's life and every individual in the society in which he/she lives. You learn many things from them and they are the pillar of every person's life. Family also plays an important part in personality development, way of living, nurturing and overall growth of a child. Hence it is a very important attribute in society. It is the first interaction a child goes through and hence holds an utmost importance in life.
3. Is the My Family Essay in English for Class 1 Students | Easy \u0026 Short Essay on My Family helpful?
Yes, the My Family Essay in English for Class 1 Students | Easy \u0026 Short Essay on My Family is very useful. It can be downloaded as a free pdf from Vedantu. Children of class one hour innocent and can easily get influenced by the school's nurturing. Hence, it is very important for teachers to make them learn English and other subjects thoroughly. With the help of Vedantu's study material, they will be able to learn the subject easily. Download the free PDF now. 
4. Why should I choose Vedantu?
Vedantu is an online educational platform that aims to help children and students to attain good marks, better understanding and knowledge of the school's curriculum. The team of experts at Vedantu can help your child to know the subject taught in school on a broader and high-level basis. They will be able to know the subjects thoroughly. You are required to practise essay writing daily with the help of teachers at the platform. They will guide you on how to write, and correct the writing with easy key points.
5. What can I learn with My Family Essay in English for Class 1 Students Short Essay on My Family?
The My Family Essay in English for Class 1 Students Short Essay on My Family from Vedantu can extensively help students- The essay writing can promote better understanding of English and concepts, they will be able to write composition passages, they will know the correct grammar use, they will be able to set the tone of paragraph writing, they will be able to write short essays easily with the help of teachers at Vedantu. We recommend you start learning with Vedantu and see the difference by yourself.
Kids-learning • Class 1
My family kept secrets. 'Oppenheimer' drives home how complex those secrets were
Show more sharing options
Copy Link URL Copied!
Out of the blue in 2011, I received an email from a historian at the Los Alamos Historical Society in New Mexico. She said that because I was a descendant of settlers on the Pajarito Plateau in northern New Mexico in the decades before World War II, I was entitled to receive a history book commissioned by Congress.
It was part of an effort to make amends for the government's abrupt seizure of the land in 1942 to build the Los Alamos laboratory, where the first atomic bomb was developed.
I was dumbfounded.
Opinion: 'Oppenheimer' is here. Is Hollywood still afraid of the truth about the atomic bomb?
Onscreen portrayals of the bomb's history have been incomplete at best, sanitized at worst. How will Christopher Nolan's film stack up?
July 20, 2023
When I was growing up, neither my father nor my grandmother, Constance Smithwick, ever said a word to me about having lived in New Mexico. My mother, who was only briefly married to my father, rarely spoke of him. And both my parents and grandmother died in the late 1970s, so their stories were lost to me. When the Los Alamos historian asked me if I had any photos or stories about my family's life in the area, I said I had nothing to share.
The book, "Homesteading on the Pajarito Plateau, 1887-1942," arrived a short time later.
Reading the parts about my family only deepened the mystery of the silence of my father and grandmother about their lives on the plateau. But it clarified historical aspects of their story, including issues of power, race, privilege and loss made newly relevant by the movie "Oppenheimer."
In the American West, homesteaders on government land, by law, became owners of their land after at least five years of farming, ranching or otherwise improving the acreage. The Pajarito Plateau, a high-altitude volcanic region of mesas and canyons, had a settler community. Hispanic farmers and ranchers, many whose families had lived there for generations, owned most of the few dozen homesteads , which ranged from 10 to 160 acres. The land was semi-arid, water was scarce, and the growing season was short. But by no means was the land vacant when the government chose the area for the Los Alamos facility and evicted the people.
My grandparents, of Irish descent, were part of that community. Starting in 1921, they lived on and managed the plateau's Anchor Ranch, a 320-acre spread. The ranch was owned by the Ross family of New York. In exchange for providing care at the ranch for a mentally disabled son of that family, my grandparents had run of the place. They are credited with creating a viable enterprise and improving some of the roads that ran through the canyons.
'Oppenheimer' doesn't show us Hiroshima and Nagasaki. That's an act of rigor, not erasure
Christopher Nolan's movie has no interest in reducing the atomic bombings of Japan to a trivializing, exploitative spectacle, despite what some would want.
Aug. 11, 2023
They left the plateau in 1937 due to my grandfather Francis' failing health and relocated to Desert Hot Springs in California, another off-the-grid location in those days. Any hope my grandmother may have had to return to Anchor Ranch was dashed in 1942, when the Rosses sold the land to the U.S. government for $43 an acre .
That transaction was later cited in a petition to the U.S. government by the descendants of Hispanic homesteaders who sought reparations because their relatives were paid as little as $7 an acre for their land. In 2004, when Congress established a $10-million fund to repay the descendants, the settlement included a provision to create the book I received.
Although everything the Los Alamos historian wrote in her email was news to me, it jogged my memory.
Opinion: 'Oppenheimer' only makes it harder to control nuclear weapons
Christopher Nolan's 'Oppenheimer' hypes the god-like power of nuclear weapons, breeding fatalism and erasing human agency.
Aug. 3, 2023
When my grandmother died in 1977, I was given a box labeled "Connie's stuff" by the person who had gathered her belongings. I never looked through it. But during a move in the mid-1990s, the box buckled and a large manila envelope spilled its contents. There were photos of log cabins, children playing with puppies, women on horseback, picnics, sledding. Having never heard my father or grandmother say anything remotely related to these images, I put the photos into a new box and stored it in the garage.
I took another look in 2011, after the email from the Los Alamos historian. I spread my grandmother's papers on my living room floor, and there, along with the pictures, was a tattered clipping from the Los Alamos Times of an interview with Constance in 1947 entitled "Mesa Old Timer Recalls Pre-Atom Project Period."
The interviewer asked Constance how she felt visiting the Pajarito Plateau, now unrecognizable and the site of the "unfolding of the most revolutionary development in the history of the world — the atomic power project."
Opinion: U.S. leaders knew we didn't have to drop atomic bombs on Japan to win the war. We did it anyway
We've been taught that the U.S. had to drop atomic bombs on Japan to end World War II. Historical evidence shows Japan would have surrendered anyway.
Aug. 5, 2020
"I have no resentment whatsoever that my old world here has been turned upside down by all of this," she said. When I knew her, my grandmother was anything but accepting.
In the interview, Constance described their happy and harsh life on Anchor Ranch. She referred to her family as pioneers who built cabins, raised horses and cattle, grew alfalfa, hunted, fished, went sledding after brutal snowstorms and attended "gala affairs where women rode to parties on horseback in their elegant finery with their dancing shoes in their saddlebags." The family had a passion for dogs — Airedales and St. Bernards . In her telling, life was a long, wholesome, outdoor adventure.
All of it only raised more questions for me. If life at Anchor Ranch was so idyllic, why did she never tell me about it? Why did my father maintain a lifelong silence on the topic?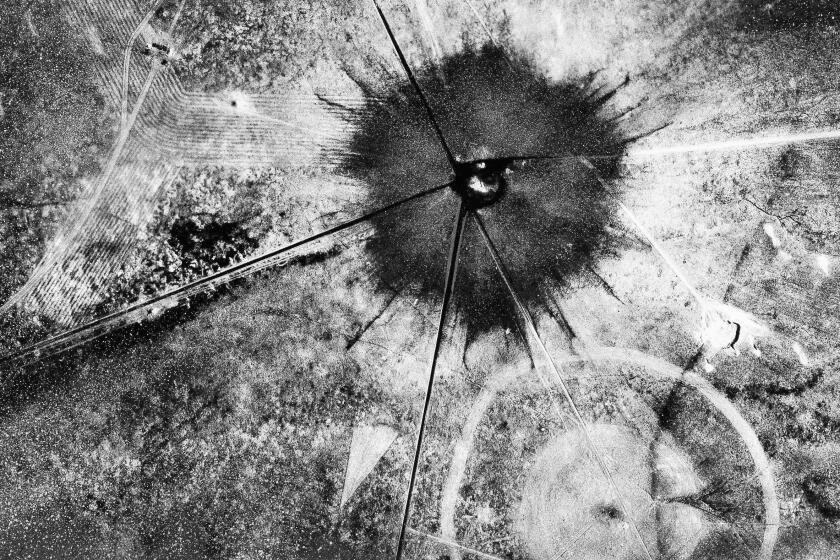 Science & Medicine
'Oppenheimer' extols atomic bomb triumph but ignores health effects on those living near test site
The movie about scientist J. Robert Oppenheimer sheds no light on the health impacts on those downwind from the Manhattan Project's test site in New Mexico.
July 19, 2023
In 2021, I was invited by the Los Alamos Historical Society to visit the Pajarito Plateau. The historian showed me the pond on the site of Anchor Ranch where my father would have gone swimming and the foundations of cabins my grandparents built. I was shown records of phone calls (a luxury at the time), shopping lists and accounting records in my grandmother's loopy handwriting.
I still can't reconcile the evidence of their lives on the Pajarito Plateau with their later lives. But I did come away with a sense of the inscrutable spirit of the plateau, a mix of beauty and horror. I have also come to understand the power of secrecy.
Secrecy is a theme of "Oppenheimer." It was the bedrock of the Manhattan Project. It is also the blanket my father and grandmother wrapped around their lives on the Pajarito Plateau, leaving me to piece together their story and mine. I am still at it, trying to fill in the blanks left by their silence about that strange era and place.
Francesca Smithwick-Driver lives in Manhattan Beach. She is writing a memoir, "No One to Ask."
A cure for the common opinion
Get thought-provoking perspectives with our weekly newsletter.
You may occasionally receive promotional content from the Los Angeles Times.
More From the Los Angeles Times
Opinion: I can't afford to pay parking tickets, so my car got towed. It upended my life
Opinion: Claiming a 'computer crime' shouldn't give police a free pass to raid newspapers
Aug. 31, 2023
Opinion: One overlooked way to fight opioid deaths? Give people something to do
Opinion: Armenians are starving at Azerbaijan's hands. Why isn't Biden doing more to help?
Aug. 30, 2023