The Edvocate
Lynch Educational Consulting
Dr. Lynch's Personal Website
Write For Us
The Tech Edvocate Product Guide
The Edvocate Podcast
Terms and Conditions
Privacy Policy
Assistive Technology
Best PreK-12 Schools in America
Child Development
Classroom Management
Early Childhood
EdTech & Innovation
Education Leadership
First Year Teachers
Gifted and Talented Education
Special Education
Parental Involvement
Policy & Reform
Best Colleges and Universities
Best College and University Programs
HBCU's
Higher Education EdTech
Higher Education
International Education
The Awards Process
Finalists and Winners of The 2022 Tech Edvocate Awards
Finalists and Winners of The 2021 Tech Edvocate Awards
Finalists and Winners of The 2020 Tech Edvocate Awards
Finalists and Winners of The 2019 Tech Edvocate Awards
Finalists and Winners of The 2018 Tech Edvocate Awards
Finalists and Winners of The 2017 Tech Edvocate Awards
Award Seals
GPA Calculator for College
GPA Calculator for High School
Cumulative GPA Calculator
Grade Calculator
Weighted Grade Calculator
Final Grade Calculator
The Tech Edvocate
AI Powered Personal Tutor
Teaching Students About Marilyn Chambers
Teaching students about nia peeples, teaching students about orthodox, teaching students about psycho-pass, teaching students about rachel hunter, teaching students about rhinoceros, teaching students about byzantine empire, teaching students about the chinese president, teaching students about delirium tremens, teaching students about joy division, a guide to writing observation reports.
An observation report is a piece of document that contains comprehensive information about a child. This document can be used as the basis to assess a child's overall development.
How to Get Started
The process involves observing a child, making notes, and putting everything together in a report. In preparation for the observation, you have to determine the setting and the schedule of the planned observation .
Identify what type of data you want to gather. If you want to observe a child's socialization skills, schedule the observation while the child is at a playdate with friends. If you want to observe a child in the school setting, schedule the observation on a weekday when the child is in class.
Be mindful of the time and date of your observation. If a child is particularly slow to warm up, do not be surprised if the child does not immediately engage with his or her peers upon arrival at school.
What Information to Include
Include as much information as you can during the time of observation. If you are observing a child in a classroom setting , don't just focus on the child's behavior; take note of the classroom, the environment, and the type of activity that they were doing that day. Any incidents that occur during the observation should be noted as well. It is highly likely that the behaviors exhibited by the child will be influenced by the events and environment on the day of the observation.
Tip: if you are worried that you might not take enough notes or write fast enough, you can use a voice recorder. Secure the permission of the people in the setting before you do this.
Create the Report
Compile all observation notes, organize them, and analyze the data. When reporting on a child's behavior (e.g., a tantrum ), make sure to provide information about events that happened before, during, and after the behavior took place
A tip about note-taking: Keep your observation notes factual. Avoid making commentaries or making assumptions about how the child or others felt unless it was said explicitly.
Find the ideal format to present the information because the sheer amount of it can be overwhelming. Start with factual information like the date, time, and place of the observation. Proceed to write down all observations that you made. Keep these observations straightforward and clear. Make sure that it is organized and easy to understand. Put your analysis and recommendations towards the end of the report.
Concluding Thoughts
Observation notes provide a wealth of information about a child. Observation notes can be used to assess a child's behavior and development, which is why it's important to create a report that is comprehensive and easy to understand.
Constructivism and the Developing Child
Tips to help children with language processing ....
Matthew Lynch
Related articles more from author.
Heuristics: Everything You Need to Know
Fun and Engaging March Activities for Preschoolers
Reading with your children: proper books vs tablets
Exploratory Play: Everything You Need to Know
Building Relationships with Families
The edvocate podcast, episode 4: how to create a culturally responsive classroom.
404 Not found
Examples of Student Observation Reports
Ann wendle-barnes, 27 jun 2018.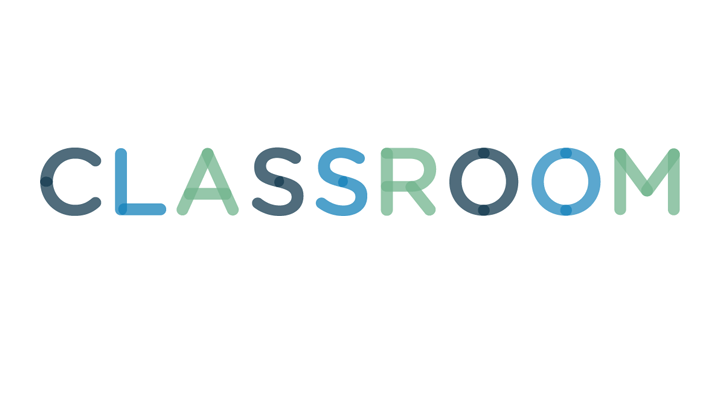 Student observation reports are written feedback of student behavior and performance. An observation is performed by a professional that is not the student's teacher. School psychologists, special education teachers or another teacher may observe student behavior and document their progress. Student observations provide meaningful feedback for teachers by identifying student progress and the level at which a student is performing. Observations are designed to hold students and educators accountable for the learning process.
The information gathered and presented in the observation report includes statements about how a student performs both academically and behaviorally during direct instruction time and transition time. It may also include anecdotes about how a student interacts with his peers. These reports are usually read by psychologists, pediatricians, school specialists such as a speech pathologist or occupational therapist and behavior intervention specialists. Parents, teachers and other school staff may also receive copies of these reports.
Explore this article
Start With Basic Information
Influences on Student Behavior
Student Interactions
A General Overview
1 Start With Basic Information
Student observation reports include a title, name of the observer, name of student, demographic information about the student, reason for the observation and place and time of the observation. A general overview is included to set the context of the observation. Details about the environment and who is in the classroom are included. State the activities that occurred during the observation. Document details that indicate what the student was doing during the observation.
2 Influences on Student Behavior
Include information that may have an influence on student behavior and ability in the classroom. For example, the report should indicate if the student is a member of a dislocated family or English is the second language. Explain learning disabilities, anxiety triggers and intellectual gifts in the report. Behavior-based issues with the student are documented in this section as well.
3 Student Interactions
Include a section that draws a comparison between the student's behavior and development to that of his peers. Document any support services the student receives. A summary is given that covers the student's interactions with teachers, peers, support services and their responses to the stimuli in the room. Skills the student demonstrates and how the student's behavior relates to their academic functioning ability is included in the summary. Benchmark percentages may be included in the report.
4 A General Overview
The report should include an assessment area with what the observer saw during the observation. There should be an observation and a comment section for each aspect of the observation. The aspects assessed are determined by the purpose of the observation. For example, if the student is being observed to determine if they are developing appropriately in the classroom, the report would address social and emotional behavior and motor skill demonstrations during the observation. Other reasons for a student observations includes assessing age-appropriate behavior, proper motor skill development, speech and language development or issues with visual and hearing impairment. These types of observations can be performed by speech and language pathologists, visual specialists, hearing specialists, behavior interventionists or occupational therapists.
About the Author
Ann Wendle-Barnes is based in Hampton Roads, Va., and has a background in education and English literature pre-K through graduate studies. She has been writing in the education field since 2000. Wendle holds a Doctorate of Philosophy in higher education.
Related Articles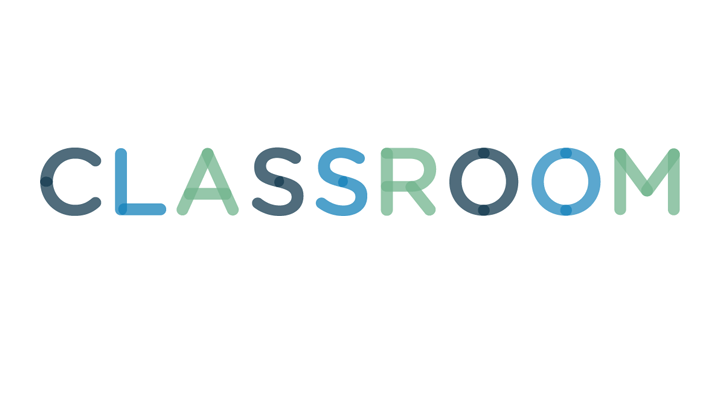 Tools for the Evaluation of Teacher Aides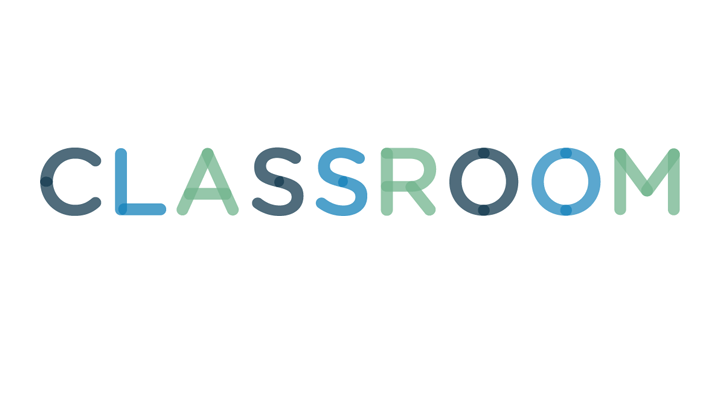 How to Write a Behavior Report for Students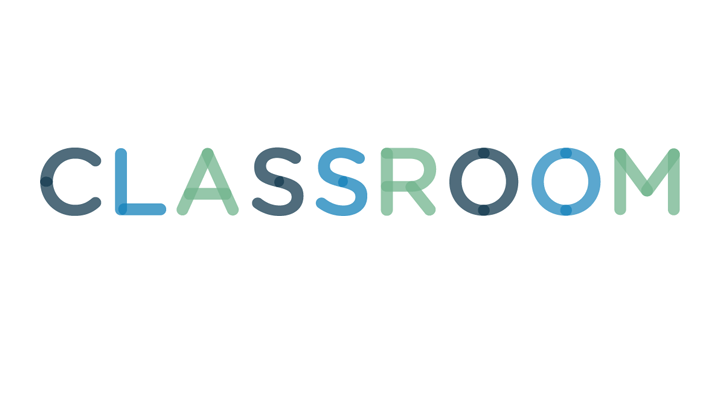 Examples of Common Assessments in High School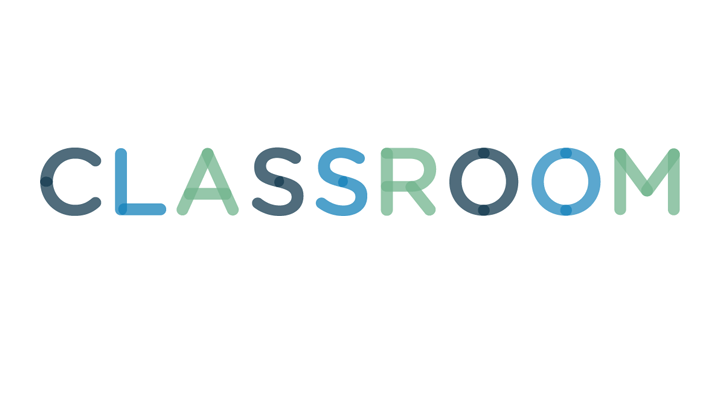 List of Formal & Informal Assessment Tools & Methods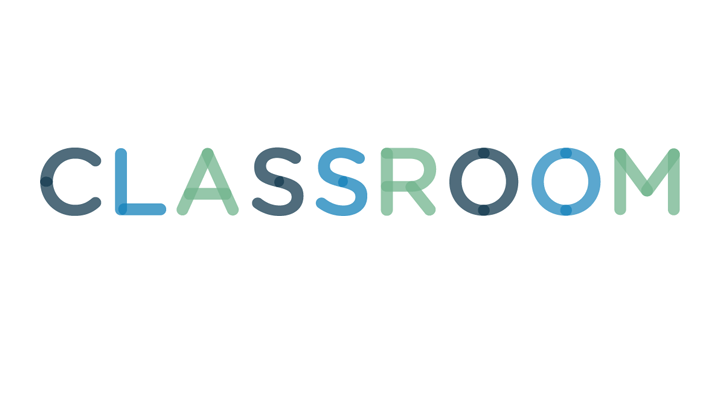 How to Write a Student Evaluation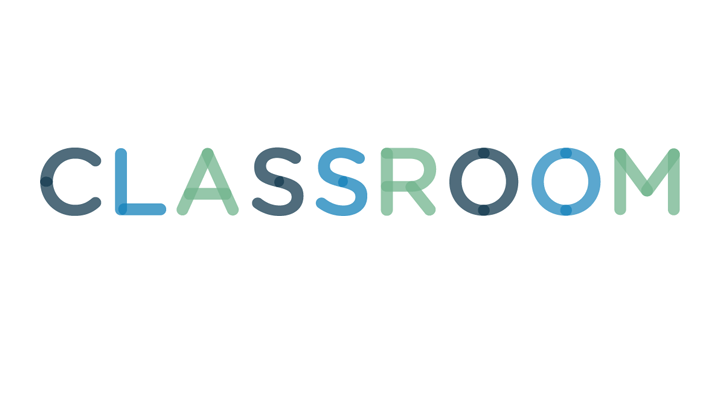 Special Education IEP Goals for Kindergarten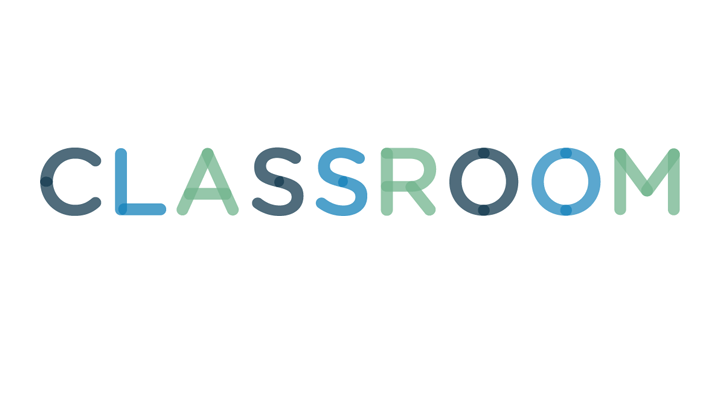 Teaching Kids to Write Science Research Papers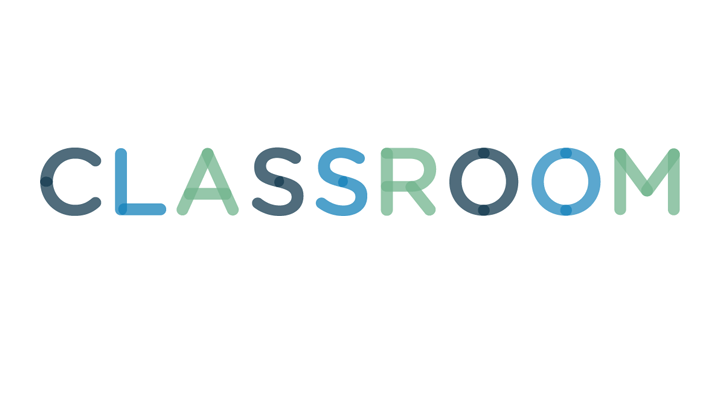 How to Write a Student Profile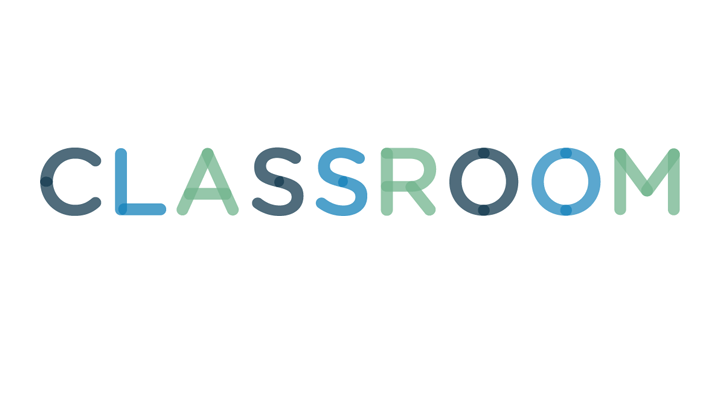 Why is Curriculum-Based Assessment Important in Assessing...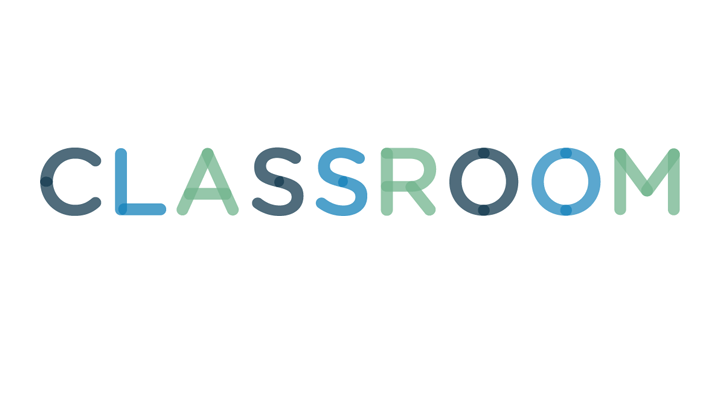 How to Write Up a Teacher Observation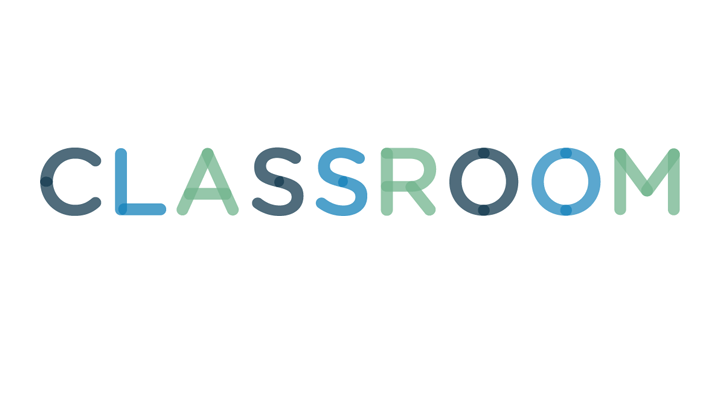 Prescriptive & Diagnostic Teaching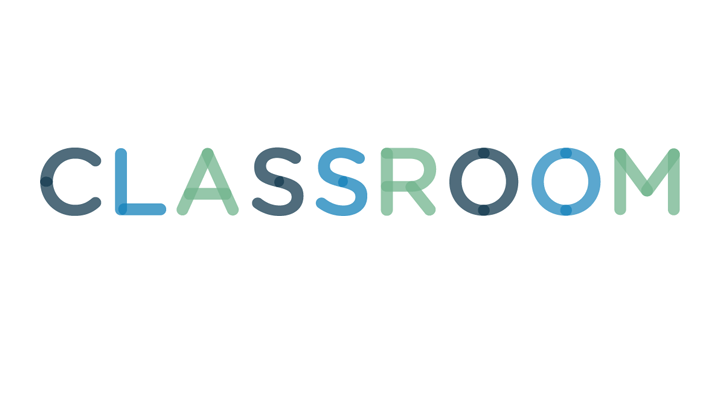 Examples of Learning Objectives in Reading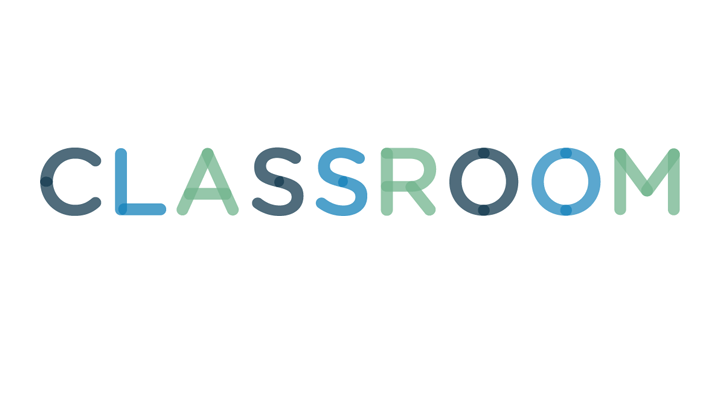 Professional Standards in the Teacher Evaluation Process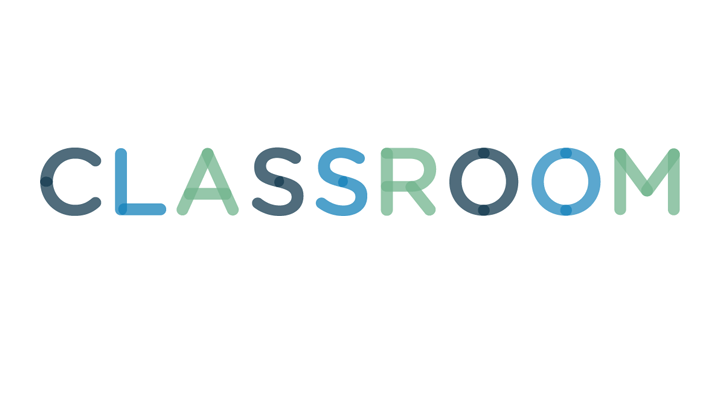 How to Write a Summative Report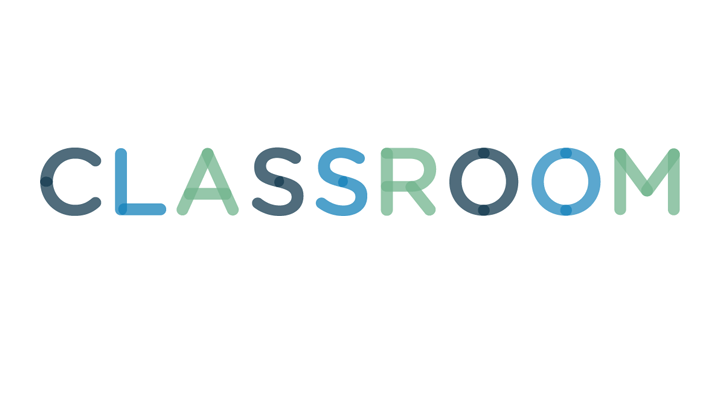 What Is Educational Evaluation?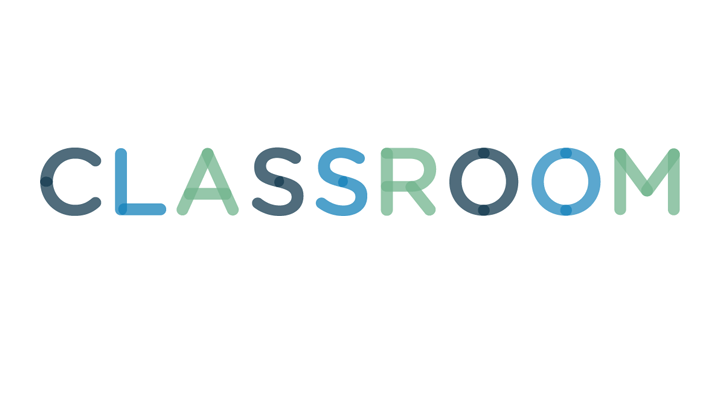 Difference Between Formative and Summative Assessment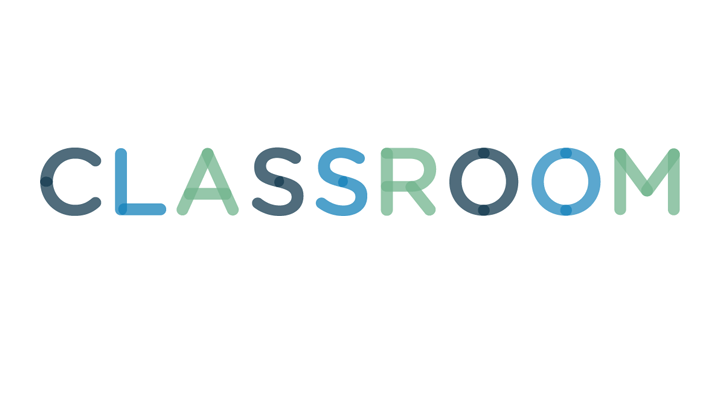 What Are Some Methods of Data Collection in a School...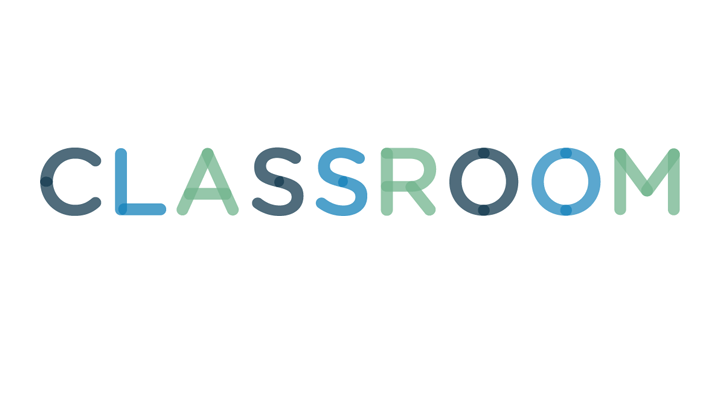 School Based Strategies for ADHD Students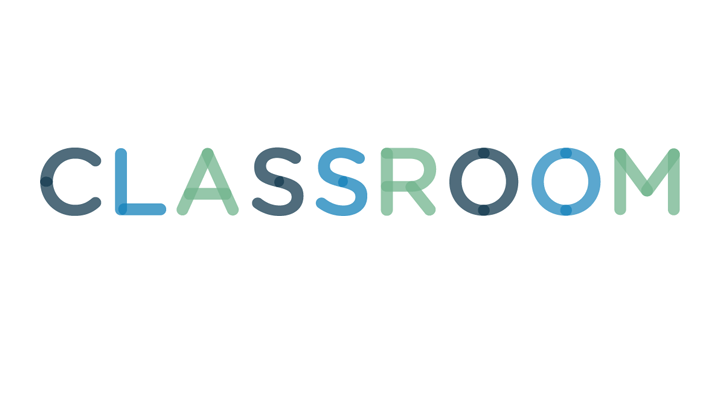 Classroom Factors That Affect Motivation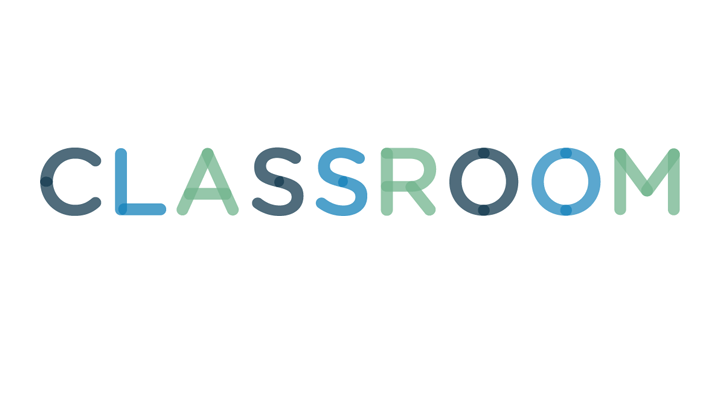 Assessment Tools Used for ESL Students
Regardless of how old we are, we never stop learning. Classroom is the educational resource for people of all ages. Whether you're studying times tables or applying to college, Classroom has the answers.
Accessibility
Terms of Use
Privacy Policy
Copyright Policy
Manage Preferences
© 2020 Leaf Group Ltd. / Leaf Group Media, All Rights Reserved. Based on the Word Net lexical database for the English Language. See disclaimer .
Jump to navigation
Inside Writing
Teacher's Guides
Student Models
Writing Topics
Minilessons
Shopping Cart
Inside Grammar
Grammar Adventures
CCSS Correlations
Infographics
Get a free Grammar Adventure! Choose a single Adventure and add coupon code ADVENTURE during checkout. (All-Adventure licenses aren't included.)
Sign up or login to use the bookmarking feature.
25 Writing Observation Reports
Start-Up Activity
Ask for a volunteer to read page 177 aloud. Then ask students to write a quick observation report based on the view from their desk. More specifically, for 5 minutes they should record what they see, hear, and feel around them without worrying about getting everything perfect in their sentences. Their goal is to record as many sensory details as they can. (Consider writing along with the students.) Afterward, ask for volunteers to share their reports for discussion. Note the different sensory details included.
Writing observation reports gives you an opportunity to teach the continuous form of the present tense ( is running, are sitting, etc.) English Language Learners often have difficulties with the continuous tense.
Think About It
"Writing is not apart from living. Writing is a kind of double living."
—Catherine Drinker Bowen
State Standards Covered in This Chapter
CCSS.ELA-LITERACY.W.6.2
CCSS.ELA-LITERACY.W.7.2
CCSS.ELA-LITERACY.W.8.2
LAFS Covered in This Chapter
Lafs.6.w.1.2, lafs.7.w.1.2, lafs.8.w.1.2, teks covered in this chapter, 110.22.b.10, 110.22.b.11.b, 110.23.b.10, 110.23.b.11.b, 110.24.b.10, 110.24.b.11.b, page 178 from all write, sample observation report.
Ask for a volunteer to read the sample aloud. Then discuss the text, using the side notes as a basic guide. During your discussion, have students identify any sensory details that the writer included.
Writing a "Showing" Paragraph
Help students show instead of tell.
Related Resource Tags
Click to view a list of tags that tie into other resources on our site
Page 179 from All Write
Writing guidelines: observation report.
Help students think of possible topics for their reports, or select a site for everyone to observe at the same time. Then model the use of a five senses organizer in case students want to use it. (Consider requiring students to address at least three different senses.)
When students are ready to write, point out that they can simply share details in the order they listed them or they can organize them with a beginning, middle, and ending. The model on page 178 features these three parts.
Writing Descriptions That "Show" Instead of "Tell"
Teach students to use sensory details.
Page 180 from All Write
Sample science observation report.
Be sure that science teachers know that All Write contains a sample science-related observation report. Consider teaming up with a science teacher to assign this type of report, with the details for the report being gathered in the science classroom and the writing carried out in your classroom.
01 A Basic Writing Guide
02 One Writer's Process
03 Traits of Effective Writing
04 Prewriting
05 Writing and Revising
06 Group Advising
08 Publishing
09 Writing Basic Sentences
10 Combining Sentences
11 Building Paragraphs
12 Writing with Style
13 Writing Terms and Techniques
14 Writing in Journals and Learning Logs
15 Writing Emails and Blog Posts
16 Writing Narratives
17 Writing Biographical Stories
18 Writing Informational Essays
19 Writing Explanations
20 Writing News Stories
21 Building Arguments
22 Writing Persuasive Essays
23 Writing Book Reviews
24 Other Responses to Literature
26 Writing Summaries
27 Writing Classroom Reports
28 Writing Poems
29 Writing Stories
30 Writing in Science
31 Writing in Social Studies
32 Writing in Math
33 Writing Business Letters
34 Understanding Media
35 Using Technology
36 Using the Library
37 Thinking and Writing
38 Thinking Clearly
39 Thinking Creatively
40 Reading Nonfiction
41 Reading Fiction
42 Reading Graphics
43 Improving Your Vocabulary
44 Viewing Skills
45 Note-Taking Skills
46 Planning Skills
47 Test Taking
48 Responding to a Prompt
49 Group Skills
50 Speaking Skills
51 Proofreader's Guide
52 Student Almanac
Classroom Observations for Evaluating Teaching
Accurate and fair evaluations of teaching effectiveness should include multiple means of measurement. Student ratings are one way to assess teaching, but may be biased by the gender and race of the instructor and may not be reflective of student learning ( see summaries of research ). To complement student ratings, there are other measures of teaching effectiveness (see Berk 2005 and 2006); some may be impractical to implement immediately because of the time required, like alumni surveys or employer feedback. Peer observations of teaching can add information to student ratings to evaluate teaching and provide additional benefits to a department.
Classroom observations by other instructors can provide useful information about teaching but should be implemented thoughtfully. Without guidance, observers may be using different criteria to judge teaching; for example, some observers may wish to see smoothly delivered lectures, others may recognize the importance (and messiness) of active learning. In addition, an observer may be distracted by the subject matter —considering whether their favorite part of the subject is given sufficient emphasis. To be fair, classroom observers can use a specific protocol and feedback form to guide their observations and report.
Potential Steps for Peer Observation
Here is one approach to peer observation of teaching for evaluation, which could be adapted to meet departmental needs. Although presented as numbered steps, the procedure is not necessarily sequential.
To choose a protocol for classroom observation, the department may want to consider their shared values. What does the department value in teaching? What does good teaching look like? Currently, many departments are examining their cultures for inclusive practices, so inclusion may be one of the criteria evaluated.
Select or adapt an observation protocol that reflects departmental and personal teaching values. The form you choose will guide the observer's focus and prompt for some synthesis and evaluation of their observations. The Yale University Center for Teaching and Learning or the Vanderbilt Center for Teaching's comprehensive list of items to observe provide examples from which you can choose. The short book cited below by Chism and Chism provides effective guidance as well as several simplified protocols.
Choose peer observer(s); this guide suggests some factors to consider when selecting peers.
Before the observations, the instructor being evaluated should meet with the observer to provide some context about the class, teaching goals and instructor choices, as well as class meeting times, locations and modality. As classroom observation also includes review of course materials, the instructor can provide the observer with access to the course syllabus, course outline and assessments.
Peer observers conduct several classroom observations and review the course material following the observation protocols.
After observations are complete, the instructor and the observer may meet to discuss.
Please talk to Duke Learning Innovation if you'd like more information and ideas.
Learning Innovation's Programs for Formative Feedback
Note that Duke Learning Innovation provides several programs to help instructors teach better with classroom observations. In each case, the goal is specifically not to evaluate teaching for promotion, but to provide the instructor with information to adjust their teaching. In other words, these techniques are for formative evaluation — information for an instructor to act on, rather than a formal evaluation of an instructor's teaching (which would be a summative evaluation).
Small Group Instructional Feedback – a Learning Innovation consultant conducts a short session with a course's students mid-semester and organizes the consensus student feedback for an instructor to consider course changes
Visit a Classroom – instructors visit each others' classrooms to gather ideas for their own teaching
Participation in either of these programs is voluntary and an indication that an instructor cares deeply about improving teaching.
Further Reading
Bandy, J. (2015) Peer Review of Teaching. Vanderbilt University Center for Teaching. Retrieved March 23 2021 from https://cft.vanderbilt.edu/guides-sub-pages/peer-review-of-teaching/
Berk, Ronald A. (2005) "Survey of 12 Strategies to Measure Teaching Effectiveness." International Journal of Teaching and Learning in Higher Education 17, no. 1 (2005): 48–62. Retrieved March 23 2021 from https://www.isetl.org/ijtlhe/pdf/IJTLHE8.pdf
Berk, Ronald A. (2006) Thirteen Strategies to Measure College Teaching: A Consumer's Guide to Rating Scale Construction, Assessment, and Decision Making for Faculty, Administrators, and Clinicians . 1st ed. Sterling, Va: Stylus Pub, 2006.
Chism, Nancy Van Note, and Grady W. Chism. (2007) Peer Review of Teaching: A Sourcebook . 2nd ed. Bolton, MA: Anker Pub. Co, 2007.
Felder, R. M., and R. Brent. (2004) "How to Evaluate Teaching." Chemical Engineering Education 38, no. 3 (2004): 200–202. Accessed March 25 2021 from https://www.engr.ncsu.edu/wp-content/uploads/drive/1Ga-yVaVS1qj87QavBs0igWCosXnOgY-L/2004-r_teacheval.pdf
Vanderbilt University Center for Teaching (nd) "Student Evaluations of Teaching" Retrieved March 22 2021 from https://cft.vanderbilt.edu/guides-sub-pages/student-evaluations/#interpreting
Yale University Center for Teaching and Learning (nd) "Using Teaching Inventories and Classroom Observation Protocols" Retrieved March 23 2021 from https://poorvucenter.yale.edu/Observation-Protocols-Teaching-Inventories
Acknowledgements
Image from https://ukblacktech.com/
My Duke Learning Innovation colleagues Amy Kenyon and Hannah Rogers contributed substantially to this post.
Related Posts
University Center for Teaching and Learning
Assessment of teaching resources, classroom observations.
Observation reports provide instructors with a summary of teaching practices observed by a teaching consultant during multiple class sessions and feedback to be used to improve teaching and learning. Data is collected using an adaptable, Teaching Center-developed tool  based on research-proven teaching best practices discussed in How Learning Works (Ambrose, 2010) and Teaching at Its Best (Nilson, 2016) . ( NOTE: To access these articles, you must be logged in or log into the University Library System.)
Observation reports should not be considered evidence of overall teaching effectiveness. The purpose of teaching consultants conducting observations is to provide feedback to inform improvements to teaching.
Frequently Asked Questions
Why might you want classroom observations performed by teaching consultants.
You are experiencing a teaching and learning challenge (like student disengagement, for example), and you want a teaching consultant to come to your class to see if they can help you pinpoint the cause and help you work on a solution.
You want to continuously improve your teaching and schedule observations at regular intervals as a teaching "check up".
You have specific long-term teaching goals (like implementing problem based learning in your courses) that you would like to work toward with a teaching consultant. Observations are one way that you check progress towards successfully achieving those goals.
You want to try an innovative new teaching strategy or tool and would like a teaching consultant to observe to let you know how it went and how you might improve things for next time.
What does the observation process typically entail?
Your discussions, communications, and reports with and from teaching consultants are confidential.
Initial Consultation : If you would like to request an observation, you would contact the Teaching Commons at [email protected] . A teaching consultant assigned as a liaison to your department will respond to your email within a week to arrange an initial consultation. During the initial consultation, the consultant will talk to you about your course and your teaching and learning challenges and goals. The consultant will likely ask you to bring copies of your course syllabus or other course materials to review prior to the observation. You can request that the consultant pay attention to particular things during observations (student engagement or inclusive teaching methods, for instance) if you would like. At the end of the initial consultation, you will schedule observations on mutually agreed upon dates.
Observations : We typically recommend scheduling two or three observations over the course of the semester so that we can observe you teach multiple times, minimizing the likelihood that what we observe is a one-time occurrence or fluke, and allowing us to document your improvement over time. The teaching consultant will attend your class on the agreed upon dates and use the Teaching Center's internally developed observation tool to document what they observe.Within 24 hours of each observation, the consultant will send you one page of feedback summarizing strengths and areas for improvement. The consultant will also meet with you after each observation to debrief and discuss the summary, their recommendations, and to offer specific strategies to work on.
Final Observation Report: Within two weeks of the last observation, the consultant will send you a formal observation report synthesizing information from all observations. The purposes of this report are to document teaching trends observed and to make recommendations to improve your teaching. Like other communication with your consultant, the final observation report is confidential. You may share it, but your consultant may not share it with anyone but you.
How much time will it take for me to be observed?
Although the observations occur during your regularly scheduled class times, you should plan to meet with your teaching consultant before the observations and after each one and to devote additional planning time to using feedback to improve your teaching. The amount of time will vary, but plan for at least four hours of meeting time, an hour to review your consultant's summaries and final report, plus planning to determine how to use the teaching consultant's feedback.
Will a teaching consultant be able to give me meaningful feedback even if they do not have content knowledge of my discipline?
All teaching consultants are expert teachers with years of experience assisting faculty in developing courses and curriculum and in teaching their own higher education courses in various disciplines. They may not teach in your discipline, which means that they are not qualified to comment on the content of your course, however, they have the pedagogical expertise to assist you with course and learning activity design, improving student interaction and engagement, implementing equitable teaching methodologies in your classroom, and a variety of different pedagogical techniques to improve your teaching experience and your students' learning experiences.
Resources and Readings for Classroom Observations
Teaching Center's Classroom Observation Form
Developed using:
Ambrose, S. A. (2010). How learning works: Seven research-based principles for smart teaching . San Francisco, CA: Jossey-Bass. ( NOTE: To access this content, you must be logged in or log into the University Library System.)
Nilson, L.B. (2016). Teaching at its best: A research-based resource for college instructors (4th ed.). San Francisco, CA: Jossey-Bass. ( NOTE: To access this content, you must be logged in or log into the University Library System.)
Observation reports provide instructors with a summary of teaching practices observed by a teaching consultant during multiple class sessions and feedback to be used to improve teaching and learning. Data is collected using an adaptable, Teaching Center-developed tool  based on research-proven teaching best practices discussed in How Learning Works (Ambrose, 2010) and Teaching at Its Best (Nilson, 2016).
What does the observation process typically entail? Your discussions, communications, and reports with and from teaching consultants are confidential. Initial Consultation : If you would like to request an observation, you would contact the Teaching Commons at [email protected] . A teaching consultant assigned as a liaison to your department will respond to your email within a week to arrange an initial consultation. During the initial consultation, the consultant will talk to you about your course and your teaching and learning challenges and goals. The consultant will likely ask you to bring copies of your course syllabus or other course materials to review prior to the observation. You can request that the consultant pay attention to particular things during observations (student engagement or inclusive teaching methods, for instance) if you would like. At the end of the initial consultation, you will schedule observations on mutually agreed upon dates. Observations : We typically recommend scheduling two or three observations over the course of the semester so that we can observe you teach multiple times, minimizing the likelihood that what we observe is a one-time occurrence or fluke, and allowing us to document your improvement over time. The teaching consultant will attend your class on the agreed upon dates and use the Teaching Center's internally developed observation tool to document what they observe.Within 24 hours of each observation, the consultant will send you one page of feedback summarizing strengths and areas for improvement. The consultant will also meet with you after each observation to debrief and discuss the summary, their recommendations, and to offer specific strategies to work on. Final Observation Report: Within two weeks of the last observation, the consultant will send you a formal observation report synthesizing information from all observations. The purposes of this report are to document teaching trends observed and to make recommendations to improve your teaching. Like other communication with your consultant, the final observation report is confidential. You may share it, but your consultant may not share it with anyone but you.
How much time will it take for me to be observed? Although the observations occur during your regularly scheduled class times, you should plan to meet with your teaching consultant before the observations and after each one and to devote additional planning time to using feedback to improve your teaching. The amount of time will vary, but plan for at least four hours of meeting time, an hour to review your consultant's summaries and final report, plus planning to determine how to use the teaching consultant's feedback.
Will a teaching consultant be able to give me meaningful feedback even if they do not have content knowledge of my discipline? All teaching consultants are expert teachers with years of experience assisting faculty in developing courses and curriculum and in teaching their own higher education courses in various disciplines. They may not teach in your discipline, which means that they are not qualified to comment on the content of your course, however, they have the pedagogical expertise to assist you with course and learning activity design, improving student interaction and engagement, implementing equitable teaching methodologies in your classroom, and a variety of different pedagogical techniques to improve your teaching experience and your students' learning experiences.
Diversity Awards
Teaching surveys
ChatGPT Resources for Faculty
1-on-1 Teaching Consultations
Canvas and Ed Tech Support
Reporting a classroom problem
Requesting equipment for your classroom
Not sure what you need?
Accessibility
Center for Mentoring
Creating and Using Video
Diversity, Equity and Inclusion
General Pedagogy
Graduate Student/TA Resources
Remote Learning
Syllabus Checklist
Student Communication and Engagement
Technology and Equipment
Classroom Technology Requests
Assessment of Teaching
Classroom Technology
Custom Workshops
Open Lab Makerspace
Teaching Support
Need something else? Contact Us
Educational Software Consulting
Event Support Requests
Faculty Learning Communities
Makerspaces and Emerging Technology
Mentoring Support
Online Programs
Teaching Surveys
Testing Services
Video/Media Services
Assessment and Teaching Conference
Diversity Institute
New Faculty Orientation
New TA Orientation
Teaching Center Newsletter
Meet Our Team
About the Executive Director
Award Nomination Form
Award Recipients
About the Teaching Center
Annual Report
Join Our Team
Academia.edu no longer supports Internet Explorer.
To browse Academia.edu and the wider internet faster and more securely, please take a few seconds to upgrade your browser .
Enter the email address you signed up with and we'll email you a reset link.
The Example of Observation Report
A student looked at me and asked me to go to the front of the class. But I explained him that I'm not a student in this class, but only an observer and doing my class assignment. He then understood, and nodding his head. The teacher then went around the class to Observer's Comments:
Related Papers
Emily M. Hinnov, Ph.D.
Marlen Harrison
Pungky Ramadhani
This study was intended to describe the teacher"s implementation of Facebook group in teaching writing narrative text to the eleventh grade students of SMA Negeri 2 Kota Mojokerto, the students" responses toward the use of Facebook group and the students" narrative writing text result during the use of Facebook group as media in teaching writing narrative text. Based on these objectives, this study was descriptive qualitative. The result of this study showed that Facebook group was considered as appropriate media in teaching writing narrative text because it could motivate the students to write. The use of Facebook group to teach writing narrative text also got positive responses from the students. Concerning with the use of Facebook group as teaching media, most of the students felt that they were helped in writing narrative text. Furthermore, by using Facebook group, the students could have progress in writing because they could get comments or feedback from their friends. It could be seen from the results of students" narrative writing result in terms of content, organization, vocabulary, language use and mechanic were better from the first to second writing.
Jessica Early
One of the most important ways to scaffold a successful transition from high school to college is to teach real world, gate-opening writing genres, such as college admission essays. This book describes a writing workshop for ethnically and linguistically diverse high school students, where students receive instruction on specific genre features of the college admission essay. The authors present both the theoretical grounding and the concrete strategies teachers crave, including an outline of specific workshop lessons, teaching calendars, and curricular suggestions. This text encourages secondary teachers to think of writing as a vital tool for all students to succeed academically and professionally.
Terry Zawacki
This study examines English-as-a-Second-Language (ESL) undergraduate students' experiences with Communicative Language Teaching (CLT), supported by in-class tasks and after-class newsgroup discussion. The article presents the students' perceptions of and their feelings about their learning experiences with this teaching approach, as well as the frames of reference within which they performed in an ESL class. With a focus on the students' experiences with socialization in their respective home countries and adjustment to student life at a major Midwestern university in the United States, the research investigates the students' participation over time with respect to class communication. Adopting a naturalist approach, this study captures the communication-related events that are significant to the students and presents these insiders' perspectives. In-depth interviews were employed to explore the students' history in order to obtain a holistic understanding of cultural and personal aspects of their experiences that are related to class communication. The findings reveal the students' communicative styles and further address their coping with second-language acquisition and academic adaptation. The article concludes with recommendations for future research and instruction.
Carol Mohrbacher
The main concern of teachers is to find ways of improve their students' performance in writing. One way of doing so is by providing feedback. However, in many cases, teachers find little or no response to feedback. Therefore, the aim of this study is to discover the factors that affect some students' responses to their teachers' feedback on writing at the Faculty of Education in Nalut. Questionnaire, interview and student compositions were used to collect data. Two teachers and 20 students from both fourth and third-year students of English Language participated in this study. Furthermore, only third-year students wrote composition and were interviewed because they were the focus group. The results revealed that students were careless toward teachers' feedback; in that, most of them did not respond even to spelling mistakes; in addition, they were not interested in both grades and feedback. Moreover, the time and teachers' way of assessing the quality of their written works affected their revision. It is believed that the findings of this study could have a profound impact on the way that feedback should be provided, and how it can be effective by taking in consideration the factors that prevent students respond to it.
Yunfei Huang
Classroom Action Research Journal: Lembaga Bahasa & Pendidikan Profesional LIA Jakarta
Fauris Zuhri
Abstract: The effect of multimedia on students' enthusiasm for speaking class (both in class and out of class) is investigated. Pre- and post-student surveys, written comments, and teacher observations are used to record changes in enthusiasm for speaking class during a six-week study period. In this study, the researcher investigated how the integration of multimedia at English Department of Unesa Surabaya would impact English department students' enthusiasm for speaking class. Enthusiasm for speaking class can be defined as the students' eagerness to participate in speaking class activities in the classroom, as well as out of classroom. Researcher's motivation for focusing on multi media is twofold. First, it has twenty four hours available to be accessed by the students. Second, the students are familiar with this multimedia. Today's English Department students have grown up in a technological world with television, electronic toys, video games, VCRs, cellular phones, and more. They are accustomed to receiving and processing information through multi-sensory sources. The researcher wants to bring technology into his classroom and incorporate it into his speaking class using multimedia computer presentations. Barbara ten Brink (1993) noted, ". . . students look to us [teachers] to prepare them for an increasingly technological world. Fortunately, with videodiscs, we are meeting the challenge by delivering speaking class materials in ways that engage, motivate, and thrill our students." In this study his students had an opportunity to use assorted multimedia technology as they explored other language skills: listening, reading, and writing. Key words: speaking class, multimedia, and speaking ability.
RELATED PAPERS
Christopher Tripoulas
David Schwarzer
Journal of Adolescent & Adult Literacy
Brian Dubin
Literacy for Life
Monique Cherry-McDaniel
Aiko Nagabuchi
Dr. Lamis Al-Shuga'a
Department of English, Stockholm University
Jessica Berggren
Daniela B. DiGregorio
Kathleen McDonnold
nassraldeen abdulrahman
Ohio TESOL Journal. pp. 28-29
Patrick T. Randolph
Minnesota English Journal J
Jessica Jorgenson Borchert
Heather Hebard
Michigan State University
Paula Frederica Hunt
TESOL Journal Guidelines for Contributors
Tim Murphey
Christa Harrison
Journal of Second Language Writing
Issues in Educational Research
Zeina Hojeij
Yee Bee Choo
English Practice (formerly Update: the Journal of BC Teachers of English Language Arts
Leyton Schnellert
Bronwyn M Parkin
yanna queencer
Russell Untiedt
Muhammad Thahir
Darlene Liutkus
Nizigiyimana Edouard
TESOL quarterly
Alimuzzaman Hira
Oxana Poverjuc
iskhak iskhak , Muhammad A Budiman , Kurniawan Yudhi Nugroho , Bowo2609yahoo Com
Studies in Writing
Susan Nolen
The Asian EFL Journal Quarterly
Satoko Watkins
Patricia Jacobs
Lilia Novabos
RELATED TOPICS
We're Hiring!
Help Center
Find new research papers in:
Health Sciences
Earth Sciences
Cognitive Science
Mathematics
Computer Science
Academia ©2023
28+ SAMPLE Classroom Observation Report in PDF | MS Word | Google Docs
Classroom observation report | ms word | google docs, 28+ sample classroom observation report, what is a classroom observation report, different observation techniques, components of a classroom observation report, tips in preparing for classroom observation reports, what is a lesson observation report, what are the steps in classroom observations, what is the purpose of conducting classroom observations.
Classroom Observation Report Template
School Classroom Observation Report Template
Teacher Classroom Observation Report Template
Kindergarten Classroom Observation Report Template
Preschool Classroom Observation Report Template
Student Classroom Observation Report Template
Free Sample Classroom Observation Report Template
Classroom Observation Narrative Report Template
Classroom Observation Summary Report Template
Classroom Management Observation Report Template
Classroom Observation Report
Basic Student Classroom Observation Report
Formal Classroom Observation Report
Sample School Classroom Observation Report
Classroom Special Education Observation Report in PDF
Faculty Classroom Writing Observation Report
Simple Preschool Classroom Observation Report
Essay on Classroom Observation Report Example
Classroom Observation Report Introduction Form
Printable Early Childhood Classroom Observation Report
Mathematics Grade Teaching Observation Report
Faculty Mentor Narrative Classroom Observation Report
Classroom Observation Report Guidance Format
Teacher Classroom Observation Report
Standard Child Classroom Observation Report
Draft Summary Classroom Observation Report
Partnership Project Classroom Observation Report
Peer Observation Observation Report Form
Classroom Observation Report Model
Tip #1: think about what the observer is looking for during the observation, tip #2: plan your lesson accordingly and in sequence, tip #3: remember the teaching standards you have, tip #4: always have a backup plan, tip #5: emphasize the lesson objectives, tip #6: get in the mindset, share this post on your network, you may also like these articles, 55+ sample assessment report templates in pdf | ms word | google docs | apple pages.
In the 20th century, Kodak ruled the photographic film industry. Fast forward to 2012, how come Kodak filed for bankruptcy? As we dig further into the past, Kodak engineer…
32+ SAMPLE Meeting Summary Report in PDF | MS Word | Google Docs | Apple Pages
In our job, a board meeting agenda is a vital element that we usually have. This makes all the team members feel that they are trusted and that they…
browse by categories
Questionnaire
Description
Reconciliation
Certificate
Spreadsheet
Information
privacy policy
Terms & Conditions
School Classroom Observation Report Template
Related Tags
project report
daily report
monthly report
sales report
school report
performance
summary report
preschool report
performance report
performance review
classroom observation report
Download this School Classroom Observation Report Template Design in Word, Google Docs Format. Easily Editable, Printable, Downloadable.
Pro   Download Template
Already a premium member?  Sign in
You may also like
FREE 10+ Classroom Observation Report Samples [ Elementary, Teaching, Narrative]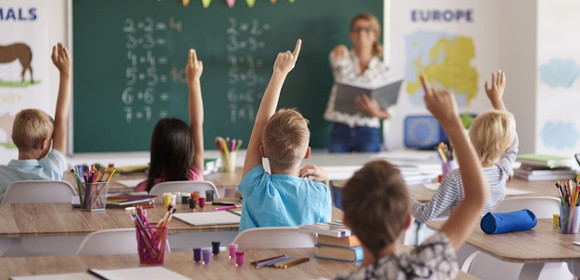 The most important role in a classroom management setting is of course the role of what a teacher does to the students. The teacher's role goes beyond imparting knowledge and evaluating the capacity of each of their students but more importantly, how they make the experience of being at school and studying a valuable experience in life. With that, teachers should also be calibrated with the standards set by the school and how they deal with their students. One of the most effective ways to do this is to conduct a classroom observation and make a report out of it.
Classroom Observation
10+ classroom observation report samples, 1. classroom observation report sample, 2. classroom observation report form, 3. faculty classroom observation report, 4. teacher classroom observation report, 5. peer faculty classroom observation report, 6. classroom observation report worksheet, 7. peer classroom observation report, 8. printable classroom observation report, 9. classroom teaching observation report form, 10. elementary classroom observation report, 11. editable classroom observation report, the importance of classroom observation, 1. analyzing current instructional processes, 2. inequality experienced by students, 3. improvement of teaching practices, what is a curriculum, what is collaborative learning, what does emotional intelligence mean.
What is the significance of conducting a classroom observation? What can it do to improve the teaching styles of a teacher? If you're one who is tasked with making a report on classroom observation, you can download the free classroom observation reports samples on this page to guide you. Read on.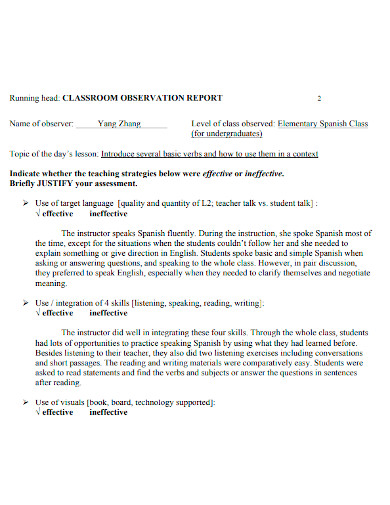 Size: 95 KB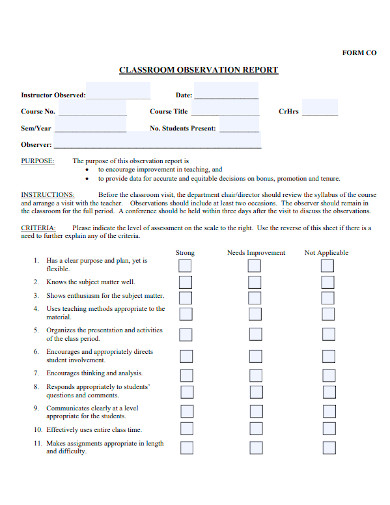 Size: 43 KB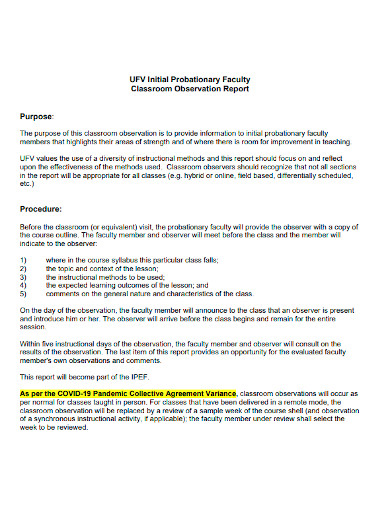 Size: 207 KB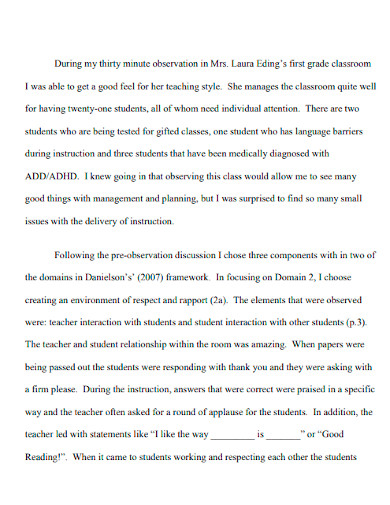 Size: 73 KB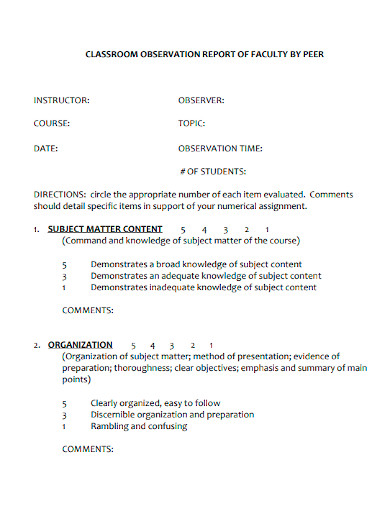 Size: 38 KB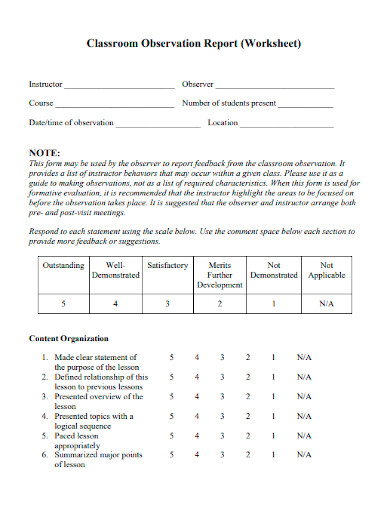 Size: 25 KB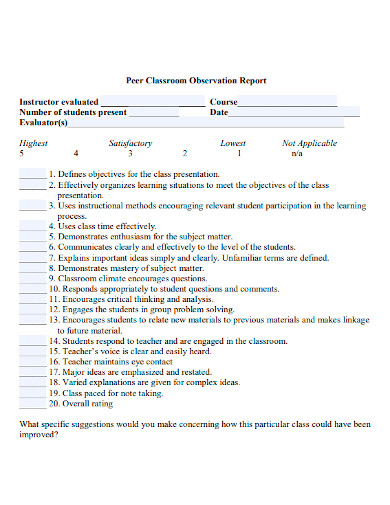 Size: 13 KB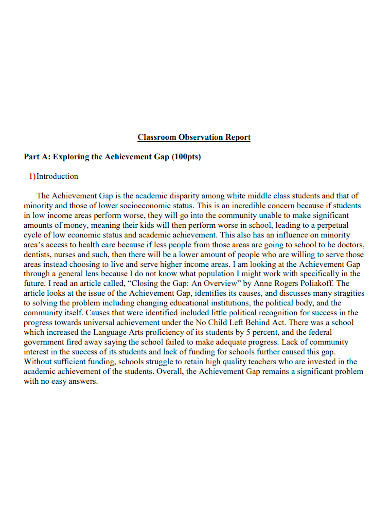 Size: 204 KB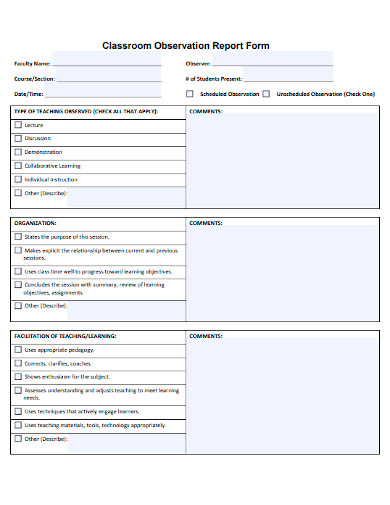 Size: 200 KB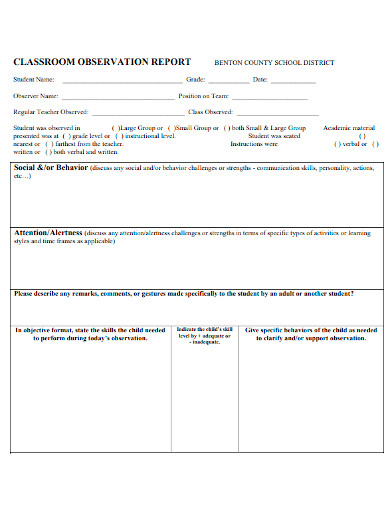 Size: 102 KB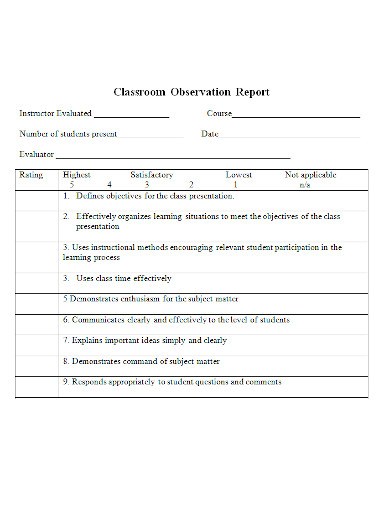 One of the most important purposes of conducting a classroom observation is to dissect the current status of instructional processes that is part of the teaching standard operating procedures set by the school. At the time of observation, the teachers knowing the school's format in delivering lectures, and student evaluation are expected to act accordingly. If such standards are properly executed, this is where the observer does the evaluation of the quality of the teacher's teaching style against the school's standards. By doing this, the school will be able to point out which parts of their instructional standards are difficult to execute or are disadvantageous to the part of the teachers. Also, the complexity of such standards will go through management evaluation to determine if it is vital to the learning of its students and to the school's development.
Another reason why classroom observation is vital to the development of higher education lesson plans is that it discovers the inequalities that may exist in the classroom towards the other student. It may be that such inequalities are not directly seen during the actual classroom observation but it can be implied with the evaluation of some students to the teaching style imposed by the school and to the recorded student performance done by the teachers. It can also be observed in the interaction between the teachers and their students that can sometimes lead to unequal treatment that some students receive from their teachers. In some studies, this inequality is even related to the gender and ethnicity of both students and the teacher.
Perhaps, the most important purpose of conducting classroom observations is to become the basis of restructuring or improving the instructional format of the school for its teachers. One of the reasons why teachers are not always effective is that they are not even aware of their own interactions with their students and by making them aware of it, they are able to correct themselves and impose an approach geared towards mobilizing the learning contract  between teachers and students. Classroom observations include an evaluation of the teacher's expertise and knowledge on a particular subject that they are handling. If found out that the teacher is not that knowledgeable on a certain subject that they are handling, it is now up to the school's administration to conduct training and undergo their teacher's further training and education to increase their expertise on certain fields of learning to be it in Language, Mathematics, Science, among others.
It is an outline of the experiences and activities that the school set in accordance with their standards to increase the learnings of the students in each subject course.
An educational approach that uses group settings in order to facilitate the learning of students through interaction.
The ability to control and manipulate one's emotion regardless of outside factors such as environment and hormonal effects.
Some academic professionals avoid the possibility of being evaluated or scrutinized for the work they provide to the school and to the knowledge they impart to their students because it would mean that their expertise is put to the test and their credibility questioned. Whether or not their credentials are tarnished or not, the result of such evaluation is for their own professional advancement and growth and most importantly, for the progressive learning of the students.
Related Posts
Free 31+ daily log templates, free 28+ checklist templates, free 10+ sample psychological reports, free 10+ sample confidentiality statement templates, free 10+ school visit report samples, free 8+ sample leadership recommendation letter templates, free 8+ peer evaluation forms, free 7+ sample class list templates, free 6+ peer evaluation forms, free 5+ sample teacher evaluation forms, free 63+ incident report examples, free 50+ sample request forms, free 36+ incident reports, free 13+ liquidity management samples, free 9+ sample students feedback forms, free 7+ sample teacher self-evaluation forms, free 7+ field note samples, free 37+ checklist samples, free 34+ sample report writing format templates.
K-12 Education
Higher Education
Early Education
Early Intervention
Professional Learning Series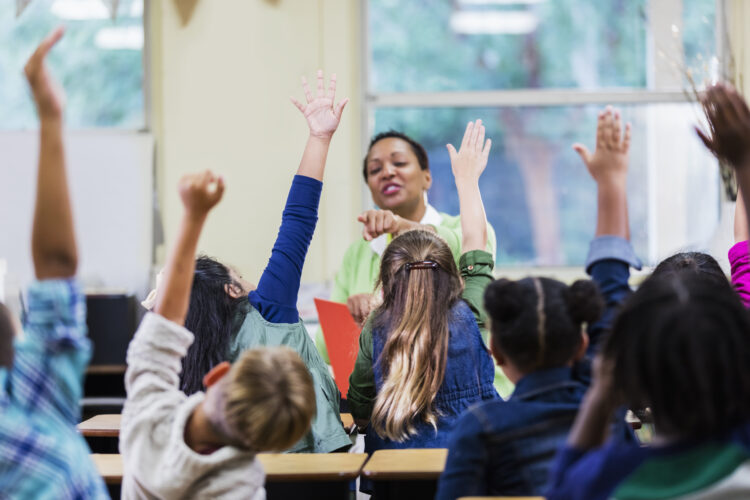 Classroom Observations: Examples of Best Practices in Structure, Type, & Method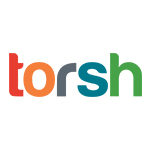 Classroom observations are meant to help teachers improve their instructional practice and improve learning outcomes for students. 
But for many educators, traditional, in-person classroom observations can not only be difficult to arrange but difficult to truly gain valuable feedback from when teachers can't see what was happening in the moment. 
Thankfully, as technology advances, so can classroom observation techniques. 
Continue reading to learn more about classroom observation examples and best practices your district can utilize to improve educator performance and learning outcomes.
Table of Contents
What are the types of classroom observation, classroom observations: examples of what they have traditionally looked like, 6 pillars: the ideal example of classroom observation structure.
Classroom Observations: Examples of What They Can Look Like Now With TORSH Talent 
There are several different types of classroom observations that educators are familiar with:
Formal evaluation
Peer-to-peer observation
Outside coaching
Formal Evaluation
Formal evaluations in the classroom are often used as part of job performance evaluations. 
A formal classroom observation example might involve an administrator dropping in on a teacher's classroom during a specific lesson. Normal evaluation observations are generally done once a year but may be done more often.
For some teachers, this type of evaluation is when they thrive. For others, this type of evaluation can be stressful and intimidating — especially when things don't go as planned.
Peer-to-Peer Observation
Peer-to-peer observations are generally performed by other teachers. The goal of these observations is to provide the teacher with feedback on … 
Teaching methods
Student interactions
Instructional technique
Classroom management
Peer-to-peer observations can be an excellent tool for teachers to learn from and support each other.
Collaborative Coaching
Classroom observations may also be done by instructional experts with the intent of supporting teachers in improving their practice and growing in their career. These observations are lower stakes than a formal observation by a school administrator. 
Today, these observations may occur asynchronously rather than a coach sitting in a classroom watching a teacher deliver a lesson. Instead, using a professional learning management system like TORSH Talent, a teacher can record a lesson or part of a lesson using their phone and share it with their coach. The coach can then, at their convenience, watch the video and provide specific, time-stamped feedback. observation. 
Together, the coach and teacher can discuss the teacher's strengths, challenges, and effective (and ineffective) behaviors in the classroom. From there, teachers can work with their coaches to refine their practice, try new instructional approaches, and see their impact and growth through another recorded lesson. 
Traditionally, classroom observations looked something like this: 
A coach, peer, or administrator sits in the classroom during a lesson. Sometimes this observation is set ahead of time, with the teacher aware of what's to come. 
Other times, administrators set a window of time that they will be in the classroom to observe. These observations are typically done to evaluate teachers' performance for a grade or formal job evaluation. 
Traditional classroom observations often leave teachers feeling nervous, which is why the word "observation" often comes with a lot of emotional baggage for educators.
These reasons alone are enough for any district to want to make a switch on how classroom observations are done — especially when the end goal is always the same: improving learning outcomes for students.
So, if a traditional observation isn't ideal for every teacher? What other options do districts have? 
TORSH Talent allows districts to utilize technology and the power of video for observations. How do recorded classroom observations work?
In the sections below, we provide an ideal classroom observation example utilizing video and TORSH Talent.
#1: Pre-Observation
A pre-observation conference is a critical component of any classroom observation when the observation is for the purpose of professional learning. During this conference, coaches get a clear picture of what the teacher's goals are, the areas in which they want support, and what type of feedback and guidance they're seeking. A coach may also meet with district or school administrators to align with them on standards and organizational goals.
Essentially, a pre-observation conference builds trust between coaches and teachers and sets the foundation for a productive relationship. 
An example of an ideal classroom pre-observation may look something like this:  
Ms. Grey is a third-grade teacher. She has only been teaching for a few years and is struggling to keep her students engaged during math lessons using the district's curriculum. 
Ms. Grey has her first coaching session coming up and her pre-observation is scheduled. During Ms. Grey's pre-observation meeting, the conversation goes something like this: 
Coach : "Ms. Grey, I know you said you're still fairly new to teaching. What are some of your goals for your third grade class?" 
Ms. Grey: " I'd love to help my students understand that math isn't just about math on paper in the classroom, but that we use math every day in the world around us. Some of my students grasp the idea, while others struggle to move past things like dividing numbers on paper." 
Coach : "Can you give me an idea of what the outcome would look like in your upcoming lesson? What expectations do you have"
Ms. Grey: "My next math lesson is going to be set up in a 'real life scenario' at a grocery store in my classroom. I'm going to set up a "percentage off" sale for the students to do mental math to figure out what they will be paying for each item. Some of my students excel at this level of mental math, while others are struggling. I would really like this to be a fun learning experience for all my students. " 
Now, Ms. Grey's coach has a very clear idea of what Ms. Grey needs coaching on, what to look for with her students, and how her metric of success.
Ms. Grey can choose the lesson she's going to record and which clips to send her coach — feeling confident and comfortable that her coach is on her team, looking for ways to help her improve her students' experience with this lesson.
#2: Observation and Evidence Collection
TORSH Talent provides administrators and coaches with a simple way to observe lessons and collect the evidence and data they need to help teachers meet their goals. 
This observation and collection can be done in two ways:
Observing the class in person while taking notes on the observations made in real-time, or 
Using a video recording to observe asynchronously 
Using a tool like TORSH Talent to upload a recorded lesson and securely share it with a coach, gives the teacher, and the coach, the ability to watch, listen, and re-watch the lesson as needed to pinpoint moments where the teacher needs guidance. 
Let's look at Ms. Grey's classroom again as an example. 
Ms. Grey knows that she loses her students' interest in math when she tries to apply it to a real-life situation — even when she decorates the classroom as a grocery store for roleplay learning. She's chosen to record the activity for her coach. 
The video inarguably captures evidence that her students aren't uninterested but confused. 
The coach now can dive into the recording without worrying about missing a key moment where the teacher excelled or where the students lost interest. 
Not having to rely on memory in an active classroom situation enables coaches and teachers to see exactly what happened at each stage of the lesson. Now, the coaching conversation is based on a shared understanding and can focus on providing productive feedback for the teacher .
Video also allows teachers to see themselves in action and reflect on their practice.
#3: Observer Analysis
Once the data collection is complete, observers can begin addressing, analyzing, and sharing feedback about the lesson. 
Once a teacher is aware of the need for change, it can make all the difference in giving them the motivation to make those changes. A coach performing an analysis of video recordings can provide feedback on specific moments.
With TORSH Talent, coaches can watch videos and provide meaningful feedback using built-in rubrics and frameworks that the district or school has uploaded to the platform. This ensures all observations occur through the same lens and recommendations align with agreed upon standards and evidence-based practices. 
Video allows coaches to pinpoint specific moments in the lesson and prompt teachers to reflect on what occurred and offer their own suggestions for improvement. The best way to do this is to provide the teacher with the opportunity to answer questions about the recording.  
Here are a few examples:
" I see from minute five to minute seven you realized your students weren't as engaged as you were wanting. Next time, how could you help keep them engaged?"
"In the clips that you sent, you did a wonderful job of connecting with your students, where do you feel you need to make improvements?"
"You seem to have felt frustrated in minutes eight through ten when you couldn't get your students back on track as quickly as you were hoping, what steps can you take in the future to help get them back on task?"
#4: Teacher Self-Analysis
Feedback is the catalyst to awareness, so, while an observer's analysis of a lesson is important, more growth is typically accomplished through a teacher's self-reflection .
The role videos play in classroom observations is incredible. Teachers analyzing videos of themselves during the moments they feel they need the most improvement can harness a lot of power. 
One example of a successful teacher analysis is to have the teacher "self-evaluate" during classroom observations.  
Have the teacher ask themselves the following questions: 
Did everything go according to plan during the lesson? If so, why do you think the lesson went so smoothly?  If not, did you adapt your lesson to conquer any unexpected moments?
Were the learning outcomes you expected met during the lesson?
If you feel like you could have done things differently, what would you have done? 
Could you have boosted student engagement? Explain.
What opportunities did you give students to expand their learning outside of the classroom?
#5: Discussion of Observation Outcomes
When done correctly, data collected and discussed during a teacher evaluation can help educators implement new strategies in the classroom. 
In an ideal classroom observation, an example might look something like this: 
After spending some time helping Ms. Grey reflect on her recorded lesson, her coach asks how Ms. Grey thinks she can get the outcomes she's looking for in the future. 
Several things are mentioned during this discussion: 
Ms. Grey decides she is going to talk with her students to learn if they find the "real life" classroom scenarios fun and engaging. She tells her coach that she realizes that there may be better ways to approach teaching math in a way that makes sense to her third graders. 
Ms. Grey also mentions she knows that one of the best ways for students to learn real-life examples is to have families help their students. She decides that every Friday she will send home a newsletter with a quick activity for families to do with their students that will enhance their math skills while they're having fun.
#6: Goal Setting
At the end of their coaching session, Ms. Grey and her coach set achievable  goals to ensure the recommendations from the observation happen.
Ms. Grey has made a weekly goal to make sure that newsletters go out every Friday. 
She's also started shifting how she teaches math to help her students stay engaged. Some weeks they'll go outside to learn on the playground. Other weeks they'll still have classroom "market days" to shop sales and practice real-life scenarios. 
Classroom Observations: Examples of What They Can Look Like Using TORSH Talent
Video can take the pressure out of classroom observation for teachers and also enables more meaningful and specific feedback from coaches. Additionally, coaches can observe more lessons because they do not have to be sitting in a classroom for each one. Sustained, frequent coaching is a key factor in improving teacher practice and video makes that cost and time effective.  
However, video can raise concerns about student privacy and security as well as add one more file and technology for coaches and teachers to deal with. The TORSH Talent Coaching and Professional Learning System consolidates and streamlines all coaching and professional learning activity into a single FERPA compliant platform. 
Teachers choose the lesson they want to record then upload the video to TORSH Talent using a secure app on their phone.
Teachers can provide notes and questions to their coach about specific moments in the lesson or about what they thought went well or needed work.
Coaches can view the video on their own time from home or school and provide time stamped feedback and recommendations based on a standard rubric.
Coaches and teachers can communicate and share ideas asynchronously through TORSH Talent or schedule a one-on-one meeting using the platform's video conferencing tool.
Coaches can provide teachers with exemplars, readings, and even self-paced courses through the TORSH Talent resource library.  
From utilizing video technology to recognizing "hinge-moments" in the classroom to providing teachers with the ability to look at their coaching sessions any time they need to, TORSH Talent provides schools with a "one-stop-shop" for all their professional learning needs.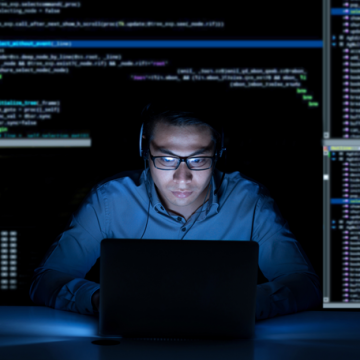 How To Find Good Tech Talent In A Competitive Environment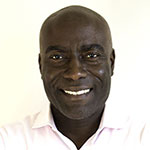 Torsh Clients Top U.S. News & World Report's List of "Best Graduate Schools of Education"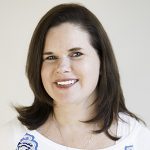 The 2020 Educator's Guide to Video: Recording Tips & Hardware Recommendations
Thanks for subscribing to our blog! You should receive a confirmation e-mail soon.
Classroom Q&A
With larry ferlazzo.
In this EdWeek blog, an experiment in knowledge-gathering, Ferlazzo will address readers' questions on classroom management, ELL instruction, lesson planning, and other issues facing teachers. Send your questions to [email protected]. Read more from this blog.
18 Ways to Improve Teacher Observations
(This is the first post in a four-part series.)
The new question-of-the-week is:
How can administrators (and even other teachers) best do observations of a lesson?
I think it's safe to say that most teachers, including us veterans, get nervous when we're being observed—either by administrators or by our colleagues.
This four-part series will explore what might be the best ways to observe educators in action so that it helps teachers, our students, and those who are doing the observing.
Today, Adeyemi Stembridge, Elvis Epps, Denita Harris, Jen Schwanke, and Ryan Huels offer their suggestions. All five of today's contributors were also guests on my 10-minute BAM! Radio Show. You can also find a list of, and links to, previous shows here.
You might also be interested in The Best Resources f or Doing Classroom Observations .
Providing 'Informed Feedback'
Adeyemi Stembridge, Ph.D., provides technical assistance for school improvement with a specific focus on equity. He is the author of Culturally Responsive Education in the Classroom: An Equity Framework for Pedagogy (2019):
An observation is an opportunity to provide informed feedback, either as a colleague or an evaluator, and for teachers to find insights and promising practices that can lead to clearer, more focused, tighter instruction. This is an essential practice in job-embedded professional development. I have four guidelines for how to best do observations:
Prebrief the observation.
Be engaged during the observation.
Stay for the full lesson.
Ask the observed teacher to ask you questions about their teaching.
To be an informed observer, it's important to know what the teacher is intending to do in the lesson. Meet beforehand (preferably not the same day) and have the teacher explain what and how they are planning to teach. I think it's fine to thought-partner in the prebrief because this shouldn't be a "gotcha" situation.
Most importantly, what is being observed are the teacher's planning habits and how well ideas in planning can be implemented into practice. Critically, though, it is possible to see a good lesson and not realize it without knowing beforehand the larger context of and the narrative arcs in the learning experience. To observe someone's lesson without preknowledge of its design is to assess their teaching against an imagined perception of how you would have taught it. That misses the mark in terms of providing informed feedback.
It's so disrespectful to come into someone's class and not be engaged. The observation space should be held in the highest regard possible. Don't open your email. Stay off your phone. Engage with the learning. When appropriate, ask students questions. Talking to students is a great way to measure their thinking. Look for details that confirm students' engagement. Take 10 minutes to really study a kiddo or two.
Immerse your whole self in the lesson so that you can experience it from the inside rather than as a detached, and often distracting, onlooker. And if the day's circumstances do not make it possible for you to be engaged in the lesson—apologize and reschedule; the multitasking is such a bad look.
I have taught lessons in which if you came into the room for the right 15 minutes, you would have legitimately thought you were witnessing an exceptionally gifted teaching talent. And on that same day, in the same classroom, with that same group of students, if you would have come into my room for the wrong 15 minutes—you would have strategized with another teacher or administrator about how to politely but firmly counsel me out of the profession. In order to provide informed feedback, you have to have seen the entire production: beginning, middle, and end. It is basically to play some sort of omniscient being to suggest that you can assess the total value of something while only seeing it partially.
Your debrief should be a conversation—with both parties asking questions of the other. I like to begin my feedback conversations by centering snapshots of engagement. When were students engaged? How did you know they were engaged? What were they doing? What were they saying? And, what was working for them in those engaging moments? The feedback can flow from there. How to reach those snapshots of engagement sooner? How to stretch them out longer?
There is a great deal of richness available in the discussion of snapshots of engagement. Practically speaking, I don't always know why my students weren't engaged (and these reasons can often be legitimately out of my control, and thus, less fruitful to learn from). But when my students are engaged, I can more frequently and accurately trace their engagement to my pedagogical choices. These are the insights that improve teaching practice in both the immediate and the long term. As an observer, you are much more likely to be supportive of the observed teacher when you elicit the questions and points of entry for the observed teacher that are more likely to build on their knowings.
Observations don't have to be painful. In fact, if you are providing feedback, teachers should welcome observations. Teaching is a practice that should be thoughtfully developed. Observations are part of any good job-embedded professional-development cycle. The schools that best serve our most vulnerable students are very often the schools where teachers and administrators spend a lot of quality time talking about teaching. This is too often an underutilized practice in the schools which may be most served by regular calibration of the tools and expectations for effective pedagogy.
'Task, Talk, and Text'
Elvis Epps is the principal of Lake Worth Community High School in the school district of Palm Beach, in West Palm Beach, Fla.:
Preparing a lesson for students is just one of many responsibilities teachers must do well. How does a teacher learn to prepare lessons for students? Strategically. Answering this question isn't as simple as one might think. I like to start this discussion by identifying three critical components of a teacher's lesson. They are Task, Talk, and Text.
Teachers should include and explain how they will address these in their lesson and how they will measure (evidence) a student's understanding of this component after the lesson. The school administrator should know and be able to explain to teachers what they expect and hope to see when observing a lesson. Let's take a closer look at the three components of a lesson.
Task . Standard-based instruction is the foundation for your lesson. Teachers should understand what it is they are expected to teach throughout the school year. Teaching the standards ensures that the teacher uses grade-level content relevant to the course they teach. In my school, teachers are expected to list the standard they are teaching on the board for all students to see.
I also ask them to write the goal(s) for the lesson, objectives, and expected outcome. Another expectation for using standards-based instruction is a formative and summative assessment. Teachers should include questions to measure a student's understanding of the lesson. Questions are not the only method to assess what a student learned or can demonstrate. Student observation, project-based assignments, oral presentation, and digital media presentation are just a few strategies to measure a student's level of understanding.
Talk . Preparing for the talk or discussion requires a clear understanding of questions and group norms that will drive those talks. What are the expected outcomes for this lesson? What will the students be able to do and explain after the unit? This process requires the teacher to talk less and students to talk (discuss and share) more. Teachers should be familiar with writing an essential question. Authors and speakers Jay McTighe and Grant Wiggins wrote in the book, Essential Questions: Opening Doors to Student Understanding that teachers regularly pose questions to their students.
Still, the purpose and form of these questions can vary widely. These are questions that are not answerable with finality in a single lesson of a brief sentence—and that's the point. They aim to stimulate thought, provoke inquiry, and spark more questions, including thoughtful student questions, not just pat answers.
Text . Administrators and teacher leaders should be mindful of the importance of print-rich materials and textbooks in the classroom. The direction and understanding of standards-based instruction come to life when students have materials to provide and enhance the lesson. When I observe a teacher during a lesson, I intentionally look for the materials they use with the students. I also scan the classroom to see what they have on their bulletin board, anchor charts, word wall, and technology devices. Observing how the lesson flows throughout the class is critical because it reveals the students' learning styles and needs and the teacher's instructional style.
I don't know about you, but I do expect to see handouts during my observations. Technology has allowed educators to use tools such as Google Docs and Google Meet in place of paper and handouts. Please don't think that paper is taboo in the classroom. The use of paper and handouts has its place. I expect my teachers to use technology as much as possible because our students will be required to use these skills in college.
Administrators have the duty and responsibility to help teachers develop a standards-based lesson relevant to the grade level and students in their school. The objective of helping teachers develop standards-based lessons is to help teachers grow as instructional leaders. Teachers appreciate when school administrators and teacher leaders take time to help them develop the skills for addressing and meeting the learning needs of their students. Teachers also want to know what and how they can get better at planning their lessons. Observations of a lesson are a partnership between the teacher and the school administrator.
I recommend that all school administrators wear their coaching hat when observing teachers and their lessons. Coaches see the potential and help individuals develop them. At this point in our history, teachers need an administrator who understands, supports, and builds them up when their lesson comes up short. Observations build trust between the teacher and the school administrator. The overall goal of lesson observations is to help the teacher develop relevant, rigorous information based on state standards.
Lastly, a great lesson with the students means little if the teacher doesn't receive feedback from the school administrator promptly. Discuss what you saw and heard. Open your discussion with the teacher by asking them how they felt the lesson went. You can lead by sharing your "I noticed" or "I wondered" statements. Allow the teacher to reflect on their lesson by asking key reflective questions. Helping educators grow and develop as teachers is the overall aim of our job as the principal. Take your time to listen to what the teacher says during the meeting. Remember, it's not about you; it's about them.
Preparing Before Entering the Classroom
Denita Harris is a curriculum coordinator for the MSD of Wayne Township, in Indianapolis. She has over 20 years of experience as a teacher, assistant principal, and district-level administrator. Harris is the recipient of the 2019 INTESOL (Indiana Teacher of English to Speakers of Other Languages) Best of the Best in K-12 Education and the 2017 and 2020 African American Excellence in Education Award. Find her on Twitter @HarrisLeads:
For maximum results of a classroom observation conducted by an administrator or teacher, the observer must spend a significant amount of time gauging what the intended learning outcomes are for students before they even step inside the classroom.
Administrators and teachers can best engage in classroom observations by being present with the teacher and students in all facets of the lesson. Being present does not begin the day of the observation, it begins with the planning stage. The observers should know ahead of time what the teacher expects the students to know and be able to do by the end of the lesson. The lesson plan should include how the teacher will engage and formatively assess students. Upon completion of the plan, the observer and the teacher should schedule a pre-observation conference.
If we were to use the medical model as an analogy for the pre-observation process, prior to any surgery, a patient and his/her doctor spend significant time together in what is called a pre-operative assessment, which in education would be a discussion about the teacher's lesson plan. During the pre-operative assessment, the doctor openly discusses all of the conditions relative to the surgery. These conditions include what the patient can expect on the day of surgery, what happens during surgery, possible complications, and patient recovery. The doctor's goal is to provide the patient with a detailed overview of the process. The patient then has an opportunity to ask any clarifying questions.
The pre-observation conference has a very similar format with the teacher as the lead communicator, very much as the doctor who informs his/her patients of what should be expected on the day of surgery. The patient then is in the position of the observer, who engages the teacher about the lesson before he or she arrives in the classroom.
Remaining with the medical model, patients never arrive at the specific time of their scheduled surgery. Instead, patients arrive in plenty of time to get situated. In addition, they are expected to remain in the medical facility until the completion of their surgery. Secondary administrators and teacher observers should arrive before class begins, and elementary administrators and teacher observers should arrive either before class, during a transition to a different content area, or as students return to class from special area classes. When observers arrive to class right before a lesson is taught, the observer is able to witness not only the lesson but the classroom climate in its entirety.
Observers should take time to see what the walls communicate to students from outside the classroom doors to every bulletin board in the classroom. As students enter the room or transition between content areas, observers should pay close attention to how the teacher interacts with students and how students interact with one another. The best way to observe a classroom lesson is take notice of the complete environment and every person who is present.
The best observations allow for the observer and students to engage with one another about the learning. Sometimes just asking students about what they are learning provides the observer with insight into whether the teacher is meeting his or her learning objectives for the class. In addition, the observer should be mobile. He or she needs to be able to hear what students are saying to one another, as well as looking over students' shoulders to see what type of work is being produced. The best observations require observers to be out of their seats in order to see and hear how students are processing and learning information; however, it is imperative for the observers to find a time that is appropriate and least disruptive to the lesson.
After the lesson, the observer and the teacher should schedule a time to discuss what worked well and where there might be areas of improvement. As the doctor is the one who takes the lead in the discussion after the surgery, so should the teacher, as he or she reflects on the pre-observation conference, the execution of the lesson, and now the post-observation conference with the observer.
'Use the Time to Build Trust'
Jen Schwanke has served as a teacher and administrator at the elementary and middle school levels for 20 years. She is the author of the book, Y ou're the Principal! Now What? Strategies and Solutions for New School Leaders , published by ASCD:
Much has been written about how to best observe a lesson, both in an evaluative sense and in a I-want-to-learn-something-from-this sense. Write a strong narrative. Leave Post-It notes. Give timely feedback. Plan ahead. Drop in frequently. Build relationships. Have a system. Ultimately, administrators and teachers need to find their own rhythm and system for managing observations and making them mutually worthwhile. I don't do observations like my colleagues; neither do my colleagues do them like me. Case in point: I taught my assistant principal my approach to observations—philosophy, management, style, process—and she adopted a version for herself that is, actually, quite different from mine.
And that's fantastic. The best leaders find comfort and success in accepting who they are and leading as such.
Here are a few things I think should be universal, though, a sort of pinky-promise we should make to ourselves and the teachers we evaluate:
Leave judgment at the door. I've observed many teachers who don't teach like I would. When I was first responsible for observing and evaluating, I struggled with this. I'd thought I'd been a pretty awesome teacher, so I thought pretty awesome teachers should teach like I had. That changed quickly when I realized there are phenomenal teachers out there who structure their instruction, classrooms, and teaching protocols in ways completely different from how I had. I embrace this, now, and work hard to go into every observation with a judgment-free approach. I often think of one of my very favorite quotes: "Just because you disagree with someone doesn't make them wrong."
Use the time to build trust. I don't do "drop in" observations until I'm certain a teacher knows and trusts me. When they are new hires, or if I'm just new to them, I give them ample time to prepare before any sort of observation. Why? Because then they know I'm there as a support, not as a punitive sword-swinger. I have no desire to bring a teacher down, so why would I act like I do?
Err on the side of compassion. Not long ago, I slipped in a classroom for a brief informal walk-through. The teacher was in the corner in an apparent debate with a student we all knew to be extremely challenging. The rest of the students were in an apparent free-for-all, not focused on work or any visible learning objectives. Some students were loud, obnoxious, and involved in an endless game of touch-poke-giggle-touch. Other students, the "quieter" ones, were bent over computers or books, seemingly just trying to get through. The teacher never looked up; she had no idea I was there. At a loss, I ducked out of the room.
I could have blasted her. I could have picked out 50 things wrong with that moment in time. Something held me back, though; something told me it would cause irreparable harm for her and for our relationship. So after school, I went to her room. "Hey, girl. How are you doing?"
"I stopped in today," I said.
She was surprised. "I didn't see you."
"It was right after lunch. 1:15 or so, You were in the corner? Talking to Kevin?"
My heart sank as she began to cry.
She was struggling. The behaviors of one or two students were ruling the room. She was exhausted from fighting a lingering cough. Her teammate had been out sick for almost a week, so her students had spent half their days with multiple substitutes. At home, one of her children was showing signs of oppositional-defiant disorder, and her partner was in a furious denial about the whole thing. "I'm not doing anything well," she sniveled.
M'girl needed help, not criticism. Instead of jumping out with a gleeful, "Gotcha!" and busting her for being weak, I asked what I could do to help.
When we observe teachers, we have a responsibility to avoid the fracture of a teacher's confidence, process, and rhythm. We also have a responsibility to keep an eye on making the school a place students can thrive. If we can do both those things, at the same time, we've done some pretty great work.
Peer Observations
Ryan Huels is currently an assistant principal at Oregon Elementary School in Oregon, Ill., after an extended tenure as an early-elementary classroom teacher. Ryan is an advocate for creating a more student-focused learning environment centered around the principles of positive relationships, restorative practices, and family engagement:
I have found more value as an administrator observing other teachers by first asking in a pre-conference what types of feedback or areas of support a teacher would like me to focus on prior to coming in. This increases their engagement in the evaluation process by making it more meaningful to them.
Another valuable tool our district has used is video self-evaluations done by staff. Not only does it make staff more familiar/comfortable with the evaluation tool, but it makes for a more meaningful conversation instead of a one-sided dialogue. Video self-evaluation allows staff to gain a greater understanding of what is taking place in their classroom and allows them to reflect on their practice in a more meaningful way.
Accompanying an evaluation with the opportunity for staff to observe peers who excel in areas of growth has also proved to be a powerful tool to make the process more meaningful. Oftentimes, the best professional development is a teacher within our building, so pairing staff up for peer observations allows teachers to take away specific strategies that work and the opportunity to have follow-up conversations with colleagues about ways to constantly improve their practice.
By shifting the focus of an evaluation to an opportunity to grow teachers in their practice and away from the "gotcha!" mentality, we can do more to uplift our staff and do greater things for the kids we serve.
Thanks to Adeyemi, Elvis, Denita, Jen, and Ryan for contributing their thoughts!
Consider contributing a question to be answered in a future post. You can send one to me at [email protected] . When you send it in, let me know if I can use your real name if it's selected or if you'd prefer remaining anonymous and have a pseudonym in mind.
You can also contact me on Twitter at @Larryferlazzo .
Education Week has published a collection of posts from this blog, along with new material, in an e-book form. It's titled Classroom Management Q&As: Expert Strategies for Teaching .
Just a reminder; you can subscribe and receive updates from this blog via email (The RSS feed for this blog, and for all Ed Week articles, has been changed by the new redesign—new ones are not yet available). And if you missed any of the highlights from the first 10 years of this blog, you can see a categorized list below.
The 11 Most Popular Classroom Q&A Posts of the Year
Race & Racism in Schools
School Closures & the Coronavirus Crisis
Classroom-Management Advice
Best Ways to Begin the School Year
Best Ways to End the School Year
Student Motivation & Social-Emotional Learning
Implementing the Common Core
Challenging Normative Gender Culture in Education
Teaching Social Studies
Cooperative & Collaborative Learning
Using Tech With Students
Student Voices
Parent Engagement in Schools
Teaching English-Language Learners
Reading Instruction
Writing Instruction
Education Policy Issues
Differentiating Instruction
Math Instruction
Science Instruction
Advice for New Teachers
Author Interviews
The Inclusive Classroom
Learning & the Brain
Administrator Leadership
Teacher Leadership
Relationships in Schools
Professional Development
Instructional Strategies
Best of Classroom Q&A
Professional Collaboration
Classroom Organization
Mistakes in Education
Project-Based Learning
I am also creating a Twitter list including all contributors to this column .
The opinions expressed in Classroom Q&A With Larry Ferlazzo are strictly those of the author(s) and do not reflect the opinions or endorsement of Editorial Projects in Education, or any of its publications.
Sign Up for EdWeek Update
Edweek top school jobs.
Sign Up & Sign In
Advertising
Applications
Assessments
Certificates
Announcement
Invitations
Newsletters
Questionnaires
Food & Beverages
Recruitment
Marketing Examples
Transportation
3+ Child Observation Report Examples in PDF
Child observation report, 3+ child observation report examples, 1. children observation report, 2. child observation assignment report, 3. school child observation report, 4. child development observation report, what is a child observation report, how to write a child observation report, what is a child observation report, how important is doing a child observation report, who is in charge of doing this type of report, why should i watch what i write, how many examples should be placed in the report.
1. Keep It Professional
2. make your observation report notes neat, 3. cite some examples, 4. give a short narrative introduction, 5. watch what you write, more design, 5+ ways of writing an observation report examples, free 5+ preschool daily report examples, 5+ custody evaluation report examples, how to write an interview report with examples, free 54+ checklist examples, 20+ monthly reports examples, free 19+ preschool registration form examples, 19+ report examples, free 17+ preschool job description examples, free 13+ project feedback examples, free 12+ training evaluation report examples, free 11+ preschool lesson plan examples.

Related Articles
id; ?>)" rel="noopener" role="button" tabindex aria-label="postclick">19+ Safety Report Examples
id; ?>)" rel="noopener" role="button" tabindex aria-label="postclick">FREE 18+ Preschool Questionnaire Examples

Want to create or adapt books like this? Learn more about how Pressbooks supports open publishing practices.
8 Student Observations
Key takeaways for this chapter…
Because school psychologists have access to students' natural environment, they are afforded unique opportunities to observe
In general, classroom and in-office observations support use of the HR process
Classroom observations can be summarized numerically via commercially-produced tools (e.g., the BASC-3's Behavior Observation System of Students) as well as many non-commercial options
Classroom and in-office observations also can be accomplished with standardized, norm-referenced tools (e.g., the ASEBA's Test Observation Form and Direct Observation Form)
Their desirable ecological validity notwithstanding, direct observation procedures often lack evidence confirming their reliability and general validity
Most observation procedures lack rules for making clinical decisions
Cases/vignettes in this chapter include…
Alex, disheveled
Blair, meticulously groomed
Caleb, scratched and scraped
Destinee, thin with baggy clothing
Shannon, out of her seat
Romulus, ambiguous classroom anecdotes
Remus, classroom anecdotes suggestive of ASD
Justin Melrose, the substitution heuristic
Sierra Snowden, a school psychologist who prefers her observation system
History's very first psychological assessment technique probably consisted of a direct behavioral observation. This makes sense. After all, we humans have observed one another throughout our collective history, every single day, many, many times. We are finely honed to perceive person-to-person variations in body types, facial configurations, transitory facial expressions, mannerisms, linguistic habits, attire, and grooming, often entirely free of conscious awareness. Our perceptions of one another helped to quickly characterize co-inhabitants of our social world and in turn guide our own plans and actions. Among other things, social perceptions inform us about whom to trust, whom to avoid, and who might be a potential collaborator or even a potential mate. They spontaneously suggest to us who is typical and who is not. In this chapter, however, the process of observation is considered more deliberately, logically and scientifically. This chapter addresses various purposes and methods of observation that can be applied during the intentional practice of school-based social-emotional assessment.
Direct observations are enormously popular. Too frequently, however, school-based practitioners seem to end up conducting low-yield observations. Often, busy schedules afford only the briefest moment to plan an observation. There may not even be time for the school psychologist to familiarize herself with each classroom's rules, an essential consideration in judging the meaning of a student's behavior (Shapiro, 2010a). Similarly, school psychologists' to-do lists, looming administrative timelines, and classroom calendars may preclude anything more than a single, brief observational interlude. What's more, some school psychologists view observations as merely another box to be checked off in a long list of mandatory assessment elements. For example, a school psychologist is nearly finished with an SLD evaluation. In spite of this, she is obligated to visit the classroom during ongoing instruction and make note of the student's behavior (see Table 8.1). In this school district, the IDEA observation requirement is delegated to the school psychologist. Note that she must do this even when her mind is largely made up about the nature and severity of a student's problem (perhaps based on cognitive and achievement test scores).
One might logically ask what is to be gained under these circumstances by a perfunctory classroom observation? Probably quite little. Similarly, a school psychologist receives a referral about a student with adjustment problems (but not necessarily special education candidacy). Accordingly, she proceeds by watching the student at work in his classroom or observing him at leisure on the playground. But one might ask what is the purpose of these observations? What might be accomplished? And, more broadly, do first-hand observations actually add anything to an assessment process that might already be rich with information derived from rating scales and other sources?
Answers to these crucial questions would seem to hinge on the school psychologist's approach. And, almost always, this book's preferred approach is one that embraces logic and thoughtfulness, not mere intuition or blind habit. As you might suspect, observations can both help formulate hypotheses where none have previously existed or help confirm (or disconfirm) already existing hypotheses. Thus, observations discussed here are one element of a multi-step process aimed to answer referral questions (the HR approach you already learned about).
Not covered in this chapter are several other uses of observations appearing in the school psychology literature. Specifically, you will hear nothing here about observations to judge the quality of teacher-student interactions, although this is an important general topic for pedagogy (e.g., see Downer, Stuhlman, Schweig, Martinez & Ruzek, 2015). Likewise, you will not learn about observation techniques that might concern teachers' instructional style (and perhaps, indirectly, teacher competence). In fact, school psychologists should be especially mindful of role boundaries when they observe a student receiving classroom instruction. For example, when viewing a student with classroom behavior problems, school psychologists should scrupulously avoid the role of school administrator. That is, they should never characterize a student's problem as the result of teacher ineffectiveness. School administrators judge teacher competence; school psychologists do not. One of the beauties of school psychology practice is the opportunity to work collaboratively with teachers. The reality is, however, if teachers sense that you are present in their classroom to judge their instructional competence, then you risk violating the trust and subverting the openness on which collaboration inevitably depends. Don't do it.
It is also worth mentioning here that observations are a central part of conducting functional behavioral analyses (FBAs). But FBAs constitute a specific set of procedures and a distinctive set of practitioner skills. FBA's start with detailed observation procedures as a prelude to behaviorally-based intervention. It is essential to know when an FBA is the referral concern and to respond appropriately. FBA-related skills are extremely important. FBAs, however, are not covered in this book. Readers are strongly encouraged to visit more detailed sources regarding FBAs (e.g., Matson, 2012; Steege, Pratt, Wickerd, Guare & Watson, 2019).
Categories of Student Observations
This chapter reviews ways in which various categories of observation help answer standard social-emotional referral questions. In this chapter, you will learn more about:
The child's physical appearance as a clue to his genetic status
The child's physical appearance as a clue to his personality and mental health status
Observations of the child during face-to-face testing
Observations of the child in the natural environment (e.g., in classroom, on playground)
The rationale, advantages, and disadvantages of each observation endeavor are covered.
Physical Appearance as a Clue to Genetic Status
School psychologists generally conceive of themselves as either: (1.) behavioral scientists or (2.) as educators who possess specialized psychological knowledge and skills. Our discipline is not a biological or medical one. There are times, however, when every school psychologist's practice inexorably brushes up against aspects of biology (and potentially medicine). One of these times takes place when school psychologists observe the physical appearance of students they are evaluating. In these instances, a prime concern is whether a student's appearance is typical (unremarkable) or atypical (remarkable). This summary judgment depends principally on the presence or absence of signs of dysmorphology—observable congenital malformations. Most relevant malformations appear on the child's head and face—improperly proportioned, over-or undersized heads, asymmetrical faces. And this is where school psychologists should direct their scrutiny.
Let's take a step back to consider dysmorphology and why it might matter to all diagnosticians, including school psychologists. A well-accepted tenet of evolutionary psychology is that some facial configurations are universally viewed as attractive (i.e., across cultures and across millennia). A prime example is facial symmetry, which is an important marker of physical and reproductive health (Buss, 2009). In simple terms, faces that seem subjectively attractive to us are known to be objectively symmetrical; they can be documented to be relatively devoid of misshaped or misaligned features (e.g., eyes, ears). Using the same logic, the presence of conspicuous anomalies may denote prenatal problems (exposure to toxins, genetic errors) with the potential for wide reaching impact on health and development. What's more, obvious anomalies of appearance are readily detected. For example, educators (even without any medical training) can reliably distinguish students who are outliers in terms of physical appearance (Salvia, Algozzine & Seare, 1977). For reasons like these, the field of medical genetics now routinely employs the notion of "dysmorphology." Critically, the presence of dysmorphology is used  to denote risk of underlying genetic conditions (e.g., single gene conditions like Down syndrome) or exposure to toxins (e.g., fetal alcohol spectrum disorder [FASD]).
One may wonder about the relevance to school psychology. Interestingly, Orme and Trapane (2013) prepared an journal article whose title poses this very question, "Dysmorphology: Why is it important to practicing psychologists?" These authors contend that dysmorphology's importance lies in its ability to hint at the presence of a disorder with accompanying social-emotional and/or developmental risks (see Table 8.2 for examples). Consider the example of students with Williams syndrome, an autosomal dominant disorder. These individuals have high rates of social-emotional problems, with objective ratings surpassing, for example, children with Down syndrome (Cornish, Steele, Monterio, Karmiloff-Smith & Scerif, 2012). Critically for this argument, individuals with Williams syndrome also express recognizable characteristics of dysmorphology: broad forehead, short nose, full cheeks, and wide mouths. Considerations like this prompted the authors to assert: "just as psychologists routinely observe….dress and manner, they should also scan for minor anomalies" (Orme & Trapane, 2013, p. 401). This practice is already widespread in medicine. For those interested, the National Institutes of Health has a link that concerns the terminology related to human malformations (and many, many photos depicting dysmorphology). School psychologists themselves, however, would not generally be expected to describe any features in such fine detail as found on the website. https://elementsofmorphology.nih.gov/index.cgi .
As you already probably know, children with Down syndrome, for example, are quite readily recognized. Children with other syndromes and other dysmorphic appearances may turn out to be far less obvious. Children with two recognizable syndromes are depicted in Figure 8.1 and 8.2. Readers should ask themselves whether they might not view each of these youngsters as appearing atypical, even if it would be difficult to describe the exact characteristic-by-characteristic departure from typical appearance. Not surprisingly, clinical applications of dysmorphology have been empirically investigated. For example, Flor, Ballando, Lopez and Shui (2017) devised an Autism Dysmorphology Measure (ADM) to help make predictions about underlying problems among some children with autism. They tapped the physical attributes of head size as well as several body regions (i.e., stature, hair growth pattern, ears, nose, face size and its structure, philthrum [the vertical indentation in the center of the upper lip], mouth and lips, teeth, hands, fingers, as well as nails and teeth). ADM scores were found to possess good sensitivity and specificity in distinguishing "complex" from "essential" cases of ASD. The former group of children might require referral on to a medical geneticist or require treatment not warranted for an "essential" autism counterpart.
To be clear, however, this was a study possessing relevance primarily for physicians. And also to be clear, no one is telling school psychologists to conduct detailed physical evaluations (comparable to a physician using the ADM). Nonetheless, it is argued that school psychologists ought to scan every student for blatant indications of unusual physical presentation. To this point, in an article prepared expressly for school psychologists, Wodrich and Kaplan (2006) listed dysmorphology as one of five "red flags" that ought to prompt consideration of a referral to a medical specialist. According to Wodrich (a psychologist) and Kaplan (a neurologist) the goal is not to articulate any exact physical anomaly nor to guess about any particular syndrome. Rather, the school psychologist's task is simply to notice and report the obvious. You will see more about dysmorphology in Chapter 12, where observations of dysmorphology are shown to matter in cases of potential autism.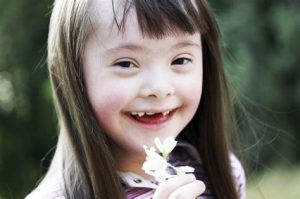 But what about those instances when a syndrome has already been established before contact with a school psychologist (e.g., via workup at a genetics clinic)? As you might suspect, there are important syndrome-to-syndrome variations in social-emotional risk, and these are sometimes documented by researchers using familiar rating scales. Children with Down syndrome as one example, were found to have no mean Conners CBRS (parent) DSM symptom score above T = 70. But children with fetal alcohol exposure (FAE), as another example, had much different Conners CBRS (parent) mean scores. This latter clinical group was found to have nearly every DSM-related score (from ADHD to Major Depression to Autism) elevated above T-score = 70 (Way & Rojahn, 2012). In other words, psychologically and educationally, syndrome membership often matters. In fact, in this study the presence of FAE might be thought of as changing the base rate of psychiatric problems. You can see how important this information might prove for school psychologists seeking to establish a student's probability of a mental health disorder.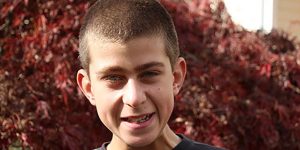 Physical Appearance as a Clue to Personality and Mental Health Status
Physical appearance can hint at aspects of personality and mental health status, not just potential genetic syndromes. Face-to-face encounters (such as while testing or during a child interview) afford the simplest method of observation. The rationale here is that hypotheses (such as covered in Chapter 2) are sometimes formulated, at other times strengthened, and at still other times weakened, by nothing more sophisticated than various aspects of a student's appearance. Consider some of the following observations and, in parentheses, what each might imply:
Alex is a disheveled third-grader with soiled clothing and body odor (perhaps he resides in a home characterized by limited resources and insufficient parental attention).
Blair is a sixth-grade student with meticulous grooming and attire (perhaps she harbors obsessive-compulsive tendencies).
Caleb is a six-year-old student with scabs and scratches on his face as well as his hands (he might be a daredevil who loves rough play and taking risks).
Destinee is an extremely thin high school student wearing particularly baggy clothing (this might suggest an eating disorder).
Straightforward observations like these may prompt instant inferences. Some of these appear virtually unbidden, especially among veteran school psychologists. But even novice school psychologists might sense possibilities embedded in each of these observational vignettes. To assure thoroughness, however, it is generally wise to work systematically and invoke use of the Reflective System of thinking. For example, instead of noting one or two salient aspects of the child's appearance and ignoring other dimensions, school psychologists might routinely scrutinize several important dimensions. They might, as seen in Chapter 2, follow a simple checklist to guarantee that each dimension was actually considered. The school psychologist would ultimately summarize any area deemed important, but only after considering all dimensions. Suhr (2015) lists 10 dimensions potentially worth consideration in every case.
Grooming/hygiene
Gait (i.e., walking)
Motor movements
Facial expression
Eye contact
Level of attention/alertness/arousal
Need for repetition
If you are just starting to learn how to make and report observations, a checklist is advised. Although potentially helpful, observations of these dimensions (and making inferences about what was seen) is not a risk-free process. As you might suspect, observation-based inferences are best treated as possibilities that are unavoidably speculative. This is true, in part, because research to buttress the validity of such inferences is generally lacking. Consequently, there would seem to be a distinct risk of false positives any time diagnosticians attempt to draw conclusions from scant observations.
You might infer that Desiree's presentations signals an eating disorder but inferences like this one will often prove to be wrong. In fact, even the reliability of direct observations (e.g., of things like attire and grooming) might also be questioned. Perhaps disheveled-appearing Alex is generally well-groomed, but you caught him on a day when a family emergency disrupted routine parental supervision of activities of daily living (e.g., shower, change of clothing). To the same point, Caleb's customary style of play might actually be moderately cautious, but you saw him after an uncustomary skateboard ride left him battered. Snapshot observations may actually represent extremely unreliable indicators of any aspect of personalities of either Alex or Caleb. Then again, observations like the four mentioned above should probably not be summarily disregarded. Maybe Caleb's facial scrapes are sufficient to prompt questions about emergency room visits. If his mother indicates that Caleb has needed three trips to the ER for play-related injuries, then mandatory questions about poor appreciation of danger, specifically, and impulsivity, generally, would make sense. School psychologists are urged to stop and think (use the Reflective System) about the evidence before them and reason about how to treat it in their ongoing conceptualization of each student.
Observation During Psychometric Testing
When routine psychoeducational evaluations are conducted, school psychologists nearly always report on the student's behavior. One reason for doing so is to verify that cooperation and effort during testing were sufficient to infer valid test administration. Another reason, however, is to enable elementary inferences about the child's social-emotional status. As you may already know, the IDEA definition of specific learning disability (SLD) indicates that SLD is ruled in only when emotional disturbance (ED) is ruled out. Thus, observations during cognitive and achievement testing are important for quasi-legal reasons; if something is witnessed that might imply the presence of an emotional disturbance, rather than an SLD, this fact should be reported. Conversely, if nothing indicative of social-emotional problems is witnessed, that fact too should be reported (see Table 8.3 for a summary of a student's behavior during a psychoeducational evaluation). This makes observations during testing the equivalent of a social-emotional screening process. Beyond special education considerations, however, behavior during testing should be reported for professional reasons. School psychologists should not miss any indication of a potential emotional problem (or of emotional health), even if the referral question concerns academics, not behavior or adjustment.
School psychologists' observations made during testing are often described informally. For example, a student can be described according to common terms, such as found in Sattler's classic text (2014). Adjectives such as enthusiastic, cooperative, hardworking, conscientious, focused or disinterested, uncooperative, lackadaisical, indifferent, inattentive all convey personality elements able to generate (or help to strengthen or weaken) hypotheses. Helpful sources include Braaten's (2007) book on report writing, which is loaded with adjectives that psychologists might use to describe students. Even more helpful, Braaten's list of adjectives is organized on a continuum, which helps psychologists consider and then write clearly about students.
The prospect of errors of diagnostic decision making (e.g., springing from confirmation bias or the availability heuristic) is a recurrent theme of this book. So is the idea that structure surrounding decision making, such as using checklists, can help ameliorate these risks by slowing thinking. Happily, there is a powerful objective complement (or alternative) to informal test-related observation practices. This is the Test Observation Form (TOF; McConaughy & Achenbach, 2004). The TOF is a checklist completed by examiners after they have finished their testing session(s) with a student. The TOFs 125 Likert-scale items correspond to those on the Child Behavior Checklist. In other words, the TOF is in some ways an examiner-completed variant of the Child Behavior Checklist; both are part of the Achenbach System of Empirically Based Assessment (ASEBA) that you read about in Chapter 5. Accordingly, there are TOF standard scores available for children 2 to 18 years. There is also research. For example, observation-related scores derived from the TOF after students completed IQ and achievement testing were successful in helping to correctly classify students. Specifically, 177 6- to 11-year-olds with ADHD predominately combined type; ADHD predominately inattentive type; a clinical sample without ADHD, and normal controls were largely correctly classified based on TOF scores (McConaughy, Ivanova, Antschel & Eiraldi, 2009).
Interestingly, the TOF was developed largely for use by school psychologists for routine completion after they had finished cognitive and achievement testing (personal communication, T. M Achenbach, January 8, 2020). It's obvious positives and its authors hope for its use aside, the TOF seems to have garnered relatively little use in schools. Many practicing school psychologists, as well as university-based school psychology trainers, express surprise to learn that there is a ASEBA Child Behavior Checklist alternative suited to tapping students' social-emotional during psychometric testing. At present, there is only a hand-scoring option of the TOF, although the relatively few steps needed to exercise this option seem easy to accomplish and fairly quick to complete.
Observation in the Classroom (Natural Setting)
School psychologists are blessed with opportunities to observe students in their natural environment. In contrast, our clinic-based colleagues (psychologists, psychiatrists, pediatricians) must depend on what stakeholders (and the children themselves) tell them, buttressed only by their own observations in the artificial environment of an office or clinic. Observations of students in their real world are said to enjoy "ecological validity." If there is a concern, for example, that a student fails to follow classroom rules, then a good test of that assertion is to observe him during class and find out if rule breaking is actually witnessed. The ecology of each class is unique; observing without that ecology is fraught with potential error. In fact, when school psychologists skip on-campus observations, they encounter the very same limitations of their clinic-based counterparts.
Before school psychologists engage in classroom observations, however, they are urged to reflect on their role. As a school psychologist, you are not there to observe and comment on the effectiveness of a teacher. This is true although teachers' positive actions and the frequency of those actions are known to affect student performance and alter student behavior (Reddy, Fabiano, Dudek & Hsu, 2013; Reinke, Herman & Newcomer, 2016). School psychologists are also advised to reflect on each case's specific observational need. For example, although classroom observations might determine whether a student is improving with implementation of a classroom behavioral plan, this type of observation addresses a quite specialized concern (i.e., monitoring a student's progress). Chapter 15 concerns just this delimited reason for making classroom observations. Critically, however, measuring progress reflects a mission different from observation intended to draw general conclusions about the presence, intensity, and nature of a social-emotional problem (Ferguson, Briesch, Volpe & Daniels, 2012). Some school psychologists, especially those who practice behavioral consultation, routinely observe for the former purpose (i.e., to monitor progress). Be sure to reread your referral question before you observe and remain fully cognizant of your purpose. Your observational technique should follow logically from your purpose.
Once the requirement for a natural-setting observation is apparent, you confront some challenges. A first challenge is developing a plan that maximizes your prospect of actually seeing pertinent behavior. For example, a teacher expresses concern that one of her students, Shannon, is non-compliant and argumentative. You already possess some ways (e.g., interview, rating scales) to determine the veracity of the teacher's contention and to judge whether it is the prime (or singular) problem or just one aspect of more pervasive social-emotional difficulties. But you want to see the behavior for yourself. Observing non-compliance or argumentativeness can help judge its intensity (nomothetic) and the contextual variables surrounding its expression (idiographic). Observations can also help assure that informants are not mischaracterizing a student's actions. Perhaps her teacher describes Shannon's actions as defiant and confrontational, whereas your observations might suggest something more benign and less uncommon. Consider the following exchange.
School psychologist: "So, I noticed Shannon left her seat during arithmetic to get a tissue. I saw that she was pretty slow to go back to her desk. When you told her to get back to her work, she replied 'Just a minute.' Is that what you are talking about when you describe her as defiant and confrontational?"
Teacher: "Yes. That's pretty typical. Sometimes she has an angry tone, she didn't today, but sometimes she does."
You might hypothesize even from this singular observation/dialogue snippet that this teacher's description of Shannon's actions (and similarly her representations of Shannon on rating scales) is slanted toward the negative. Classroom observations sometimes enable this kind of discovery that might never arise from teacher interviewing or rating scales.
But practically, when should you visit class (or somewhere else on campus) so that you have a realistic chance of seeing Shannon's problematic behavior? Figure 8.3 is designed to help you manage this challenge. Eliciting information like this (i.e., when to observe, what to look for) from a teacher simply allows a school psychologist to narrow down when and where problem behavior might be seen. Alternatively, you might just talk with the teacher to get his sense about a good time to catch the behavior of concern.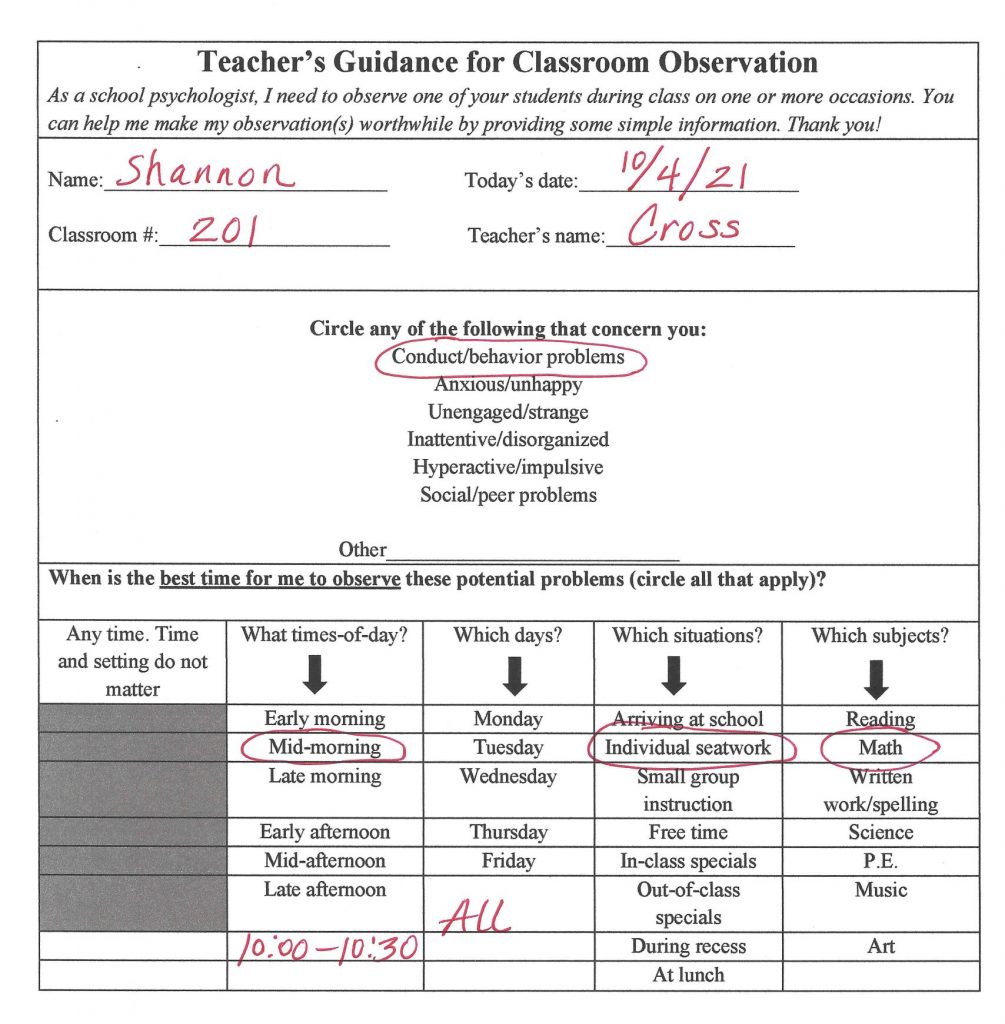 A second, related challenge, is observing often enough (and long enough) to view the behavior of concern. Many school psychologists are so busy that they can schedule just a single observation session, perhaps lasting only 10 minutes. There is a distinct danger that a single 10-minute observation session fails to capture behavior that is representative of the student over time. Consider the reality that many students attend class for 750 minutes during just one week. A 10-minute observation samples a mere 1% of the student's school behavior for that week. In one of the sections that follows, you will read about empirical research concerning the requisite number of observations to make decisions about students.
A third, somewhat related, challenge to natural-setting observations is avoiding so-called "reactive effects" (sometimes simply referred to as "reactivity;" Briesch, Volpe & Floyd, 2018). Reactive effects concern alterations in a student's actions because she is being observed. For example, Shannon's routine acting out during free time might be curtailed (or exaggerated) simply because she recognizes that an outsider is now present in class (and is seemingly there to look at her). Thus, it is often helpful to select an inconspicuous location near the back of the classroom, to avoid staring at the target student, and to conduct observation(s) early in the sequence of assessments (so the student is less cognizant of your role). School psychologists and teachers must also decide what to tell the student. Some school psychologists (or classroom teachers) inform students beforehand that they will be observed. Others do not, fearing that advanced notice will inflate the risk of reactive effects.
A fourth challenge is the threat of confirmation bias . Working hypotheses, such as Shannon has oppositional defiant disorder, are appropriate and helpful (as argued in Chapter 2). Hypotheses arise automatically when school psychologists engage a step-by-step assessment process (e.g., use the HR approach). But hypotheses can also encourage blinders, directing observers toward students' actions that confirm extant hypotheses and away from actions compatible with other (potentially equally plausible) hypotheses. For example, Shannon's school psychologist might be especially vigilant of any deed that implies non-compliance while disregarding instances of cooperation and rule following. Focused solely on Shannon, the school psychologist might fail to notice that many other (non-referred) students express comparable levels of non-compliance. Confirmation bias may also promote disregard for signs of anxiety. Perhaps Shannon bites her nails, struggles to speak when called on, or avoids anxiety-provoking novelty, all of which risk being overlooked in a world where an observer has a nose for compliance problems but little else. To remind you, the threat of confirmation bias is mitigated by structured procedures and checklists. Structure helps insure that Reflective Thinking supersedes humans' hardwired preference for Automatic Thinking.
Types of Observation Strategies
Anecdotal observations in class.
Anecdotal observations (or more accurately, observations that result in anecdotes) consist simply of watching and recording. Snippets of behavior are recorded, usually without the observer attempting to infer the child's motives. Written anecdotes in turn fuel inference making. Figure 8.4 illustrates notes from an anecdotal observation of two elementary students made during seatwork. If you read the notes concerning Romulus, the first example, conjecture and conclusions may come to mind, or they may not. Are the notes about Romulus describing a problem-free student? One with attention problems. A moody-unhappy child? A non-compliant one? A disengaged student who doesn't care about school or academics? It's not entirely clear which of these inferences is most plausible, although some interpretations seem much less credible than others. The anecdotes recorded for Romulus are like those recorded for a great many students. They are arguably a bit of a Rorschach. The observer risks projecting her own prior beliefs and expectations into her recordings as well as into her subsequent analysis of her notes. This is true because none of the behaviors witnessed for Romulus is likely to have particularly strong diagnostic value. For example, how diagnostic is an observation of "out-of-seat behavior" for conditions like ADHD? Witnessing one or two out-of-seat instances per 15-minute observation session so as to infer the presence of ADHD would seemingly lead to many false positives. The informal, unstandardized, non-normative bases of anecdotal observations can represent a troubling limitation.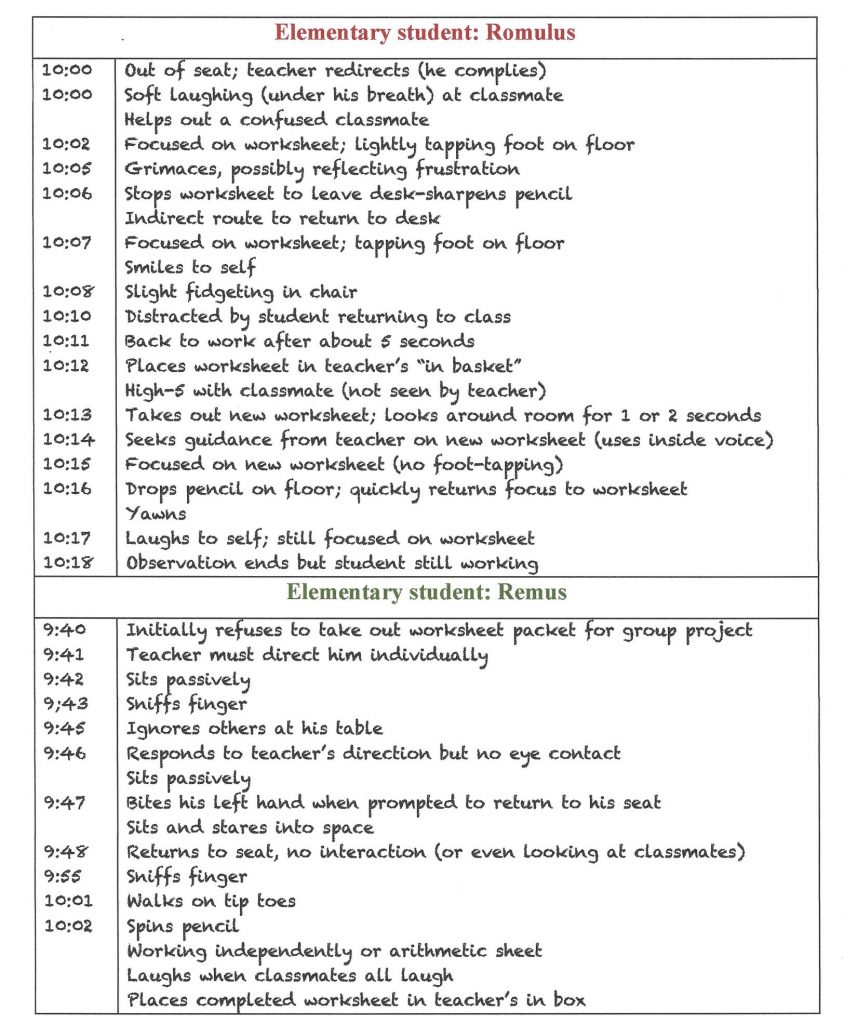 Even though this is true concerning Romulus, now consider the second set of observations found in Figure 8.4, which concern Remus. Are these describing a problem-free student? They probably are not. Whereas being out-of-seat a couple times in Romulus's case may not be indicative of anything, biting one's self, repetitive finger sniffing, toe walking, hand flapping, and potential social disengagement suggest something noteworthy. To many diagnosticians, Remus's actions imply low-frequency (rare) occurrences signaling the possibility of Autism Spectrum Disorder (ASD). Thus, the yield from direct observation seems far greater for Remus than Romulus. Even in the example of Remus, however, the drawbacks inherent in anecdotal observations are unescapable. The sensitivity of observation-derived instances of hand flapping and toe walking (% of times present in young children with ASD) and specificity (% of times absent in young children without ASD) are simply unknown. Lack of norms and no objective criteria to operationalize the behaviors observed makes drawing inferences from anecdotes a seat-of-the-pants enterprise.
As with most aspects of practice, planning can improve quality. Unfortunately, however, it seems that too often anecdotal observations occur without much prior planning. The school psychologist simply sits in during a class session and then watches to see what (if anything) becomes obvious. As you have already learned, however, assessment often unfolds in stages that consist of active hypothesis formulation, rejection, revision and affirmation. In the case of Romulus, for example, competing pre-observation hypotheses might include ODD vs. no real psychological problem (i.e., excessive concern by parent or teacher). Consequently, rather than merely jotting down observations as they arise, the school psychologist might be better off by preparing a case-specific observation template. In the case of Romulus, this might consist of a list of symptoms for ODD. Page 462 of DSM -5 lists criteria, and the school psychologist might list these on her otherwise-blank observation sheet before heading off to make her classroom visit. That is, she might be especially vigilant for the hallmarks of ODD as she observes Romulus: temper problems, touchiness, anger, argumentativeness, defiance, peer annoyance, blame shifting, and vindictiveness. This means that her observations are both broadly focused to detect possibilities not yet considered on the one hand and narrowly focused (to minimize the risk of missing any observations of ODD symptoms, her prime hypothesis) on the other hand.
Parallel considerations might exist regarding Remus's observation. In his case, however, ASD might be the prime working hypothesis. Thus, the school psychologist might visit page 50 in DSM -5 and jot down the list of ASD symptoms: deficits in social reciprocity, impaired nonverbal communication, underdeveloped social relationships, stereotypies, adherence to routines, restricted interests, hypo- or hypersensitivity. Some of these symptoms may be obvious to any school psychologist even when operating without a preset plan (as reflected in the simple anecdotal observations in Illustration 8.1). But a list of target behaviors warranting special vigilance helps to assure that important anecdotes do not go unobserved. As argued earlier, human memory is imperfect. Creating simple lists can circumvent memory glitches. What's more, such unfortunate memory failings can afflict even seasoned and skilled practitioners (see Gawande, 2009).
Structured (Commercial) Classroom Observation Procedures
There are structured alternatives to simple the recording of anecdotes. School psychologists should know about them; they should probably use them more often than they do. It's true that structured procedures may seem more burdensome than simply writing anecdotes, but the yield is probably worth the extra time and effort.
One structured option is the Student Observation System (SOS) from the Behavior Assessment System for Children-3 (BASC-3; Reynolds & Kamphaus, 2015). You will recognize the BASC-3's TRS, PRS, and SRP from Chapters 5 and 6. Happily, the BASC-3 also includes the SOS (covered in the very same manual). The two essential parts of the SOS have the advantage of providing structure, which might diminish confirmation bias and enhance validity by assuring that an array of diverse behaviors are systematically considered. The authors, quite correctly, advise prospective users to read Chapter 6 in the BASC-3 manual (it is just seven pages long) before proceeding. The SOS's Part A ("Behavior Key and Checklist") is comprised of 71 behaviors distributed across 14 categories. Four of these 14 categories are deemed "positive behaviors" (e.g., response to teacher/lesson, work on school subjects). In contrast, 10 of these 14 categories of behavior are deemed "problem behaviors" (e.g., inappropriate movement, aggression). Fine-grained distinctions are made within both positive behaviors and problem behaviors categories (e.g., response to teacher/lesson includes sub-distinctions such as "interacting with teacher in class/group" and "standing at teacher's desk"; sub-distinctions related to aggression include "kicking others" and "pushing others"). It takes practice to be able to quickly recognize which narrow descriptions fall under which broader category.
Each SOS session consists of 15-minutes spent in the student's classroom. At the end of 15 minutes, the observer marks each of the 71 Part A behaviors as "not observed," "sometimes observed," or "frequently observed." But these terms are not defined. In addition, the observer estimates whether any of the checked behaviors were disruptive. SOS's Part B is a structured time sampling method. It involves repeated brief observation intervals (each lasting 3 seconds). Following the 3-second window of observation, the observer has 27 seconds to check-off any of 71 behaviors discussed in the SOS Part A. Thus, the SOS Part B is a variant of popular methods used to quantify student engagement (attending and working). In fact, the SOS exemplifies the "partial interval" option described in detail below. As many school psychologists discover during their first use of the SOS, execution is less simple than may appear on the surface. Practice is needed. Also, it is worth remembering that there are no norms. In light of this fact, school psychologists may choose to observe two or three randomly selected classmates using Part B of the SOS. In fact, the BASC-3 manual seems to welcome peer observations like this.
Part B can also prove tricky. For example, Part B's requirement to observe for 3 seconds and then record for 27 seconds requires splitting the observer's attention between two tasks. That is, she must monitor elapsing time while simultaneously observing the student for the appearance of any of a very long list of actions. For reliability reasons, the observation interval should be precisely 3 seconds, not 1 or 2 seconds, and not 4, 5, or 6 seconds. But if the observer's gaze rests on a stopwatch, then it proves impossible to closely watch the student. The solution is to prepare an audio file that parses time into 3-second observation intervals and 27-second recording intervals. A detailed description for preparing this tool appears in a research article by Winsler and Wallace (2002); the same technique is proposed for clinicians in schools (e.g., Shapiro, 2010a). The auditory nature of the file allows the observer to wear an earphone and keep her eyes on the child for the entire 3 seconds of observation. Another SOS Part B challenge is that the 14 categories (and 71 items) often seem too numerous to scan and mark during a 27-second recording interval, at least without considerable practice. Consequently, training and practice seem to be needed to guarantee proper SOS use. Yet another option is to use an electronic version of the SOS, but practice with this option would also seem necessary.
A popular alternative to the SOS is the Behavioral Observation of Students in Schools (BOSS; Shapiro, 2010a). The BOSS is in some ways similar to the SOS Part B but less elaborate (and easier to learn). The BOSS has nothing akin to the SOS Part A. Plus, the BOSS affords another major advantage—it's free after initial purchase of the workbook in which reproducible BOSS forms are located (Shapiro, 2010b). The BOSS is barebones. It comprises just two positive behaviors (i.e., active engagement and passive engagement), plus three off-task variants (i.e., verbal, motor, and passive). Students are observed during one or more 15-minute sessions. During each session, the student is observed, and findings recorded for 48 intervals. The BOSS uses momentary time sampling (a snapshot determination made every 15 seconds for recording whether the student was on-task). It also uses a partial interval procedure regarding any of the off-task variants occurrence. Importantly, Shapiro also described the notion of "comparison peer." While the target student is observed for 48 intervals, 12 intervals within the same overall session are devoted to observations of a comparison peer. In the absence of norms, the comparison peer's score provides an anchor for interpretation (making the process of observations somewhat nomothetic in nature). This issue is revisited under the topic of cut-scores in a few pages. Obviously, the BOSS concerns a much more restricted array of behaviors and consequently would be valuable only in the presence of selected emergent hypotheses. For example, if there are questions about focus and task persistence (ADHD), the BOSS might be an appropriate tool. The same might be true for monitoring progress (see Chapter 15). In contrast, if there are questions about mood or unusual behavior, the BOSS would seem to represent a poorer choice.
Another structured commercial option is the Direct Observation Form (DOF). However, in some ways, this option is drastically different in style and usage from both the SOS and BOSS. This is because the DOF is part of the extensive ASEBA family of tools (McConaughy & Achenbach, 2009), which notably includes the Child Behavior Checklist. Much like the SOS, the DOF comprises two parts. One part of the DOF is an orchestrated time sampling procedure (reminiscent of the SOS Part B). It consists of a 10-minute observation session. For each 10-minute session, the observer records (dichotomously) "on-task" or "off-task" as witnessed during the final 5-seconds of each of 10 intervals. Thus, the percentage of "on-task" ranges from 0% to 100% (in 10% increments) during each observation session. Unlike on the SOS, DOF users write a brief narrative of any problem behavior evident during the interval. Also somewhat like the SOS Part B, the observer is directed back to a symptom list of 89 behaviors. But here is where the SOS (and BOSS) and the DOF part company: DOF items are on a 4-point Likert scale, the items match those on ASEBA CBCL, and TOF (listed above). Even more distinctively, the DOF produces norm-referenced standard scores. Importantly, these considerations mean that score profiles on the DOF fit hand-and-glove with the score profiles from the entire suite of ASEBA score profiles (e.g., CBCL). It is critical to note the following: the TOF is a nomothetically-oriented. When hypotheses involve classification (such as DSM-5 categories) the TOF would seem to hold advantages over idiographically-oriented procedures that lack norms.
In a now dated but still relevant article, McConaughy and Achenbach (1989) showed how the TOF could be integrated with other more familiar ASEBA tools to address a prime concern of school psychologists, determination of emotional disturbance. This topic is covered extensively in Chapter 10. But via a case example, these authors provide concrete practices about the TOF (e.g., how to conduct multiple observations with the TOF spanning over multiple days; the need to conduct observations in the regular classroom because the TOF norming process used this setting). Equally important, there is an explanation of how to integrate TOF scores with those from teacher and parent completed rating scales (i.e., CBCL and TRF) to formulate conclusions.
McConaughy and Achenbach (2009; 1989) warned users to complete multiple observations using the DOF. Just how many might be needed to produce reliable and valid scores was the subject of an important and sobering study conducted by Volpe, McConaughy and Hintze (2009). These researchers conducted up to 20 observations using the DOF. To reach what the authors referred to as acceptable levels of "dependability" and "generalizability" surprisingly many observations were required. For example, regarding the DOF Total Problems (a composite index) four observations were needed, but for the scales tapping Sluggish Cognitive Tempo and Inattention 11 and 14 observations, respectively, were needed! This research is yet another signal to school psychologists that they ought to practice with restraint and free of knee-jerk judgments. It's hard to conclude much from a single classroom observation.
Structured (Non-commercial) Classroom Observation Procedures
Another option for school psychologists is to simply construct their own time sampling forms. This may save money and simultaneously result in enhanced alignment with each clinicians' stylistic and professional preferences. Home-grown scales, nonetheless, impose a degree of upfront work. For example, observers must decide how to treat behavior observed during each fixed interval. Sierra Snowdon, an independent-thinking school psychologist, decides to devise an observation form to help her make judgments about the presence of ADHD (her home state has recently authorized school psychologists to diagnose ADHD and sign off for OHI eligibility; see Chapter 12 for considerations about ADHD in schools). Her form will consist of four observation intervals each minute (see Figure 8.5 and Figure 8.6). Each interval lasts ten seconds; there is a five second interval during which Sierra will mark the behavior that she just witnessed. Here is Sierra's dilemma. How should she actually (specifically) record student behavior:
at only one moment in time (momentary time sampling; MTS)
any occurrence of a behavior that occurs during a part of observation interval (partial interval recording; PTR)
or behavior that is present during a whole interval of recording (whole interval recording; WIR)?
A related concern is how should the behavior under observation be identified. Should it be specified to concern "off-task behavior," "on-task behavior," "restlessness," "out-of-seat behavior?" Any of these classes of behavior might help document problems akin to ADHD. But they are not all equivalent, nor are they all equally readily defined and faithfully observed.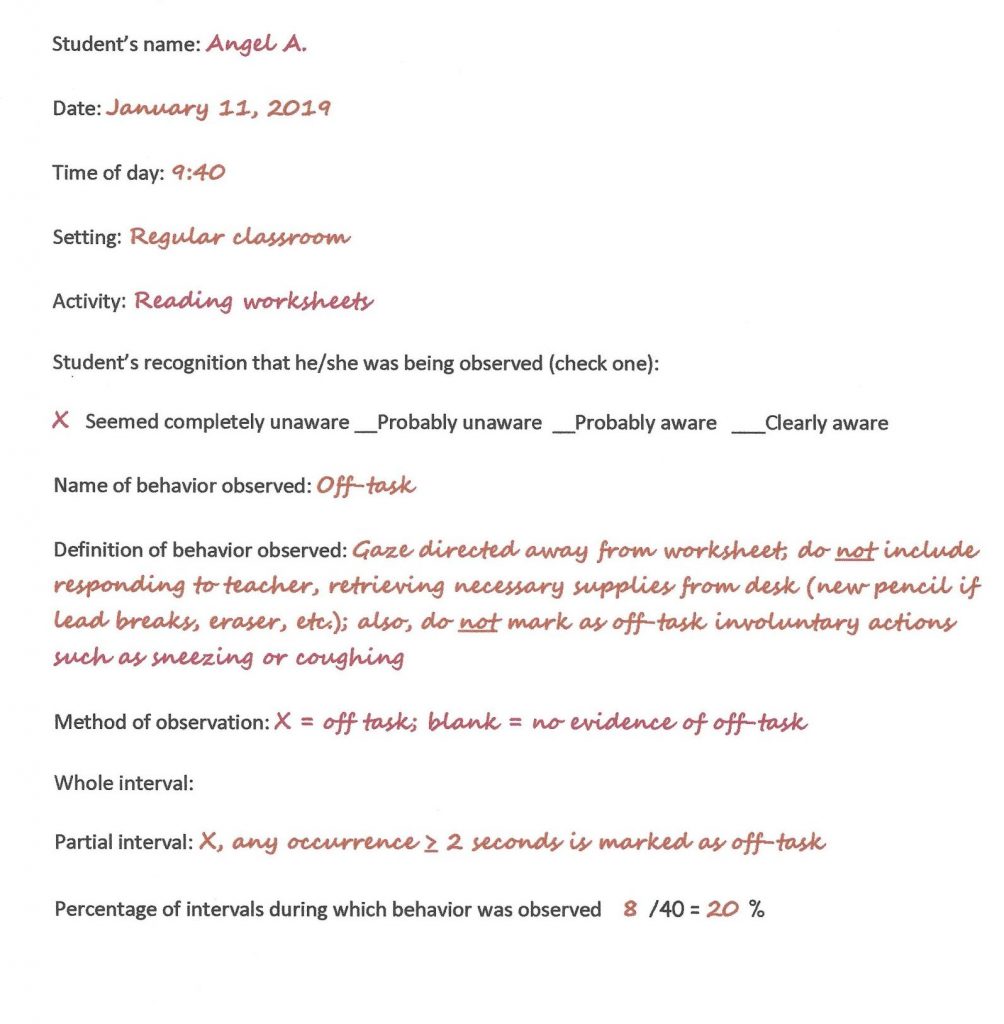 Sierra has another challenge. That is how to define the behavior to be observed in a manner to promote reliability. In other words, she needs a definition that permits her observations during the beginning of a session to match those at its conclusion (or to assure that the criteria she uses for a first observation session are the same criteria she would use if she conducted a second observation session). To help maximize reliability, Sierra might turn to a standard prescription for defining behavior objectively. According to Alan Kazdin, one of the giants of applied behavior analysis, definitions of behavior should contain three elements. These are: (1.) objectivity, (2.) clarity, and (3.) completeness (Kazdin, 2013). For school psychologists already well versed in applied behavior analysis, these requirements for a workable definition are probably familiar. Confronted with these challenges, Sierra decides she will conduct a partial interval recording of "off-task" behavior using her own observation form (Figure 8.3). She jots down a definition of "off-task" behavior that helps assure Kazdin's three specifications are satisfied. Thus, at the conclusion of a 10-minute session conducted during a seatwork activity, Sierra has some information pertaining to her student's rate of off-task behavior.
Lingering Concerns about Behavioral Observations
For all their intuitive appeal, direct school observations of students suffer lingering concerns, and these may constrain their genuine usefulness. School psychologists are urged to contemplate several issues, outlined below.
Reliability Considerations
A first question of any observation system (structured or otherwise) is whether it is reliable. This was made crystal clear many years ago when assessment of ADHD via classroom observation techniques was investigated. There is some good news here. More than 40 years ago Abikoff, Gittelman-Klein and Klein (1977) used structured observations systems of whole and partial interval methodology for 14 ADHD-related dimensions. The researchers investigated, in part, whether observations could actually answer questions about ADHD's presence. The researchers indeed documented reasonably strong inter-rater reliability (average across 14 behavioral dimensions = .76). In a replication, Abikoff, Gittelman and Klein (1980) produced similar values (average across 14 dimensions = .82). Similarly, a group in the United Kingdom examine the reliability of a structured system (Scope, Empson, McHale & Nabuzoka, 2007). The interval-variant system (counting occurrences within observation intervals) was entitled the Scope Classroom Observation Checklist (SCOC). It required observers to note whether a student expressed several behaviors associated with ADHD: distracted, daydreaming, fidgety, out of seat, interrupting, and off-task. Four two-minute intervals were used. Interval-by-interval agreement between two independent raters was found to be quite high (.989).
In the same vain, there is evidence that the ASEBA's DOF produces high inter-rater scores regarding "on-task" intervals ( r = .92; Reed & Edelbrock, 1986). Conceptual and practically distinct from tallies of intervals, DOF's summarized ratings seem unique. Recall from the discussion above that this aspect of the DOF is compatible with parent and teacher ratings in that Likert items are checked at the end of the observation. These are then used to generate standard scores on various dimensions. These researchers found quite acceptable agreement among independent raters regarding students "behavior problems" score ( r = .83).
All of the news is not good, however. For example, some values cited in the paragraph above are probably inflated. This occurs when total scores (e.g., overall # of intervals off-task) are used to calculate reliability. This method does not mean that two observers agreed on any particular intervals, just that they ended up with roughly similar totals. A large study funded by the Institute of Education Science addressed inter-rater reliability, its level, and how to enhance it. The researchers (Steiner, Sidhu, Rene, Tomasetti, Frenette & Brennan, 2013) argue that an indicator or reliability, kappa, that assesses interval-by-interval agreement is needed. A kappa ≥ .80 was deemed minimally acceptable. Some findings from this study are sobering. For example, using the guidelines in the BOSS manual (Shapiro, 2010b) coupled with video and in-class practice failed to lift observers (e.g., school psychology graduate students) to an acceptable kappa level. Instead, many structured training sessions were needed, the sessions required a skilled instructor who used enhanced and specially honed techniques. Worse, without practice participants lost proficiency over a four-month period. All of this prompted the following comment, "It is estimated that clinicians or researchers….naive to the BOSS, will require approximately 30 training observations to reach proficient reliability" (Steiner et al., 2013, p. 281). Re-read this statement as you contemplate how much confidence to assign to your own classroom observations!
The BASC-3's manual (Reynold & Kamphaus, 2015) cites an unelaborated study of the BASC-3 SOS's reliability. The manual-reported study described 19 seasoned SOS users. Video of a single third grade student was used. Without specifying values for the behavior categories individually, the manual reports Part A reliability indices ranged from 44% to 100% and for Part B ranged from 62% to 100%. This is scant evidence of reliability. The manual is silent on the SOS's validity.
Of course, this leaves a host of other tools and procedures without evidence of reliability. For example, when unstructured anecdotal records are made, what is their inter-rater reliability? Clearly, anecdotal recordings seem ill suited to straightforward reliability calculations. How could agreement be investigated on somethings so open-ended. The fact that there is no clear-cut answer does not remove the risk of poor reliability. What about the reliability of school psychologists' inferences, not just simple, isolated anecdotal recordings? For example, might Distinee's appearance (i.e., thin and wearing baggy clothes) be regarded by her school psychologist the same way on two separate occasions? Might two school psychologists make similar inferences if each were to observe Distinee independently? The answer is that we simply do not know. Professional modesty seems in order. Our observations may not be nearly as trustworthy as we are apt to think.
Validity Considerations
There is strong, albeit now dated, evidence that some structured observations are valid, at least for some types of problems. Most-studied appears to be structured observation procedures regarding ADHD (simply referred to globally as "hyperactivity" years ago when these seminal studies were conducted). For example, Abikoff, Gittelman-Klein and Klein (1977) found that 12 of 14 ADHD-related dimensions (e.g., off-task, minor movements, being out of chair) on a structured scale occurred during more intervals in a clinical (ADHD) group than for control participants. ADHD vs. control group differences are necessary but not sufficient to confirm that observation findings can assist in diagnosis. Quite correctly, the authors argued that clinicians also need sensitivity and specificity data. The necessity for "clinical utility" statistics, not just standard research-related evidence of group differences, is precisely Meehl's persuasive assertion made way back in 1954.
Happily, Abikoff and colleagues shared just this information. For example, observed intervals of off-task behavior were associated with generally high rates of true positives (88.3%) but somewhat lower rates of true negatives (77.3%). Even more impressive was a replication (cross-validation) using new participants (with and without ADHD; Abikoff, Gittelman & Klein, 1980). The second study produced similar results when, as in the prior study, the base rate for ADHD was 50%. Critically for school-based observations, both studies suggested that observational dimensions that might be selected by school psychologists in the field (e.g., off-task behavior) are valid (Scope et al., 2007).
The SCOC, a tool mentioned above, appears to be not only reliable but also valid. It was found to in general correctly classify students with high and low the teacher version of the Conners Rating Scale-Revised (Conners, 2001), with 78% correctly classified. Sensitivity and specificity values are not easily derived from the scores reported in the article, although positive and negative SCOC observation scores appear to predict membership in the non-ADHD and ADHD groups. Again, this study used equal numbers of students with and without ADHD, effectively creating a base rate of 50% for classification purposes. Positive predictive values and negative predictive values would consequently differ in settings with base rates of ADHD either higher or lower than 50%.
School psychologists who consider ADHD as an externalizing phenomenon (i.e., characterized by easily observed student behavior) might anticipate similar favorable validity findings for observing other externalizing problems. But results from an intensive study of 79 preschoolers spanning an entire school year seemed to provide, at best, mixed results. Doctoroff and Arnold (2004) used many assessment techniques, one of which was a partial interval observation recording. The number of intervals during which a summary behavioral observation category called "problem behavior" (e.g., aggression, non-compliance, disruption) was found to predict some end-of-year markers. One example was teacher behavioral ratings (on the Achenbach behavior rating scale) r = .49. This seems to suggest that observations are valid. But the number of problem behavior intervals was not significantly correlated with parent ratings ( r = .18) nor with diagnostic interviews of parents ( r = .09). Interestingly, the number of intervals during which "prosocial behavior" occurred (e.g., pleasantly conversing, sharing, helping) was not significantly related to the suite of end-of-year outcome variables cited above.
Published validity evidence beyond ADHD and externalizing problems appears to be scant and sometimes disappointing. For example, Winsler and Wallace (2002) executed an intensive study of preschoolers (i.e., approximately 30 10-minute observations on each student across two years). Although reliable, fewer than one-half of the observational dimensions were related to teacher and parent behavioral ratings beyond a chance level. Moreover, observational dimensions that school psychologists might intuitively trust turned out to be only modestly associated with teacher ratings. Specifically, the number of intervals of "inappropriate behavior" observed in class was correlated with teacher ratings of externalizing problems just .31. Intervals of observed "positive affect" and "negative affect" were correlated with teacher ratings of internalizing problems a mere .15 and .21 (and these values failed  to reach statistical significance).
One study in particular seems to suggest caution for BASC-3 SOS users. The original BASC SOS (largely unchanged in later versions of the BASC, such as the BASC-3) was checked for reliability and validity (Lett & Kamphaus, 1997). After a 30-minute training session, graduate and undergraduate students observed pupils with ADHD (only), ADHD with a comorbid condition, as well as a group of unaffected peers. Although SOS ratings were found reliable, validity data were weak. Specifically, group comparisons were non-significant regarding four SOS sub-dimensions (i.e., Work on School Subjects, Inattention, Inappropriate Vocalization, and Adaptive Composite). What's more, just two of five SOS subscales evidenced statistically significant group differences (i.e., Inappropriate Movement, Problem Composite). No consider a stark finding (especially for those who campion observations). In contrast to observation-related findings, results from teacher ratings (i.e., BASC Teacher Rating Scale) resulted in statistically significant group differences. This prompt the following statement, "although observations may be helpful in identifying target behaviors for intervention or classroom environmental factors that need modification, the use of quantitative data from a classroom observation such as the SOS can be deemphasized in ADHD assessment without significantly impacting the diagnosis" (Lett & Kamphaus, 1997, p. 11). In other words, the two researchers, one of whom is a BASC author, imply that teacher ratings alone are just as effective as teacher ratings plus the BASC SOS in identifying ADHD. Interestingly, no new validity studies regarding the SOS are reported in the BASC-3 manual (Reynolds & Kamphaus, 2015). In fact, the Lett and Kamphaus study is not even cited in the most recent BASC-3 manual.
Beyond validation of externalizing dimensions, things prove less clear. Worry, compulsions, avoidance, depressed mood, cyclical mood, stereotypic movements, as just a few examples, might all warrant documentation by an observer. Yet systematic, classroom-based validity studies concerning this array of non-externalizing psychopathology seem to be non-existent. This represent a reason for caution when drawing inferences from natural-setting observations.
Cut-score Considerations
School psychologists using behavioral rating scales are already versed in the meaning of cut-scores. Norm-referenced instruments like the BASC-3 and Conners CBRS produce standard scores; their manuals draw a line suggesting scores beyond this point (e.g., T-score = 60; T-score = 70) are probably consequential. Although comparable guidance is afforded school psychologists using standardized, norm-referenced ratings (i.e., ASEBA TOF and DOF) most techniques covered in this chapter leave the observer adrift regarding nomothetically-oriented inference making. It is unclear how many intervals of off-task behavior, for example, might signal a basis for concern. Is it 10%, 20%, 30%? Should the same standards be applied to elementary students and high school students? Should a different threshold apply for students confronted with extremely tedious and monotonous tasks as for those completing relatively high-interest work? As mentioned above, the notion of a comparison peer might assist inference-making about off-task behavior. Although a good idea, observing and tabulating a peer's behavior hardly ameliorates the issue of concluding whether or not a problem is present based on the degree of problem behavior that you have witnessed. If a target student is off-task during two times as many intervals as a peer is that indicative of a problem? What about 1.75 times as often? What about 1.5 or 1.25 as frequently?
The situation is made no easier for school psychologists when they observe behaviors other than on-task or off-task. How much "Inappropriate Vocalization," one of the BASC-3's SOS 14 categories, is sufficient to trigger conclusions that a problem is present? Would it matter if the observed vocalization consisted of "Tattling" vs. "Teasing" vs. "Crying"? After all, each of these three specific actions is enumerated within the SOS's Inappropriate Vocalization category. Should these three actions really be treated as comparable? Again, the correct answer is not self-evident nor does the test manual tell you precisely what to do. Because errors of judgment are a constant concern among diagnosticians, conscientious practitioners should continue to value what they observe but also remain skeptical. There may be less there than meets the eye.
Cultural and Linguistic Considerations
Bias springing from ethnic group membership is an understandable risk whenever humans observe and characterize one another. You have seen this discussed earlier (Chapter 2, Chapter 5). For example, when an observer and a student are of different cultures or ethnic groups (using the term of Miranda, "ethnic incongruence"), misperceptions are especially likely. A European-American observer, for example, might misjudge an African-American student she is observing in a classroom to be aggressive or lazy. Implicit bias may underlie this risk. But you also learned in Chapter 2 that when school psychologists slow their thinking (use the Reflective System) by leaning on structure and checklists that the chances of biased observations can be reduced. According to the same logic, trusting subjective impressions and summary judgments invites problems (unfettered use of the Automatic System). This, of course, implies that anecdotal observations are particularly prone to bias. There are interesting data that might speak to this prospect regarding one condition, ADHD.
Studying children of various ethnicities (e.g., Caucasian, African-American, Hispanic), Hosterman, Jitendra and DuPaul (2008) found at least one provocative finding. Perhaps as you might suspect, differences emerged across groups. Specifically, scores on teachers' ratings scales and observation findings from structured classroom observations (i.e., BOSS dimensions such as off-task behavior) were not identical for each ethnic group. But perhaps surprisingly, the degree of rating scale-observation agreement was stronger for ethnic minority students than Caucasian students. This might imply the following, when teachers who are familiar with students' routine classroom behavior rate a minority student as having an attention problem, school psychologists are apt to perceive the same problem in their classroom observation. But when a teacher rates a Caucasian student with a comparable problem, the school psychologist is less apt to perceive it during her classroom observation. Perhaps heightened caution is needed for students from minority groups even when structured (let alone unstructured) observations are conducted. Thus, school psychologists are (again) urged for most referral questions to carefully weigh all sources of assessment data and tap any structured method that is available to help them do so (i.e., the HR approach).
Direct observations are commonly used by school psychologists. They enjoy enormous intuitive appeal, in part because we humans are inherently predisposed to observe one another and to reach conclusions based on what we see. In practice, observations range from straightforward techniques that allow inferences about personality and behavioral characteristics to highly structured and norm-referenced procedures. School psychologists are counseled to remember the case-specific purpose of observations whenever they use them and to select their methods accordingly. Time-sampling and recording of overt actions (such as by use of the BASC-3 SOS or the simpler BOSS) are well suited for attention problems and externalizing behavior. In contrast, the ASEBA TOF and DOF represent techniques that sample across an array of internalizing and externalizing problems. Consequently, these norm-referenced options may prove better choices if internalizing hypotheses are dominant. Challenges remain, notwithstanding the popularity of observations. Reliable use of standardized techniques may be more elusive than one might anticipate from their straightforward appearance. Many observations may be required to guarantee adequate reliability. Likewise, validity evident is scant. How to make clinical decisions in the absence of guidance about threshold levels remains a lingering challenge.
Social-Emotional Assessment in Schools Copyright © by David L. Wodrich. All Rights Reserved.
Share This Book

Beginner Practice Mastermind
Advanced Practice Mastermind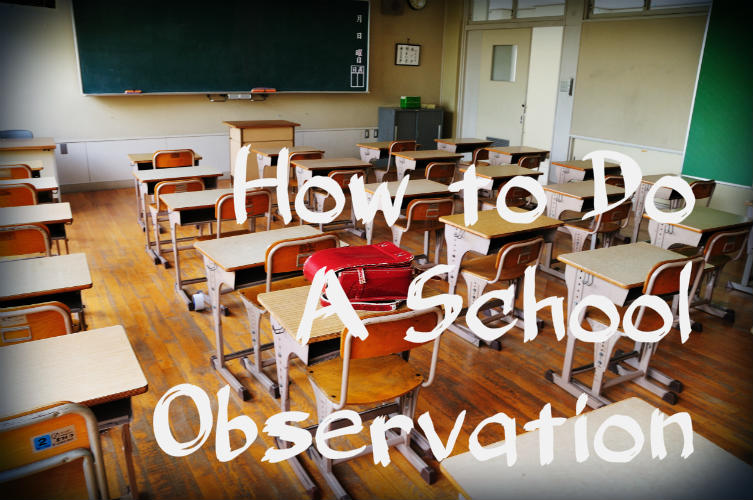 TTP #11: How to Do a School Observation
Dr. Jeremy Sharp March 13, 2017 Podcast 2 Comments
Podcast: Play in new window | Download | Embed
Subscribe: Apple Podcasts | Google Podcasts | Spotify | RSS
Would you rather read the transcript? Click here.
School observations are REALLY important when you're evaluating kids. Today I'm talking all about the importance of a school observation, how school observations can be a great marketing tool, and the practical elements of how to do a school observation. Here are just a few things I discuss:
How to talk to parents about a school observation
Billing for a school observation
What to look for in a school observation
Building relationships during a school observation
Cool Things Mentioned in This Episode
I didn't actually mentioned this, but I should have! If you're looking for a structured observation system, the BASC-3 Student Observation System is great 🙂
Episode 5 & this blog post on time management and scheduling in your testing practice
MileIQ & Everlance – apps to track miles you drive to and from school (or any miles driven for work)
About Dr. Jeremy Sharp
As the host of the Testing Psychologist Podcast, Dr. Sharp provides private practice consulting for psychologists and other mental health professionals who want to start or grow testing services in their practices. Jeremy lives in Fort Collins, Colorado with his wife (also a therapist) and two young kids.
Hi there! I enjoy your podcast. However, it would be helpful if you could actually list the requirements for evaluators of specific types of testing and wgere to fibd the requirements. It looks like most of this is for phd's. Id like to be able to know what masters level clinicians can do. Its often hard to find this info.
I hear you! All of the test publishers will list their required qualification levels and what you need in order to administer certain instruments. It's true that most testing is done by doctoral-level clinicians, but Masters folks can do a lot too. Ultimately it comes down to what you have the training and expertise to do 🙂
Leave a Reply Cancel reply
Your email address will not be published. Required fields are marked *
This site uses Akismet to reduce spam. Learn how your comment data is processed .
Child Observation Report Template
Observations are the best way to assess children in preschool, and child observation reports are really useful in order to gain insight into how each child is doing. Choose different children to observe on a regular basis, and fill out this extremely user friendly form so that you can build content on each child.