How to write the best Job Application Letter?
Whenever you submit your resume, it's important to include your application letter which might be a deal-maker to grab your dream job . If you know how to write the best job application letter, it will open the doors of opportunities for your golden career. Your job application letter becomes a standalone document to express your depth of interest in the vacant position. The well-written job application letter is the first move for you to be called on the final stage of interviews. Your application letter should elaborate on your skills, experiences, and abilities. It should create a powerful impression on the hiring managers or the potential employers for the selection process based on your skills, experiences, and caliber. Click here for the best tips to write the professional CV .
Tips on how to write the best Job Application letter
An application letter, also called a cover letter, sets you apart from many applicants and sets the potential impression on the hiring employer. Here are some of the tips to write the best job application letter.
1. Summarize and emphasize your skills and abilities The cover letter is the best opportunity to express yourself to stand out as an excellent candidate among many candidates. Include your best skills, experiences, and qualifications that support your claims of setting you as an outstanding employee among many.
2. Conciseness is needed Always stay alert of your letter having multi-pages. Summarize everything in a single page. A brief cover letter with appealing and manageable writing is preferable.
3. Proofreading is a must After writing the letter, make sure you proofread the letter. Your small error in the letter may set a negative impression on the hiring manager. Make sure you check every grammatical and spelling error before sending the letter.
How to format the best job application letter?
Follow these steps for writing the best job application letter: Use a professional format Make sure you use a very professional format while writing a letter. Your letter should not exceed an age and the font size of 1o to 12 points Times New Roman will be the best.
Create the professional heading Use the formal business heading and company name and address to make your letter more professional .
Address the letter to the hiring manager Try to find out the name of the application reviewers so that it may show a positive impression upon them that you have done quite a research of the company. Use the formal greeting such as Dear Mr./Ms including their last name. How to format the best job application letter
Do thorough research of the company and the vacant opening so that you might better customize your best application letter.
Mention your name, contact information, date, and the company's information.
Begin the letter with the professional salutation and address the hiring manager with the name if possible.
Don't forget to make a clear statement about the position you are applying for. Also clearly mention the references for a better impression.
Summarize and mention the top qualifications, experiences, and skills and explain why you are suitable for the job. Try to highlight important points from your resume.
Make sure you make a compelling argument why you chose the company and why this job opportunity matters to you.
Thank the reader for the professional closing.
Make sure your job application letter remains professional, not over-explained. Highlight the skills and contributions you can make to the company. All the best! Your dream job is waiting for you.
2023 All Rights with Rolling Nexus
Login with your registered Email & Password.
If you don't have an account, please create an account.
Accessibility Adjustments
Job Application Letter for Veterinary Assistant
Save, fill-In The Blanks, Print, Done!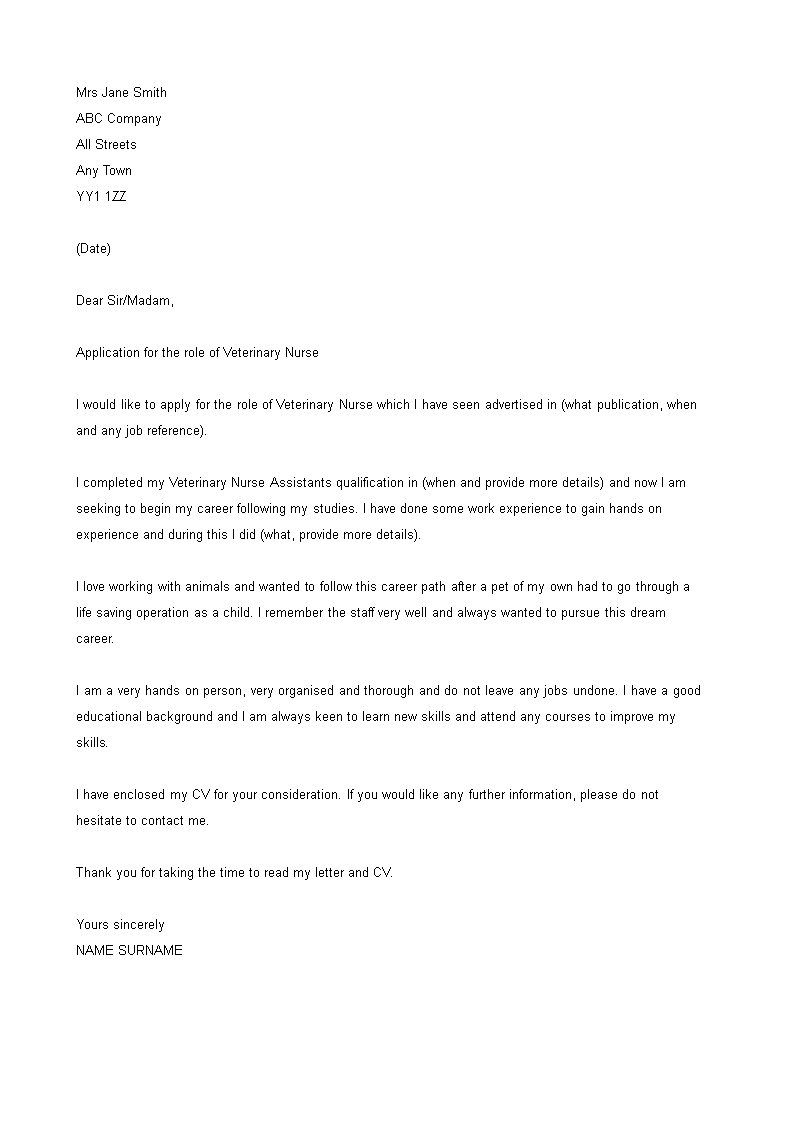 Download Job Application Letter for Veterinary Assistant
Or select the format you want and we convert it for you for free:
This Document Has Been Certified by a Professional
100% customizable
This is a digital download (11.5 kB)
Language: English
We recommend downloading this file onto your computer.

Structured and written to highlight your strengths;
Brief, preferably one page in length;
Clean, error-free, and easy to read;
Immediately clear about your name and the position you are seeking.
DISCLAIMER Nothing on this site shall be considered legal advice and no attorney-client relationship is established.
Leave a Reply. If you have any questions or remarks, feel free to post them below.

Attendance Sheet
Related templates.
Job Application Letter For Veterinary Doctor
Sollicitatiebrief voor dierenarts
Job Application Letter for Office Assistant
Sample Cardiologist Job Application Letter
Latest templates
Student Job Application Email
Graphic Design Short Cover Letter
Qa Engineer Job Description
Nursing Job Cover Letter Format
Latest topics
Attendance Sheet How do you create an attendance sheet in Word, Google Docs, Excel or Google sheets? Check out useful Attendance sheets and Sign-in sheets here!
GDPR Compliance Templates What do you need to become GDPR compliant? Are you looking for useful GDPR document templates to make you compliant? All these compliance documents will be available to download instantly...
Best Calendar Templates How do you make a nice calendar? Are you looking for nice calendar templates in MS Word, Excel or PowerPoint to improve your personal efficiency and effectiveness? These easy to modify calendar templates can help you out!
Google Sheets Templates How to work with Google Sheets templates? Where to download useful Google Sheets templates? Check out our samples here.
Flyer Template Creating strong marketing materials that support your marketing strategy, such as flyers or online promotion (banners, ads) are an important part of growing a successful business!
Business is more exciting than any game. | Lord Beaverbrook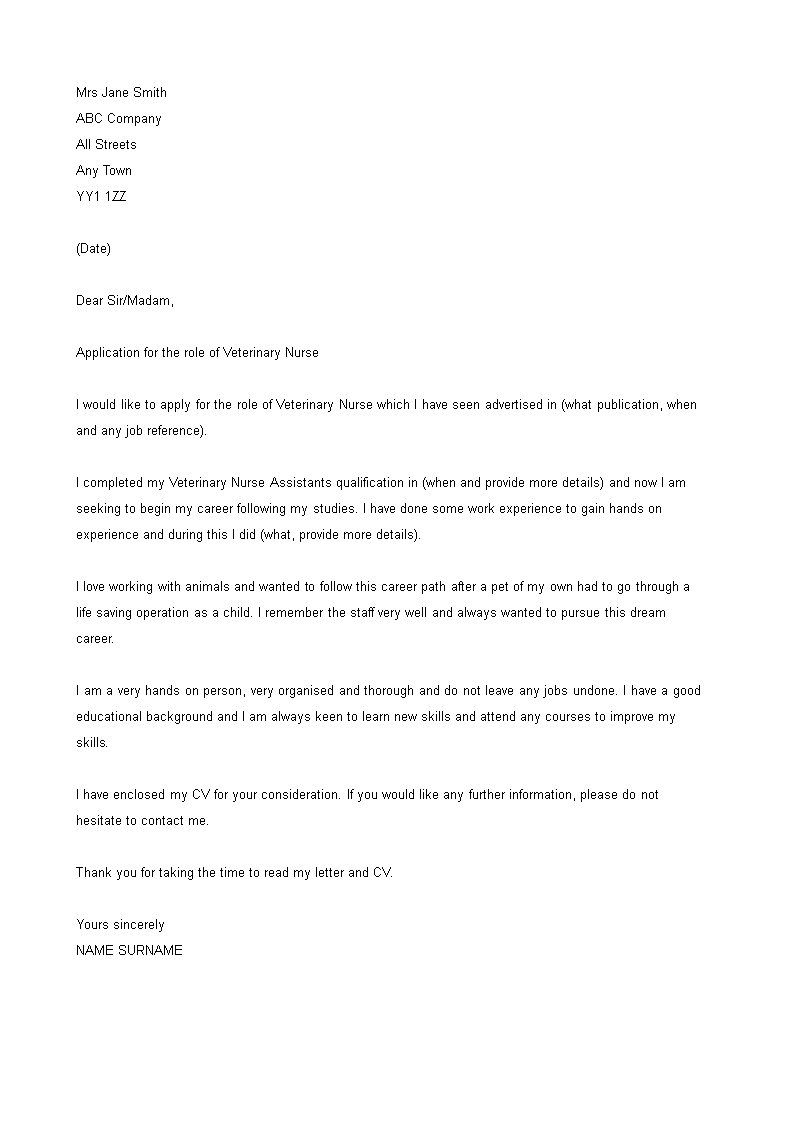 ONLY TODAY!
Receive the template in another format, for free!
Application letter for a job vacancy. Sample letter
Write in a professional manner.
Mention where you learned of the job vacancy and express your interest in applying.
List down the qualifications that you have. Include your resume as well.
End in a professional and uplifting tone.
SAMPLE LETTER
[Letter Date]
[Subject: Normally bold, summarizes the intention of the letter] -Optional-
Dear [Recipients Name],
I am writing to you to inform you of my interest to apply for the job vacancy which you currently have in your company. I saw the ads which you posted on the local newspaper. I am very much interested in joining your prestigious company since I find that I could be an asset by providing my knowledge and skills. You will find attached my resume and a list of my qualifications. I look forward to hearing your positive reply soon.
Sincerely, [Senders Name] [Senders Title] -Optional-
[Enclosures: number] - Optional - cc: [Name of copy recipient] - Optional -
Application letter for a job vacancy. Sample letter.
Further things to consider when writing application letters to human resources
Application letters are letters that you write to formally request for something from authority, apply for a job, or join an institution. Effective application letters will give a detailed explanation for your interest in the specific item, company, or institution. They showcase your abilities and strengths and illustrate your experience. In most cases, people write application letters to express their interest in receiving a position, attending an institution, or when applying for a visa, for instance. In all scenarios, application letters must be accompanied by the relevant documents. Application letters are the perfect tool to demonstrate something of your personality. Therefore, you should write in a professional tone setting a clear outline that allows the reader to scan the primary data quickly. Introduce yourself and briefly explain your intent and reason for the application. Address the letter with a title or name of the recipient. If your application is for a job or to join an institution, for example, you need to highlight your experience and qualification; if you are applying for a travel visa, make sure to state a clear intention for your travel. End with a positive tone and invite the recipient to contact you.
Letters to Human Resources
Letters to human resources are letters written to the personnel or department that deals with administration, training, and hiring of employees in an organization. The role of human resources personnel is to handle everything from payroll to policy issues and legal grievances. If you have a policy or legal question, a personal issue that affects your work, or a serious problem with a colleague, the first person you may want to contact is a human resources representative. The best way to begin this conversation is by drafting a letter stating your specific problem. When writing letters to human resources, make sure to follow all the rules of a formal letter. Start by addressing your letter to the right person. Write a clear subject line communicating your problem and indicating that action is needed. Set a formal and professional tone early in the conversation. Keep your sentences short and clear and avoid providing more information than is necessary. Describe the issue precisely giving a timeline of when it started. Explain what you have done or think can be done to address the issue. Request for an in-person meeting. Close on a note of anticipation to seeing the issue resolved.
These articles may interest you
Similar Letters
Job application letter of interest. Sample letter
Motivational letter sample for job application
Sample letter of intent of job application
Application letter for an internship. Sample letter
Application sample letter for an administrative assistant
Letter of application for employment. Sample letter
Letter of applying for a position. Sample letter
Application letter for teaching. Sample letter
Letter of application for a teaching position. Sample letter
Loan application letter. Sample letter
Letter example inquiring about a program for foreign nurses
Application for leave from work sample letter
Cover letter for a job application
Cover letter for a resume - example
Example cover letter for a job application
Example cover letter for a job application in a company
Example cover letter for a resume
Example cover letter for an application
Follow up letter after application. Sample letter
Job application - sample cover letter
Letter Categories
Acceptance Letters
Acknowledgment Letters
Advice Letters
Agreement Letters
Announcement Letters
Apology Letters
Appointment Letters
Appreciation Letters
Approval Letters
Authorization Letters
Cancellation Letters
Celebration Letters
Claim Letters
Collection Letters
Complaint Letters
Compliment Letters
Condolence Letters
Confirmation Letters
Congratulation Letters
Cover Letters
Credit Letters
Delegation Letters
Denial Letters
Directive Letters
Disagreement Letters
Disapproval Letters
Dismissal Letters
Encouragement Letters
Endorsement Letters
Error Letters
Farewell Letters
Feedback Letters
Follow-Up Letters
Fundraising Letters
Get-Well Letters
Gift Letters
Goodbye Letters
Goodwill Letters
Government Letters
Greeting Letters
Holiday Letters
I'm Sorry Letters
Inform Letters
Inquiry Letters
Introduction Letters
Invitation Letters
Job Offer Letters
Love Letters
Marketing Letters
Miscellaneous Letters
Mistake Letters
Notify Letters
Order Letters
Persuasive Letters
Recommendation Letters
Reference Letters
Referral Letters
Refusal Letters
Rejection Letters
Reprimand Letters
Request Letters
Reservation Letters
Resignation Letters
Response Letters
Romantic Letters
Sales Pitch Letters
Social Event Letters
Suggestion Letters
Sympathy Letters
Termination Letters
Thank-You Letters
Transmittal Letters
Welcome Letters
Unemployed job seeker sample cover letter
If you're currently unemployed and hoping to find a job, you might be feeling insecure about what to say to employers. You're likely thinking: How can you compete against people who currently have jobs? We hear you.
The good news is that even though you're currently without a job, there are plenty of ways you can persuade a hiring manager to consider your candidacy just as much as they would consider someone who's employed. The key is showing how your skills and experience match the duties and requirements that are mentioned in the job description and focusing on the kind of value you would bring to the company. You can demonstrate all of this in a well-crafted cover letter that plays up your past professional accomplishments as well as your enthusiasm for the job. Get ideas from this sample cover letter below.
And if you're curious as to where to your job search will likely strike gold, WalletHub released a list of the best states to find a job , and these were the top 10: Washington , Colorado , Minnesota , Utah , New Hampshire , Tennessee , Vermont , Massachusetts , Florida , and Texas .
Additionally, you can check out all sample cover letters on Monster.
Sample cover letter
David Brentwood (555) 555-5555 | [email protected] | PO Box 222 | Sometown, MA 55555
Hannah Jones VP Purchasing XYZ Company 15 Main St. Sometown, MA 55555
Dear Ms. Jones:
As an accomplished purchasing specialist with extensive healthcare industry experience, I was very interested to learn about your purchasing specialist opening. I offer eight years of experience working for ABC Company, a national home healthcare company and a billion-dollar leader in the industry. As the company's corporate purchasing specialist, I managed:
Purchasing functions for 115 locations.
75 major contracts in areas including medications, supplies, equipment, furniture, uniforms, distribution and vending machines.
A 15-member team of contractors, buyers, analysts and support staff.
Consistently recognized for outstanding performance, I saved ABC Company more than $5.3 million in 2015 alone. An expert in contract negotiations, vendor management and global sourcing, I repeatedly reduced expenditures, cost-of-sales (COS) and cost-of-goods (COG), as well as assisted with major system implementations of inventory, purchasing and tracking systems.
In 2016, ABC Company experienced a significant workforce reduction and my position was eliminated. Since then, I have remained active in the American Purchasing Society and completed courses in business ethics, contract law, the art of negotiation and supply chain management. I plan on sitting for the Certified Professional Purchasing Manager (CPPM) exam later this year.
I am confident that my ongoing studies combined with successful experience in the field will enable me to aggressively pursue cost-reduction opportunities and improve return on investment (ROI) for your company. If you agree that my skills and experience would benefit your operation, please call me at (555) 555-5555 or email [email protected] to arrange an interview. Thank you for your time, and I look forward to speaking with you.
David Brentwood Enclosure: Resume
Want to move your application to the top of the pile?
Now that you've written your cover letter, it's a good idea to have someone critique it before you submit. Get a free resume evaluation today from the experts at Monster's Resume Writing Service . You'll get detailed feedback in two business days, including a review of your resume's appearance and content, and a prediction of a recruiter's first impression, so you can find gainful employment in no time.
Most Helpful In Cover Letters
Nursing Cover Letter Example
By Martina Mascali, Monster Contributor
Administrative Assistant Cover Letter Sample
By Jennifer Verta, Monster Contributor
How to Write a Police Officer Cover Letter - with Example
Graphic designer cover letter example, sample sales cover letter.
Build your career. Build your life.
Career Resources
The best cover letter examples to get a job [2023].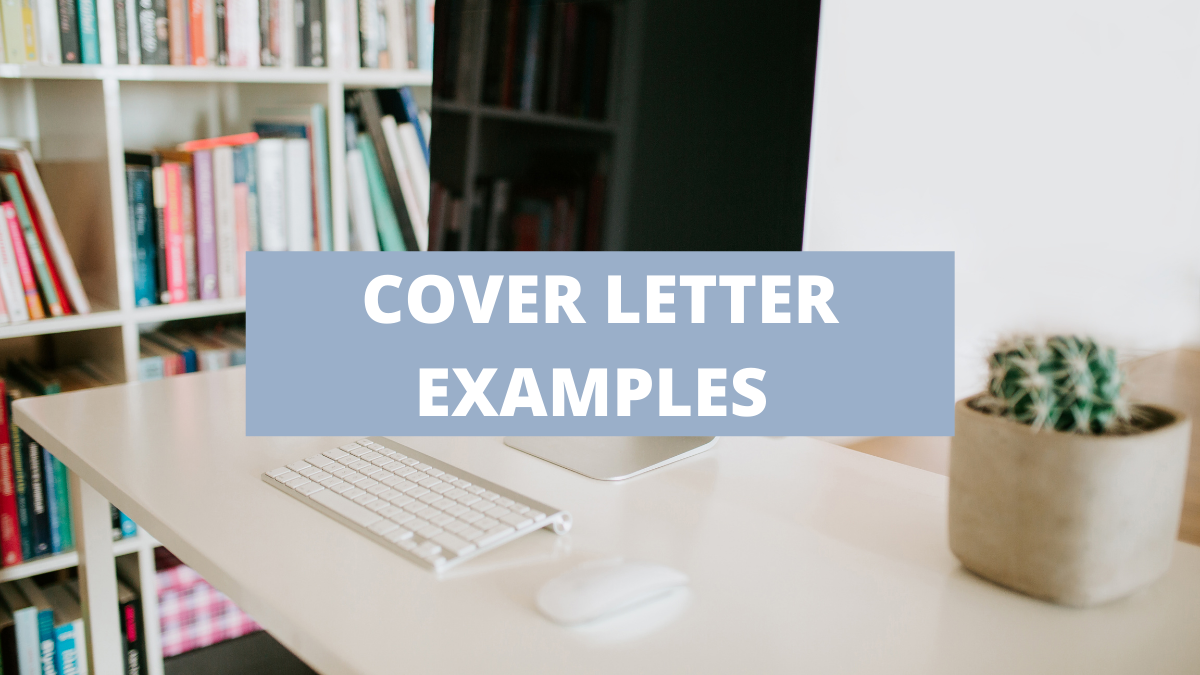 Cover letters are a critical part of the job application process. If you're struggling with how to write a cover letter , you'll like these cover letter examples we've put together. You'll find cover letter examples for many different purposes and for a variety of job industries and work roles you're applying for.
If you're preparing a cover letter, you may be hunting for a job. ZipRecruiter makes the process of applying for and finding jobs simple! You can also upload your resume to ZipRecruiter's resume database to allow recruiters and hiring managers to find you! Get started with ZipRecruiter today!
What Is A Cover Letter And Why Do You Need One?
A cover letter is an introduction letter submitted with your job application and resume. It can also be called a motivation letter, letter of motivation or covering letter. The purpose of the cover letter is to give a brief summary statement about yourself, share your work history, background, and talk about why you're the best fit for the job.
A resume can say a lot about your experience and skills when you submit a job application but a cover letter can tie it all together. It's a chance for you to share more about yourself and show off your skills and competencies outside of your professional resume.
Related: The Best Resume Writing Services
What Should Be Included On A Cover Letter
All cover letters should open with a salutation. This is the Dear Hiring Manager or Hi Mrs. Gomez that starts your cover letter.
It's helpful if you know the hiring manager's name so you can use it in this opening statement. If not, you can address by Hiring Manager, Team, or To Whom It May Concern.
Introduction
The introduction is one of the most important parts of your cover letter. It's what's going to make your first impression on the reader and convince them to keep reading.
You should write an attention-grabbing first few sentences that serve as an introduction before moving into the meat of your cover letter, the body.
The body is the middle part of your cover letter where you can go into more detail about:
Work History
Why you're the perfect candidate for the job
This should be no longer than a few paragraphs and contain relevant information.
The closing of your cover letter is where you'll get your chance to include a call-to-action (CTA) asking the human resources (HR) team to extend an invitation of interview to you.
When you put all four sections together, you will have a winning cover letter that hopefully secures a job interview for you!
Cover Letter Examples
Here are 3 cover letter examples you can use to accompany your resume and job application:
Cover Letter Example 1
March 1, 2023
Hiring Manager
Gabay & Club
123 14th Street
Houston, TX 77495
Dear Hiring Manager,
I am so excited for this opportunity to potentially join your team as a customer service lead at Gabay & Club. My background in administration, customer service, and research make me the perfect candidate for this position.
I graduated in December 2014 with a degree in Business and Spanish while volunteering at the 8th Division Girl Scouts of Houston, Texas and leading the Chess Club as Treasurer.
While reviewing your website, I was excited to discover all the realms you work in. My area of interest lies with corporate administration.
I am eager to learn from the team at Gabay & Club. I hope that you will afford me the opportunity to become a member of your team. I am interested in moving to the interview part of the hiring process and I will make myself available for scheduling at your earliest convenience.
Thank you for your time and consideration. I can be reached via phone 555-987-0304 or email ([email protected]).
Sally Swanson
Cover Letter Example 2
March 2, 2023
Cece Meyers
Blue Lagoon Mentorship Program
110 Winning Avenue
New York City, NY 10006
Dear Mrs Meyers,
Having been accepted to Sweetwater University for the 2024 spring semester to pursue a Bachelor's of Arts in Graphic Design, I am writing to express my desire to participate in the Blue Lagoon Mentorship Program.
As a magna cum laude graduate student from Mary Minster High School, I was awarded Dean's List more than a dozen times during my attendance there. I managed to be President of the chess club and Club Treasurer for the Fine Arts Student Committee.
Receiving your scholarship would allow me to put more time, effort and resources into contributing to the community.
I am honored to have you further review my application and I appreciate your time and consideration.
Molly Baunter
Cover Letter Example 3
April 15, 2023
Minty Publishing
123 Anywhere Street
Anywhere, TX 75231
I am writing to show my interest in the position of Senior Writer as listed on the Minty Publishing website.
I am confident that I will be able to contribute to Minty Publishing's team right away. As a ten-year-experienced senior general copywriter, I am seasoned in the industry and would be a valuable addition to your team.
I have excellent communication skills, I'm a team player, and have experience in project management, as well. As the Senior Writer for Magma Publishing, I led a group of 18 writers in various projects throughout my 5 years at the organization. I was awarded the Bronze Badge of Excellence Award for leadership three times.
Here I enclosed my resume for your review. Looking forward to the chance to meet with you and discuss how my skills and strengths can best benefit Minty Publishing. I appreciate your thoughts and time.
Justice Smith
Where To Get Help With Your Cover Letter
If you're looking for some help with your cover letter, check out a cover letter builder. According to our in-depth research, these are the best cover letter builders .
You can use a cover letter builder to effortlessly craft your cover letter for you. This web-based tool will format and assemble the perfect cover letter for your needs. They're perfect to use to help you write a professional cover letter quickly and easily.
Frequently Asked Questions
What do i write in a cover letter.
Your cover letter will cover:
Your background, skills and experience
Why you're the best candidate for the job and,
Why you want to work for that company
How do I write a sample cover letter?
Writing a sample cover letter will include 3 main parts: introduction, body, and closing. You will want to describe your experience, skills, accomplishments, and talk about why you want to work for that organization and why you're the right choice for the job.
What are the 3 parts of a cover letter?
The 3 main parts of a cover letter are:
What is a thoughtful cover letter?
A thoughtful cover letter is carefully planned and well thought out for the job you're applying for.
It can be tempting to use a template for every cover letter you send a prospective employer but sending canned responses are noticeable and they don't make you stand out. Instead, spend a little bit of time personalizing each cover letter to align with the job and company you want to work for.
The Bottom Line
Cover letters are important and careful planning and consideration should be used when preparing yours. Taking some time to perfect your cover letter can mean the difference between an average and a great cover letter. Now that you know what a good cover letter looks like, you can take the next step toward your dream job! Start applying on ZipRecruiter today.
CareerCloud
CareerCloud is at the forefront of social and mobile in the job search and recruitment process. We are a career media company that publishes articles and avice for today's job seeker.
about the newsletter
14k+ career breakers get one strategy to take control and build a career of purpose every Wednesday morning. Plus get early access to all of our podcast conversations with unique people who have dared to build work on their terms.
Your Resume
Interviewing
Career Tips
Announcements
Job Markets
Job Search Notes
Recruitment Marketing
College Grads
How I Got My Job
Pre-Employment Assessment
Job Stories
In the News
Social Recruiting
Testimonials
ABOUT / CONTRIBUTE / CONTACT / PRIVACY
Subscribe to careercloud radio on itunes.
Skip to main content
Skip to main menu
Skip to user menu
Filter News
All (768,354)
Topic (726,990)
Industry (146,130)
Hotbed/Location (700,422)
Career Advice (3,805)
Employer Insights (228)
Therapeutic Insights (989)
Coronavirus (COVID-19) News (2,552)
How to Write an Effective Cover Letter for a Research Scientist Job
Published: Oct 04, 2022 By Katharine Hansen, Ph.D.
Research scientists are a critical component of the life science industry. According to the Bureau of Labor Statistics (BLS) , medical scientists earn a median annual salary of $84,810 and typically have a doctoral or professional degree.
Some may have an M.D. but conduct research in addition to, or instead of, practicing as a physician. The BLS projects job growth for medical scientists at a faster-than-average 8% up to 2028.
Various structures are possible for cover letters, and hiring decision-makers don ' t offer a consensus on the best structure. But if you ' re inexperienced with cover letters, the following offers a basic roadmap for getting started.
How to Write a Cover Letter for a Research Scientist Job
One thing that ' s changed in recent years since many professionals first started writing about cover letters is people's attention spans.
Hiring professionals used to recommend a maximum of four paragraphs – and some people can still get away with four. Three, however, is a safer limit these days, and the full letter should never be more than a page. Some experts say hiring managers scan the whole letter in about 10 seconds.
Here ' s a structure for your cover letter, including an optional paragraph:
Opening Paragraph
Do not waste the opening paragraph of your cover letter. It is essential that the first paragraph sparks the employer ' s interest, provides information about the benefits the employer will receive from you, and helps you stand out from all the other job seekers. Right from the get-go, identify one or two benefits you can offer the employer and tell how you can make a difference for the organization.
Weak opening paragraph: I am writing today to apply for the research scientist position you have posted on BioSpace.
Better opening paragraph: My Ph.D. in molecular biology and five years as a postdoctoral fellow in the U.S. and in Switzerland, along with my leadership skills and ability to contribute collaboratively, will enable me to enhance your lab ' s success in a research scientist capacity, per your current job posting on BioSpace.
Optional Next Paragraph
Provide more detail about your professional and academic qualifications to make it an effective cover letter. Include more information about how you can provide the benefits you mention in the first paragraph. Expand on specific items from your resume that are relevant to the job you are seeking. Use solid action verbs to describe your accomplishments and achievements. If responding to a job posting or job ad, be sure to tailor this paragraph to the needs described in the ad.
Sample Paragraph
I offer proficiency in cell biology, techniques in molecular biology in general, and RNA methodologies in particular, encompassing various techniques of DNA and RNA isolation, linear RNA amplification for microarray hybridization, RNA microinjection, RT-PCR and quantitative RealTime PCR (TaqMan), in-situ hybridization, as well as a wide variety of lab techniques and computer skills, as outlined in my CV.
Second or Third Paragraph
Relate yourself to the company, giving details on why you should be considered for the position. Continue expanding on your qualifications while showing your knowledge of the company. Be sure you ' ve done your homework. To make an effective cover letter, show that you know something about the organization.
Sample Paragraph :
My current experience as a postdoctoral research associate in the Molecular Biology Group at Novartis Pharmaceuticals AG in Basel, Switzerland, translates well to the requirements of your research-scientist position. These past three years at a leading international pharmaceutical company, along with two years of postdoctoral research at the Center for Developmental Biology, University of Texas, have bolstered an eclectic combination of skills that gives me a solid foundation upon which to make an immediate and meaningful contribution at your lab.
Closing Paragraph
The final paragraph of an effective cover letter must be proactive – and a call to action. You must ask for the job interview (or a meeting) in this paragraph. You must express your confidence that you are a perfect fit for the job. You must also put the employer on notice that you plan to follow up within a specified time.
Don ' t leave the ball in the employer ' s court. Too many cover letters end with a line like this: " If you are interested in my qualifications, please call me." Proactive cover letters, in which the job seeker requests an interview and promises to follow up with a phone call, are far more effective.
Weak closing paragraph: I hope you will review my resume, and if you agree with what I have stated here, consider me for the position. I look forward to hearing from you soon.
Better closing paragraph: I am eager to help advance the success of your company, and I am confident that we should arrange a time to meet. I will call your office in the next week to schedule an appointment.
Tips and Tricks
Employer focus. Avoid telling the employer what the company can do for you instead of what you can do for the company. This rookie mistake is particularly common among new college graduates and other inexperienced job seekers. In most cases, employers are in business to make a profit. They want to know what you can do for their bottom line, not what they can do to fulfill your career dreams. Keep it concise and edit. Your letter should be not only fairly short, but also concise and pithy. Edit your letter mercilessly. Follow the journalist ' s credo: Write tight! Cut out all unnecessary words and jargon. Then go back and do it again.
Proofread. If your timeframe will allow it, put your cover letter down, and then pick it up a day or two later as though you were the prospective employer. Does it grab and hold your attention? Is it concise? Is it free of typos, misspellings, and grammatical errors? Is it interesting? Is it looking like an effective cover letter? If you were the employer, would you know what this job seeker wants to do and why he or she is the best person to do it?
If you would not invite a job seeker with your cover letter for an interview, consider rewriting it to give yourself the best possible chance of securing the job.
Related links
9 Organization Strategies for Busy Life Science Professionals This will open in a new window
How to Navigate Family Medical Leave in the Workplace This will open in a new window
How Long Employers Can Expect Staff to Stick Around This will open in a new window
Back to news
Welcome to the FamiLAB forums!
FamiLAB »
Special Interest Groups »
Only registered members are allowed to access this section. Please login below or register an account with FamiLAB.
Forgot your password?
SMF 2.0.15 | SMF © 2017 , Simple Machines
Bad Behavior has blocked 413 access attempts in the last 7 days.