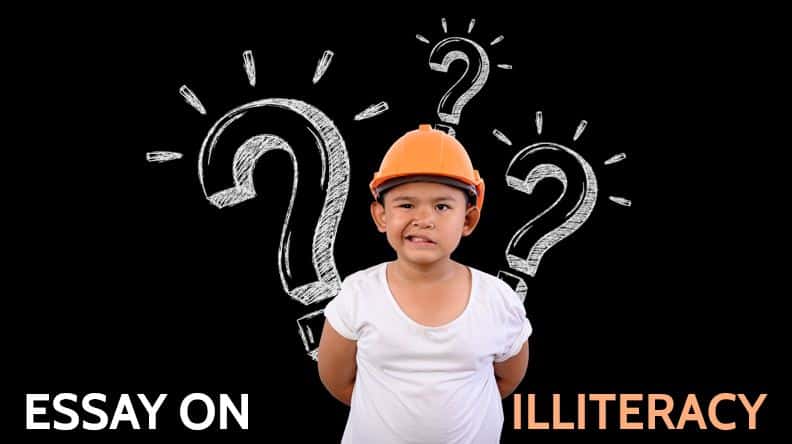 Essay on Illiteracy for Students and Children in 1000 Words
In this article, you will read an essay on illiteracy for students and children. This persuasive essay includes its definition, situation, causes, solution and more. 
So, let's start this essay on illiteracy…
Table of Contents
Introduction (Essay on Illiteracy – 1000 Words)
Here you will read how illiteracy is a curse in today's era. How day by day illiteracy is killing people, by making them unemployed,  poor, and increased corruption in every field.
How illiterate people giving votes to unknown people and stopping the development of country. These are few examples of the situation, you will read more below in this article.
What is Illiteracy? – Its easy definition!
Illiteracy means ignorance and lack of knowledge. For example, a person goes to school but does not know how to operate a computer . Such a person has no literacy in computers, so he is illiterate in computer education.
But If a person or child does not take his education, and he doesn't know reading and writing, thus he is an illiterate. And people tell this situation illiteracy.
Illiteracy in today's era
Because of advanced technology and computer generation, people calling most of the old people who don't know computer fundamentals as computer illiterate. Lots of village peoples still not able to read and write. Still, they are using their thumb stamp for various transactions and official works.
Today lack of adequate education not only makes people illiterate but also he will go 50 years back. As long as we do not educate them, they cannot read newspapers, circulars, notices , advertisements, posters and letters of dear ones. 
Female population makes up a major portion of the total illiterate population . In India, the female literacy rate is around 65 percent and the male literacy rate is 82 percent according to 2001 census. Therefore, women education is very important to eliminate illiteracy.
We see illiteracy to be maximum in SC, ST and other backward classes which not only are poor but also unaware, uncertain and unwilling to make their improvements in life. Illiteracy not only deprives us of economic development but it deprives us from minor success in life.
Remarkably, the Government of India is showing awareness on this occasion and setting up thousands of primary schools across the country. Today in most of the villages of India you will see a Government Primary school.
Government with UNICEF also giving a daily meal in schools to motivate poor people to send their child to school. It is also helpful in solving various nutrition deficiency diseases in children. Despite this, the government has declared primary education as free in all government schools.
Causes of Illiteracy 
1. uneducated parents.
Many illiterate parents emphasize little on the importance of education. Some parents of children are illiterate, who don't know the importance of literacy.
Even today, there are some areas where many of the older generation have not even received an early education. So, we can say it still needs the root of education in India is still to be developed so that the tree of literacy will stands strongly.
2. Lack of family support
This also One reason for illiteracy can be so that where the child has difficulty reading or writing because of dyslexia, dysorthographia, etc… When the family understands the condition of the child. They do not get it, and children cannot get family support like this.
3. Poor family
Most of the poor family don't send their child to school and college only because of lack of money. They could not pay a fee of the institute.
It is a major problem which happening in India during higher education of students. Not only poor but also middle-class families cannot pay an outrageous amount of fees asked from various institutions.
4. Lack of Books and other study materials
Some family only afford to educate their child but they can't able to provide more and extra study materials to them. Which may cause school leaving and incomplete education of children's.
Effects of Illiteracy
1. unable to read and write.
If an illiterate person unable to read and write he cannot reach his train seats, he will face difficulties everywhere. In this technology world, nothing work without education. 
2. People will cheat him
The moneylenders and the landlords cheat them by stealing their lands. People exploits illiterate peoples. Illiterates face difficulties everywhere at home and also outside. Even people cannot use new machines because of illiteracy.
Solutions to Stop Illiteracy Efforts to Reduce Illiteracy
1. making education free.
The Constitution (Eighty-sixth Amendment) Act, 2002 has included Article 21-A in the Constitution of India as a fundamental right to provide free and compulsory education to all children between the ages of six to fourteen.
But if the government increased it to colleges and university levels, it would make the country more independent by making more people literate. 
Since some people cannot enroll their children in school because of lack of money to pay fees. Hence offering free education can increase the number of people attending school and subsequently reduce the level of illiteracy in the society, thus incorporating this rule under the Right to Education in the Indian Constitution in the year 2003.
2. Awareness
Creating awareness about the importance of education can help people understand that they need to go to school. Many non-governmental organizations, government agencies and other related parties should create literacy awareness in the society.
3. Scholarships
Providing grants and scholarships can reduce the financial burden of poor and middle-class people to educate their children. Because of which there is some reduction in the school fees, so that the education of the students will complete without hindrance.
4. Night Classes
People who are workers can attend night classes. In this way, they complete their education and earn income through day jobs.
5. Free Books
Government can provide free books in schools to encourage and students to develop reading culture. Offering free books can also reduce the financial burden of their parents.
Not only the government but every educated people's effort can eradicate illiteracy. Every effort made by all educated people can help to eliminate this danger from the root.
We should educate every person in India. Going to school plays a major role in mental and social development of a person. I hope you liked this persuasive essay on illiteracy.
Leave a comment Cancel reply
Undergraduate
High School
Architecture
American History
Asian History
Antique Literature
American Literature
Asian Literature
Classic English Literature
World Literature
Creative Writing
Linguistics
Criminal Justice
Legal Issues
Anthropology
Archaeology
Political Science
World Affairs
African-American Studies
East European Studies
Latin-American Studies
Native-American Studies
West European Studies
Family and Consumer Science
Social Issues
Women and Gender Studies
Social Work
Natural Sciences
Pharmacology
Earth science
Agriculture
Agricultural Studies
Computer Science
IT Management
Mathematics
Investments
Engineering and Technology
Engineering
Aeronautics
Medicine and Health
Alternative Medicine
Communications and Media
Advertising
Communication Strategies
Public Relations
Educational Theories
Teacher's Career
Chicago/Turabian
Company Analysis
Education Theories
Shakespeare
Canadian Studies
Food Safety
Relation of Global Warming and Extreme Weather Condition
Movie Review
Admission Essay
Annotated Bibliography
Application Essay
Article Critique
Article Review
Article Writing
Book Review
Business Plan
Business Proposal
Capstone Project
Cover Letter
Creative Essay
Dissertation
Dissertation - Abstract
Dissertation - Conclusion
Dissertation - Discussion
Dissertation - Hypothesis
Dissertation - Introduction
Dissertation - Literature
Dissertation - Methodology
Dissertation - Results
GCSE Coursework
Grant Proposal
Marketing Plan
Multiple Choice Quiz
Personal Statement
Power Point Presentation
Power Point Presentation With Speaker Notes
Questionnaire
Reaction Paper
Research Paper
Research Proposal
SWOT analysis
Thesis Paper
Online Quiz
Literature Review
Movie Analysis
Statistics problem
Math Problem
Corporate Document
PhD Model Answer
All papers examples
How It Works
Money Back Policy
Terms of Use
Privacy Policy
We Are Hiring
Illiteracy and Its Impact on American Society, Essay Example
Pages: 7
Words: 1878
This Essay was written by one of our professional writers.

You are free to use it as an inspiration or a source for your own work.
Need a custom Essay written for you?
Introduction
According to the latest statistics and data available through the United States Department of Education and the Department of Human Services, there are an estimated 36 million American adults whose reading levels are below that of a typical third grader; an estimated 20 million Americans have no reading skills, thus making them functionally illiterate. As a result, some 55 million Americans struggle on a daily basis without basic reading skills, writing skills, and especially computer skills which ultimately affects their ability to find good-paying jobs and of course the American economy (Illiteracy: The U.S. Crisis, 2014). This social problem is not limited to a specific geographical area, for it is widespread through the United States, particularly in rural environments where Americans do not have access to educational opportunities and programs designed to help curb the rate of illiteracy in America.
This inability to read and write properly in the English language also affects financial literacy skills. As noted by the ProLiteracy Foundation whose goal is to "create a world where every person can read and write, illiterate Americans "struggle with everyday budgeting and more complicated tasks like comprehending mortgage documents" which often results in becoming a victim of predatory lenders and financial scams. In addition, illiterate Americans "are also twice as likely to be out of work, contributing to the high rate of unemployment" in the United States during a time when the U.S. economy is struggling as well (Illiteracy: The U.S. Crisis, 2014).
The same holds true in relation to illiterate Americans and their health care needs, due to the fact that being illiterate "often mean the difference between life and death" in relation to understanding and using health information provided by nurses, physicians, and health care clinicians. Being illiterate also affects a person's ability to "make appropriate health decisions and increases the likelihood that they'll incur higher health costs," such as being unable to read and understand the policies of health insurance companies (Illiteracy: The U.S. Crisis, 2014).
In regards to illiteracy and the need for computer skills, illiterate Americans are being held back in relation to employment by their inability to use computers and the Internet in order to become successful in today's highly competitive society where computer skills can make all of the difference related to job opportunities and income.
As noted by the ProLiteracy Foundation, low literacy skills "keep many people from seizing the opportunities of our digital society," especially when many adult Americans do not have a high school education because of their inability to read and write. Also, these illiterate Americans generally live in households that earn less than $30,000 a year and usually do not have access to the Internet, not to mention lacking the ability to read and understand what they see on the World Wide Web (Illiteracy: The U.S. Crisis, 2014).
Due to the current economic conditions in the United States (as of early 2015), a number of federal, state, and local programs designed to help eradicate illiteracy in the United States, some being non-profit and privately-owned and operated, have been eliminated, due to a lack of funding and donations. Thus, without the assistance of these and other programs, those American that require literacy education "will also be more likely to need unemployment benefits and other forms of public assistance" which only adds to the "drain on already-strapped local communities" and state-based literacy programs. One of the answers to the problem is to help policymakers to "clearly understand the widespread consequences of low literacy" and to support at the federal level new programs designed to fight illiteracy and to make it possible for all Americans to read and write proficiently (Illiteracy: The U.S. Crisis, 2014).
Sectors and Organizations
Within the American business sector (i.e., privately-owned businesses and companies), the negative consequences of illiteracy range far and wide and in a business context causes lost productivity and profitability, all because of employees who cannot read and write. Some of the these consequences includes "the cost of fixing incorrect orders or processing refunds" to customers; the loss of customers because of poor communications; and internal problems and issues that arise from miscommunication and/or misunderstandings (Cree, Kay, & Stewart, 2012, p. 4).
In a business that deals with finances, such as a bank or loan institution, illiteracy related to employees results in time wasted on job duties that require the ability to read loan applications, process payroll checks, and dispense money, due to not knowing how to read numbers correctly. Illiteracy also "make it harder for business owners and entrepreneurs to understand and apply business finance concepts" like the management and allocation of capital related to increasing the value of shareholder stocks (Cree, Kay, & Stewart, 2012, p. 4). Illiteracy also negatively impacts an employee's ability to use and understand a computer and its software processes. All in all, illiteracy in a business setting can make the difference between business success and outright failure (Cree, Kay, & Stewart, 2012, p. 5).
One particular organization that is currently working to lower the incidence of illiteracy in the American business sector is known as the Association for Talent Development (ATD). Based in Alexandria, Virginia, this organization is dedicated to helping American businesses to develop and maintain human talent within their organizations and to "achieve their full potential by improving their knowledge, skills, and abilities" related to reading, writing, and especially digital literacy which includes digital era concepts (platforms, cloud computing), digital tools and systems, social technology, and digital engagement skills and tactics (Association for Talent Development, 2014).
In the non-profit sector or those organizations that exist solely to help Americans to solve a myriad of social problems, illiteracy is also a looming problem, particularly in the area of financial literacy as it relates to cash flow projections and handling federal and state-based taxes regarding private donations. According to an extensive report issued by the Center on Philanthropy at Indiana University, most non-profit organizations face a number of challenges related to employee illiteracy on a daily basis. It should be pointed out that these employees for the most part are not functionally illiterate when it comes to reading and writing but are merely unable to understand financial key concepts and strategies because of their inability to read and write at a level that is appropriate for their specific job titles within the non-profit sector.
For example, many of today's U.S.-based non-profit organizations are encountering problems associated with managers and board members who do not understand basic financial and economic principles. Therefore, as a result, recovering lost financial sources and funding, especially from private donors, is made extremely difficult, considering that the United States is currently in an economic bind or downturn that began in 2008. In effect, this type of illiteracy directly affects the function and operation of non-profit organizations whose basic goal is to "provide the essential services and support that fulfill their core mission values" (Financial Literacy and Knowledge in the Nonprofit Sector, 2012, p. 7).
One important organization that is currently tackling all form of illiteracy in the United States and in non-profit organizations is the Literacy Assistance Center. Based in New York City, this organization is "dedicated to advancing adult literacy as a core value in our society" and to making certain that "every adult in this country has the full range of knowledge and skills they need to secure employment, achieve economic security, and access quality health care" (Literacy Assistance Center, 2015). The Literacy Assistance Center also provides professional development opportunities for those who require additional support to become fully literate in their chosen fields of endeavor. It also brings together "networks of stakeholders" with specialization in areas like digital literacy and financial literacy, in both private and non-profit sectors (Literacy Assistance Center, 2015).
Within the federal government sector, illiteracy is also a major problem, due to the fact that many federal employees cannot read and write at appropriate levels in conjunction with their job positions. In order to help combat illiteracy in the U.S. federal government and elsewhere throughout America, the House of Representatives created H.R. 751 or the National Literacy Act of 1991 which was signed by the President on July 25, 1991. This act was created in order to "enhance the literacy and basic skills of adults and to ensure that all citizens in the United States acquire the basic skills necessary to function effectively and achieve the greatest possible opportunity in their work and in their lives" (H.R. 751, 2015). There is also the Adult Education and Family Literacy Act of 1998 which brought together several earlier U.S. Congress bills and amendments in order to combat illiteracy in the American workforce and provide federal assistance in creating new and innovative literacy programs throughout the United States.
One particular organization at the federal level is the National Institute for Literacy. Created in 1991, this federal agency continues to serve as a "catalyst for improving opportunities for adults, youth, and children to thrive in a progressively literate world" by increasing their abilities to "read, write, speak in English, compute, and solve problems at levels of proficiency necessary to function on the job" and in American society. Overall, this organization sees literacy as a national asset that needs to be recognized as one of the foundations for a thriving economic system (National Institute for Literacy, 2015).
An Innovative Idea to Address Illiteracy
After conducting extensive research on how to properly address the problem of illiteracy in the United States, it appears that state and federal programs have generally failed to bring an end to illiteracy in our nation. Therefore, one innovative way to accomplish the goal of ending illiteracy in America is to create at the local level community libraries located in the heart of rural and urban areas where the majority of illiterate Americans reside and work. These libraries would be operated by volunteers, such as teachers, students, and community leaders, who are dedicated to ending illiteracy in their own communities. This type of approach is sometimes referred to as grassroots, wherein a movement begins at the lowest societal level and progresses upwards until it reaches those in need.
As previously mentioned, as of 2015, there are an estimated 36 million American adults whose reading levels are below that of a typical third grader. There are also an estimated 20 million American adults who possess poor reading and writing skills, thus making them functionally illiterate. Thus, more than 55 million American adults (along with millions of teens between the ages of 13 and 18) struggle on a daily basis to function in an ever-increasing literate society that demands certain skills and abilities. With this in mind, as long as illiteracy is allowed to exist, the American economy will continue to be affected well into the 21st century and beyond.
Association for Talent Development. (2014). Retrieved from https://www.td.org/About Cree, A., Kay, A., and Stewart, J. (2012). The economic and social cost of illiteracy: A snapshot of illiteracy in a global context. World Literacy Foundation . Retrieved from http://www.worldliteracyfoundation.org/The_Economic_&_Social_Cost_of_Illiteracy.pdf?utm_source=twitterfeed&utm_medium=twitter
Financial literacy and knowledge in the nonprofit sector. (2012). The Center on Philanthropy, Indiana University. Retrieved from http://www.philanthropy.iupui.edu/files/research/2012 financialliteracy.pdf
H.R. 751  (102nd): National Literacy Act of 1991. (2015). Retrieved from https://www.govtrack.us/congress/bills/102/hr751
Illiteracy: The U.S. crisis. (2014). Retrieved from http://www.proliteracy.org/the-crisis/the-us-crisis
Literacy Assistance Center. (2015). Retrieved from http://www.lacnyc.org/about.html National Institute for Literacy. (2015). Federal Register. Retrieved from https://www.federalregister.gov/agencies/national-institute-for-literacy
National Institute for Literacy. (2015). Retrieved from https://www.federalregister.gov/agencies/national-institute-for-literacy
Stuck with your Essay?
Get in touch with one of our experts for instant help!
Educating About the Devastating Effects of Obesity, Essay Example
The Body as Personal Property, Annotated Bibliography Example
Time is precious
don't waste it!
Plagiarism-free guarantee
Privacy guarantee
Secure checkout
Money back guarantee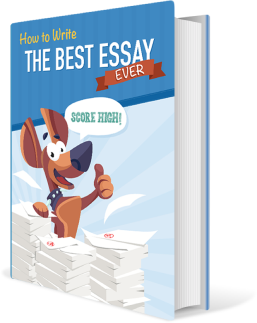 Related Essay Samples & Examples
Voting as a civic responsibility, essay example.
Pages: 1
Words: 287
Utilitarianism and Its Applications, Essay Example
Words: 356
The Age-Related Changes of the Older Person, Essay Example
Pages: 2
Words: 448
The Problems ESOL Teachers Face, Essay Example
Pages: 8
Words: 2293
Should English Be the Primary Language? Essay Example
Pages: 4
Words: 999
The Term "Social Construction of Reality", Essay Example
Words: 371
Home / Essay Samples / Education / Illiteracy / Illiteracy As A Social Problem
Illiteracy As A Social Problem
Category: Education , Social Issues
Subcategory: Learning
Topic: Illiteracy , Social Problems
Downloads: -->
are ready to help you with your essay
Related Topics
2Nd Amendment Essays
Freedom of Speech Essays
Civil Rights Essays
Censorship Essays
Discrimination Essays
Illiteracy leads to:
lack of understanding,
unemployment,
degraded jobs,
lower income,
low self-esteem,
health problems,
increased crime rates,
drug abuse,
lack of technological advancements
slow national development.
Meaning of illiteracy, Illiteracy is a social problem. It is an extreme form of educational failure which can be defined as the state in which one lacks the ability to read and write
Causes of illiteracy, poverty, corruption, an inadequate number of schools, lack of trained teachers, weak economic condition of families, lack of resources, social and cultural thinking
Illiteracy between parents, numerous unskilled guardians don't put much accentuation on the significance of training.
Unwaged of the education, A few people trust that the main reason somebody ought to go to class is so he or she can land a decent position and make a decent life.
Social hurdles, limitations on young ladies' training in a few social orders prompt absence of education among the influenced fragment of the populace.
Thwarts financial and social advancement, lack of education incredibly restrains the financial and social advancement of a person and additionally that of the nation.
Lack of education prompts destitution, Instruction outfits one with the correct aptitudes and ability for beneficial business.
Tough life, the powerlessness to discover productive work can subject one to an existence of neediness with poor living conditions.
⚠️ Remember: This essay was written and uploaded by an average student. It does not reflect the quality of papers completed by our expert essay writers. To get a custom and plagiarism-free essay click here.
Related Essays
Found a great essay sample but want a unique one?
We are glad that you like it, but you cannot copy from our website. Just insert your email and this sample will be sent to you.
By clicking "Send", you agree to our Terms of service and Privacy statement . We will occasionally send you account related emails.
Your essay sample has been sent.
In fact, there is a way to get an original essay! Turn to our writers and order a plagiarism-free paper.
samplius.com uses cookies to offer you the best service possible.By continuing we'll assume you board with our cookie policy .--> -->