Sample Transfer College Essay
Save, fill-In The Blanks, Print, Done!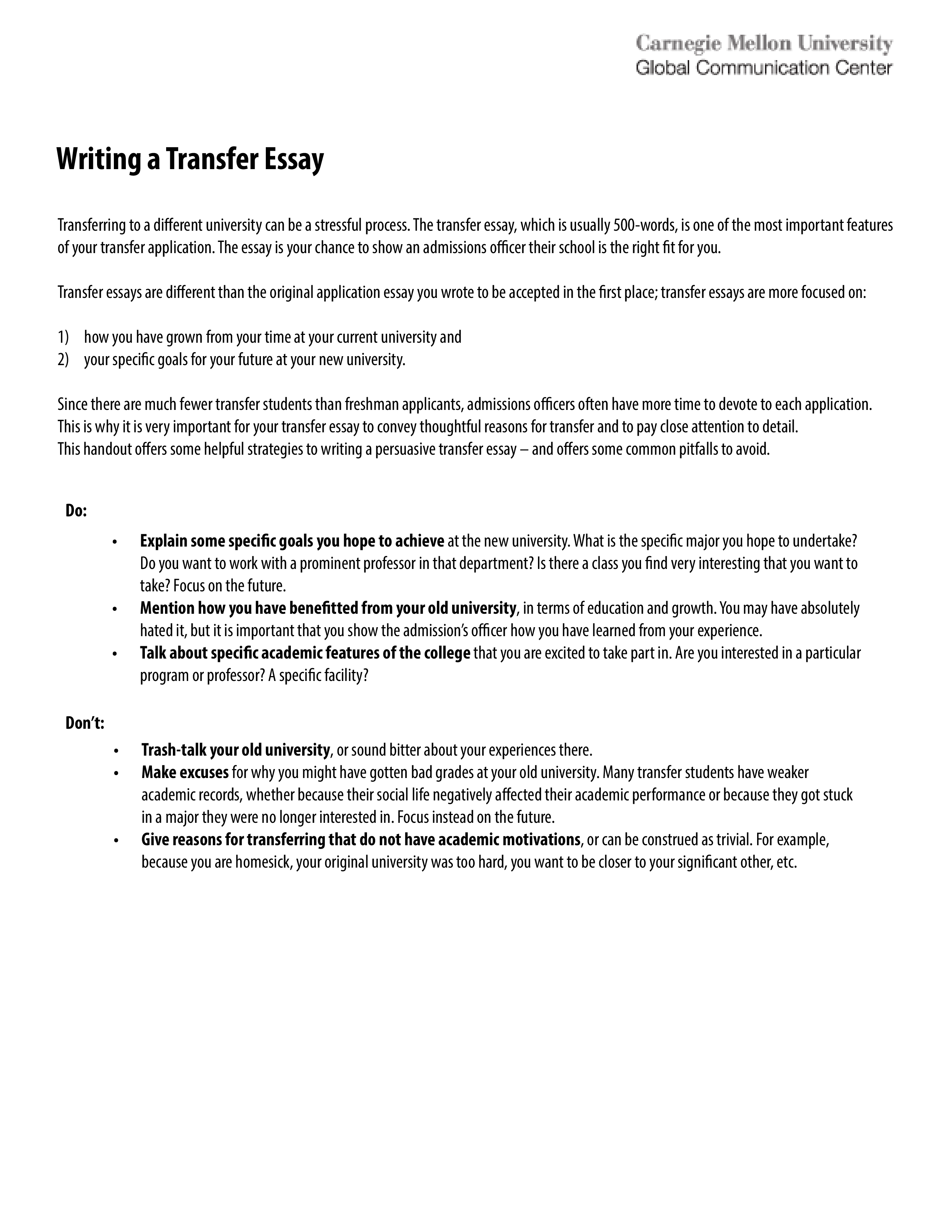 Download Sample Transfer College Essay
This Document Has Been Certified by a Professional
100% customizable
This is a digital download (36.16 kB)
Language: English
We recommend downloading this file onto your computer.

Explain some specific goals you hope to achieve at the new university. What is the specific major you hope to undertake?
Do you want to work with a prominent professor in that department? Is there a class you find very interesting that you want to take? Focus on the future.
Mention how you have benefitted from your old university, in terms of education and growth. You may have absolutely hated it, but it is important that you show the admission's officer how you have learned from your experience.
Talk about specific academic features of the college that you are excited to take part in. Are you interested in a particular program or professor? A specific facility?
Trash-talk your old university, or sound bitter about your experiences there.
Make excuses for why you might have gotten bad grades at your old university. Many transfer students have weaker academic records, whether because their social life negatively affected their academic performance or because they got stuck in a major they were no longer interested in. Focus instead on the future.
Give reasons for transferring that do not have academic motivations, or can be construed as trivial. For example, because you are homesick, your original university was too hard, you want to be closer to your significant other, etc.
DISCLAIMER Nothing on this site shall be considered legal advice and no attorney-client relationship is established.
Leave a Reply. If you have any questions or remarks, feel free to post them below.

Reference Letters
Related templates.
Personal Essay
College Essay Assignment
Sample Argumentative College Essay
Funny College Personal Essay
Latest templates
Track Meet Homeschool
Elementary School Calendar
Descriptive Essay Introduction Sample
School Council
Latest topics
Reference Letters How to write a personal reference letter? How are professional references different from character references? Check out several professional reference letters here.
GDPR Compliance Templates What do you need to become GDPR compliant? Are you looking for useful GDPR document templates to make you compliant? All these compliance documents will be available to download instantly...
Newspaper Template What is the layout of a newspaper? What are useful Design tips for newspapers? Check here useful Newspaper templates for your reference.
IT Security Standards Kit What are IT Security Standards? Check out our collection of this newly updated IT Security Kit Standard templates, including policies, controls, processes, checklists, procedures and other documents.
Daily Report Sheets For Preschool How do you create a kindergarten schedule or write a daily report for a preschool? Check out these preschool templates here.
The important thing is not being afraid to take a chance. Remember, the greatest failure is to not try. Once you find something you love to do, be the best at doing it. | Debbi Fields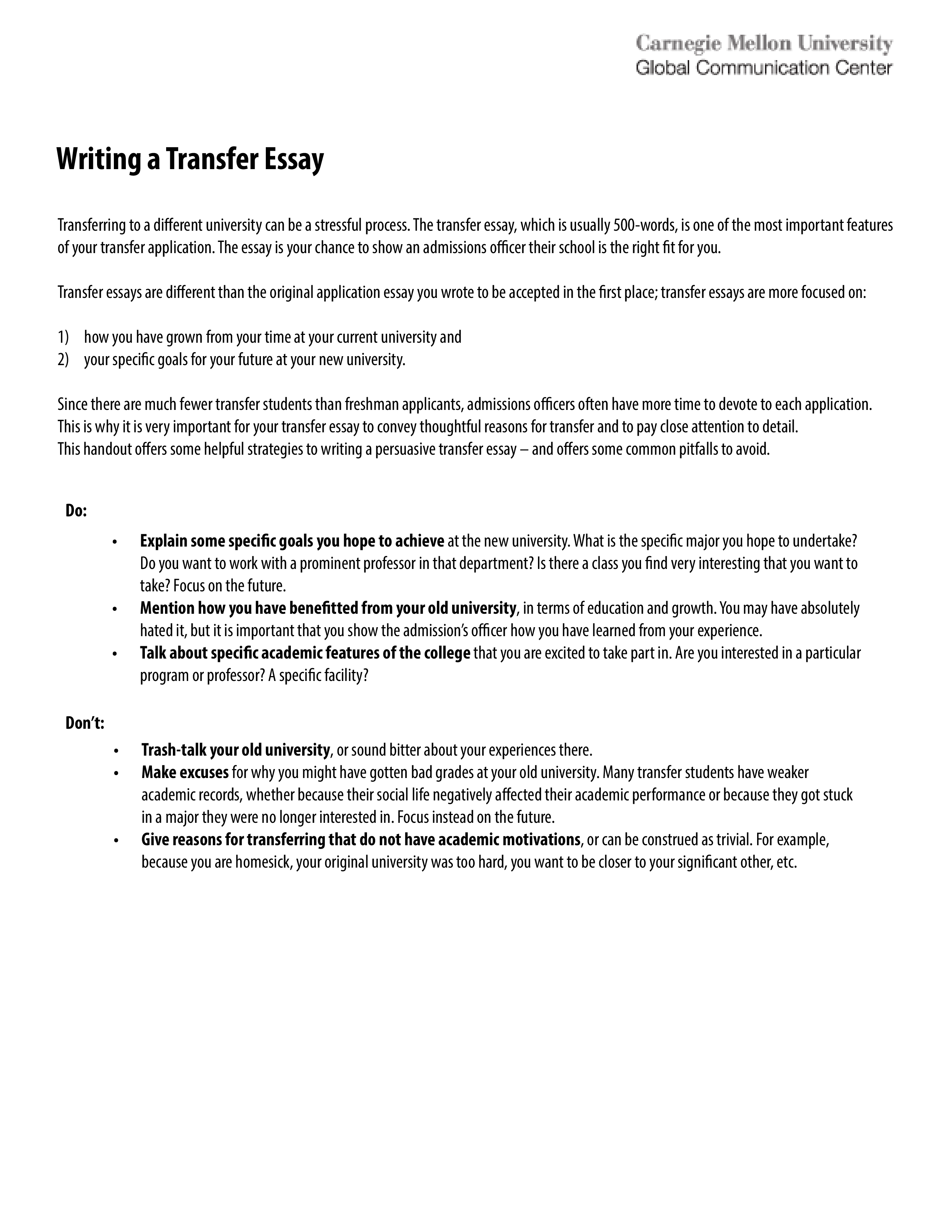 ONLY TODAY!
Your Guide on Writing Successful College Transfer Essay

Undervaluation of quality brings about defeat.
Order totally authentic texts crafted in compliance with the client's particular case. Have an application doc written, enchant the selection broad from the first lines, and they will not ever forget such an outstanding candidate!
Be aware of the fact that private communication with your author is at your disposal 24/7. Reach out to your writer if you have any remarks, questions, or issues regarding the order and its completion stage.
Get a doc that corresponds to every single piece of guidance. Clients can be sure that their texts will be composed in accordance with the admission board's expectations concerning vital things, such as format and content.
Wish to remove imperfections from your text? Saved the final copy and want to eliminate all the weak points? To make it happen, make a revision request for 14 days after the deadline!
Every document is precisely reviewed by our specialists for it to meet the committee's demands regarding the selected course. Furthermore, the clients' major will also be addressed, and their appropriate character & professional traits will be underlined!
Ask for repayment within two weeks after the deadline expires. Forget the problems caused by undependable services. With us, you don't have to be fearful of a chance to be hornswoggled!
You no longer have to deal with this annoying process. We'll handle it ourselves!
Our experts have been writing and editing personal statements for years and know all the dos & don'ts. They are qualified to make content expressive of you and your ideas. All you need is to expect brief, convincing, and cliché-free text.
College, Medical School, Residency, Fellowship, Grad School, PhD
College, Grad School, Business School, PhD
College, Grad School, Law School, PhD
College, Dental School, Nursing School, Medical School, Grad School
College, Grad School, Business School, Law School, PhD

What can I say- just love it. Hope the admission team would like it as well. Thank tou so much for working hard and do your best to write such a great statement.
I received the paper and I'm very happy with the results. I will consider you for the future.
Thank you very much. I highly appreciate it & will definitely recommend you guys to friends & colleagues. All the best.
The letter looks good. Thank you for your great work.
It looks great. Thank you. If I need any changes I will let you know soon.
Your company is excellent with customer support and I appreciate all the help being provided. I will surely tell my peers if they ever need help in the future. Thank you again.
Thank you for this amazing personal statement. It's perfect, no need for any change. You can close my order.
Thanks!!! Amazing!!!!
This step does not entail any difficulty. Provide us with your instructions by completing the form and push the payment button. Our experts need some info to get your personal statement customized. The more personalized you need it to be, the more data you have to send. It must relate to your application, attainments, preferred program, and the committee's formatting requirements.
We insist that you pay enough attention to our Questionnaire. Save it on your computer, complete it, and attach the file to the order form. Have no doubt that any data you submit is kept secret. Any personal information is also protected and stays confidential.
When the payment is completed, our professional will begin crafting your order. Proceed with this step fearlessly because each customer's payment is protected by our software. Moreover, each client gets a successful payment confirmation message.
Payment methods:
When we get to know about a client's successful payment, we will send you a message with your Customer Area sign-in information. Note that you can later think up your own password for a more comfortable website experience. What you get from the Customer Area is a chance to text your author or support agent, save finished admission essays, make a request for other application documents, or demand corrections.
Any notification regarding your order will be sent to you by email. As an additional feature, clients can request SMS updates to oversee the process in full. When your order is crafted, our Quality Department will see if it adheres to what's been requested. Then, you'll have the opportunity to download the file through the Customer Area. Your doc will be completed in a timely manner! If you want something to be bettered in text, we can do it for 2 weeks subsequent to the deadline.
Pick any way to get notifications regarding the work on your essay!
Reach out to your expert, download delivered docs, and request other pieces of writing!
Stop waiting and contact our support representatives with anything related to your order!
Various Reasons That Result in Moving from the College
Transfer from the college sounds quite a simple thing. However, it is not as easy as you think indeed. Moving from one college to another is based on a thorough process of application. You are also supposed to prepare a standout essay for your application. There is not any single reason for transferring from the college. Many valid reasons can allow you to take this step for continuing your education despite having any obstacle. Take a look of some reasons that force a student to write college transfer essay:
The very first and most common reason can be personal to ask for transfer from the college. It can be the posting of your father or changing the residence as well.
Transferring colleges can have another solid reason. The lack of satisfaction from faculty or quality of education can be the major purpose of it.
Not adjusting to the environment of college properly is another important reason. Sometimes. students only want the best atmosphere for learning. Therefore, they go for taking this step. It is better to move to the other institution rather than compromising on your grades.
The climatic changes or the uncertain natural disaster can also be the reason for this transfer.
These are the reasons you can't neglect at all. Undoubtedly, moving is the better option to overcome any of such issues.
Renowned Personalities Who Found College Transfer a Better Option
Transferring from one institution to another while your studies are continued is quite hard to do. However, it is not only a story of us. Many famous personalities have done this by considering college transfer a right choice. Here is a list of some popular people who had transferred from their colleges:
The former U.S president Barack Obama had left Occidental College in LA to study at the University of Columbia NYC.
The famous personality George Lucas (who created Star Wars) had also transferred to the College of USC post leaving Modesto Junior College in Northern Carolina.
River Cuomo had done the same thing by moving to the Harvard University from Boston's Music College.
These and many other personalities have actually decided to pursue the educational career in other institutions. Now, this is not in our knowledge that from where they got transfer essay examples to apply for moving to another institution.
Transferring to a Different College Has Some Hidden Cost
If you don't have any valid or good reason to transfer, then you should not take this step at all. Apart from the real expenses, one has to pay the other cost for it. This cost is in terms of the hectic application procedure. You will also have to learn how to write a transfer essay. The selection of college transfer essay examples is another nerve-wracking activity. Therefore, you should think several times before getting into this difficult activity:
The important transcripts and credentials are required to be in your documents closet. Therefore, keep yourself ready to collect all of the important documents. This is not as simple as you are reading indeed. It takes a lot of time and courage to collect the required credentials. It requires many visits to the old school and other places for purpose of signature and stamps.
It is not sure that the credits which you've completed will be transferred easily. This issue is created as due to the changes in few subjects. For example, you might study 'Introduction to Psychology' in the first semester of the previous college. By transferring to the other college, it is likely that you will have to study the subject of Sociology.
It can take more than a year or two to complete a graduate degree. This is really something we all won't like to experience. Therefore, try to make this decision if you've any valid reason.
Many reasons for transferring are also rejected either due to breaching any policy of institution or your reason doesn't seem genuine to the college.
The sample transfer essay seems quite helpful in this situation. As compared to the students who prefer moving to another college, the fresh students who took few classes of the starting semester don't face difficulties in the transfer.
These Are Some Universities That Accept Your Transfer Letter
Going to the advisor and asking about transferring the credits of a semester is the common policy of many universities. You are also supposed to do the same if interested in moving to the other college. Here are the names of few top-ranked universities that accept the letter of transfer from students. However, they have strict rules and policies regarding it.
UCLA allows the transferred students by giving them an opportunity to study. However, you will have to follow all the policies for it.
UC-Davis is another institution that welcomes students from various other colleges but chooses them only on merit basis.
The Ohio State University also follows the same rules.
Rutgers is another best option if you're all set to move from the present college.
Texas A&M is also a choice to turn your goals into reality by studying well post transferring from an ordinary college.
We can help you to write college transfer essay for these universities.
Transfer Essay Writing Guide
The transfer college essay is the most important thing to prepare and keep along with yourself. Learn best ways to write ideal transfer student essay. Some more documents are necessary to be in your folder. You must have a transcript of college that you've left. All of your official details will be included in this transcript. How to write transfer essay? The college transfer essay samples can help you better in writing the essay properly. By reading the useful info, you can be able to know how to write a college transfer essay.
There is numerous signs of a college transfer essay. You can even apply for moving to any other college without writing this essay. The first importance is to make everything clear so that you can get the approval as earlier as possible. Secondly, you can get your work done in a proper manner as well.
Start with searching and reading the college essay for transfer students. This is quite effective in preparing the essays like a pro. when you begin writing a college transfer essay, then make sure to come to the actual point without adding filler sentences or words. Don't rephrase any essay exactly as it can result in creating numerous errors. Any standout essay for college transfer is actually written by the experienced individual.
Transfer Application Essay Tips
The tips for writing transfer essay can give you success in approval of the letter. You need to follow these tips straight away:
The most usual times to move from one college to another is Junior Fall, Sophomore Spring, and Sophomore Fall.
Try to study hard in the last semester before transfer.
The higher your grades, the likely chances will be Visit colleges to get adequate information about current policies of transfer.
Read the essay repeatedly to find mistakes.
Make a rough draft to enlist all the major points of the essay.
Give the genuine reasons and then mention to provide proof of your reason for leaving.
Make yourself prepared for an interview as there is a possibility of it.
These tips must be followed without thinking twice. You only have one chance to do this in a better way.
College Essay Writing Mistakes
Never make any of these mistakes in writing college transfer essay. The well-written essay is preferred before other applications:
Writing long sentences unnecessarily.
Not mentioning the reason of transfer in first paragraph.
Discussing some wrong or invalid reasons of transfer.
Essay Writing Help Is Another Option
If your level tolerance has reached the highest level after trying to write college transfer essay innumerable times, then you should go for a professional help. Students who can't manage time to do justice with this essay should prefer getting professional assistance. The most reliable college admission essay writing service can help you out in writing essay for college transfer. Our highly professional team can guide you in coping with all tasks of writing college transfer essay. In short, you will get the successful results in the end. Our professional guidance is based on adding all required elements and discussing every significant detail in the essay. You need to try our valuable services and ask any query through the 24/7 support services. It's as simple as you read.
Here is a 100% assurance of success in transferring to your desired college. Simply, avail the most trusted college transfer essay services to reduce this trouble anymore!
Transferweb
Transfer Acceptance Rates
Transfer Admissions Changes
Most Transfer Students Enrolled
Highest Transfer Acceptance Rates
Transfer Deadlines, Fees, Common App
Transfer Testing Requirements
Sitewide Activity
Transfer Directory
The College Transfer Application Essay: "Why" Transfer Example
March 1, 2011 in Admissions , Essays , Four-Year Transfer Articles
In this post, we analyze an essay example excerpted from College Admission Essays for Dummies by Geraldine Woods to complement the example for the University of Pennsylvania that we've previously critiqued. The essay we'll analyze here leaves a lot of room for improvement, though it has many positive aspects. We'll tell you what you can do to write a much better essay and give you advice on how to approach writing a winning piece. If you want other examples, our book provides examples of successful transfer essays for Stanford, the University of Pennsylvania, and the Common Application.
The essay here includes reasons for transferring to a specific four-year school, Northern State. Many colleges and universities now use the Common Application for transfer applications, requiring transfer applicants to write a Common Application essay describing the reasons for transferring and to also write several school-specific supplement essays. The prompt for this essay wasn't included, but it was probably for a school-specific essay. We'll critique the essay as is and explain parts that might fit into the Common Application essay or a school-specific essay. We'll analyze the essay one paragraph at a time.
Paragraph 1: No, I am not homesick. I have friends. The work is not overwhelming. Nor has it interfered with my involvement in extracurricular activities. My first semester has been a time of transition as it is for most college freshmen. Making decisions regarding course selection, seeking advice from advisors, and utilizing time efficiently have all been part of the process, accomplished at a distance from the familiar support structures and cues of both home and high school. As a result, I have developed a greater sense of myself and my abilities, both academic and social. The experience has been satisfying. However, with all due introspection and now retrospection, I feel a change is necessary. çevrimsiz bonus
This opening is fairly weak because it is very general. I learned very little about this applicant from this paragraph, which could be entirely omitted to reduce the number of unnecessary words. Admission officers have many applications to read; there's no need to burden them with excessive words. Some of the best Common Application transfer essays I've read started with a brief "a slice of life" anecdote, a short narrative that captures an episode in one's life. If you decide to feature an anecdote in your introduction, create a vivid image (or movie) of a piece of your life in the reader's mind. You would then have a hook. Other than including a short transition, avoid dragging this story into the next paragraph. Don't make this episode the sole content of your essay. For school-specific essays, which often have a tight word limit, writing an anecdote might not be the best use of the limited space. Instead, consider writing one or two introductory sentences and then diving right into your specific reasons for wanting to transfer.
Paragraph 2: Sociologist Lev Vygotsky believed that peers play a major role in an individual's development and learning. The students and friends with whom I grew up were extraordinarily bright, competitive, and creative. In high school, discussions and opinions on almost any subject were spontaneous and interesting. At Central State, the small class size and the seminar formats have presented a great setting in which to learn. The highly motivated professors, who encourage participation, have been the highlight of my experience thus far. However, the level of student interaction has not been gratifying. Conversations concerning classroom topics and related materials have been limited. I have not been sufficiently challenged or stimulated by my peers.
This paragraph has an interesting topic sentence. Also, the applicant writes positively about her current school, citing, for example, its small class size and the seminar formats. Avoid sounding overly negative about your current school because you don't want to badmouth any school. Despite its positive aspects, this paragraph lacks concrete details. Why is it that "the level of student interaction has not been gratifying"? What did the writer mean in stating, "Conversations concerning classroom topics and related materials have been limited"? Adhering to the word limit, make sure to reserve space for specific details that will help the reader understand exactly why you want to transfer.
Your Common Application transfer essay should include this type of information, especially if you're not writing for a particular school. That is, if you're writing a non-school-specific Common Application main essay, much of your essay will discuss why your current school isn't your best fit. On the other hand, your school-specific "why" transfer essay must focus on the aspects of that particular school that align with your needs or the type of college experience that you seek.
Paragraph 3: During my first semester, I have come to realize the influence a community has on my learning and growth. At Central State, the campus is active from around eleven in the morning until three in the afternoon, Monday through Friday. One Saturday in October, while walking to the dining hall, I realized that I was one of five people on campus. With the majority of undergraduates living in on-campus dorms, the campus of Northern State fosters a unique intimacy. The campus is lively throughout the day. Such activity creates a comfortable environment that promotes interaction and the formation of strong bonds between members of the community. Having experienced a year of college and dorm life, I am more aware of what is best for me. As a transfer student, I would appreciate this style of living even more.
The type of information in this paragraph is well-suited for a school-specific transfer essay. The writer has now moved from focusing on classes to discussing campus life. The statement, "One Saturday in October, while walking to the dining hall, I realized that I was one of five people on campus" provides clear imagery of a negative aspect of the applicant's current school in terms of the applicant's needs or desires. Brief examples should be included to show how Northern State "fosters a unique intimacy" and how it is "lively throughout the day." To conclude this paragraph, the applicant writes, "As a transfer student, I would appreciate this style of living even more." I wonder what she plans to do to take advantage of this style of living so that she can be more appreciative of it.
Paragraph 4: Based on conversations with current students, it is my understanding that members of the Northern State community make it a unique place to live and learn. Many renowned professors choose to teach at the undergraduate level. Having the chance to interact with an instructor such as Avery Marks, whose passion and mastery of botany are unrivaled, would be quite an experience. The most defining aspect of Northern State's faculty, however, is the manner in which they approach their role in influencing a student's life. Professors, instructors, and advisors guide the student so that he/she can make independent decisions.
By the end of the paragraph, we still don't know how "members of the Northern State community make it a unique place to live and learn," but as you'll see, she gives a clear example in the next paragraph. Here, the applicant includes interesting, specific examples to show that she knows about the school and has compelling reasons to want to transfer there. Mentioning a specific professor that you're interested in would show that you've researched the school. If you plan to major in biology and you're especially interested in plants, highlighting a professor who specializes in botany, as in this paragraph, would be appropriate, but avoid empty name-dropping. Your interest in, say biology or botany, should also be apparent in other parts of your application. The last sentence regarding student guidance does not seem to be substantiated anywhere in the paragraph or essay.
Paragraph 5: Furthermore, the structure and aspects of Northern State's residential colleges foster the formation of relationships. For the remainder of my undergraduate years I want to return "home" to a very close group of friends for nightly dinners and conversations concerning daily activities. The strong bonds that are formed within a diverse group of people who make up these individual communities create an optimal atmosphere in which to grow, socially and intellectually.
This paragraph, which emphasizes a unique aspect of Northern State, provides an example of information to include in a school-specific transfer essay.
Concluding paragraph: All aspects of Northern State seem to enhance learning. Guidance from faculty members and challenges from peers within Northern's close-knit community create a setting in which I can pursue current interests and discover new one while simultaneously discovering my future direction. This is the purpose of the undergraduate experience.
The best part of this conclusion is its brevity. I'm not sure what "this" refers to in the last sentence; many writing guides suggest that you place a noun after "this" to avoid ambiguity. Though every essay does not need to end with a "bang," conclusions should be at least interesting. One strategy for writing a good conclusion is to tie it to the introduction, a strategy that could not be used in this essay due to its weak, general introduction.
Concluding words: Each transfer application is unique, and therefore, we cannot provide an exhaustive list of details and information that should be included. Use this analysis as a guideline for writing your Common Application essay(s)–whether you're making it school-specific or not–and school-specific essays and try to critique your own essays in the manner we've done here.
(Photo: xelcise )
Here's the Full Story on Transferring to the College You Want
Real essays and stats that students have used to transfer to Stanford, Columbia, Penn, and more.
45-day 100% money-back guarantee
Click here to continue...
4 responses to The College Transfer Application Essay: "Why" Transfer Example
Guest said on August 26, 2011
If I'm only applying to one school, would it be okay to make my common app essay school specific? 
Chris said on September 7, 2011
Yes. We've seen both writing non-school specific and school specific essays work for admission to the most highly selective schools. Just look at the whole application overall and ask yourself if it would portray the story you want to tell the school. If it does, just follow the directions, if not, tweak and add in what you need to (like school specific details in the common app essay) till the application conveys the story you want to tell the school.
Good luck! Chris
Aaron said on September 9, 2015
If I'm applying for USC, NYU, UMichigan, UPenn, PACE, and Manhattan. I'm not sure whether the common app essay should be specific or not. Because the above schools have different geography, so I don't know if I should do very specific or general that every schools can accept it. In addition, the common app essay should also be focusing on my current school?
Lan Ngo said on September 14, 2015
Should you write a Common App "Personal Essay" customized for each school? It depends on the school. Many colleges and universities require a writing supplement where you can specifically discuss the school in question. For example, USC's current transfer application has two required writing supplements, one of which is the following: "Describe your academic interests and how you plan to pursue them at USC. Please feel free to address your first- and second-choice major selections. (250 word limit)." Therefore, for USC, you can use that supplement to discuss "why USC", and you don't need to customize the "Personal Essay".
Leave a reply Cancel reply
Your email address will not be published. Required fields are marked *
Notify me of follow-up comments by email.
Notify me of new posts by email.
2 trackbacks
The college transfer application essay: an example for the university of pennsylvania, the college transfer application essay: an example for the university of pennsylvania | transferweb.
Please create an account to get started.
Remember Me
Current Hits
All-Time Most Popular Articles
Article Topics
Recent Article Comments
BrownSimp on College Transfer Admission Criteria: What's a "Good" GPA?
anonymous hehe on College Transfer Admission Criteria: What's a "Good" GPA?
A Guide to Transferring Colleges – The School Philly on When to Dump Your College: Transfer Mid-Year or Stick It Out?
annon on College Transfer Admission Criteria: What's a "Good" GPA?
R on College Transfer Q&A: I Didn't Do Well My First Semester. Do I Still Have a Shot at Transferring?
Resources For
Community College Students
Community College Articles
State Transfer Guides
Community College Forum
Four-Year College Students
Four-Year Transfer Articles
Four-Year Transfer Forum
College Directory
Financial Help
Privacy Policy
Terms of Use
© 2023 Mindvine
Transfer Essay Tips
Post author By Top Tier Admissions
Post date February 4, 2016
No Comments on Transfer Essay Tips
Did you know that 1 in 3 students who enroll in either a 4-year or 2-year college will probably transfer at some point, according to a report issued by the National Student Clearinghouse Research Center.
If you are one of those students transferring colleges , application essays offer an invaluable opportunity for you to present yourself to admissions officers—and they are the one piece of your application over which you have total control.
Regardless of your grades, scores, or extracurriculars, essays give you the flexibility to show who you are and what you care about in your search for a new school. An original, thoughtful, genuine essay can delight and impress admissions officers. In an applicant pool full of transfer students with great grades and interesting college resumes, the essay could even be the one element that sets you apart from your fellow applicants.
College essays are an unusual genre: they are intensely personal, but have a specific purpose, an academic focus, and a specific audience. Your goal is to express who you are, but in a way that shows colleges that you are a good fit for them intellectually, emotionally, ethically, and otherwise.
As a transfer student, this idea of fit is even more important than it was the first time around: you're already in a college, so why is this new school valuable and necessary for your education, and why are you a beneficial and instrumental addition to the student community there? What have you DONE in a specific academic area to show your depth as a scholar?
Remember, you're not the only one seeking to transfer into a college you are targeting. Transfer applications are up and the number of students seeking to transfer is increasing.
OUR TOP TIPS FOR WRITING SUCCESSFUL TRANSFER APPLICATION ESSAYS:
Use the main essay as an opportunity to show academic heft and focus. We worked with a young man who attended a strong liberal arts college in CA but he had an interest in poetry and couldn't find professors to mentor him or rich enough course options in poetry. He transferred to Bowdoin College, which was a better academic fit. In his transfer application essay he wrote: After the rich depth of poetry and literature classes, discussion, and mentoring during high school, X College feels like a step backwards—there is no poet-in-residence, no class in Creative Writing, and scant students who share my interest in poetry. X College prizes its tight focus on economics, history, and government at the expense of other programs. The words "Lit Major" are spoken with a slight turn of the lip.
Think of the supplemental essays as opportunities to share an aspect of your life that is missing from other parts of your application. Maybe you want to illustrate your sense of humor, your expertise in an additional area not highlighted on your resume or activity sheet, an unusual hobby you have, a difficult family situation, or a remarkable emotional or intellectual discovery you made.
Plan for the "Why are You Transferring" essay question that appears on all transfer applications. Don't diss your current school or say something about the social scene; instead focus on why the school isn't a great academic fit for you.
Make your essay memorable and unique. The essays that stand out are typically those that approach a subject from an unusual angle or follow a student's interests from childhood by illuminating a specific vignette. Be concise and SHOW don't TELL. As a transfer student, it's in your best interest to write about something that has happened in the past year or so while you were in college.
Organize! Decide exactly what qualities you want to stress then make sure your essay is structured to highlight these traits. Be careful, however, of writing a chronological essay. You might start there, but then go back and rework it so it's not a mini autobiography.
Be specific and concrete using details that will allow the reader a more vivid picture of who you are.
Don't choose a style with which you aren't comfortable. Your reader will 'smell a rat' if your prose is pretentious or overly edited. Remain natural and write in your own voice.
The best essays expand a small 'slice of life' into an essay. You may want to choose a specific moment or incident in your life that changed the way you think and explain how that change took place.
Steer clear of clichés in both your essay topic and your writing. Focus on your academic interests and avoid the Outward Bound—"I made it up the mountain and didn't die." As a transfer student, your essays will be judged to a higher standard than your original college application essays. You're a college student now, and your writing needs to match the standards of the school you're applying to.
Find your voice and hook your reader through a strong opening.
Recent Posts
Need Help With College Admissions? - July 11, 2017
Common App and Coalition Essay Prompts for 2016-2017 - August 30, 2016
Application Boot Camp 2016 Highlights - August 26, 2016
Tags annual
Leave a Reply Cancel reply
Your email address will not be published. Required fields are marked *
Save my name, email, and website in this browser for the next time I comment.
Get help with your essays and Common App NOW!
CALLING ALL JUNIORS! Create your college admissions plan NOW!
Early Bird Private Counseling discount through July 1
Sample College Transfer Essay
A Sample Essay by a Student Transferring From Amherst to Penn
Jacob Wackerhausen / Getty Images
Essay Samples & Tips
College Admissions Process
College Profiles
College Rankings
Choosing A College
Application Tips
Testing Graphs
College Financial Aid
Advanced Placement
Homework Help
Private School
College Life
Graduate School
Business School
Distance Learning
Ph.D., English, University of Pennsylvania
M.A., English, University of Pennsylvania
B.S., Materials Science & Engineering and Literature, MIT
The following sample essay was written by a student named David. He wrote the transfer essay below for the Common Transfer Application in response to the prompt, "Please provide a statement that addresses your reasons for transferring and the objectives you hope to achieve" (250 to 650 words). David is attempting to transfer from Amherst College to the University of Pennsylvania . As far as admissions standards go, this is a lateral move—both schools are extremely selective. His letter will need to be extremely strong for his transfer application to be successful.
Key Takeaways: A Winning Transfer Essay
Have a clear academic reason for your transfer. Personal reasons are fine, but academics need to come first.
Stay positive. Don't speak badly of your current school. Emphasize what you like about your target school, not what you dislike about your current school.
Be meticulous. Grammar, punctuation, and style matter. Show that you put time and care into your writing.
David's Transfer Application Essay
During the summer after my first year of college, I spent six weeks volunteering at an archaeological excavation in Hazor, site of the largest tel (mound) in Israel. My time in Hazor was not easy—wake-up came at 4:00 a.m., and by noontime temperatures were often in the 90s. The dig was sweaty, dusty, back-breaking work. I wore out two pairs of gloves and the knees in several pairs of khakis. Nevertheless, I loved every minute of my time in Israel. I met interesting people from around the world, worked with amazing students and faculty from Hebrew University, and became fascinated with the current efforts to create a portrait of life in the Canaanite period.
Upon my return to Amherst College for my sophomore year, I soon came to realize that the school does not offer the exact major I now hope to pursue. I'm majoring in anthropology, but the program at Amherst is almost entirely contemporary and sociological in its focus. More and more my interests are becoming archaeological and historical. When I visited Penn this fall, I was impressed by the breadth of offerings in anthropology and archaeology, and I absolutely loved your Museum of Archaeology and Anthropology. Your broad approach to the field with emphases on understanding both the past and present has great appeal to me. By attending Penn, I hope to broaden and deepen my knowledge in anthropology, participate in more summer field work, volunteer at the museum, and eventually, go on to graduate school in archaeology.
My reasons for transferring are almost entirely academic. I have made many good friends at Amherst, and I have studied with some wonderful professors. However, I do have one non-academic reason for being interested in Penn. I originally applied to Amherst because it was comfortable—I come from a small town in Wisconsin, and Amherst felt like home. I'm now looking forward to pushing myself to experience places that aren't quite so familiar. The kibbutz at Kfar HaNassi was one such environment, and the urban environment of Philadelphia would be another.
As my transcript shows, I have done well at Amherst and I am convinced I can meet the academic challenges of Penn. I know I would grow at Penn, and your program in anthropology perfectly matches my academic interests and professional goals.
Before we even get to the critique of David's essay, it's important to put his transfer into context. David is attempting to transfer into an Ivy League school. Penn is not the most selective of the country's top universities, but the transfer acceptance rate is still around 6% (at Harvard and Stanford, that number is closer to 1%). David needs to approach this effort at transfer realistically — even with excellent grades and a stellar essay, his chances of success are far from guaranteed.
That said, he has many things going for him — he is coming from an equally demanding college where he has earned good grades, and he seems like the type of student who will certainly succeed at Penn. He will need strong letters of recommendation to round out his application.
Analysis of David's Transfer Essay
Now on to the essay... Let's break down the discussion of David's transfer essay into several categories.
The Reasons for Transfer
The strongest feature of David's essay is the focus. David is pleasingly specific in presenting his reasons for transferring. He knows exactly what he wants to study, and he has a clear understanding of what both Penn and Amherst have to offer him. David's description of his experience in Israel defines the focus of his essay, and he then connects that experience to his reasons for wanting to transfer. There are lots of bad reasons to transfer, but David's clear interest in studying anthropology and archaeology makes his motives seem both well thought-out and reasonable.
Many transfer applicants are trying to move to a new college because they are running away from some kind of bad experience, sometimes something academic, sometimes something more personal. David, however, clearly likes Amherst and is running towards something—an opportunity at Penn that better matches his newly discovered professional goals. This is a big positive factor for his application.
The Common Transfer Application instructions state that the essay needs to be at least 250 words. The maximum length is 650 words. David's essay comes in at around 380 words. It is tight and concise. He doesn't waste time talking about his disappointments with Amherst, nor does he put much effort into explaining the things that other parts of his application will cover such as grades and extracurricular involvement. He does have a lot more space left to elaborate, but in this case the letter gets the job done well with few words.
David gets the tone perfect, something that is difficult to do in a transfer essay. Let's face it—if you are transferring it is because there is something about your current school that you don't like. It's easy to be negative and critical of your classes, your professors, your college environment, and so on. It's also easy to come across as a whiner or an ungenerous and angry person who doesn't have the inner resources to make the most of one's circumstances. David avoids these pitfalls. His representation of Amherst is extremely positive. He praises the school while noting that the curricular offerings do not match his professional goals.
The Personality
Partly because of the tone discussed above, David comes across as a pleasant person, someone who the admissions folks are likely to want to have as part of their campus community. Moreover, David presents himself as someone who likes to push himself to grow. He is honest in his reasons for going to Amherst—the school seemed like a good "fit" given his small-town upbringing. It is, therefore, impressive to see him so actively working to expand his experiences beyond his provincial roots. David has clearly grown at Amherst, and he is looking forward to growing more at Penn.
The Writing
When applying to a place like Penn, the technical aspects of the writing need to be flawless. David's prose is clear, engaging and free of errors. If you struggle on this front, be sure to check out these tips for improving your essay's style . And if grammar isn't your greatest strength, be sure to work through your essay with someone who does have strong grammar skills.
A Final Word on David's Transfer Essay
David's college transfer essay does exactly what an essay needs to do, and he includes the features of a strong transfer essay . He clearly articulates his reasons for transferring, and he does so in a positive and specific way. David presents himself as a serious student with clear academic and professional goals. We have little doubt that he has the skills and intellectual curiosity to succeed at Penn, and he has made a strong argument about why this particular transfer makes a lot of sense.
Odds are still against David's success given the competitive nature of Ivy League transfers, but he has strengthened his application with his essay.
Tips for Writing a Winning College Transfer Essay
The Hidden Cost of Transferring to a Different College
Sample Weak Supplemental Essay for Duke University
The Length Requirements for the Common Application Essay in 2020-21
Short Answer Response on Working at Burger King
How to Transfer Colleges: A Guide for Success
Sample Application Essay - Porkopolis
Ideal College Application Essay Length
Common Application Essay on a Meaningful Place
"Grandpa's Rubik's Cube"—Sample Common Application Essay, Option #4
The Five College Consortium
Common Application Short Answer Essay on Entrepreneurship
Common Supplemental Essay Mistakes
The 2021-22 Common Application Essay Prompts
Tips for an Admissions Essay on an Influential Person
Tips for an Application Essay on a Significant Experience
By clicking "Accept All Cookies", you agree to the storing of cookies on your device to enhance site navigation, analyze site usage, and assist in our marketing efforts.
Essay Consulting Services
College and transfer support, college admissions essays:.
Gaining admission is often the most difficult part of college. There is more competition than ever for the same few seats. The unfortunate reality is that you need to market yourself.
Strong test scores aren't enough any longer, you must present a persuasive case to the admission committee on why you. Admissions officers read thousands of essays and you need your application to stand out. This means that your application and essays need to be compelling and tell a coherent story.
We help students tell their story, and tell it better. Over the years we've worked with with hundreds of students as they edit, refine, revamp, and sometimes overhaul their essays. We work with independent college counselors and online. We believe in clean, clear, compelling essays that are easy to read and stay on point.
How this works: We talk with you about the essay: what you're trying to convey, which schools, etc . You send us what you have. We work on it (comments, edits, suggestions). We send it back. You respond to our work and make changes. Repeat. Sometimes this takes many exchanges, sometimes one. We continue to help until you're satisfied with your essay. The turn around time is quick. Our goal is 48 hours.
And to be 110% clear, we don't create content, ie., we don't write papers for other people.
Customization : We customize our services to our students' needs. We can meet up in person. We can coach over video chat or the phone . It all depends on what you want.
Be sure to check our samples .
Let's talk about how we can help., college transfer applications:.
So you want to switch schools; the college you've enrolled at isn't the college of your dreams. Maybe you've done well and want to go to a more rigorous school, maybe you want to be closer to home, or are switching from a community college to a four year school. Maybe you're looking for a more economical option.
Whatever the case, we've probably helped someone in a similar situation. (We transfered schools in undergrad ourselves.) From students with refugee status trying to transfer schools in the States to students looking to be closer to their significant other, we can help. Let us work with you on the transfer application that will get you where you need to be. We can help you strategize too.
How this works: We talk with you about the essay: what you're trying to convey, which schools, etc . You send us what you have. We work on it (comments, edits, suggestions). We send it back. You respond to our work and make changes. Repeat. Sometimes this takes many exchanges, sometimes one. We continue to help until you're satisfied with your essay. The turn around time is quick. Our goal is 48 hours.
How to Write a Winning College Transfer Essay
Much like snowflakes, DNA profiles, or interpretations of a David Lynch film, no two college transfer applicants are alike. Even if two prospective transfers to Boston University are both named Fred and each hail from Farmington, CT, their paths, and the contours of their academic journeys are probably quite different from one another. Perhaps Fred #1 is a first-generation college student who, for financial reasons, had to complete his freshman year at the local community college. Perhaps Fred #2 underachieved a touch in high school, gained admission into a less-selective state school where he excelled freshman year and is now highly-motivated to study at top school. Each Fred possesses an equally valid story to tell the BU admissions office, and doing so adeptly may well be the key to their acceptance. After all, 42% of all U.S. colleges—and close to 100% of highly-selective schools—cite the essay as being "important" to their transfer application decisions.
To cite another relevant statistic, 37% of all college students transfer at some point in their academic career and each has a worthwhile pathway to chronicle. Whether you're Fred #1, Fred #2, or someone not even named Fred (imagine that!), you need your transfer essay to be so strong that it leaps right off the page and captures the attention (or, even better, heart) of an admissions officer. In the following article, the College Transitions team will explain precisely how to master this essential component of the transfer application.
Which Transfer essay prompt should I pick?
Starting in 2020-21, the Common App granted its member institutions the option of allowing their transfer applicants to select one of the seven current Common App essay prompts (that are available to freshman applicants).
Some schools will offer you this option, while others will simply ask you the equivalent of "Why are you applying to our university?" If you are given the choice between prompts, it is generally best to select the one that is most broad (note: a broad prompt is good, a broad essay is not) and allows you to compose an essay containing the following essential elements:
1) Why your prospective transfer school is a perfect fit for you.
2) Why your journey has led you away from your current institution.
3) What unique attributes and talents you will bring to campus.
4) How your past achievements and efforts can bolster your case.
5) Share your academic and career ambitions.
Let's dive in and take a more thorough look at each component, beginning with #1.
1) Why this college is the perfect fit for you
Share with your prospective new academic home exactly what makes them attractive to you. Smaller class size, a particular academic program, a more diverse environment, or the opportunity to for hands-on learning/research opportunities are just a sampling of the legitimate selling points you can cite. Mention specific courses that you are eager to take at their institution, certain distinguished professors who you desire to study under, and unique clubs, activities, or campus traditions in which you are excited to partake. Take advantage of this chance to impress admissions officers with you expansive knowledge of their institution as well as a highly-specific accounting of how you will take advantage of your 2-3 years there. Doing so will separate you from the pack of similarly-qualified transfer applicants.
2) Why you want to leave your current college
Make sure that the reasons that you communicate for wanting to transfer do not end up sounding like a nasty Yelp review of your present school. While you may want to leave College X because the professors are all centenarian windbags and your roommate is breeding capybaras to sell on Craigslist (is there really a market for that?), remember that the school to which you are applying wants to feel wanted. Think about it—would you rather listen to your girlfriend/boyfriend rant about their ex or hear them tell you what makes you awesome? Admissions officers considering a transfer student feel the same way.
3) What unique attributes you will bring to campus
Even in the transfer admissions process, admissions officers are tasked with enhancing the diversity of their undergraduate student body and adding individuals who are likely to be contributing members of the campus community. Is there a particular club that you are eager to join or do wish to start your own? Do you desire to assist a professor in conducting research? Are you an a cappella star or club volleyball diehard? What books do you read for pleasure? Do you have a hidden talent or area of expertise? Are you an introvert or extrovert (both can be selling points)? What ideas, activities, or dreams keep you up in the middle of the night? Give the admissions reader a full picture of what your life will look at their school and how you will make more of an impact (in any form) than many of your fellow applicants.
4) Talk about your academic and extracurricular record
This is also a perfect opportunity to demonstrate your record of involvement on your current campus. It is far easier to sell yourself as someone who will be a contributing member of the campus community if you displayed these qualities at your previous college. Students with an eye on transferring are sometimes so focused on escaping their first institution that they fail to become involved in anything outside of the classroom and thus miss out on valuable opportunities to demonstrate leadership and passion—the very traits needed to transfer to a prestigious school. Write about what you are most proud of—a challenging physics exam you mastered, a philosophy paper you wrote arguing the compatibility of science and religion, or how you started a campus chapter of an organization dedicated to fighting pancreatic cancer.
5) Share your academic and career ambitions
The more you can use your essay to communicate your genuine passions and what makes you tick, the better. Doing so gives your essay broader context and deeper meaning, as it explains the true significance of all of the info shared in steps #1-4. If you want to major in biology, where do you see that taking you down the road? Are you considering graduate or medical school? Do you want to work in research in a specific area? You don't have to be 100% sure of your career and future academic path at 19 or 20 years old, but as a transfer student, you should share where your experiences and interests may someday take you.
College Transfer Essay – Do's and Don'ts
Make a coherent and well-researched case for why the school to which you are applying would be a perfect fit for you.
Explain how you spend your time outside of school whether it's participation in a club or sport, paid work, or a hobby to which you are extremely dedicated.
Paint a picture of the reasons why this new university is the right place to pursue your academic interests.
Give the committee a sense of your talents and character/personal qualities. If your school does not offer interviews, this essay will be primary vehicle through which you can forge a personal connection to a fellow human being.
Bash your current school or overly-focus on the negative.
Make excuses for past academic performance of lack of outside the classroom involvement.
Say that you want to attend a new school for the prestige, the pretty campus, or for a personal reason (close to home, girl/boyfriend attends, etc.).
Forget to do adequate research on your prospective academic home. Details matter!
A licensed counselor and published researcher, Andrew's experience in the field of college admissions and transition spans two decades. He has previously served as a high school counselor, consultant and author for Kaplan Test Prep, and advisor to U.S. Congress, reporting on issues related to college admissions and financial aid.
Filter By Category
2-Year Colleges
Application Strategies
Big Picture
College Essay
College Search/Knowledge
College Success
Costs & Financial Aid
Graduate School Admissions
High School Success
High Schools
Medical School Admissions
Navigating the Admissions Process
Summer Programs
Uncategorized
BUY OUR BOOK
NEWSLETTER SIGN-UP
Downloadable Resources for your College Transition
Admissions Counseling
College Investigator