EssayBasics.com
Pay For Essay
Write My Essay
Homework Writing Help
Essay Editing Service
Thesis Writing Help
Write My College Essay
Do My Essay
Term Paper Writing Service
Coursework Writing Service
Write My Research Paper
Assignment Writing Help
Essay Writing Help
Call Now! (USA) Login Order now
EssayBasics.com Call Now! (USA) Order now
Writing Guides
Organ Donation (Argumentative Essay Sample)
Organ donation.
Organ and tissue donation has become a key part of the healthcare sector. The number of patients whose organs are failing continues to increase. Consequently, the number of those in need of donated organs continues to rise, despite the limited number of donors. At times, it becomes a business as some immoral individuals and groups work in cahoots with medical personnel to illegally acquire organs and sell to needy patients at extremely high prices. The killing of the Falun Gong in China for organ harvesting highlights the high demand for organs. In light of the debate surrounding organ donation, this paper argues that it is a necessary procedure that needs to be embraced by potential donors and patients.
Kidneys, corneas, heart, lungs, liver, intestines, and several other body parts of living or deceased people can be donated to those in need. It is a heroic thing to help a fellow human being who is facing death unless he receives a functioning organ from another person. Organ and tissue donation gives sick people a second chance at life. It saves lives and patients who might not otherwise survive get a chance to live.
Some of the reasons identified by opponents of organ donation are religious. Some religions believe that when one donates his organs during his lifetime, he will suffer torments in the afterlife. Family beliefs have also been cited by some opponents. Some families bar their members from donating organs.
In some cases, the opponents of organ and tissue donation merely ride on misconceptions. For instance, some people believe that during the operation, the donor would have to fund all the costs involved. However, in reality, the costs are usually borne by the organ recipient. In other cases, some people believe that once someone donates organs, doctors would be reluctant to save the donors' lives once they realize that the patient had donated sometime earlier in their life. This is a fallacy as doctors are legally and ethically required to provide the requisite services to patients at all times.
Contrary to the popular fallacies perpetuated and believed by individuals who are hesitant to donate organs, it is a noble thing to do. It can save the life of not only the recipient but numerous other people. A donor touches the lives of tens of people. When one person donates, he is encouraging many others to do the same. The recipient remains grateful and every single day, he or she knows that without the donor's generosity and sacrifice, they would be dead.
One can also donate to science. By donating to science, scientists are able to carry out more research, a starting point in the discovery of cures for diseases and the improvement of human life. Scientists' knowledge of body organs relies to a great extent on donation thus the cure for such diseases as cancer depends on the sacrifice and generosity of individual donors. In a way, donation enhances the wellbeing of humanity.
In conclusion, organ and tissue donation are not just a noble thing to do; it is a human duty. Saving human life overrides any religious and family beliefs. In this regard, a donor does more good by offering their liver, kidney, or other body parts with little or no regard for misconceptions as human life is sacred and worth saving.
We use cookies to enhance our website for you. Proceed if you agree to this policy or learn more about it.
Essay Database >
Essay Examples >
Essays Topics >
Essay on Organs
Organ Donations: Do We Still Have Enough? Argumentative Essay Examples
Type of paper: Argumentative Essay
Topic: Organs , Organ , Donation , Idea , Donors , Demand , Urinary System , Welfare
Published: 03/08/2023
ORDER PAPER LIKE THIS
Over the past years, it was listed that more than 100,000 Americans are said to need organ transplants. There has been a consistent growing demand for internal organs such as the heart, the kidneys and the lungs for which the supply is lesser than the demands. Eighty percent of those who are in need for organ transplants demand kidneys the most because of the increasing cases of diabetes, obesity, and hypertension. To have higher chances of recovering these required organs, individual States in the US have made it easier for the people to make themselves donors whether using online platforms or by renewing their driver's licenses. Also, medical facilities such as hospitals have been moving towards the increasing of the number of families who would allow a relative's organs to be donated after death. However, because of the growing demand, some advocates of the internal body part donation scene are currently proposing to have transplants that could allow for financial compensation; that of which is now viewed as an illegal practice in the United States (Martel, CQ Researcher). Because of the lack of organ donors, doctors and scientists alike are already exploring the possibilities of bioengineering which may eventually introduce the idea of allowing surgeons to create the needed organs having based on the patient's stem cells. However, for the cases of the kidneys and the lungs, this may be a far-flung idea that is seen to be decades away from being accomplished. One of the main reasons that there has been a disproportionate demand and supply for organs is because of the heavily detailed guidelines created for the process of organ transplantation. As such, organ matching is yet to be made before anything else. This process makes it all the more difficult to find the proper organ donors for the patients in need. According to the UNOS website, patients are added to the waiting list and could get a donation within the day or years. The facts mentioned above is supported by Martel in her study through the CQ Researcher; wherein she states that the demand and waiting list for those who are in need of kidneys have nearly doubled since the year 2000. To alleviate these growing needs, proposals to expand the post-death donations of organs have been made to proportion finally the supply and demand for organs. In one idea, the contract for becoming a donor would involve a lump-sum payment to the donor's whole estate if such organs are recovered post-death. This lump sum could come from the Department of Health and Human Services as part of the compensation package for potential donors. However, despite the attractive package that is currently proposed, many still argue that payments such as the lump sum idea could dispel the fears of having an inadequate care post-death. Despite this idea for having compensations for the post-death organ donations, it is still found to be insufficient since only 1 to 2 percent of deaths from each year produces usable organs which move to having these financial rewards to favoring the living donors which is in fact proven to last longer. Currently, only the out-of-pocket expenses are covered for the living donors who are allowable under the National Organ Transplant Act (NOTA). However, since the supplies for organs could still not meet the demand, many economists propose to have regulated cash payments for these organs which are still found to be illegal in the United States. Those who oppose this state that this idea only targets the poor and would exploit the members of the lower socioeconomic class (Mantel, CQ Researcher). Adding to this fact would be the idea that these people could misrepresent their current health conditions which may result in an inadequate organ donation quality. Also, having attracted the poor would lead to negative benefits for these people given the fact that they do not have the capacity to pay for the post-transplant medications. It is a reality that the current Medicare only pays for only three years of immunosuppressive medications for kidney donors and what comes after for private insurance organizations would have limitations. Overall, it is well understood that there are heavy demands at present for the different vital organs most especially with the kidney and the heart. Having more and more obese patients could mean a double in the number of those in waiting list. However, despite the present situation in the organ transplant scene, there are still many ways to be used to meet the current demands for organs. Current technological advancements could help in reducing those in waiting lists since technology today moves fast in that there is a new development each day. Although seen as an event in the distant future, it could well be an alternative instead of compensating the people for their organs.
Works Cited
Mantel, Barbara. "Organ Donations: CQR." CQ Researcher by CQ Press. Sage Publishing, 15 Apr. 2011. Web. 17 Apr. 2016. <www.bpcc.edu>. United Network for Organ Sharing. "Frequently Asked Questions | UNOS." Home | UNOS. United Network for Organ Sharing, 2015. Web. 17 Apr. 2016. <www.unos.org>.

Cite this page
Share with friends using:
Removal Request

Finished papers: 2627
This paper is created by writer with
ID 254333550
If you want your paper to be:
Well-researched, fact-checked, and accurate
Original, fresh, based on current data
Eloquently written and immaculately formatted
275 words = 1 page double-spaced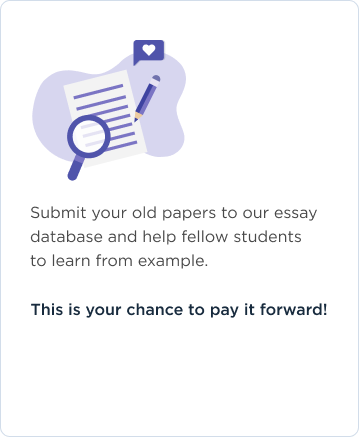 Get your papers done by pros!
Other Pages
Barrier business plans, bureau business plans, skin cancer term papers, big bang theory term papers, lupine essays, phylo essays, fowkes essays, education computing as a social practice report examples, preventable diseases essay sample, essay on ideological critique, example of critical thinking on problem how companies can systematically create innovations that customers don.
Password recovery email has been sent to [email protected]
Use your new password to log in
You are not register!
By clicking Register, you agree to our Terms of Service and that you have read our Privacy Policy .
Now you can download documents directly to your device!
Check your email! An email with your password has already been sent to you! Now you can download documents directly to your device.
or Use the QR code to Save this Paper to Your Phone
The sample is NOT original!
Short on a deadline?
Don't waste time. Get help with 11% off using code - GETWOWED
No, thanks! I'm fine with missing my deadline
How It Works
Topic Generator
United States
View all categories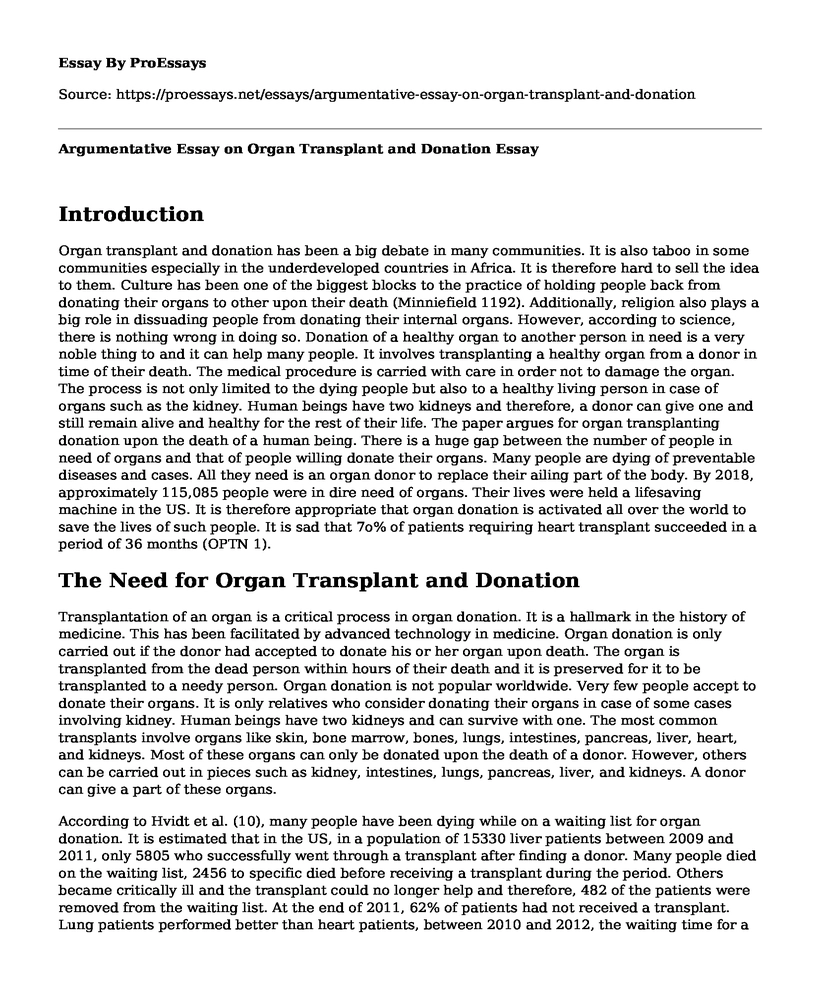 Argumentative Essay on Organ Transplant and Donation
Introduction.
Organ transplant and donation has been a big debate in many communities. It is also taboo in some communities especially in the underdeveloped countries in Africa. It is therefore hard to sell the idea to them. Culture has been one of the biggest blocks to the practice of holding people back from donating their organs to other upon their death (Minniefield 1192). Additionally, religion also plays a big role in dissuading people from donating their internal organs. However, according to science, there is nothing wrong in doing so. Donation of a healthy organ to another person in need is a very noble thing to and it can help many people. It involves transplanting a healthy organ from a donor in time of their death. The medical procedure is carried with care in order not to damage the organ. The process is not only limited to the dying people but also to a healthy living person in case of organs such as the kidney. Human beings have two kidneys and therefore, a donor can give one and still remain alive and healthy for the rest of their life. The paper argues for organ transplanting donation upon the death of a human being. There is a huge gap between the number of people in need of organs and that of people willing donate their organs. Many people are dying of preventable diseases and cases. All they need is an organ donor to replace their ailing part of the body. By 2018, approximately 115,085 people were in dire need of organs. Their lives were held a lifesaving machine in the US. It is therefore appropriate that organ donation is activated all over the world to save the lives of such people. It is sad that 7o% of patients requiring heart transplant succeeded in a period of 36 months (OPTN 1).
Is your time best spent reading someone else's essay? Get a 100% original essay FROM A CERTIFIED WRITER!
The Need for Organ Transplant and Donation
Transplantation of an organ is a critical process in organ donation. It is a hallmark in the history of medicine. This has been facilitated by advanced technology in medicine. Organ donation is only carried out if the donor had accepted to donate his or her organ upon death. The organ is transplanted from the dead person within hours of their death and it is preserved for it to be transplanted to a needy person. Organ donation is not popular worldwide. Very few people accept to donate their organs. It is only relatives who consider donating their organs in case of some cases involving kidney. Human beings have two kidneys and can survive with one. The most common transplants involve organs like skin, bone marrow, bones, lungs, intestines, pancreas, liver, heart, and kidneys. Most of these organs can only be donated upon the death of a donor. However, others can be carried out in pieces such as kidney, intestines, lungs, pancreas, liver, and kidneys. A donor can give a part of these organs.
According to Hvidt et al. (10), many people have been dying while on a waiting list for organ donation. It is estimated that in the US, in a population of 15330 liver patients between 2009 and 2011, only 5805 who successfully went through a transplant after finding a donor. Many people died on the waiting list, 2456 to specific died before receiving a transplant during the period. Others became critically ill and the transplant could no longer help and therefore, 482 of the patients were removed from the waiting list. At the end of 2011, 62% of patients had not received a transplant. Lung patients performed better than heart patients, between 2010 and 2012, the waiting time for a lung transplant was four months and a patient had 65.3% chances of receiving a transplant in the US.
The Gap Between Organ Demand and Supply
Many people fail to give organs due to lack of information and knowledge about. Organ donation can improve the level of confidence in a person. A donor's self-esteem is elevated due to saving someone else live. The donor becomes a hero among the rest of the people, and he or she continues to live after donating the organ even at death. This is because a part of them lives in someone else. It is the most humane action to do-saving another person's life with one of your organs. There is no help greater than donating an organ to a needy patient.
Arguments for Organ Transplant and Donation
The organ is useless in a dead person; it is their reasonable to give such an organ to a needy person who is alive. When a person dies and is buried, the body of the person decomposes. The process has no value to human beings and even the point where a body is buried is usually kept off by people. Therefore, burying a healthy person with organs intact is not reasonable. It is instead a double loss. Their organs go to waste yet they would have assisted another person to live longer and again, the land where their body is buried has no economic use. Instead, the land is set aside and it is usually a taboo in many cultures to build or even farm on a grave. For ages, people have feared the dead and the grave yards where they are buried. The piece of land becomes useless for several generations to come until the living losses touch with the grave. It, therefore, remains idle for three to five generations.
Economic and Financial Benefits of Organ Donation
Organ donation is a noble thing to do. It should be highly encouraged in our society. Actually, the people who donate their organs should be recognized and awarded before they are dead. The society should carry out a massive sensitization to encourage the practice and save the lives of people who are in need of certain organs. For example, in the US alone, it was reported that 115, 085 patients were in need of organs and they were in life supporting machines hoping to find a donor. It is very hard to find an organ donor, thus there exist a huge discrepancy between the organs donated and the demand for the organs in hospital.
From an economic and financial dimension, it is absolutely necessary for the organ donation process to be done. Great losses are incurred by the loss of lives which could have been prevented. The death of a single person is a huge to a country and to the world economically. Every person plays a critical role in every economy as they carry on with their daily lives. People work and consume, by so doing they contribute towards the GDP of a country. Death, therefore, takes away an important contributor to the economy. Even though death is unpreventable, every living human being must die at some point, it is important to save a life where possible. Some people die at their prime age where their contribution to the economy is at the highest. Not only are their families and friends at a loss upon their death, the economy is also bereaved. It takes a lot of resources to bring up a human being and educate them. It is therefore tragic when a mature young person dies out of organ failure at their prime age when they are utterly active and contributing highly to the economy. They may have left behind young children and other people who depended on them for survival. It is therefore inappropriate to allow death to occur as a result of an organ failure because it is preventable was there many organ donors. Governments should carry out massive civil education to encourage people to donate organs in a similar way they do blood donations. Following a research by Hvidt et al (2-8), many people die of organ failures. In the US, approximately 120000 people are on the waiting list and it is witnessed 21 deaths of patients daily due to lack of donors. There is a huge deficit for organ donation in the US. In Germany, approximately 1000 people die annually due to lack of organ donors or rather due to organ failures.
Cases Against Organ Transplant and Donation
There are many factors that dissuade people from donating their organs. Some of these reasons include ignorance, government legislation, religion, culture, political reasons among many others. The common reason for the negative attitude toward organ donation and transplant is ignorance (Minniefield 1192). Many people have little information about. The matter has not been given much public limelight. The government and other stakeholders need to carry out a sensitization campaign to inform people about it. Some people believe that the medical practitioner would be less careful while doing the transplants on them and they would have to meet the medical cost on their own and yet they are giving away their organs. Such sentiments put them off.
Religion is a huge factor that holds people back from donating their organs. Matters of the afterlife are very complicated and many religions dissuade their members from donating their organs (Stranders 124). Most of these religions are conservative in nature and are tied to culture and traditions such as Shinto and some African religions. For example, Buddhism highly discourages the practice among its faithful. According to the religion, human bodies should be respected even at death. Islamic teachings are controversial towards the subject and therefore; some teachings are against it while others are for it. Jehovah witness allows organ donation only if the organ's blood would be completely drained before transplantation. In many of the underdeveloped countries, there is no legal system to control organ donation and therefore, the donors are often exploited and left worse off than before. Cases of black market are on the rise because demand for organs outstrips their supply.
In England, automatic organ donation is being considered. The public is being considered and if it sails through, people will automatically be enlisted as organ donors upon their deaths unless they opt out of the system (Gore, Hinds, and Rutherford 1195). This is a very good move and it will save many human's life. It is ethical to donate one's organ and according to deontology, it is an obligation for people to behave ethically. Donation of organs is a matter of charity and many religions support it from that point of view, believers should therefore not fear about it.
Political reasons also play a role in organ transplant and donation. For example, some people argue that patient in needs of organs such as liver and they were drunkards should be given one. This is because they spoilt their liver through abuse of alcohol in full knowledge of its consequences. It is important that the population in a country should have faith in their medical system. For example, in Brazil, an opt-out system was done away with due to nationals' lack of faith in their medical system. The UK is in the process of introducing an opt-out system since a majority of people in the region are for an organ transplant and donation (Randhawa et al. 745). This indicates that they have faith in their medical system.
In conclusion, I highly argue for organ transplant and donation. The negative attitude towards the noble action is usually baseless. In most of the times, it is based on lack of knowledge or ignorance. Organ transplant and donation has many benefits to the society. It has emotional, economic and financial benefits. Many lives are saved, which leads to economic and financial gain. The dead body is not functional and it does not benefit. Therefore, it is reasonable to transplant all the healthy organs in a body of a dead person before disposing it off. Additionally, the self-esteem of a donor is enhanced because one saves live by giving an organ. Many people are suffering in the society from low self-esteem; they should engage in live-saving missions like donating their organs to the sick and needy and thus boost their self-esteem and morale.
Works Cited
Gore, Sheila M., Charles J. Hinds, and Annabel J. Rutherford. "Organ donation from intensive care units in England." Bmj 299.6709 (1989): 1193-1197.
Hvidt, Niels Christian, et al. "For and against organ donation and transplantation: intricate facilitators and barriers in organ donation perceived by German nurses and doctors." Journal of transplantation 2016 (2016).
Minniefield, William J., Jun Yang, and Paola Muti. "Differences in attitudes toward orga...
Cite this page
Argumentative Essay on Organ Transplant and Donation. (2022, May 16). Retrieved from https://proessays.net/essays/argumentative-essay-on-organ-transplant-and-donation
so we do not vouch for their quality
If you are the original author of this essay and no longer wish to have it published on the ProEssays website, please click below to request its removal:
Problems of the American Health Care System
Theoretical and Conceptual Frameworks in Understanding Disparities in Health Care
Impact of Caffeine on Our Health Paper Example
Otitis Externa Paper Example
Why Teens Abuse Alcohol or Drugs Essay
Essay on Non-Professionals: How to Deal With Social Determinants of Health
Paper Example on Dust Storms: A Risk to Our Lungs' Health
Liked this essay sample but need an original one?
Hire a professional with VAST experience and 25% off!
24/7 online support
NO plagiarism
Submit your request
Sorry, but it's not possible to copy the text due to security reasons.
Would you like to get this essay by email?
Interested in this essay?
Get it now!
Unfortunately, you can't copy samples. Solve your problem differently! Provide your email for sample delivery
You agree to receive our emails and consent to our Terms & Conditions
Sample is in your inbox
Avoid editing or writing from scratch! Order original essay online with 25% off. Delivery in 6+ hours!
91 Organ Donation Essay Topic Ideas & Examples
🏆 best organ donation topic ideas & essay examples, ⭐ good research topics about organ donation, 👍 interesting topics to write about organ donation, ❓ organ donation research questions, 💯 free organ donation essay topic generator.
Pros and Cons of Paying for Organ Donation: Arguments for Prohibition Although the potential of people to purchase organs might bring in profits to health care and increase supply and demand of transplanted organs, the fact of increased supply rates is doubtful because recent surveys prove […]
The Ethics of Organ Donation in Modern World The patient is referred to a transplant center and is to their "dismay" put on a national waiting list, after a "series of interviews, physical and medical tests" to determine the suitability of the recipient […]
Organ Transplantation and Donation Since people donate organs to others regardless of their locations, nations need to be cautious in order to avoid spread of diseases in the process.
Ethical Issues in Organ Donation According to the authors of the study, death is defined as, "the irreversible loss of the integrated and coordinated life of the person as a single living organism".
Organ and Blood Donation However, ethical and legal issues, and unwillingness of many potential donors to provide consents have slowed down the rate of organ and blood donation in the county.
Organ Donation: Importance Information Because of the improved and advanced technology, the practice of organ transplant is becoming more popular and acceptable in the society.
Organ Donation Myths: Critical Thought This essay is aimed at subverting three of the most common myths about the subject matter by considering the facts closely, relating them to the values concerning the organ donation, and isolating the issues related […]
Organ Donation and Transplantation Medicine Although money and financial support will be a major factor in the process of body transplant that Canavero expects to take two years, pegging human life on money is unethical.
Gene Patenting and Organ Donation Profitability is the key to violating the law, and that is the reason for the lack of transparency in the tissue market.
Medical Ethics of Child's Organ Donation Obviously, the parents are the only people who represent the wishes of the patient in the case. The above-mentioned position seems to be viable when it comes to the concept of the greatest good used […]
Ethics of Organ Donation After Human Death In reference to this case, the ethical dilemma is related to the fact that the hospital administrator needs to disregard the necessity of informed consent for organ donation.
Organ Donation: Ethical Dilemmas An example of an ethical dilemma surrounding the procedure is the case of rich man vs.poor man, or rather, the case of a person who can afford to buy an organ on the black market […]
Organ Donation in Saudi Arabia: Survey Results A total of 27 participants answered the questions that were asked in the survey. The problems that are behind the ambiguity that people have over this issue are some of their limitations and perceptions.
Organ Donation: Ethical and Legal Considerations The other approach is by requesting the family of the deceased to give consent for the donation in a case where the deceased did not permit earlier on.
The Issue of Compensation for Organ Donation Nevertheless, in spite of the fact that proponents of the compensation for the organ donation indicate obvious advantages of using this approach for the healthcare system, opponents emphasize the unethical character of such approaches.
Organ Donation: Postmortem Transplantation The ethicality of such actions has been questioned, as this procedure may be ambiguously perceived by the relatives of the deceased patient and the recipient of organs.
Importance of Organ Donation Considering the huge number of people in need of different body organs today, and the many that are dying each day due to organ problems, a socially upright member of our society should not consider […]
Organ Donation Registry Beginning 16th February 2010 through to the 18th the Ypsilanti Lions club organized the organ donation registry table whose main purpose was to invite people from all walks of life to literally give a piece […]
Organ Donation: Donor Prevalence in Saudi Arabia Donating organs does not pose a threat to the life of the donor; however, it can save the lives of many other people who need organ transplants.
Researching of Xenograft and Organ Donation Doctors have been searching for methods to save lives all along, and xenograft has shown to be one of the most reliable, particularly when it comes to organ replacement. A xenograft is fraught with dangers, […]
The Organ Donation Legislation Critique She expresses outrage and condemnation of the current organ donation legislation and the politicians who drafted it. If the global majority accepts such a perspective, it will lead to a worldwide spike of violence and […]
The Nebraska Laws on Organ Donation in the United States
Factors Influencing Organ Donation Among African Americans
Pros and Cons of a New Opt-out System of Organ Donation
An Argument in Favor of Encouraging Organ Donation after Death for Transplantation Opportunities
Beneficence Justice Malfeasance and Autonomy in Organ Donation
The Cases of Brain Death and Organ Donation in Children and Adults
Comparison of the Organ Donation in the U.S. and Sweden
Compensation for Organ Donation: The Sale of Organs
Could Death Row Inmates Be a Viable Source for Organ Donation
Overview of the Dutch and Belgium Organ Donation Acts
Donation of the Organs and Their Harmful Effects on the Society
Knoweldge and Attitudes of Health Professionals on Organ Donation
Financial Compensation for Organ Donation
Analyzing the Importance of the Organ Donation
The Benefits and Shotrcomes of Organ Donation
Improving Organ Donation Through Clarification and Education
Increasing Organ Donation via Changes in the Default Choice or Allocation Rule
Organ Donation: Why Everyone Should Be a Donor
Legal and Ethical Issues Regarding Organ Donation
Mandatory Organ Donation: Ethical or Unethical
Organ Donation: How Recipients Are Chosen and Should Donors Be Compensated
The Discussion of the Legalization of Organ Donation
Effects of the Organ Donation on the Lives of Thousands of Recipients
Ethical Issues Surrounding Organ Donation
Why Cash for Kidneys Is Better Than Organ Donation
Organ Donation Issues and Laws: Federal and California State
Social Madia Initiative May Help Increase Organ Donation
Organ Donation: Life That You May Have the Power to Save
The Best Ways to Decrease the Shortage of Organs for Transplantation
Public Policies in the Question of Consent for Organ Donation
Organ Donation: Keeping the Gift of Life Alive
Description of the Commercial Market for Organ Donation
The Controversy Associated With the Opt-Out Organ Donation
The Life Saving Benefits of Organ Donation
Comparing Organ Donation Programmes Across the World
The Global Need for Organ Donations
Why Organ Donation Should Be Encouraged
Organ Donation: Two Deaths or One Life
Neonatal and Pediatric Organ Donation: Ethical Perspectives and Implications
Organ Donation and Forest Depletion Depicted in Fitzhugh's "The Organ Grinders"
Is There a Black Market for Organ Donation?
What Are the Advantages and Disadvantages of Organ Donation?
How Is Organ Donation a Lucrative Business?
Why Do Muslims Disagree With Organ Donation?
Is Organ Donation Against God and Nature?
What Are the Ethical Issues in Organ Donation?
Is the US Opt-in or Opt-Out for Organ Donation?
Why Is Organ Donation a Moral Issue?
How Does the Process of Organ Donation Work?
What Ethical Theory Is Against Organ Donation?
Does Islam Support the Concept of Organ Donation After Death?
What Is the Most Complicated Organ Donation?
Are Organ Donations Compulsory in China?
Why Can't Organ Donation Be Mandatory?
Is There an Age Limit for Organ Donation?
What Do Religions Think About Organ Donation?
Why Is Organ Donation in Exchange for Money Illegal?
Is an Opt-in or Opt-Out More Effective for Organ Donation?
What Are the Disadvantages of Organ Donation After Death?
Are Religious Beliefs Keeping Organ Donations From Going Mainstream?
What Cultures Don't Believe in Organ Donation?
Why Is Organ Donation Uncommon in India?
Should Presumed Consent for Organ Donation Be Used in the US?
What Are the Laws Behind Organ Donation?
How Does the Debate on Deontology vs. Consequentialism Stand When It Comes to Organ Donation?
What Are the Emotional Tolls of Organ Donation for the Donor?
How Do Living Organ Donations Compare to Deceased Organ Donations in the United States?
What Are the Challenges of Organ Donation?
Are There Barriers to Organ Donation in the US?
Why Are Donated Organs Sometimes Rejected?
Chicago (A-D)
Chicago (N-B)
IvyPanda. (2023, May 27). 91 Organ Donation Essay Topic Ideas & Examples. https://ivypanda.com/essays/topic/organ-donation-essay-topics/
"91 Organ Donation Essay Topic Ideas & Examples." IvyPanda , 27 May 2023, ivypanda.com/essays/topic/organ-donation-essay-topics/.
IvyPanda . (2023) '91 Organ Donation Essay Topic Ideas & Examples'. 27 May.
IvyPanda . 2023. "91 Organ Donation Essay Topic Ideas & Examples." May 27, 2023. https://ivypanda.com/essays/topic/organ-donation-essay-topics/.
1. IvyPanda . "91 Organ Donation Essay Topic Ideas & Examples." May 27, 2023. https://ivypanda.com/essays/topic/organ-donation-essay-topics/.
Bibliography
IvyPanda . "91 Organ Donation Essay Topic Ideas & Examples." May 27, 2023. https://ivypanda.com/essays/topic/organ-donation-essay-topics/.
Transplantation Titles
Altruism Ideas
Blood Donation Topics
Donation Titles
Red Cross Titles
Anatomy Ideas
Health Promotion Research Topics
Cardiovascular Diseases Titles
Ethical Dilemma Titles
Genetic Engineering Topics
Healthcare Reform Essay Ideas
Nursing Theory Questions
Bureaucracy Paper Topics
Fundraising Topics
Stem Cell Essay Titles
My Portfolio
Andrew duffy.
Literacy Narrative
Image Analysis Essay
Argument Research Essay
Other Works About My Writing
Final Reflective Essay
The medical field utilizes a variety of techniques to save lives everyday. One way is to perform an organ transplant by replacing a patient's failing organ with a working one. The problem with this is that working organs are very hard to come by, and when they do, it is not guaranteed that the organ can be transplanted. One way to obtain a transplantable organ is through donation. Organs can be donated by both living and deceased people, but very little people donate that it makes the waiting list long. One debate that is currently going on in the medical field is whether or not an opt-out system (A system where all citizens would be registered organ donors, and would have to manually opt out) should be implemented over our current opt-in system. However, there are arguments against this, stating that it would be easier to focus on smaller problems, because one giant system alone will not increase donation numbers. The best approach to increasing the number of organ donors is to improve the process by compensating donors, providing adequate support, and enact laws which strengthen the organ donation centers.
One way to increase the number of organ donors is to properly compensate donors. A big reason why people may feel hesitant to donate is because many fear that they have neither the time or the money to donate. Organ donation is not simply an appointment you make where you show up, give them a kidney, and be on your way. It is a process that takes up to three months to recover from (Thiessen C, Jaji Z, Joyce M, et al, 2017) Many are hesitant because they fear that they will be bedridden for a few month, and as a result, fear being unable to support themselves and their families. Some fear they will not be able to pay rent or even keep their job if they donate due to the healing process. Hospitals do not compensate nearly enough for most donors to live comfortably.
A fix to this problem would be to compensate fully for a person's cost of living during their recovery, and also work with employers to give donors rights to their job. Since donation is a very rare event to begin with, the government would not suffer financing these people's lives for a short amount of time.The government could receive the funds for donors by accepting monetary donation, and by cutting into the healthcare sector and setting aside more money for donors in these scenarios. Financial support could also be offered to help support funeral costs of deceased donors, to encourage more families to allow their loved one's organs to be donated. If this problem were to be fixed, people might feel eager or better about donating in general. This could lead to more donations.
Another way to increase the number of organ donors is to provide adequate support for donors. One conflict that arises is that of a deceased's wishes vs what their family wants. While someone can register themselves as a donor, it is ultimately up to their family to decide once they are deceased. As a result, many families choose not to have them donate, mostly due to what they do not know, or what they think will happen. Others feel obligated to either donate or have the deceased donated just because they believe it is moral. The problem here is that if organ donation has a reputation for guilt-tripping, less people will want to register.
The way to fix the inadequate support is to simply expand organ transplant centers, both by increasing the number of workers, and the number of educational resources. Educating the hesitant can lead to less of these 'uncertain' moments where they either feel obligated to make a decision that they do not have the information to make. There are a few ways to provide education, but one simple one would be to hire professionals to teach people the pros and cons of donating, the facts … etc. They could provide pamphlets that answer simple questions, and could even offer classes and a hotline for potential donors. By investing more money into professionals who can properly teach everything about organ donation, the support for donors would increase, and as a result, more would be informed enough to make the best decision for them.
By improving the process, more people may feel comfortable with either donating or not. Even in cases where donors decide to not donate, resources must be made available in order to decrease negative feelings of guilt. One study showed that most donors would prefer an alibi to break news to whoever needed a donation that they were not getting what they needed. While only a small sample of people, it still proves that many people can feel guilty by denying their receiver. These are the emotions that need to be eliminated if people are going to feel completely comfortable with donating.
The last way to increase the number of organ donations is to enact laws which strengthen organ donation centers. A problem found by a UK task force in 2008 found that one problem with organ transplantation is that the centers do not have a very tight network (Rudge C, Buggins E, 2012) Because Organ donation is a rare occurrence, and many cannot donate even if they are registered, organ donation centers are rather small (Not much is put into them) This means that these centers aren't running as efficiently as they could be. Organs have to be properly retrieved within a certain time frame to still be usable. If the centers don't work efficiently and cooperatively, the already small number of organs to use decreases. This applies to the U.S. as well since both countries have an opt in system, and neither have, or had the most money, or resources going into their centers. It only makes sense that if it works in the UK, it can work in the U.S. (
The way to fix this was based on the Task Force's findings. They recommended that changes be made based on establishing official organizations that specialize in organ donation, and resolving ethical and legal issues. By doing this, the UK saw a 25% increase in deceased organ donors over three years. This suggests that if the U.S. improves its infrastructure in organ donation centers the number of donations will increase.
While the opt-out system does have its supporters, it is just not logical to enact this system over an opt-in one (By itself). While, yes, countries with this system do have a higher correlation of donations, there are a misconceptions. The best known example of a country with a opt-out system is Spain. Unsurprisingly, Spain has the highest rate of donations and donors. However, what some do not understand is that the numbers that increased were not just because of their switch to this system, Spain also improved their donation network and made access to donation easier around the same time. Over a decade, numbers started to rise, which means that the opt-out system alone is not enough to increase donation numbers.
While an opt-out system does have its benefits, it does not outweigh the benefits of improving the current system. Evidence has shown that by compensating donors, decreasing uneasiness about donating, and strengthening donation centers, donation numbers will increase. Despite the debate about which will do more, it is still important to remember that both want improvement. The issue at hand is increasing donor numbers, and more specifically, improving how to improve the number of usable organs. Neither side is wrong, and a compromise can certainly be met to synergize with each other. It is important that everyone works together in order to solve an issue as big, as timely, and as costly as organ donation is.
References Page
Henderson, M. L., & Gross, J. A. (2017). Living Organ Donation and Informed Consent in the United States: Strategies to Improve the Process. Journal of Law, Medicine & Ethics , 45 (1), 66–76. https://doi.org/10.1177/1073110517703101
Oh, T. (2015, January). Organ donation: how to increase the donor pool. Anaesthesia & Intensive Care , pp. 12–13.
Organ Donation and Transplantation Statistics. (2014, August 12). Retrieved October 31, 2017, from https://www.kidney.org/news/newsroom/factsheets/Organ-Donation-and-Transplantation-Stats
Rudge, C. J., & Buggins, E. (2012). How to Increase Organ Donation: Does Opting Out Have a Role? Transplantation , 93 (2), 141–144. https://doi.org/10.1097/TP.0b013e31823a2411
Thiessen, C., Jaji, Z., Joyce, M., Zimbrean, P., Reese, P., Gordon, E. J., & Kulkarni, S. (2017). Opting out: a single-centre pilot study assessing the reasons for and the psychosocial impact of withdrawing from living kidney donor evaluation. Journal of Medical Ethics , 43 (11), 756–761. https://doi.org/10.1136/medethics-2016-103512
Wilkinson, K., & Peet, D. (2014). Organ donation. InnovAiT , 7 (2), 109–116. https://doi.org/10.1177/1755738013506565
Search form
Latest posts, text widget.
These widgets are displayed because you haven't added any widgets of your own yet. You can do so at Appearance > Widgets in the WordPress settings.
© 2023 My Portfolio — Powered by WordPress
Original theme by Anders Noren | Adapted by ITS — Up ↑